Cheap farmhouse decor will definitely save you money but it doesn't have to be tacky or tasteless. As an illustration, check out our collection of spring home decor ideas to get your inspiration for inexpensive farmhouse decor.
Are you wondering how to add spring rustic decor to your home? In the first place, start with spring mantel decor ideas.
Second, adding some affordable spring rustic decor is an easy way to create a farmhouse living room on a budget. Don't forget to spruce up your kitchen with DIY farmhouse decor.
Lastly, refresh your porch with spring farmhouse decor. Not only does it welcome you and your friends to your home, but it adds to home values in your neighborhood.
Looking for some Easter farmhouse decor? Check out a plethora of ideas here:
Are you a fan of free wall art? Consequently, you'll find lots of ideas for inexpensive farmhouse decor along with inspiring spring quotes right here:
Free Printable Wall Art with Inspirational Spring Quotes and Sayings
To emphasize, there are various ways to add spring rustic decor to your home:
add fresh flowers in a simple clear vase (or mason jar);
decorate a rustic wooden box;
create a spring basket;
decorate a mantel farmhouse style;
decorate a tiered tray with farmhouse elements for the kitchen;
add free spring printables in a rustic frame;
redecorate your front porch.
As a matter of fact, there are many ways to bring spring farmhouse decor to your home. Sometimes, you just need a little inspiration with spring home decor ideas to get started.
1. Spring Mantel Decorating Idea by OurPrarieFarmhouse
Surprisingly, there are no magic tricks involved in recreating a similar look for your spring mantel. First, put some lavender plants in blue mason jars. In addition, work with greenery and terracotta pots to create balance.
Furthermore, hang a rustic frame or a wooden element on the wall to finish your farmhouse mantel. For this reason, Spring farmhouse decor is fun and easy!
Source: Spring Mantel By ourprairiefarmhouse.com
2. How to Decorate a Mantel Farmhouse Style
Indeed, Welcome Spring to your home farmhouse style! Whether you have a mantel, a shelf, or a piece of furniture, you can create a farmhouse-style decor for your home. On the positive side, the rules are easy to follow:
first, keep the color scheme simple with greens and coordinated light florals,
second, add a few rustic elements,
third, seal the deal with a modern hoop wreath.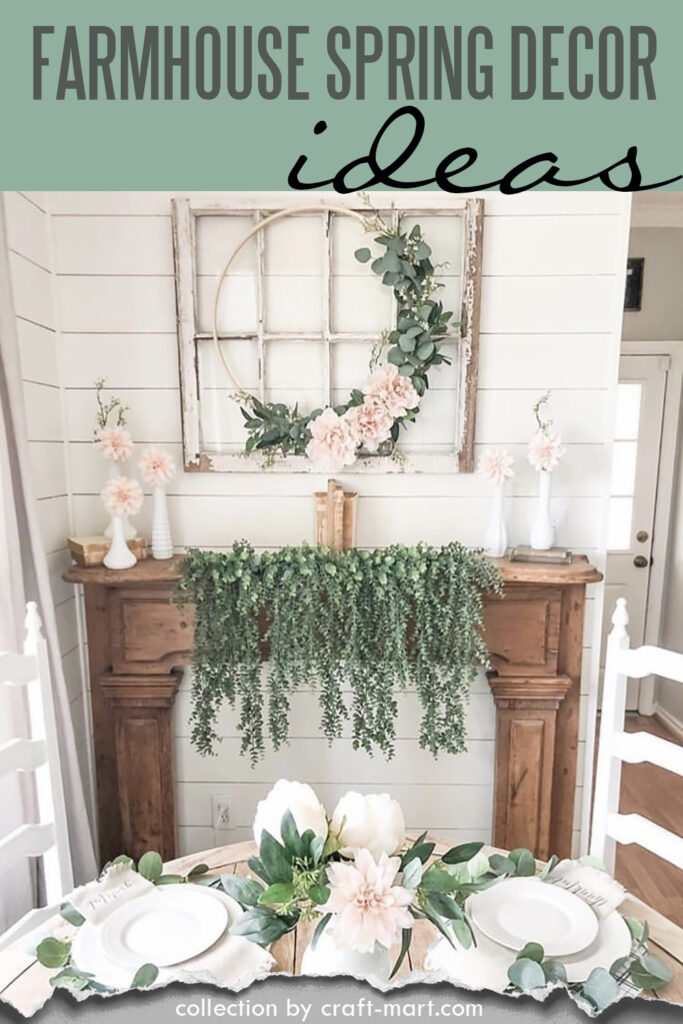 3. Super-Easy Cheap Farmhouse Decor for Spring
Are you looking for a super-easy spring decor idea? With this intention, buy a bunch of tulips and arrange each flower in a clear vase.
Although you can use the same vases, you probably don't have ten or twelve vases that are exactly the same. As a matter of fact, mismatching clear vases will add some interest to this cheap spring decor idea.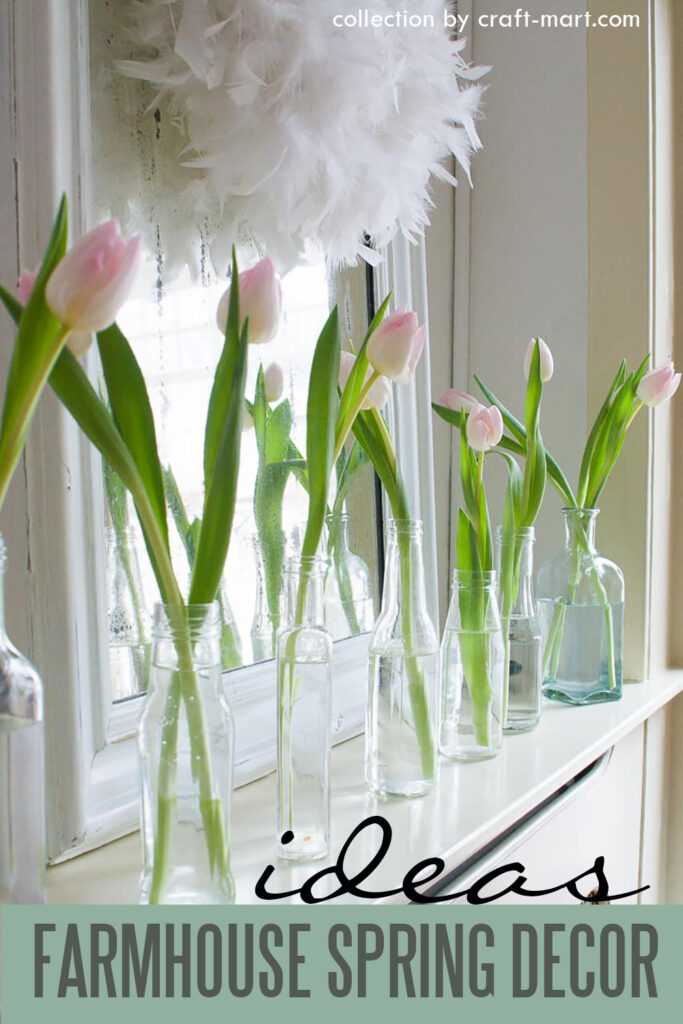 Source: Super-Easy Farmhouse Decor by songbirdblog.com
4. Spring Into Summer by tatertotsandjello
Learn how to decorate a perfect farmhouse mantel from a TaterTotsandJello. As an illustration, this is a perfect example of transitioning your decor from spring into summer – easily.
Although you would need a few farmhouse signs, pillows, and vintage elements, the result is going to be a fabulous mantel that adds farmhouse decor to your home from spring to summer.
Source: Spring Into Summer Decor by tatertotsandjello.com
5. Spring Dining Room Decor
Looking for kitchen farmhouse decor? As a matter of fact, this idea can be used for a kitchen shelf or to style a farmhouse-style dining room.
In this case, the look is anchored by a big chalkboard. By adding a few farmhouse elements and greenery in rustic metal containers, you'll balance the composition.
Source: Spring Dining Room Decor by housebyhoff.com
6. Vintage Farmhouse Decor
Are you looking for vintage farmhouse decor ideas? You can easily recreate this look using a few readily available elements.
A simple farmhouse console table, an old white-washed ladder, vintage mirror, white pitcher and pillows, and a metal container are the building blocks of this pretty home decor piece. For instance, use the things you already have at home to personalize your decor.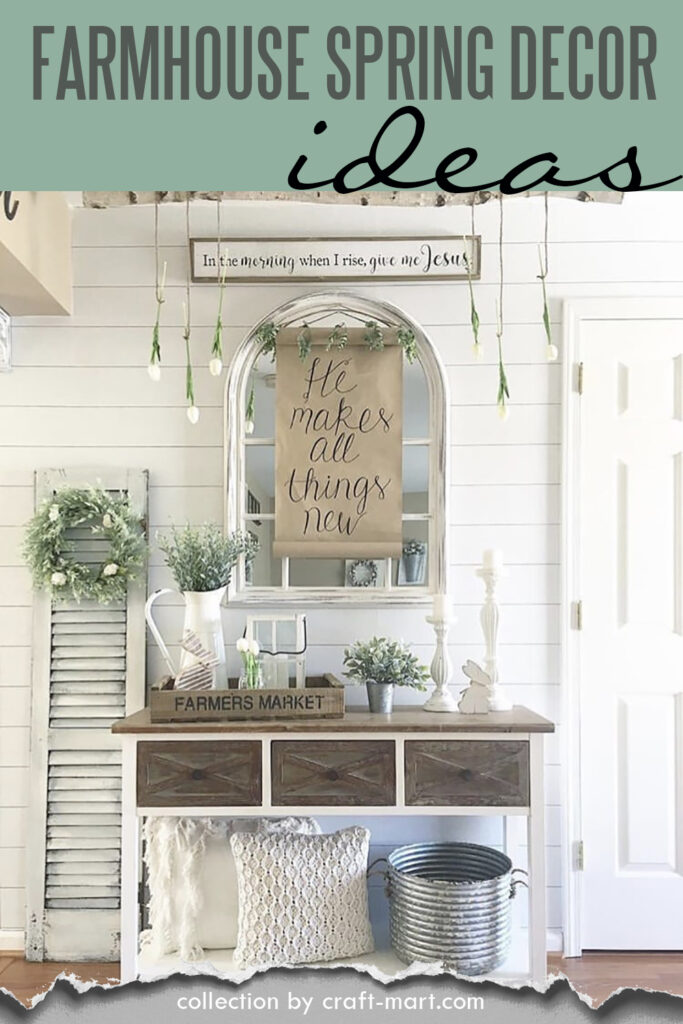 Source: Vintage Farmhouse Decor by sarahjoyblog.com
7. Spring Entryway
Are you spring-cleaning your greenhouse or she-shed and found a collection of old terracotta pots? Don't throw them away as you can use them for cheap farmhouse decor for spring.
Recreate this rustic decor idea by combining rustic terracotta pots, greenery, and drying herbs using a white console table as a center. As an illustration, this rustic spring decor will refresh your home's entryway for the season.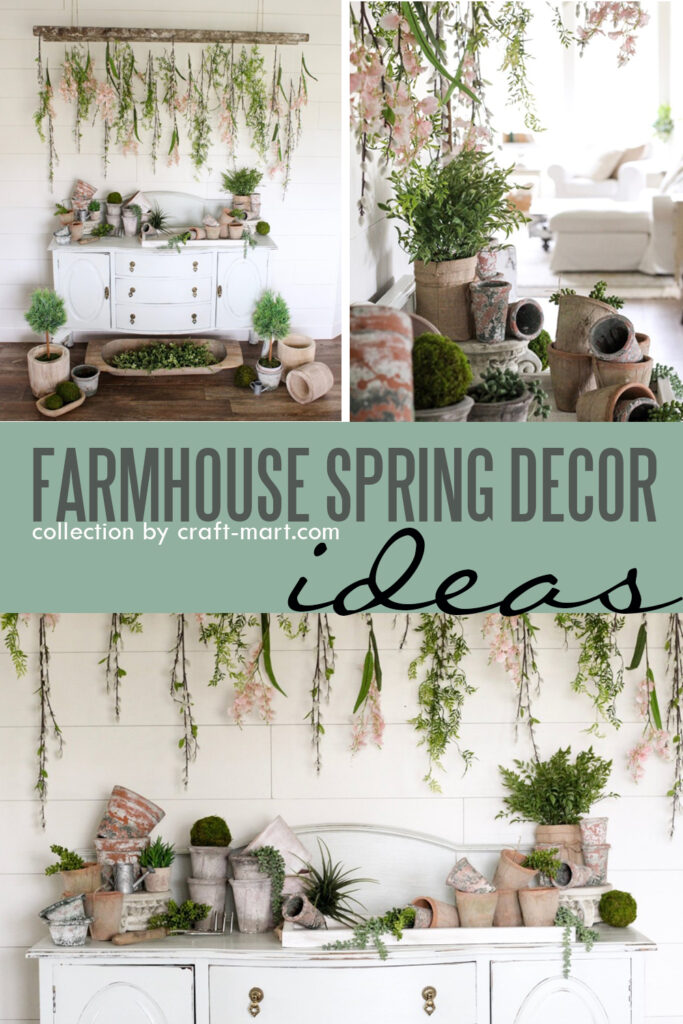 Source: Rustic Spring Entryway by cottonstem.com
8. Easy Farmhouse Spring Centerpiece
Do you have a rustic tray in your possession? In this case, you can style it for spring with a few easy steps.
A simple tall metal (or white) vase, a vintage metal watering can, and a SPRING PRINTABLE will help you create your own rustic farmhouse centerpiece. As a matter of fact, keep it simple and you'll create a glam farmhouse centerpiece.