Sometimes, the acrylic pouring beginners are tempted to dump absolutely all available colors on the canvas at once. But we are not beginners anymore, right?
There are more than enough similar-looking canvases with cells and it's time to move on. Flowers are starting to trend in the poured painting world so we collected a few unique acrylic painting techniques and tutorials by a group of fluid painting artists for amazing DIY florals.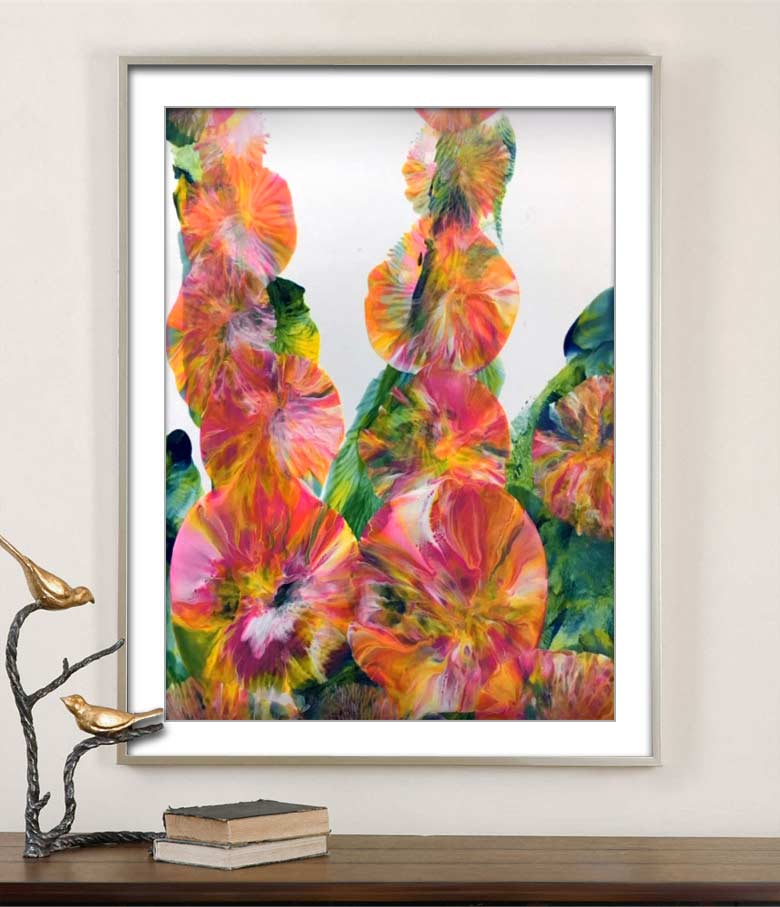 Learn how acrylic pour painting on canvas combined with a few smart but easy painting techniques will help you with creating the most gorgeous floral wall art!
In this post, you'll learn a few complementary techniques and recipes to the standard acrylic pouring methods on canvas:
String Pooling Method;
Chain or Bid String Pooling;
Blowing Air Method;
Smashing Paint Puddles;
Transferring Paint with Air Balloons;
It is time for advanced acrylic pouring on canvas for most gorgeous floral wall art!
---
How to do Acrylic String Pouring Method With White Background
Susan King shows that there is no reason to be afraid of a white background. This floral art piece is absolutely gorgeous! Note how "Cells" create an impression of water drops.
Pouring Recipe, Supplies, and Materials used:
Artist Loft Flow Acrylic
White Artist Loft
Deep Magenta,
Aqua Green Amsterdam
Reflex Green Studio
Cadmium Yellow Medium Hue
Floetrol Liquitex Gloss Varnish
water Coconut Milk Serum
3 parts paint,1 part Floetrol, about 5 large drops of varnish water until the right consistency.
3 drops of coconut serum in all colors except white.
How to do String Pouring Technique over a flip cup fluid acrylic pour
Another example of amazing fluid acrylic florals from Susan confirms that pouring technique can be transformed to produce more realistic styles of painting.
Artist Loft Deep Magenta, Aqua Green
Artist Loft Flow Acrylic – White Amsterdam,
Reflex Green Studio – Cadmium Yellow Medium Hue
Pouring Medium – Floetrol
3 parts paint, 1 part Floetrol, 5 large drops of gloss varnish water Coconut Milk Serum for cells.
Use 4 times more white than the other colors.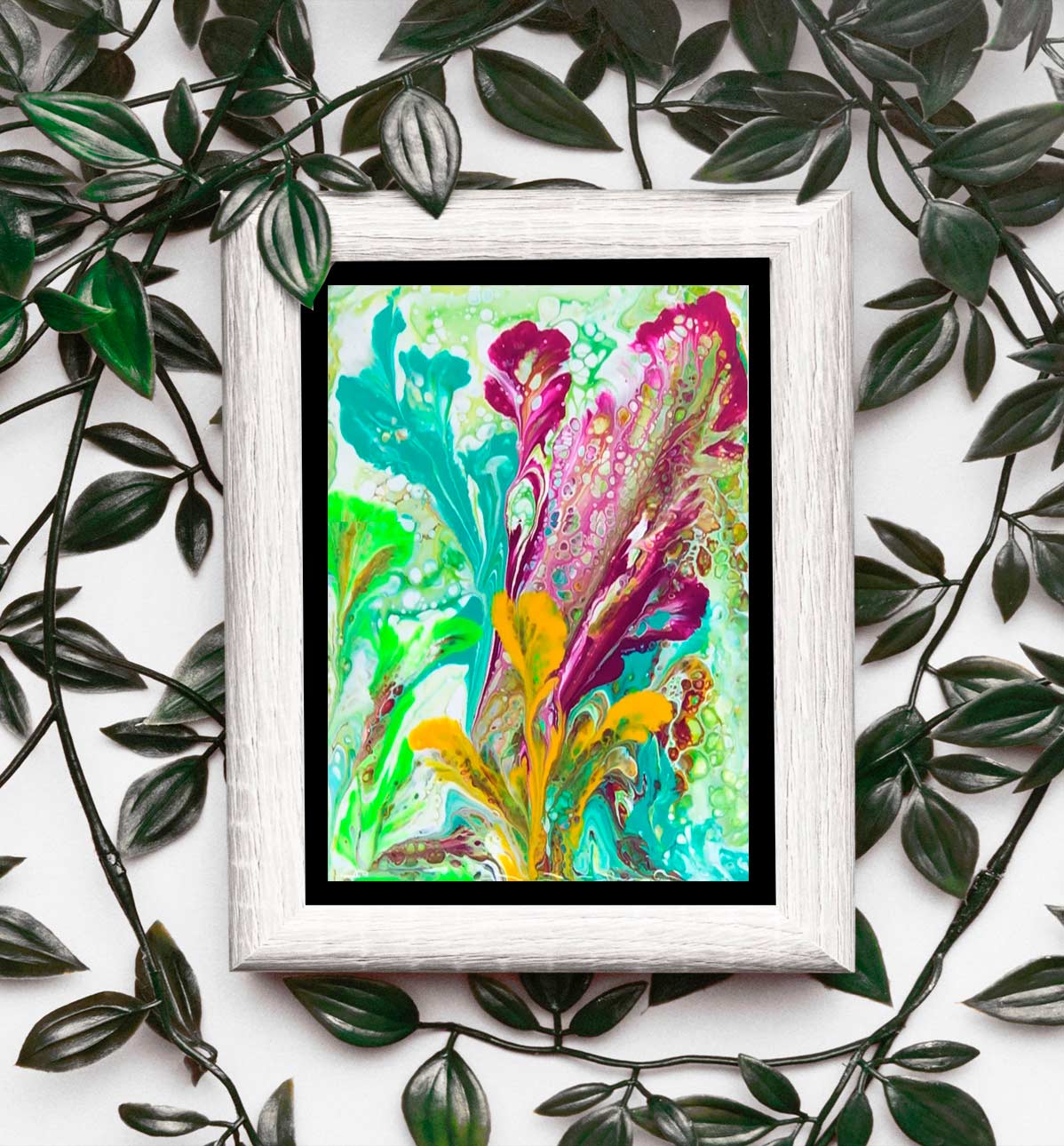 How to do Chain Pull Technique
Susan King's paint pouring art experiments should really inspire you! Of course, you may choose different colors or background but utilize the same acrylic pouring technique to create amazing DIY florals.
Pouring Recipe, Supplies, and Materials used:
Artist Loft Flow Acrylic – White;
Black Liquitex Basics – Bronze;
Pouring Medium – Floetrol;
Water Pouring Medium Recipe (Tube Paint)
1 part paint, 2 parts Pouring Medium (Liquid Paint) 2 parts paint 1 part Pouring Medium It should be really creamy. Then add water till you get the right consistency. Runs in a stream off the stick Add Silicone or Coconut Milk Serum or whatever you use.
Purple Irises String art
Sue Thomas demonstrates that there is more to acrylic pour painting than producing billions of "gorgeous" abstract variations of acrylic pouring cells. Sooner or later some of the beginners decide to make a step toward finding their own distinct style. Here is a good example of how you may start doing just that.
Sue used white paint mixed with Floetrol. Then she added green and purple colors also mixed with Floetrol. For "painting" irises two packaging strings were used (watch the video to learn how). The result is very impressive and creates a beautiful DIY floral painting to adorn your walls rather than "faceless" abstract pouring.
How to String Pull over a Flip Cup with acrylic paint
Here is a nice example of using just a few colors for creating an elegant white flowers composition by using acrylic pour painting techniques and string pulling method.
Pouring Recipe, Supplies, and Materials used:
Artist loft flow acrylic,
cobalt blue,
white,
deco art hunter green.
a few drops of silicone wd 40,
*Note that silicone and WD40 have much better time-tested substitutes like linseed oil.
dampened cotton string.
How to Blow a Flower with Acrylic Fluid Paint
For pure "pour painters" using classic brushes is a big "no-no". Blowing through a straw is still allowed because paint could form pretty unpredictable shapes. If you've ever played the flute, then you understand that it is hard to control even flow of air.
Meisa gives some helpful tips:
What I mean is that sometimes you blow harder than other times, you can see where I blew too hard at times throughout the video.
Tip: Take breaks to breathe so you don't pass out! The more I play with blow painting and using a hair dryer, the more I'm thinking about purchasing an airbrush. I wonder if the airbrush would offer more control. Let me know if you ever experimented with the airbrush to blow on acrylic paint and tell me how it worked out for you.
Sakura – Easy DIY Cherry Blossoms Fluid Acrylic Painting Technique
Spring is literally pouring out of this canvas! Reminiscent of Japanese art, fresh air, cherry blossoms, and graphic tree branches create a happy positive mood. What a wonderful DIY floral painting to refresh your home decor!
Pouring Recipe, Supplies, and Materials used:
DecoArt Crafter's Acrylics in Island Blue;
Tutti Fruity Pink;
Plaid Color Shift;
Black Flash Behr Premium Plus Ultra;
Nano White 6×6 inch (15 cm x 15 cm) stretched canvas;
5 ml Pipettes (big droppers);
Ball end Stylus Nail Tool;
How it was done:
This painting has a dirty flip cup acrylic poured background and then the flowers are made by layering drops of pinks and white paint and dragging a ball end stylus through to make the flower petals. The All of the paints were mixed equal measures of the paint and Golden Polymer Medium Gloss.
*There's no silicon oil or torching in this or any other projects by DeliberatelyCreative.
We all have to weigh the pros and cons of how we interact with our art supplies. Experimenting can be exciting and beautiful but there can be consequences we don't know about yet. As with anything in life be informed by reputable sources and your own common sense.
Acrylic Pour Black Bold Flower With Sandra Lett
In Sandra's words:
I like to make it feel more like art. I have an array of colors I premix and put into squeeze bottles for this style of acrylic pouring/swiping. I mix all my colors 1:1 ratio of paint to Floetrol latex based.
Aside from all technical details, this paint pouring art piece stands out from the crowd of abstract "cell clones". Of course, you may imagine using a different color palette, but we all are just starting out, learning, and moving forward…
Embellishing an Acrylic Pour with Koi Fish and How to Varnish
If, like Sandra Lett, you are not afraid of traditional painting with the brushes then go "paint and pour" way! Koi Fish are not florals, but with a pinch of imagination, you may paint anything using this mixed technique.
Fluid Acrylic Painting with Balloons Technique – Hollyhocks Fast and Easy!
This technique is a simple pure fun! It only takes 6 minutes to create this gorgeous floral masterpiece reminiscent of French Impressionists' paintings. All you need is a few small air balloons and basic craft paint. Press balloons into multi-colored acrylic paint puddles and then transfer the paint onto paper or canvas.
Pouring Recipe, Supplies, and Materials used:
Solar White 110 lb Neenah Cardstock cut into 5.5″x 8.5″ pieces and then folded in half to make greeting cards.
Imagine a small wedding or shower with hand painted invitations with your own original art!
DecoArt Americana Titanium White – 1 oz paint, 1/4 oz Pouring Medium, 1/4 oz water ;
DecoArt Americana Apple Barrel Paints- each color in its own cup;
DecoArt Americana Leaf Green 2 oz paint, 1/2 oz pouring medium, 1/4 oz water;
DecoArt Americana Yellow 1 oz paint, 1/4 oz pouring medium, NO water;
DecoArt Americana Mountain Blue 1 oz paint, 1/4 oz pouring medium, NO water;
Crafters Acrylic Tutti Frutti 1 oz Paint, 1/4 oz Pouring Medium;
Color Shift Blue Flash 1oz Paint, 1/4 oz of Liquitex Pouring Medium NO water.
You do need a cup or container for each color. Little plastic cups are great if you are saving leftover paints. You can use small paper water cups if you are not going to try and save the paint. Paper cups will fall apart more quickly.
Acrylic Pour Painting: Easy To Do Sunflower Puddle Pour Flower Series
The iconic Sunflower wall art masterpiece is within your reach … and you will be able to Do It Yourself after watching this fluid acrylic instructional video. This Sunflower DIY floral is one of the easiest and fast paintings you can create with acrylic pour technique.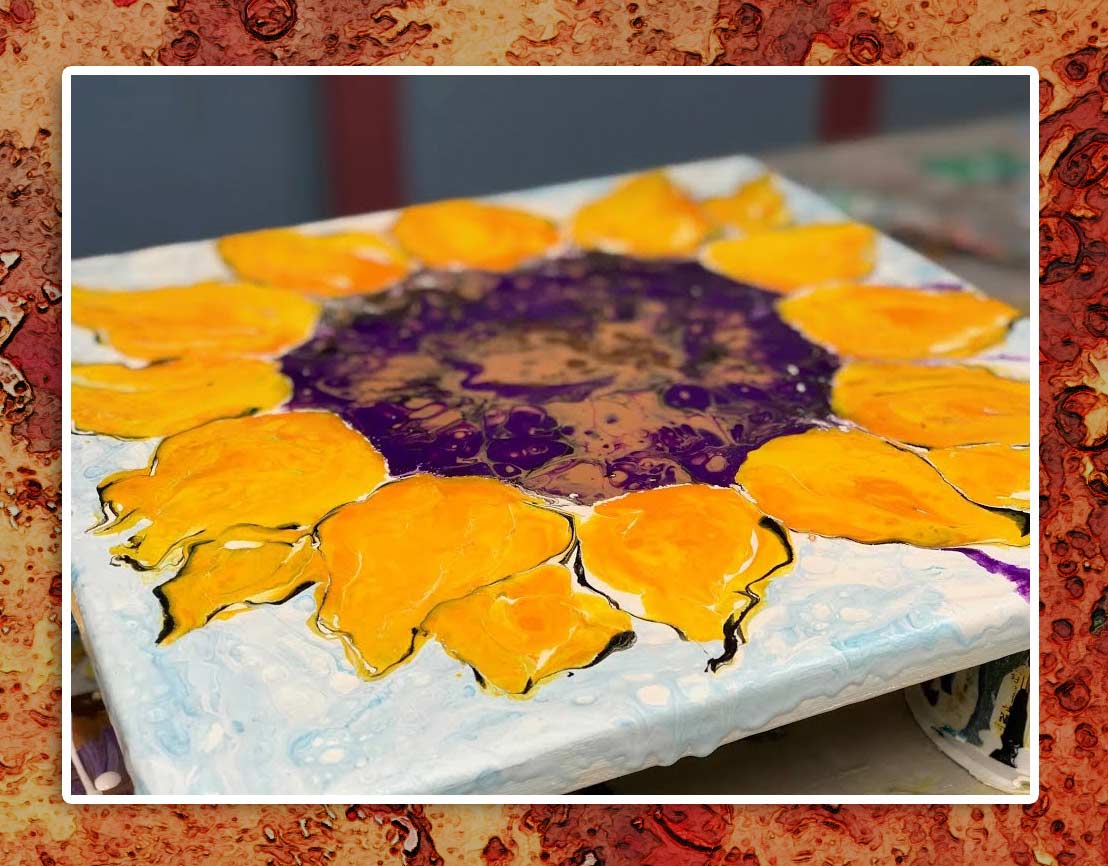 20×20 inch mallet smash and tilt
Delicate and light colors work beautifully with any modern interior. Ann Osborne creates this dynamic canvas that will go great with any modern and neutral decor.
Fluid Acrylics Ball Smash – Flowers
This is another quick tutorial for a smashing fluid acrylics method. You can create a beautiful masterpiece for your walls even if you never painted flowers.
Acrylic Pour Swipe Mixed Brands in Rainbow Colors Paper Towel Method
Amazing colors and intricate design may lead you to think that it is really hard to achieve the same results. But watch the video to learn how to create a similar acrylic pour masterpiece yourself using this acrylic pouring recipe. You'll be amazed!
Pouring Recipe, Supplies, and how it was done:
All colors were mixed 50/50 with Floetrol Latex based 1:1 ratio;
Water was added to get to a creamy consistency, then several drops of treadmill lubricant (100% silicone) to each of the cups;
Swipes were done with a damp paper towel;
No silicone was added to white or black;
Two 12″x16″ canvases were lightly coated with a coat of white/Floetrol mixture, then layered up the colors in broad bands;
Black/Floetrol mixture was added at the top and swiped towards the bottom;