Obviously, the topic of "How to make money online without paying anything" is appealing to a much large crowd than "Buy this $499 course to learn how to make extra income." For too many people all over the world making extra money fast is a matter of surviving, so buying and studying any course like this is not an option! Plus, just the fact of purchasing one of the top courses doesn't mean that your results will be even remotely close to what was advertised.
So what can I do if I need to make money online without investment?
If you are in debt or just tired of living paycheck to paycheck we'll show you a few legitimate ways how to make money online for free. Besides getting a loan, in case you really need a large chunk of cash right away, there are a few ways to start earning money literally in a few hours or a couple of days. Making money online without paying anything approach offers no risk and requires much less effort comparing with the traditional ways of working.
How to start making money online from home?
The whole idea is really simple. You select the best way to earn extra cash by simply choosing one or several of the companies that offer to pay for activities that you already do or can easily add to your daily routine. No steep learning curves! Register, get approved, then watch or read a couple of tutorials, and start earning!
Not surprisingly, these types of online money-making opportunities are popping up every week. Some are really good and others are not so. We will review only the easiest and proven ways and ideas to make money online without investment.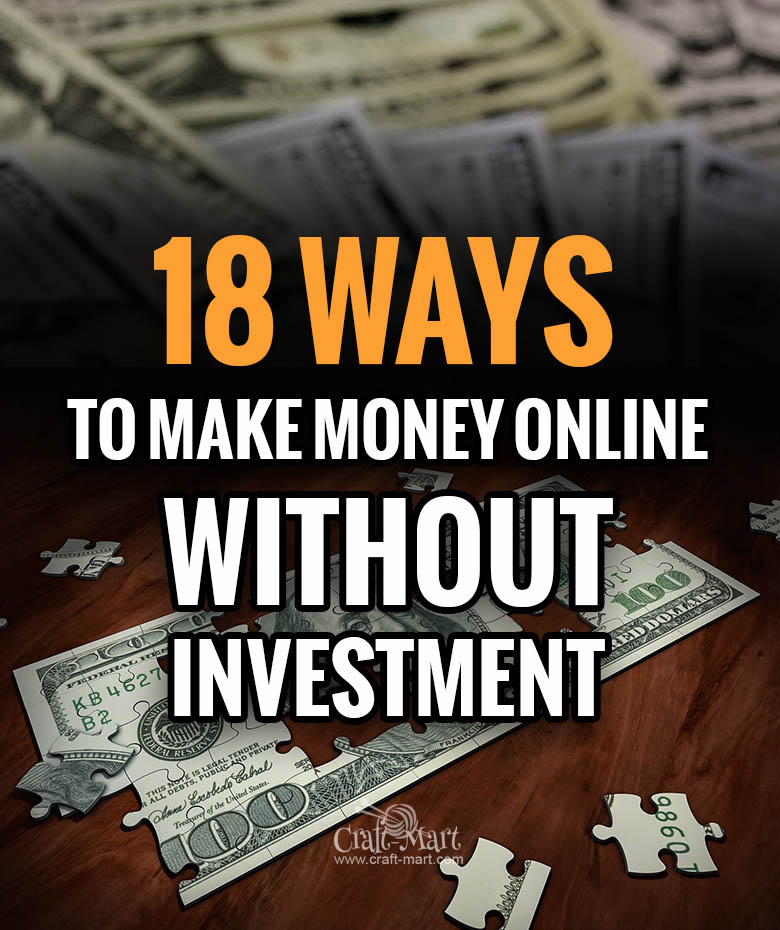 Can you earn a lot of money online without any investment?
Many people do but, to be honest, they all invest a lot of their time and talent instead of the initial capital. Well, many of us can easily find some spare time by cutting down on TV shows, for example.
Americans still watch an absolutely astounding amount of traditional television. In fact, Americans are still watching more than 7 hours and 50 minutes of TV per household per day. So, even if you cut 3-4 hours a day it will give you a good chunk of time to earn extra cash without any investment.
Earning extra money for yourself or family can improve many areas of your life:
Help to survive when you lose your regular income;
Reduce or pay off the debt or student loans (too many families are struggling with debt)
Help to deal with medical bills (outrageous bills can easily bankrupt US residents)
Saving money for kids (education, graduation presents, exploring the world together, etc.)
Let you buying healthy food (not the processed junk)
Saving for an overseas family trip (go see Venice that is actually in Italy, not in California)
Take more time off work to pursue your dreams.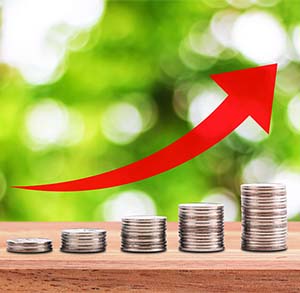 Keep in mind, that although our goal here is to show you how to earn money online without paying anything, still you will need to make sure that you have enough time for working online. Punching a keyboard for 10 minutes before bedtime, probably, will not make your wildest financial dreams come true and it may give you some extra cash to breathe easier.
If you are seriously thinking about replacing your full-time job with making money online or with the help of online apps then prepare for a steep learning curve and hard work to get the whole thing started. Though, don't get discouraged by the huge volume of new things to learn. The amazing benefits that will come later will totally make up for your hard work.
Learning how you can make money online without paying anything is one of the first steps that may help you not only to stop living paycheck to paycheck but also with starting your very own successful business online.
Let's look at the best ideas for making money online fast and without paying anything upfront!
1. How to Make Money Online for Free Working at Home for Companies
Not everyone is comfortable doing freelancing work. Many are just looking for more security of traditional employment. Not worrying about finding the next project can definitely improve your night sleep. This way you can definitely earn money online without investment.
TaskRabbit is a great place for supplementary income. It is owned by IKEA, so there are many IKEA-related jobs like hanging pictures, assembling furniture, etc. You set your own hours and your own hourly rate. Jobs available for the residents of USA, Canada, UK, France, Germany, and Spain. Very flexible and reliable. Read reviews here.
*There are also plenty of "contactless" jobs as well.
Airtasker is similar to TaskRabbit and currently only available in Australia, the UK, and Ireland. Please note that you can only post tasks in the country where you are located (international tasks are not currently supported). If you're completing tasks, you must be located in the same country and have local working rights.
Thumbtack is another place to find different tasks online but only if you are a skilled professional. Great for plumbers, electricians, house cleaners, dog groomers, etc. US residents only.
Hilton Reservations and Customer Care offers opportunities for growth and advancement throughout Hilton while working from the comfort and convenience of your home. Plus, there are benefit packages available!
Alorica's Work-at-Home jobs are typically related to customer support via online chat or a phone line. You will be able to earn money from home without any investment but your compensation will be between the local minimum wage and $10.
Sitel offers something similar to Alorica although they are looking to employees located only in a few selected states.
Sykes is another good option for finding online customer service representative jobs in the US and Canada.
2.

How to Make Money Online for Free

with Surveys That Pay Cash
How to make extra money fast? Start earning almost instantly by helping businesses to collect potential customers' opinions on a wide variety of subjects. Using legitimate paid online surveys is the most popular, the easiest, and the fastest way to start earning money from home without any investment.
The key here is to sign up with as many free paid surveys companies as you can and pick those surveys that pay the most while taking not too much time to complete. One survey company may not offer enough surveys for you to choose from.
With online surveys, you can work anywhere and anytime. Have a few minutes while you are waiting in line? Sitting at the doctor's waiting room? All these extra minutes could be put to good use instead of mindlessly checking your social media.
Points2Shop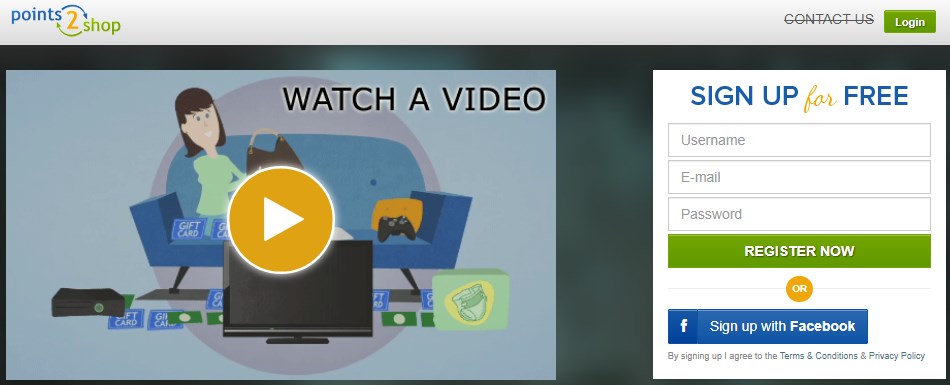 Points2Shop is one of the coolest free online cash rewards programs. You can earn cash or virtual points by simply watching videos, playing games, shopping online, completing surveys, etc. With Points2Shop's mobile apps you can use any spare time to earn money, whether you are waiting in line or on your lunch break.

Why this particular online cash survey program is so cool?
Point2shop is considered to be an instant payment (GPT – Get Paid To) site, so your earnings will be available right away! Of course, you can redeem your points for an endless number of rewards that are available on the Points2Shop website or you can simply withdraw your cash.
What sets this company aside is a very active online community that helps members by quickly answering questions through the forums or the community chat.
Plus, they allow international users – not like many other survey websites.
Another big plus is that you have a selection of the surveys to take right after signing up! With other companies, it may take much longer – sometimes days or up to a week to get the next survey.
Stop wondering how to make money online without paying anything and Sign Up Here with Point2Shop!
American Consumer Opinion
As fewer people will pick up a phone at home and even fewer still own a landline, it makes it harder for consumer survey companies to get the coveted information about our shopping preferences and spending. That's why survey companies are willing to pay for this information creating a lucrative niche for all of us – ways to earn money online without paying anything.
American Consumer Opinion – you will get points for completed tasks, so if you qualify for and complete a 100 point survey, that survey is worth $1. As soon as you've earned $10 or 1,000 points, you can request payment through Paypal or by check.
Survey Junkie
Survey Junkie — it works pretty much the same as Swagbucks. After signing up and earning a certain amount of points you will be able to exchange them for cash deposited to your PayPal account. There is an option for redeeming your points for gift cards but we are here to make some extra cash, not gift cards, right?
Join Survey Junkie and start making money online without paying anything!
Vindale Research
Vindale Research – as with all other survey companies creating the correct profile is the first important step for fitting surveys. You can even get up to $50 for some surveys but you have to check for these on a daily basis.
Sign up, connect your PayPal account and get $1 just for registering.
One Opinion
OneOpinion—Once you reach 25,000 (equals $25), you may choose either an Amazon gift card or PayPal cash deposit. What distinguishes this company from other survey companies is an option for home product tests. Just make sure that these home product tests will not consume too much of your time.
Sign up for a free account with OneOpinion.
Inbox Dollars
Inbox Dollars – if cash is what you want then go with Inbox Dollars. Create your profile by answering a series of questions, watch a couple of video tutorials, and get $5 added to your account just for doing that! How nice is that!
Get your free $5 – sign up now!
Survey Club
Survey Club — pays you each time you would participate in a paid research study. They offer a number of different ways to earn money – from product tests and focus groups to clinical trials and high-paying surveys.
Get started for FREE today.
My Points
MyPoints — This company rewards members when they shop online, take surveys, play games, watch videos, and more. Similar to Swagbucks, it lets you earn extra money online plus they will give you a $5 gift card for free after signing up.
Sign up for MyPoints and claim your FREE $5 here.
Global Test Market
Global Test Market — pays up to $5 per survey. Joining is free and only requires filling out some information about your household. Since 2014 GlobalTestMarket has paid out close to $35,000,000 to participants. By signing up with them, you are automatically entered into their $2,000 sweepstakes. Register Here!
The Go2Crowd USA
The Go2Crowd USA – is not a cash-paying survey company but you may earn up to $150 worth in gift cards for participating in live focus groups or up to $50 for some online activities. So, if you shop at BestBuy, Amazon, Starbucks, etc., then this is a really good company to work with.
Springboard America
Springboard America – get cash rewards for sharing your opinions. Springboard America has higher payouts than most survey sites and its interface is very user-friendly. Keep in mind that your earning will depend on demographics and your own social activity. You get $2 for each referral of your social "friends" who are also looking into how to earn money online without investment.
Join Springboard Today!
Swagbucks
Swagbucks — is very well-known and the most reputable survey website. Once approved, you start earning Swagbucks (or SBs) for each completed survey. As an added bonus, Swagbucks even gives you a FREE $10 just for signing up (claim your free $10 here). Many people earn money online for free with Swagbucks and so can you!
3. Make Money Online by Testing Apps and Websites
Why web developing companies need independent testers like you? Actual users have a completely different approach to testing comparing with programmers or web designers. Companies really need feedback from targeted user groups to improve usability and fix software bugs.
Naturally, they prefer having a group of testers on a temporary basis only when their projects are finished or modified instead of relying on a couple of in-house full-time employees. These are perfect online jobs for students or stay at home moms to earn extra money when they have a few minutes to spare.
Below are a couple of companies that hire testers for different tasks:
4. Nielsen Digital Voice
If you don't mind Nielsen Digital Voice collecting data on what exactly you are doing on the web then feel free to sign up. Keep doing exactly what you are doing and earn points for every hour you spend on your phone.
A nice bonus is a chance to win $10,000 by participating in monthly sweepstakes.
5. Make Money Online by Selling Other People's Stuff on eBay
We all accumulate piles of stuff that just clutters out rooms, attics, garages, etc… Sometimes, among that junk, there are rare finds that people will pay good money for (vintage clothes, rare toys, sheet music, valuable art prints, etc).
People buy books and even take courses on decluttering and selling stuff on eBay. They often just give their stuff away for free. Ask your neighbors and relatives if they have unwanted things they'd like to get rid of or put an ad on craigslist.org offering to sell people's junk for a percentage.
Of course, try dealing with smaller items that can be shipped without any hustle. Use neighborhood apps to find free local stuff and list it on both eBay and Craigslist. For many, it works really well.
6. Manage Social Media for Businesses
Social media accounts are crucial for many small businesses in terms of marketing but they take too much time and are often very underused. Use websites like Fiverr.com or Freelancer.com to find a few clients if you are good with FB, Twitter, Pinterest, or Instagram. This type of online business can really help you with earning serious extra money if you'll put enough time and effort to learn how exactly other successful entrepreneurs are doing it.
Yes, it can be started without investing any money but you'd have to be really proficient with all major social networks and willing to learn. Buying a course will definitely improve your chances of success. If you don't have money for the course, sign up with survey companies and then pay for the course with the earned cash.
If you are really good at social media than becoming a social media manager can be the best way of making money online without paying anything.
7. Data Entry Online Jobs
Typing fast and accurately is still useful – you have, probably, seen ads like this one: "Earn money online without investment by typing!", right? If you don't mind this type of job then websites like Upwork, Fiverr or Freelancer can help you with finding data entry work. Go and look at what kind of tasks and projects are posted there and estimate how fast you will be able to complete them.
Competition can be tight but if you guarantee accuracy along with the reasonable prices and timely delivery then you'll be getting consistent job offers. It's absolutely possible to earn money online without investment by typing but it may take time to find good-paying gigs.
If you are good at writing and grammar, there is a higher-paying variation of this online gig – writing and proofreading articles for bloggers.
8. Crowdfund Your Idea
It can be anything from starting an urban organic community farm to writing a book on how to build a tiny house. Post the description of your project with some pictures and videos and ask people for donations promising to send them a copy of the book or other goodies when the project will be realized.
Websites like gofundme.com, indiegogo.com, or kickstarter.com have lots of projects like these. See what donors like and what is not popular before investing time into your project's description.
9. Make Money Online on Youtube with Videos
Can you do something a bit better than other people? How about playing computer games, opening presents, or riding in elevators? If one of these activities doesn't sound like something that can earn you any money, you are 100% wrong!
You won't believe how many views and followers these videos get for some Youtubers! Kids that record themselves playing multi-level action games and reaching high levels can earn enough money to support the whole family of four!
Do you have a green thumb? Your tutorials on growing organic herbs or vegetables can really save some people money. Literally, anything you can think of can be turned into a money-making video and it doesn't have to be studio quality.
For some reason, videos of people riding in elevators, opening presents, going down on waterslides, playing with toys or other completely unremarkable activities (from the average point of view), in reality, are extremely hot on YouTube.
Can you generate a lot of income from the ads by doing something similar?
Of course! The trick is to be consistent and create good titles and descriptions for building subscriber and viewer base. Search for successful competitors in your niche and see how they do it. You will have to hit a threshold of a certain number of views per month before Youtube will qualify your account for ads. Realistically speaking, it may take some time.
10. Create an Online Course
For those who are trying to figure out how to get money fast, creating an online course is not the way to go. It may take some time. If you prefer writing to video-making then creating online courses that solve common problems for large groups of people can be an excellent income opportunity for you. Of course, they also may include videos in addition to pictures and verbal content.
A few companies like CourseCraft have a free plan with an easy proven system for compiling professional-looking courses and step-by-step tutorials that can bring a small but steady and completely passive income.
On the other hand, more and more bloggers in a wide variety of different niches report full-time income from their sales of ebooks. In the end, it all depends on how much time you are willing to spend on market research, creation, and promotion of your digital products.
11. License Your Photos
Almost all of the websites use pictures that are purchased from one of the numerous online stock photo repositories. Although it seems that these websites have absolutely everything imaginable, there are still a few categories where customers have a hard time finding what they want.
Perhaps, you already have a boatload of high-resolution photos of some random subjects. Just check out what kind of large stock photo companies, like Shutterstock, are looking for and see if you'll be able to fill the niche.
To earn a decent amount of money in this field you'll need to have a few hundred or even thousands of pictures ready for sale on several websites. It may take some time to see any significant stream of passive income, so try it if you are not under any time pressure.
Here are some of the most popular stock photo websites to make money online without paying anything:
12. Trim Can Negotiate Your Bills
Saving money on a constant basis can definitely help in the long run but it takes a lot of time if done manually. Luckily, Trim can take over these time-consuming tasks and start really helping you with many money management aspects. It is free for registering and easy to cancel.
Use Trim to identify and cancel unwanted subscriptions, negotiate lower recurring bills, and budget more effectively.
13. Open a High-Yield Online Savings Account
Do you have money sitting in a savings account that's paying very low interest?
If so (or if you don't have a savings account at all), it's worth your time to spend a few minutes opening an online savings account.
While definitely not the way to get rich earning 5 times more on interest may help in the long run considering that you have enough money on your savings account. Discover Bank is one of the best options if this is the case. If not, then concentrate on pay-per-action online money making jobs.
Here's why:
Online savings accounts often come with super attractive interest rates that are 10 to 20 times higher in comparison with brick-and-mortar banks. Just look at CIT Bank or Discover Bank to calculate how much money your account may earn in interest. Each additional dollar earned through a higher interest rate counts and more money you have in your account, more money it can potentially make for you.
14. Take Advantage of Cash Back Signup Bonuses
Would you like to get an extra $15 for just a few minutes of your time? Nothing can be easier than registering with DOSH or Ebates for cashback incentives and getting a bit of cash right away for signing up.
These apps help you get some discount on the items that are not on sale. For penny-pinchers, they may not look like the best deals but finding the very best deals is a time-consuming business. So, don't think too hard and just start saving.
Ebates: after making $25 worth of qualifying purchases within 90 days you'll be getting a $10 bonus for signing up.
DOSH: after you link a credit or debit card to the app $5 bonus is issued instantly
Since both apps are free, just sign up for both. While shopping, compare deals between both apps and select the best one.
15. Sell Custom Designed T-Shirts and Other Merchandise
Numerous Print-On-Demand websites like Zazzle.com, CafePress.com or Teespring.com provide good ways to earn extra money without investing anything besides your time. You'd think that you'll have to come up with cool artistic designs to be successful but it's not the case for a lot of people. Simple textual designs do really well, especially when combined with free clip art available from websites like Pixabay.com.
Earning consistent income with any of these sites is a numbers game – select one POD company that you like, create and upload 100 or more designs, add long keyword-targeted descriptions and keep adding more designs every week. Having less than 100 designs may not bring you sales.
Top designers on Zazzle, like this one, for example, have hundreds or even thousands of designs earning a full income from $3K to $10K a month.
16. Become a Personal Virtual Assistant
This type of job may require some knowledge of particular software programs, social networks or even some specifics your clients' industry may demand. However, most of the tasks don't require any special education and can be easily learned for free or through a course like this (if you really want to learn fast and have some money to spend).
Finding your own clients should not be a problem since more and more small businesses are hiring Virtual Assistants to handle a growing number of tasks that don't require a physical presence and can be done remotely.
17. Make Money Online by Completing Simple Tasks
Register with Amazon Mechanical Turk Worker and start applying your skills to the thousands of available tasks from data gathering to image and video processing.
18. Get Cash Back from Your Regular Purchases
Shop with Acorns.com Found Money Partners like Walmart, Groupon, Expedia, Macy's, and many others, and they'll automatically invest a portion of your money spent on purchase in your Acorns Core account! It will cost you nothing and your money will be automatically invested in stocks of the best Blue Chip companies.
Start building your portfolio for free!
---
In conclusion, it's very realistic to make money online without paying anything if you put some effort to try a few methods listed above. If you are tired of living paycheck to paycheck here is your chance to start making money fast!