When Christmas decorations are packed away and end-of-the-year holidays are officially over, your home naturally feels less festive. How to deal with the post-holiday blues other than cleaning, organizing, and purging the closets? Surprise your loved ones with warm and cozy Valentine Day decorations. You don't have to break the bank to make someone feel very special but spend some time on bringing love and smiles to your home. We browsed dozens of DIY decor ideas for Valentine Day decoration and hand-picked a few tasteful winners from Pinterest and decor blogs that are easy to make but will look fabulous in your home.
Easy Valentine's Day Ruffle Wreath with Mini Bunting (step by step tutorial)
Kim from The Celebration Shoppe shared a simple tutorial on www.joann.com blog with clear and easy steps to create a no-sew ruffle wreath and simple black & white bunting inspired by vintage crafts. With a short list of supplies and some love, you can create this lovely DIY Valentine's Day wreath to adorn your front door and surprise your special someone! Goes perfectly hand-in-hand with champagne and a cake!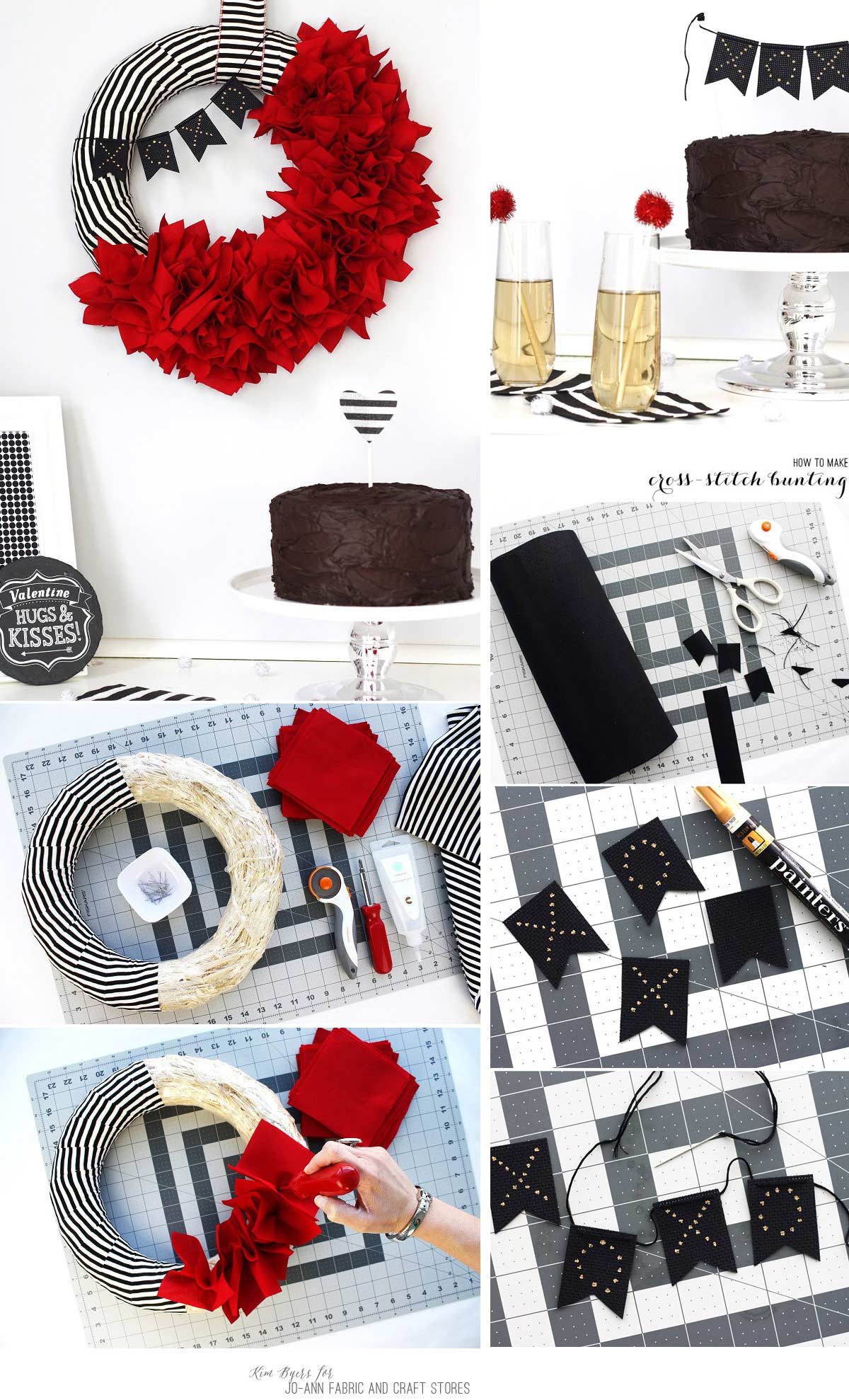 Source: Kim Buyers for Jo-Ann Fabric and Craft Stores
White Mantel with 'Love in a Bottle' Message
We love this white mantel decor with a few red accents and delicate patterns! This informative blog provides step-by-step instructions and a tutorial for the wooden panel with letters "LOVE." No time to create your own panel? No problem? Just use any white fabric stretched over canvas or an old artwork and place letters on the top. Chances are, you already have almost all the supplies needed for this project: pick up some pine cones outside, search your craft supplies stash (while organizing it!) for any red ribbon, use the clear glass vases or bottles you already have some heart stickers (or you can find at the store), and improvise with printed large letters to spell love, if you don't have wooden ones. Have fun with the special love message in a bottle! It would be fun to use real red wine bottles (or sparkling juice) with some stickers or DIY printables for 'potion number 9' – just a thought!
Rustic and Neutral Home Decorating Ideas for Valentine's Day
What if red clashes with your existing decor or you are in a mood for something different this season?  Neutral decor easy DIY mantel may be exactly what you are looking for, especially if you already have a stone fireplace. This tasteful mantel decor will go perfectly well with rustic farmhouse decor. What do we love about this project? Black, white, and cream colors will go with any existing decor. Elements of this DIY mantel are pretty simple and can be easily assembled or substituted. For candle holders, use any white or neutral candle holders you already own. Note that classy-looking white decorative trees are made from coffee filters – very creative use of every-day household items!
Valentine's Day Homemade Crafts: Traditional Red, White, and Black Mantel
Our next pick – red, white, and black mantel. Though simple, it looks very festive and will be easy to recreate even for a beginner. Use your favorite photo in a red frame, a simple black frame decorated with some patterned hearts, and a red sign with a heart-warming personal message (can be ordered on Etsy) to complete the look. You can even use one of free Valentine Day printables that are readily available on Pinterest.
Romantic Pink and Gold Mantel
Tired of red and want to avoid it completely in your Valentine's Day decorations for home?  Try this romantic yet family-oriented look created for couples whose shines through their kids. A simple round LOVE sign with easy-to-follow tutorial becomes a centerpiece of this mantel accompanied by wonderful finds from Hobby Lobby. If you are striving for a frugal life and reusing your existing decor, just use a simple white vase, any white frame (from IKEA?) for your family photo, some polka dot wrapping paper, and a few pink or cream-colored flowers. You'll be surprised to learn that a heart basket is a find from Target store dollar bin (just spray-painted gold) so be creative and give a new life to some of your old items or favorite new finds.
Triple Foam Heart Wreath for Valentine's Day
This is an easy and fun project you can do quickly and involve kids so you can teach them crafting. Use any hearts (spray paint them red) or use leftover yarn to wrap-around the shapes. Black and white ribbon from your stash will work perfectly and in no-time, you'll have this fabulous DIY heart wreath to use for your Valentine's Day decor or give as a gift. Quick, frugal, and fabulous!
Vintage Valentine Hearts
Do you have a creative bug or just need to use up some of the leftover fabric you found organizing your craft room? This project is fabulously easy and seriously clever! Just put a few tree branches in a clear vase and adorn them with easy-to-create vintage Valentine hearts. Love, love love the simplicity of this DIY! You can use any ribbon and reuse your branches for Spring and Easter decor. For this inspiring DIY decor you don't even need a tutorial – it so easy!