A trip to the Dollar store is like a treasure hunt – you don't know what you would find. But there are certain items that we use in everyday life you should definitely buy at the dollar store to save money for other more important things. If you think that a Dollar Store is full of cheap junk – it may be true, but some items are a great bargain. There are certain items you should stir away from (they are not even a good deal) but you will be surprised to find handy electronic gadgets, useful kitchen utensils, party supplies, seasonal decor, and much more – just for $1! All these items will cost you much more at other stores, even with coupons and on sale.
It doesn't matter how much you earn. It matters how much you save.
KITCHEN AND PANTRY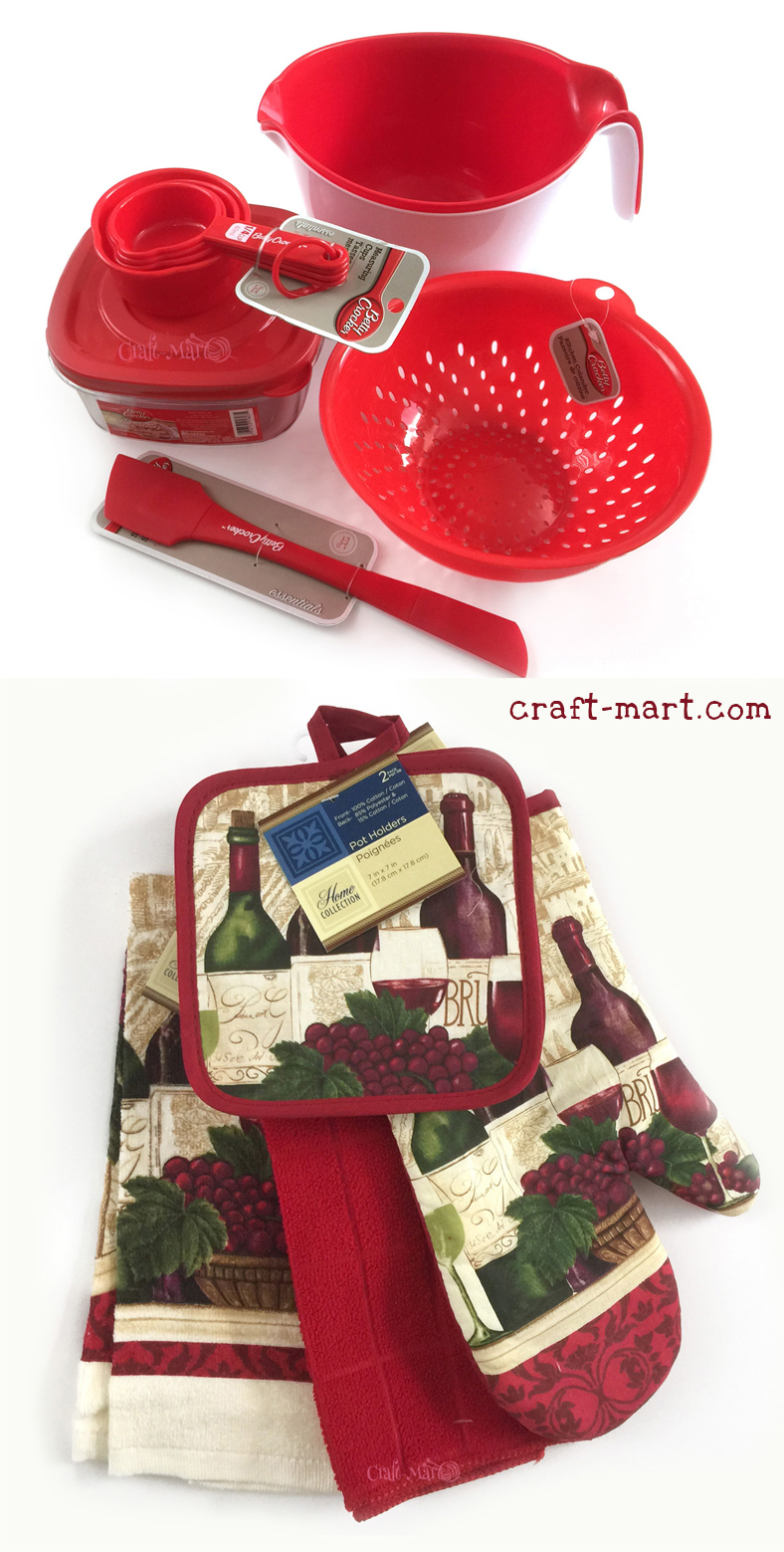 If you would check Dollar Store kitchen isle, you would scream in your head, "How are these only a $1???" Nice assortment of Betty Crocker kitchen gadgets in bright red color, so well-made that they'll please the pickiest gourmet chef – you pay only $1! Definitely, check Dollar Store first when you are helping your child to settle in a dorm or college apartment or just need to add a few items to your cabin or vacation home. It is also handy when you go camping – just have a separate box with all bare necessities and you won't need to pack it each time.
Dollar Store also makes it easy to organize your pantry, classroom, or craft room: assorted sturdy plastic containers would make organizing a breeze and help you finish that dreaded project on a budget.
You would also find there different plastic cups and glasses, tin-foil containers for pot-luck or meals on-the-go, storage containers for school lunches, plastic bags, and seasonal kitchen towels, pot-holders, placemats, etc… Makes it easy to change with the seasons and refresh your kitchen decor!
Need a quick gift basket idea? Just fill a colorful mixing bowl with basic kitchen utensils and a couple of towels and you have a wonderful house-warming gift for a friend or a new neighbor.
BATH AND HAIR

Amazing bargains await you at this aisle: hairbrushes of all sizes for any taste, sets of combs, hair ties, hair elastics, cute little bows, and even hairspray – all these are only a dollar and will warm up any little girl's heart. What a great way to replenish lost items (they tend to mysteriously disappear… as all moms know) or refresh a guest room before friends and family arrive for a visit.
Other items worth checking are soap savers, sponges (including natural kind), plastic soap holders, shower caps (pack of 4 for $1), cute microfiber washcloth sets for kids, and a few bar soaps (for example, Yardley Shea Buttermilk Sensitive Skin Soap 4.25-oz. Bar – $1!!!). Nail clippers, toothbrushes, handy sets of travel-size empty bottles, and some socks are a great deal for a $1.
Not every item is worth a try or is even a bargain, but if your goal is to stay on a budget, many of the everyday necessities you find at the Dollar Store are hard to pass.
BALLOONS, GIFT BAGS, PARTY SUPPLIES, GREETING CARDS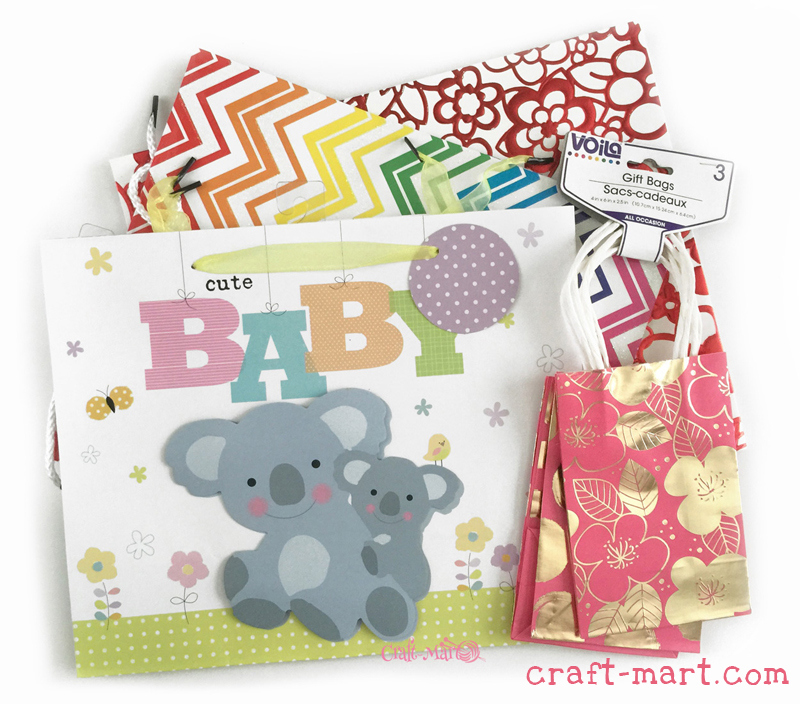 As party balloons last hardly a few hours, why spend several dollars at the specialty store when you can buy a balloon for just a $1? Beware that not every design on display will be available, but if you are not picky 'Happy Birthday' and 'Get Well' balloons for $1 are a bargain.
Stock up on a few gift bags, gift wrap, party supplies, and plastic ware if you are planning on hosting a baby shower, birthday party, bridal shower, or neighborhood Night Out BBQ. You will find all these at a deep discount at the Dollar Store.
Greeting cards are a bargain at the Dollar Store – with great variety and for every occasion. Why spend more for something that will be thrown away after the occasion (or recycled, in best case scenario)?
CHILDREN BOOKS, STICKERS, CLASSROOM SUPPLIES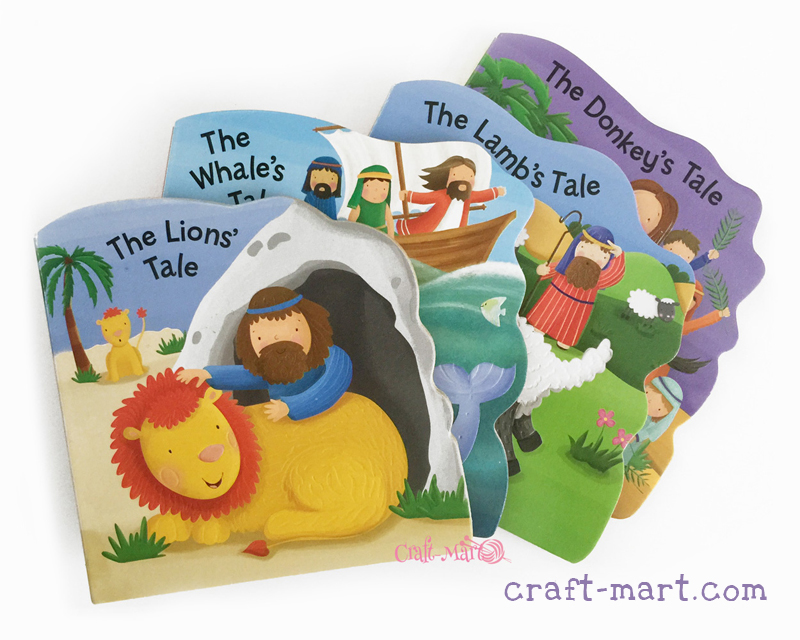 Looking for books at the Dollar Store can be hit-and-miss, but they always have a great variety of coloring and activity books, stickers, travel games, craft supplies for these times when you need to keep your munchkins busy (on a long road trip, homeschooling, or for a craft hour).
Office supplies isle is worth checking if you have school children – you can find a scientific calculator ($1), supplies for various classroom projects, and age-appropriate activity books. It is a great resource for cardboard picks in various colors for science fair projects.
GADGETS, TOOLS, READING GLASSES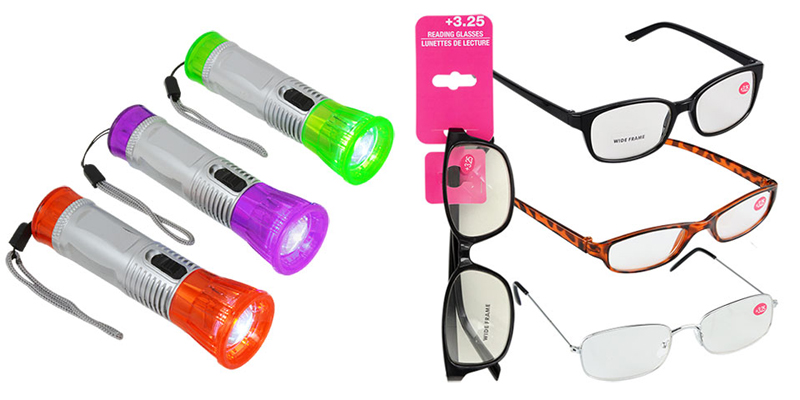 One of our craft-mart team's favorite isles at the dollar store – that's where you can find the most interesting items and the best bargains. Leather work gloves, handy sets of tools, flashlights, pocket led lights, cellphone accessories are safe bets for even pickiest bargain hunters. Don't forget to check a variety of reading glasses – for a buck, you can afford to get a pair or two.
IF YOU OWN A CATERING, STAGING, OR FLORAL BUSINESS
If you are one of the lucky business owners or if you are thinking about starting a business, you may consider checking the dollar store online catalog for the best selection of items that can be shipped directly to your business. They offer a variety of vases, glassware, candles, and decor items that are a bargain and come in a variety of tasteful options. Some of the customers' favorites include 9″ cylinder vases, long-stem tea light candleholders, and restaurant quality glassware – it is hard to beat these values at $1! Note that some of the items you can only order by case (for example, 24 items per case) for $24. Some of the items are available per unit with a minimum of 4 or more units per order (4 items for $4). But the good news is that your order ships free to the store.
A word of caution: as the point of shopping at the Dollar Store is to save money, don't get carried away and end up with tons of cute but unnecessary items. Always stick to your set budget and shopping list and check your basket before checking out. It makes sense to stop and ask yourself, "Do I really need this or would it add to the clutter I am trying to stay clear off?"