Have you ever bought probiotics at the store in a fancy box, neatly packed in tiny capsules? Now ask yourself: "What has greater benefits and more active probiotic cultures – a pill sitting on a shelf at the store or homemade fermented cabbage with other organic vegetables that you've just prepared in your kitchen?"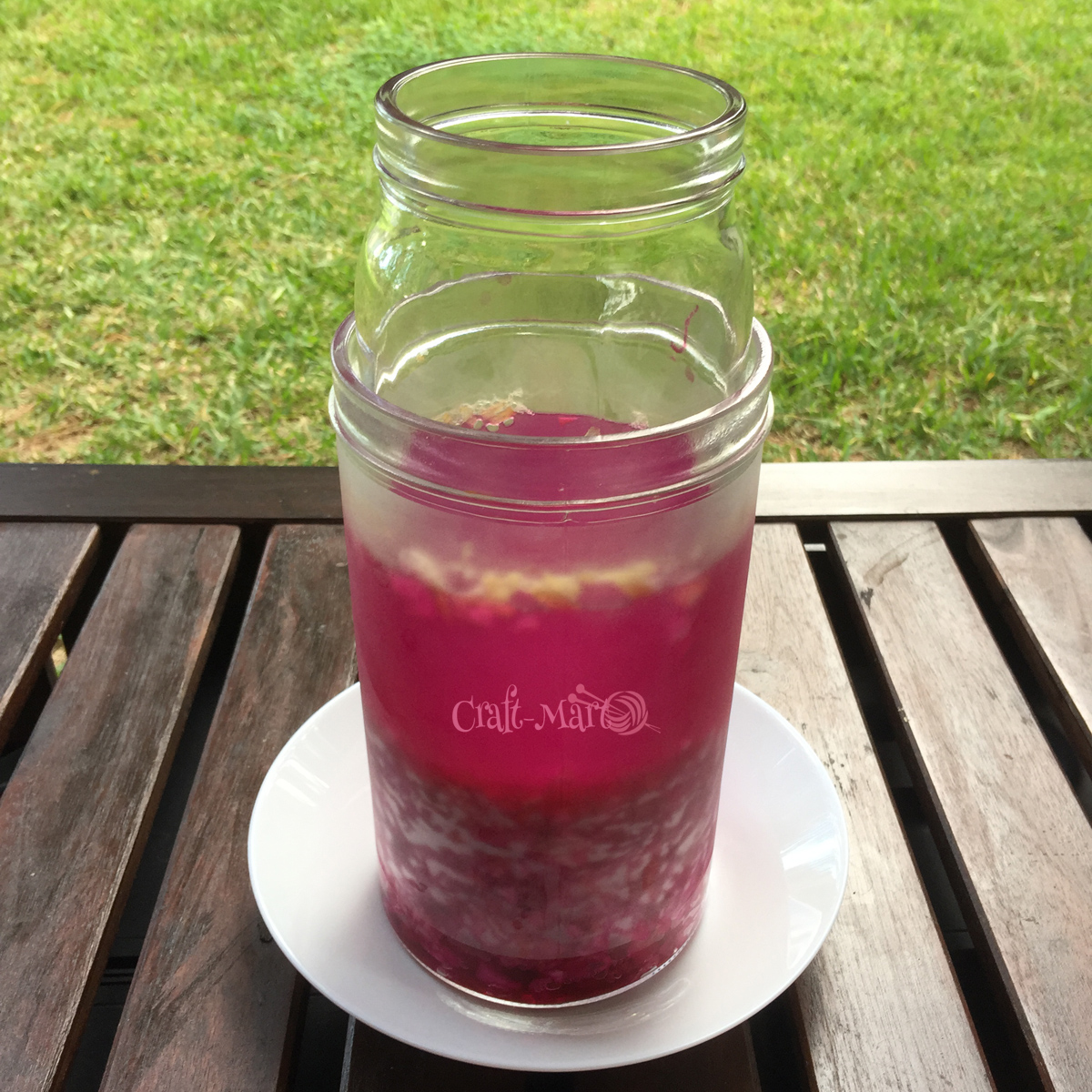 Sauerkraut is very low-calorie but … it is an anti-inflammatory food packed with benefits.
SAUERKRAUT HEALTH BENEFITS
Sauerkraut has been popular throughout the world since the fourth century B.C. – and for very good reasons. It helps to fight inflammation in the gut, acts as the first line of defense against harmful bacteria, viruses, toxins, and parasites that enter your body, and strengthens your overall immunity. The latest science indicates that probiotic-rich foods are not only beneficial for the gut health, but are essential for our mental health (help fight depression, dementia, and Alzheimer's disease), help us better absorb various nutrients and minerals, fight inflammation that is the root of many diseases. Check out these 7 Health Benefits of Sauerkraut, according to Dr. Axe.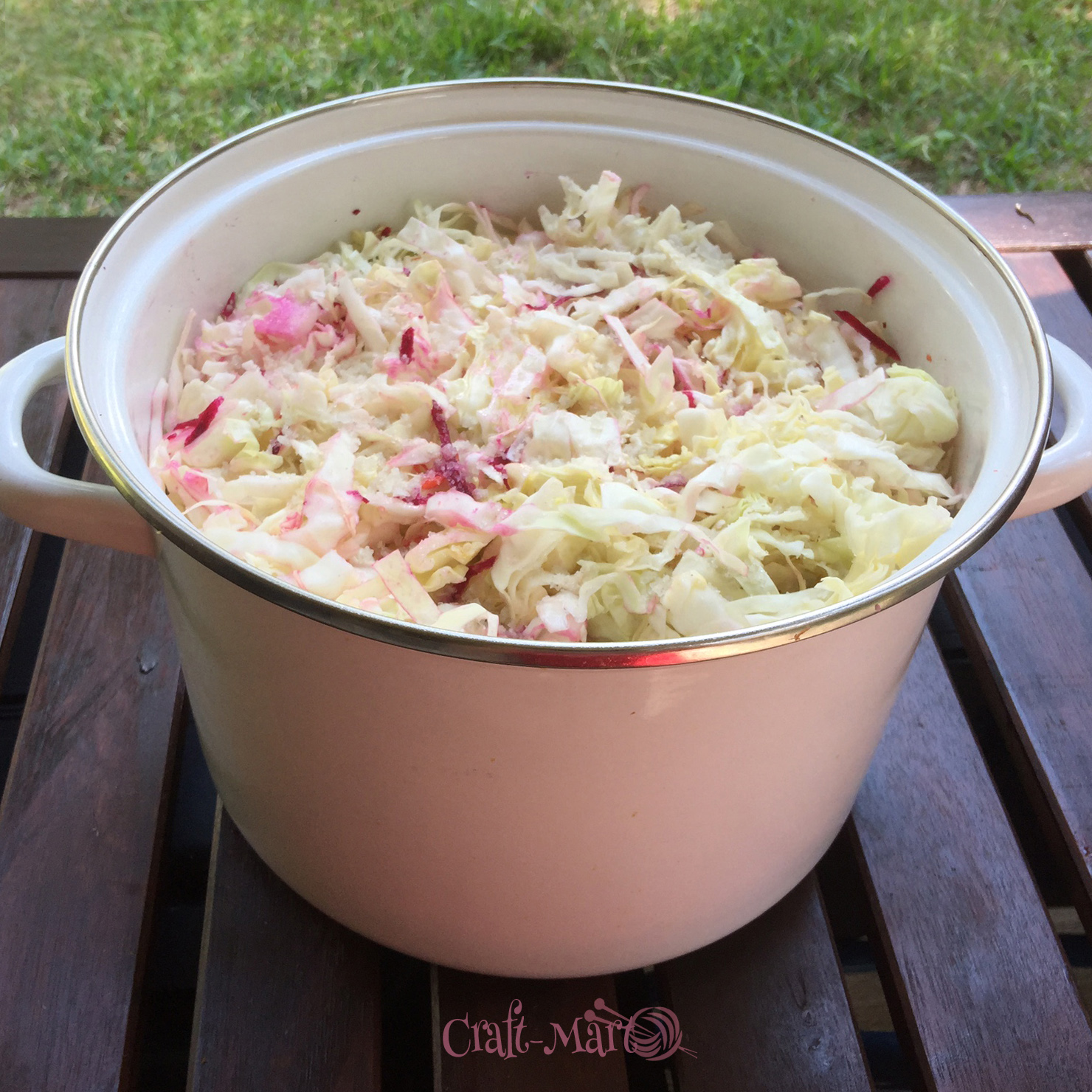 As sauerkraut made its triumphant march through Europe, including Germany, Ukraine, Russia, and other countries, there are many variations of these staple fermented vegetables' recipe that may include water and sugar. We want to share our long-trusted family recipe of fermented cabbage that we love for its simplicity and great taste. It uses beets and cranberries as a sugar substitute – much healthier and definitely more vitamins.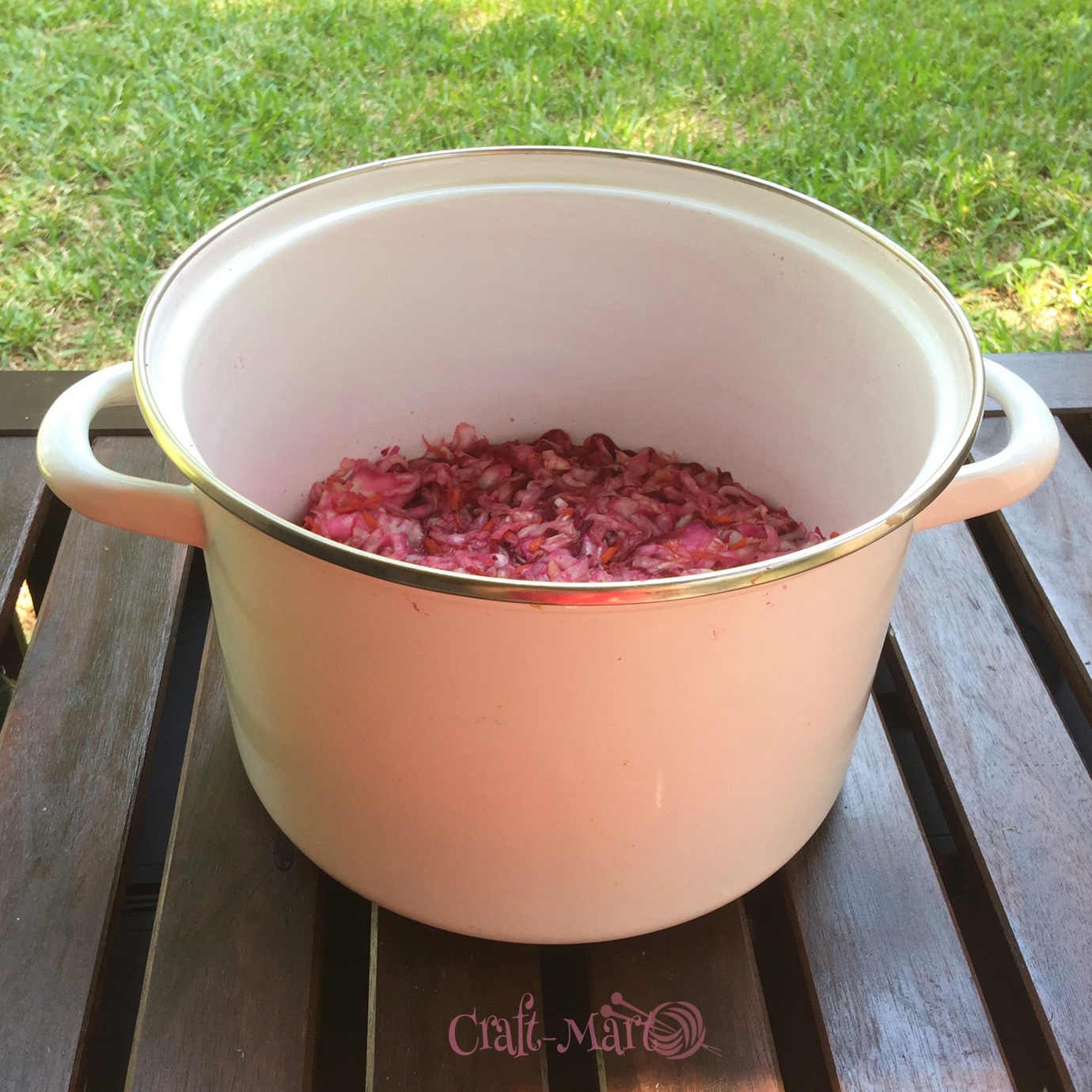 Actually, our grand-kids love this as a healthy dessert! What can be more heart-warming and rewarding for a grandparent when the first words coming out of kids' mouths in the morning are "Eat cabbage! I want pink cabbage!" (After the fermentation process is complete, this home-made sauerkraut has a beautiful shade of red-pink color – very festive on your family dinner table!)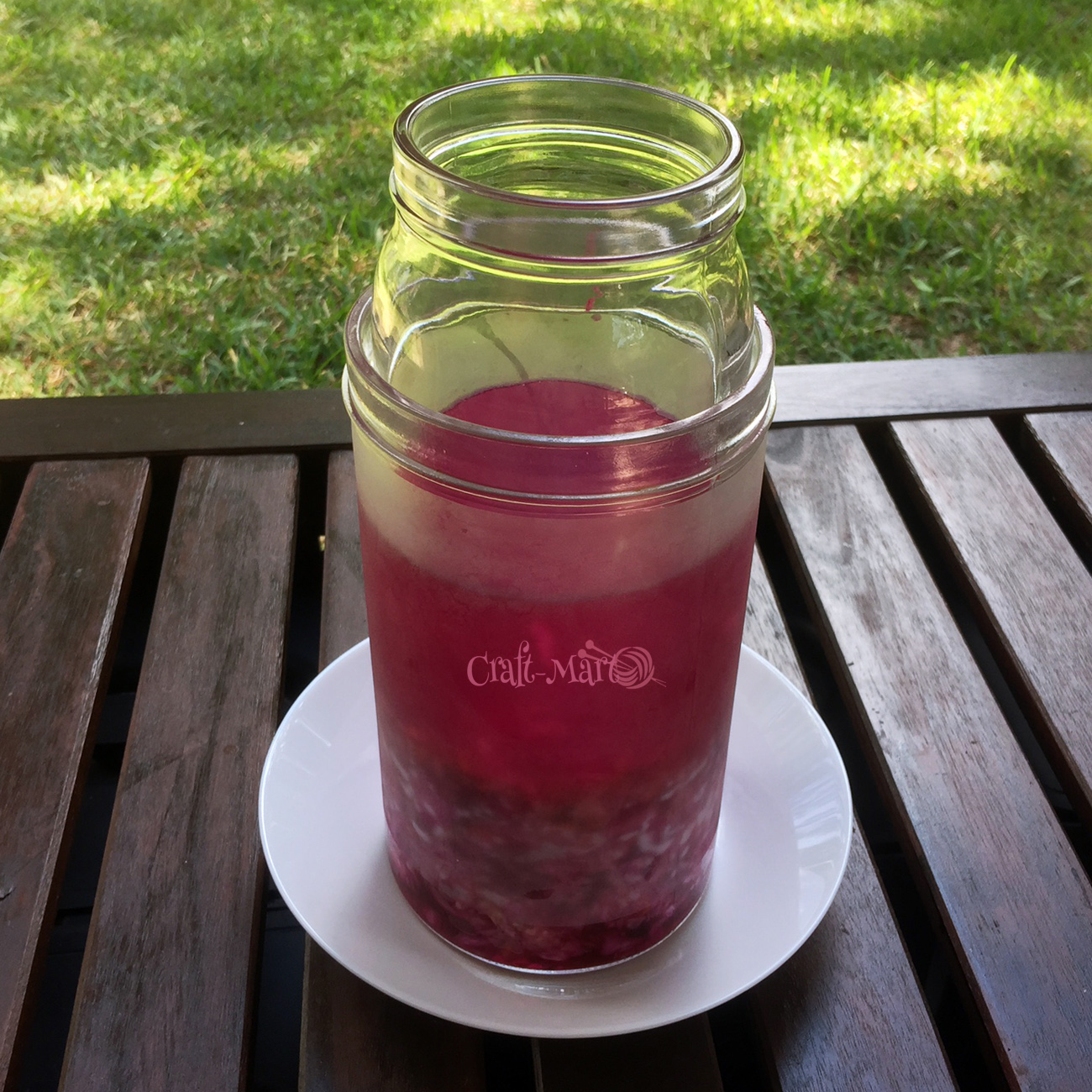 You'll be amazed how easy it is to make fermented cabbage in your kitchen with only 4 fresh organic ingredients.
---
Fermented Sauerkraut with Carrots and Beets
Yield:
approx. 20 servings
Total Time:
5 days
22 minutes
Ingredients
2 medium or large heads of white organic cabbage
4 medium organic carrots
1 medium organic beetroot (or 2 small)
2 TBS of Celtic salt
1/2 lb fresh organic cranberries (optional)
Instructions
1. Thinly slice cabbage, except the inner core which you can trim and eat as a snack.
Peel and grate carrots and beet(s).

2. Mix cabbage, carrots, and beets together in a big glass bowl or enameled pot while adding 2 tablespoons of fine Celtic Salt.

3. Leave the bowl for 5-7 minutes until the vegetables release juices, due to their interaction with salt.

4. Add cranberries, when in season (optional). Mix and knead well for 5 minutes, pressing on cabbage, so some more juice is released.

5. Transfer in tall glass Mason jars (IKEA glass jars work well too). Place small jars (filled with water) on top of cabbage mixture so it is well covered by juices (very important for the proper fermentation process!)

6. Place jars in bowls on your kitchen counter (to prevent spillage) and cover with a towel. Leave it for 3-5 days or until sour (you can taste it in the process).

How long to ferment the cabbage? There is no set time, but 3-5 days should be sufficient. It really depends on the temperature in your house: the warmer it is, the faster the process of fermentation goes. We like it when the cabbage is fermented but stays crisp and crunchy.

7. When ready, remove smaller jars with water, remove and discard foam from the top, cover with lids, and refrigerate (for up to ~30 days - promise, it won't last that long 🙂


Enjoy it with your favorite dishes as a condiment.
Notes
Note on buying cabbage for this recipe: pick whiter cabbage heads, not green ones - they are much better for fermentation.