Valentine's Day tablescapes can make this special holiday even more romantic than dining in an expensive restaurant. As a matter of fact, you would save a ton of money and set up a mood for an unforgettable evening.
Are you looking for more Valentine's Day and spring home decor ideas? Check out our collection of posts:
How to set a table for Valentine's Day?
First, pick up a theme. We have collected some of the best ideas to help you do just that.
Second, create a centerpiece that goes well with your theme. You can use flowers, candles, and a DIY table runner.
Set up the table using tableware and napkins that match your color scheme. Add some personal touches such as cards, sweet treats, and notes.
As one special day is set aside to celebrate love, show your loved ones how appreciated they are. By creating a Valentine's Day tablescape, delight those you love with a romantic dinner at home.
Valentine's Day Tablescapes
As an illustration, we have collected some amazing ideas for a special Valentine's Day table decor. Whether you are planning a romantic brunch for two with a view or a modern Valentine's Day party for friends, we have inspirational ideas for you.
1. Plush Hearts Valentine's Day Tablescape
This Valentine's table decor is lush and easy to make. Notably, perfectly coordinated hearts and flowers create a simple yet festive table.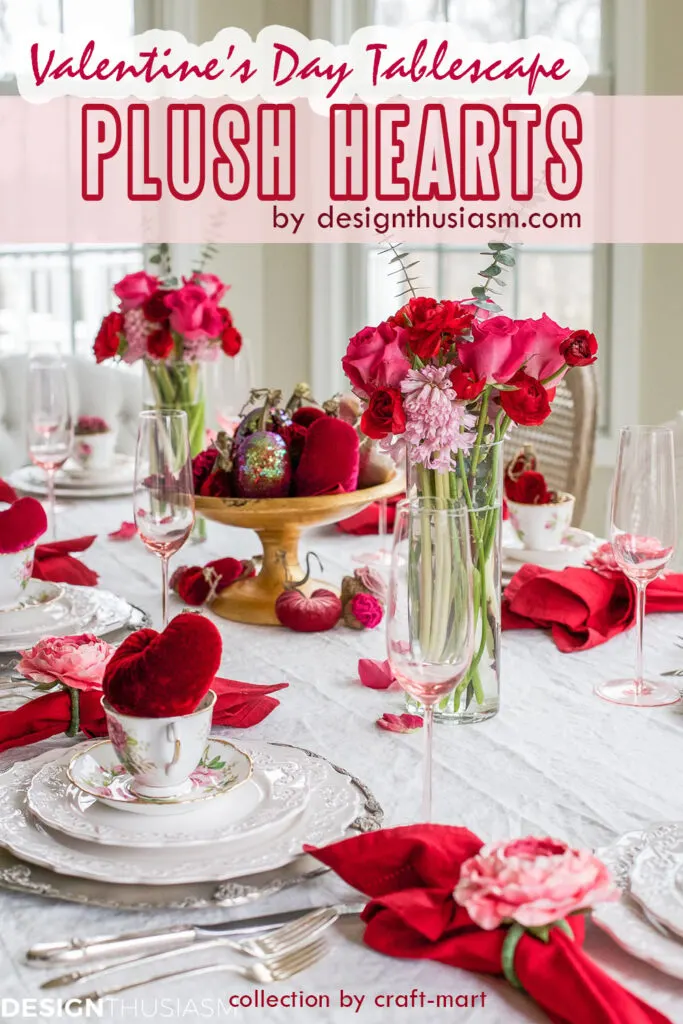 Source: Plush Hearts Table Decor
2. Romantic Valentine's Day Table
What is the best way to add romance to your Valentine's Day celebration? As an example, set a table with a perfect balance of pale pink, vintage silver, and rustic burlap.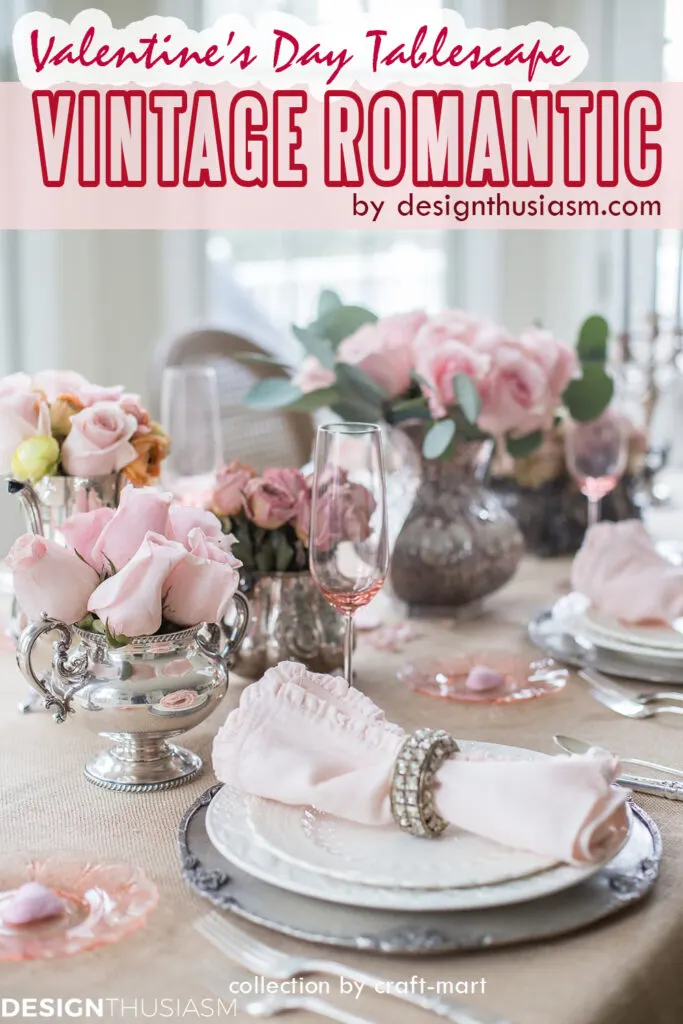 Source: Romantic Valentine's Day Table
3. Valentine's Day Table Setting: Candlelit and Romantic
In fact, setting up a romantic table for Valentine's Day shouldn't be complicated. Match red drinkware with napkins and add some white tables to create a candlelit romantic mood.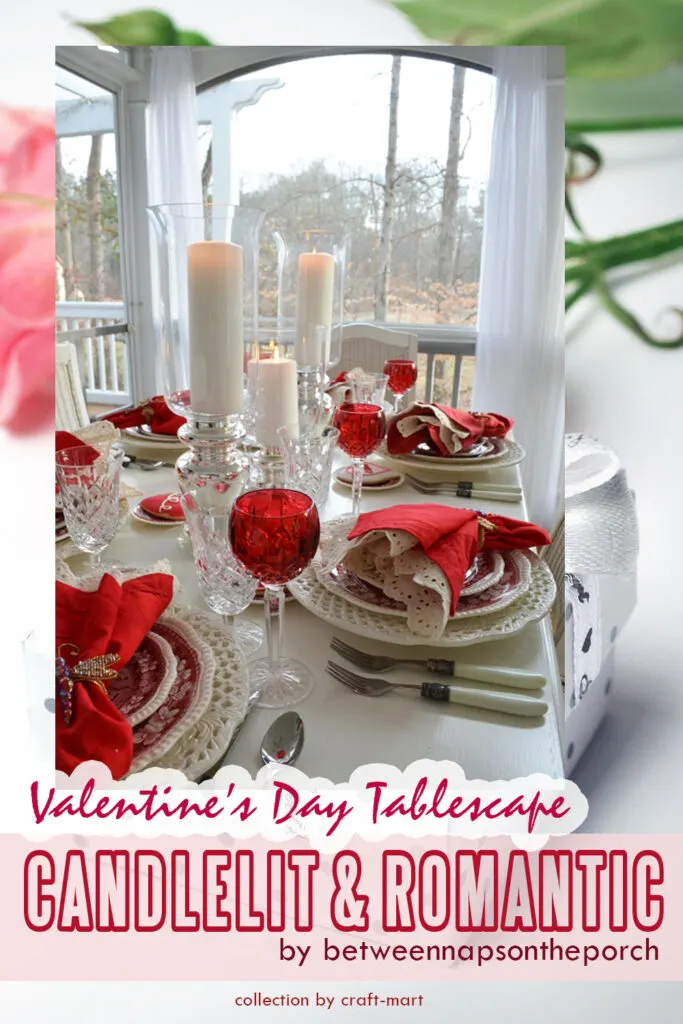 Source: Candlelit Romantic Table
4. Modern Valentine's Day Table
Sometimes during the holidays, you are pressed for time but you can still have a perfect tablescape for your celebration. As an illustration, if you have a few minutes to spare, you can easily recreate this stunning modern tablescape.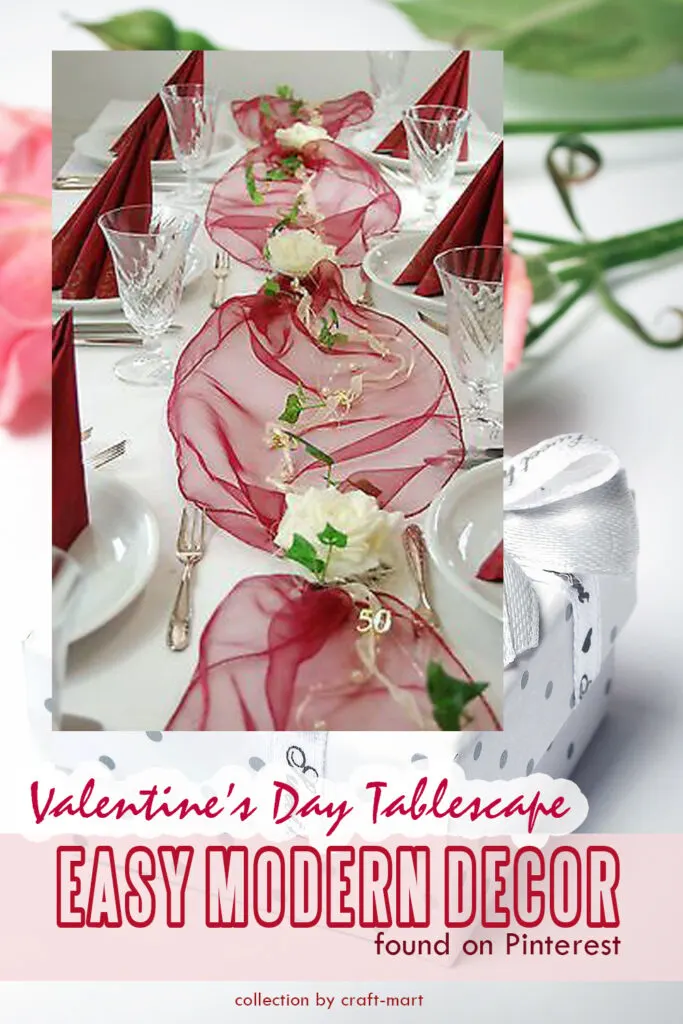 Source: A Modern Valentine's Table
5. A Dinner with a View
In case you have a perfect view from your patio or backyard, use it as your backdrop for a festive Valentine's dinner setting. In fact, there is not much to add to a great view except for some candles and a hearty home-cooked meal.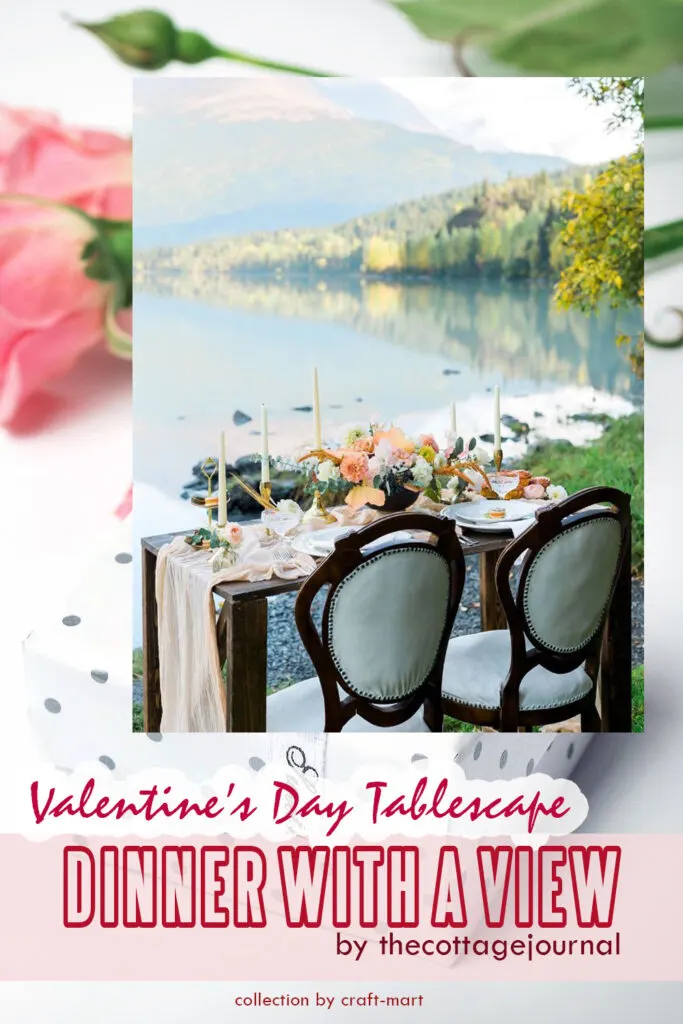 Source: Valentine's Dinner with a View
6. Romantic Valentine's Brunch for Two
In order to create a romantic mood, your tablescape doesn't have to be complicated. As an illustration, a simple bouquet of pink carnations in a gorgeous vase and white and gold tableware will set a romantic mood for a special brunch for two.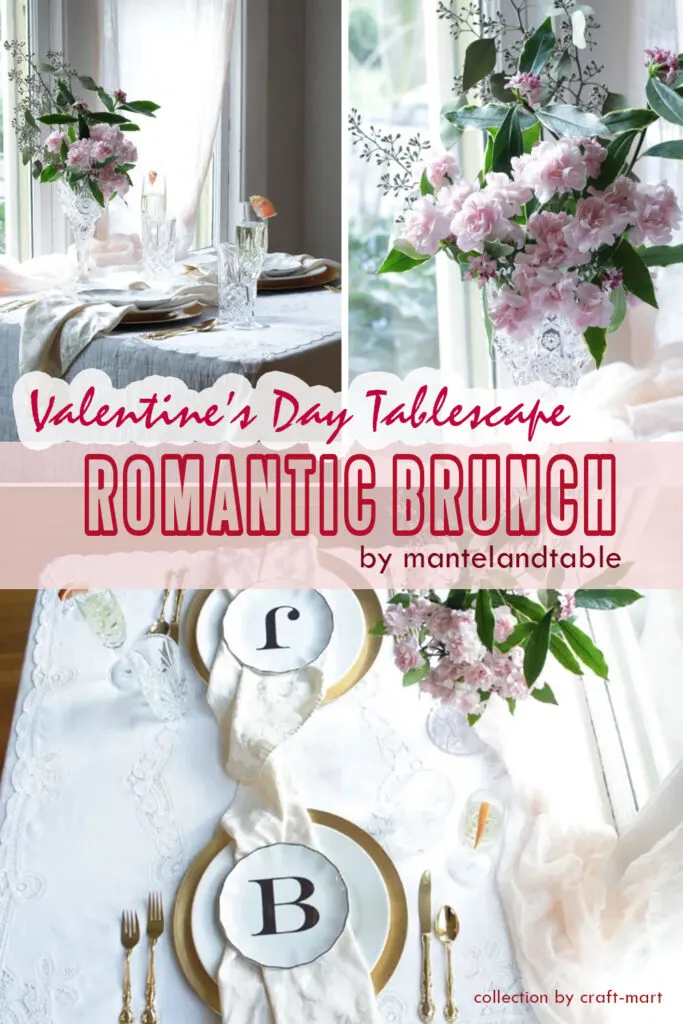 Source: A Romantic Brunch for Two
7. XO XO Valentine's Day Table Decor
Red and pink are some of the traditional colors for Valentine's decor. As an illustration, you can create stunning Valentine's Day decor by going 'all in' on pink. Moreover, use giant XO letters decorated with bright and pale pink faux flowers.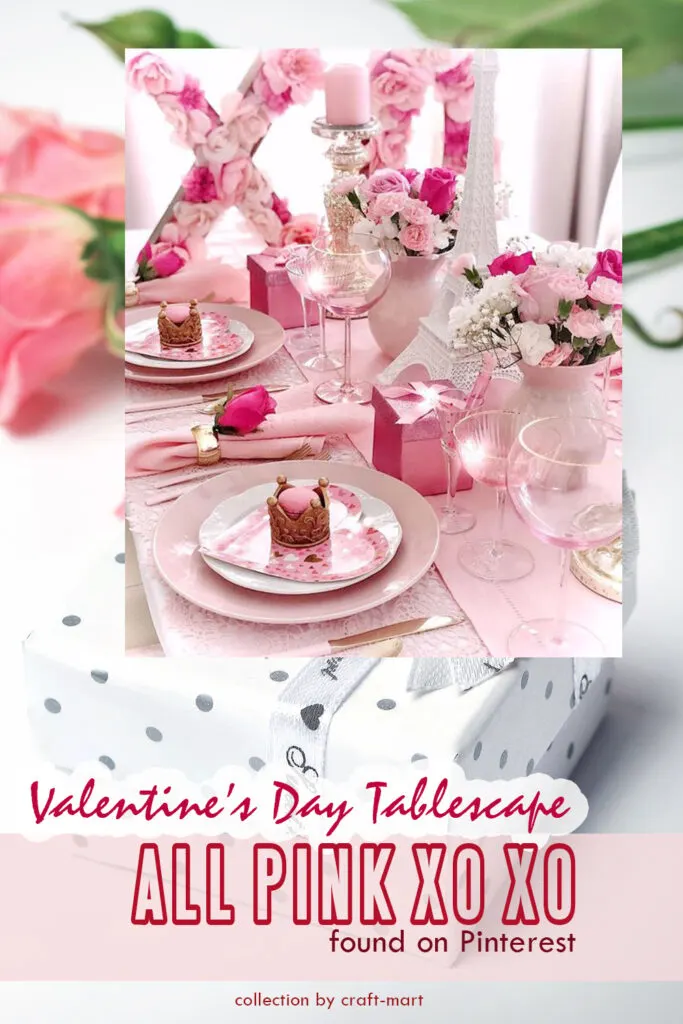 8. Valentine's Day Party
If you are planning a Valentine's Day party for your friends, you'll appreciate this idea for a quick DIY table runner. As a base, you can use a simple roll of craft paper decorated with a big brush or a marker.
In fact, you don't have to be a trained caligrapher to recreate it. The messy look brings a certain charm to this DIY creation.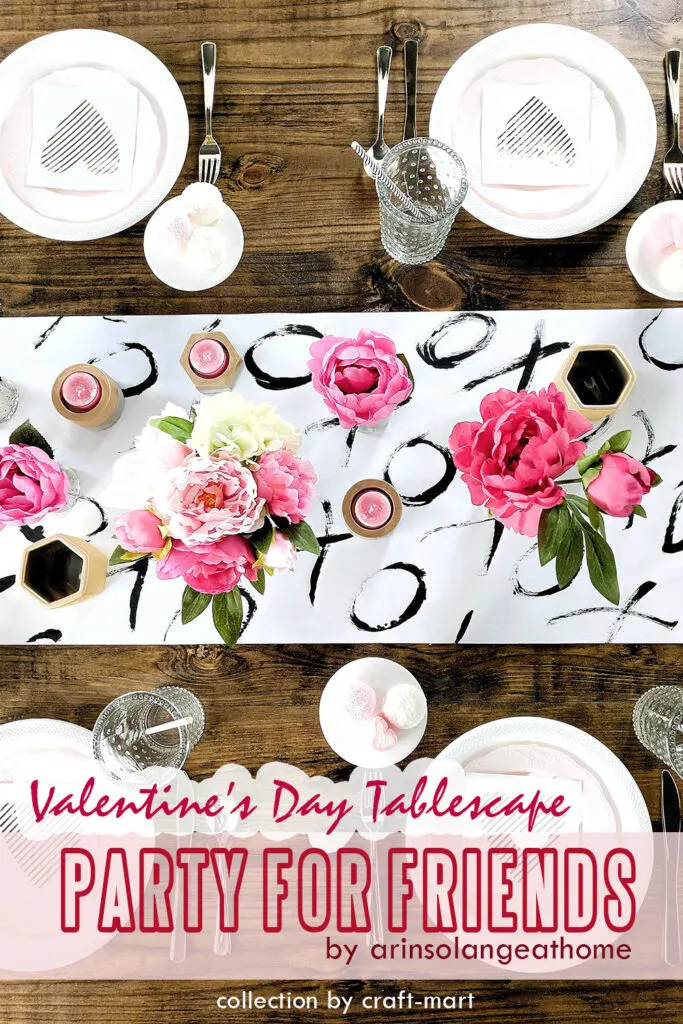 9. Sweet Treat for my Valentine
What if you want to add something special for your Valentine? With this in mind, a simple tablescape can be turned into fabulous. A garland of greens and roses in combination with elegant crowns holding macaroons make it special.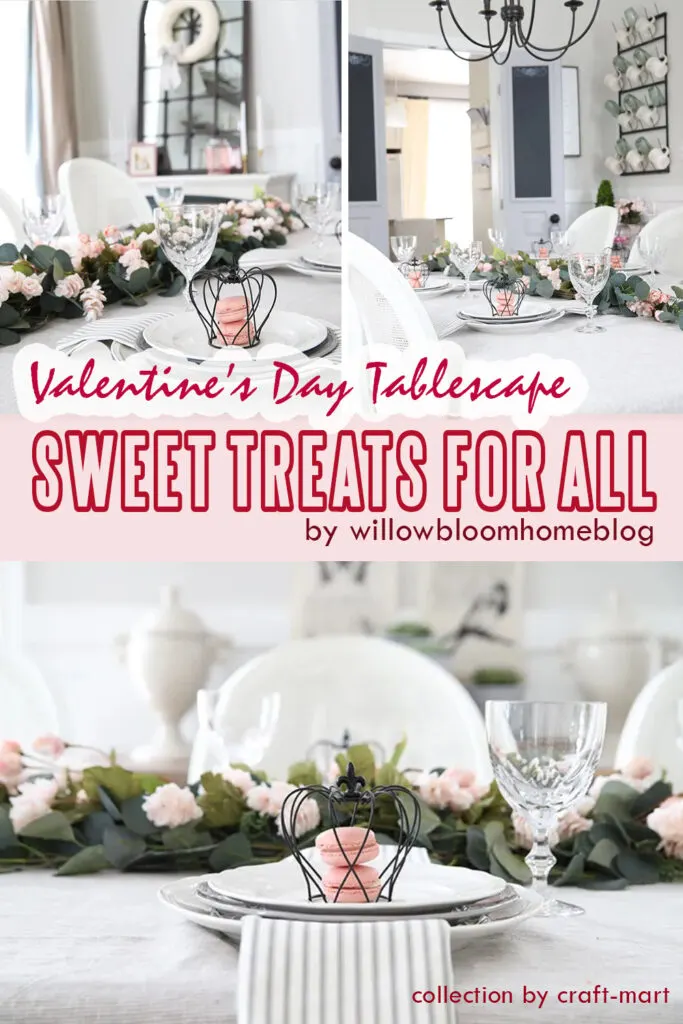 Source: A Sweet Treat for Your Valentine
10. Garden-Inspired Valentine's Day Tablescape
This is one of our favorite Valentine's Day Tablescapes! The abundance of spring flowers makes this tablescape quick and easy to create so you can celebrate in a garden of love.