Why more and more people are looking for modern small farmhouse plans?
Building a farmhouse is easier than one might think.
The most important thing that can save you from the frustration of going beyond your original real estate budget is educating yourself about all the basic aspects and rules of building a farmhouse in your particular area. You will need this knowledge for hiring professionals that will do their jobs according to the local building codes.
People who went the process of transforming their perfect farmhouse style dream into reality, warn that just buying perfect small modern farmhouse plans that you fell in love with, is not enough.
You need a clear plan of action to avoid possible mistakes and pitfalls:
Come up with a realistic budget keeping in mind that less may mean more (Less House, More Home);
Talk to your local builders so they can give you an estimate for approximate square footage based on your realistic budget;
Browse farmhouse floorplans to come with ideas for your dream real estate within your square footage and budget;
Plan for extras and overages that will be unavoidable;
Do your research and shop for bargains when it comes to finishing touches – builder may have left-over tile from a previous project that will be perfect for your small bathroom, for example.
Having good farmhouse floor plans can simplify the whole process.
Find 2-3 plans that you like (use free preview versions if available) and contact a few builders in your area. They will tell you how much each house may cost and what can be done in order to stay within your budget.
An experienced builder may also give you advice on how to stretch your budget by avoiding expensive design features while optimizing your floor plan.
If you have trouble visualizing how your modern farmhouse will look then learn one of the easiest FREE 3D programs such as "Sketch-Up" by Google or a popular Homestyler app (FREE as well).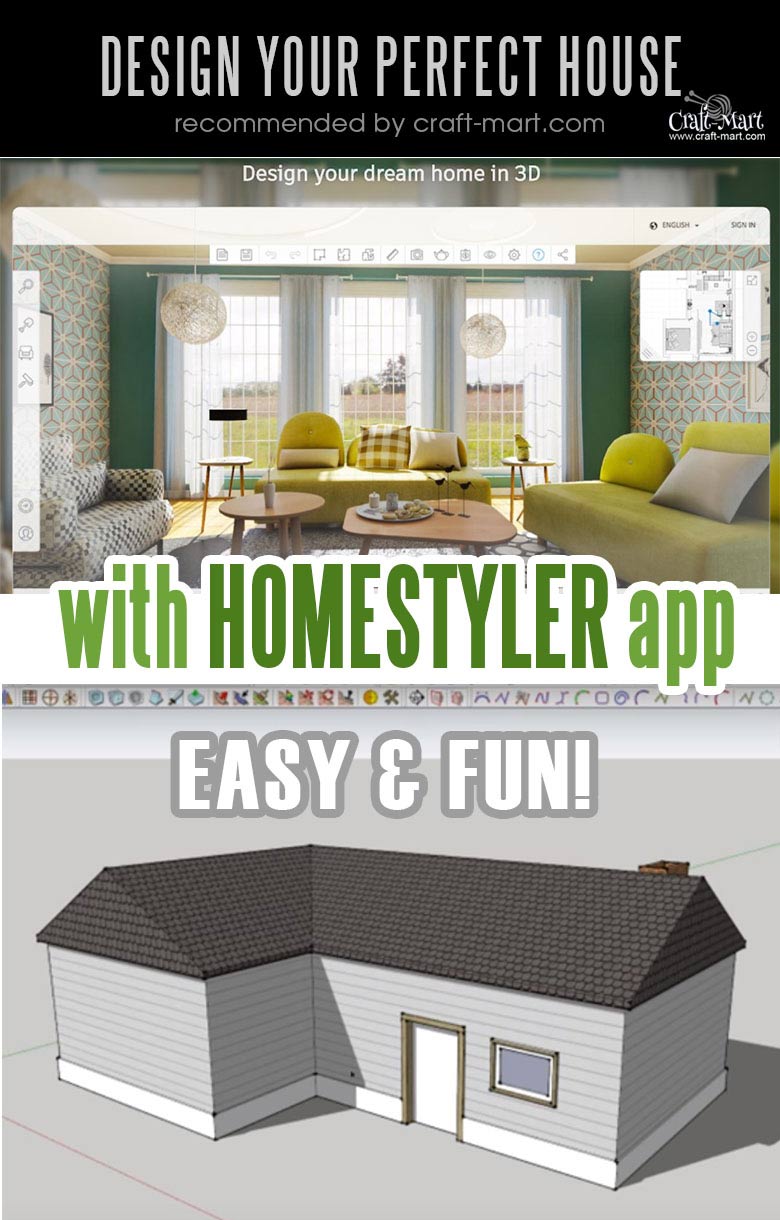 The rendering results will allow you to see many shortcomings that are hard to notice by looking at the house blueprints. Often people end up redesigning or customizing the original plan.
Prefab small modern farmhouse is a good choice for budget-minded people who would prefer spending more money on DIY farmhouse decor instead of expensive custom architectural design.
There are plenty of choices from pre-built cabins to small log cabin kits that you'll be able to assemble in 3-4 weeks saving on labor close to 1/3 of the total cost.
If you really need something special then hire an architect
In case you'll really need to hire an architect, choose one with an extensive building portfolio like this one and a reasonable hourly rate. Often builders work with architects making this an affordable option for you. Give this architect a clearly-defined task and a strict budget to avoid unpleasant surprises.
Small-to-medium size farmhouse style architecture is simple and functional and will often require only a few basic design components for styling up the interior and exterior.
Farmhouse color schemes and decor
Farmhouse color schemes are also well-developed and can be found on the internet without spending tons of time and money on interior design services. In addition to studying rustic modern farmhouse plans, do research on contemporary rustic farmhouse decor.
Farmhouse floor plans by themselves can't be rustic, steampunk, industrial, modern, Scandinavian, etc.. They can be either modern (open plan) or classic (separate rooms).
Contemporary farmhouse style, rustic or industrial, for example, can be applied to almost any farmhouse after the construction is completed. You can see that building a farmhouse can be educational and fun, especially if you like DIY decorating projects or even up to the task of building a DIY farmhouse table!
Styling up the interior also increases the value of a real estate in case you'll decide to sell your modern farmhouse later.
Decide what suits your family lifestyle best:
single story small farmhouse plans or
2 story modern farmhouse plans.
Both types of these floor plans have their advantages and disadvantages not only in terms of the budget but also for future heating/cooling costs or roof repair and maintenance, depending on where you would build your dream home.
Don't forget to add free farmhouse printables to personalize your decor and make this HOME really yours.
* Sources for the plans are at the bottom of the post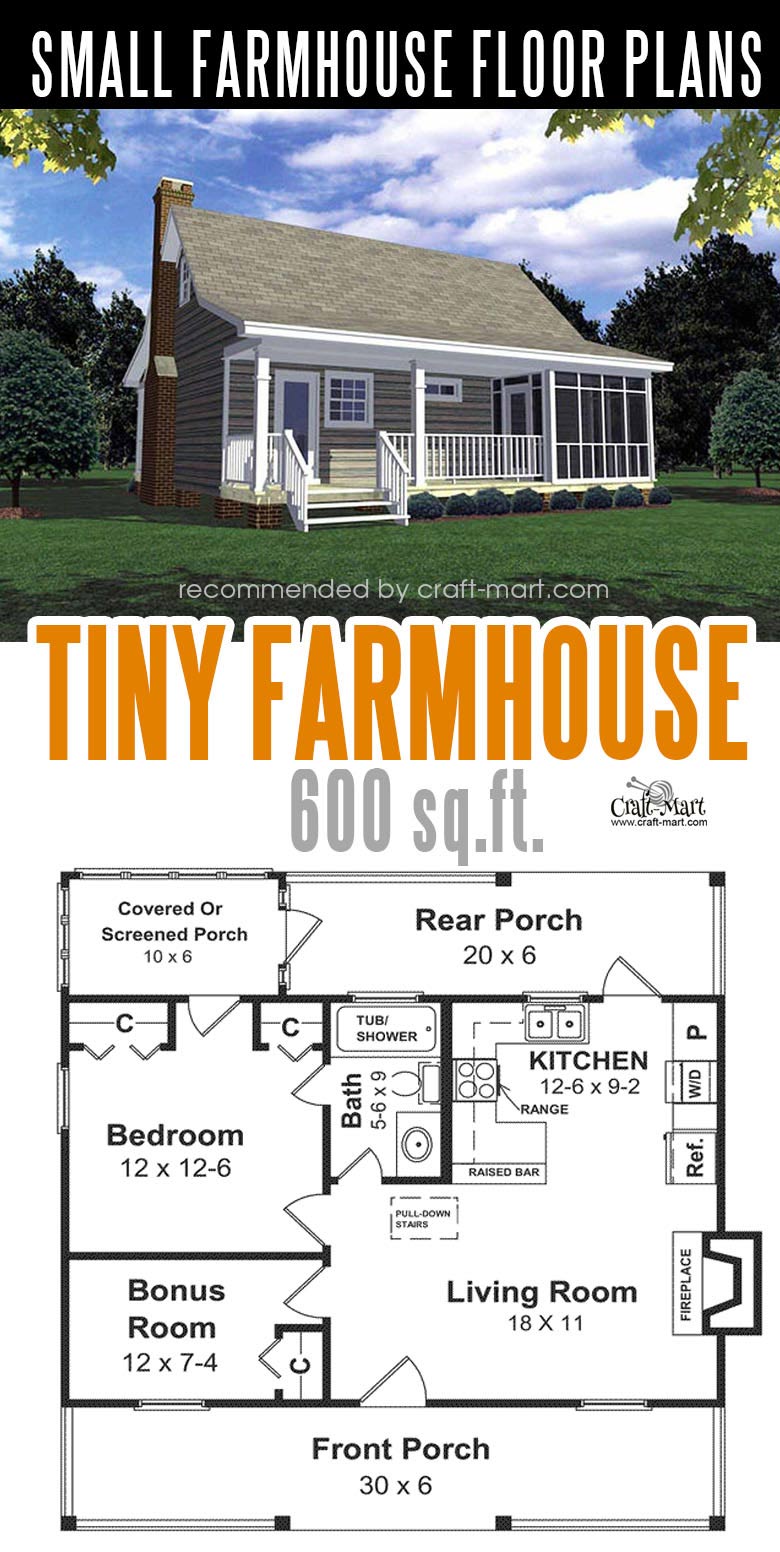 This mini farmhouse has one of the simplest and logical plans. It is designed to be a small farmhouse-style cottage for a weekend get-a-ways but also can be a permanent living solution for a family of one or two. It has everything you'd need, including a wood-burning fireplace that can be converted to natural gas by request and a nostalgic front porch.
The kitchen has space for all the appliances but the main attraction of this modern farmhouse plan are two (!) very spacious porches: front porch and rear porch. Imagine yourself cooking on the back porch and having romantic dinners in the screened area!
This is definitely one of the best single level super-simple small contemporary farmhouse plans as it allows you to enjoy your simple house and outdoors to the fullest without spending a fortune! Perfect for tiny home enthusiasts on a tight budget!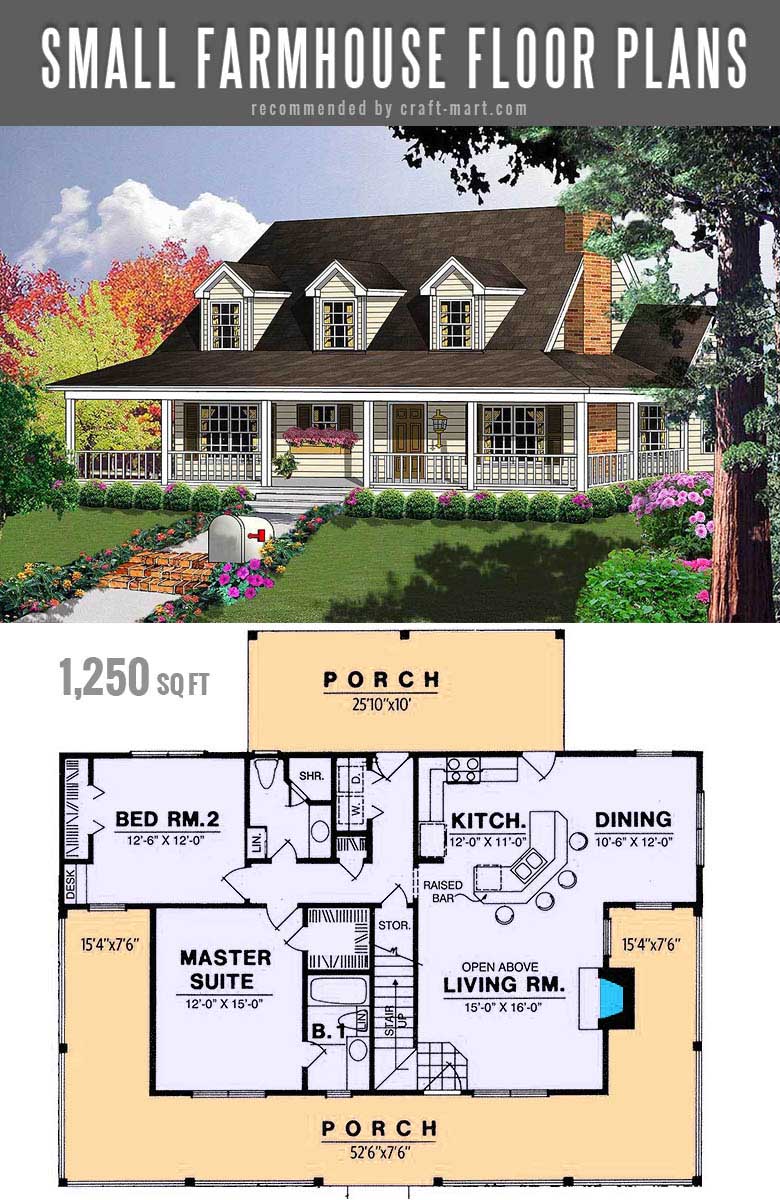 This modern 1,250 SQ FT home plan offers an open plan with a free-standing angled island separating the kitchen from the living and dining rooms.
A small loft is overlooking the living room. it can be easily converted into the third bedroom by adding a bath and a closet.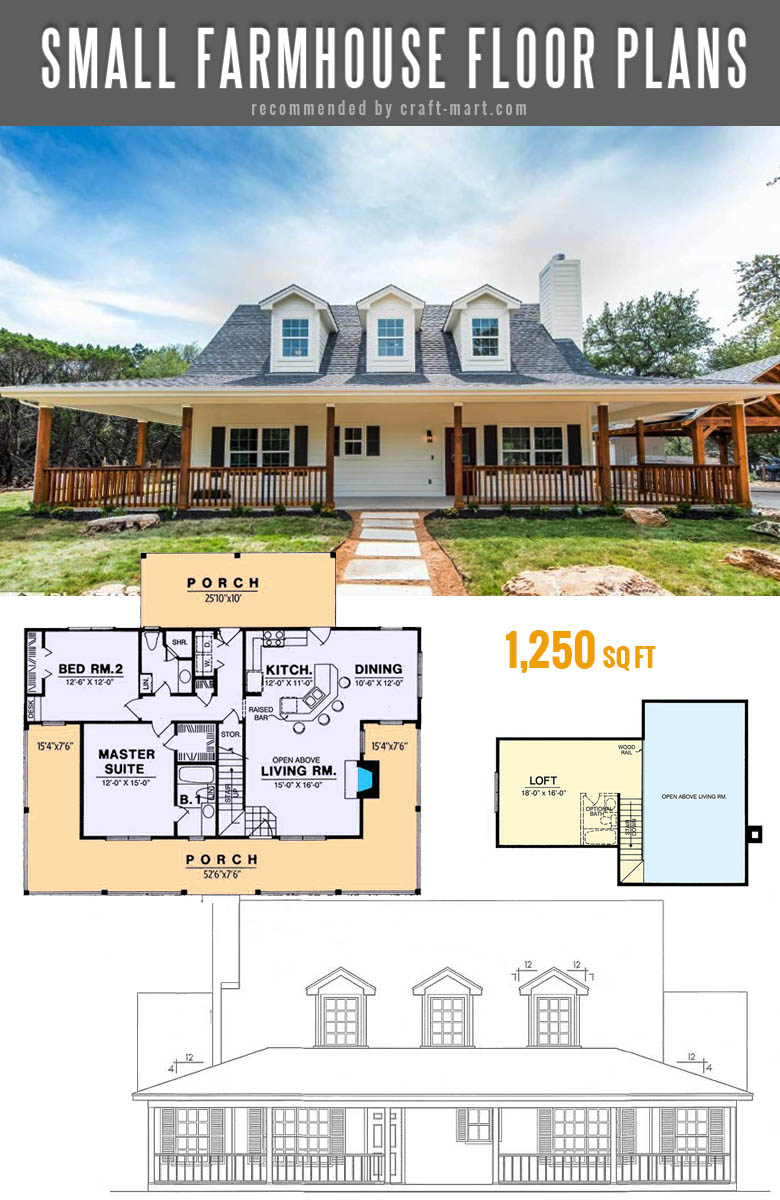 The master suite has a walk-in closet but the bath has only one sink. No worries! You can fit the second sink placing it by the front wall and making the bathroom door a sliding barn door. The other bedroom includes a built-in desk, handy for the student, and is close to the full bath in the hall.
The main bonus of this plan is a huge covered porch that wraps around three sides with another one located by the kitchen.
If you can imagine yourself sitting on these porches drinking coffee or beer then get this plan here.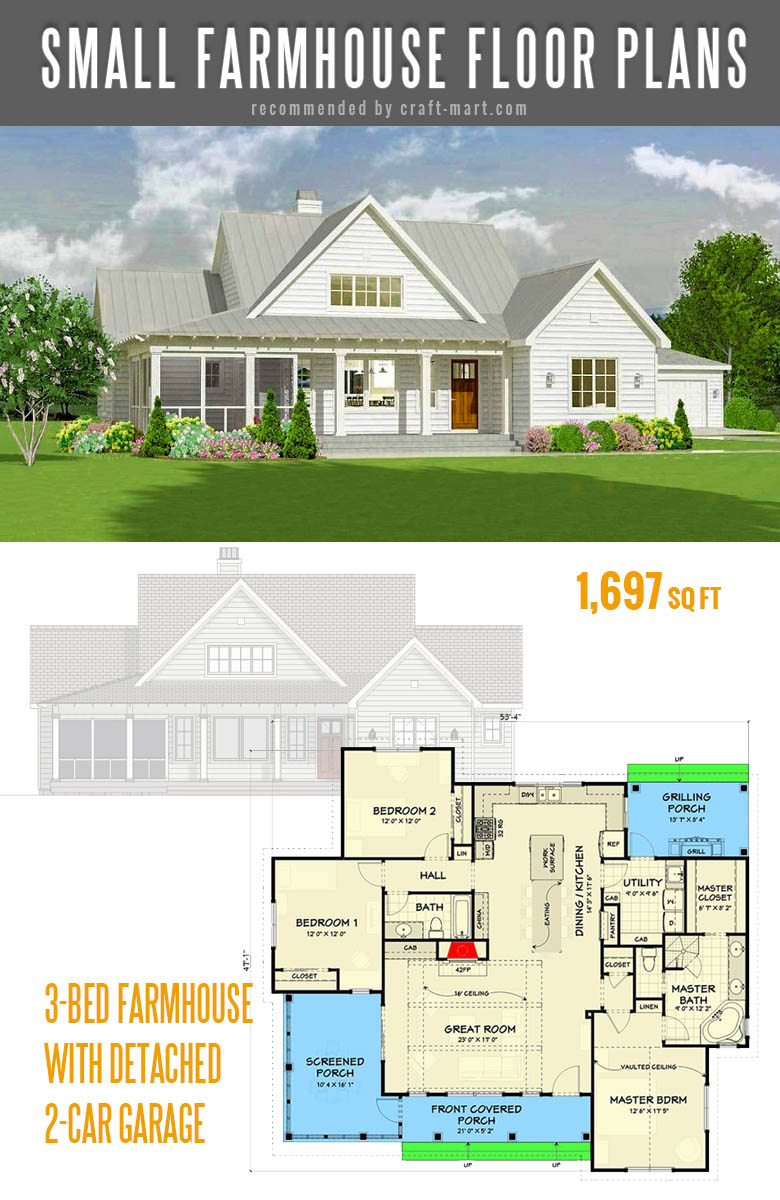 A partly covered and partly screened L-shaped porch gives this 3-bedroom house plan a charm of a traditional country-farmhouse.
On the other hand, inside of the house is a pretty modern open floor kitchen and living room space with the ceiling vaults to 16′ and plenty of natural light from windows in the large front gable.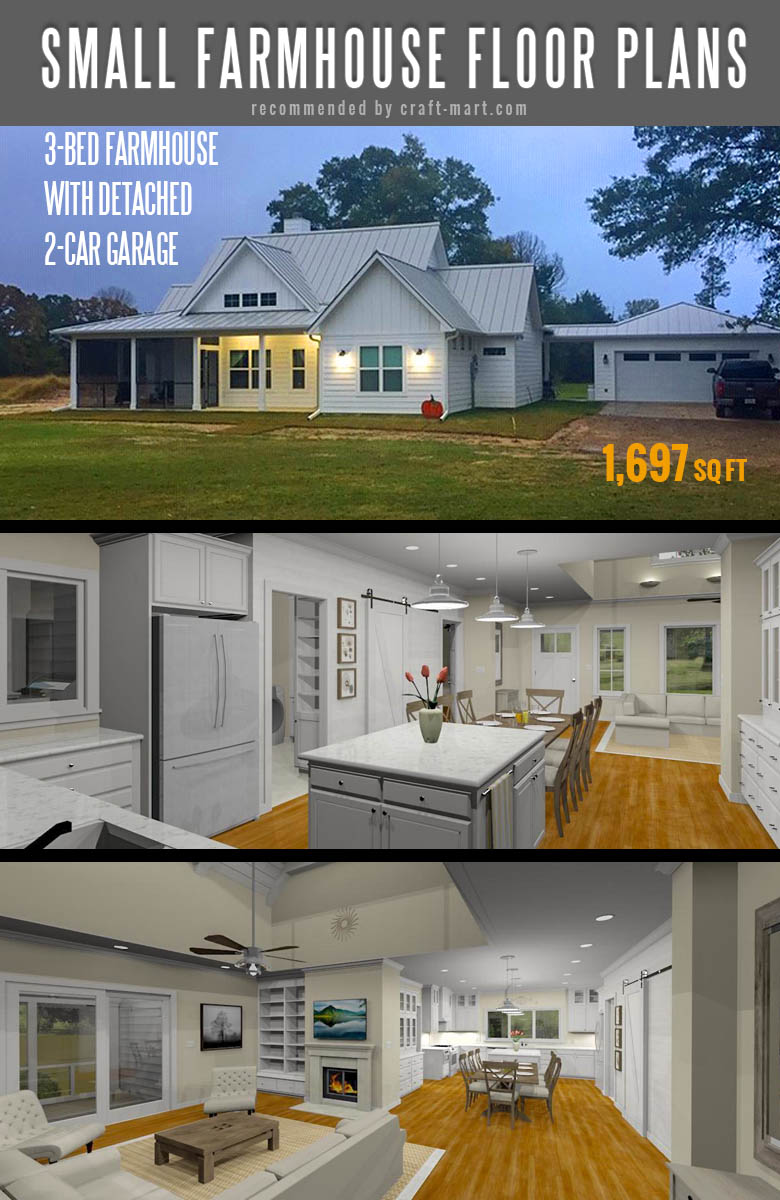 An open floor plan makes this home great for entertaining. A built-in eating area and an adjacent workspace and china cabinet make the most out of every square foot in the home. A grilling porch on the back gives you another place to relax outside.
The master bedroom has a vaulted ceiling and is located across the living room from the other bedrooms maximizing your privacy. A matching 2-car hip-roofed detached garage comes with the plan.