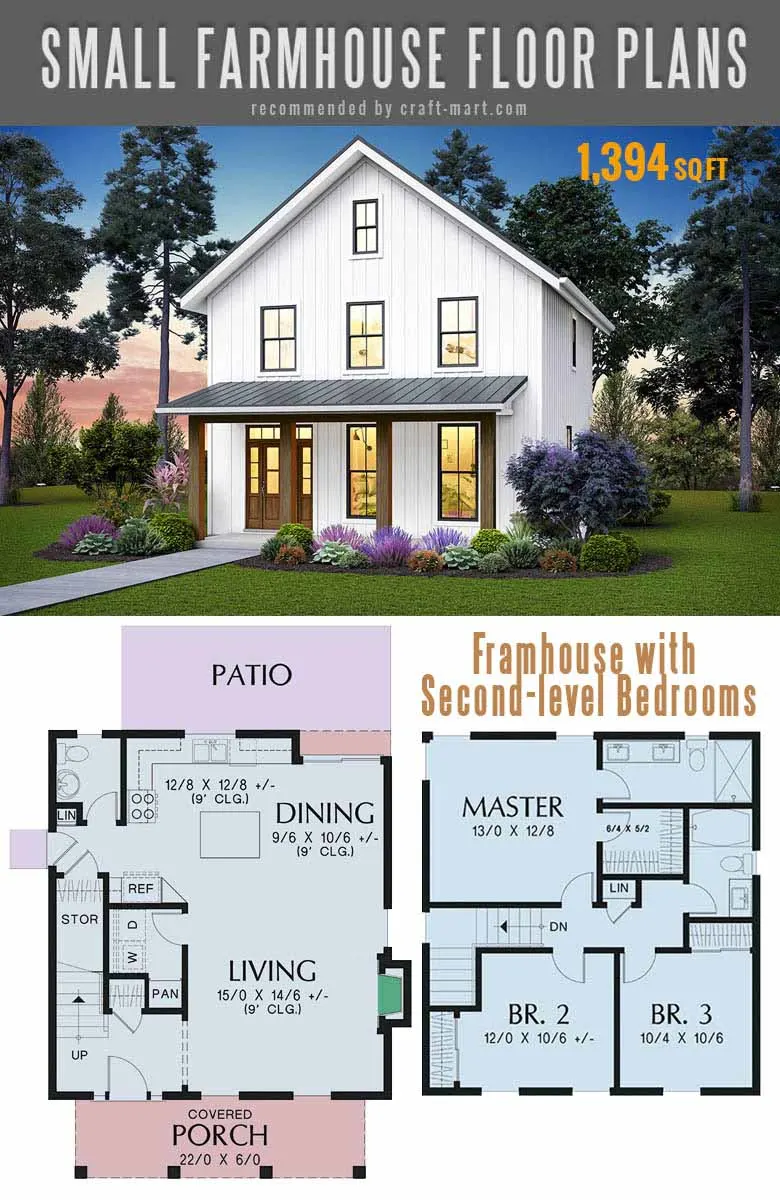 Although this 1,394 Sq. Ft. cozy, two-story farmhouse plan looks tiny, it is not skimping on any of the contemporary must-haves.
The open-concept living/kitchen area on the main floor provides a comfortable environment for everyday activities. A sizable island in the kitchen increases workspace and a small pantry closet in the laundry room adds some storage space.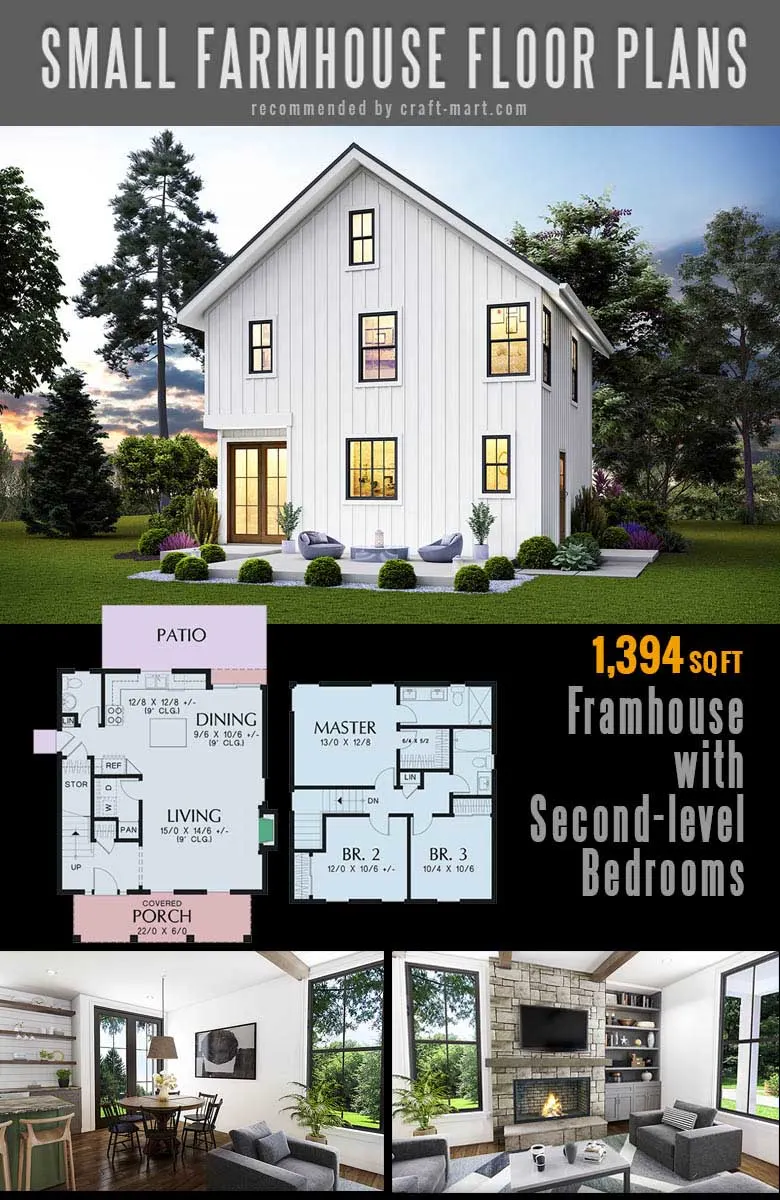 The back patio is large enough for family dinners but lacking the cover.
Upstairs, the master bedroom has a 4-fixture bath with dual sinks. The other 2 bedrooms reside across the hall and share a full bath. Overall, this is a very nice small farmhouse plan for a pretty modest budget.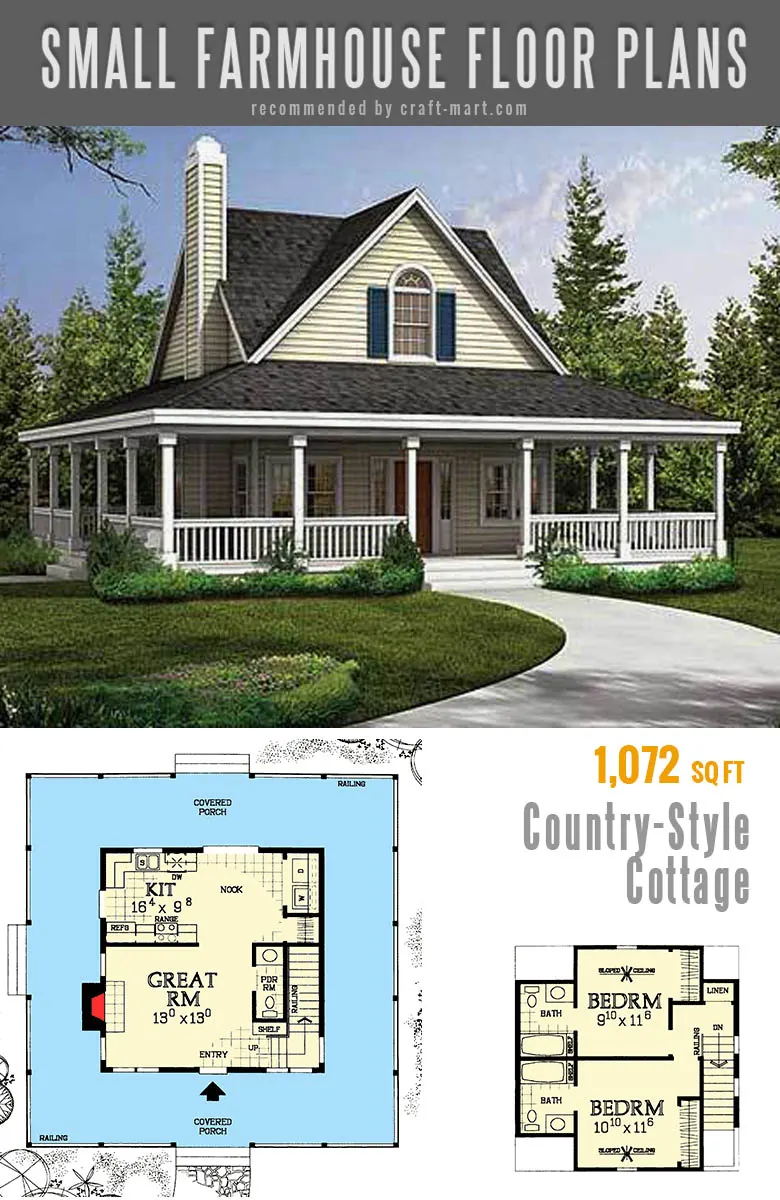 This house looks more like an all-around porch with some rooms in the middle. As a vacation home, this country-style cottage would make a perfect candidate for nature-loving people.
On the other hand, a family of 2 or even 3 people can feel pretty comfortable in this home considering 2.5 bathrooms and a small fireplace for cozy winter evenings.
If you love outdoor living, BBQ dinners with friends and family then go for his plan! It's only 1,072 Sq. Ft., so it should be affordable!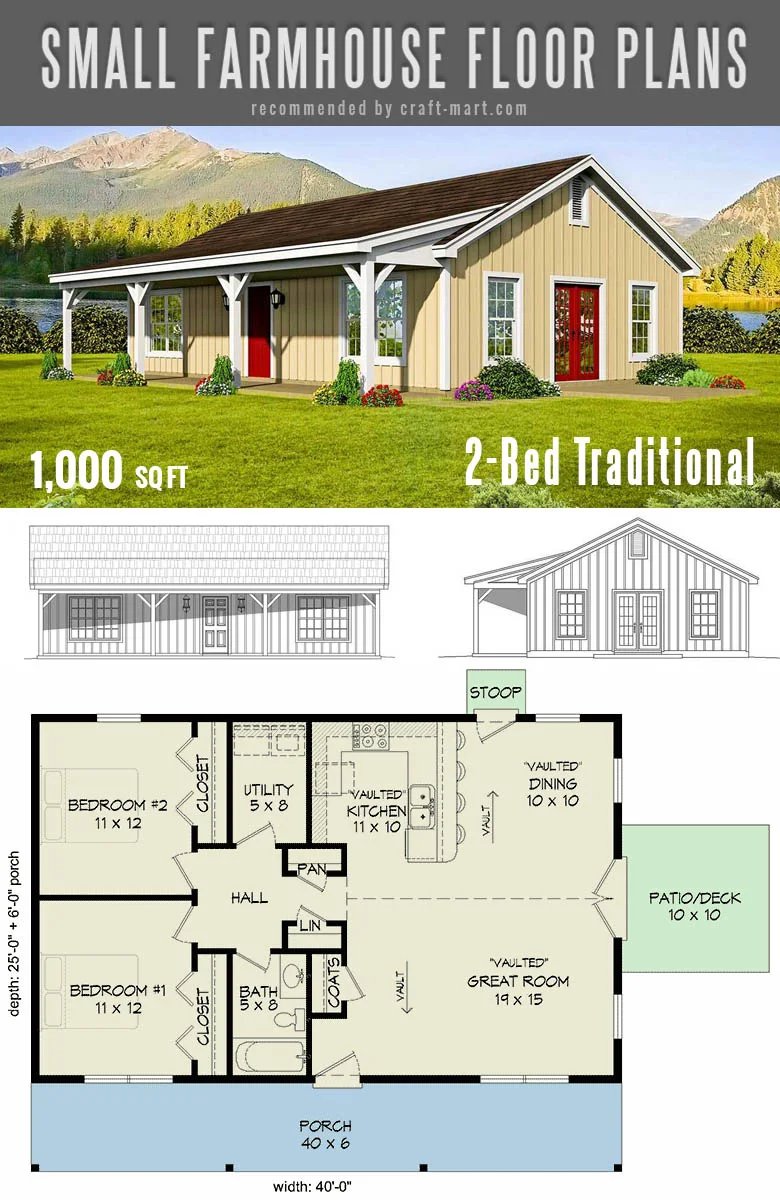 Another small farmhouse-cottage that reminds us of more simple times…
The porch serves as an extension of the living room and the bedroom. An open-concept floor plan with a beautiful vaulted ceiling creates enough space for family dinners and activities.
The only addition that we can think of would be a larger back porch. Get this plan here.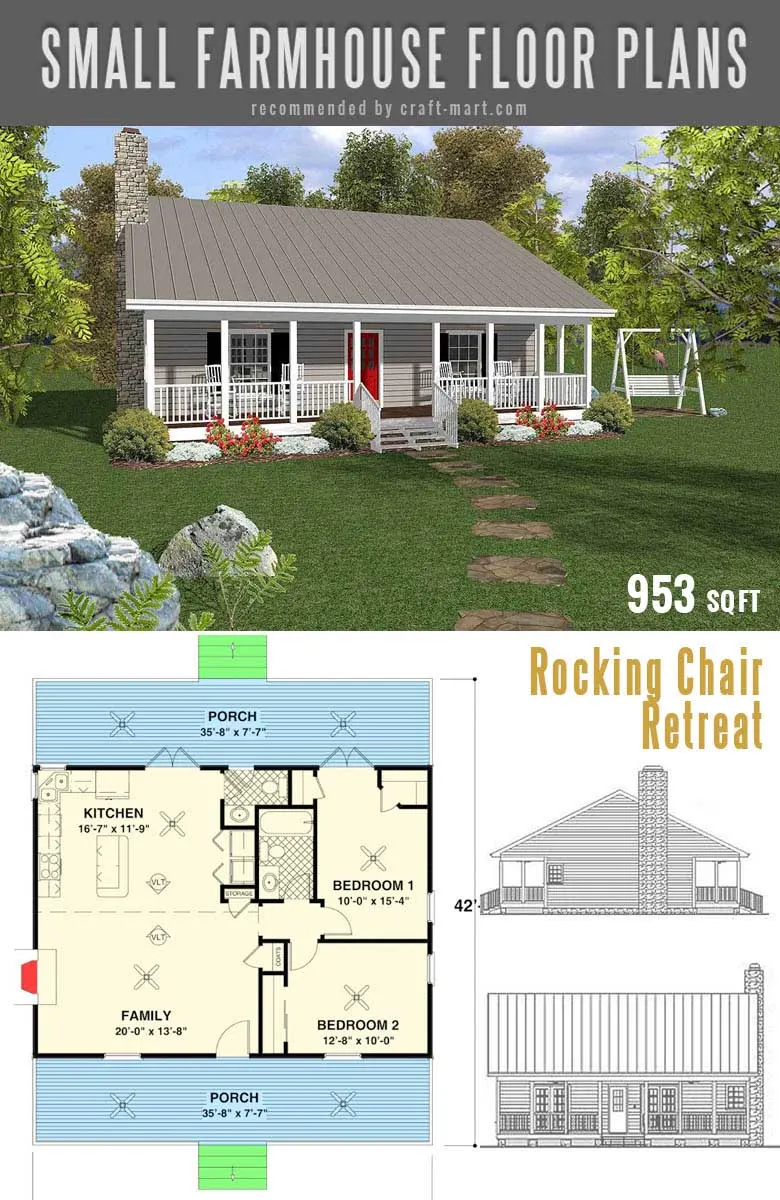 Here is another small farmhouse plan for the porch style living. With only 953 sq ft inside area this plan sport almost the same footage for outside covered porch space. With two large bedrooms with oversized closets, a spacious kitchen, and a family room with a fireplace, this home plan has everything you need to enjoy a vacation getaway.
Do you think it's too small? Go for the basement version.
In the basement version, the stairs go down where the door is to the storage closet and replace the laundry closet and half bath. Laundry then goes into the basement.
Pretty cool, right? Go for it, get this plan!
Finished Square Footage
Unfinished Square Footage
Garage/Storage:615 Sq. Ft.
Bonus Room:417 Sq. Ft.
Porch – Front:213 Sq. Ft.
Porch – Rear:260 Sq. Ft.
Patio:479 Sq. Ft.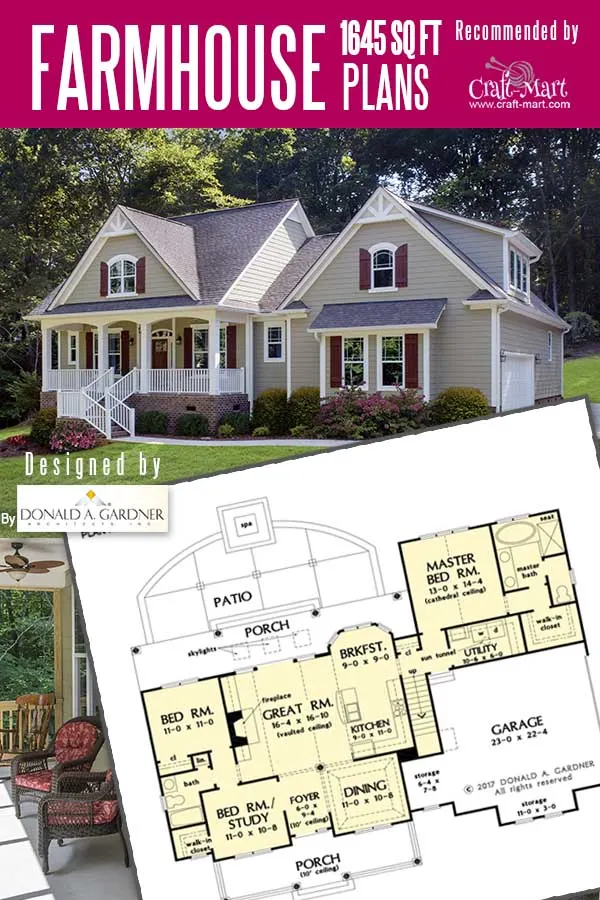 This modern farmhouse has a perfect layout with a master suite tucked away behind the garage for privacy while close to the laundry room and the kitchen. A beautiful covered front porch is very spacious. The back porch is even more impressive considering the adjacent patio with a spa.
The open floor plan of this modern farmhouse creates an easy flow for everyday family functions and meals. Two additional rooms can be used for children, guests, or crafts and hobbies.
Our only suggestion would be allocating some space in a foyer for hanging coats and storing boots as a mudroom is on the list of many homebuyers. It is easy to forget that not all people live in the perfect climate zones without snow and mud.
This small farmhouse plan is a perfect choice for young families or seniors who'd like either to downsize or have a separate country home with a beautiful garden and a relaxing porch to enjoy the view.
View details of this farmhouse plan here
---
*If the plans on this page are a bit too large for you we have a collection of a lot more affordable and smaller floor plans for rustic homes in farmhouse style.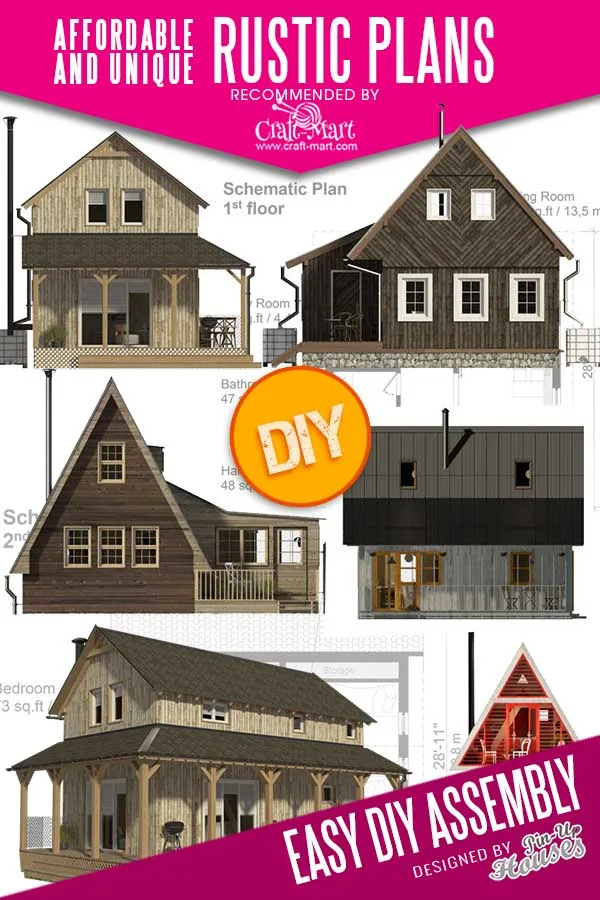 To continue viewing farmhouse plans go to the next page…