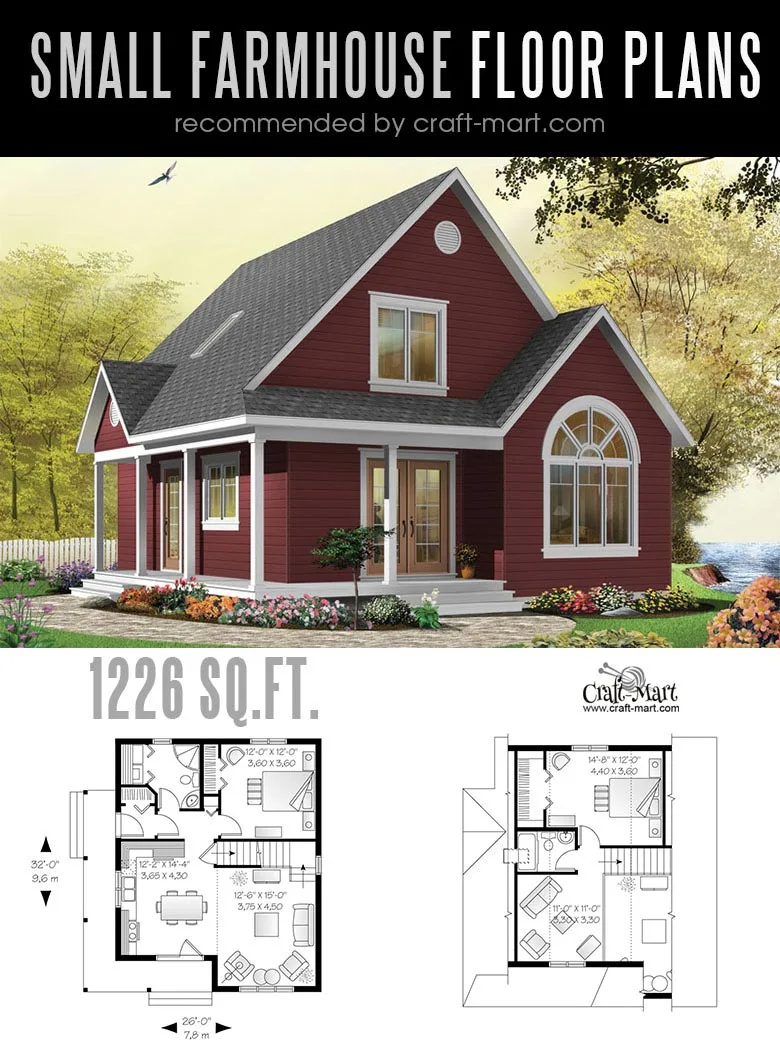 Countryside living at its best! This 2 story farmhouse has a small footprint but plenty of real estate to offer. The covered front porch will let you enjoy your coffee in the morning or iced tea in the afternoon while kids are playing outside.
An open floor plan with kitchen and living room combination makes this modern farmhouse feel spacious with a modest 1226 sq.ft. of total living space. Note that this modern farmhouse plan includes a ground floor bedroom with room for the washer and dryer in an alcove of the bathroom.
Get a set of these small farmhouse plans here
16. Three Bedroom Modern Farmhouse Plan with a Wrap-around Porch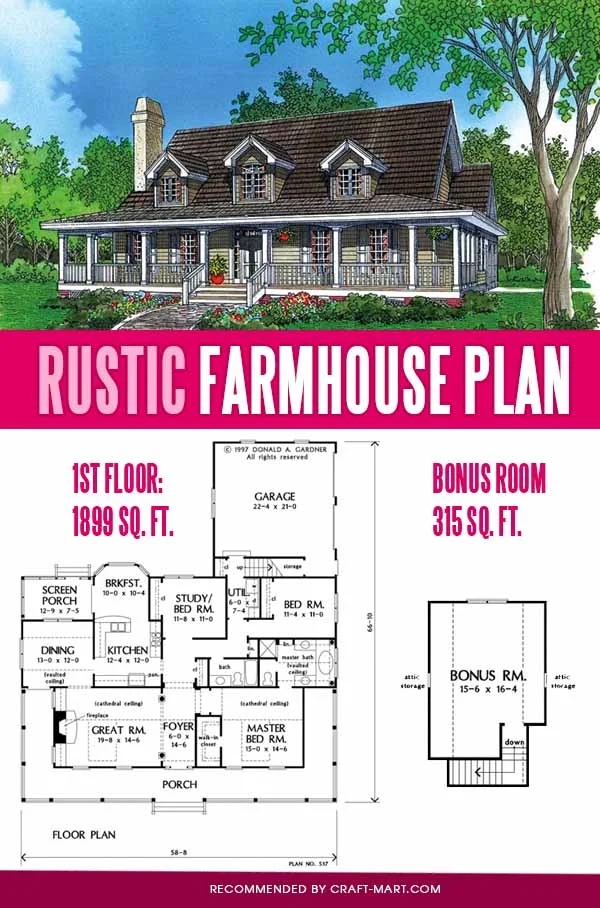 With a total square footage of 1899 SQ FT, this modern farmhouse is pretty spacious offering cathedral ceilings and plenty of space outside on its wrap-around porch. A smart utility room separates the flexible study/bedroom from the third bedroom, and a bonus room over the garage provides options for expansion in this house plan. It is also suited for a vacation home you were always dreaming of building a farmhouse on that perfect piece of land away from everything.
With its clerestory dormers, simple design, and rustic exterior, this is a great floor plan for a modern farmhouse, with plenty of storage and energy-efficient features. Building a farmhouse like this one can be a nice real estate investment.
Get the floor plan here.
17. Three-Bedroom Empty-Nesters Simple Farmhouse Plan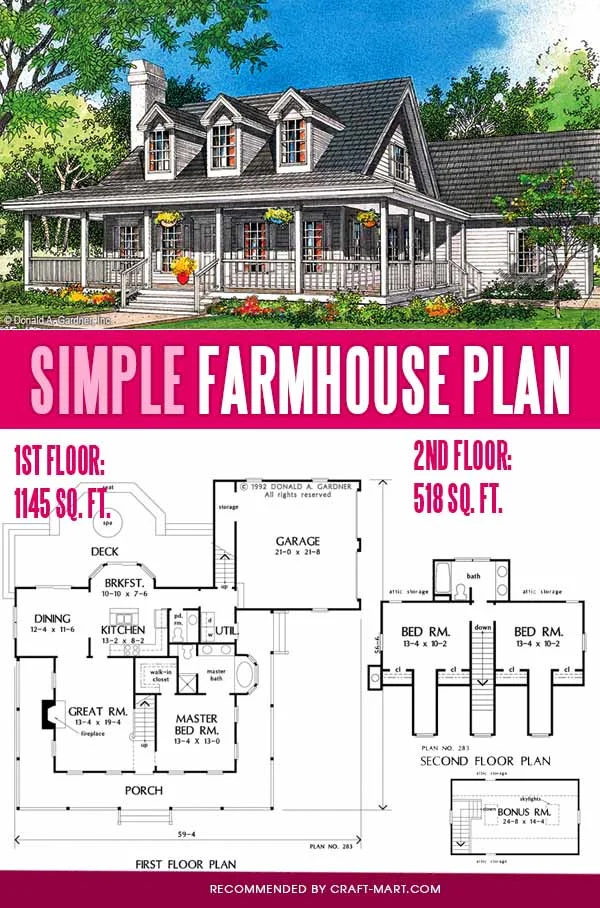 Building an empty-nesters dream home does not always mean drastic downsizing – you have to think of a bunch of noisy grandkids coming to stay with you in your perfect farmhouse. This design called The Thackery offers spacious living with 3 bedrooms, 2.5 bathrooms, 1145 sq.ft. first floor, 518 sq. ft. 2nd floor, and a 2-car garage (which can be also a woodworking/craft area if you downsize to just one car). A really nice wrap-around porch adds value to this rustic small modern farmhouse plan.
Get more information about this floor plan here.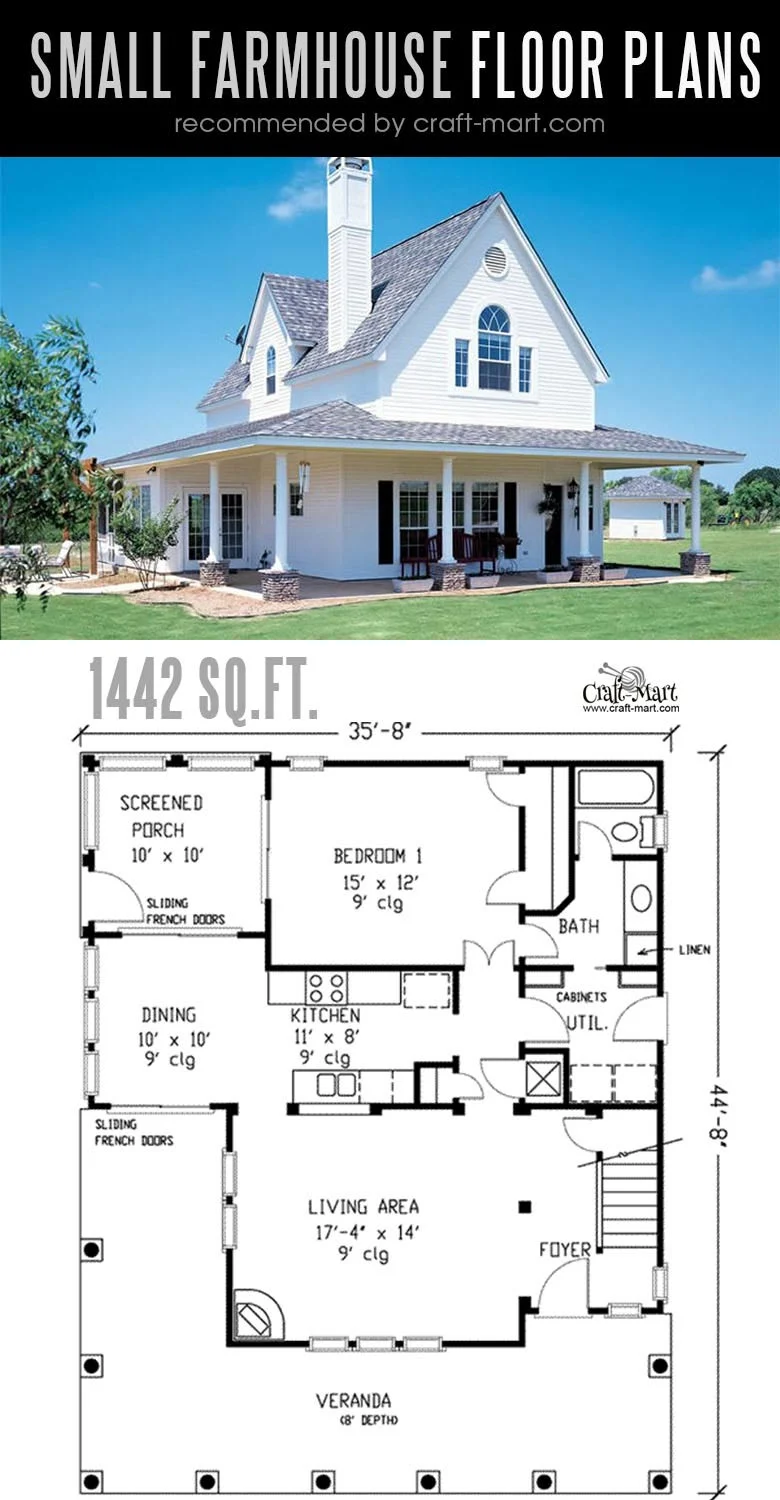 This is one of the most adorable farmhouse-style floorplans with screened porch connected to the dining area and the downstairs bedroom via French doors. The main floor bedroom with a spacious bath and walk-in closet gives this floor plan a luxurious feel.
A spacious veranda (8 feet deep) wrapped around the living room that is connected to the kitchen, plenty of storage, and the loft make this plan one of the best around for simple farmhouse living on the budget.
Get a set of these floor plans here
19. Romantic Farmhouse Plan with Covered Porch on All Sides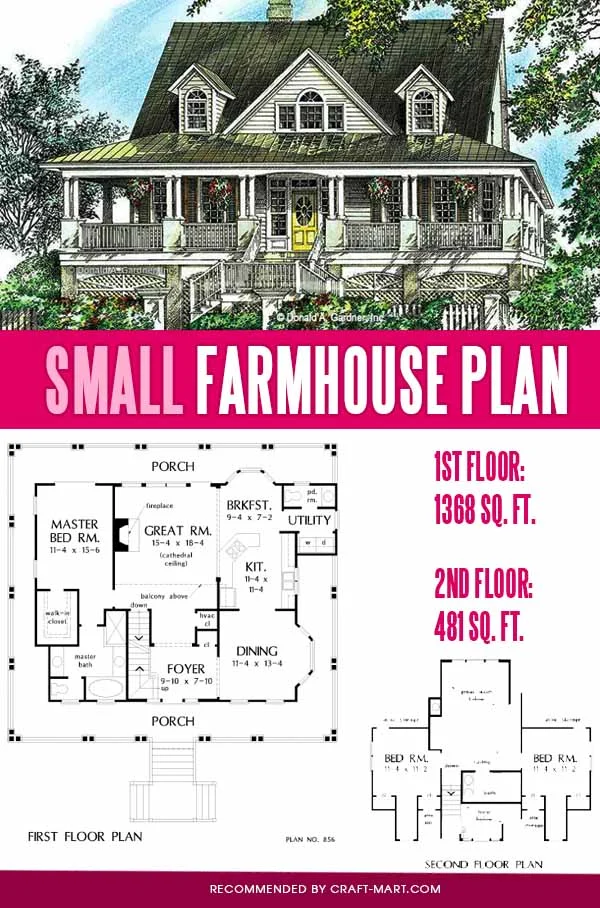 Farmstyle homes are famous for their covered porches and this floor plan doesn't disappoint! If you are looking for a simple country-style living but with a deep connection to nature, this is a great find. A spacious kitchen-dining-living area with an island and main floor master bedroom will suit a family with kids or empty-nesters with grandkids staying overnight. The second-floor bedrooms with a separate bathroom are functional and versatile, with a little hall area and even a walk-in closet to store all these toys or accommodate a craft area. Such a nice plan! Get it here!
20. Simple Rustic Home Plan with a Room to Grow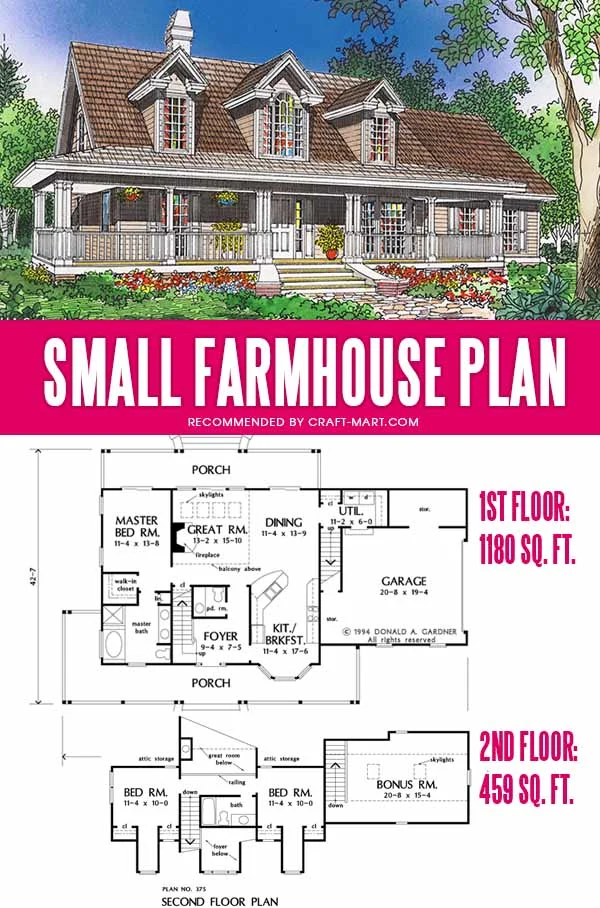 Vaulted ceiling with skylights crowns the main living area of this rustic farmhouse plan with a two-car garage. Creative use of natural lighting gives a sense of spaciousness to this country farmhouse with the front wrapping porch. The rear screened porch is adjacent to the great/dining area with a warming fireplace for those cozy family nights in the country.
Two second-floor bedrooms, each with attic storage access, share a bath. A skylit bonus room provides room for growth. The master suite features a walk-in closet and a bath with whirlpool, shower, and double bowl vanity. You can't go wrong with building a farmhouse like this one. Check out the floor plan and details here.
21. Farmhouse Style Summer Kitchen with Showers for Your Garden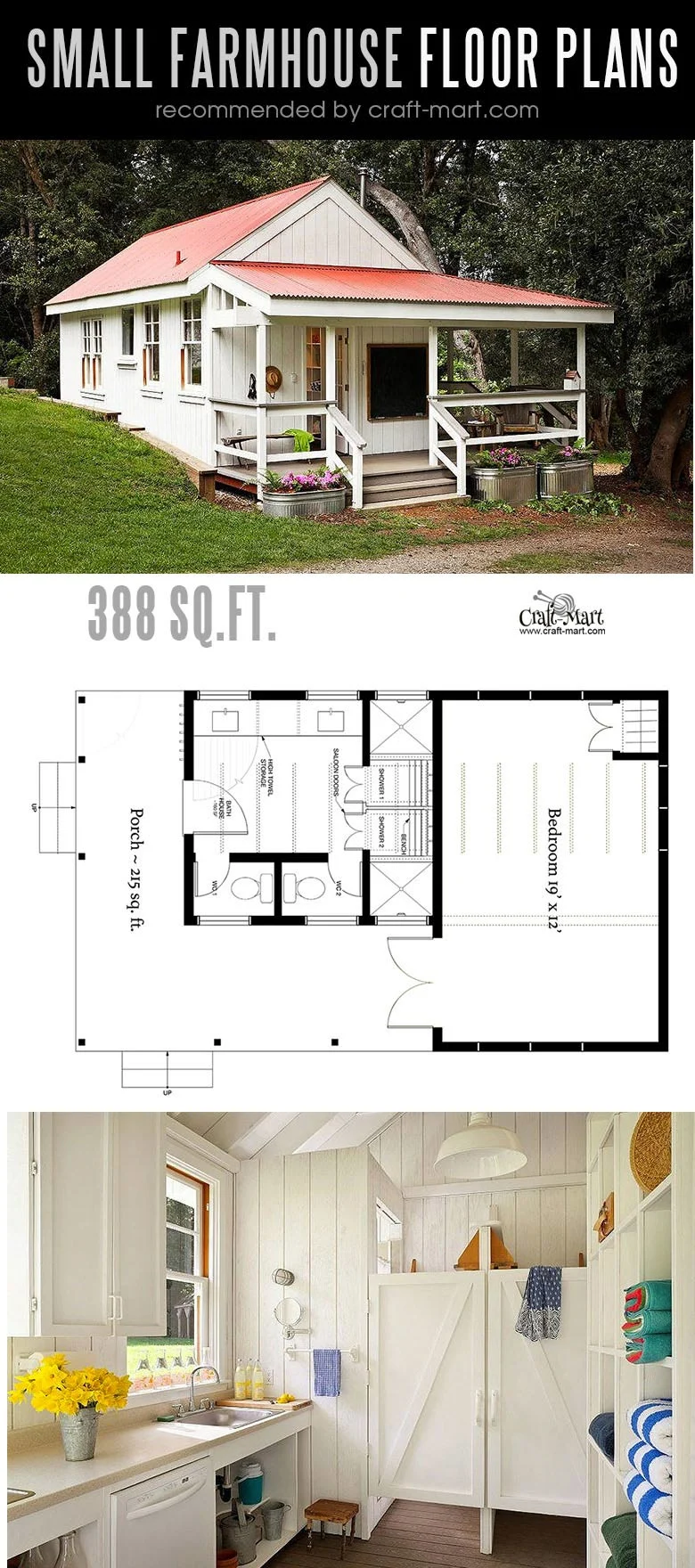 Looking for a she-shed or get-away space? This farmhouse style bathhouse/kitchen provides welcoming and comfortable amenities. The design concept embraces a fun, whimsical, and practical character. Non-corrosive and wear-resistant materials were used including galvanized sheet metal, sealed board and batt siding, and painted plywood and MDO board.
This design includes a bedroom off the porch at the back — so this design could work well as an in-law or granny flat, or a backyard cottage for a guest. The second WC and shower could be reclaimed for a tub if the bathroom does not perform double duty as a pool changing/shower room.
Sources for the small farmhouse plans listed above
---
Click here if you'd like to see our latest collection of 11 beautiful medium and small rustic house plans for people with a tight budget.
Do you need more tiny or small house floor plans?
Check out our new collections of building plans for sheds, cabins, and tiny homes below!