Why we are talking so much about these prefab tiny houses? It seems that the tiny house movement is sweeping up the nation and home improvement channels and the trend is only growing. In many areas, real estate prices are completely out of reach for young people and wish to downsize empty-nesters.
There is a tremendous interest in custom and prefab tiny houses, tiny house floor plans, shipping container homes, prefab cabins or small log cabin kits, DIY prefab tiny house kits, DIY storage hacks, and decoration ideas for small spaces.
For a number of people, going "tiny" is a good choice to pay off their debt faster since loan consolidation doesn't help a lot if you still have a huge mortgage hanging over you.
*Read here about amazing High-Tech and Eco-friendly tiny homes that are really affordable…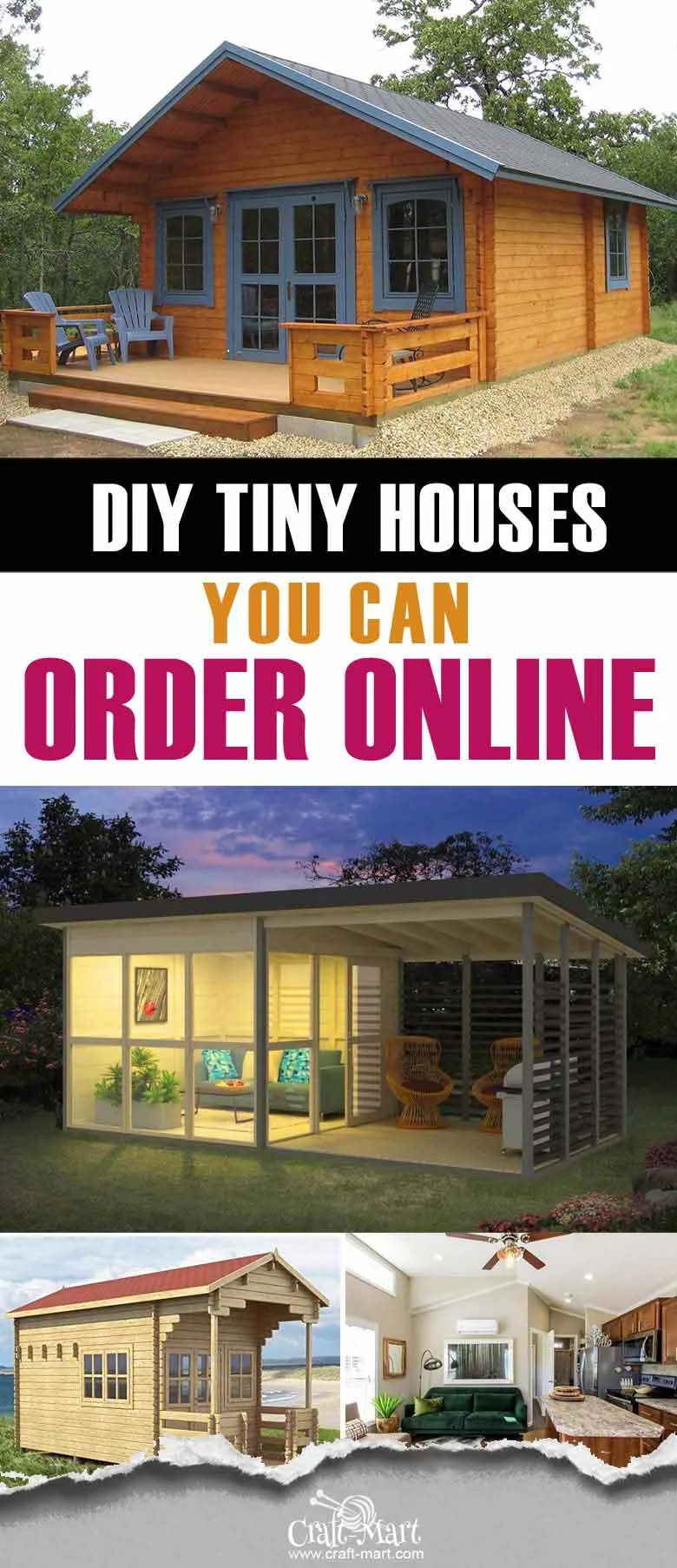 But let's first determine what is a tiny house: in order to be officially called 'tiny', the house has to be 400 square feet or less, excluding lofts, according to the International Code Council. There are also 2 main categories of tiny houses:
Moveable (a.k.a. as homes on wheels or tiny house trailer)
Stationary (meaning they are permanently sitting on a foundation and usually have all the utilities (plumbing, sewage, and electricity)
Why is this important?
There are numerous regulations for movable and stationary tiny houses and in order to legally own and live in one, you must be aware of them. So, whether you are shopping for custom or prefab tiny houses or looking at floor plans offered by tiny home builders, make sure you check all legal aspects of the law regarding tiny houses so there are no surprises in the future.
What are the pros and cons of owning or building your own DIY tiny house?
Let's analyze the PROS for building or ordering prefab tiny houses first:
Downsizing may mean having a reduced cost of living (including mortgage, paying off debt faster, property taxes, utilities, etc).
There is less space to maintain and clean as well as fewer options for stuff to accumulate which is great for those pursuing a minimalistic lifestyle.
A tiny home is an intimate space that can bring the whole family closer together.
It is a 'greener' living as tiny house dwellers are usually ecologically-minded bunch concerned with reducing their carbon footprint.
Tiny house trailer (on wheels) may be an adventurous undertaking allowing you to explore and see the world before settling down – take a look at this collection of 17 tiny homes on wheels that people built for $12K – $25K including appliances.
It is more affordable than your regular 3 bedrooms, 2 baths real estate in the suburbs, as you can build it yourself: design your own tiny house, order a prefab tiny house kit, or buy an existing dwelling in a tiny house community.
As the initial housing cost is less (between $19,000 and $60,000, on average, depending on its size and finishes) you can really splurge on the land and put it near the lake, in the mountains, or right at the oceanfront – but make sure to check the legal issues first.
If you pay cash for a prefab tiny house kit or save money and slowly build your own tiny custom home, you can completely eliminate the mortgage costs. These savings, over a long period of time, are huge (hundreds of thousands), as the biggest portion of your mortgage payment for the traditional real estate property goes towards the interest. Just think of all the trips you may take!
If you invest in a moveable tiny house on wheels, it can move with you if you are relocating for a job offer or just decide to change the scenery. If your tiny home is portable, it may be legal to live in it on an employer's land, if he/she allows it. This is another way to use accessory dwelling unit (ADU) laws to your advantage.
Tiny spaces can be extremely energy-efficient as you can equip them with solar panels, compostable toilets, and water conservation hacks. Your total house utility bill can be a quarter less than one of the traditional median homes.
Getting and assembling a small prefab vacation cabin, so you can live in it temporarily, is a great way to experience a tiny house movement without completely uprooting your family and drastically changing your lifestyle. You can order a prefab A-frame house kit and build a tiny cabin in your favorite vacation spot on your own piece of land if you follow the local laws and ordinances. You may even rent it out to offset costs when your family is not using it.
A prefab tiny house can be a great art studio, a retreat, or an escape place in case of emergency (a hurricane, flood, or any natural disaster that may affect your main dwelling) — you don't have to live there permanently but it is great to have it 'just in case.'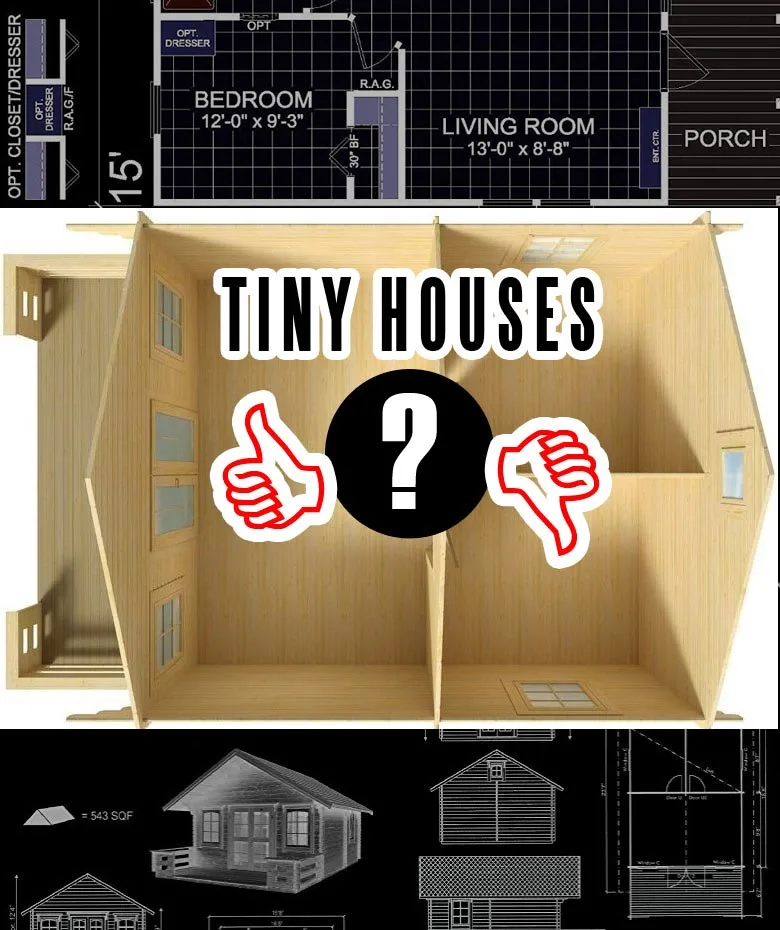 What are the CONS of building or owning a tiny house:
There are complex legal issues to consider, as well as local ordinances, building codes, and regulations, so before investing any money into attractive prefab tiny house kits, do your homework and research all the legal aspects of that undertaking.
Your ROI (Return On Investment) may be zero-to-none if you decide to sell your tiny home later, as it may seem a very popular growing trend, but there are still fewer buyers interested in premade or custom tiny houses vs regular family homes. You must be prepared to own it as your 'forever tiny home' or have it on the market for a long time while searching for a buyer.
The size does matter when it comes to hosting a dinner party or having house guests, so be prepared that certain entertaining ideas will become impossible in your tiny dwelling unless you place it in a climate with no bugs and perfect temperature all year round so you can utilize outdoor space to its fullest.
A tiny house may be perfect for one person or a couple but what if you are planning to have a baby? There is no room for expansion or growth, as well as picking up new hobbies may become problematic. Sometimes, a tiny house is just too small for your situation.
Storage may be an issue, especially if you are surrounded by a big piece of land that you'll have to maintain. Whether you will have to hire someone with the equipment to clear the snow and mow the grass or come up with storage for your tools and equipment, including any hobbies and activities you may enjoy (fishing gear, canoe, snowboards, skies, etc all take space). Make sure you consider possible storage options as well or you may have to pay for an extra storage unit.
It may not be cheaper after all, when all the expenses are summed up. As in one of the episodes of a 'Tiny House Hunters,' a tiny houseboat came with a docking fee of $995 a month on top of the $65,000 sticker price.
If you have a tiny house on wheels, you may have a parking fee and utilities hook-up fees.
If you a digital nomad, you can't live without high-speed internet, which is another cost to consider. Some cities have ordinances against RVs so you must move your tiny house trailer often or face the steep fees.
Square Footage: 209
Priced under: $8,700
*Note that the kit does not include the AC/heater.
With almost half of the outer wall space occupied by large windows and glass doors, this elegant wooden log cabin "Lakeview" is by far one of the most popular tiny cabins in the US. Nice 1 3/4″ thick double tongue and groove walls can insulate against the cold. However, if you live too close to the North Pole or Equator, small log cabin kits such as Lakeview may need some additional layers of insulation and, perhaps, a mini-split AC/Heating system.
The included double-pane windows and glass doors are also helpful in conserving the heat.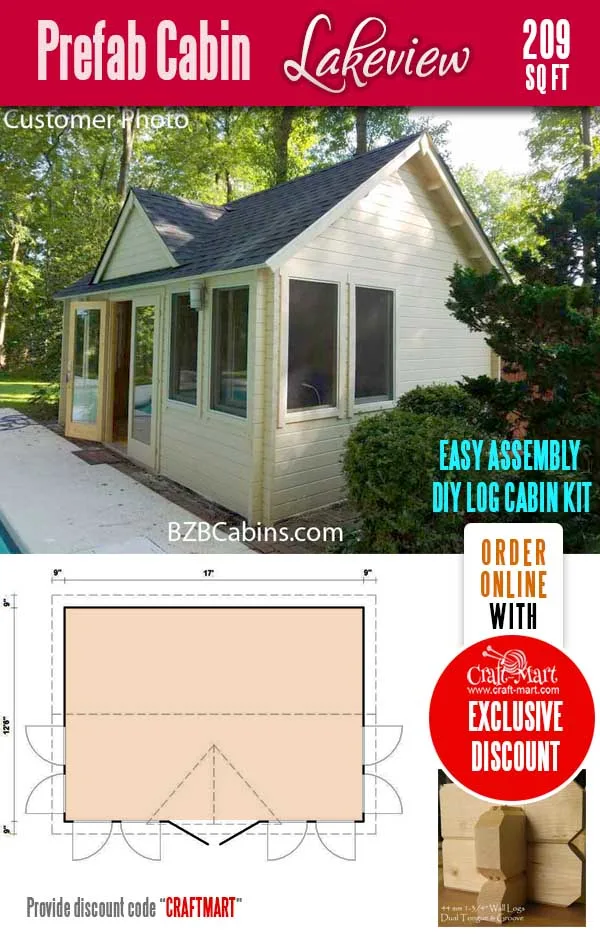 It may take on average three to four days for 2 adults to assemble a prefab tiny house of the same size as the Lakeview pavilion. With its pretty large interior space, you may easily fit a work desk with a couple of chairs for your hobbies along with a futon for a well-deserved afternoon's relaxation time. The dense and durable Nordic Spruce logs will provide a pretty easy way of hanging pictures, shelves, and cabinets for your tools and other things. Overall, it's a very nice medium-size DIY project.
Lakeview cabin kit comes with everything you need to build it with a few basic tools.
Included in the kit:
Foundation/Floor Beams
Floorboards
Rafters
Ceiling boards
Walls
Doors and Windows
Hardware for assembly
What is not included:
Roofing materials,
Foundation materials under timbers such as cinder blocks, for example.
The estimated cost for those items is around $650 – $1,200 depending on the type of roof, the type of site, and the foundation type you may prefer. You must put into consideration that due to the size and height of the structure, it is recommended to hire a professional crew for assembling the kit if you are not sure whether or not you can handle the project.
Click here for more information about this prefab tiny house
*Please, mention a discount code ( CRAFTMART ) to get an exclusive $75 OFF discount!
Priced under $17,000 (16 ft x 19 ft version) and under $6,500 (12 ft x 12 ft version)
*Please, go to this post to get an exclusive discount code for this cabin kit!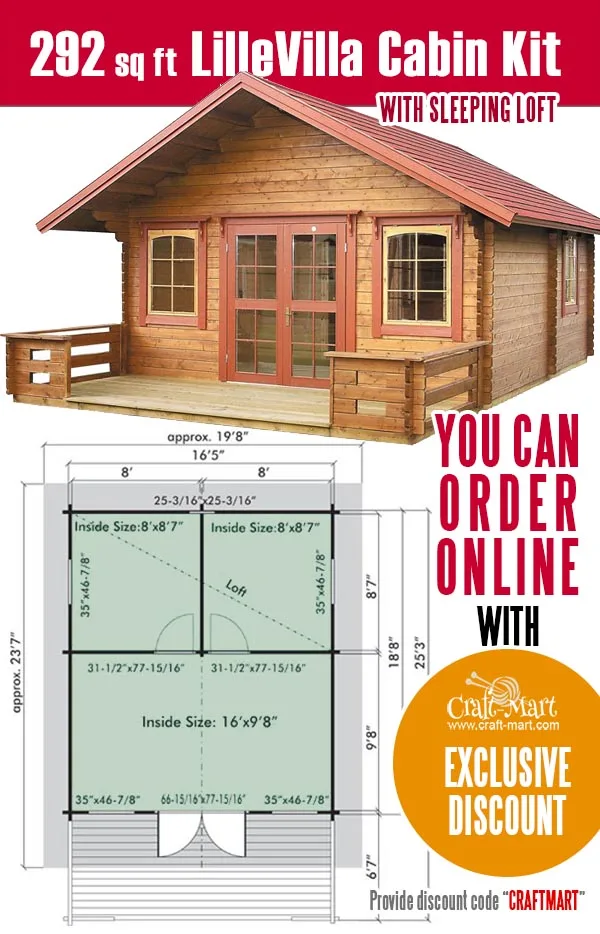 Inside Combined Floor Area: 292 Sqf + the sleeping Loft (not part of the 292 Sqf)

Wall thickness: 1-3/4″ (44 mm) – dual T&G wind-block pattern

Ridge Height: 12′ 8″ – Back wall height: 8″ – Kit weight is 7300 lbs
This is a prefabricated tiny house KIT, meaning there are wall planks, doors, windows, floor, and ceiling/roof boards, and the hardware inside the kit. You would need to purchase and install all interior furnishings and appliances like a toilet, shower, kitchen sink.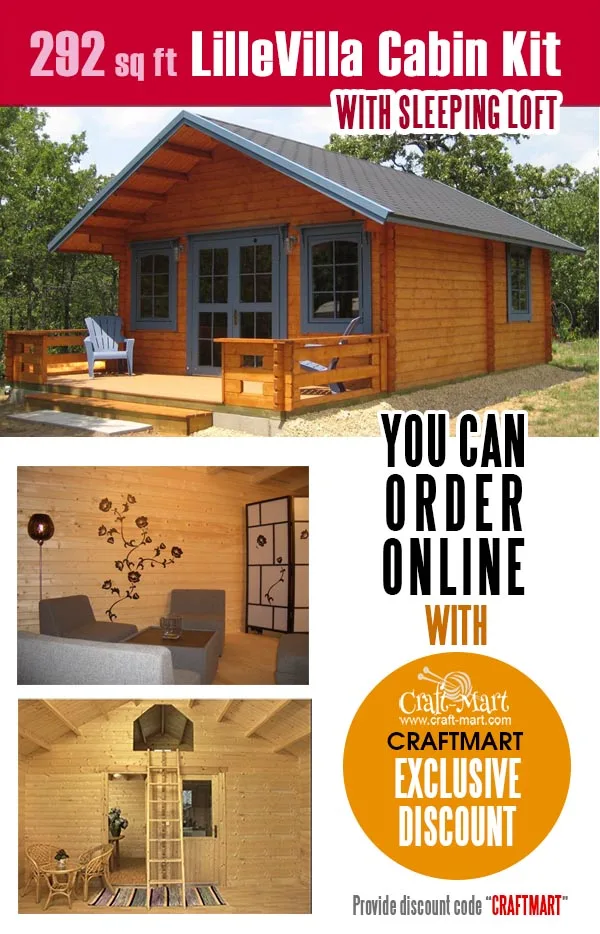 Tiny Cabin Lillevilla Getaway is a high-quality multi-purpose solid wood cabin. With 292 Sqf inside floor area plus a sleeping Loft (which is not part of the 292 Sqf due to limited height), Getaway is large enough to function as a summer house, home office, or even a stand-alone retail building.
Source: bzbcabinsandoutdoors.net
By adding the utility hookups, this cabin can be converted into a residence. For colder climates, it is recommended to add extra insulation. Assembly of this solid wood cabin takes 2-3 days for two adults.
Do it yourself simple step-by-step directions come with the kit and only minimal tools are needed.
3. Round Tiny Home – 16-Wall Wooden Yurt (387 SQ FT)
Starting at $23,700.00 (take advantage of Craft-Mart exclusive discount here)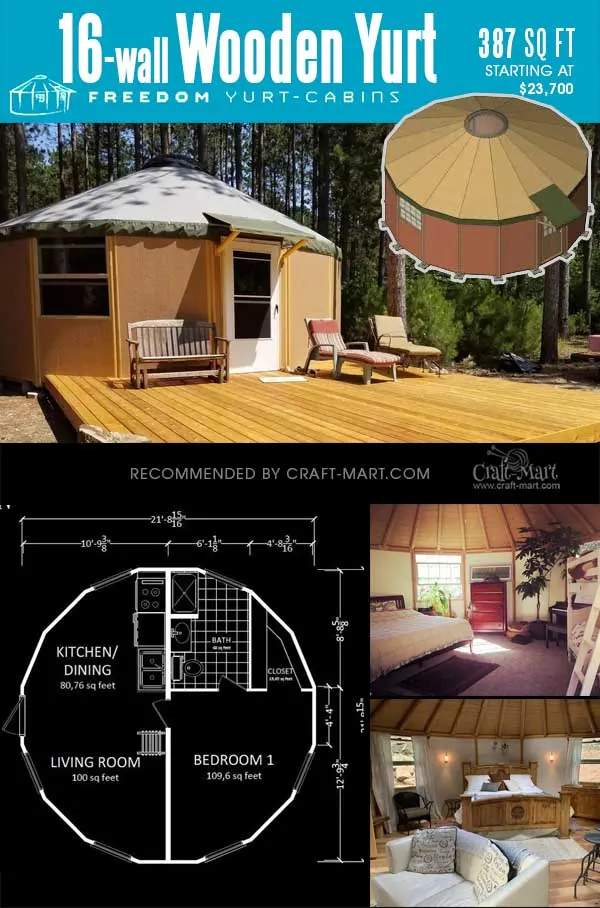 Why choose this strange round tiny home called Yurt?
When compared with a conventional rectangular home, the round home is more energy-efficient because there is less dead space (i.e. corners) for cold air to collect and there is less drafting because the wind goes around the building rather than catch a large solid wall. Another reason for choosing this wooden yurt is this – for building the round home or a wooden yurt you'd use 15% – 20% fewer materials than for a traditional house with the square plan.
With almost 400 sq.ft. and over 22 ft. in diameter, this wooden yurt is a perfect tiny home for one or two people. The kit is easy to assemble in 3-5 days for a crew of 2-3 people. Currently, the company (Freedom Yurt Cabins) has 4 different wooden yurt kits for sale. Get more information and our exclusive discount codes here.
4. A Cozy Prefab Tiny Home – Log Cabin Kit (400 SQ FT)
From $25,795.00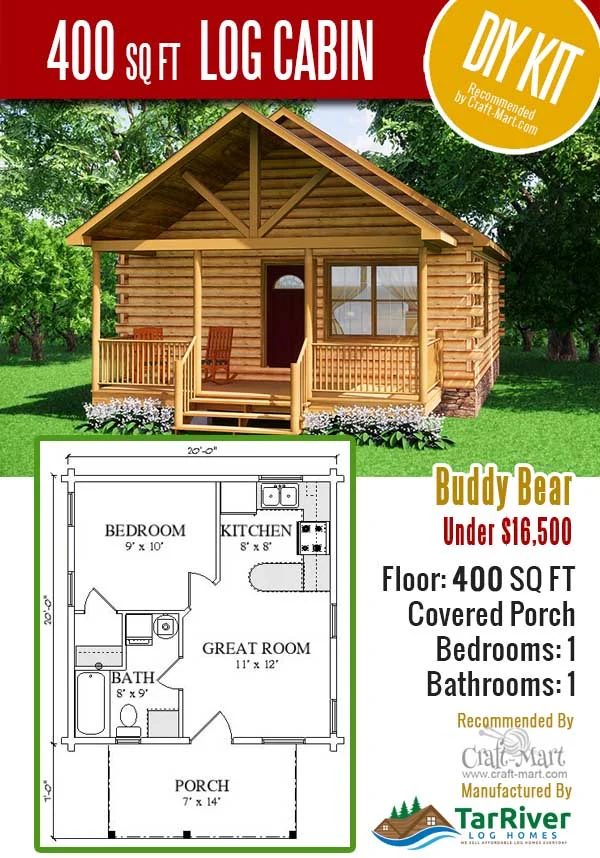 This tiny home is perfect for a weekend getaway, vacation cottage, or everyday minimalistic living.

The Buddy Bear model is 1 Bedroom, 1 Bath, 400 sq. ft.

Includes covered front porch, living room, kitchen, bedroom, bathroom

The traditional gable roof, open-concept floor plan, and even some built-in storage space
It is a very cozy tiny house with almost everything that you'd need. The high ceilings, smart layout, and lots of windows make it feel very spacious. The kitchen area looks pretty efficient for such a small space, though you have to purchase and install all the cabinets and counters to make it suited even for a gourmet cook.