6. A-Frame tiny house plans "Alexis"
DIY cost to build $11,500
Ground floor: 207 sq. ft.
Loft: 54 sq ft
A-frame tiny house Alexis is under 300 Sq. Ft. which means that it is a TINY A-frame-shaped house that is fine for one person to actually live in it. It's just a bit larger than the most popular in our list A-frame cabin "Dolores" yet it's spacious enough for having a mini-kitchen and a bathroom on the first floor.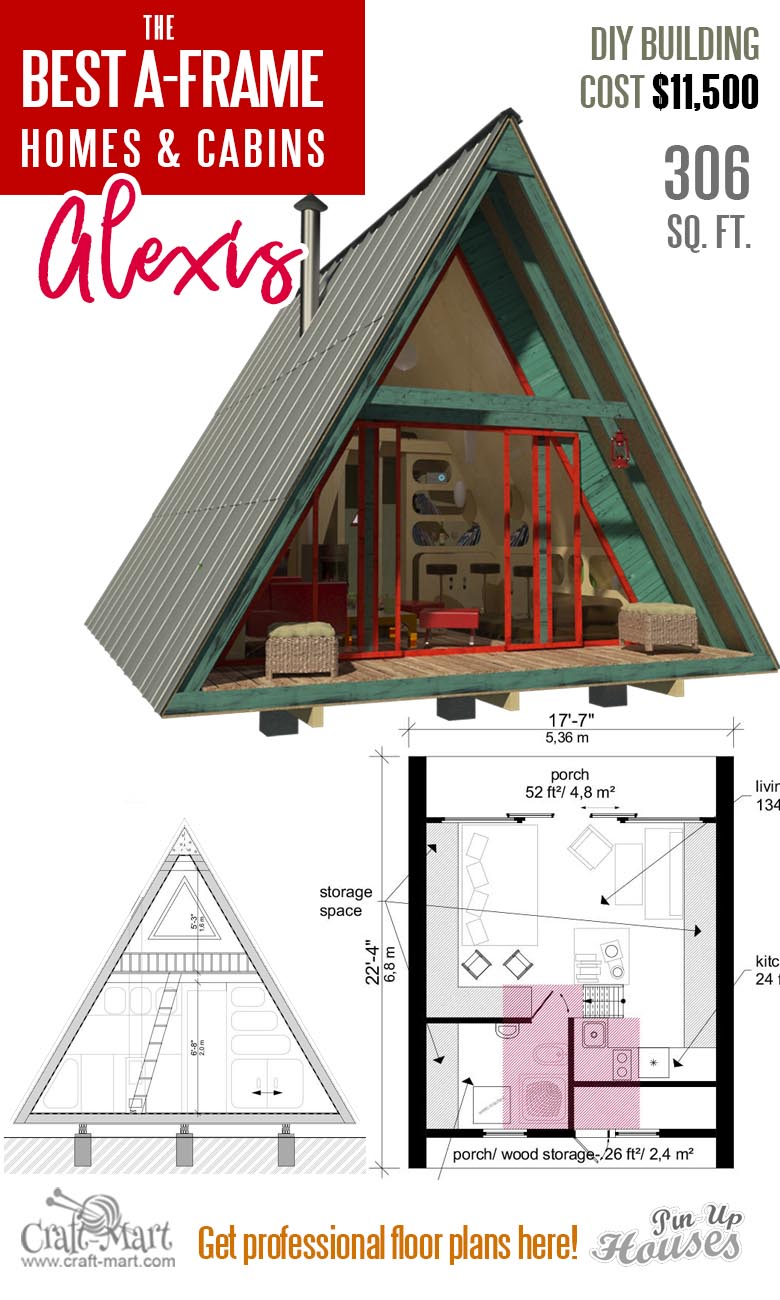 Get Alexis small house floor plans
The slanted roof walls provide a "homey" cozy feeling. With a pretty low construction cost of $11,500, this is a really nice option for people on a budget. With more tiny homes-friendly communities sprouting in many areas, (for example, Austin, TX) this house can be a lot of fun to build and live in.
Did you notice the sleeping loft, by any chance? It means that the downstairs space is more usable for daytime activities. Don't forget about the small but functional porch as well. "Alexis" like other small house plans under 1000 sq. ft. with a loft are well worth their price. This is why this plan sells much better than some larger ones.
Get Alexis A-frame house plans in PDF format here
DIY cost to build $328,338
Ground floor: 2146 sq. ft.
This a real 3-bedroom house with 2 bathrooms. With huge windows and glass doors, you always will have an abundance of natural light.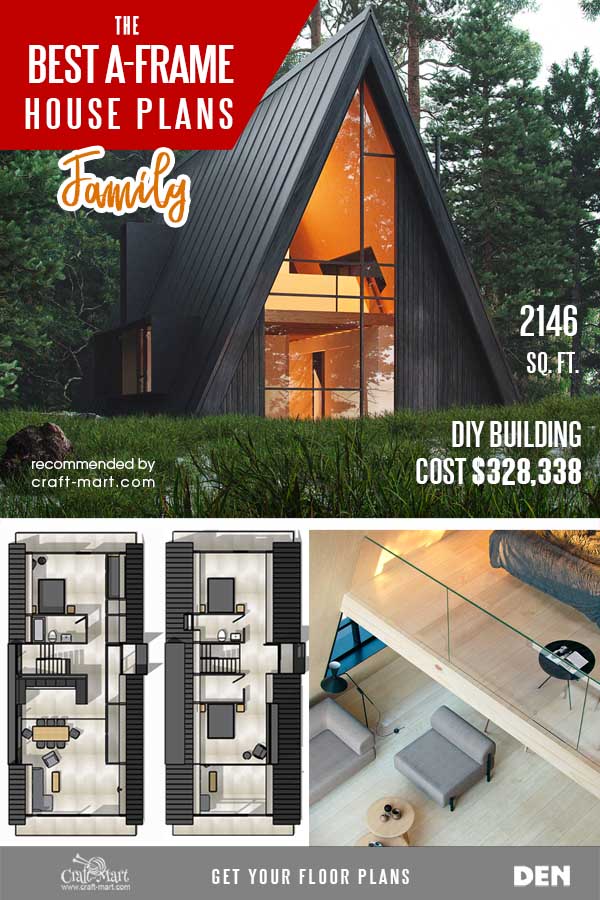 All 3 bedrooms are pretty similar in size and are very spacious. The stairs leading to the 2nd level are not very steep and easy to use. The overall design of the house is modern and elegant. A steep metal roof is easy to maintain to keep your house dry, especially if it rains a lot in your area.
Considering the affordable cost of these A-frame house plans (almost 2 times cheaper than any plan with similar square footage), we highly recommend going with it.
Get your house plans for this stylish A-frame here
8. An A-Frame small house with a Loft and a Deck
From $589
1st Floor:480 sq. ft
2nd Floor:138 sq. ft.
This model has a lot of positive features like a cathedral ceiling in the living room, a spacious deck with a cover above the entrance, for example. Get this A-frame plan here.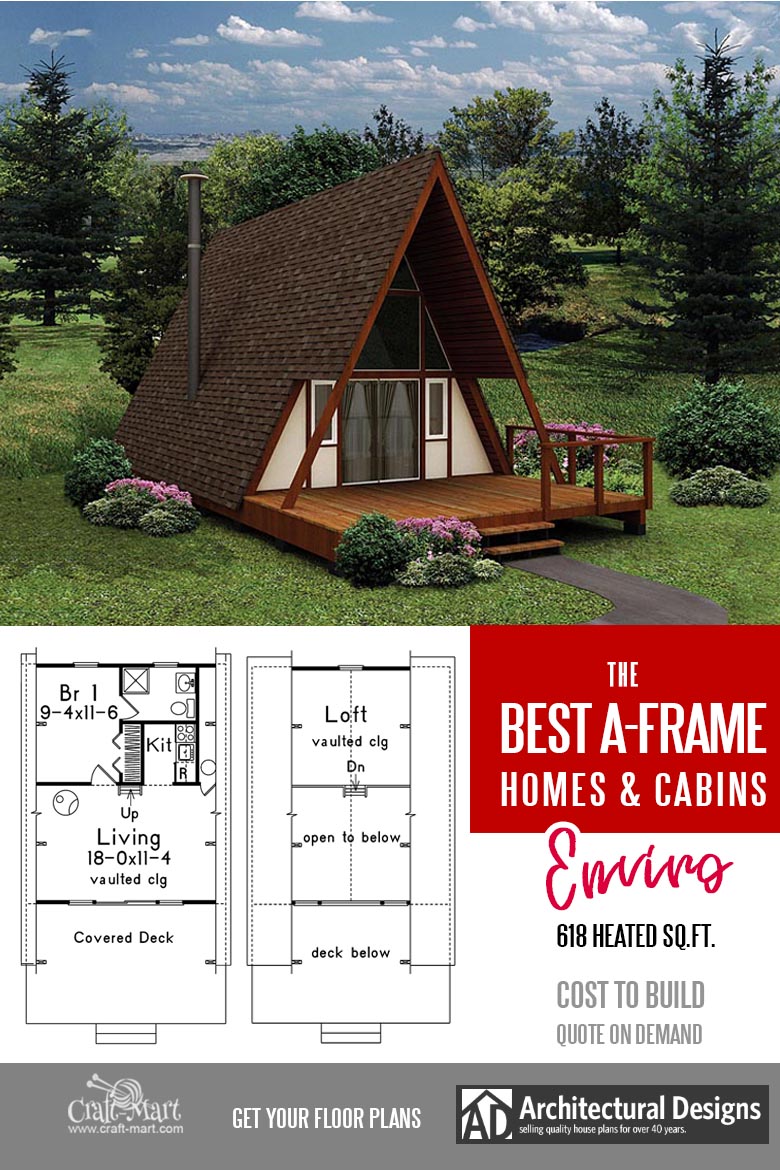 The main drawback is its tiny kitchen. Can you make some space on the opposite side where the built-in closet takes now the whole wall and move the fridge there? At least you'll get some horizontal counter to prepare your food.
A steep ladder leading to the sleeping loft is not a problem for most people. One small problem would be a trip to the bathroom from this sleeping loft through the bedroom on the first floor. Make an additional sliding door entrance through the kitchen? We think it will be a nice solution, don't you? Get this A-frame plan here.
DIY cost to build $153,000
Total Area 1000 sq. ft.
This A-frame house is designed to accommodate 4 people plus 1-2 occasional guests. Typical A-frame homes are normally not famous for their large sleeping lofts but this house is different – the master bedroom upstairs is super-spacious.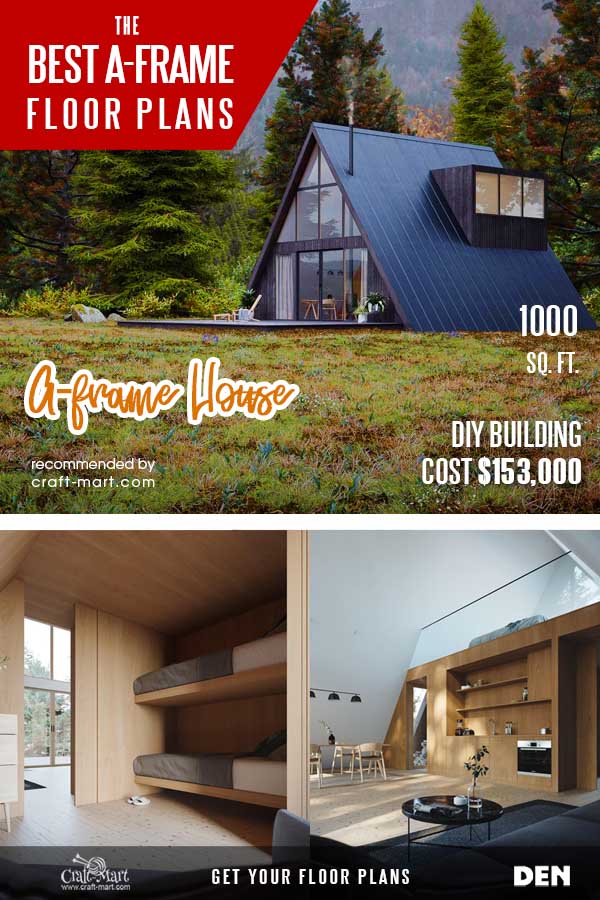 The smaller bedroom on the main floor has 2 bunk beds for kids, guests, or other family members. You also will be happy with a full kitchen, spa bathroom, and even a convertible space perfect for a laundry nook.
The front deck extends the living room providing plenty of space for parties and other activities.
Get these nice A-frame house plans here
10. Tiny A-Frame house plans "Megan"
DIY cost to build $33,400
Total Area 488 sq. ft.
1st. floor 370 sq. ft.
Loft 161 sq. ft.
Porch 54 sq. ft.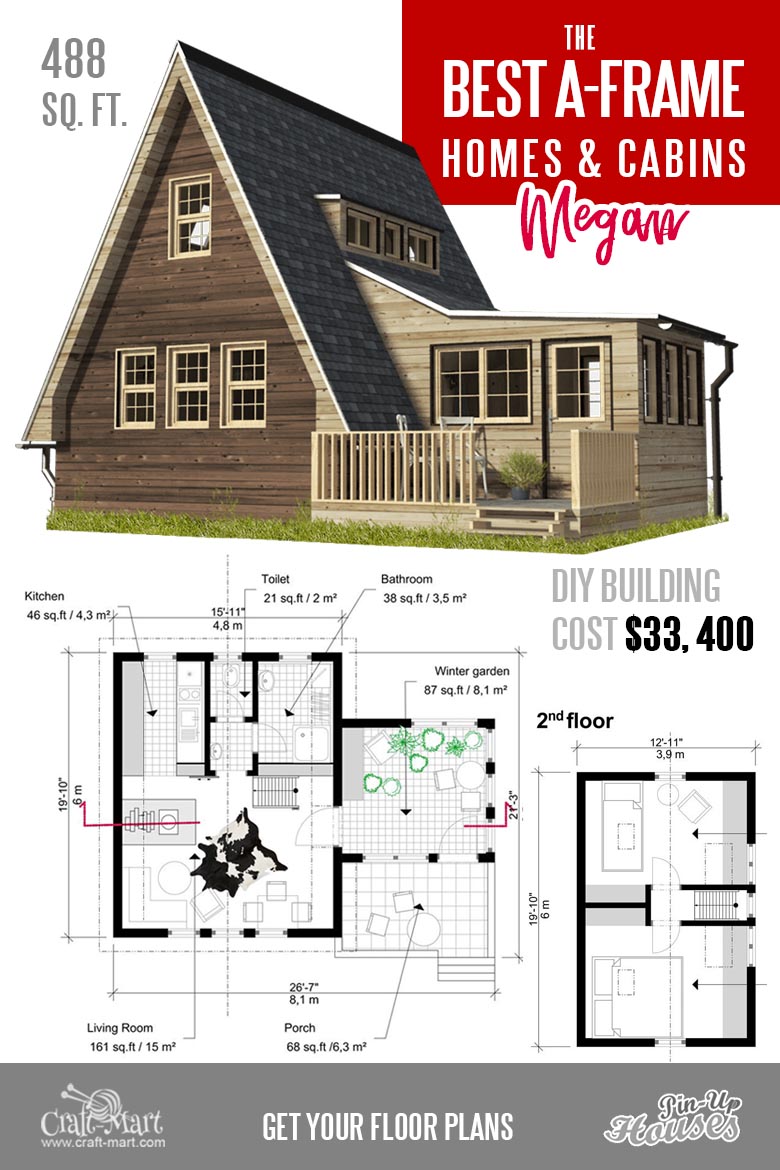 Not many plans for an A-frame house include winter gardens. Imagine yourself drinking a cup of English tea there… The ground-level layout is simple. The stairs to the second floor are a bit steep for going down half-asleep in the middle of the night.
In the US, most people would consider this to be an almost tiny vacation home for two but by European standards, the square footage of this floor plan is plentiful for a family of three. It would be interesting to hear what people from Japan think of it, considering that some of them are comfortable sleeping in capsule hotels like this.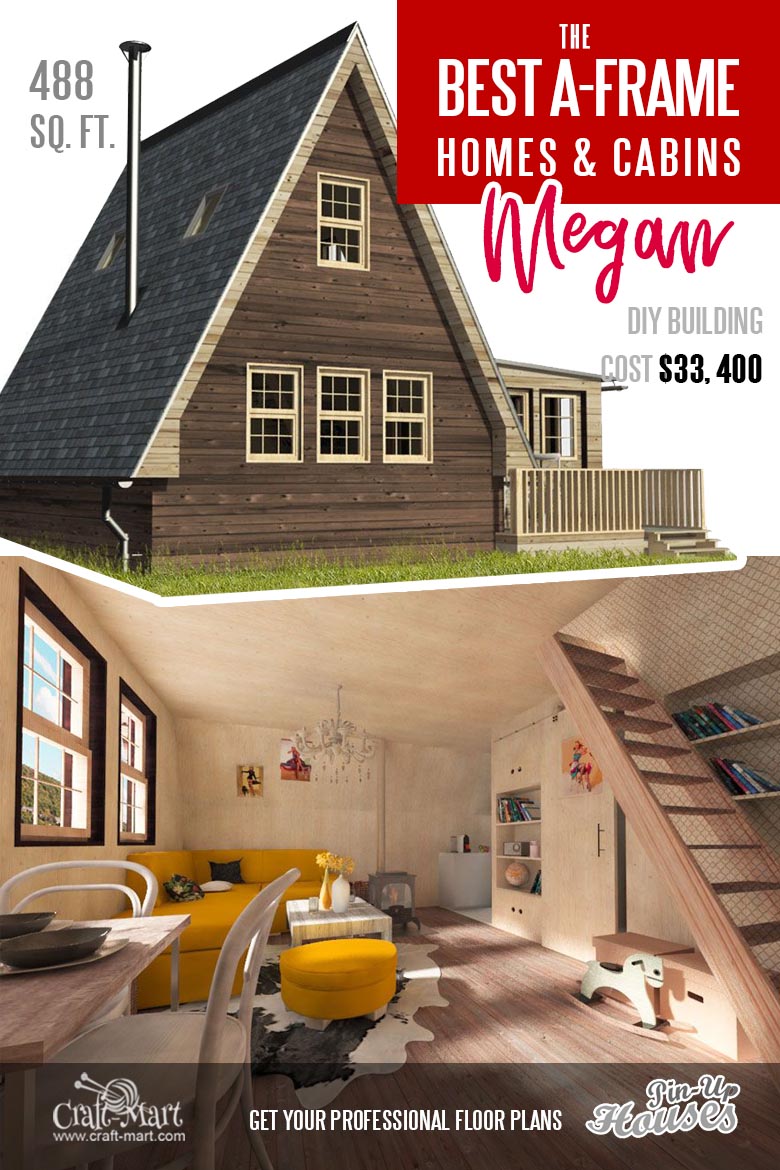 These plans for an A-frame house offer pretty efficient use of space. The building cost is very low considering the impressive look and square footage. This small A-frame house may be a good solution for a relaxing retirement dwelling for empty-nesters or a comfortable vacation cottage.