Portable Granny Pods or prefabricated Granny Flats are often depicted as boxy or rustic-looking tiny cottage units. As a matter of fact, it was pretty much true at the beginning of their popularity. The modern tiny house wave is changing this rapidly.
Nowadays, instead of buying Granny Flats prefabricated to be used just for this single purpose, you can use many good-looking and "smart" custom-built or prefab tiny houses and use those as Granny Flats with only a handful of minor tweaks.
What is Granny Flat?
Modern Granny Flats prefabricated and ready for sale are basically one-story guest houses with built-in safety features such as wheelchair access, easy-access bathroom with handrails, some medical features, soft floor covering, interior camera monitoring system, and smart technology for controlling lighting, door locks, temperature with voice or smartphone.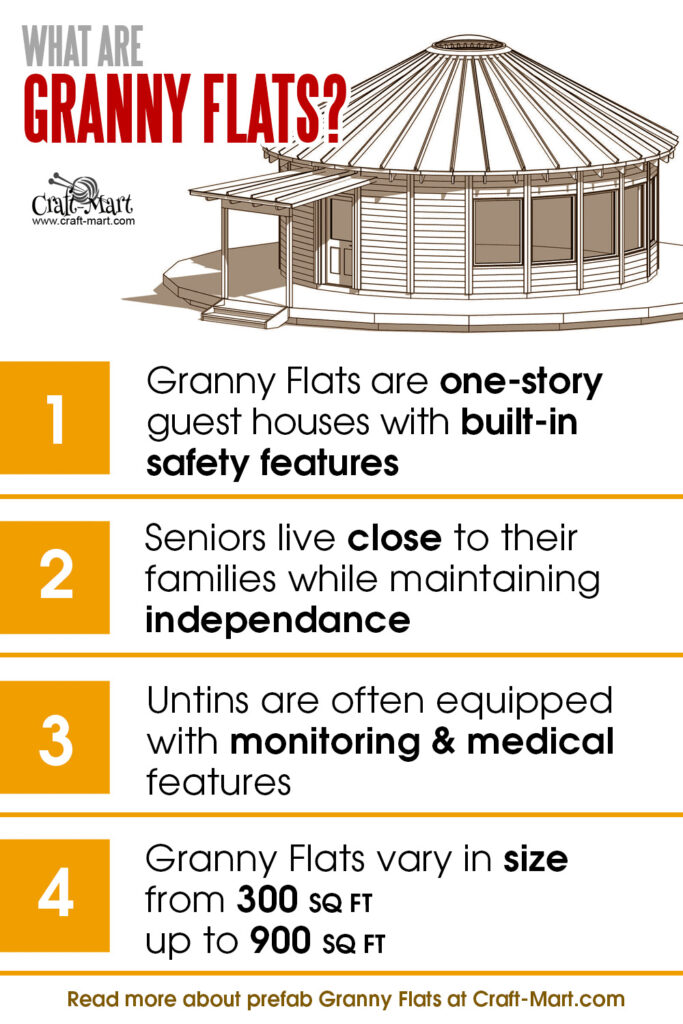 "Sick people, particularly those with serious conditions, greatly prefer the company of their friends and family to residence in a hospital or nursing home."

David Mixber (Civil rights activist, author and performer)
"Temporary Healthcare Structures are standalone dwelling units that are placed at the home of a caregiver providing care for a family member. Occasionally deridingly called Granny Pods, THSs are much more than just a cute cottage for aging parents. They offer several benefits beyond the convenience and cost savings that come from having family next door."

Greg Francis (Verdant Healthcare/Evernest Project)
What is the typical size of a Granny Flat?
Depending on the number of occupants, the size of Granny Cottages can vary from 300 up to 900 SQ FT. Considering that the maximum size of tiny houses is 400 SQ FT, you can use some of them can be used as Granny Flats. Below is one of the simplest granny flats floor plans.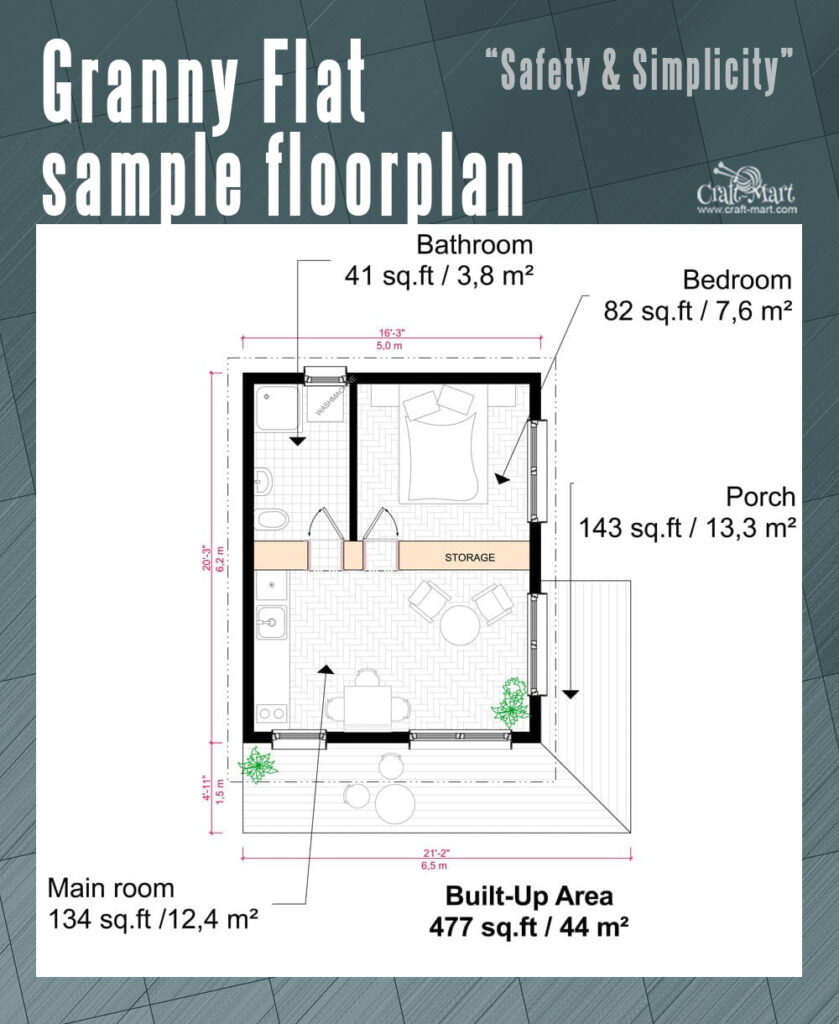 Benefits of Granny Flats
You have your loved one(s) very close. You also have the ability to monitor their health and safety.
Less expensive than assisted living. In comparison with an assisted living facility, which on average costs from $3,600 to $4,000 per month, getting a granny flat may save you a lot of money.
Emotional comfort. For many elderly parents, being closer to their families is much more emotionally comforting than staying in a nursing home surrounded by strangers.
Possible increase of property value. With the addition of the ADU (Accessory Dwelling Unit) such as Granny Cottage, your property value could increase.
Ability to rent out or sell your ADU in the future. If local occupancy standards allow, you may be able to rent out the structure in the future.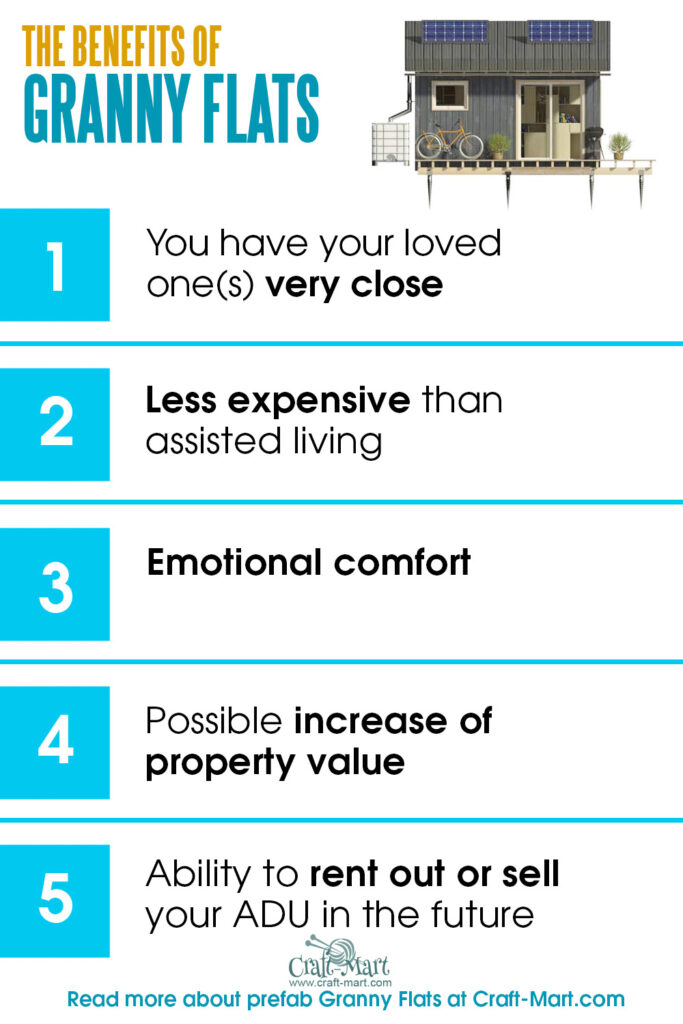 Potential Downsides of Prefabricated Granny Flats
May not be legal in some areas. Some municipalities do not allow any additional structures with foundations close to the main house.
Not for the elderly that require 24/7 supervision. Working families could fail to help elderly members when they are away at work.
Complaints from neighbors. Residents in some neighborhoods have argued that housing for seniors would change the character of the neighborhood.
Prohibitive cost. Some prefab Granny Flats equipped with all medical and safety features can be pretty expensive.
May not be a long-term solution. In time, elderly family members may require more and more attention, so moving them from a Granny Flat to the main house would be a better solution.
Not for frequently relocating families. Let's say you have a job that may require you to move. Selling your house with an additional unit may present a challenge. Very few of the potential buyers would be willing to pay extra for a property with a granny Flat that they may not need.
Some families can buy a mobile tiny house and move it if the family has to move. You can also use it later as an independent dwelling for grown-up kids. Converting it to a Granny Flat in many cases can be quite easy and cost-effective.
Prefabricated Granny Flats ready for Sale or Rent
Although you can find a number of Granny Cottage manufacturers in the search engines' results, only a couple of them is actually in business.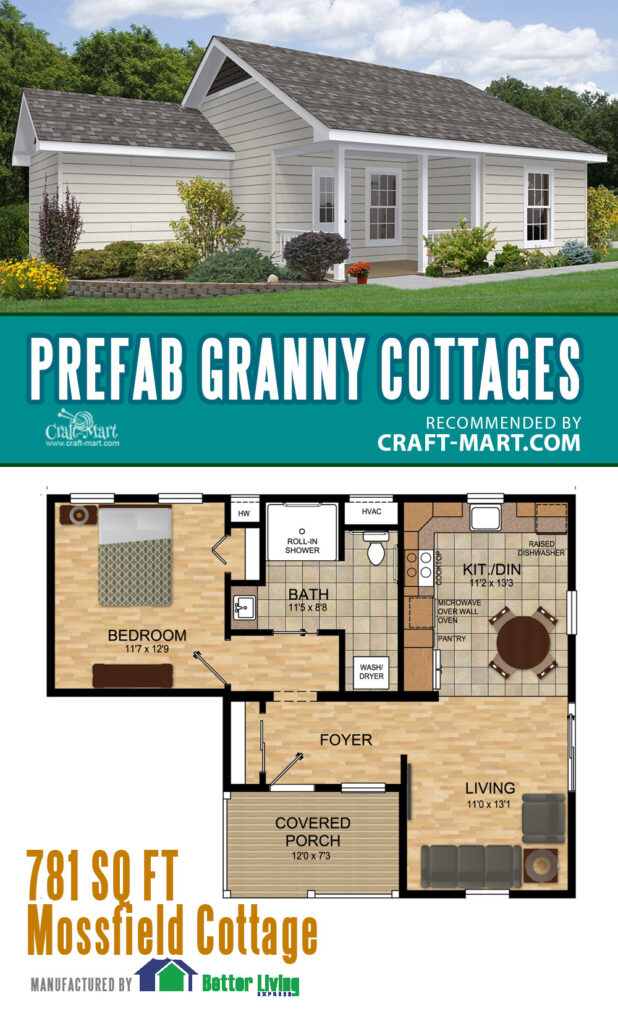 It looks like Better Living Express also had a better business model than its competitors MED Cottage and Next Door Housing. At the time of writing, Better Living Express featured two kinds of designs for granny flats: Modular Cottages and Modular Additions & Suites.
Modular Cottages category contains five different floorplans of standalone strictures ranging from 330 SQ FT up to 880 SQ FT.
Modular Additions & Suites category features the same five floorplan configurations that you can add to the existing house.
Here is an example of a 330 SQ FT Deerhurst suite that comes as an addition to the existing house.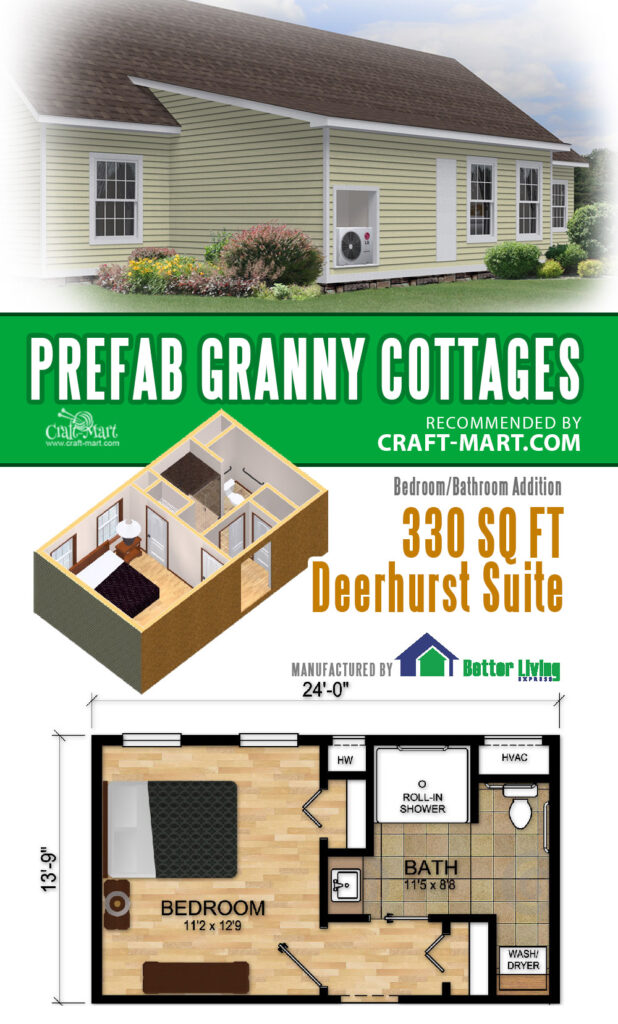 So far, all these options are looking pretty good and they indeed are nice if you have a big enough budget…
Elder Cottages (produced in south-central Pennsylvania)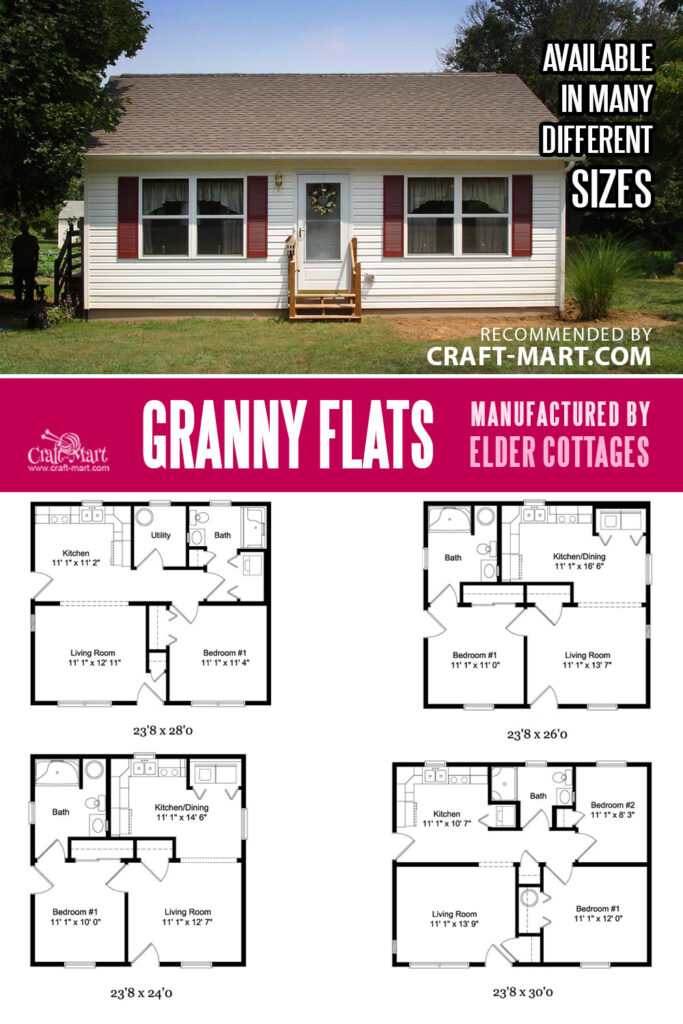 Originally developed by the builder Ed Guion, these Granny Cottages have been on the market for almost 40 years. Ed Guion took the idea of his granny flats designs from the Amish.
"The Amish have long employed the concept with their "grossdawdy" or grandfather houses. These large homes have several additions. Older family members move into the additions and let their children live in the main houses."

JODI DUCKETT
Currently, the company offers for sale eight variations of granny flats prefabricated in Pennsylvania – all 23'8" wide and 24' to 40' long. The smallest floorplan is 568 SQ FT and the largest is 947 SQ FT.
You can customize all floorplans. As a price example, they give out the following: 23'8″ x 32′ Elder Cottage with customer modifications was ready to ship from the factory for $47,880.00.
Of course, with all recent events, some of the building materials prices are going through the roof. So, prepare yourself for a price increase. However, even at $60K -$65K this 760 SQ FT cottage may look like a super sweet deal.
Are Granny Flats legal?
Depending on where you live, you may find that accessory dwelling units ("ADUs") are legal in single-family residential zones, but not recreational vehicles for permanent residence or retail stores.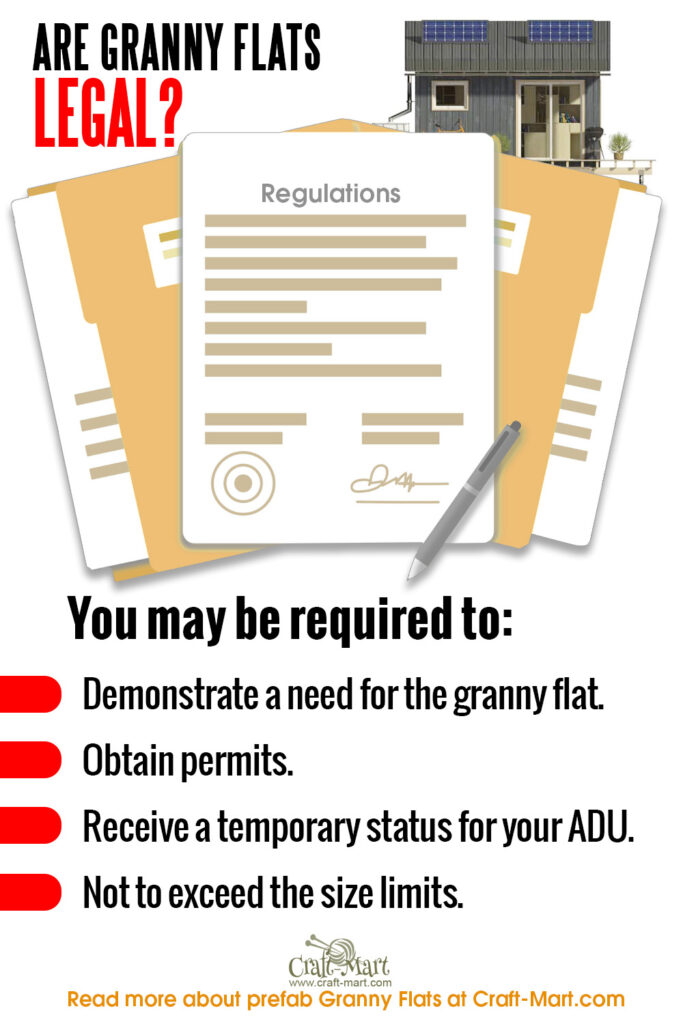 So, if you build a Granny Cottage on a foundation, then it might meet the definition of an ADU. On the other hand, if you build it on a trailer with wheels, then it will be considered a "recreational vehicle" or a "mobile home".
A tiny house built on a foundation for use as a dwelling is more likely to be lawful inside city limits than a tiny house on wheels. A tiny house built on a foundation may meet the definition of an ADU (also called a "mother-in-law suite," "granny flat," or "backyard cottage"). Accessory dwellings are not allowed in all zones (or even all cities), so review the applicable development code carefully.

Source
You may be required to:
Demonstrate a need for the granny flat. You will have to show a written medical evaluation confirming the resident's inability to live independently in an ordinary home.
Obtain permits. You may need to receive special permits before installing any backyard granny flats.
Receive a temporary status for your ADU. You cannot build the granny flat on a permanent foundation.
Not to exceed the size limits. In many cases, rules and regulations restrict the size of temporary dwellings.
Remember, you need to hook up that granny flat to the main house's utilities. Find out if it would be possible and there will be no problems, especially with sewer lines in case your main house is older than 30 years. Also, spend a bit of time researching zoning laws and HOA (Homeowner Association) agreements.
How much do Granny Flats cost?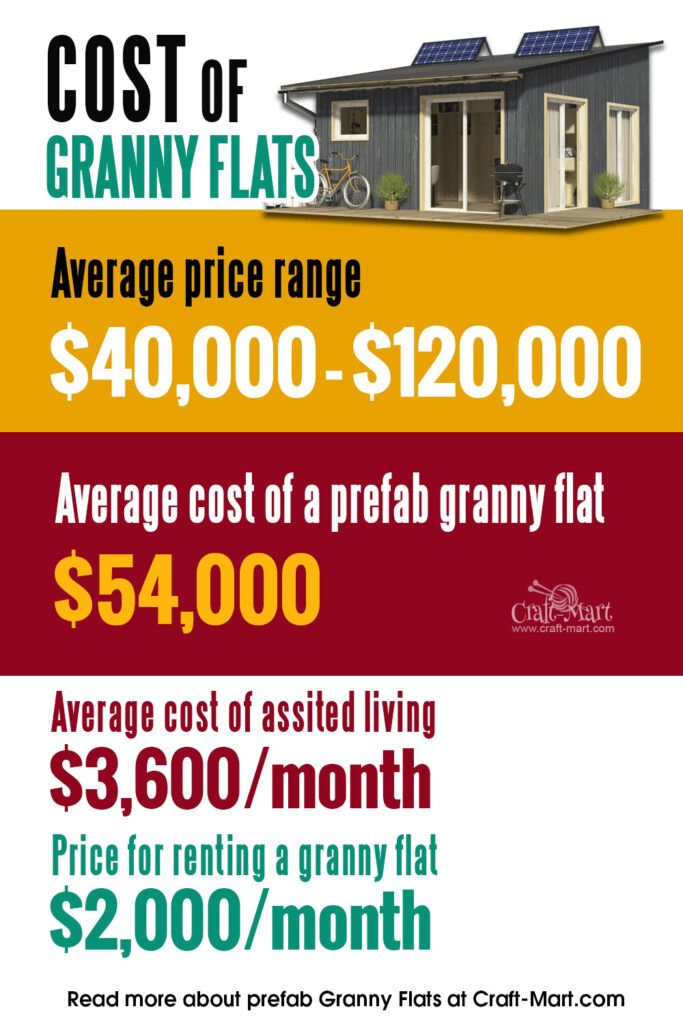 Prefab units such as Elder Cottages mentioned above may cost from low 40K to 90K depending on the size.
Granny Pods or Cottages vary in price depending on whether you choose to buy a prefabricated model or convert an existing shed or outbuilding. Consequently, expect to spend at least $40,000 for the simplest structure and upwards of $100,000 for a prefabricated model with all the medical features and technologies needed for exceptional care and comfort.
If you and your family cannot pay the upfront cost of a typical granny pod, there are affordable options. MedCottage had a kit that allowed owners to convert their garages into senior-friendly apartments. It's not clear if MedCottage is still in business.
Another Granny Flats market player Verdant Healthcare LLC recently presented a very nice Granny Cottage "Evernest". It also offers a leasing option for $2,000 per month and does not require a minimum rental term.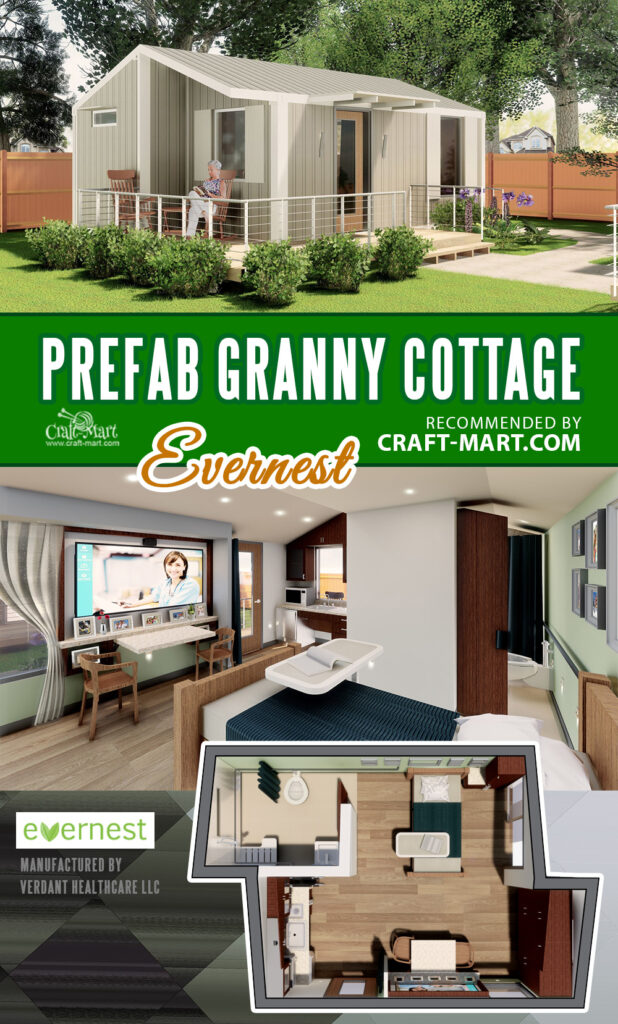 Evernest is much more than a "Granny Pod" or Tiny Home, Evernest is a comprehensive family caregiving solution. Evernest includes all of the resources families need to stay together, from an advanced care facility that's also a real home, to a full suite of monitoring and communication tools that allow families to remain connected and worry-free. Most importantly, Evernest is as flexible as your needs: it is delivered when you want it and removed when you don't, and continually adapts to care needs as they change.

Verdant Healthcare LLC
Although these Evernest Granny Flats prefabricated near Dallas, TX look really promising, their website has not been updated for more than 2 years – not a good sign.
Granny flats design suggestions.
Building suggestions:
Avoid steps, especially at the entrance area.
Make the entrance doorway at least 36 inches wide for wheelchair access.
Make the bathroom and the kitchen spacious enough for wheelchair accessibility.
If possible, put in large panoramic windows and glass entrance doors. This way you'll not feel isolated plus sunlight often works as a mood enhancer.
Safety features:
Soft carpet and/or rubber floors
Motion-activated nightlights
Automated medication dispensers
Safety bars in the bathroom
Furniture and kitchen counters with rounded corners
Technology:
You can control door locks, lighting, and temperature via smartphone or tablet.
Ankle level camera monitoring system: floor level cameras allow loved ones to monitor the emergency event of a fall while allowing residents to maintain their privacy.
Virtual caregiver: voice automated caregivers can check in with residents and remind them to take medications.
Health monitoring system: advanced technology can monitor a resident's vital signs and activity, so they can alert family, medical personnel, and emergency services if needed.
Prefabricated Granny Flats VS. Modified Tiny Houses
Without a doubt, prefabricated Granny Flats is the simplest option and a large number of families consider it. On the other hand, a growing number of Tiny House manufacturers already have really affordable models that you can use as Granny Pods with a small number of modifications.
Your family lifestyle, job, the financial situation may incline you towards choosing one over another. You may ask why bother with converting tiny houses into Granny Flats?
Well, of course, there are a few prefab Granny Flats for sale that were specifically designed with all the smart and safe features we talked about. So, what are the problems then?
Below are some considerations to keep in mind:
Rent or own?
Since Granny flats rent on average lower than a nursing home's monthly payments, some families prefer this option. Often, this is the only option if your municipality only allows temporary ADUs. However, not all manufacturers offer rental options, so check if you can use a tiny house trailer. On the positive side, your can easily move it later.
Ideas for Granny flat designs
Earlier, we established that prefab granny pods are designed for safety. However, with a limited number of manufacturers and granny flat designs, you may want to have something more fashionable or modern. Consider looking into getting one of the "Star Trek"-looking modules from Nestron.
So far, Nestron has come up with six models. Half of them from the "Cube" collection is completely futuristic looking. The other 3 are slightly more traditional yet resemble modern homes made out of shipping containers.
You can outfit all models with solar panels, a complete home automation system, heating floor panels, AC/Heating, and furnishings.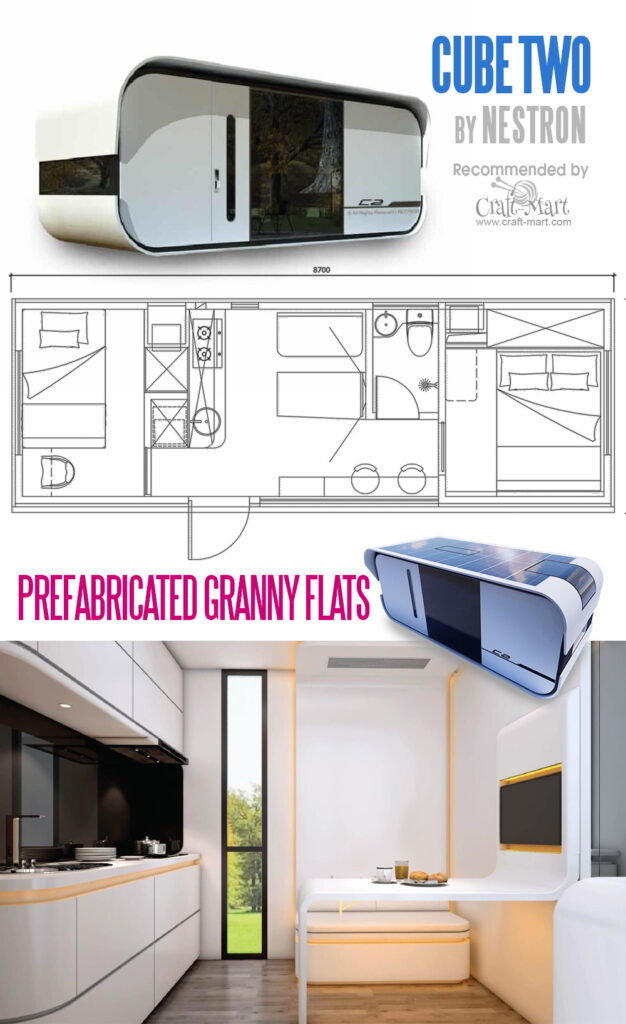 For example, this Cube Two granny flat's price ranges from $59,000 (no options selected) to $84,520 (fully furnished with all options). It's worth noticing how well all furniture is designed to suit the elderly. This is such a good example of an affordable and perfectly designed granny flat for sale.
From the second "Legend" collection this "Legend One" house is priced from $34,000.00 to $54,290.00 accordingly.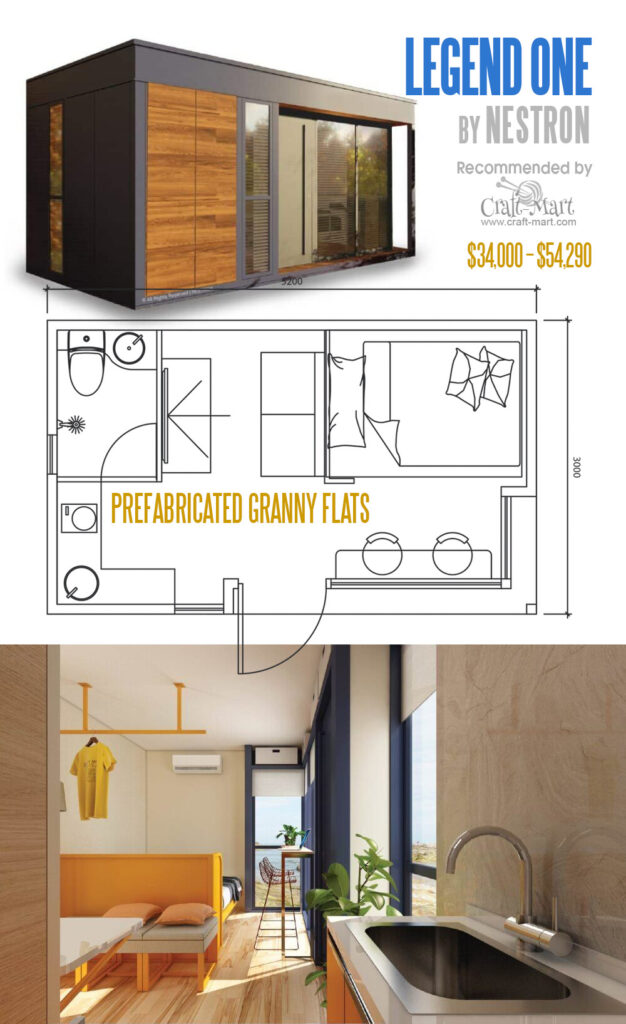 Not happy with all the above granny flat designs?
Read our post about more options for choosing your perfect granny cottage or granny pods.
To help you make an educated purchase, here are posts dedicated to ideas for granny flats and tiny living: