What is a doodle?
First of all, if you are wondering which are easy doodles to draw for beginners, let's first find out a definition for a doodle. According to Wikipedia, "doodles are simple drawings that can have concrete representational meaning or may just be composed of random and abstract lines, generally without ever lifting the drawing device from the paper, in which case it is usually called a scribble."
We associate doodles and scribbles with children learning to draw. Though lately, we see adults who are fond of doodling. Moreover, with the popularity of bullet journals and art journals, more adults are addicted to simple doodles or drawings anyone can do.
Surprisingly, the word doodle first appeared in the 17th century and derived from the German Dudeltopf or Dudeldop. In fact, it means simpleton or noodle (literally "nightcap").
What are the most popular tiny easy doodles?
Creating a simple doodle is very easy and doesn't require special tools or equipment. As a matter of fact, you will need just a piece of paper and a pencil.
After all, kids and adults are often drawing items they see in their everyday life: cartoon characters (unicorns), food items (an ice cream, a cupcake), and basic shapes (heart, diamond, etc).
How do you practice drawing?
First of all, dedicate a special drawing or art journal to practice. Second, you can make a page to practice a couple of tiny easy doodles step-by-step and see your progress.
Most importantly, you can practice anywhere and anytime, even on a piece of scrap paper. The point often overlooked, you can practice drawing when you are waiting in line or talking on the phone.
Creating your first doodle may be intimidating, especially if you don't consider yourself an artist. But in fact, they are very easy to draw.
As an illustration, check out our drawing tutorials that come with handy free printable guides to help you practice:
What is doodle art?
The idea behind doodling is that it is supposed to be fun and suitable for everyone, even absolute beginners. For this reason, don't worry that your first doodle drawings are not perfect.
To clarify, there is no right or wrong way to doodle. You can start drawing what you see in front of you or pick a few easy tutorials that we provide.
Magic doodles, such as a crown, a magic wand, and a unicorn are perfect for teaching kids how to draw. In fact, anyone can draw an easy doodle. Practice makes it perfect.
Small Easy Doodles to Draw for Kids and Adults
1. Learn to doodle balloons.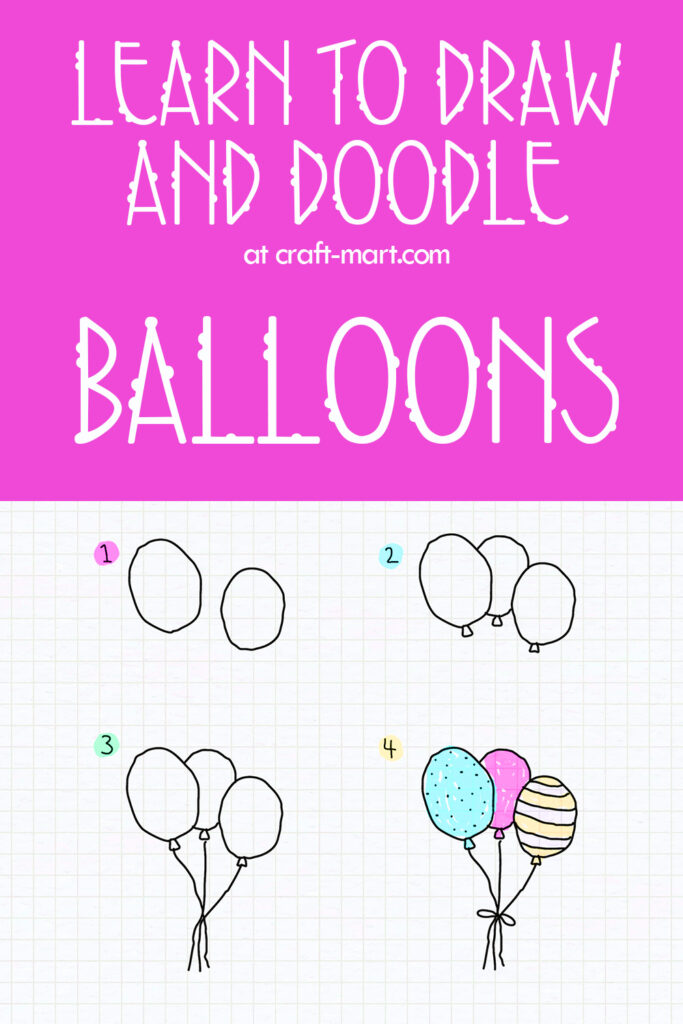 Looking for an easy tutorial on how to draw balloons? We have an easy 4-step tutorial to help you practice drawing these small easy doodles.
Suitable even for absolute beginners and small kids, this easy doodle can be drawn by anyone. You can use your new skill for a handmade birthday card or a bullet journal page.
2. Easy Unicorn Doodles Step by Step.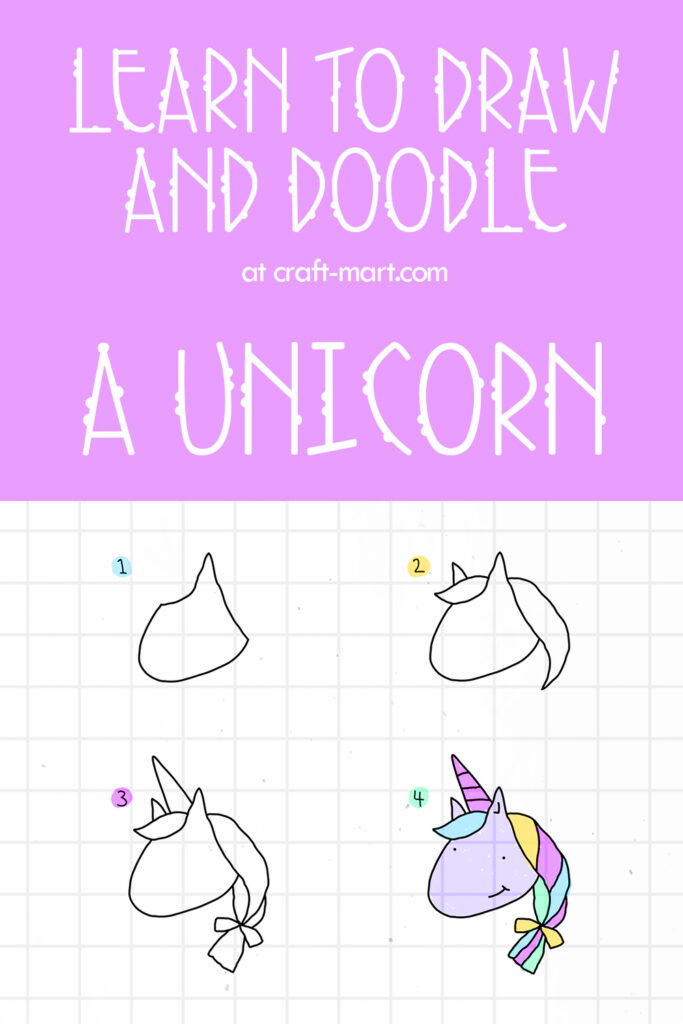 Is it easy to draw a unicorn? As a matter of fact, it is with our 4-step tutorial. You'll combine simple shapes and lines to create a magical unicorn so you can feel like a real artist.
3. Learn to doodle a Moon.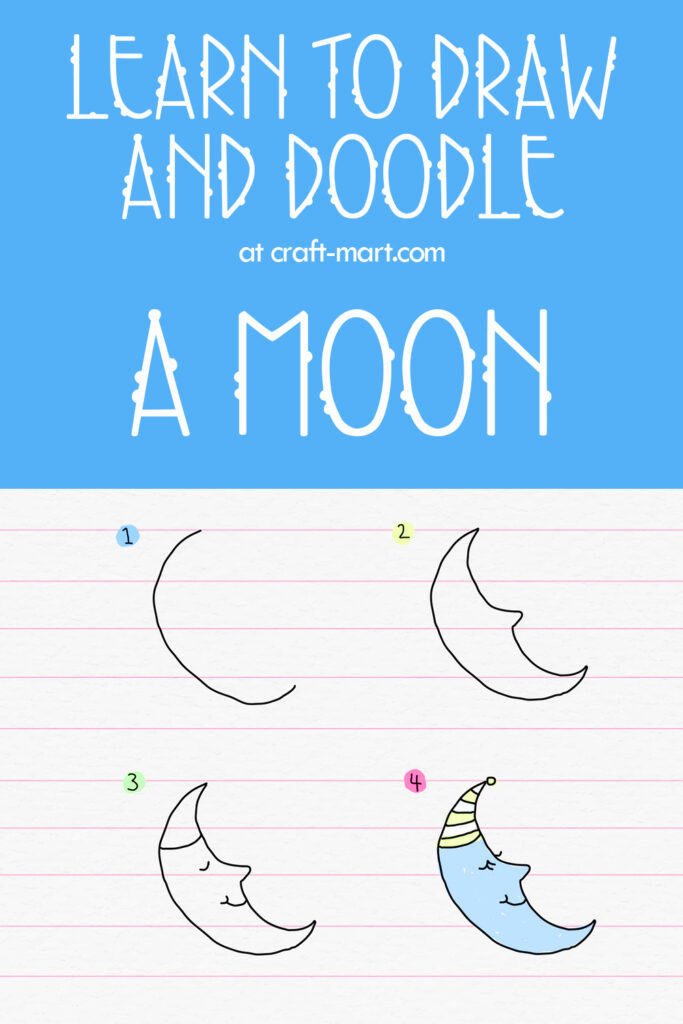 Do you want to learn how to draw a simple moon? Our easy step-by-step tutorial will help you master this easy doodle at no time.
After just a few practice rounds you'll be able to adorn your bullet journal with a perfect moon shape. In fact, you can even teach kids this simple drawing.
4. Learn to Doodle a Crown in Four Steps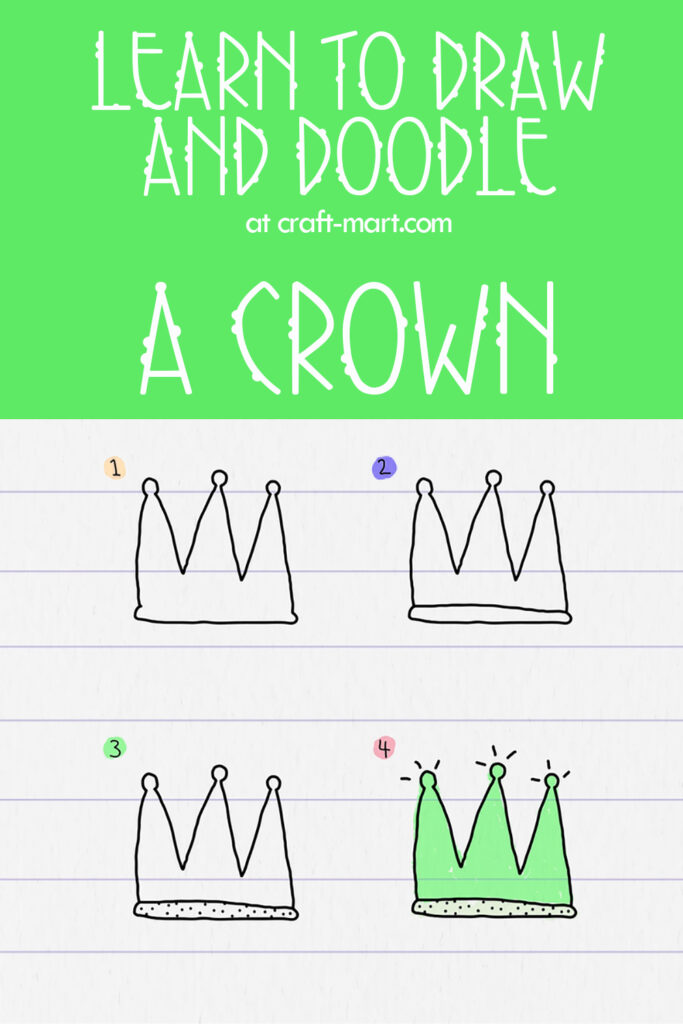 What kid doesn't want to learn how to draw a crown? With our easy 4-step tutorial, you can master this easy doodle very quickly.
What kid doesn't want to learn how to draw a crown? With our easy 4-step tutorial, you can master this easy doodle very quickly. Remember, there is no right or wrong way to doodle. Don't overthink it and just keep practicing.
5. Doodle a Shooting Star
This easy doodle is so simple that anyone can master it. Keep practicing a few easy steps and you'll soon be a pro in drawing a star.
Remember the stress-relieving benefits of doodling. Draw a star and slow down, de-stress, and relax.
6. Learn to Draw a Magic Wand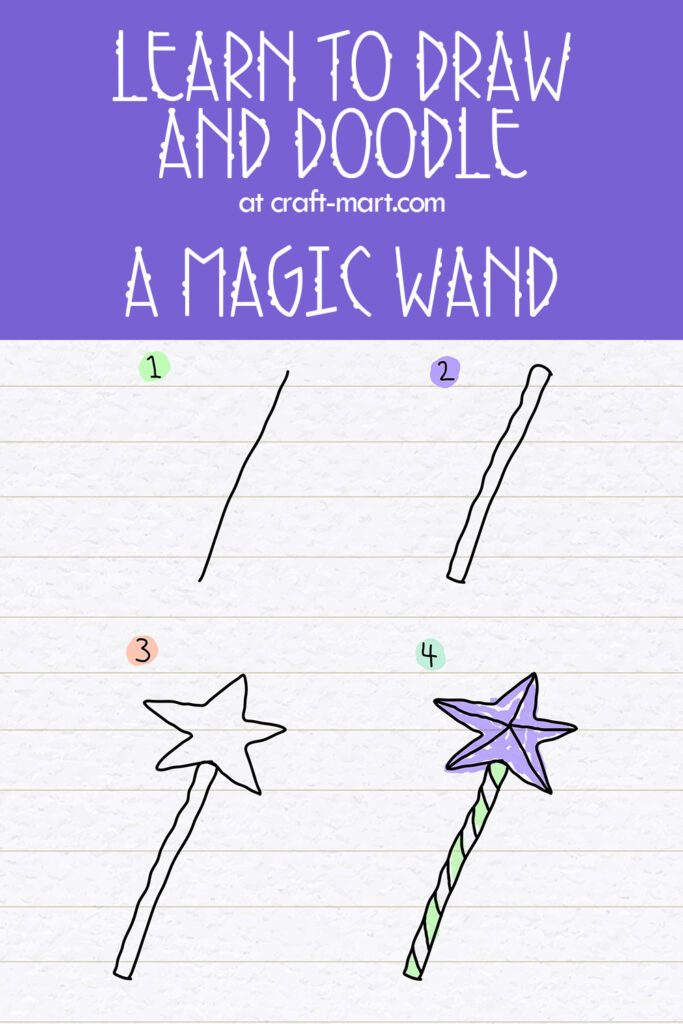 Among our collection of simple doodles to draw, this one is very pretty. You can learn to draw a magic wand by practicing 4 simple steps.
What a perfect way to de-stress and have some fun!
7. Easy Unicorn Doodles Step by Step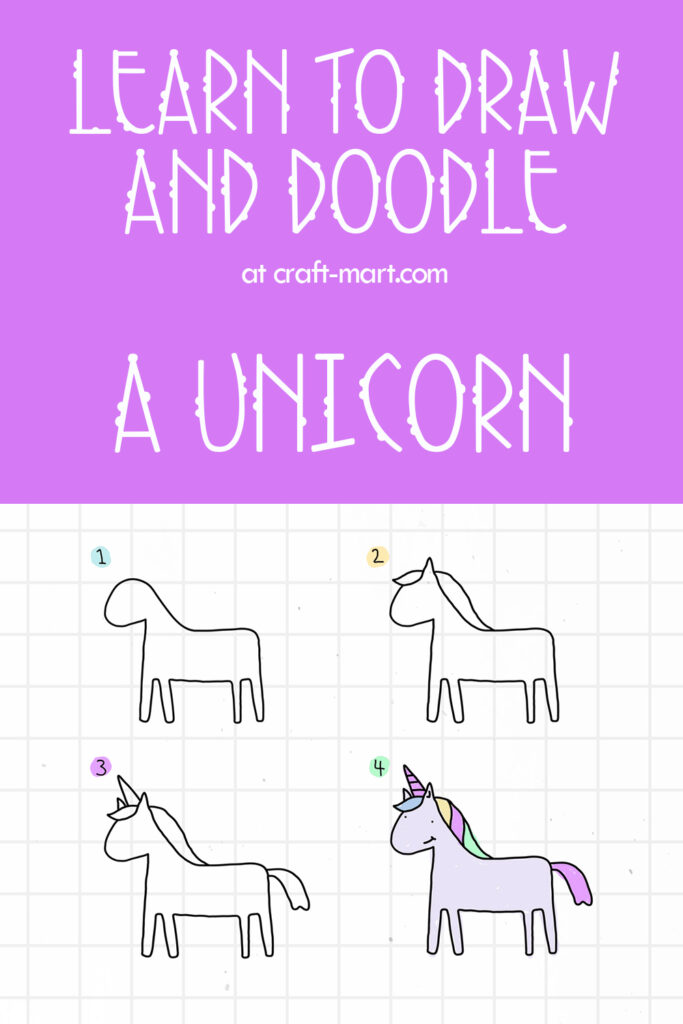 While in the first easy doodle you learned to draw a unicorn head, now you can draw the whole unicorn! Practice makes it perfect by repeating four easy steps of this drawing tutorial.
8. Learn to doodle a Diamond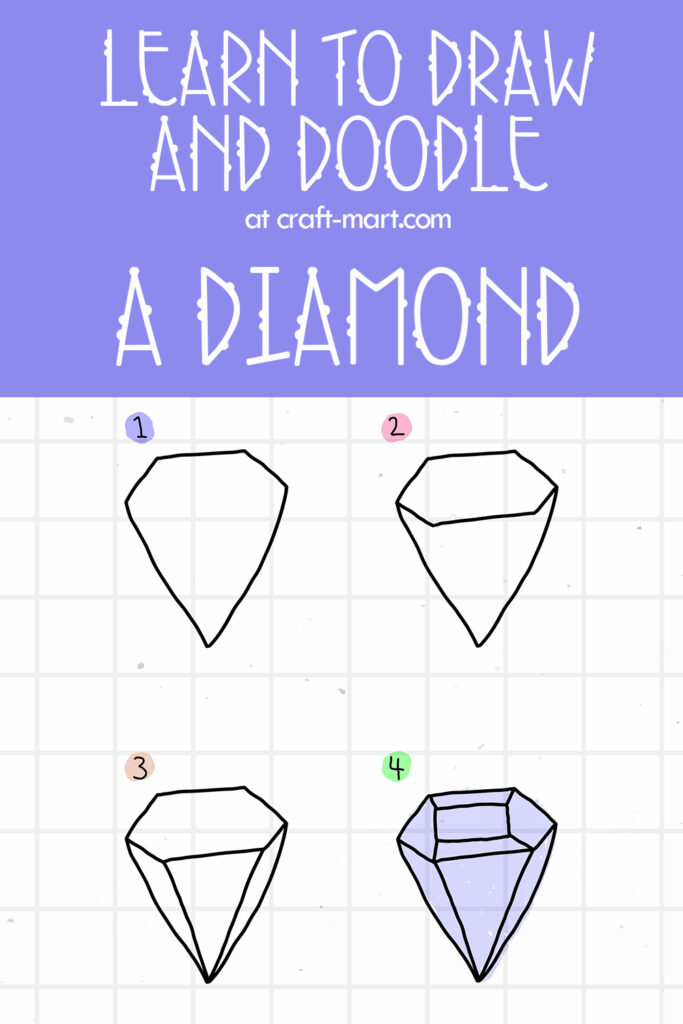 Always wanted to find an easy drawing tutorial for a diamond? Nothing could be simpler! Practice a few steps in this tutorial and soon you'll be able to draw a perfect diamond.
9. Simple Doodles to Draw of a Heart with an Arrow
This basic shape doesn't need an introduction. Whether you are creating a journal entry or Valentine's card, learning to draw this basic shape is a must in the realm of small easy doodles.
Easy Food Doodles to Draw for Beginners
1. Learn to doodle a Cupcake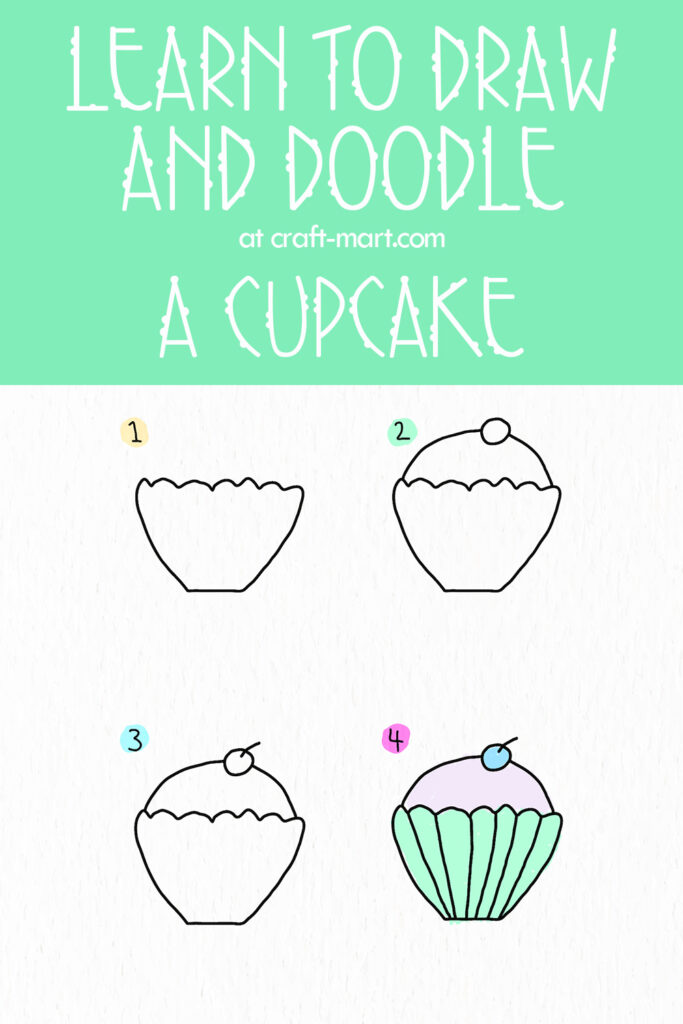 Looking for new ideas to expand your doodling skills? How about some easy food items? You'll learn how to draw an easy cupcake with a few simple lines and shapes.
Don't be intimidated if you never tried it before. Just remember, there is no right or wrong way to doodle – just your way!
2. Learn to Draw an Ice Cream Cone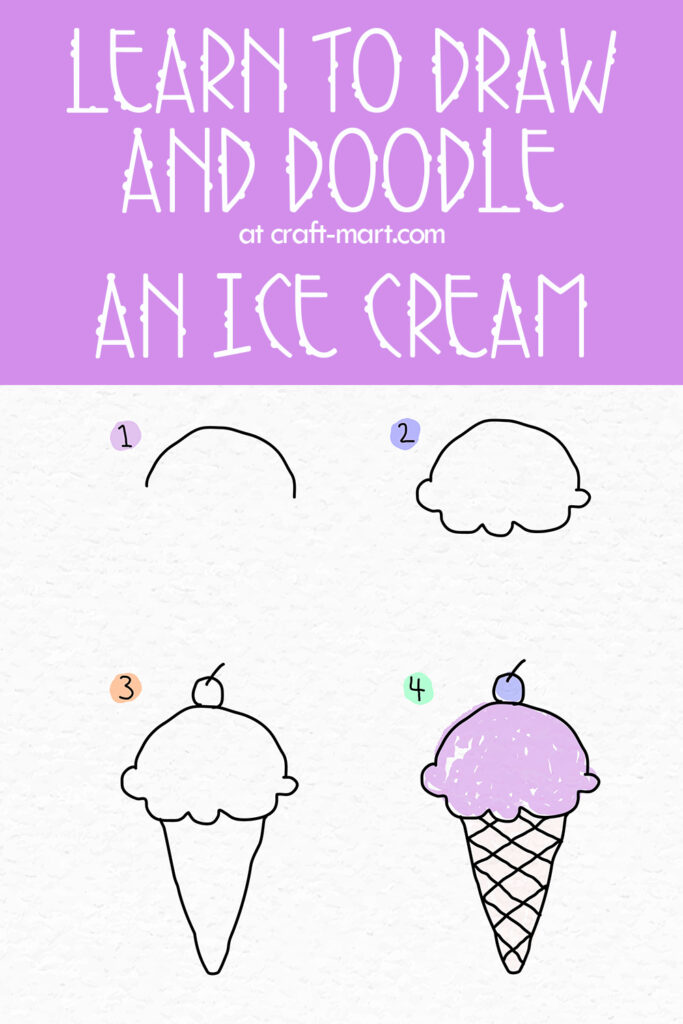 In this step-by-step tutorial, you'll learn how to draw and doodle a perfect ice cream cone. As a matter of fact, it is just a combination of a few basic shapes.
3. How to Draw a Doughnut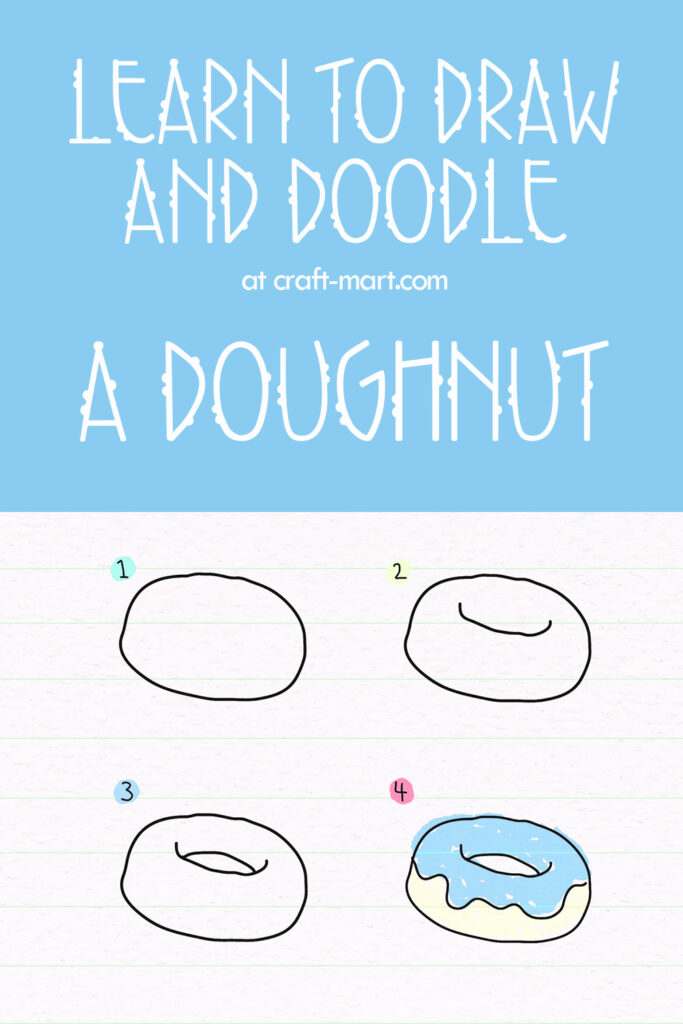 Now that you have a few food items under your belt, it is time to learn how to draw a doughnut. As an illustration, this easy shape is fun to doodle!
Moreover, be creative and add a few decorations or sprinkles to your perfect treat. Remember, there is no wrong way to doodle!
4. Popcorn Doodle in Four Easy Steps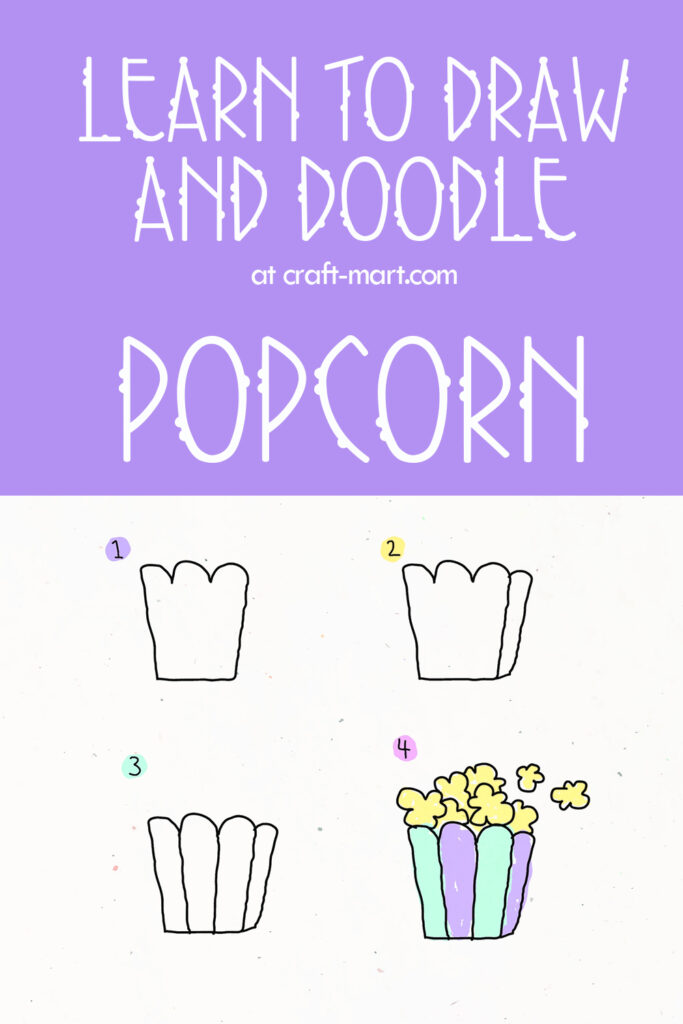 As a matter of fact, this easy doodle is perfect for a bullet journal page dedicated to movie reviews and ratings. At the same time, it is very easy to learn and master.
For instance, if you keep practicing, your line soon will be more perfect than in this tutorial.
5. Small Easy Doodles of Cherries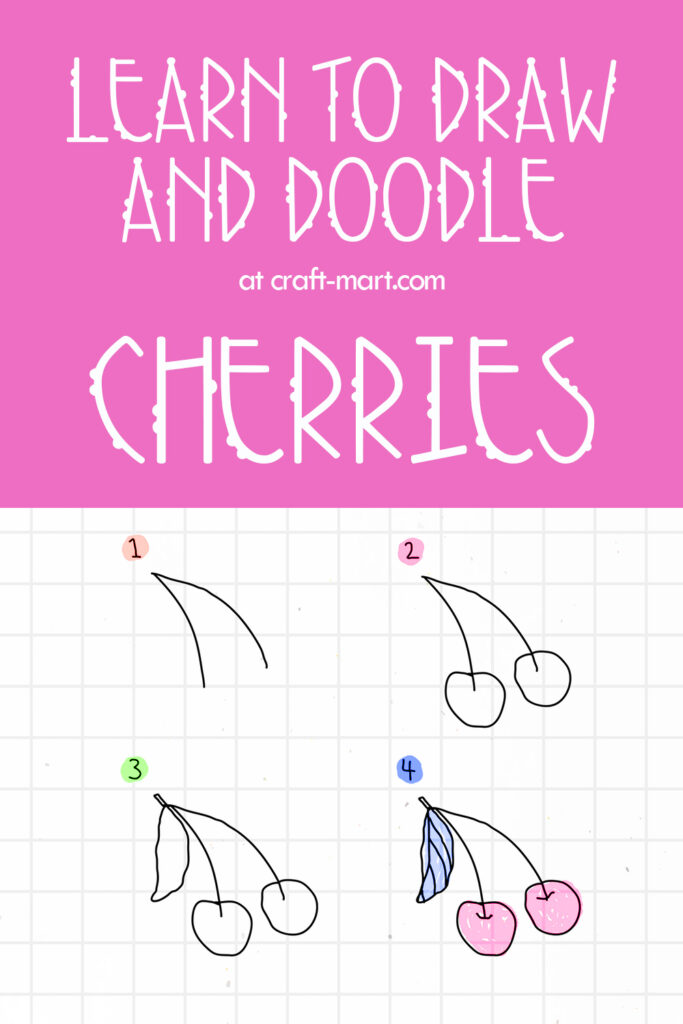 These sweet and juicy cherries will remind you of summer. Learning to draw simple fruit is fun and easy: a few lines and basic shapes will create realistically-looking doodles.
6. Very Easy Doodles of Candy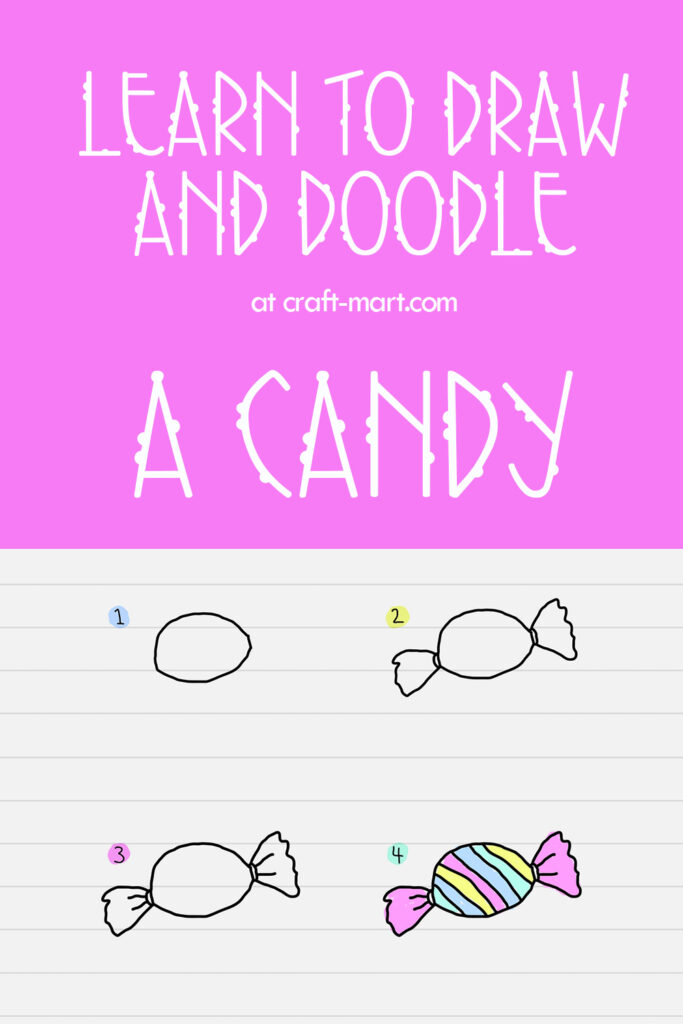 Among all food doodles, this is one of the easiest. In four simple steps, you'll be able to create a candy doodle ready for your bullet journal or handmade card.
By the way, coloring your doodles is a fun way to personalize and customize them. Surprisingly, even your smallest doodles will look different if you add more color to your drawings.
Images Source: rawpixel.com
What are the benefits of doodling?
Most importantly, doodling can relieve stress similar to other fidgeting activities. For example, drawing doodles is often incorporated into art therapy, allowing users to slow down, de-stress, and focus.
In fact, drawing very simple doodles reduces tension and stress. For this reason, bullet journals and small easy doodles for journals are gaining popularity.
In the following tutorials, we concentrate on easy things to draw and doodle. Anyone can follow these easy steps.
Remember, don't overthink it: just pick a piece of paper or a notebook and start practicing. As a result, you may think that your drawings are not perfect.
On the positive side, the more you practice, the better your results would be. Soon you'll be a professional in creating easy doodle art in your journal.
You can also teach your kids how to draw. Doodling has a positive effect on human comprehension as well.
Visual depiction of material helps kids to learn. When doodling, a person is engaging neurological pathways in ways that allow for the effective processing of information.
As a result, drawing can help kids succeed at school. Specifically, doodling can improve grades and test scores. It is a fun way to learn and study.
Kids are visual creatures and love to draw everything they see. A famous Swiss pedagog Johann Heinrich Pestalozzi had a motto: "Learning by head, hand, and heart".
Pestalozzi stressed the similarity between learning to draw and learning to write. Thanks to Pestalozzi, illiteracy in 18th-century Switzerland was gone completely by 1830.
It is quite a remarkable benefit of incorporating drawing into children's education. Most importantly, it doesn't matter if you are good or mediocre at drawing. The benefits for your brain development are the same.