Affordable prefab homes are a cost and time-efficient way to build your perfect retreat or even a place to live. In fact, they are an increasingly popular option if you need to add a guest house, ADU (accessory dwelling unit), an art studio, or a fitness room.
Furthermore, a growing number of companies can deliver energy-efficient affordable prefab homes at a set price. Moreover, the online order process is simplified into a few easy steps: design, customization, and deposit.
Let's explore the Top 10 prefab and modular home designs and their costs. Most importantly, before buying any prefab home or a tiny house, check out local building codes and zoning requirements.
Are you interested in Tiny Living? Check out these ideas:
1. Azure Tiny Home 3-D Printed from Plastic Bottles
What 100,000 recycled plastic bottles and $40K can buy you? As a matter of fact, you can get a cool-looking modern backyard studio for $26,900 or an apartment for $43,900.
Additionally, the factory can print the shell of the house (two walls, the roof, and the floor) in 24 hours. As the 3-D printer uses lightweight materials, the prefab homes can be easily delivered to their permanent site.
Fast Facts:
Size: 120 sq.ft. – 900 sq.ft.
Cost: $26,900 – $204,900
Materials: More than 60% of 3-D print material comes from recycled plastic – a polymer most commonly seen in plastic bottles and food packaging.
Larger homes will be available in 2024
Factory location: Los Angeles, CA, USA
Warranty: 10 years from the date of purchase.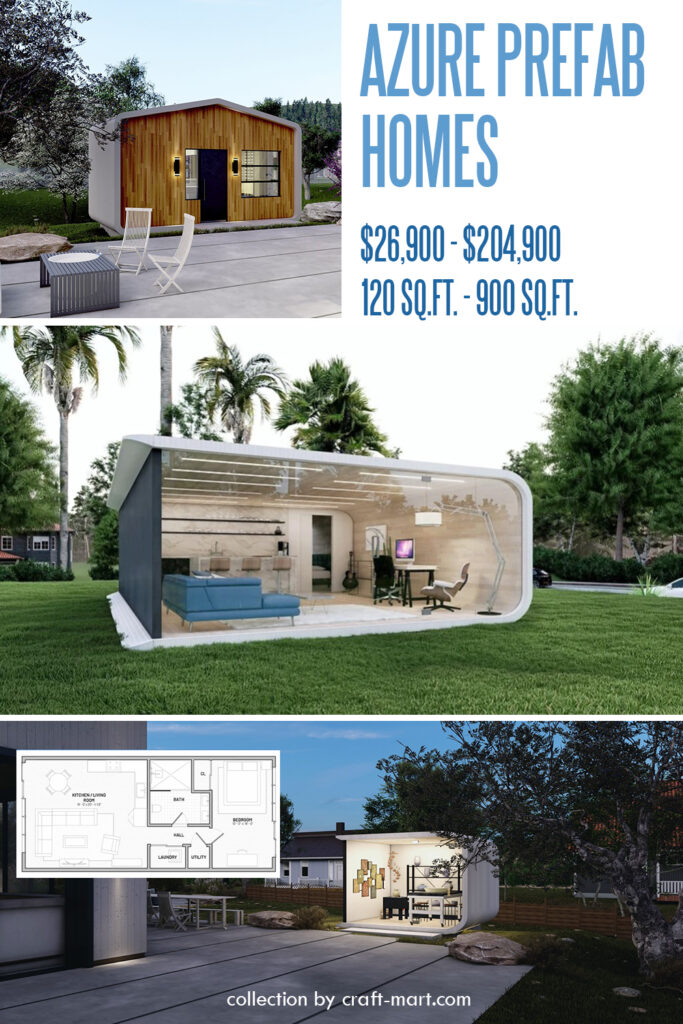 Source: Azure 3-D Printed Homes
2. ILLUMHOUSE – Modern Affordable Prefab Homes
So, why Illumhouse offering a modern frame structure is becoming so popular in Europe?
no foundation is required for these prefab tiny houses
they use natural wood – a proven favorite for thousands of years
energy-efficiency – save on heating during cold winter and on cooling in the summer
affordable price: 30,200 € – 149,100 €
fast construction – the house is ready in 2-6-months, depending on the size
longevity – a quality-made frame house could last for several centuries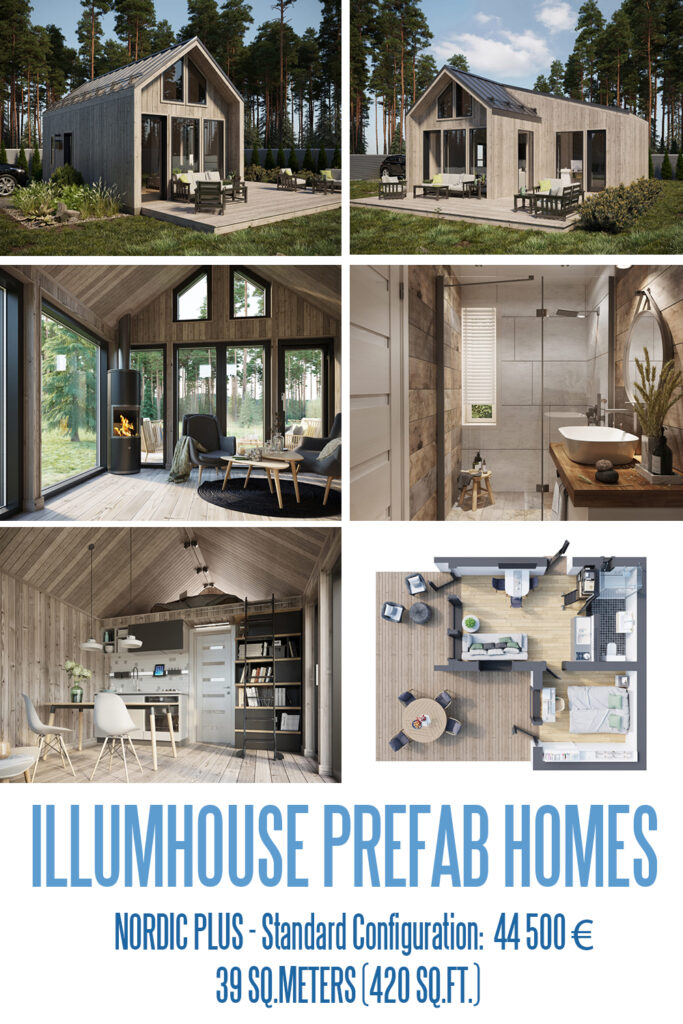 Source: Nordic Plus by ILLUMHOUSE Prefab Homes
Lund – prefab home with sauna – 30 200 € (standard configuration)
House Specifications:
Dimensions: 22 m2
Construction time: 2 months
Exterior finish: lining boards (spruce — any color and texture)
Rigid frame structure made of dense timber
Double-glazed plastic windows with "Rehau" or "Gealan" sections
"Balex" metal roof
Electrical wiring, water supply, and sewerage
30 200 € (standard configuration)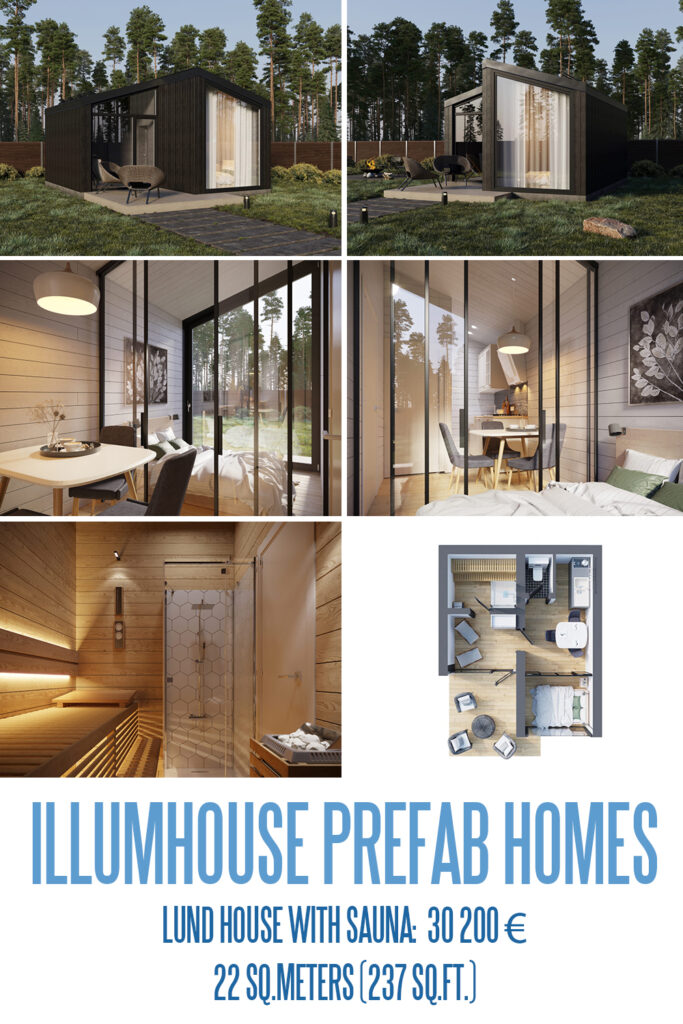 Source: LUND – prefab house with sauna
In summary, we love the modern design and use of natural materials for the construction of these affordable prefab homes. With this in mind, we wish a USA-based company would get inspired by this business model.
3. The ZenniHome – Revolutionary Affordable Prefab Homes
In fact, ZenniHomes changed the concept of prefab construction. As an illustration, the cutting-edge robotics and open floor plan concept along with transforming furniture will allow you to create your dream zen space.
To demonstrate, here are six points why you should consider the ZenniHome prefab model:
stress-free construction is like Amazon buying but for your home;
while the median home price in the US is $428,700 (as of Q1 2022), you can order an affordable prefab home starting with a base price of $75,000;
financing is available;
lower utility costs with solar power and water conservation options;
move-in ready on day 1;
you choose where you want to live – your home can be shipped anywhere in the United States.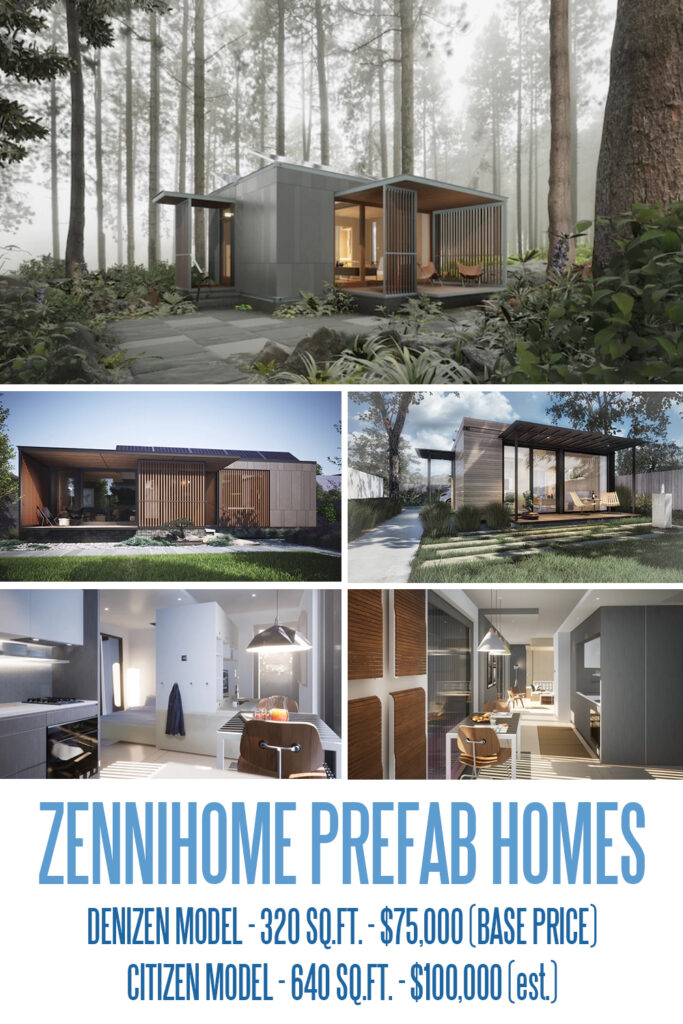 4. NESTRON Furnished Prefab Homes
Nestron is an innovative company that is using technology to create a futuristic living space for a modern lifestyle. Furthermore, their 'down-to-earth' philosophy manages to combine high quality with friendly budgets.
Furthermore, Nestron provides sustainable living without additional effort. In fact, the small size, high isolation system, and built-in green energy sources make a house almost independent from external energy sources.
As an example, below are Nestron modern prefab houses with prices: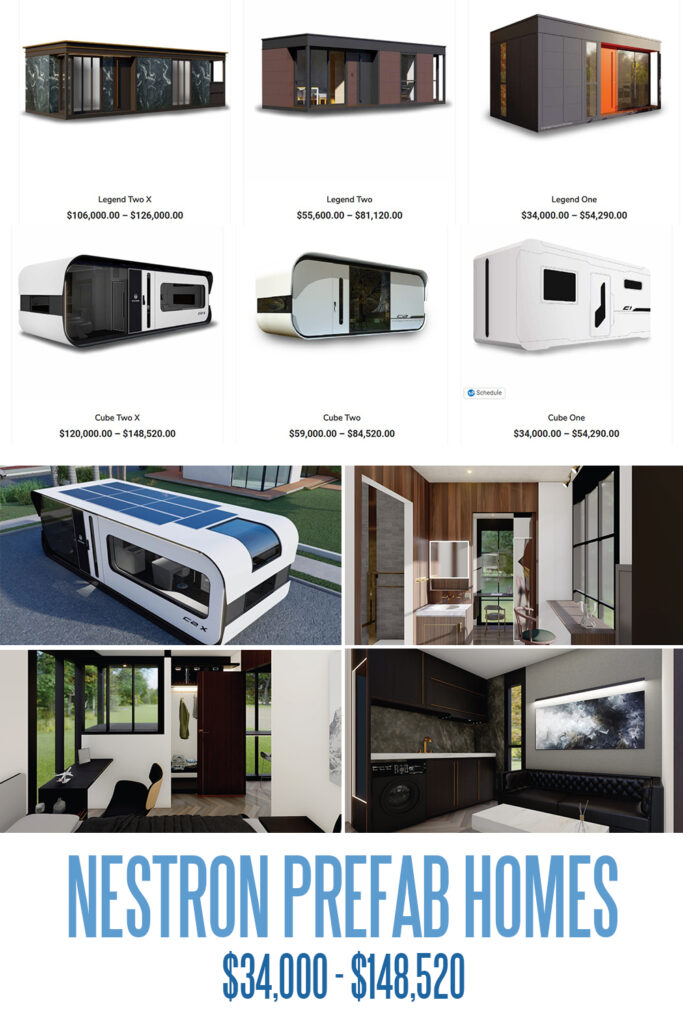 5. The Plant Prefab Homes
If design and zero carbon print matter to you more than price, check out The Plan Prefab homes. You can customize a variety of homes designed by architects or bring your own design for precise prefabrication.
For example, there is an extensive collection of homes ranging from 0-bedroom tiny homes to 5-bedroom 3,100 sq. ft. family homes. In like manner, all homes are designed to meet both LEED Platinum and net zero standards and feature Alexa-enabled smart home technology.
If you are looking for turn-key granny flat designs or an energy-efficient prefab mother-in-law cottage, one-story LivingHome designs make a perfect fit. Furthermore, the company provides an estimate of all costs.
For example, for 1 bed, 1 bath, 496 sq. ft. prefab home be prepared to pay:
Fabrication: From $216,000
Site Work: From $132,000
Transport and Install: From $39,600
Design, Engineering
and Permitting: From $38,400
Total: from $426,000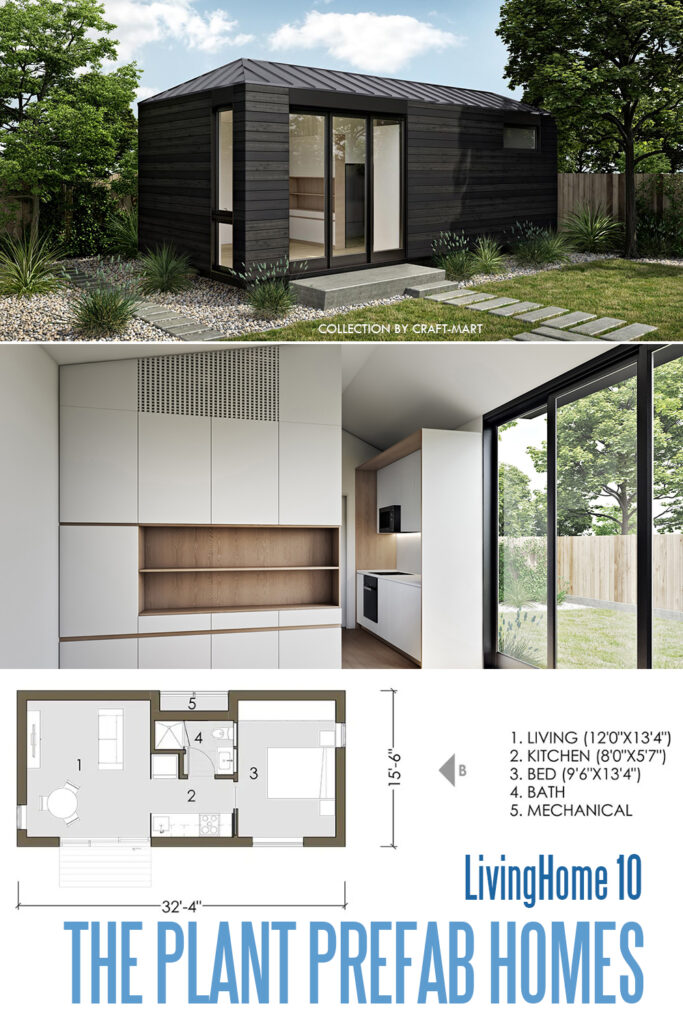 The lightHouse LivingHome series is an innovative line of accessory dwelling units (ADUs) that celebrate "the luxury of less" and the best of tiny living in five ultra-efficient sizes. In fact, thirteen floorplan variations ensure that you can achieve your ideal living space on just about any property.
As an example, configurations range from a compact studio to a one-bedroom unit atop a two-car garage. Moreover, thoughtful details, flexible storage spaces, and window nooks that double as seating and guest sleeping areas provide space where it matters the most.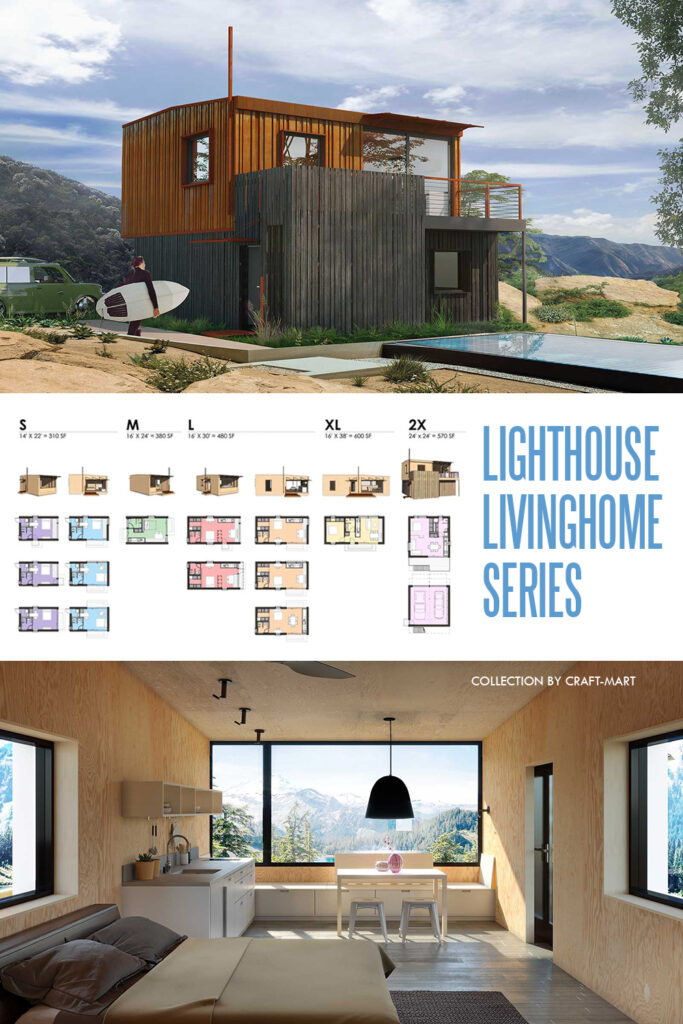 Source: Lighthouse LivingHome Series
6. East Coast Modern Prefab Homes
In brief, this Canadian company delivers modern dwellings that are crafted, not fabricated. Most importantly, these homes are move-in ready in as little as six months.
There are 2 customizable layouts that are available: MOD-1 and MOD-2 as well as completely custom designs.
The MOD-1 floorplan is flexible allowing for several combinations of sleeping spaces: 2 master bedrooms, a master + 2 bunk rooms, or a master + study + bunkroom. In the center of the home is a 24-foot open concept area featuring a kitchen, dining, and living space beautifully lit by natural light.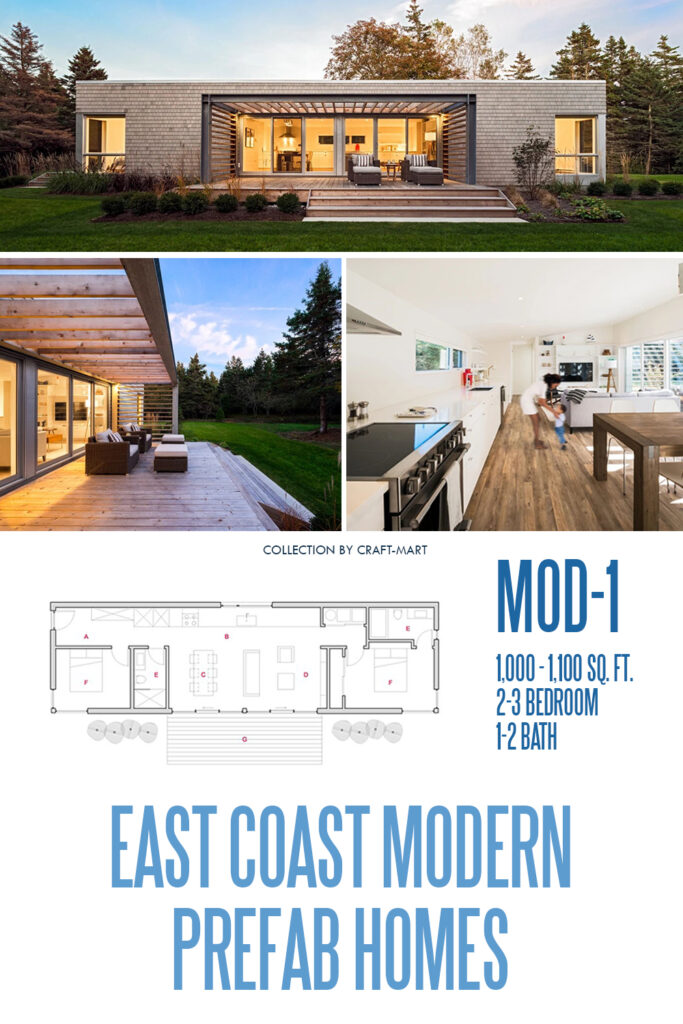 Source: East Coast Modern MOD-1
Working with a two-module approach, MOD-2 offers several impressive living solutions to maximize living space. The MOD-2 series will allow you to create one and two-level homes. Furthermore, they could be customized for the site and the client's living needs.
With up to 2,000 square feet of living space, you can create exceptional living spaces with 1350 – 2000 sq. ft., 2-3 bedrooms, and 2-3 baths. It is an impressive space for a prefab home!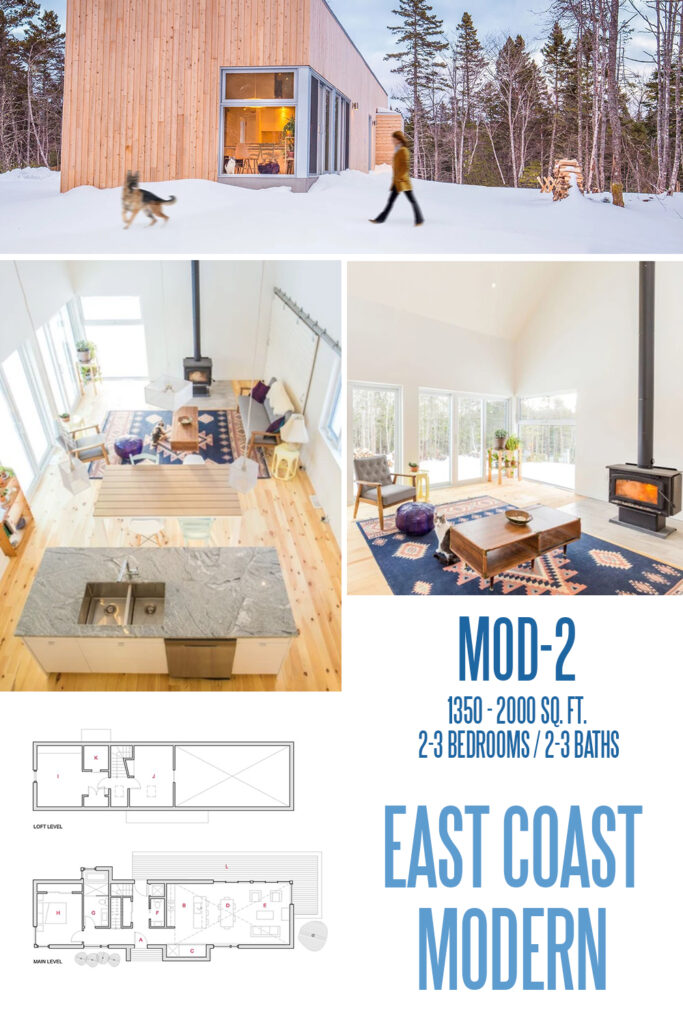 Source: East Coast Modern MOD-2
In contrast with many other prefabricated small homes, you can see actual projects that were already built. Unfortunately, you need to be patient as due to high demand, the company is fully booked until Spring 2024.
7. DVELE Modern Prefab Homes
Dvele is a new company based in California that advertises that in less than 10 minutes, you can choose one of our homes and create a custom lookbook featuring exterior and interior finishing packages.
Furthermore, if you answer a few questions about your build site, Dvele can even provide an estimated budget. In fact, there are numerous designs to choose from.
TOLUCA MINI HOME is an example of clean modern design featuring the best of tiny living. As a result, you have an efficient living space of 430 sq. ft. On the main level, you'll find an open kitchen/living space area, a bathroom, and a bedroom with 2 built-in bunk beds.
A loft, accessible by stairs, features another spacious bedroom. There are 6 exterior finishing packages to choose from.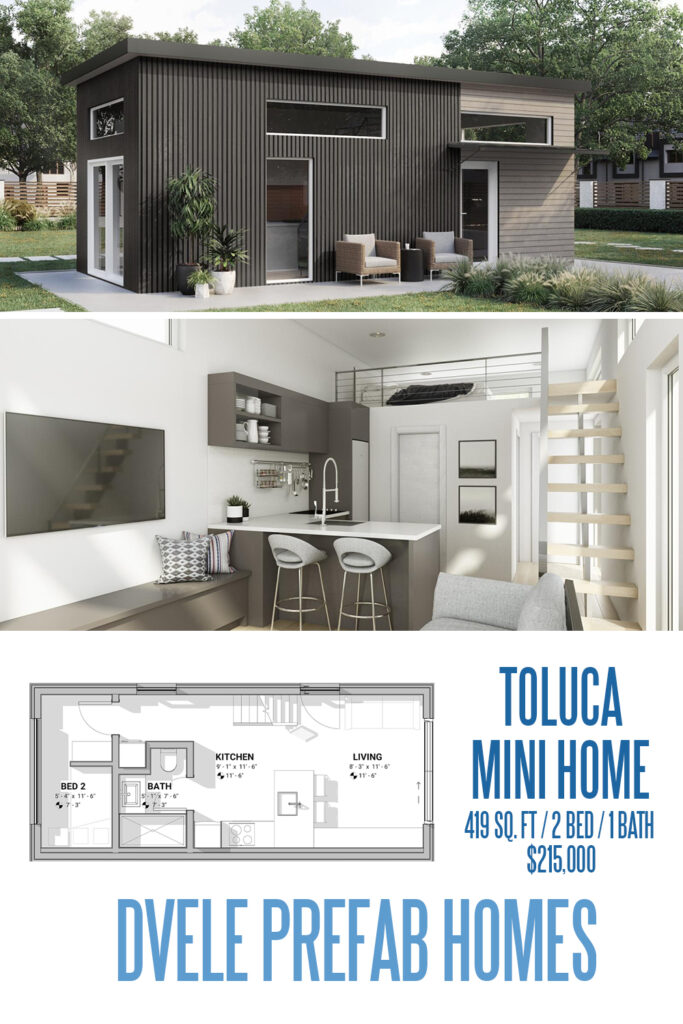 Source: TOLUCA MINI HOME by DVELE
Angora modern cottage provides an efficient living space with only 888 sq. ft. utilizing custom built-in features. With the kitchen/living area and a spacious patio flowing seamlessly to bring together outdoor and indoor spaces, it creates a relaxing space.
The kitchen features a large island with a dining table and a built-in desk. Also, you will enjoy high-quality cabinetry and appliances.
There are six different exterior finishing packages available including two-toned siding with blonde-colored wood and metallic silver corrugated siding.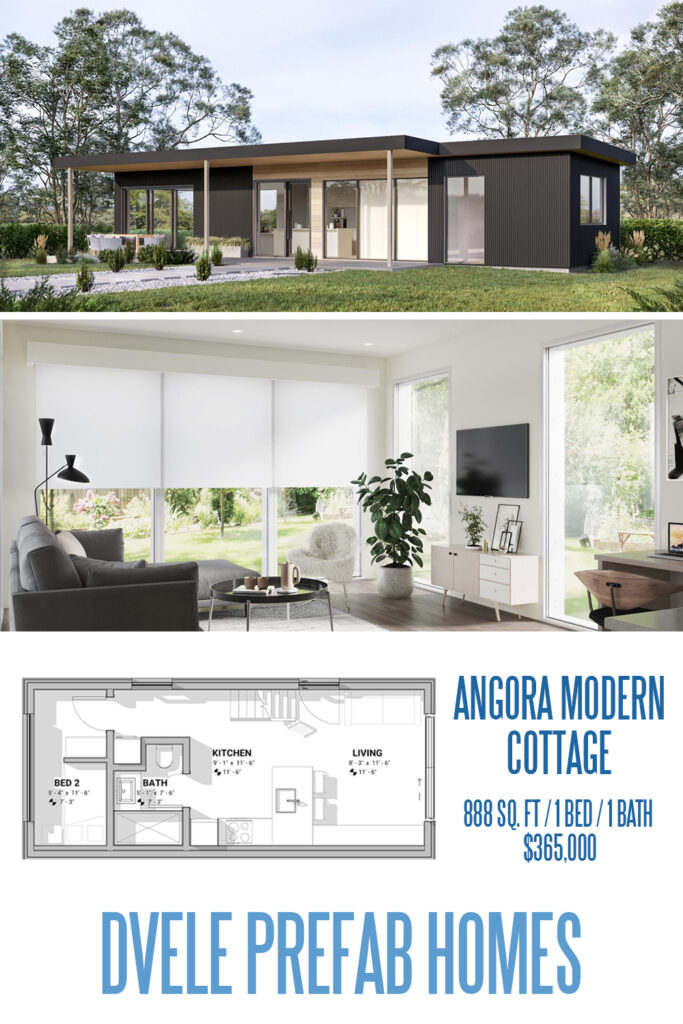 Source: Dvelle Angora Modern Cottage
8. LLoyoll Prefabs
Lloyoll is a Canadian company that builds and delivers modern, eco-friendly, modular homes throughout North America. Prefabricated small homes are available in 3 models and 3 styles.
SKÁLI BackCountry Cuboid is advertised as "Clad in Weathering Steel, Durable, Bold, Simply Strong." It has 424 sq.ft., 1 Bedroom, 1 Bathroom, and 2 Lofts. The design team has created an open-concept floor plan that maximizes every inch of space.
With floor-to-ceiling high-quality Andersen windows, an open kitchen, a 3-piece bathroom, a master bedroom, and a loft for 2 extra beds, SKÁLI has a bright and airy eco-footprint that fits on any lot.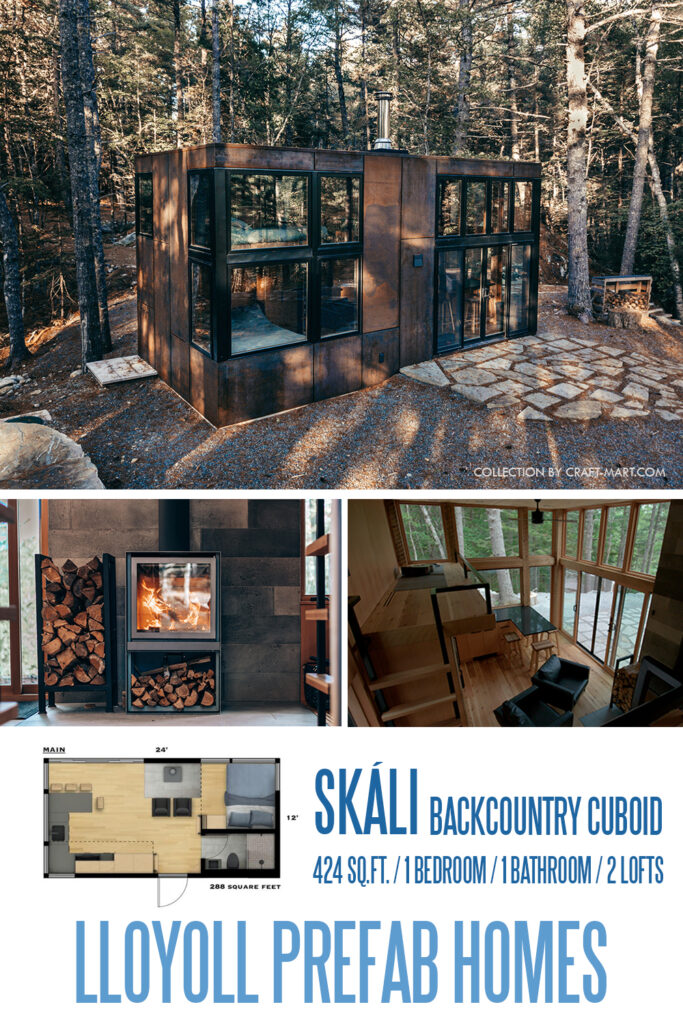 Source: Lloyoll SKÁLI BackCountry Cuboid
Designed in the best traditions of bright and airy Scandinavian design, this modern prefab house lets you enjoy all the amenities in style. Large floor-to-ceiling windows, a well-equipped kitchen with Bosch appliances, a full bathroom, 2 king beds, and open lofts for 2 extra beds offer more flexibility for you and your guests.
In fact, you can enjoy all conveniences of modern living in the middle of the woods or on a remote lake without a big carbon footprint. Net Zero Prep Package will allow your system to sell unused electrical power, created from renewable sources, back to the main power grid.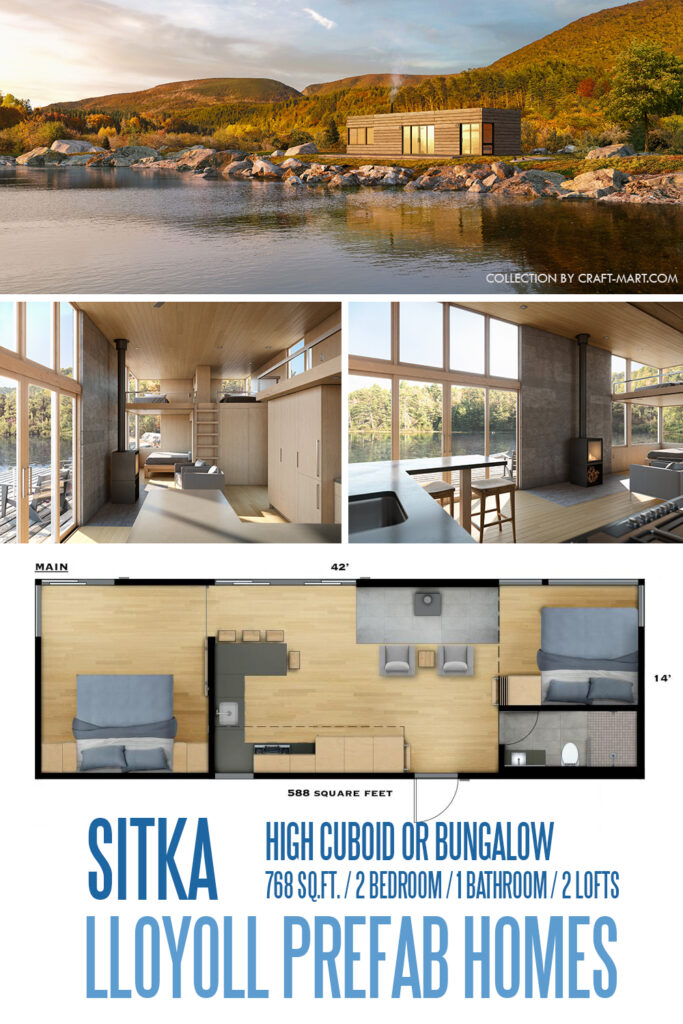 9. PURE Prefab Homes
This Australian company managed to combine the best of European minimalistic design with eco-friendly local materials and a low environmental footprint. While the final expression of the minimalistic design appears effortless, it is an art to strip down everything to the core function using simple materials, neutral colors, and simple forms.
As a result, PURE homes offers three models: Studio, Mini, and Aqua. In case you have a piece of land in Australia where you plan to live a simple life, these prefab tiny houses deserve your attention.
Here are some of the key features of PURE prefabricated small homes:
low environmental footprint
passive energy-efficient design
compatible with solar power
one-way glass to ensure privacy
built with durable non-toxic materials.
PURE's flagship model 'Studio' provides the luxury of the 5-star resort and a unique outdoor experience. Designed for both cold and hot climates, the rigid glass and steel structure provides protection from the elements including cyclones (up to C2).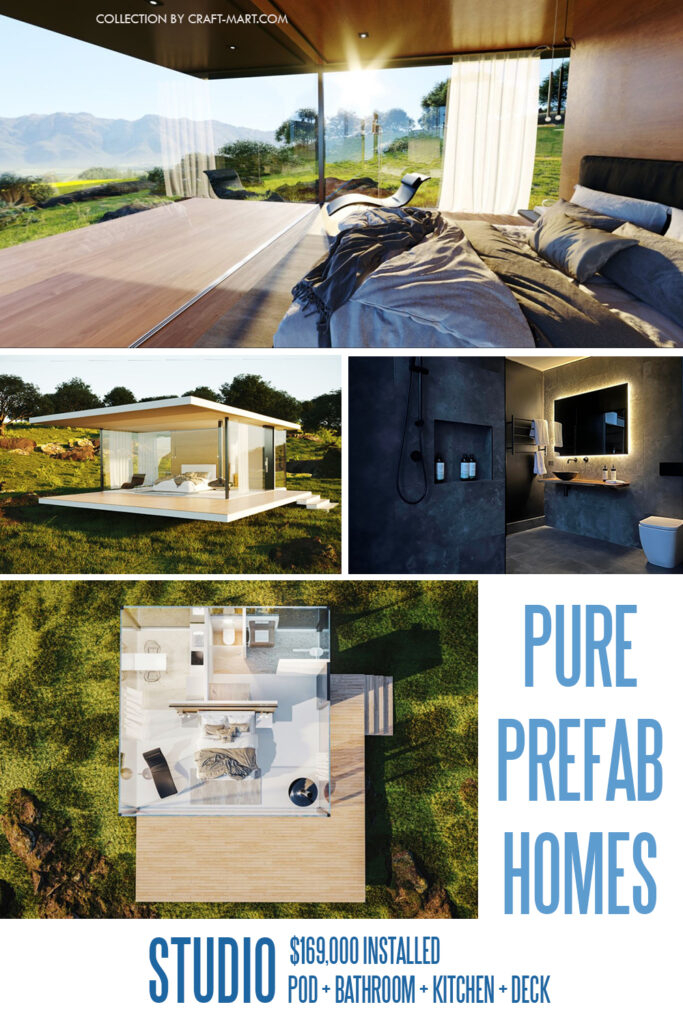 Source: PURE Studio Prefab Model
The PURE MINI is the second model of the PURE family of prefab tiny homes. As an illustration, the designers integrated all the great things people loved about the STUDIO and compressed it into an affordable, high-quality, and stylish pod.
In fact, MINI is available in three sizes. In summary, the smallest MINI 6 model costs $85,000, MINI 10 is $115,000, and MINI 14 is $135,000 (installed). The biggest model MINI14 features a kitchen, a bathroom, a living room, and 2 bedrooms.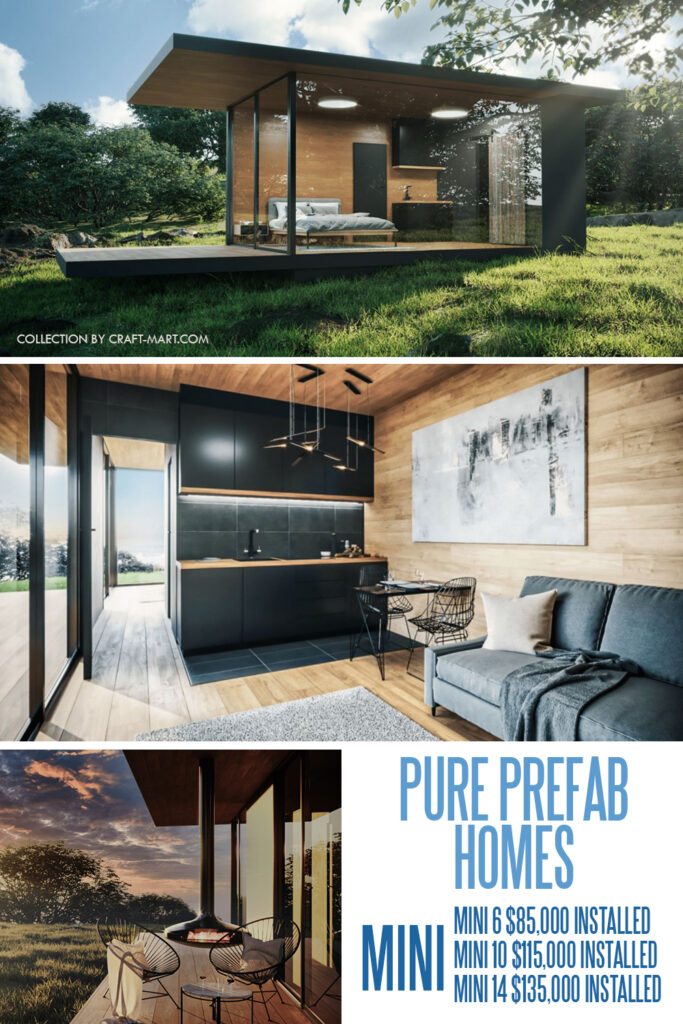 Meet the future of houseboats – PURE AQUA. In fact, it is not your worst nightmare cramped houseboat where you can't even stay straight. Moreover, with stylish décor, luxurious extras, and breathtaking views, the AQUA model will make you want to pack your bags and live life on the water.
As a matter of fact, you can add self-sustaining features throughout PURE prefab modular houses including extensive rainwater tanks, solar cells, Tesla battery storage, and generators, you can make your dream of living off-grid a reality.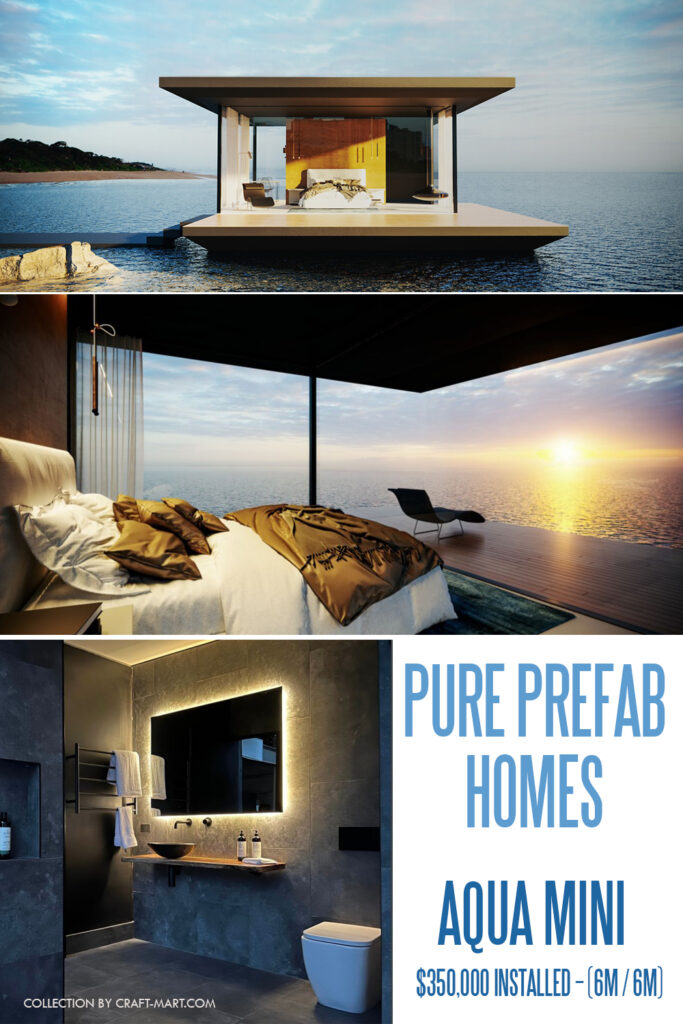 10. Granny Flats by Pacific Modern Homes, Inc.
Also, imagine adding the extra square footage you have always dreamed of – right on your existing property at an affordable price. In case you have an adults child returning home or an aging parent who can't live on their own.
As a matter of fact, an affordable granny flat is a sensible answer. In this case, a solution is provided by Pacific Modern Homes – a company specializing in the design and manufacturing of panelized wall sections and wood roof trusses.
Panelized homes are structures that are partially built in a factory and then shipped to a site. Most importantly, this business model allows the company to provide affordable solutions.
Also, the company specializes in inexpensive prefab cabin kits which are perfect if you are looking for a prefab guest house with a bathroom and a kitchen. So, if you are a skillful DIY enthusiast who wants to put in some sweat equity, these kits are for you.
The Maywood Granny Flat – Panelized Kit Home
Total Living Space: 600 ft²
Bedrooms: 1
Bathrooms: 1
Garage: N/A
Ceiling Height: 8′
Covered Porch: 108
Home Plan Cost: Included (September 2022)
Building Kit Cost: $42,665 (September 2022)
Style: 1 Story
Minimum Payment: $3,700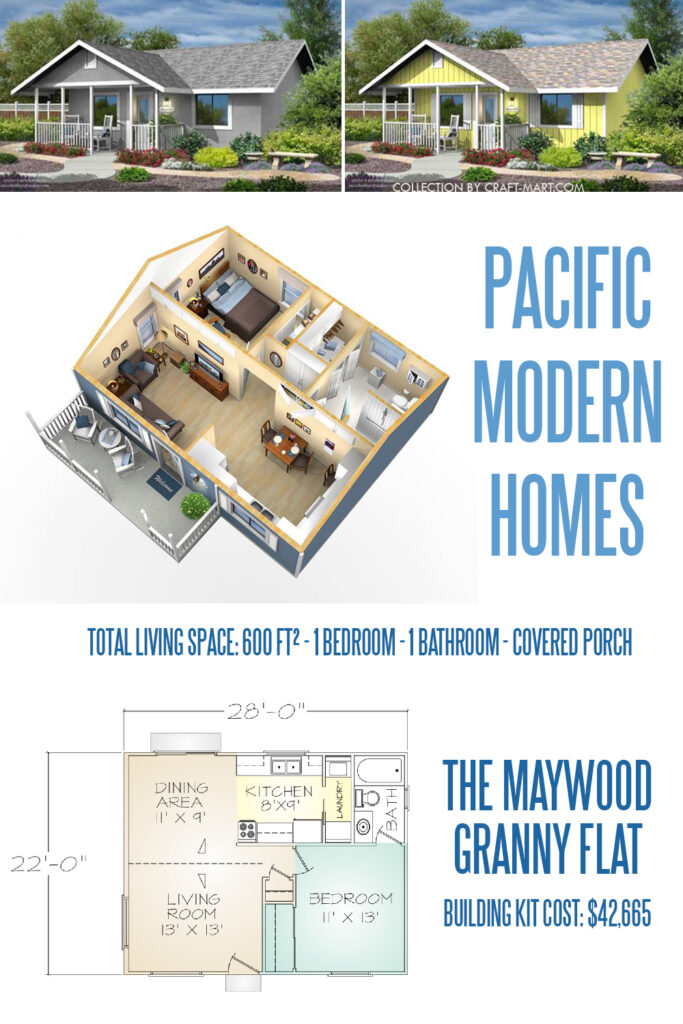 Source: Maywood Granny Flat by PMHI
The Meadow View Granny Flat – Panelized Kit Home
Total Living Space: 616 ft²
Bedrooms: 1
Bathrooms: 1
Garage: N/A
Ceiling Height: 8′
Covered Porch: N/A
Home Plan Cost: Included (September 2022)
Building Kit Cost: $41,163 (September 2022)
Style: 1 Story
Minimum Payment: $3,700

Source: Meadow View Granny Flat
In summary, there are lots of choices if you are looking for relatively inexpensive prefab tiny homes for sale. So, whether you are looking for small prefab cabins or prefab tiny house kits, there is a growing number of companies in the marketplace.
To help you make an educated choice, check out our posts dedicated to building a tiny house: