Are you a fan of contemporary fluid arts, especially acrylic pour painting? Are you tired of seeing thousands of tiny canvasses with different variations of cells?
How about doing paintings of galaxies using pour painting and other techniques?
Check out our blog posts about acrylic pouring:
Acrylic Pour Painting Supplies for Stunning DIY Fluid Arts Projects
Learn acrylic pour painting techniques for your prettiest DIY wall art ever!
Acrylic pouring recipes and techniques for amazing DIY paintings
Make gorgeous DIY florals with acrylic pouring – easy and fun!
Fluid acrylic pouring has sparked recently a lot of interest in mixed media painting techniques. Fueled by a crowd of enthusiastic amateurs, it brought to life a startling number of canvasses the look a lot like rainbow-colored marble slabs.
One contemporary Swedish mixed media artist stands apart with her Cosmic Paintings of Galaxies.

Acrylic pour painting movement is rather new and like all other movements, it needs leaders, teachers, and bold experimentators who will break the mold. It's not enough to simply discover a new technique.
A real artist who is able to incorporate this technique into an amazing workflow to create something beyond ordinary serves as inspirations for many …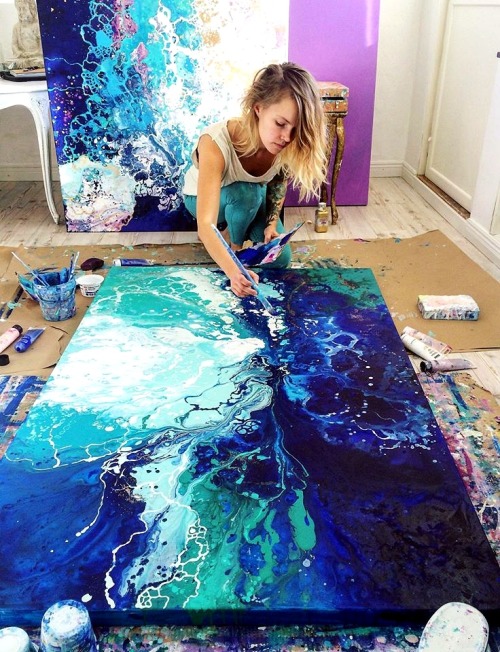 Who is Emma Lindstrom?
A contemporary Sweedish artist Emma Lindstrom is well-known in modern art circles for her mixed media fluid art depicting a tasteful explosion of color. With impressive social media following, her art is captivating, mesmerizing, and energizing.
We are excited to shine a spotlight on this unique young artist and lift up the curtain to reveal her creative process that takes simple acrylic pouring to a new level.
What is Lindstrom's Art Technique?
Her name Emma is also on acronym transcribed on her website: E (Emma) M (Mixed) M (Media) A (Art). In one of the interviews, her art was called 'music for your eyes'.
In her own words, the artist describes her artwork (which is not 'work' for her, in the everyday sense):
This is my artwork. Although, I would not call it work. This is what I want to do, what I have to do in life. This is the path I found or the path that found me, one which I've never been able to stray from since.

Staying true to yourself is never easy, it's a constant and equal struggle between oppositional forces from as well the outside as from within. Voices telling you that it can't be done, that you're living in a fantasy. Telling you that you should do something else, something "real", instead. Voices of fear.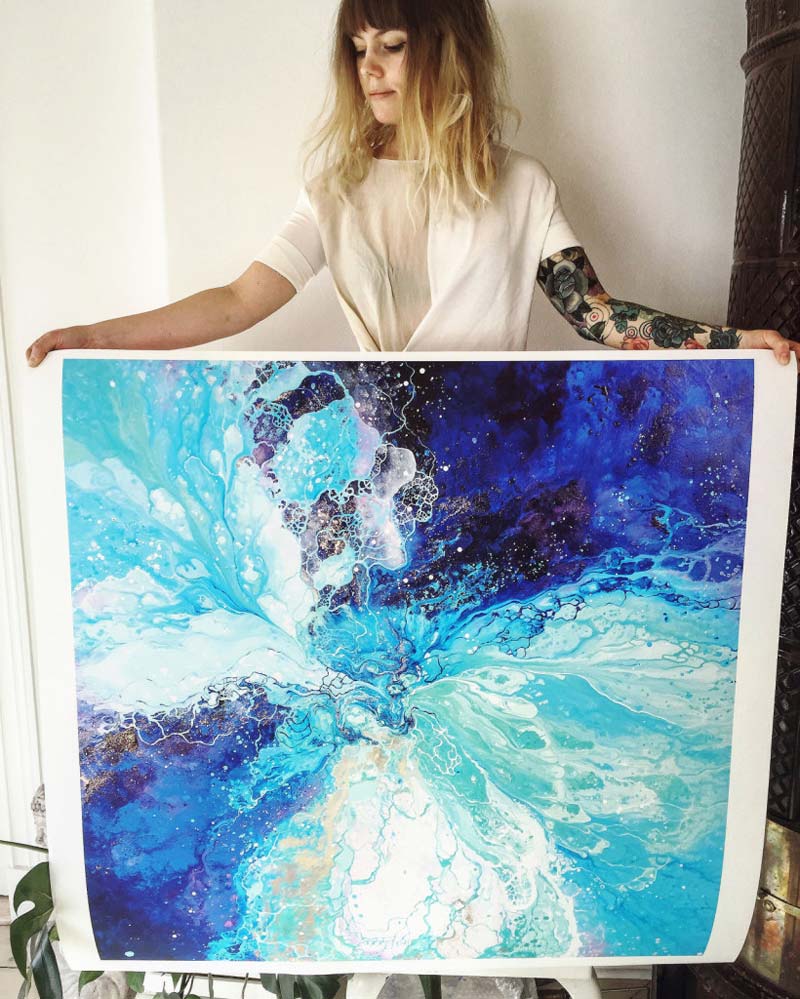 But in art, I've found the most powerful weapon there is against that chatter; a weapon of love and beauty. Art is my earmuffs and crystal clear glasses, making me hear what needs to be heard and see what needs to be seen. It's sorting out all of the noise and flickering leaving me focused and alert, yet at peace. The field of possibilities, a splash of paint away.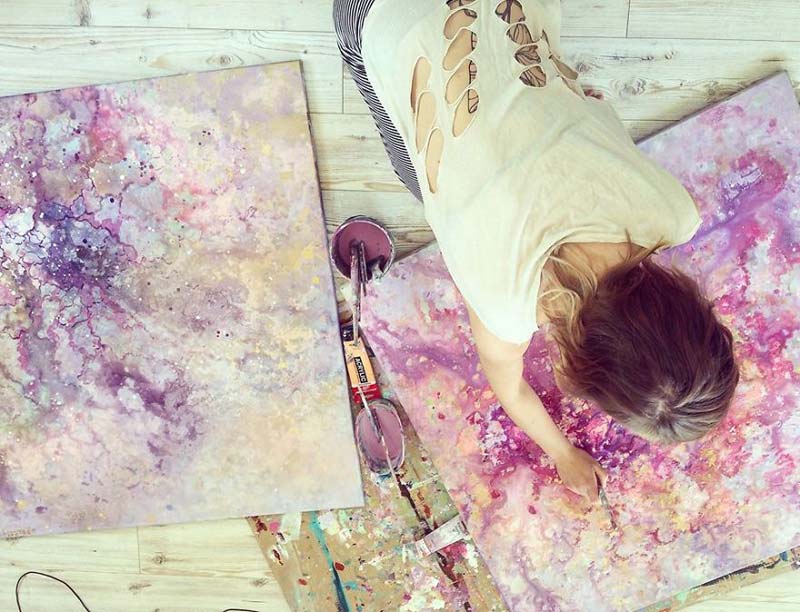 Her work is as captivating as it is unique. If you line up a dozen acrylic pouring art canvases, you'll be able to single our Lindstrom's work in a second. Emma explains how she visualizes her own artistic path:
I wish to inspire people to follow their own path and find what makes time slow down, or even stop, for them. There are of course many different ways of reaching this state. Whether it's by painting, playing music, sitting with your legs crossed, or just running for miles on end, the important thing is to keep doing what is working for you, what is true to you.

The path is there, all you have to do is follow it. I believe this is our biggest mission in life.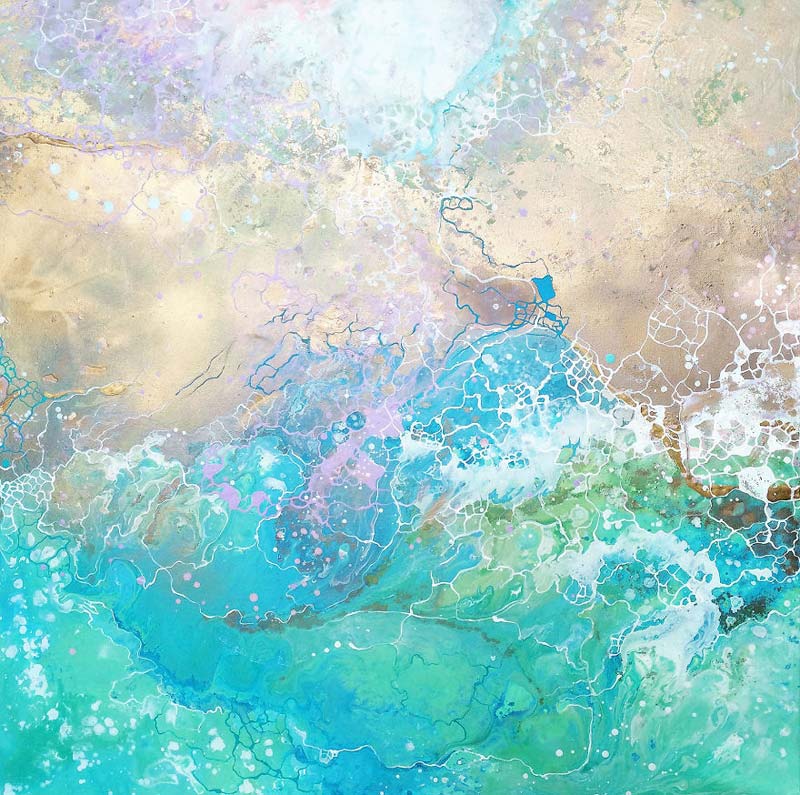 Paintings of Galaxies
Emma Lindstrom's work is hypnotizing and gives you a feeling of looking deep into the universe. Whether you are admiring her galactic Cosmos series or the latest team collaboration in mixed media, her method of pouring paint on the canvas and blowing on it creates a wonderful display of shapes, colors, and textures.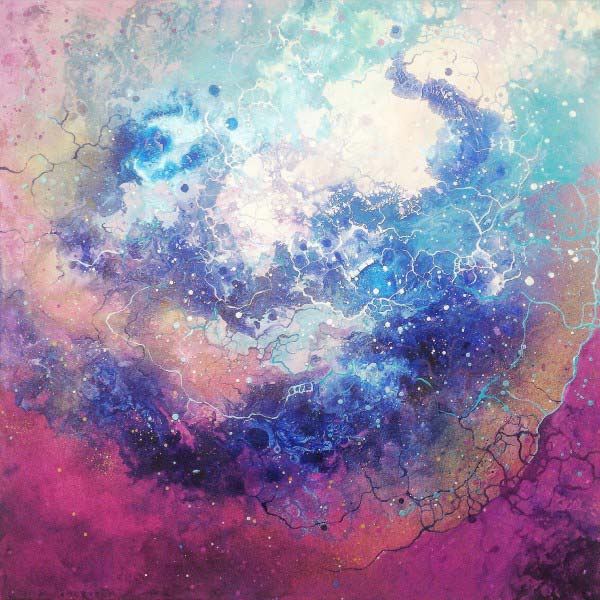 She has found a great way to combine acrylic pour with mixed media techniques that encompass her own unique and style. Somehow, she managed to transform her canvases into truly monumental paintings of galaxies. Emma explains her method:
What people see in my work is, for me, less important than what they feel when exposed to them. I'd like to think that my artworks have some part of the creative force of the universe inclosed in them, which I hope can be picked up and revived by the spectator. Maybe that can trigger the spectator to create something of their own and pass the creative energy on further. We're all part of the flow, part of it all.
What is the essence of Emma Lindstrom's creative process?
Whether you are a seasoned art connoisseur or art is your weekend hobby, you should be able to tell if a certain art piece moves you. For an artist, this is an ultimate reward.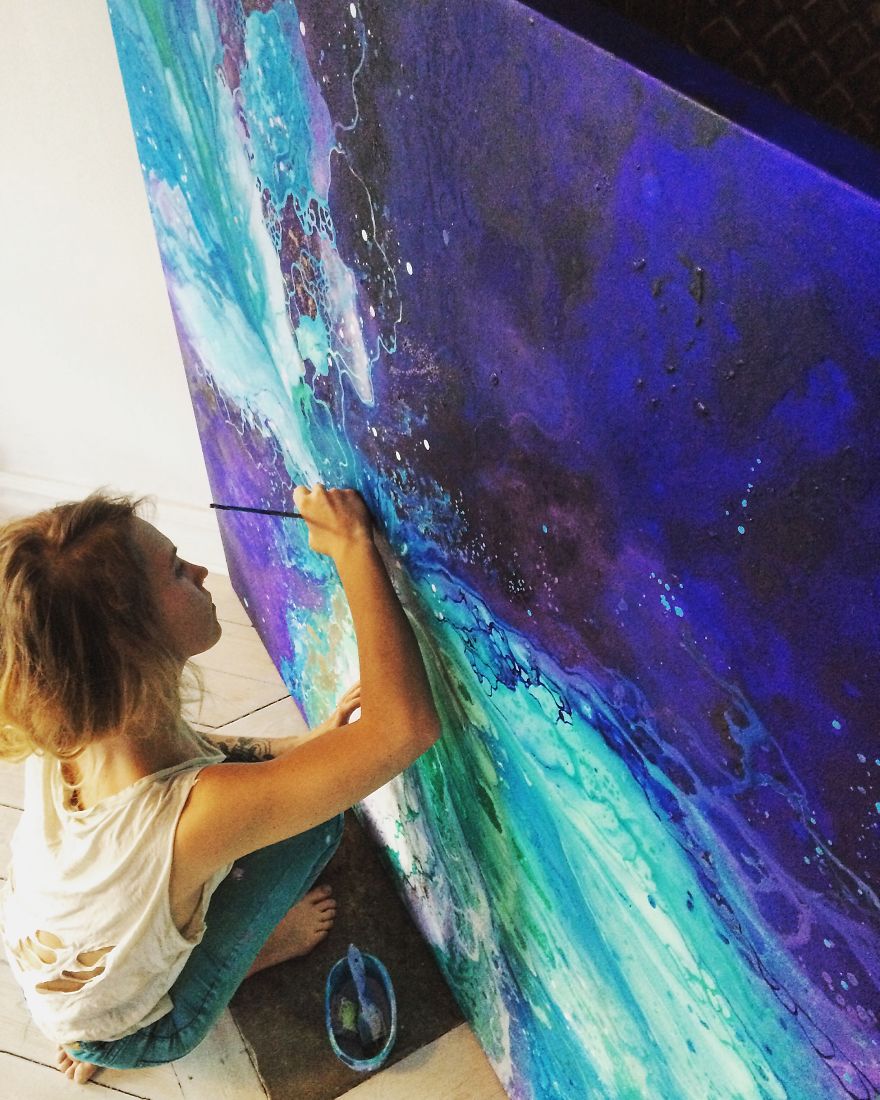 Consequently, everything that goes into the creating of an art piece is more than a mere combination of paints, canvas, and lines. Creation process naturally evolves from the need to create. Emma explains:
The need to create something beautiful out of the energy and emotions rushing inside of me, and by doing so also creating my own reality.

My artistic vision is to make people feel. To take a break from analyzing and critical thinking for a little while, and just let go. If you can feel the energy in my work, it means that however distant in time and space we might be, we share the same energy.

Part of the energy that connects and holds us all together. As for the colors, I really don't know why the pieces turn out the way they do. Maybe the colors correspond to the specific energies I convey, however strange that might seem…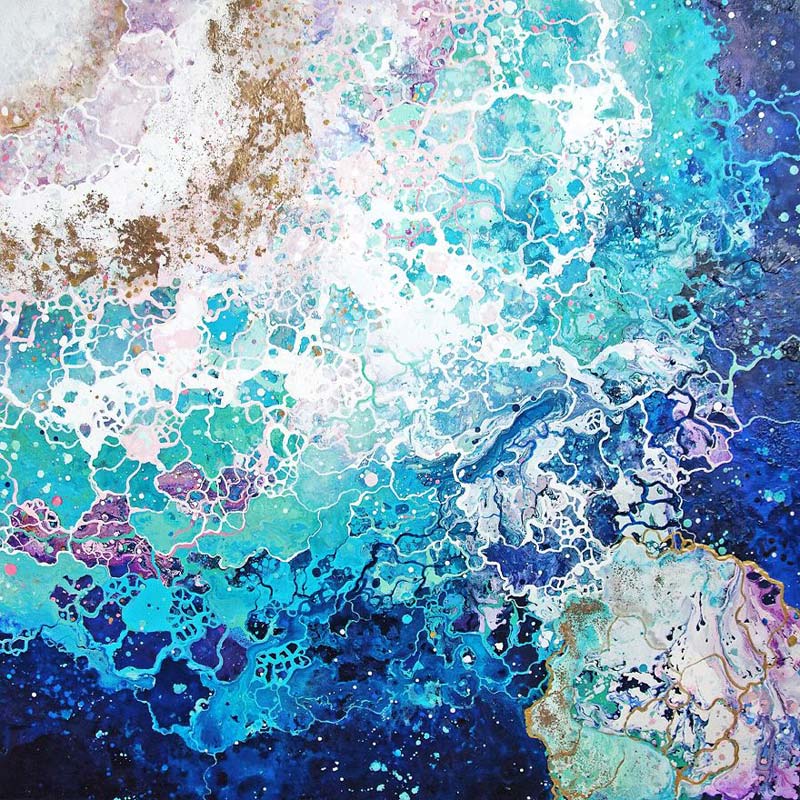 If you have tried acrylic pouring art, you know that it is a delicate balance between chance and controlling the process (by choosing the color palette for your work. This is how Emma describes it:
The process is, like life itself, a balance between control and chance. I don't make too much planning ahead, but instead let the process itself guide me. This is as much a therapeutic process as it is a creative one. Of course I plan so much far ahead as to which colours and mood I'm going for, or rather what fits the mood I'm in at the moment, but after that it's time to let go of some control, even though I'm still the one in the driving seat.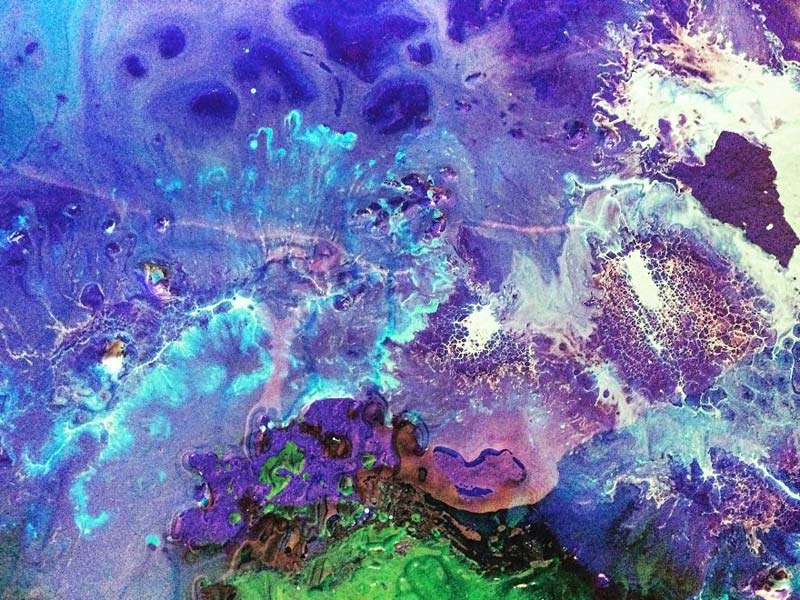 It is so true! If you have tried painting, you would agree that it is therapeutic to the soul. Consequently, it may take you somewhere different from where you were planning to go. Emma elaborates:
When I try creating something that doesn't correspond to where I am emotionally at the moment, the result never ends up good. The process simply doesn't allow me to be "fake" or make something that isn't authentically me. When the pouring and flowing is over, it's time to take a step back and see what's revealing itself to me this time. After that I wrap it all up by enhancing, highlighting and forming the piece to what I believe it wants to be. So as much as I'm surprised, I'm also not, because when it's done it just feels like home. I couldn't imagine a better creative process for me, to be taken for ride each time and finally end up safe at home, what more can I ask?
Does Emma Lindstrom experiment with any new acrylic pouring art techniques?
When an artist finds its niche and preferred artistic technique, sometimes it means that from now on all their artworks will look similar. It gives an artist a comfort of recognition but may mean stagnation for the artistic process itself.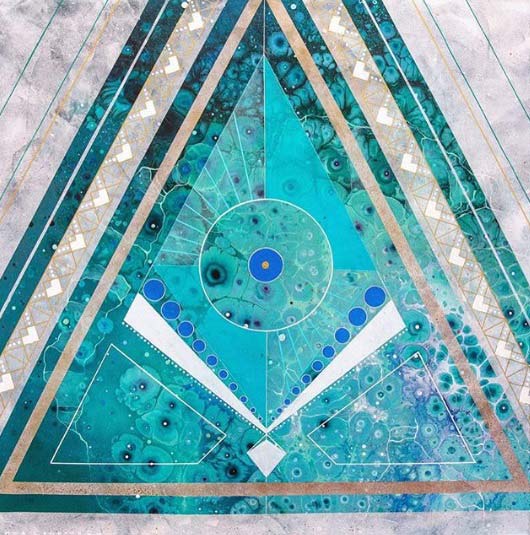 Emma Lindstrom admits that her art is in constant motion and that she loves to experiment and get out of her comfort zone.
I love experimenting and trying out new things, and plexiglass is just another experiment. Maybe it turns out great, in which case it could definitely become a series! I like the big part light has on the result of painted plexiglass, but it also makes things a bit tricky… Or trickier than I'm used to anyway. But it's good to step out of your comfort zone once in a while!
Where can you see Emma Lindstrom's original artwork?
You can see a lot of Emma's work online (on her website and Instagram profile) but to really experience the explosion of colors and feel the energy that irradiates from her work, you must see the originals.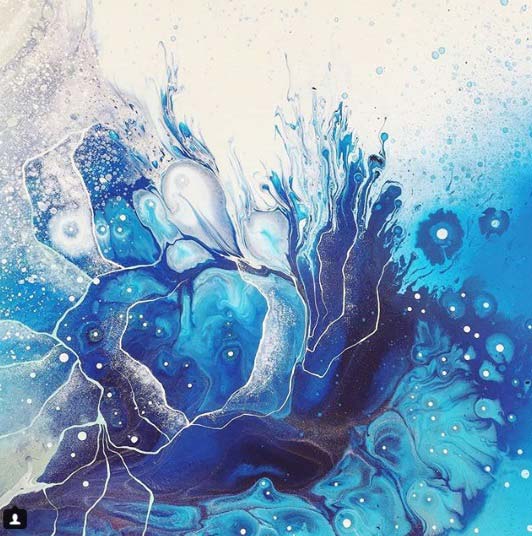 If you are ever visiting one of these European cities, make sure to stop by the galleries: Anohaao Gallery – Gothenburg (Emma's own art gallery); Galleri Eklund – Stockholm; Galleri Lohme – Malmö; Størpunkt – Munich, Germany.
Can you buy Emma Lindstrom's artwork?
Though buying an original art piece is expensive, you can still surround yourself with beautiful colors of Lindstrom's work.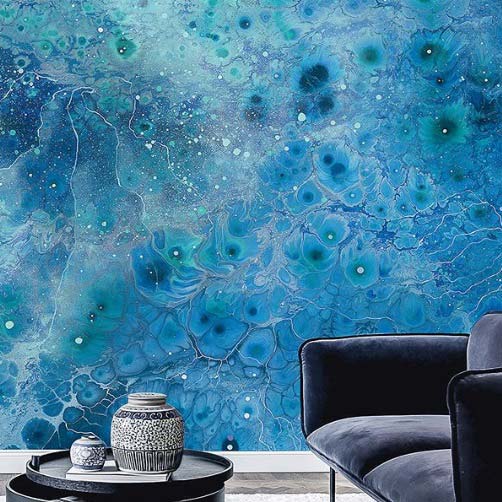 Besides selling her original artwork through the galleries, Emma released her own collection of contemporary wallpaper in collaboration with Photowall.
The AURA collection is Emma's first wallpaper collection, where she has created 12 colorful abstract patterns from scanned original art works for Photowall. Lindström's art brings the beholder beyond the visual senses and encourages you to absorb and revive the energy that a work of art brings. Her creative process is a balancing act between unpredictability and control, where the process itself becomes an important part of the artwork. The result is a profound collection with abstract images that bring the imagination to space and the universe.

How challenging is the art scene for Emma as a young artist?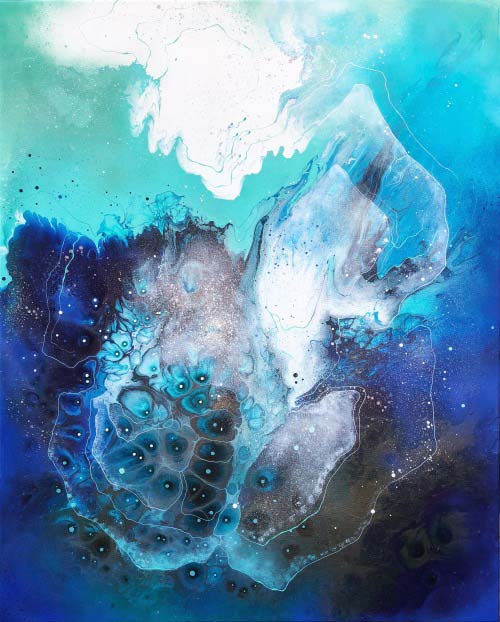 As the trends come and go, the taste for a certain art style may change. The art public a picky crowd to please, so the process may be very challenging for a young artist. Emma definitely feels the pressure and is refreshingly honest about it:
It's challenging, for sure, and I'm only just in the beginning of my career. But the biggest obstacle is often my own fear and doubt. Once I learned to accept the voices in my head, and not listen to them quite as much, it's like turning down the volume on a stereo. When the noise is turned down, I suddenly see and feel much more, and I know what I have to do. Easier said than done, I know, but you just have to find your own way to the volume knob and keep going back to it and turning it down. My way to sort out the noise is through painting, and that's all the proof I need that I'm on the right path. When the voices start building up, I can still remember that feeling and press on. Turn up the light, turn down the noise, and keep going!
Sources:
Photowall designer: Emma Lindstrom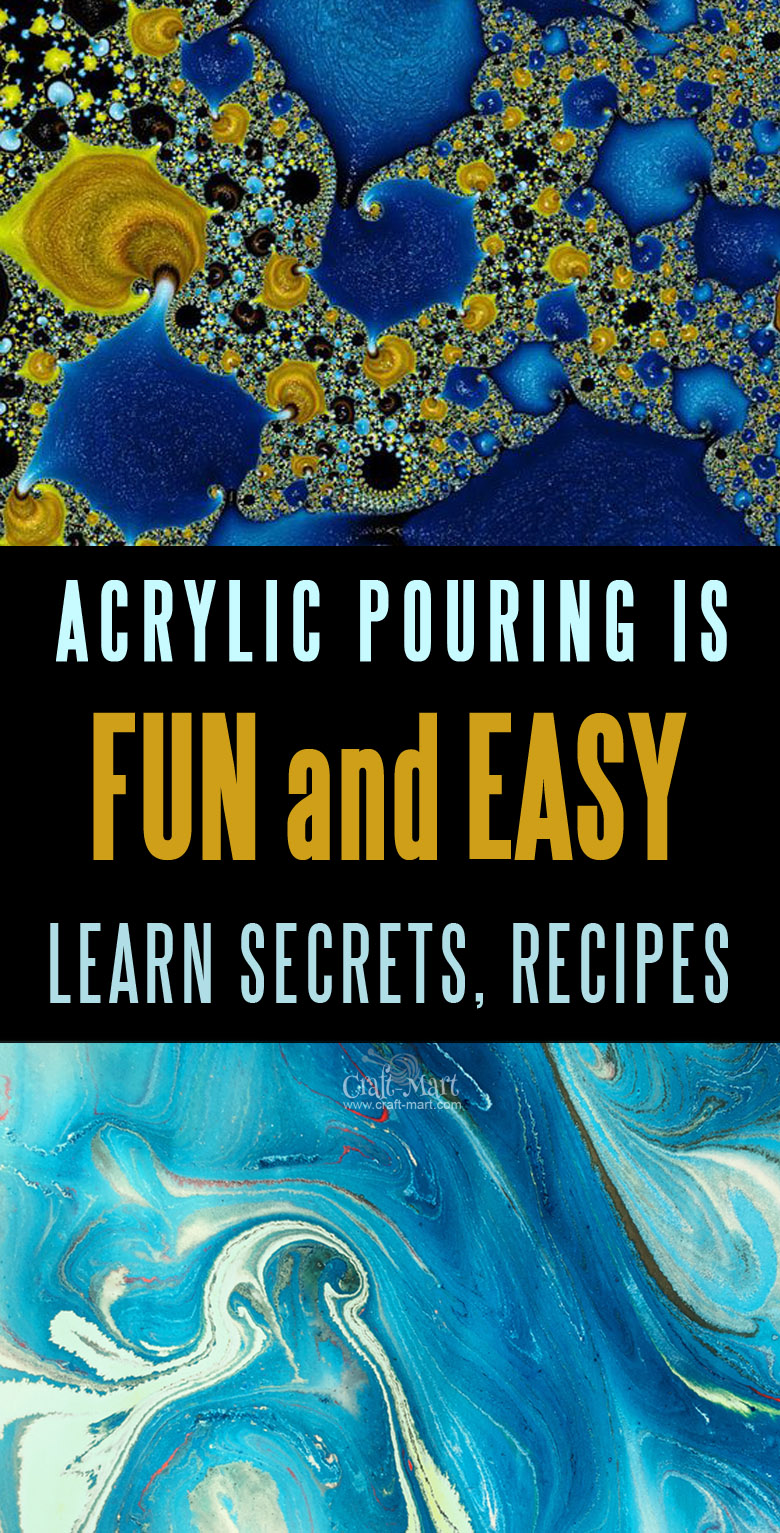 Did you get inspired to create your own pour painting galaxy masterpiece? Would you like to learn more about exciting DIY art techniques of acrylic pour?
Check out our blog posts about acrylic pouring:
Acrylic Pour Painting Supplies for Stunning DIY Fluid Arts Projects
Learn acrylic pour painting techniques for your prettiest DIY wall art ever!
Acrylic pouring recipes and techniques for amazing DIY paintings
Make gorgeous DIY florals with acrylic pouring – easy and fun!