Mosaic crochet patterns are becoming more popular among crocheters and designers. If you haven't tried this technique yet, explore this collection of free mosaic crochet patterns to find a beginner-level project.
Are you new to the wonderful craft of crochet? Check out our free patterns to help you grow:
What is mosaic crochet?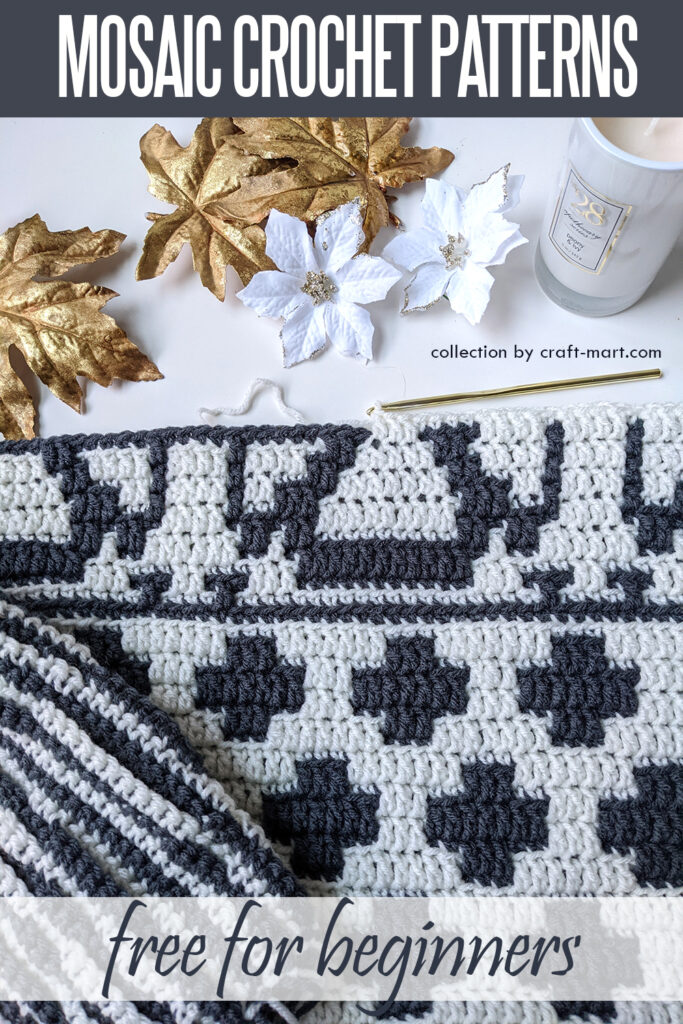 Mosaic crochet (also called overlay mosaic crochet or just overlay crochet) is a technique that uses BLO (back loops only) single crochet stitches and FLO (front loops only) dropped double crochet stitches to create intricate designs.
In fact, you would crochet textured stitches that lay over (hence the name overlay crochet) previous row stitches. As a result, it creates very intricate patterns reminiscent of tapestry or cross-stitching.
Key features of the mosaic crochet technique
Important to realize that mosaic crochet techniques differ from regular crochet. The first thing to remember, don't be afraid to learn something new even if it looks complicated at first. To illustrate, here is the basic mosaic crochet TUTORIAL.
Here are some characteristics of mosaic crochet:
you would always work on the same side – no turning your work at the end of the row;
all rows are worked in one direction only while fastening the yarn at the end of the row;
at the beginning and the end of the row use special border stitches to keep your border neat;
each row is done only with one color yarn and you cut it at the end of the row;
there is no weaving in the tail ends as they will be hidden by a unique envelope border;
all mosaic crochet patterns come with a chart using special symbols indicating when to use BLO sc and when to crochet FLO dc.
Mosaic crochet is a useful tool to create intricate designs and explore free mosaic crochet patterns for beginners. As you become more familiar with the technique, you can try more complicated patterns such as a mosaic crochet blanket.
As an illustration, let's explore free patterns that use the overlay mosaic technique.
1. Mini Mosaic Gnome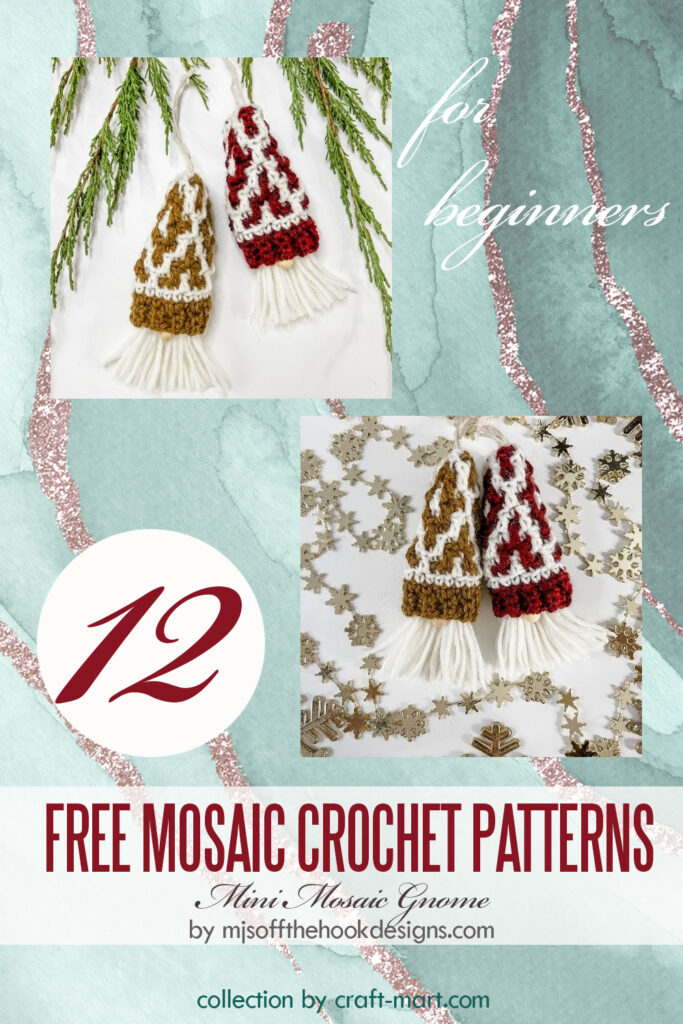 This cute Christmas pattern is a great way to get familiar with mosaic crochet while creating an ornament for your tree. Get into the holiday season and crochet this quick and easy gnome.
You can use it as a Christmas tree ornament or embellish holiday gifts with a hand-made trim. The pattern includes written instructions, a video tutorial, and a free chart to help you succeed.
2. Christmas Tree Coasters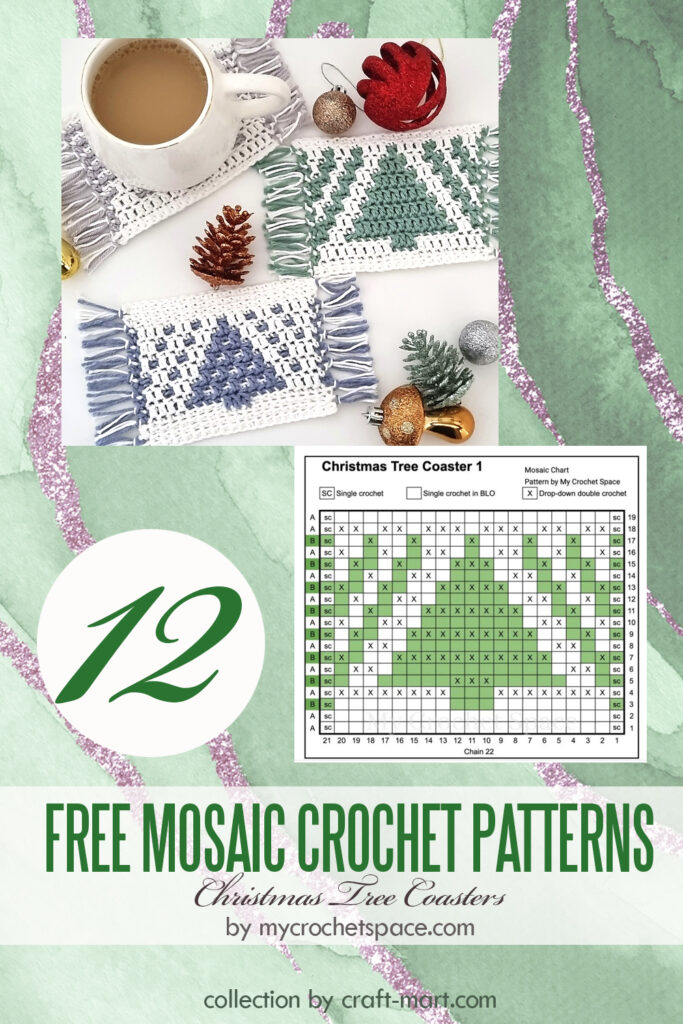 Source: 2 Christmas Tree Coasters
Granted you love Christmas and coffee, you would enjoy this easy crochet pattern. With this in mind, explore these 2 quick and easy coasters patterns which come with instructions and free charts.
3. Surfside Mosaic Pillow Crochet Pattern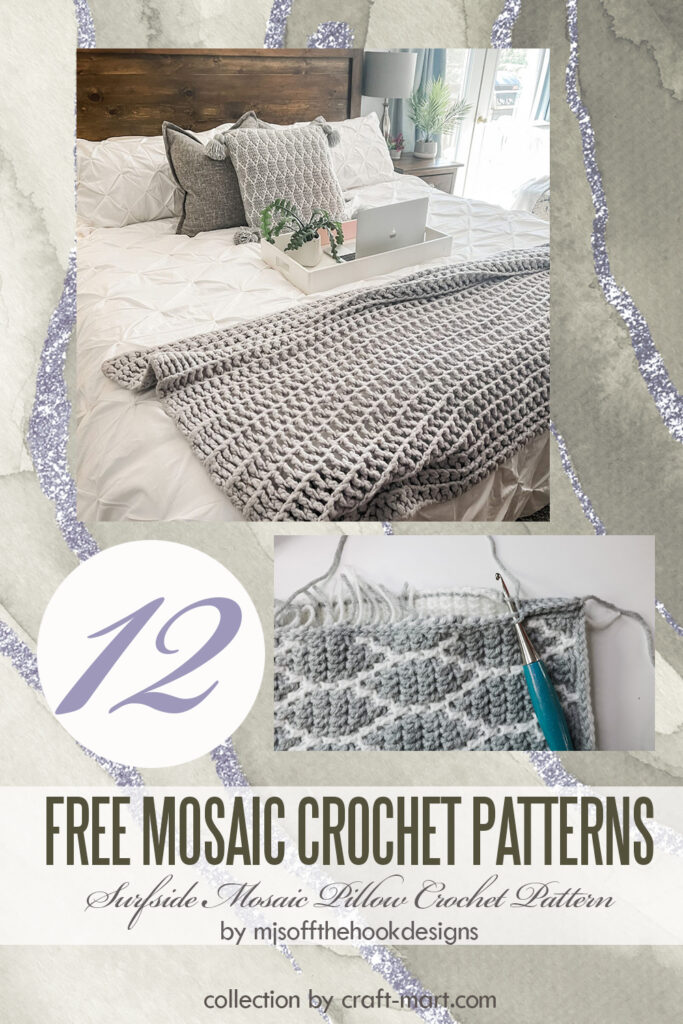 Source: Surfside Mosaic Pillow Crochet Pattern
As you get more familiar with the mosaic technique, you can crochet a bigger project. This easy and cozy pillow is just that – a beautiful mosaic pattern for your home.
As a matter of fact, if you can crochet a single crochet and a double crochet, you can create this unique mosaic pillow. The pattern comes with detailed instructions, a free chart, and a video tutorial to help you in your journey.
4. Lily Sugar'n Cream Mosaic Stitch Dishcloth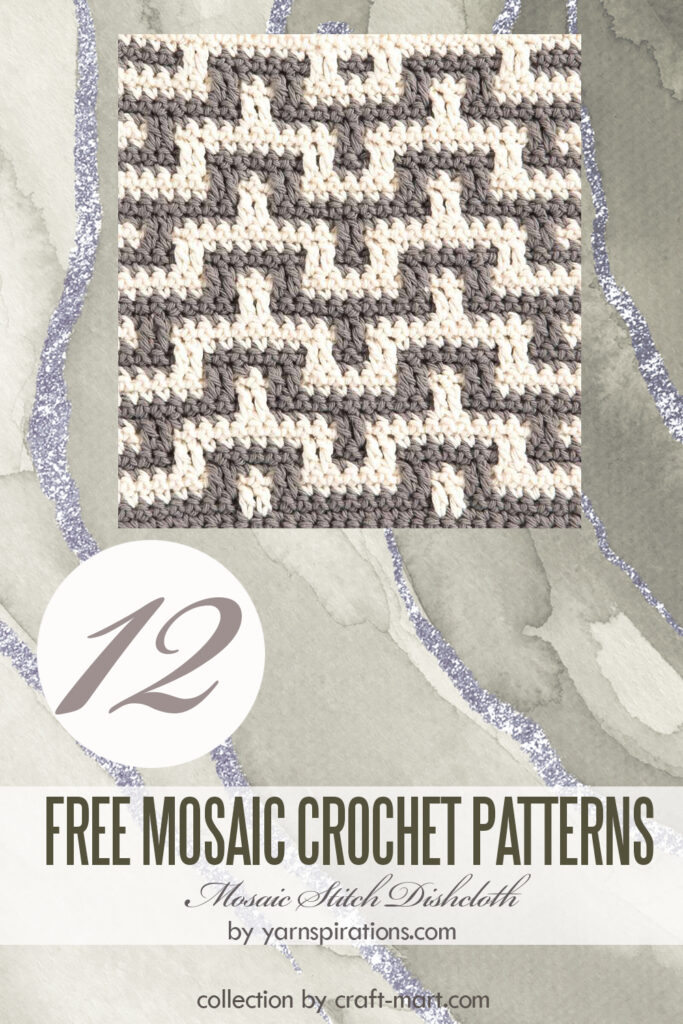 Source: Lily Sugar'n Cream Mosaic Stitch Dishcloth
In the event that a quick and easy dishcloth is on the list of your crochet project, this free pattern by Yarnspirations is for you. With a free pattern download, you'll create a modern graphic 100% cotton dishcloth for your kitchen.
5. Bulky Mosaic Beanie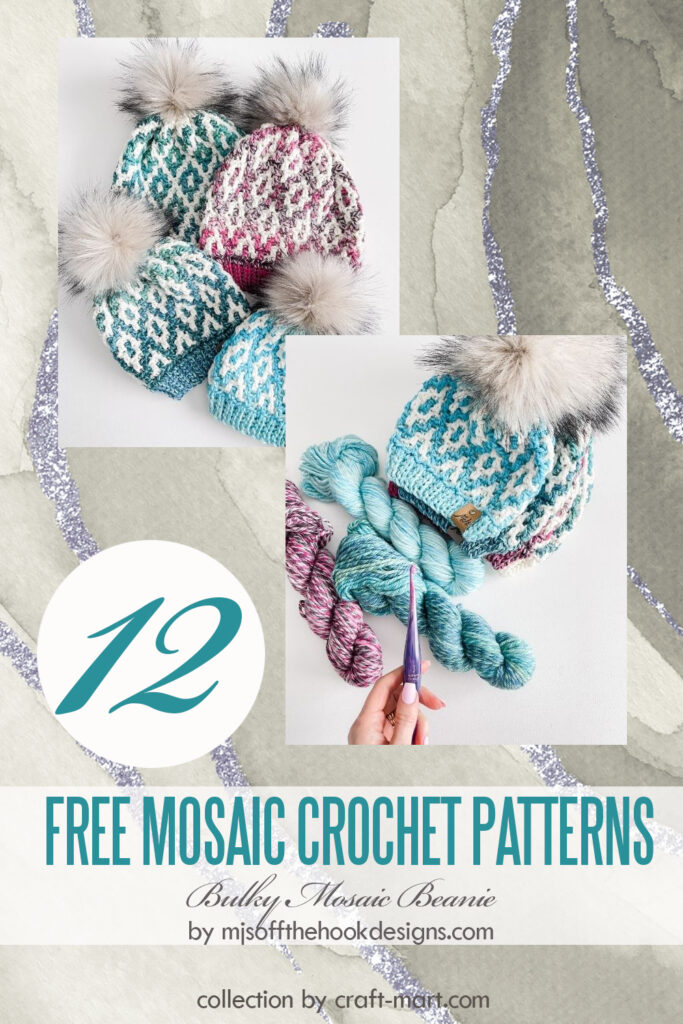 In case you haven't tried a crochet beanie pattern, this bulky mosaic beanie is a unique mosaic pattern you might enjoy. With a free chart and video tutorial, you'll learn how to work a mosaic crochet pattern in rounds.
6. Hello Pumpkin Mosaic Crochet Hat and Cardigan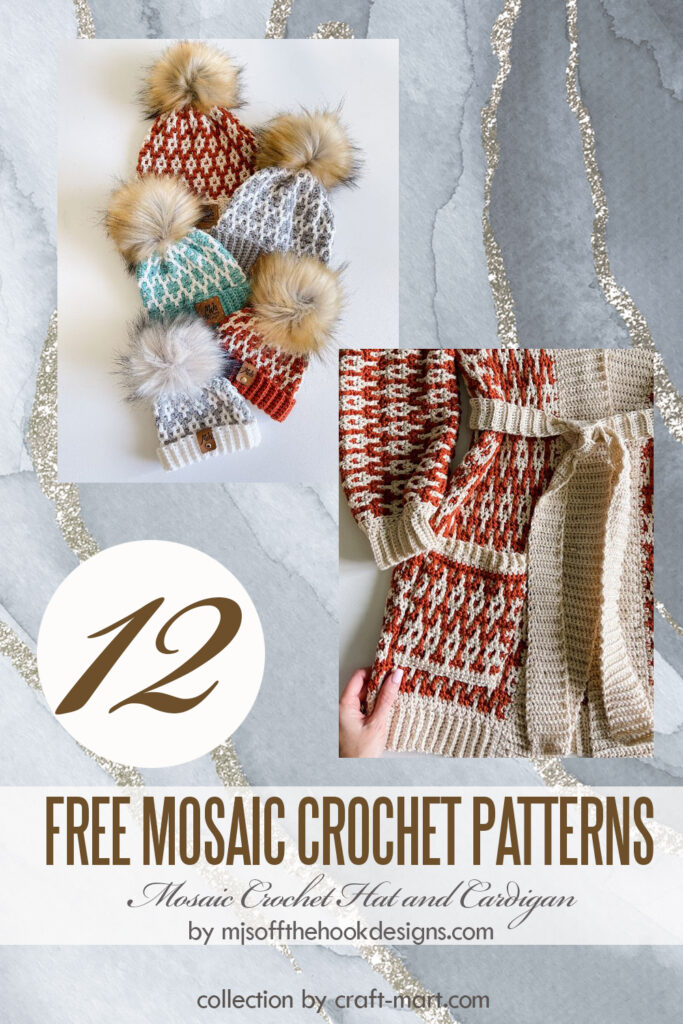 Source: Mosaic Crochet Hat and Cardigan
Of course, you want to stay warm and cozy during the fall and winter seasons. With this in mind, why not crochet a warm coordinated duo using overlay mosaic crochet?
7. Mosaic Plant Pot Cover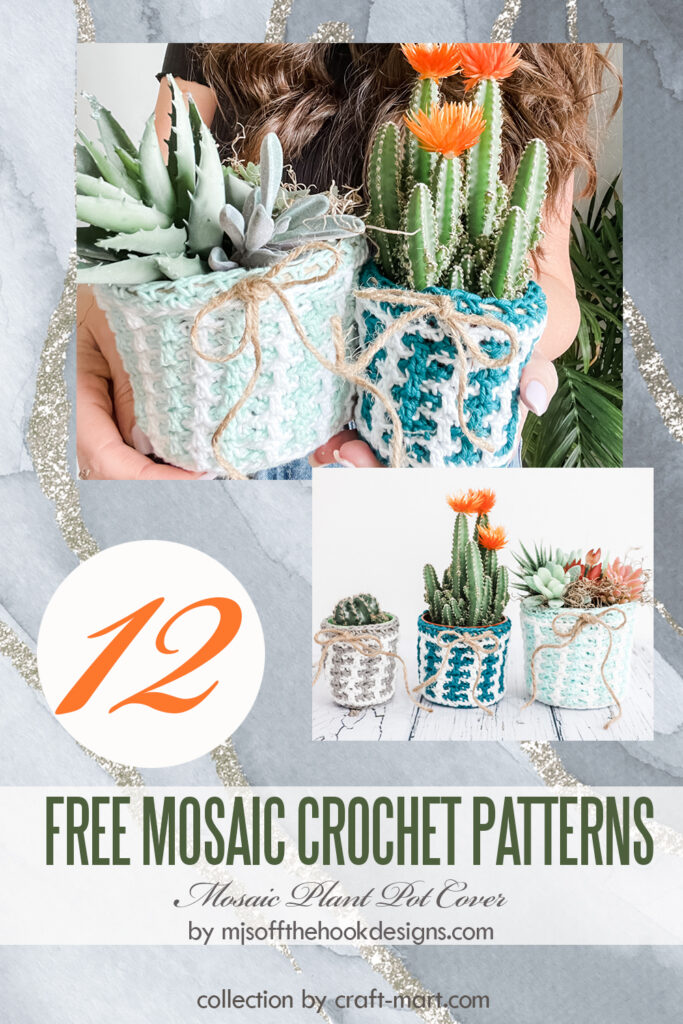 Source: Mosaic Plant Pot Cover
In fact, this quick pattern is an easy beginner-friendly mosaic pattern. Moreover, you can easily modify the design to fit any pot.
8. Carina Mosaic Crochet Shawl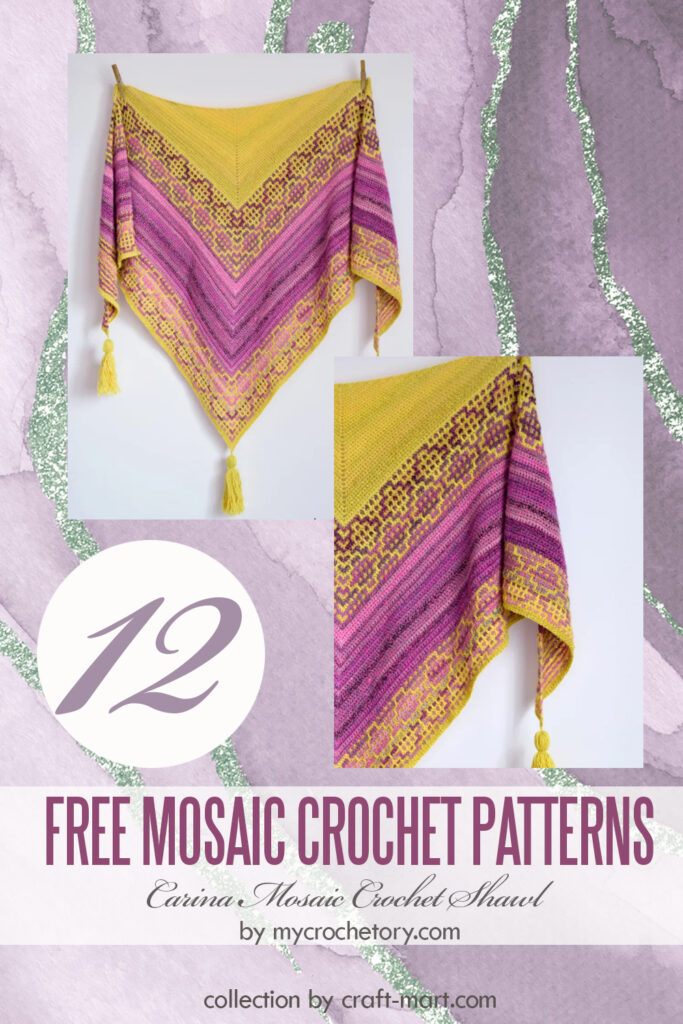 Source: Carina Mosaic Crochet Shawl
This stunning shawl combines triangle shawl techniques with an eye-catching mosaic section to create a truly unique accessory. This modern crochet shawl is a masterpiece you can crochet using an overlay mosaic technique.
9. Mosaic Cropped Sweater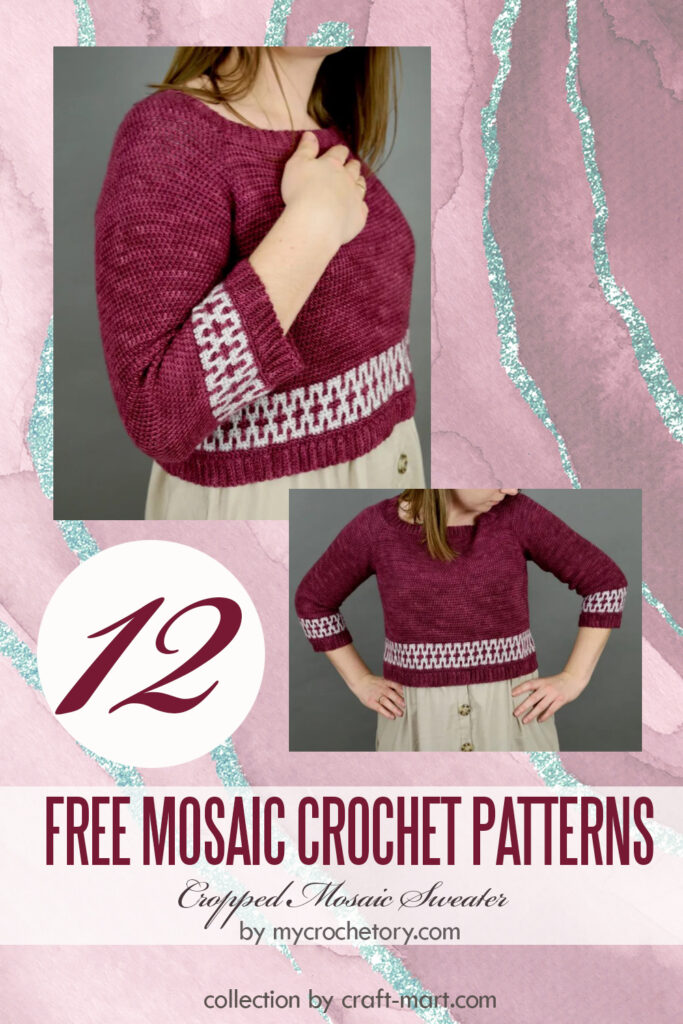 Source: Cropped Mosaic Sweater
This sweater is a free crochet pattern of a top-down raglan sweater that incorporates a mosaic crochet design as a contrasting element. With simple contrasting and unique detailing, this crochet pattern is a quick and enjoyable piece.
10. Butterfly Mosaic Pillow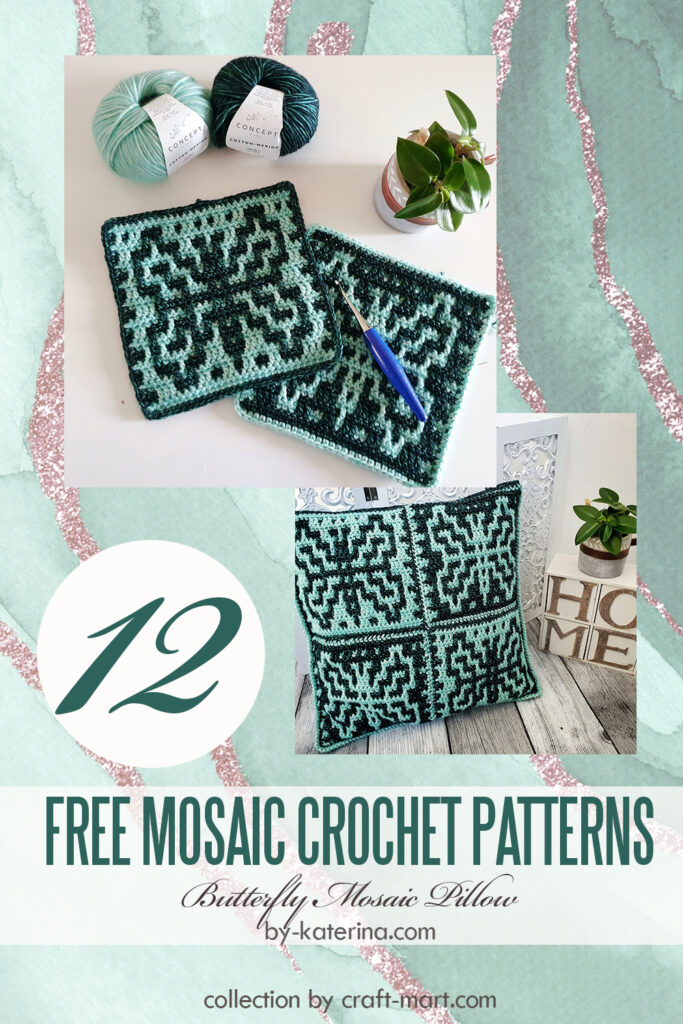 Source: Butterfly Mosaic Pillow
In summary, the pillow is composed of four squares. Consequently, this project is perfect for beginners. So, even if you are new to the world of mosaic crochet, fear no more and start creating!
11. Carina Rectangle Blanket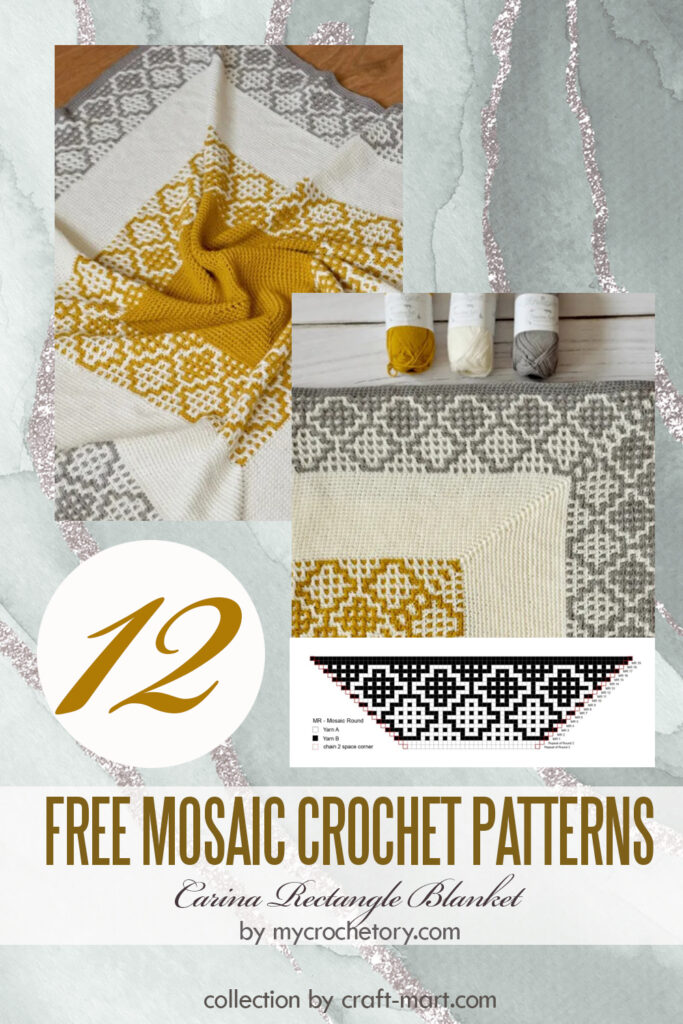 Source: Carina Rectangle Blanket
Truly, I love the color scheme of this mosaic blanket! Whether you are crocheting it for your home or as a gift, this modern blanket will add a splash of color and sophistication to any interior.
12. Mosaic Crochet Nordic Blanket Pattern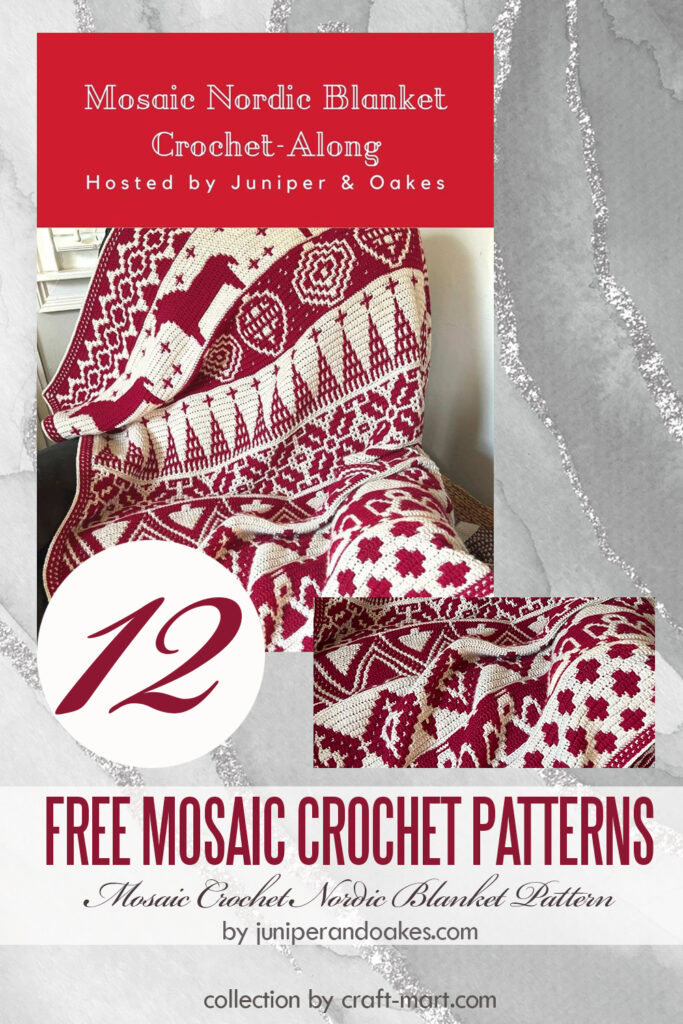 Source: Mosaic Crochet Nordic Blanket Pattern
In fact, I'm currently working on this project to master overlay mosaic crochet and explore all the free designs that it offers. With free charts and video tutorials, this is an enjoyable seasonal craft project.
In summary, here are a few final notes on the mosaic crochet. Be warned, as it is so addictive! I've been exploring mosaic crochet patterns for a while now, and I'm in love with this fascinating technique.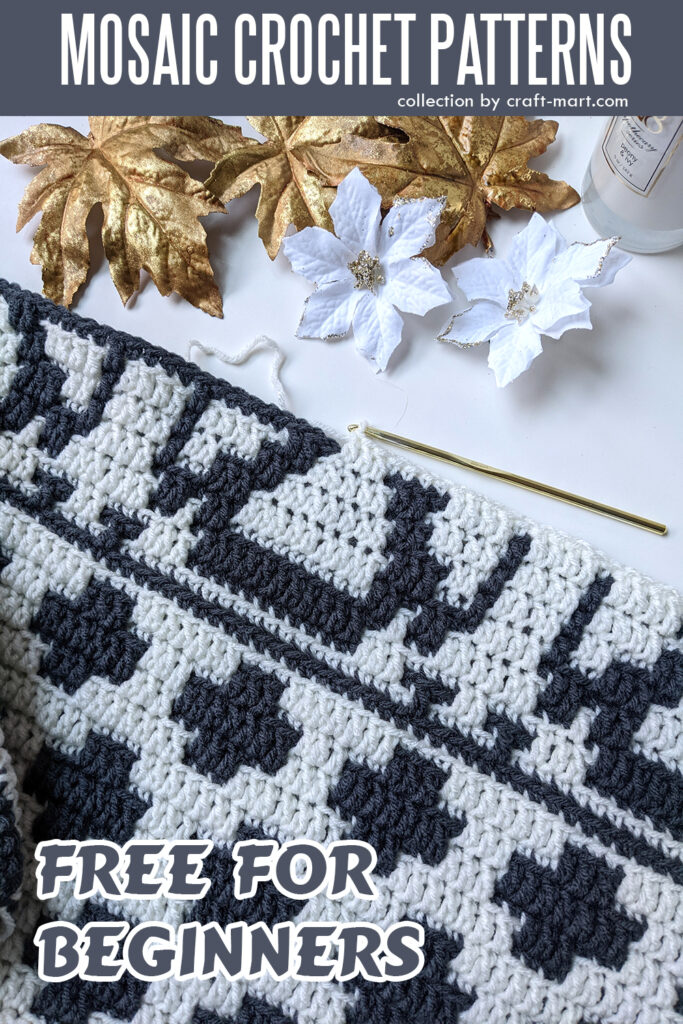 Currently, I'm working on a mosaic blanket pattern. It consists of different sections designed by various crocheters.
As it looks more complicated than it really is, mosaic crochet is a perfect technique for beginners to explore. As an illustration, you will use only 2 basic stitches and mosaic crochet charts are super-easy to read.
Furthermore, if you make a mistake, you will surely catch it on the next row. Just undo the row where you messed up and fix it. For this reason, don't fasten off too tight in case you would need to undo the row.