Free granny square crochet patterns are so popular for a variety of reasons. Initially, they are relatively simple to crochet.
Check out this unique crochet granny stitch shawl:
How to Crochet a Triangle Shawl Using a Granny Stitch
Why are crochet granny squares so popular?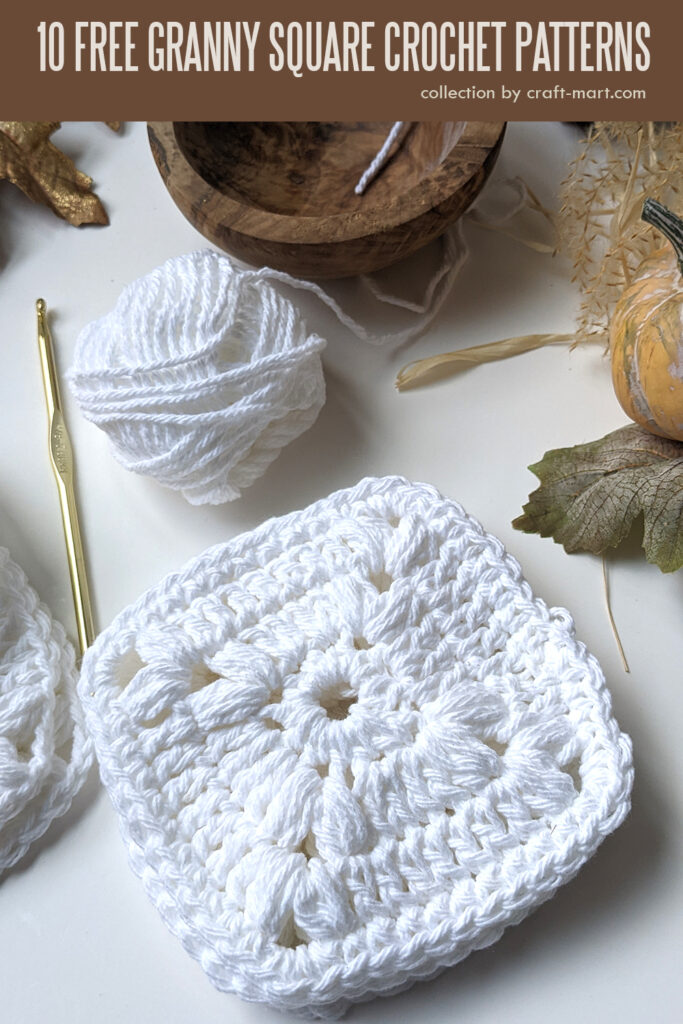 Firstly, even a newbie can discover exactly how to make a standard granny square after a few practice rounds.
Second, they are effortless to customize. Also, you can make your own unique squares. You can change the colors, the size, the shape, really anything you want!
Third, you can join granny squares with each other to produce all kinds of awesome accessories, like granny square baby blankets, square bags, and even hats.
In fact, the classic granny square pattern is among the most iconic themes in crochet. For this reason, individuals that can barely recognize that there's a distinction between knitting and crochet can usually identify a granny square.
However, there are a lot of things that you can do to tweak the standard crochet square. With color changes, various stitches, and the addition of unique techniques, the basic granny square pattern turns into something completely unique.
What is a granny square?
A basic granny square is a basic crochet motif comprised of chains as well as double crochet stitches, crocheted from the center in an outward direction to form a square. Furthermore, there are hundreds (if not thousands) of different free granny square patterns available – from detailed lace, distinctive stitch combinations, iconic crochet squares, and much more.
How many granny squares do you need for a blanket?
Overall, a typical granny square measures 10″ x 10″ (25.5 cm x 25.5 cm). Based on that, you can estimate how many squares you'd need for your desired size blanket using this chart.
In reality, keep in mind that crochet granny squares come in different sizes. They can be very small or big, as it all depends on your design.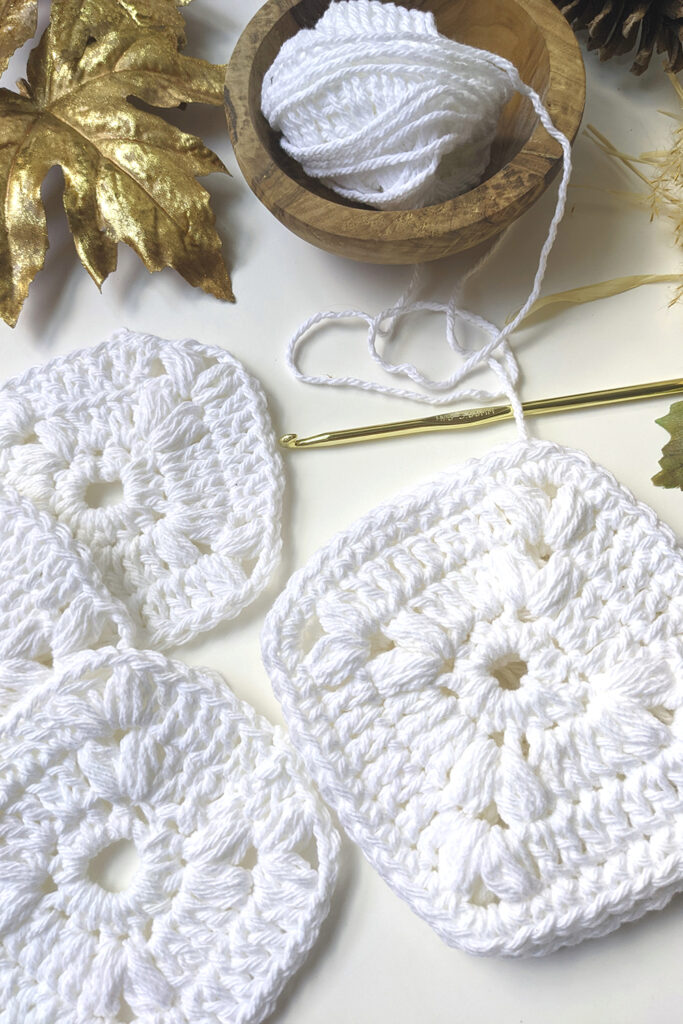 What is the history of crochet granny squares?
In essence, granny squares have long been a popular project for crocheters throughout history, hitting their pick popularity in the 1970s. One of the major factors for this is that they are quick shapes you can make with any type of leftover yarn.
As a matter of fact, you can sew or crochet granny squares together to develop vivid granny square blankets. Likewise, these blankets have been traditionally called crochet afghans (referring to the people of Afghanistan, with the first use of this term to define hand-woven coverings, vivid fabrics, as well as carpets in the 1800s).
Furthermore, from its boom in the 1960s and 70s, granny squares have also appeared routinely in prominent designer collections.
Our collection of free crochet granny square patterns
Whether you intend to discover exactly how to crochet a classic granny square or something a lot more difficult, here's our collection of totally free crochet granny square patterns. In brief, granny squares are an amazing basic project if you're new to crochet.
Additionally, you'll discover not only a basic crochet granny square pattern but a plethora of totally free granny square patterns that include flower granny squares, solid granny squares, and even vintage patterns!
1. Classic Granny Square by knitsandknotsbyame
A classic granny square is a continuous crochet project that expands round after round. In fact, you can make a whole blanket using this stitch.
With this in mind, we focus on square #8 of the Traveling Afghan project. The Traveling Afghan is a wonderful year-long project sponsored by Lion Brand Yarn.
Notably, it is a collaboration of numerous designers each creating one square for this blanket. As a result, you have an opportunity to learn new stitches, get free patterns for each square, and make new friends.
As a matter of fact, you'll get 25 free crochet square patterns.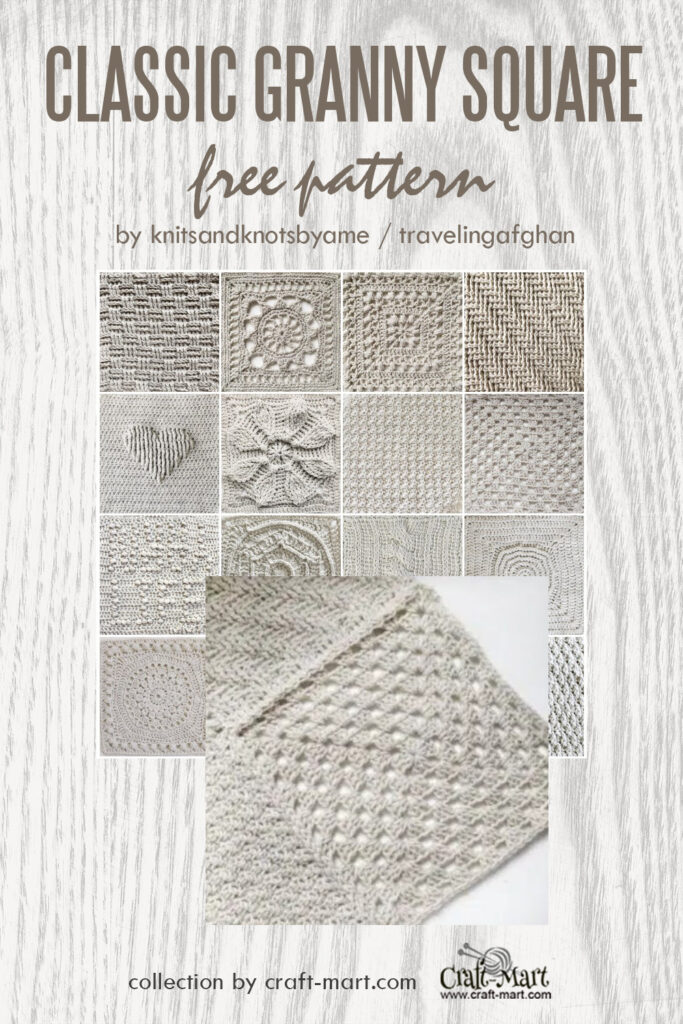 Source: A Classic Granny Square #8 from Travelling Afghan Project
2. Farmhouse Granny Square by Lindsay Oncken
This easy-to-follow free pattern is available as a free PDF download from Ravelry. In this case, you will create a single textured solid granny square.
Consequently, you can use it to create blankets of any size and color. When these squares are combined, you'll have a unique diamond pattern.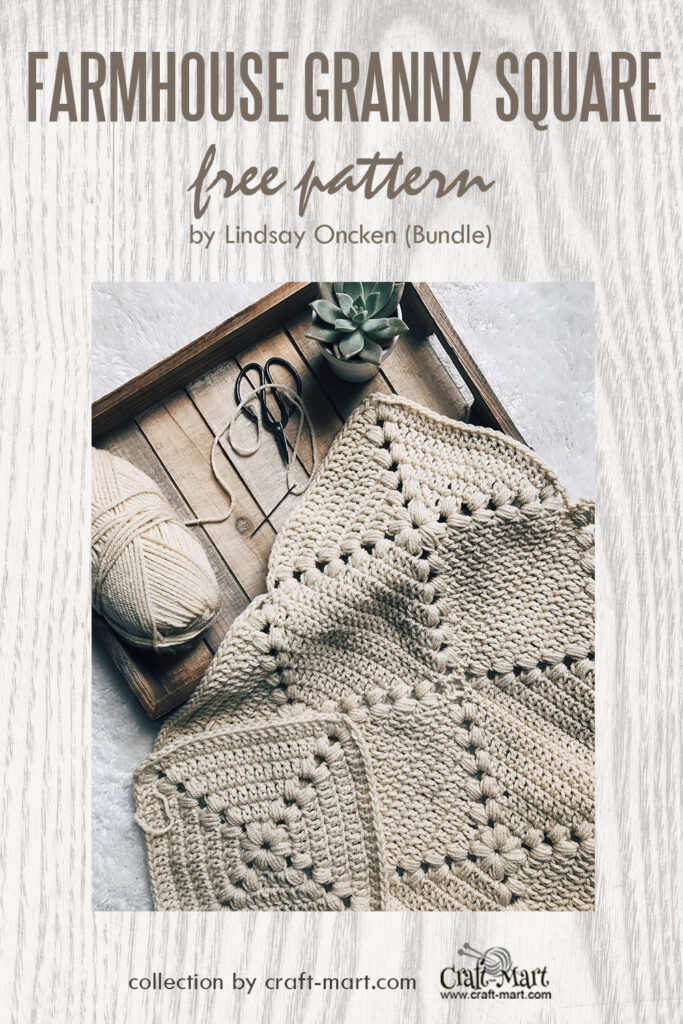 Source: Farmhouse Granny Square by Lindsay Oncken (Bundle)
3. Traveling Afghan Square #3 by WilMade
To continue our journey with that Traveling Afghan Project, let's explore another square (#3) designed by Wilma from wilmade.com. The design is inspired by Wilma's home country of the Netherlands and features a tulip crochet stitch.
To demonstrate, the tulip stitch is made of 2 rows: 1 row of V-stitches and 1 row of puff stitches. In fact, together they really look like tulips.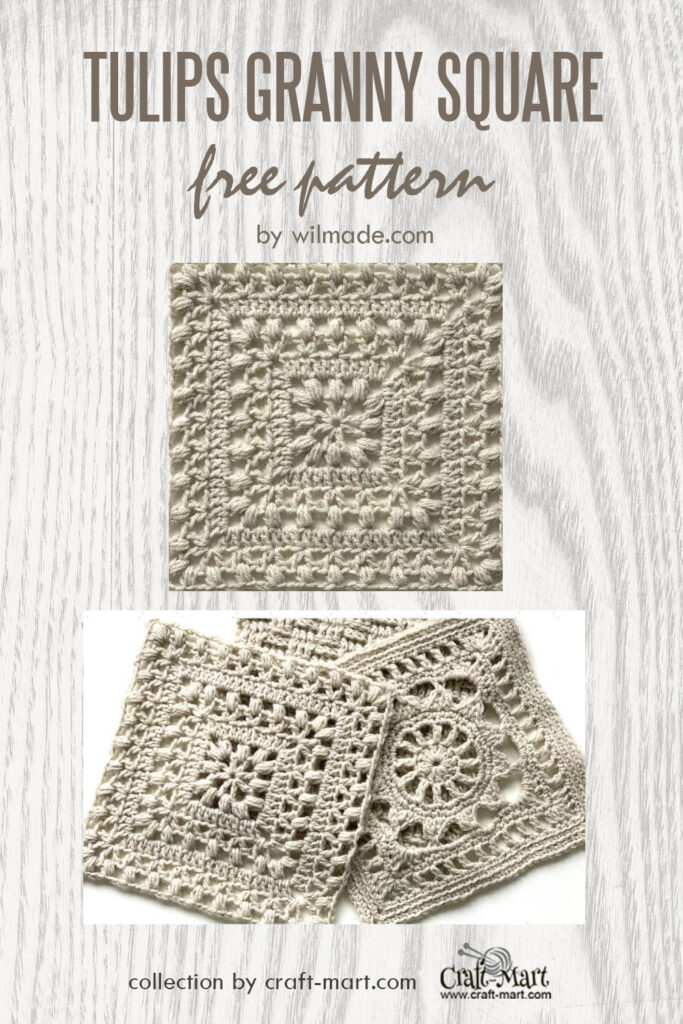 Source: TRAVELING CROCHET AFGHAN SQUARE #3 by WilMade
4. Boy and Girl Rabbit Granny Squares
How about 2 FREE Granny squares? As an illustration, this free granny square pattern includes 2 easy variations. As a result, you get two bunny squares that can be mixed and matched.
Created by Thoresby Cottage, these lovely squares are not only perfect for a quick spring project but allow you to learn something new. Moreover, they are part of the book 3D Granny Squares by Thoresby Cottage.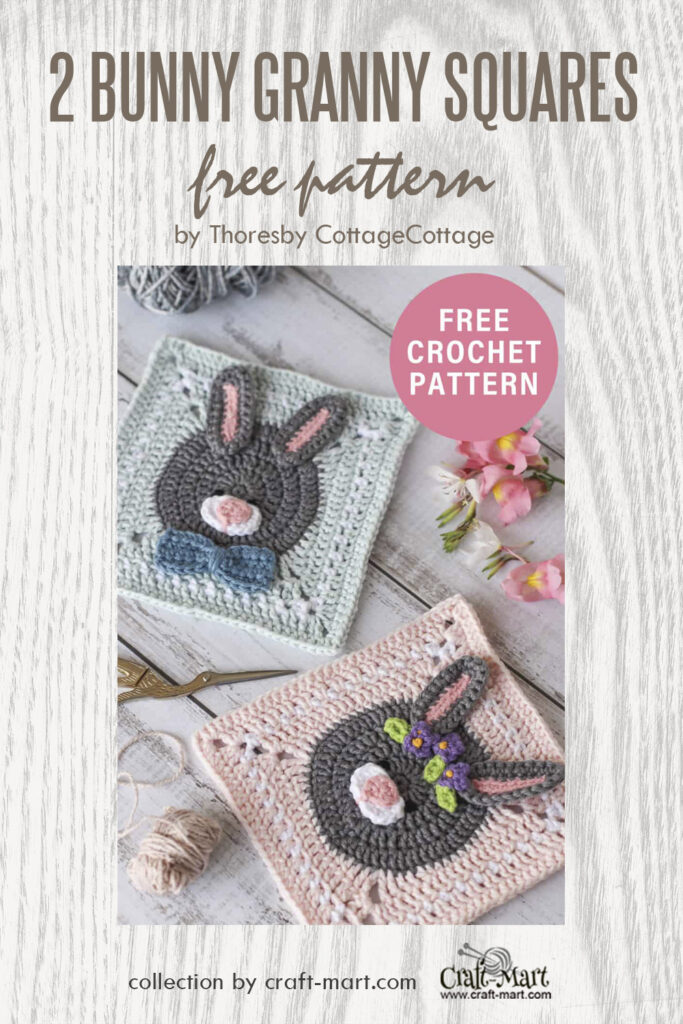 Source: Rabbit Granny Squares by Thoresby Cottage
5. Free Granny Square Crochet Patterns – 2 Blankets
In this case, Garnstudio designed two easy blankets to illustrate that a granny stitch can create one large blanket or six smaller squares to combine into one blanket.
Important to realize, you can create your own blanket with your favorite colors using the instructions for the pattern. Blanket with 6 squares measures approx. 163 x 108 cm / 64″ x 42½" while 1-square blanket measures approx. 130 x 130 cm / 51″ x 51″.
Furthermore, check out our blanket size chart if you need to adjust your size.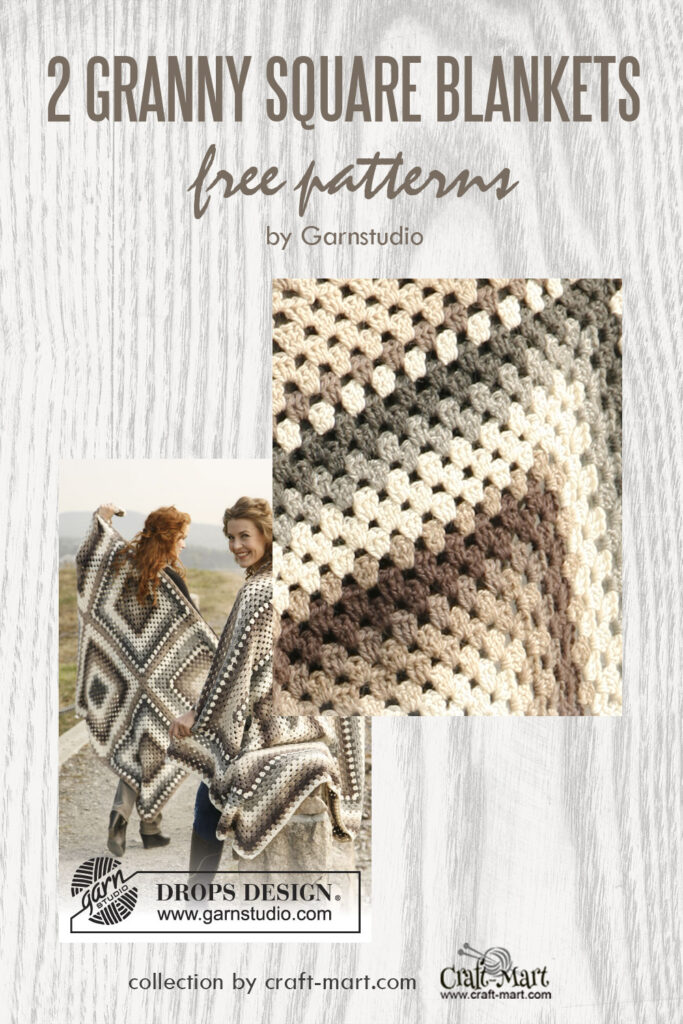 Source: Free Granny Square Crochet Patterns – 2 Blankets
6. Granny Square Crochet Cardigan
This creative cardigan is made with little rose granny squares that are designed to look like a real rose flower. In fact, it is a blanket that turned into a warm and cozy cardigan.
Moreover, this free pattern comes with a video tutorial and easy-to-follow instructions. Also, you can join your flower granny squares as you go, so you don't have to deal with seaming afterward.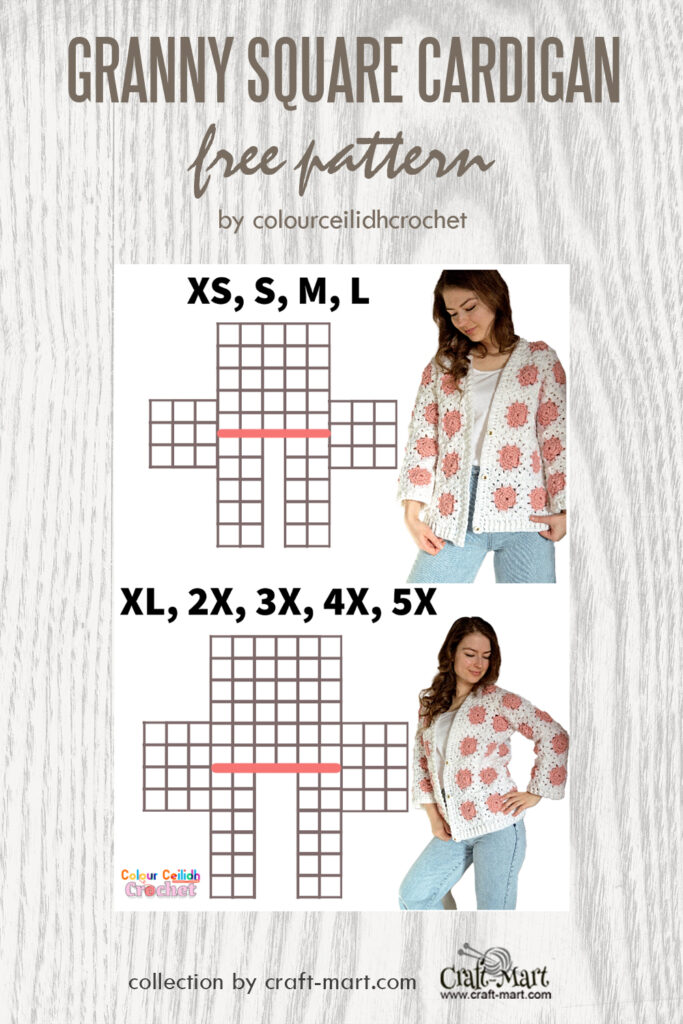 Source: Granny Square Cardigan by colourceilidhcrochet
7. Granny Hugs Blanket by Drops Design
In essence, this free pattern comes with clear instructions and a helpful diagram. The blanket is made up of 6 squares which are sewn together, 2 squares in width, and 3 squares in length. An edge is worked around the whole blanket.
Even if you are just starting with crochet, it is a great crochet pattern for beginners. Most importantly, it is free.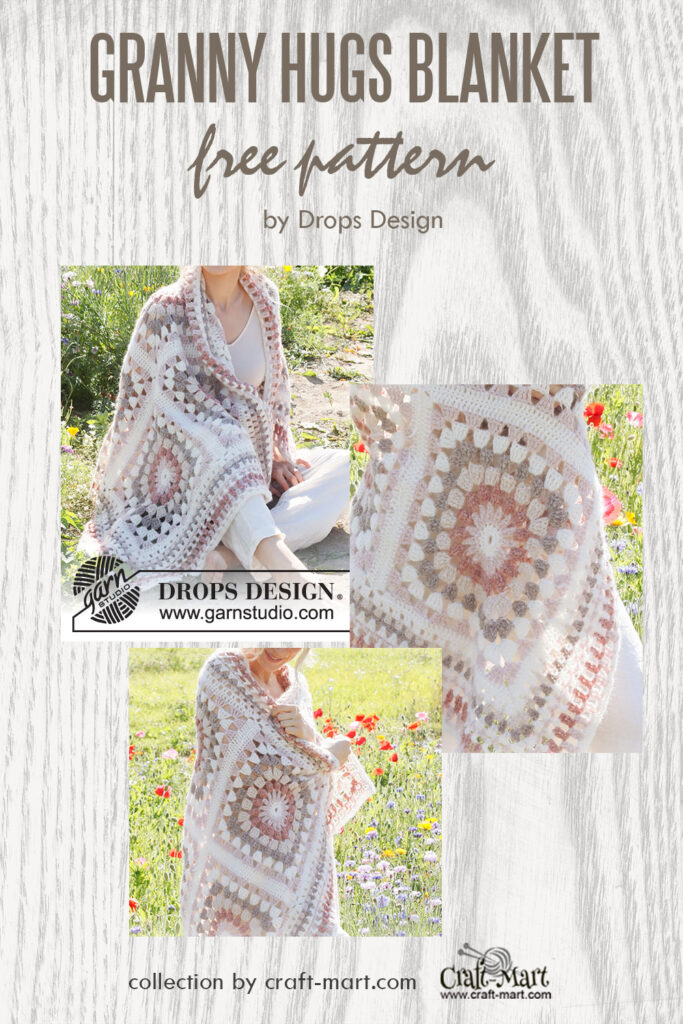 Source: Grandma's Hugs Blanket by Drops Design
8. "Winter Opulence" Crochet Granny Square – free pattern
In brief, this original granny square creates a solid block that is perfect for warm and cozy winter afghans and throws. Moreover, it is full of texture due to the multitude of stitches used for its design.
Though the pattern is challenging, it looks beautiful in one solid color or as a combination of several colors. Although it was designed for a sampler blanket, it will make a beautiful blanket used by itself.
Most importantly, this is an intermediate/advanced level pattern. With this in mind, you must be comfortable crocheting front and back post stitches, as well as puffs, clusters, shells, and picot single crochet stitches.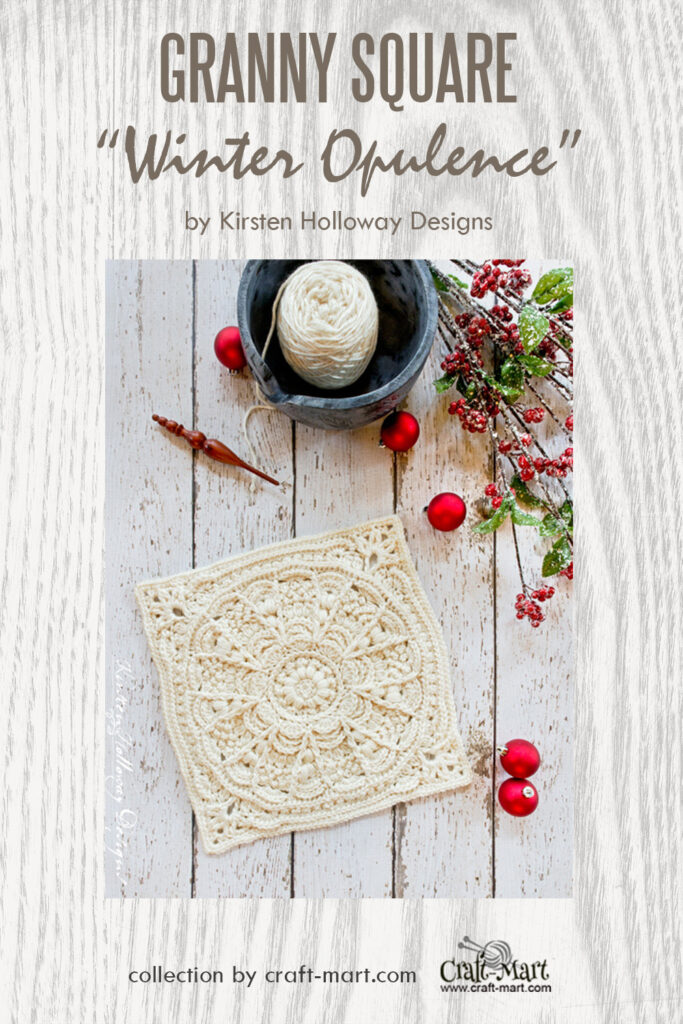 Source: Winter Opulence "Granny" Square by Kirsten Holloway Designs
9. Flower Granny Squares Crochet Blanket
This vintage granny square crochet pattern is inspired by delicate edelweiss flowers. In fact, it looks perfect in fresh and neutral yarn.
With this in mind, it will make a perfect addition to any home decor. Not only does this pattern come with free clear instructions for the squares, but for joining them together as well.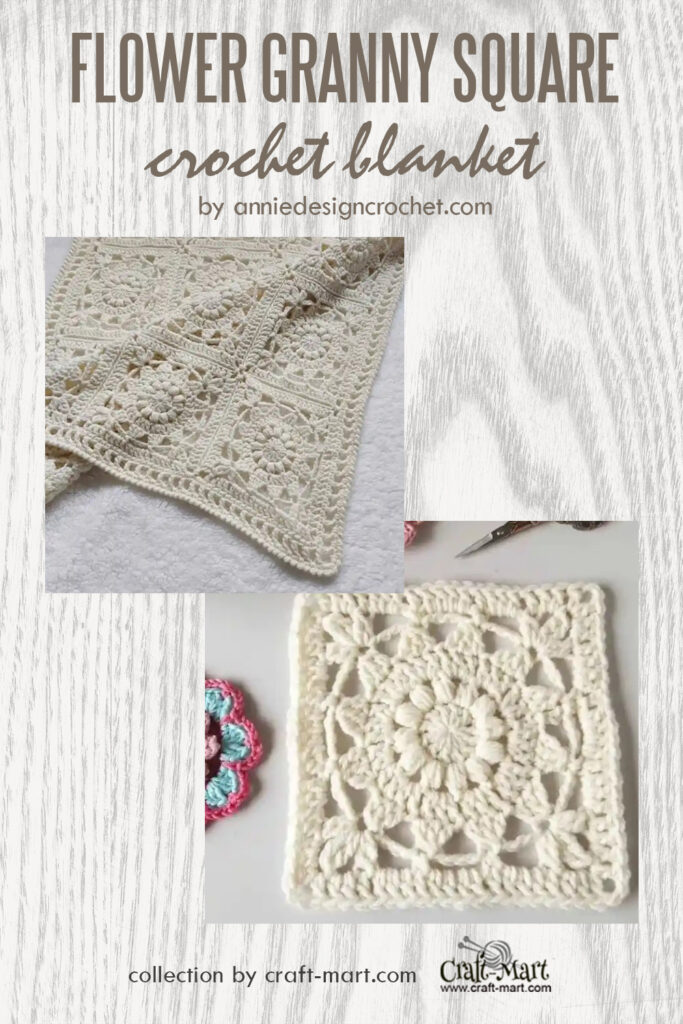 Source: Flower Granny Squares Crochet Blanket
10. Day by the Sea Blanket by DROPS Design
This free granny squares crochet blanket looks amazingly crocheted in one solid color. After all, professionally designed unusual squares are full of texture.
In summary, the blanket consists of 12 squares worked according to the diagrams. Consequently, the squares are seamed together and an edge is added around the blanket to finish.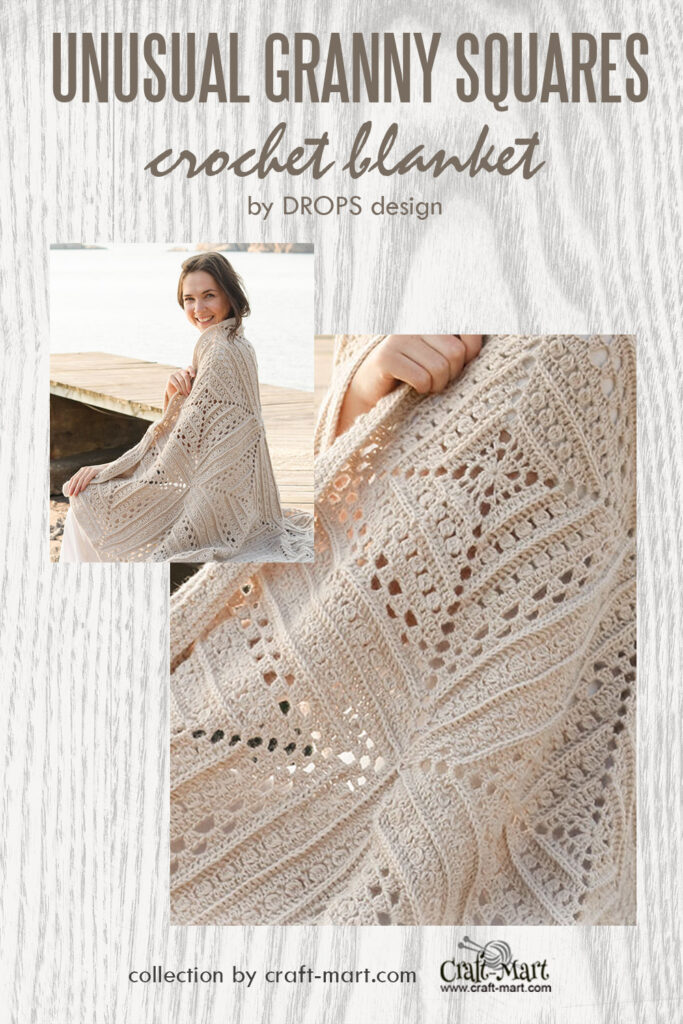 These enjoyable quick and free crochet granny square patterns are among the most interesting we could discover. Have a good time exploring them!