Fragrant, fresh rose petals, sugar (which you want to eliminate from your pantry for a healthier you), and your favorite essential oil – that's all you need to create the easiest sugar scrub that your skin would love!

Would you like to learn about amazing sugar scrubs benefits? The answers to your skin-care woes are right under your nose, a.k.a. your kitchen! Instead of buying expensive scrubs, you could simply whip them up in your own home and reap the benefits of this budget-friendly natural skincare project. Using homemade sugar scrubs is an affordable alternative to buying expensive spa products. The fact is that sugar is not good for your gut so if you decided to cut off sweets to improve your health, you can put all that surplus of sugar to good use.
What are main benefits of sugar scrubs?
They offer a natural way of exfoliating and freshening up the skin. Sugar particles gently exfoliate the skin without leaving any harmful traces of residue which could damage the skin. All these natural oils (coconut, olive, jojoba, castor, etc.) that you can add to sugar scrubs are fantastic moisturizers and will leave your skin bright and rejuvenated.
Sugar scrubs are not only ideal for the delicate skin on your face and hands but are also great for your body and feet, leaving skin clean and silky-smooth. One of the main sugar scrubs benefits is that it can soften even the toughest skin without any harsh chemicals which makes it a perfect choice for a natural foot scrub as the skin around the heel tends to get rough.
The skin is exposed to different hazards, ranging from UV light to elements of pollution. Excess oil and dead skin can create a breeding ground for harmful bacteria. These elements contribute to the damage of skin cells leading to aging. Homemade sugar scrubs work to remove the excess oil and dead cells without depriving the skin of moisture. Gently massaging your skin with homemade essential oil sugar scrub could enhance blood circulation, which in turn increases the production of collagen and skin regeneration thus preventing wrinkles.
DIY scrubs allow you to control the ingredients you use and the texture of the scrub. If you are thriving for a natural life, it would be logical to use organic ingredients and herbs from your garden. Mint, rosemary, and lavender are easy to grow and smell heavenly. You can even add some rose petals that would otherwise go to waste.
Here are a few DIY sugar scrubs that you can try for yourself or give away as gifts of appreciation for Moms, teachers, friends, and co-workers:
Easy Lavender Sugar Scrub with FREE Printables
This easy lavender sugar hand scrub comes with free printables for easy gift-giving. Love these Mason jar toppers that are just perfect for a budget-friendly yet thoughtful gift for Mother's Day or your kids' school teacher! Though the original recipe from The Country Chic Cottage calls for Lavender Dawn Soap, it can be easily substituted with drops of pure lavender essential oil and some coconut oil if you prefer only natural ingredients.
The revised list of ingredients will look like this:
1 cup sugar
1 TBS dried lavender
1/4 cup coconut oil
20 drops lavender essential oil
It will smell divine and your silky-smooth hands will thank you. Enjoy!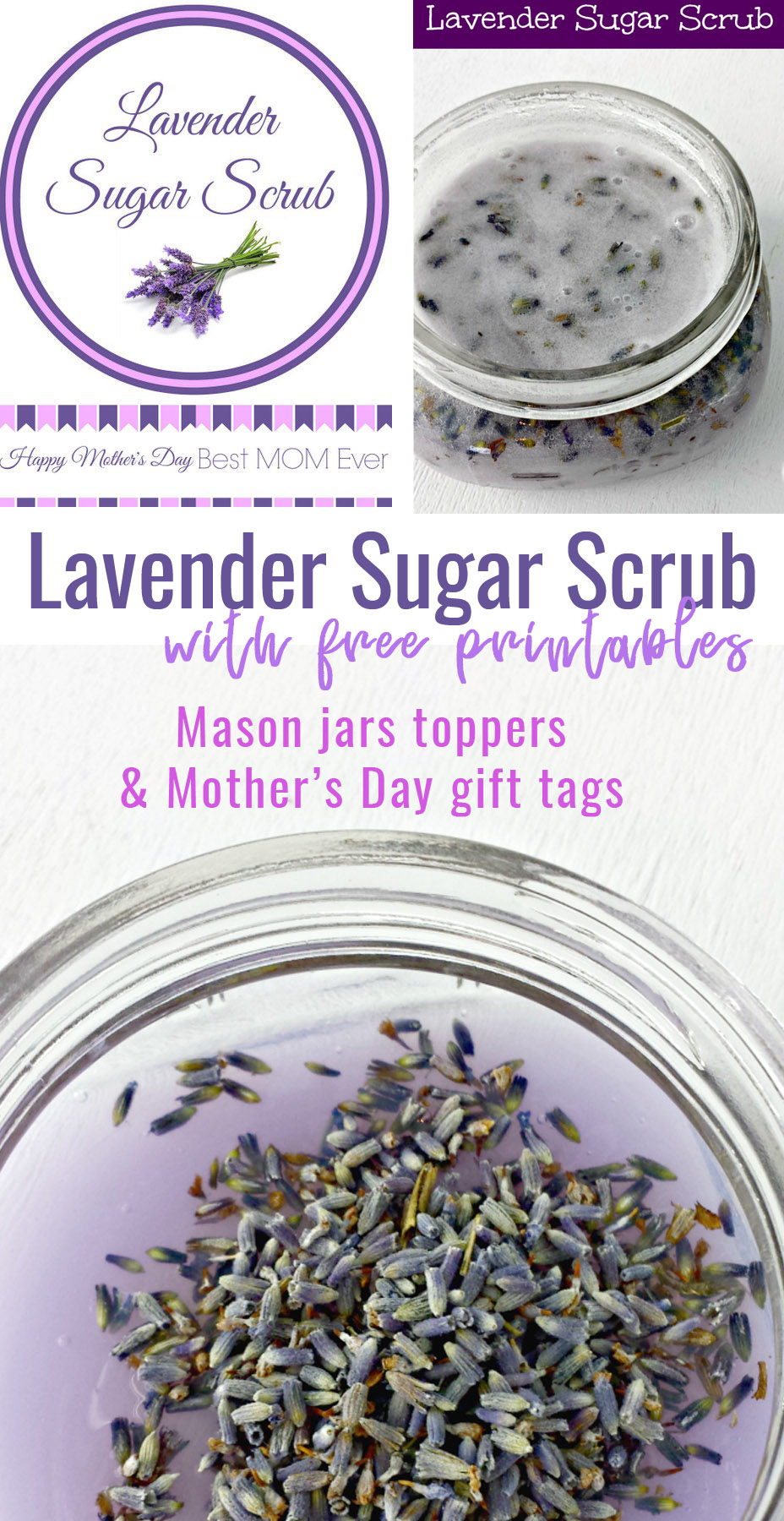 Source: thecountrychiccottage.net
Grapefruit Sugar Scrub Benefits & Recipe
If you are into fruity smells, you are in luck as this scrub promises nothing short of heavenly scents. With the scrub, you'll say goodbye to all the accumulated dirt and oil and say hello to a moisturizing and profoundly-enriching experience.
The homemade grapefruit scrub works just as well as the store-bought one. The only difference is that you would pay much less for your homemade goodness in a jar and you can control the ingredients. For this scrub, you would need oil (preferably coconut oil), sugar, grapefruit, and a few drops of peppermint & grapefruit essential oils. The coconut oil is an incredible moisturizer while the grapefruit oil and juice both energize and leave your skin smelling sweet and fresh. For color, you may add a small amount of beet juice (optional). Check this step-by-step tutorial to make this refreshing DIY project and enjoy all the benefits grapefruit sugar scrub.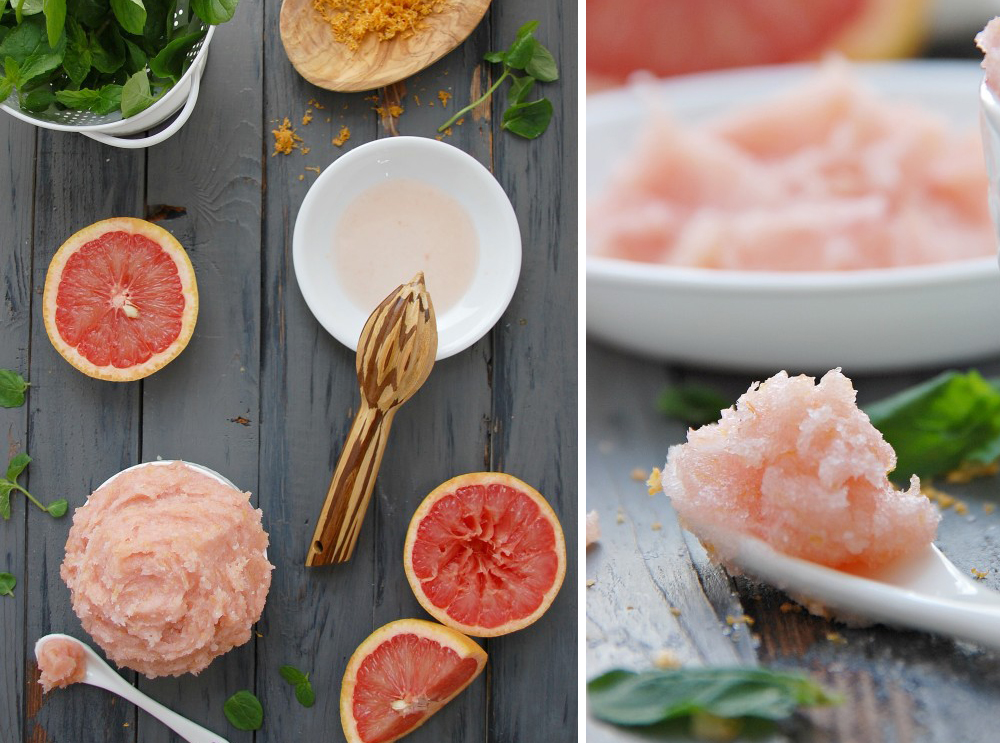 Source: http://thekitchenmccabe.com
Cinnamon Sugar Scrub Benefits and Tutorial
If you want your bathroom filled with the cinnamon smell, then this is your best option for a homemade DIY sugar scrub.
Add sugar and cinnamon in a bowl and stir. Add moisturizing oil of your choice then mix well. You could either use coconut oil, which has fantastic moisturizing properties, or almond oil which is equally good.
Cinnamon is a great anti-inflammatory ingredient which will leave you yearning for more of its breath-taking scent. A hint of vanilla in this recipe is sweet and refreshing.
Check out this tutorial to learn how to make this easy and refreshing cinnamon sugar scrub.
Green Tea Sugar Scrub Benefits and Tutorial
For a calm and relaxing experience, try the homemade green tea sugar scrub. You'll need green tea powder (matcha tea), coconut oil, sugar, and a few drops of essential oils of your choice.
What are the main benefits of green tea sugar scrubs? Green tea has lots of antioxidant and antibacterial properties which could be useful for your skin. The catechins in green tea suppress the bacteria that produce acne thus improving hormonal balance. It is also anti-inflammatory and reduces any swelling of the skin. Numerous green tea benefits and its wide availability make it one of the most popular ingredients for DIY sugar scrubs. So, one of the added benefits of using DIY green tea sugar scrub is that you will feel calm and relaxed with a sustained burst of energy throughout the day if you use it in the morning. Learn how to make it here.
Lavender Sugar Scrub Benefits and Tutorial
Famous movie actress Melissa Joan Hart once stated that she puts a drop of lavender oil on her pillow before she goes to sleep. Lavender is the sweet scent of sleep. You could use this scrub just before you go to bed for a calming spa-like bedtime ritual. To make this heavenly-smelling scrub, you will need sugar, coconut oil, lavender essential oil, and lavender buds.
Lavender essential oils are calming and relaxing which adds to other benefits of lavender sugar scrub. Besides exfoliating and moisturizing your skin, this scrub will help you catch some good sleep. You could also make bars from this scrub, put it in the guest bathroom, and let your guests enjoy the relaxing scents.
The scrub is ideal for people with sensitive skin. It is so versatile, so you could use it in place of makeup remover. Ready to mix a batch of gardener's favorite lavender sugar scrub? Learn how & pamper yourself!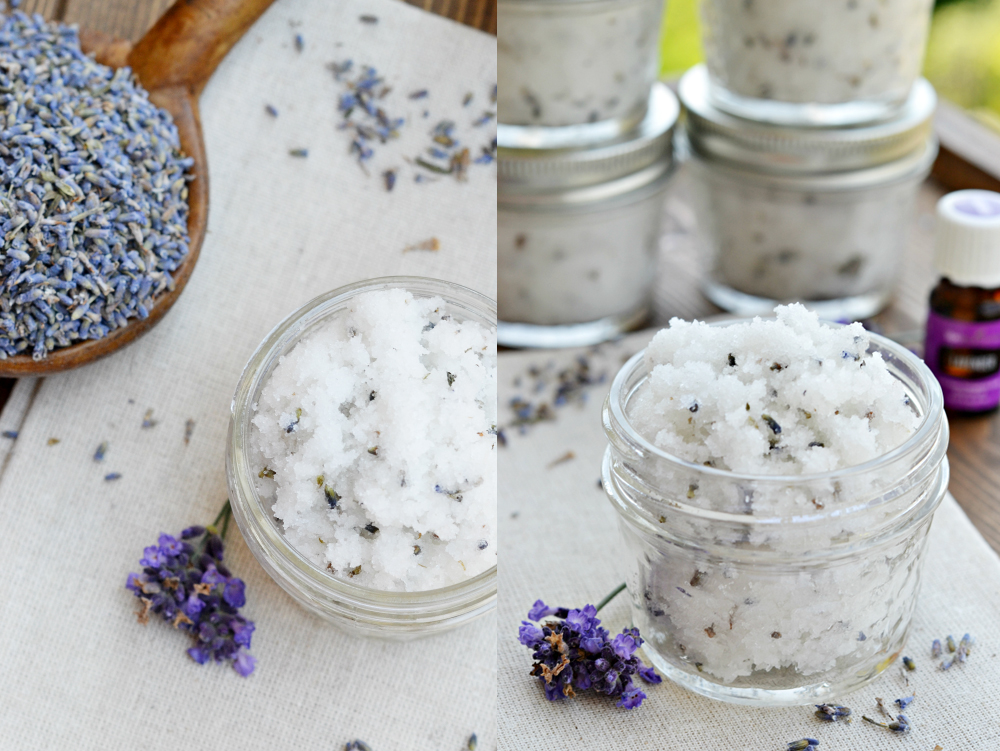 Source: thelifeofjenniferdawn.com
Vanilla Rose Sugar Scrub Tutorial and Free Labels
For this romantic scrub, use sugar, coconut or sweet almond oil, vanilla bean, drops of rose essential oil, vitamin e oil (optional), and some rose petals (optional). The sugar acts as an excellent exfoliator. You may add some honey as it has incredible anti-oxidizing properties that will make your skin glow. Coconut oil is a great moisturizer and adds anti-inflammatory benefits to this easy-to-make skin scrub.
When the scrub is made primarily with essential oils it can last up to 2 months but if you opt to add fresh rose petals, use it within 2 weeks. Make it for yourself, give away as bridal shower gifts, or a lovely Mother's day basket addition. This tutorial has free downloadable labels which will make your gift jars so pretty!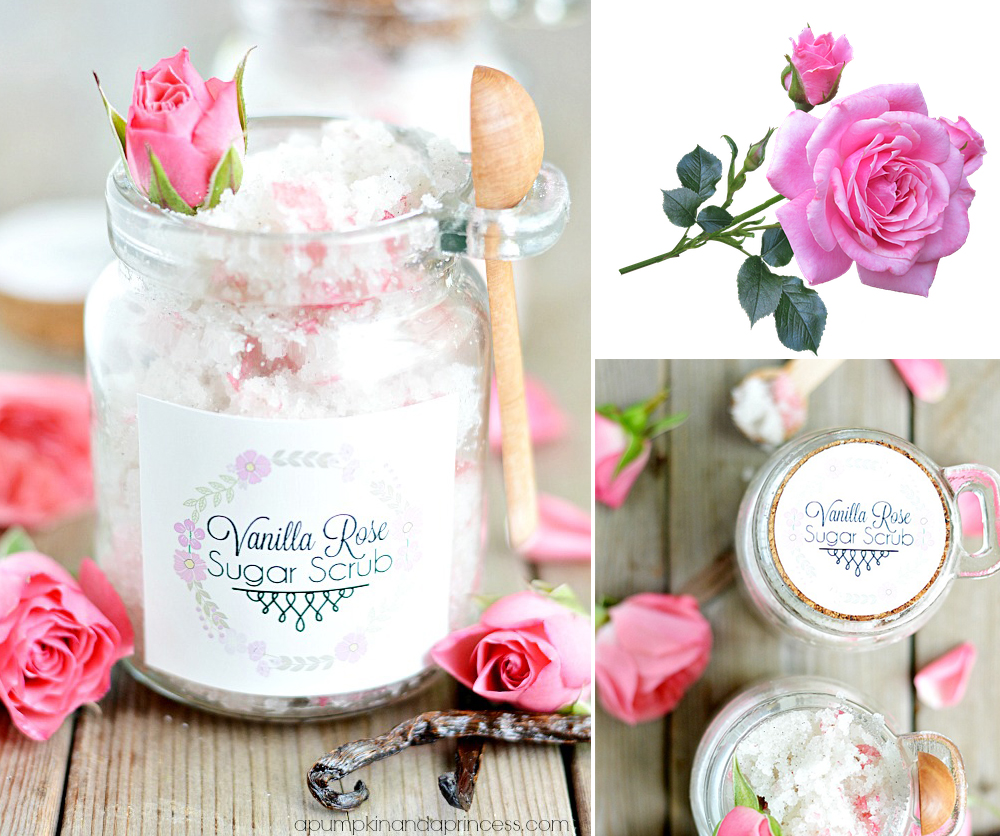 Source: apumpkinandaprincess.com
Lemon Sugar Scrub with Free Printables (great gift idea!)
To make this sugar scrub, you will need coconut oil, lemon essential oil, lemon zest, and sugar. This scrub will leave your skin glowing and fresh. Lemon is rich in antioxidants which are useful for healthy skin. Vitamin C neutralizes free radicals and boosts collagen production.
Besides the citrusy smell, the citric acid in lemons will brighten and clear your skin. This scrub could help you lighten black spots on your skin. This tutorial comes with free printable tags to make your holiday or special occasion gifting so easy!
DIY Peppermint Sugar Scrub Tutorial and Free Printables
At the end of the day, you deserve some 'spa' time to pamper yourself with the refreshingly-invigorating sugar scrub. You could also make a batch of this easy scrub, put it in small jars, and use as gifts for your 'girls night out' party or bridal shower.
It takes less than ten minutes to make but will provide numerous benefits for your skin for days. You just need some oil of your choice (coconut or olive), sugar, and peppermint essential oil to add scent your scrub. So how do you make this scrub? First, you need to grab a bowl, add oil and sugar, mix well. You may opt to use jojoba oil, that's entirely up to you. Finally, add a few drops of peppermint oil and stir the mixture until it is well blended. You can store the scrub in glass jars.
This scrub is one of the most relaxing ways to end your day as the peppermint oil extract will leave your skin feeling fresh and tingly. It also makes a unique sweetest gift for any occasion, such as baby shower, Mother's day, bridal shower, or just because. Your friends will appreciate it! Learn how & get free downloadable labels here.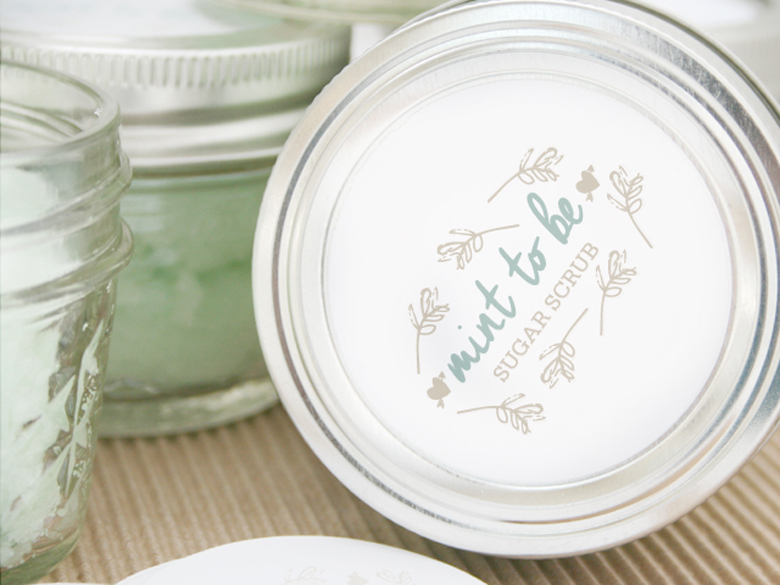 DIY 3-Ingredient Pineapple Sage Sugar Scrub Tutorial
When you come across the DIY recipe that requires just 3 ingredients, you instantly feel that you can easily try it. This simple pineapple sage sugar scrub by TheNerdyFarmWife is in that category, especially because we have been growing pineapple sage in the garden and it proved to be a hardy perennial that not only survived heavy rains, below freezing temperatures in the winter, and hot summer days, but also spread in the garden so quickly that we had to give it away as spring gifts to neighbors and friends! It blooms so pretty with bright red flowers and is just a delight to your eyes!
It is great to learn that these bright red flowers are not only pretty but can be a natural coloring ingredient that will make your home spa products look so amazing! For this DIY pineapple sugar scrub, you would need only three ingredients: fresh pineapple sage flowers, cane sugar, and oil (such as sunflower, olive, sweet almond). If you are not growing pineapple sage, you can easily substitute these flowers with fresh rose petals. Great to know! You can also add a few drops of your favorite essential oil (lavender, rose, or lemongrass) to make it fragrant.
The tutorial is quick and easy: just combine all ingredients, mix them well in a small food processor, and move ready-to-use sugar scrub into small mason jars. Enjoy your well-deserved DIY spa treatment at home at that end of a stressful day! It will improve your sleep and give you an extra energy boost for the next day.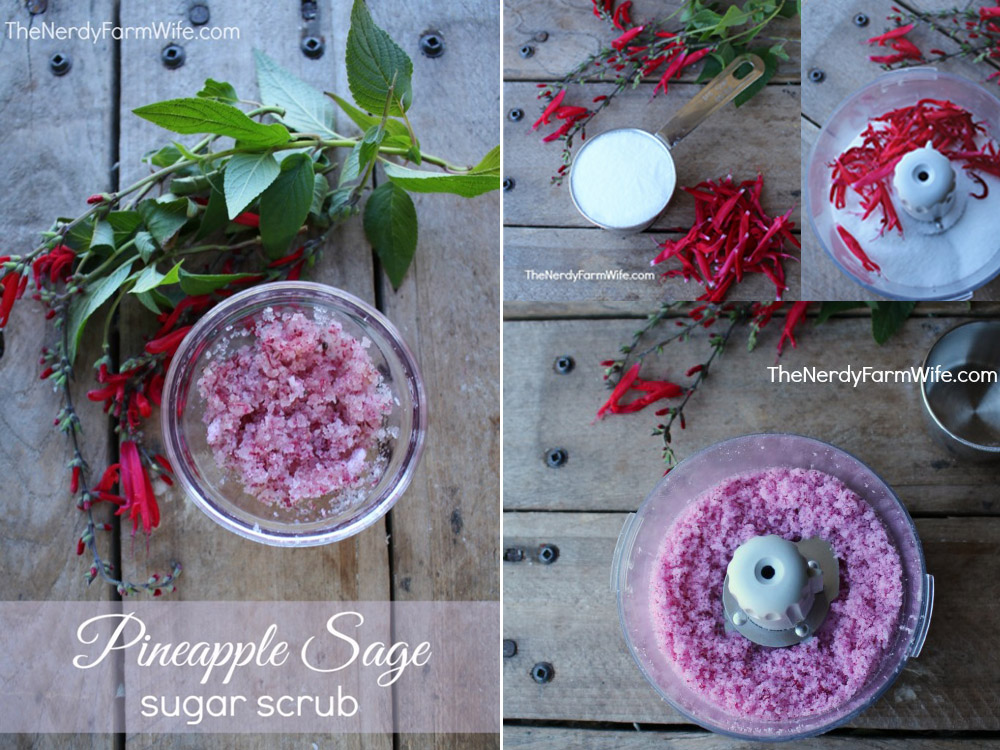 As you can see, there are many sugar scrub benefits, so treat yourself and your skin for some amazing results at a budget-friendly price. Forget these expensive scrubs from a spa or a fancy department store – you can make your own and they'll cost pennies. DIY sugar scrubs are a great way to awaken a natural beauty alchemist in you so you can experiment with your favorite essential oils and make a sugar scrub that will work wonders for your skin. If you are ready to whip your own concoction, this graph will help you to understand the basics and enjoy all the sugar scrubs benefits: