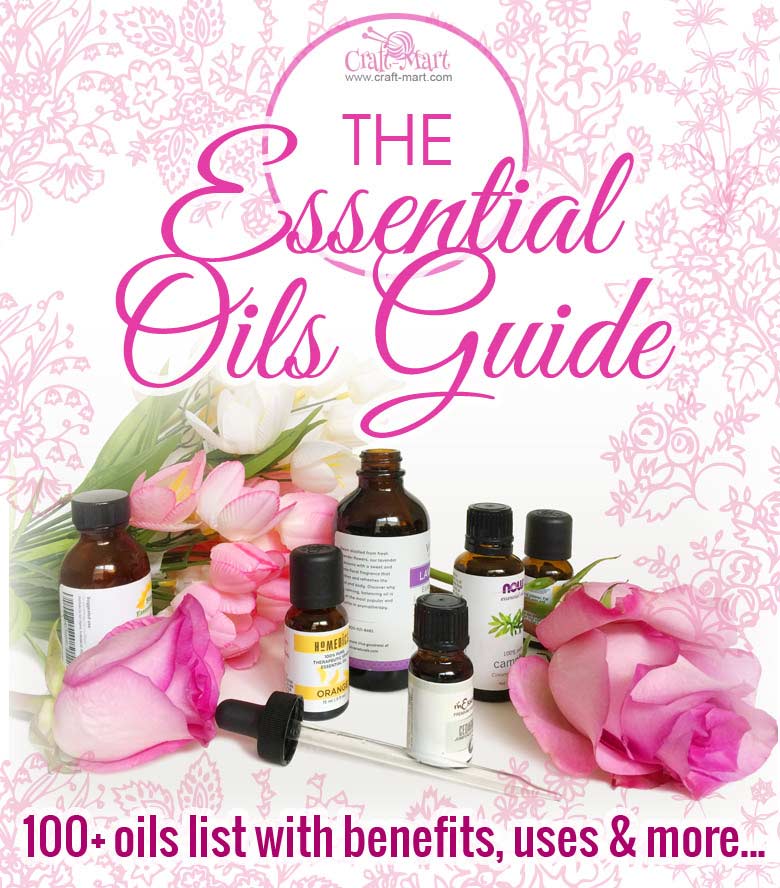 You, probably, have heard of a few useful benefits of popular essential oils, right? Most of the top-ranked essential oils guides will tell you that you don't need a comprehensive list of oils for most of your needs.
Here is the problem:
We are all different and our problems are different as well. Yes, for cleaning, washing dishes or clothes you may get by with half-a-dozen of the most popular oil's list. When it comes to health applications of essential oils, like aromatherapy of adding oil drops to a bath water, it is a different story.
A dozen of popular essential oils cannot address all imaginable wellness problems for millions of individuals, the same as a limited selection of 10 different pills can't cure all known illnesses.
Don't you want to have a more comprehensive list of essential oils to choose the best ones for dealing with your particular needs?
This Essential oils guide with a list 100+ oils will help you to sort things out!
You will get answers to many of the most common questions, such as:
What are essential oils good for?
Do essential oils really work?
How to use essential oils in a diffuser?
How to dilute essential oils for different uses?
What is the best carrier oil to mix with essential oils?
What are the most reputable essential oil companies?
You will get not only the basic information and uses for each particular oil but also a lot of helpful references to government and private medical studies.
Table of Contents
Alphabetical Essential Oils List
Essential Oils Guide
What Are Essential Oils?
Essential oils are liquid and extremely potent substances extracted from plants by means of distillation with steam or water. Such oils are not stable in a sense that they usually vaporize rather quickly emitting a fragrance of the plant they derived from.
How do essential oils work?
When used in aromatherapy, these essential oils stimulate smell receptors in the nose. These receptors then send chemical messages through nerves to the brain's limbic system, which controls moods and emotions. This process also may have some physiological effects on the body, according to the National Institutes of Health (NIH).
Although essential oils are given orally or internally by aromatherapists in France and Germany, use is generally limited to inhalation or topical application in the UK and US.
Do Essential Oils Really Work?
Naturally, there are fewer scientific studies published on essential oils than on expensive modern drugs. As with any other remedy, the question "Do essential oils really work?" can't be answered with 100% certainty because we are all different. Some may see instant results from inhaling fumes of one essential oil while other will feel nothing. So, the question should be really formulated as "Do essential oils really work for me?"
Still, there is plenty of scientific evidence that almost all essential oils have a wide array of common properties such as antibacterial, antimicrobial, antifungal, and antiviral ones.
One study, for example, proved that simple spraying of the essential oils of rosemary in the room can significantly increase image and numerical short-term memory.
Another study confirms the effectiveness of the lavender essential oil for treating neurological disorders.
Main categories of essential oils uses
Among countless applications of essential oils, there are a few of them that gained popularity over time. Some are based on historical data and some are leaning on the actual scientific research.
Here are the most common uses of essential oils:
Anxiety – using essential oils for anxiety and relaxation can be a nice addition to a number of other therapies;
Arthritis – traditional Asian medicine have been successfully using lotions and ointments with essential oils for arthritis and muscle pain for thousands of years;
Bug repellent – many essential oil combinations can be used for repelling bugs if you want to stay away from toxic bug repellents;
Cleaning – why use toxic chemicals when we have these marvelous bacteria-killing oils?
Colds – many essential oils are pretty effective for easing congestion and colds;
Cough – Vicks VapoRub is a good example of using essential oils for cough suppression;
Eczema – a number of the best essential oils for eczema have been proven really effective;
Elimination of odor or smell – essential oils kill bacteria that is the main cause of the bad odor – no need for harsh chemical deodorants!
Essential oil for bug bites – bugs may carry viruses and bacteria but essential oils kill those instantly;
Food additives – some of the oils can be used as food additives in very small doses;
Headaches – there are plenty of sticks and rub-on ointments that contain essential oils for treating headaches;
Hair care – some shampoos and hair conditioners use oils for improving hair growth and thickness;
Skincare – almost all beauty creams and lotions contain essential oils;
Skin scrubs – DIY salt and sugar scrubs with essential oils can be as effective as expensive commercial ones;
Sleep – for some people, oil blends for sleep work pretty well;
Snoring – as essential oils can ease congestion by opening nasal passages then you definitely should try using the same oils for snoring.
If you are new to using essential oils for dealing with the problems listed above, here is an excellent short video from Dr. Axe which will help you with avoiding common mistakes:
Dangers of Essential Oils: Top 10 Essential Oil Mistakes to Avoid
Essential Oils (A-C)
Main Benefits, Uses, Studies, Side Effects
A
Agar oil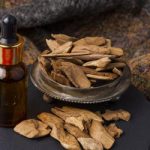 Agar Essential oil is one of the most amazing, expensive, and rare oils which is derived from the resin of the Agarwood tree. The aroma of Agarwood oil is simply out of this world and often being described as "Scent from Heaven." Agarwood has played an important role in many religious traditions. It has been used for centuries in traditional Tibetan and Chinese medicine, traditional Cambodian and Vietnamese medicine, Ayurvedic medicine, Japanese and Middle Eastern medicine. (More info)
Agar oil benefits:
helps reduce anxiety, stress, depression and other nervous system disorders;
provides pain relief for people with gout or rheumatoid arthritis;
supports the digestive system and eliminates gas build up;
inhibits the growth of MCF-7 breast cancer cells (study);
shows antimetastatic activity against pancreatic cancer cells (study);
can enhance the libido;
regulates irregular periods;
may reduce the inflammation and calm a cough;
may ease congestion;
may calm restless leg syndrome;
helps with memory and learning.
Agar oil uses:
Massage it into areas affected by soreness and pain;
Wear it with a special necklace;
Diffuse it whenever you feel the need for calmness and focus;
Add a drop to your facial cleanser.
Agar oil side effects and notes:
There are no known side effects.
Where to get Agar essential oil:
beware of cheap artificial imitations! Genuine Agar oil's price generally fluctuates around a couple of hundreds of dollars per 5ml. This
Agar oil
from Amazon would be a good choice. Make sure to ask seller a question before ordering.
Ajowan Seed Oil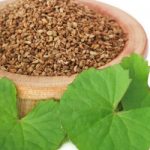 Ajowan seed essential oil is distilled from the seeds of a plant also known as Ajwain or Carom. (*)
Ajowan oil benefits:
Used for treating upper respiratory infections like bronchitis;
Quiet coughing;
Provides pain relief for people with rheumatoid arthritis;
Helps with digestive disorders;
Used for healing ulcers;
Alleviate urinary tract infections;
Treat Athlete's Foot;
Kills or repels insects;
Ajowan seed oil main uses
Diffuse it – add a few drops to your diffuser to clear up your sinuses;
Mix with a carrier oil and put on your skin;
To quiet coughing gargle a solution of 1 drop of oil in 8oz of warm water;
Ajowan seed oil side effects and notes:
There are no known side effects of topically applied Ajowan seed oil.
The oil of Ajowan contains Thymol, the most powerful therapeutic ingredient known for its antimicrobial, anesthetic (pain-relieving) qualities. It is for this property, Ajowan seeds were exported in large quantities to USA, Germany and many other countries up to the second half of the 20th century. Here is a research paper regarding its antimicrobial and anti-inflammatory activity.
Allspice Berry Oil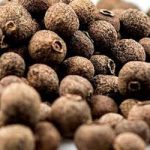 Allspice Berry Essential Oil has a strange mixture of clove, cinnamon, cardamom, and pepper aroma. Allspice is also known as pimento, pimenta, or Jamaican pepper.
Allspice Berry Oil main benefits
Protects wounds against septic and tetanus are types of infections;
Provides relief from pain;
It offers a local anesthetic effect;
Helps with neutralizing the free radicals acting as Antioxidant;
Carminative – gives relief from flatulence;
Increases blood circulation below the skin;
Helps with inducing a relaxing and calming effect on the body and mind;
Allspice Berry Oil uses
Diffuse it;
Apply topically mixed with a carrier oil;
Use a diffuser necklace;
Side effects and notes
There are no known side effects, however, this oil can cause skin irritation in higher concentrations.
Use lower dilution – 1% or less;
Don't use if pregnant;
Don't use on children younger than 15;
Here are Allspice government studies: prostate cancer, breast cancer, Antioxidant Activity, insecticidal activity