Grab a cup of home-crafted pumpkin spice latte and explore our collection of enchanting pumpkin crafts and DIY fall crafts for your home and porch. Hence, Fall is in the air!
Kids are at school and hot summer days by the pool are behind us. With this in mind, there is no better time to get creative. Additionally, fall crafts are inspiring and will make your house feel like home for the holidays.
Therefore, get inspired by other popular fall ideas from our blog:
Are you looking for fresh ideas to make Pumpkin Crafts and DIY Fall Crafts? In this case, check out our Craft-Mart Pinterest boards. We are adding new ideas daily.
Crochet Pumpkins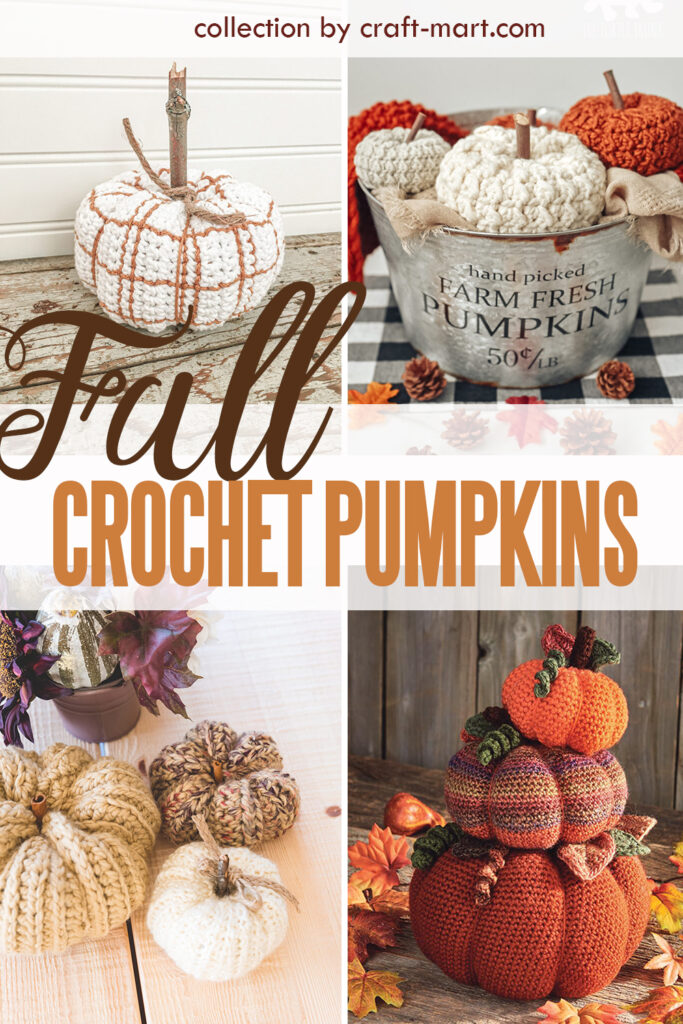 Sources: Plaid Pumpkins, Farm Fresh Crochet Pumpkins, Country Pumpkins, Colorful Trio of Pumpkins
Whether you are decorating your home for the holidays or just want a quick project to relax, crochet pumpkins are fun and easy. Most importantly, it is a quick project that doesn't require special skills.
First of all, gather all necessary supplies. Most importantly, before you rush to the craft store, you may want to check your craft room (and the yard!) for the following tools and supplies:
chunky or super bulky yarn in off-white, yellow, orange, or tan color (to match pumpkin colors);
crochet hooks (4 mm, 6 mm, 7 mm, 12 mm, depending on your yarn);
cinnamon sticks or pieces of wood to make pumpkin stems 2 -3 inches long;
scissors;
tapestry needle;
stuffing material;
hot glue gun;
string or twine
scraps of leather to make leaves.
Second, check our collection of FREE crochet pumpkin patterns from our favorite bloggers and designers. Surprisingly, crochet pumpkins patterns are very easy!
Plaid Pumpkin Crochet Pattern by stitchberryblog.com
Keep in mind, this adorable plaid pumpkin crochet pattern is available in 2 sizes. Accordingly, you can make a whole crochet pumpkin patch! In summary, it is a lovely little design using the surface crochet technique.
Farm Fresh Pumpkin Crochet Pattern by whoshomemade
This FREE PATTERN from whoshomemade.com allows you to create a cute trio of pumpkins in 3 different sizes by using different weight yarn and different sizes of crochet hooks. Furthermore, you'll be using Even Moss crochet stitch with slip and half double crochet stitches.
By the way, the video tutorial for crochet pumpkin is great! Without any lengthy introduction, it takes you straight to the pattern.
As a result, you'll learn all the steps of making these adorable pumpkins.
Crochet Country Pumpkins by Sewrella
Why do we like this FREE CROCHET PUMPKIN pattern by Ashleigh from Sewrella?
First, this is a perfect crochet project to accompany a cup of pumpkin spice latte! You can use any leftover yarn and decorate your whole house with cute little pumpkins.
Second, the photo and video tutorials are very detailed, clear, and informative. In fact, even if you are a beginner you can easily re-create these adorable country pumpkins using half double crochet stitches (FLO & BLO).
Bibbity Bobbly Pumpkin Crochet Pattern by Burgundy and Blush
This lovely FREE PUMPKIN CROCHET pattern by Burgundy and Blush is full of texture! Most importantly, it comes in 3 different sizes. Not to mention, they are cute, beginner-friendly, and easily customizable.
Are you familiar with Bobble Stitch? For this reason, you may also like our Baby Blanket pattern that uses the same easy crochet stitch.
Country Bumpkin Pumpkin by Avery Lane Creations
In addition, check out this colorful FREE crochet pumpkin pattern by Nicky – the crochet designer, blogger, and yarn dyer behind Avery Lane Creations. You'll fall in love with the texture and colors!
Not only it uses fun crochet stitches, but also has lots of real projects completed by other crochet enthusiasts. Surprisingly, they all look different though based on the same FREE pattern.
Consequently, you can adapt it to any yarn you'd like.
Farmhouse Crochet Pumpkin Pattern by Stitching-Together
These crochet pumpkins by Stitching-Together are adorable and easy! As a result, you may end up with a dozen of cute pumpkins all over your house.
For instance, crochet a few for your mantle, arrange several as a creative centerpiece for the dining table, and make a few big ones for the porch decor.
Little Rustic Pumpkins by Yarn and Chai
This lovely crochet project by Rebecca from Yarn and Chai is made easy with a very instructive video tutorial and free crochet pattern. Most importantly, it is an easy twist on a basic half double crochet stitch which gives these crochet pumpkins a knit-like look.
Thus, even a beginner can master this little rustic crochet pumpkin.
DIY Fall Crafts
Dollar Store Buffalo Plaid Pumpkins
Are you looking for budget-friendly fall decor ideas? In that case, stop at your local Dollar Store to grab a $1 wooden sign.
As an illustration, this short tutorial by Lake Life State of Mind from Pinterest will teach you how to make these adorable pumpkin crafts. Moreover, check out a step-by-step tutorial on the blog.
DIY Fabric Pumpkins from Goodwill Shirts by Kippi at Home
If yarn crafts are not your cup of pumpkin spice latte, by all means, check out this clever way to upcycle old shirts. As a result, you'll end up with an adorable DIY fall craft to decorate your home right in time for the holidays.
Toilet Paper Roll Pumpkins
How creative is this Fall DIY craft project – Toilet Paper Roll Pumpkins by Made to be Momma! As a matter of fact, you won't find a more budget-friendly craft as it uses toilet paper rolls that anyone has at home.
Not to mention, it is a perfect project to do with kids. Quick, easy, and fun!
Canning Ring Pumpkin Project
As a matter of fact, the canning ring pumpkin project is one of my personal favorites as it uses some kitchen items I have in abundance!
Just add some festive washi tape to mason jar rings and you'll have an adorable Fall Home decor with zero-waste.
Do you love mason jars? Check out our collection of Mason Jar Crafts.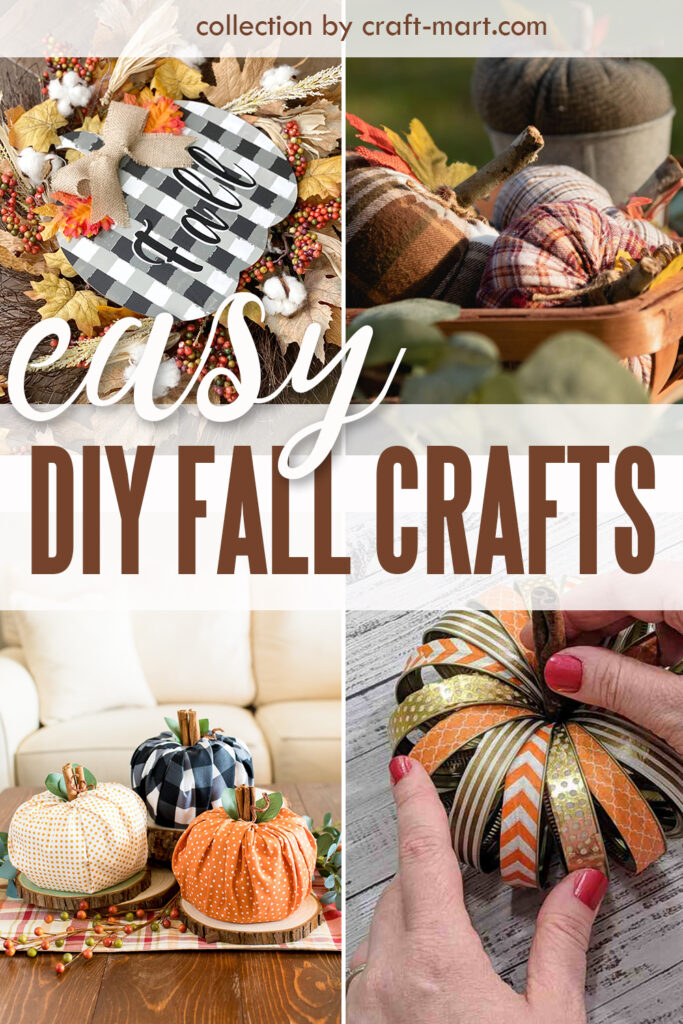 DIY Fall Craft: Melted Crayon Pumpkin
This amazing DIY pumpkin project by Mom Spark is so colorful! Indeed, it is a clever way to use and upcycle some of these crayons that you have laying around the house.
Provided that the list of supplies and tools that you would need is pretty straightforward, it is an easy 30 minutes or less DIY craft that is perfect for Fall.
Easy Pumpkins from Sweater Sleeves
Love this easy DIY Fall project and tutorial by DIY Beautify – amazingly easy Pumpkins from Sweater Sleeves! In reality, we all have a few sweaters just hanging in the closet waiting to be donated…
First, pick a few sweaters like white, mint, and off-white to match regular pumpkin colors and your home decor. Second, just follow a few easy steps from the tutorial to create this classy DIY fall project.
Quick Herringbone White and Gold Mini Pumpkins
Do you love to decorate with white pumpkins? You'll enjoy the no-mess gold pumpkin project by Lovely Indeed.
On the positive side, this easy fall DIY requires only two items on your supply list. On the negative side, if you like a traditional carved pumpkin, this fall project is not for you.
For more inspiration, make sure to check our 10 Quick and Easy White Pumpkin Decor Ideas! You may also like Fall Bullet Journal Examples for Creative People for your drawing and doodle inspiration.
Scrape Wood Farmhouse Pumpkins for Fall
Do you have a few leftover pieces of 2×4 boards in the corner of your garage? In this case, you can clean the garage and recreate beautiful 2X4 WOOD PORCH PUMPKINS by DIY Beautify.
Most importantly, this easy porch decor can be useful for many years to come. Just store it flat and decorate the porch for fall next year!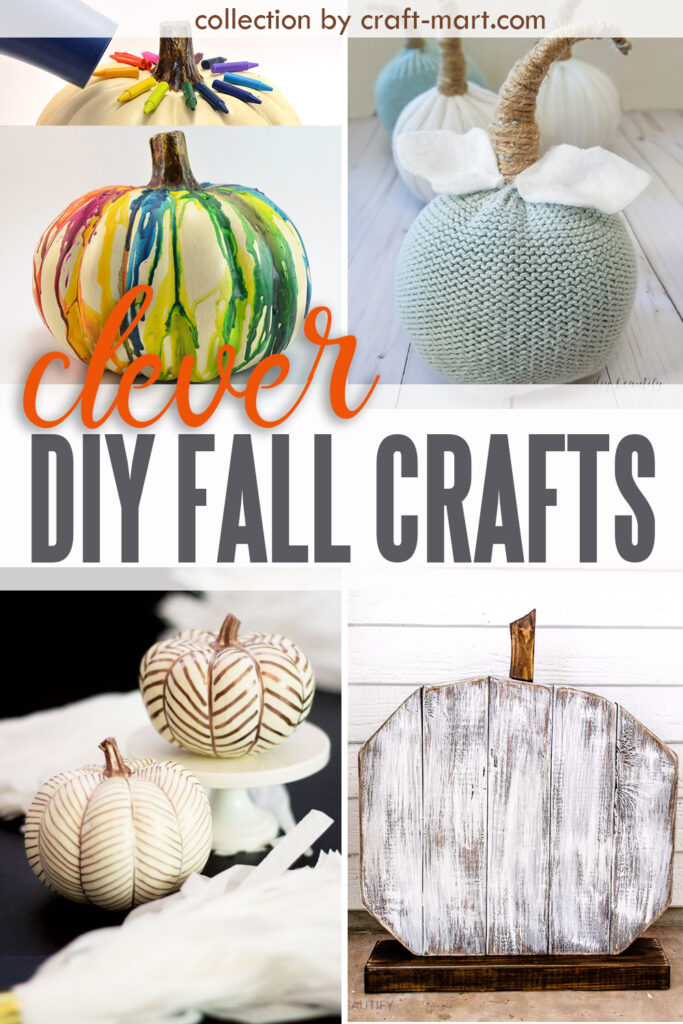 Are you looking for easy fall decor? Check out our popular Small Front Porch Decorating Ideas to inspire your next Fall DIY decor project.