If you are looking for free coffee printables and sayings, you are in the right place. In fact, we have a collection any coffee lover would enjoy.
Of course, fresh coffee gets you going in the morning. Furthermore, for many coffee addicts, the relationship doesn't stop there.
As a matter of fact, many creative designers have put their minds and hearts into making an amazing array of free printables with coffee quotes and sayings. So, it is time for a coffee break – grab your favorite coffee beverage and enjoy this collection.
Are you interested in more FREE PRINTABLES? In that case, check out our collection:
First of all, here are 76 funny coffee sayings that have no author and are attributed to anonymous sources. As a result, you can find these short sayings used for coffee printables,
In fact, they may inspire your creativity for your own coffee wall art.
Short and Funny Coffee Sayings
I'm not a morning person, I'm a coffee person.
I wonder if coffee thinks about me too?
Drink coffee, make stuff.
Good days start with coffee and you.
7 days without coffee makes one WEAK.
Coffee, because adulting is hard.
Life happens, coffee helps.
May your coffee kick in before reality does.
Drink coffee and pretend to know what you're doing.
May your coffee be strong and your Monday be short.
When life gives you lemons, trade them for coffee.
Stressed, blessed, and coffee obsessed
Today's good mood is sponsored by coffee.
Three cups of coffee a day keeps the doctor away!
I don't have a problem with caffeine. I have a problem without it.
Coffee is my best friend.
Grind, brew, drink, repeat.
All great ideas start with coffee.
Keep calm and drink coffee.
Doctors found traces of blood in my coffee stream.
Espresso yourself.
Sometimes I go hours without drinking coffee … it's called sleeping.
Life is too short to drink bad coffee.
Better 'latte' than never.
Take time to smell the coffee.
There is no life without water. Because water is needed to make coffee.
BC really means "Before coffee".
Coffee is a hug in a mug.
Just brew yourself.
Coffee, because adulting is hard.
Take life one sip at a time and stay grounded.
A bad day with coffee is better than a good day without it.
You should know that before 10 am, no matter what the question is, my answer is always coffee.
Rise and shine! It's coffee time!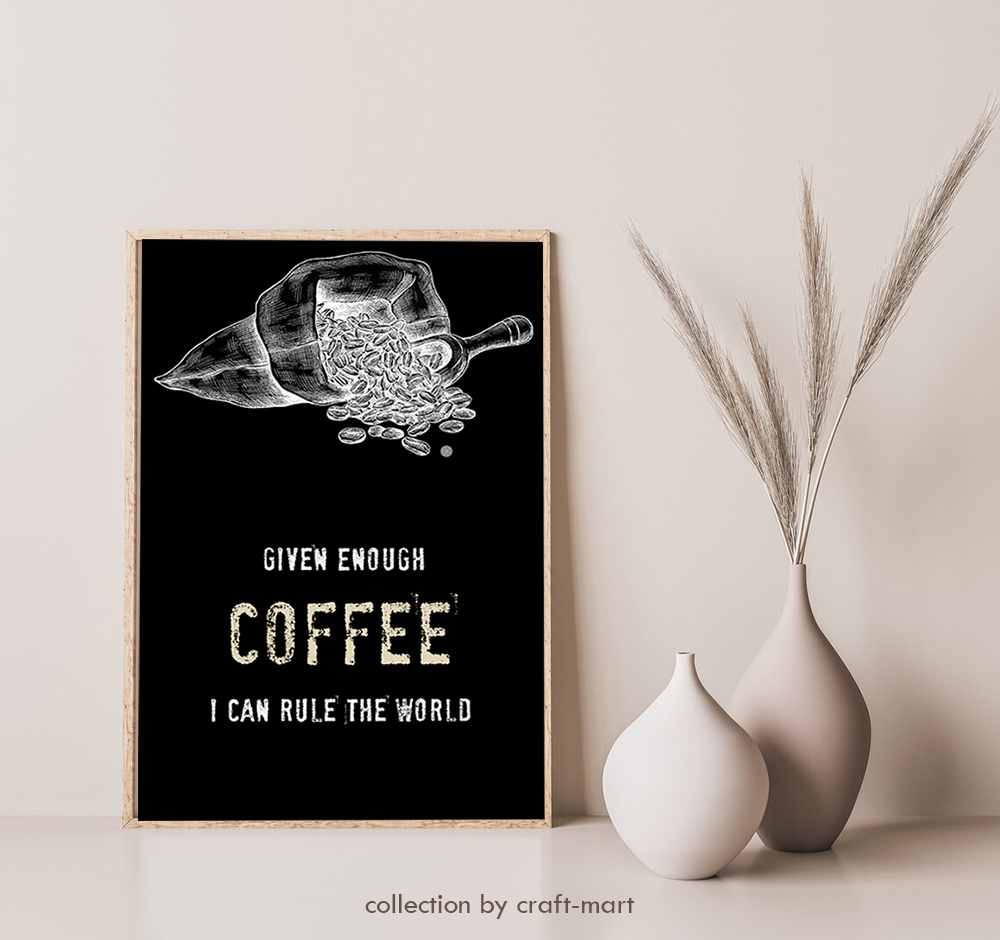 … and more short coffee sayings!
Coffee is liquid optimism in a cup.
Happiness is a pot of coffee and a good book.
Home is where the good coffee is.
It is a 'brew-tiful' day!
Anytime is a good time for coffee.
A yawn is a silent scream for coffee.
Grab life by the coffee beans.
Life begins after coffee.
This home runs on love and lots of coffee.
Sometimes I stay up so late that I have my morning coffee before I go to bed.
Did I run out of caffeine or are you really that boring?
Coffee owns me, and I'm fine with that.
I don't know what I'd do without coffee. I'm guessing 25 to life.
Never underestimate the importance of being properly caffeinated.
Coffee is my love language.
Come here, my big & beautiful cup of coffee, and lie to me about how much we'll get done today.
Love is in the air – it smells like coffee.
Drink coffee! Do stupid things faster with more energy.
Happiness is a cup of coffee and a new crochet pattern.
Coffee gave me unrealistic expectations of productivity.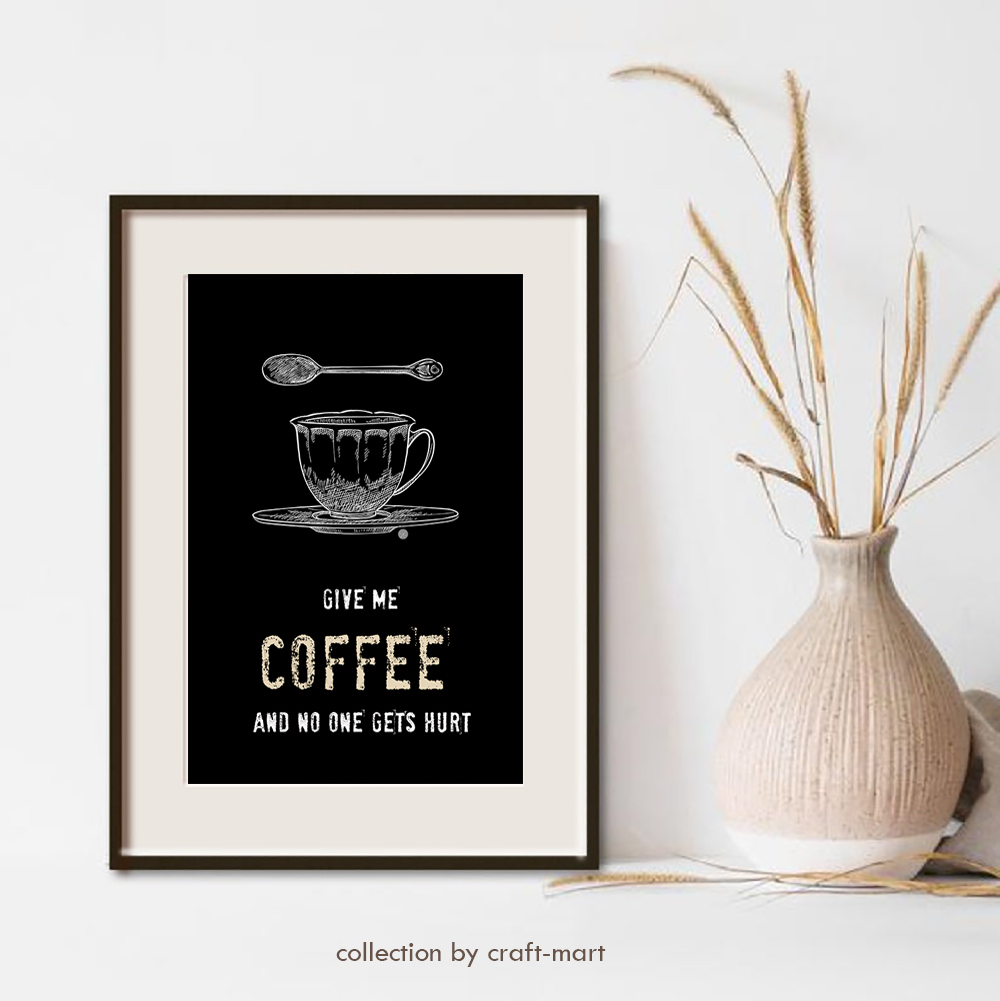 Make coffee, not war.
But first, coffee.
Good days start with coffee and you.
Wanna hear a joke? Decaf.
All you need is love and a good cup of coffee.
Dear coffee, I need you.
I like my coffee bitter and my chocolate sweet.
How far behind would technology be, if no one ever discovered coffee?
Coffee and friends make a perfect blend.
I'm going to start measuring the complexity of coding tasks in coffee cups. This was a five-espresso algorithm.
Give me coffee and no one gets hurt.
Life without coffee is like something without something… sorry, I haven't had any coffee yet.
Pilates? I thought you said pie and lattes…
Coffee makes me awesome.
Believe in something. I believe I'll have another cup of coffee.
Coffee is always a good idea.
I haven't had any coffee yet, proceed with caution.
All things are possible with coffee.
If you are not coffee or chocolate, please leave.
Given enough coffee, I could rule the world.
Peace. Love. Coffee.
The most dangerous drinking game is seeing how long I can go without coffee.
Furthermore, we want to share some of the best coffee printables that are available online. Most importantly, they are free of charge so you can use them for cheap and easy home decor to stay on budget.
'Good Days' Coffee Printable by homecookingmemories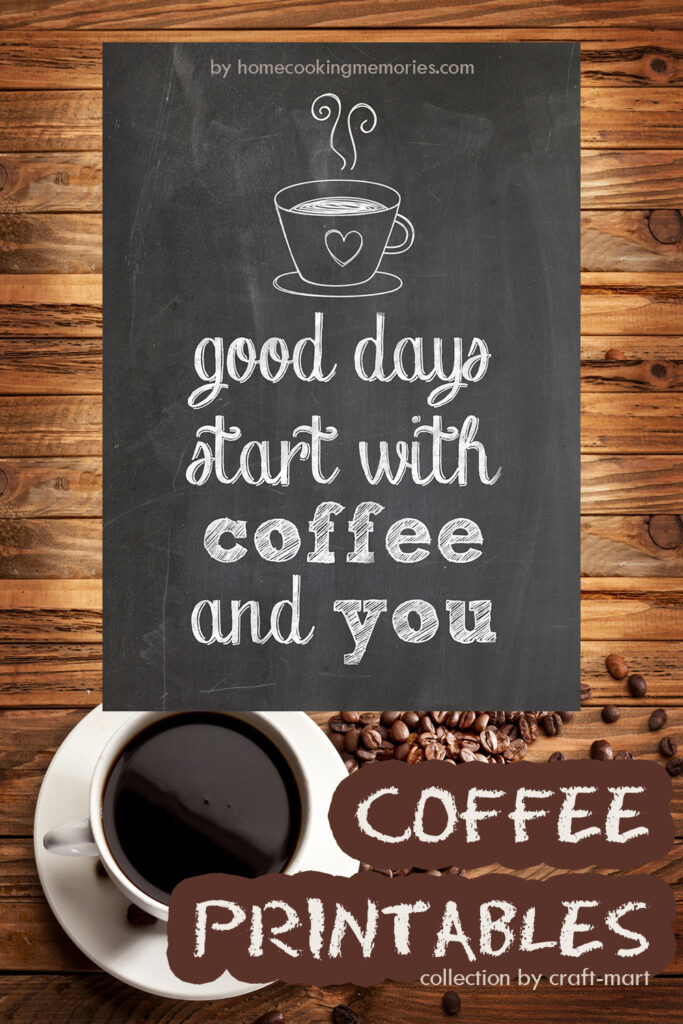 Source: Good Days Start with Coffee and You
Six B&W Coffee Printables from lostbumblebee.blogspot.com
Notably, among many coffee wall art creators, the LostBumbleBee holds first place. Moreover, if you can't find a saying or printable that appeals to you personally, browse her amazing collection of original coffee printables.
As an illustration, we picked six black and white printables that will go well with modern farmhouse kitchen decor. For this reason, use them for your coffee station or as kitchen wall art.
In summary, you can find direct links to these printables below and the link to the whole coffee collection.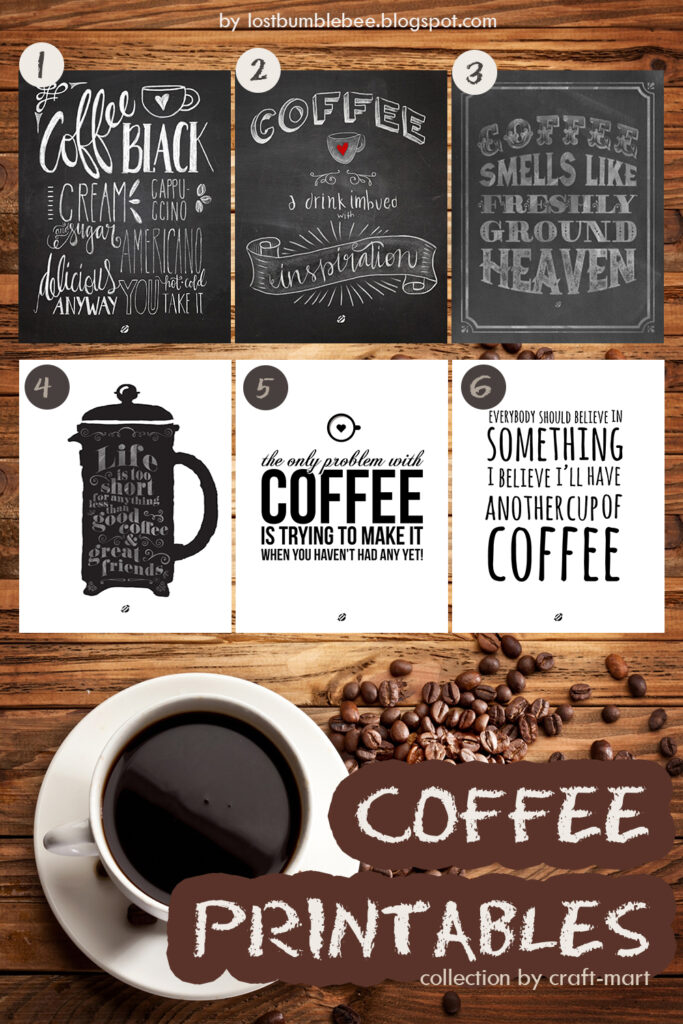 1, Delicious Any Way You Take It
3. Coffee Smells Like Freshly Ground Heaven
5. The Only Problem with Coffee
6. Everybody Should Believe in Something
Rather than buying expensive wall art to decorate your home or office, pick a few printables to create a gallery wall. Most importantly, many of these printables come in 3 sizes.
As a result, you can have an interesting array of printables in different sizes to create a focal point. On the positive side, many places, like IKEA, have inexpensive black or white frames to put the finishing touches on your home decor project.
12 Free Coffee Bar Signs
Furthermore, check out this collection of coffee bar signs by extremecouponingmom.ca. In case you'd like to refresh your home decor frequently, there is nothing more suitable than free printables.
Certainly, these black and white signs will complement any modern farmhouse kitchen or modern house decor. Moreover, the variety of signs in this collection will allow you to update your home decor frequently.
In fact, click on the source link below to print 1 or all 12 of these coffee printables and sayings. As a result, you will always enjoy your favorite coffee drink in style.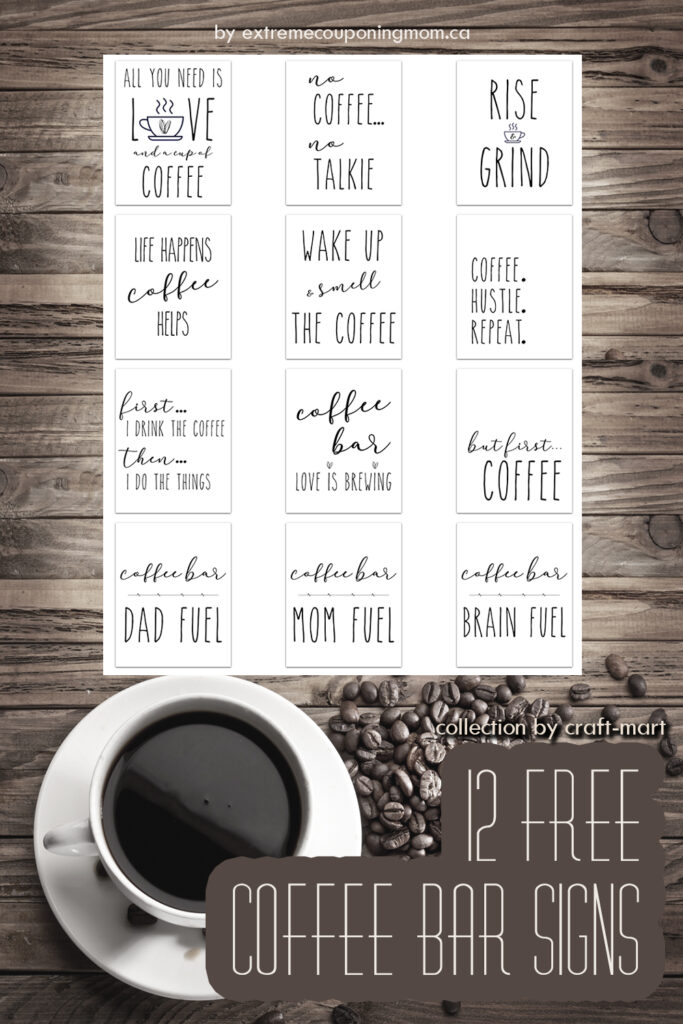 Source: 12 Free Coffee Bar Signs
Coffee Printables without Sayings
Occasionally, there is a home decorator who can't stand any written word in the wall art. Definitely, the word ' gather' in huge print looks redundant above the dinner table.
As an illustration, we have a collection of coffee printables without any words or sayings. Finally, something for everyone!
Furthermore, most of these printables are coloring pages that you can use as black-and-white printables. As a matter of fact, you could color them as well if you are a coloring pages enthusiast.
In fact, until now all the printables had some kind of saying or quote. Obviously, it is nice to have a variety for your gallery wall with just images related to coffee.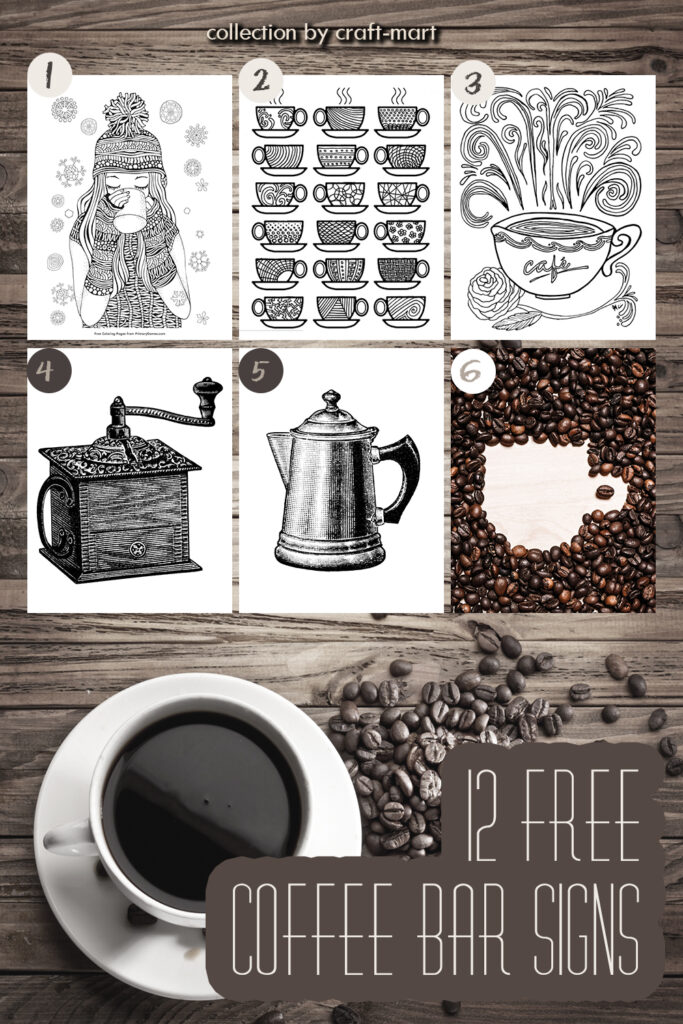 In short, now you have 24+ printables to create a marvelous gallery wall. As a result, you have enough coffee wall art to decorate any room in your house.
Furthermore, we'd like to share some of our own FREE COFFEE PRINTABLES.
Free Printable: There is Not Enough Coffee in the World …
From time to time we need a little coffee break and some humor to get us through the day. Especially, it is true in the morning while you are having your first cup of coffee.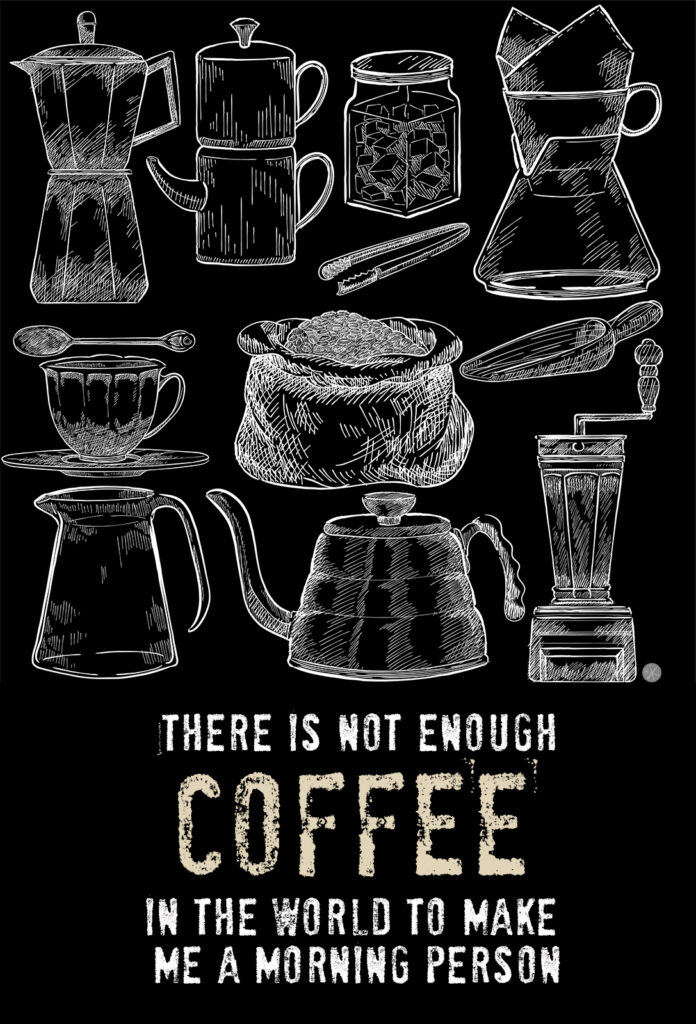 DOWNLOAD THE FREE PRINTABLE "THERE IS NOT ENOUGH COFFEE"
Free Printable: Given Enough Coffee…
All things considered, black and white printables are among the most popular among decorators. Not only it goes well with any modern home decor, but it is perfect for a modern farmhouse kitchen or a hip coffee bar.
On the positive side, a little humor with your favorite coffee beverage will increase your productivity. Consequently, have your coffee break in style with our collection of coffee printables and sayings.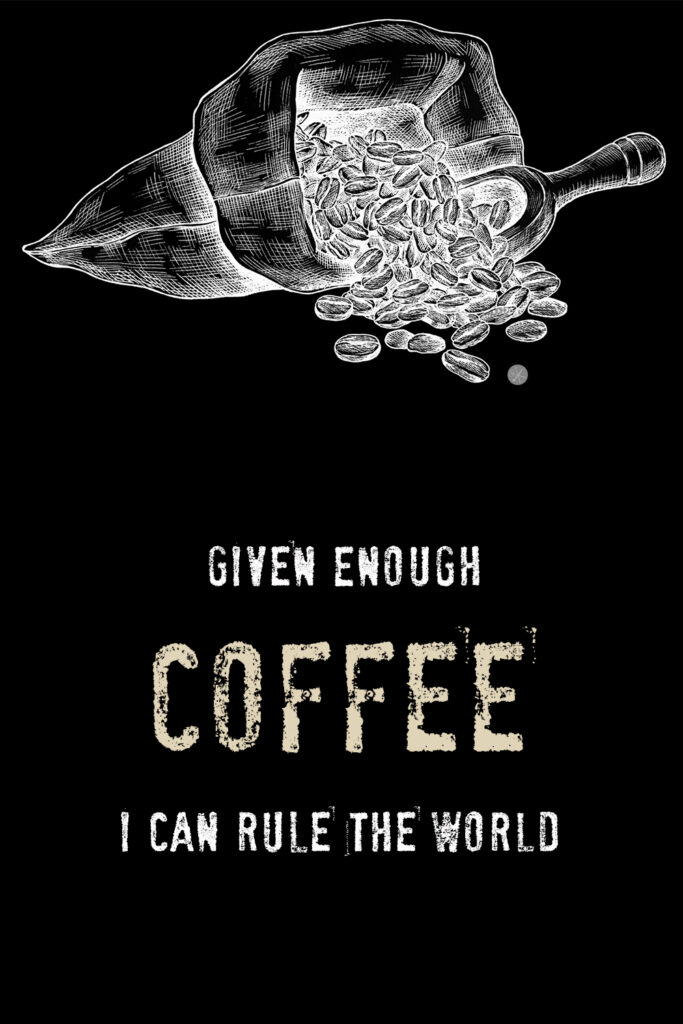 DOWNLOAD THE FREE PRINTABLE "GIVEN ENOUGH COFFEE I CAN RULE THE WORLD"
Free Coffee Printables: "Give Me Coffee …"
In like manner, here is another humorous saying that we turned into a printable. In case your day is going not exactly as you planned, have a smile and another cup of coffee.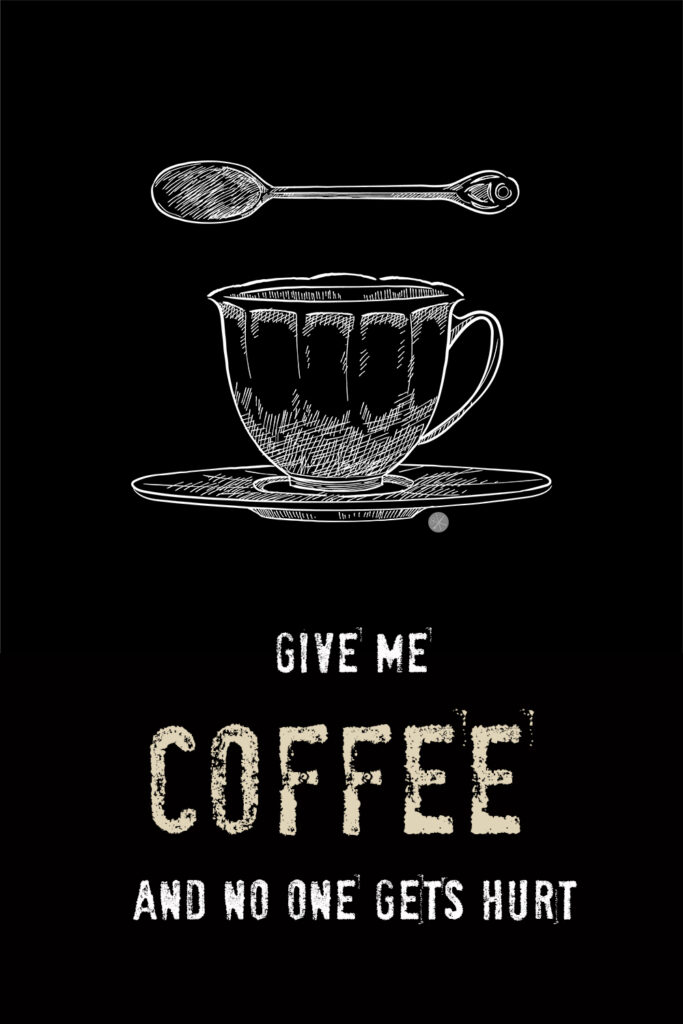 DOWNLOAD THE FREE PRINTABLE "GIVE ME COFFEE AND NO ONE GETS HURT"
In summary, we hope you enjoyed this collection of free printables. With this in mind, pick up your favorites and create your own unique gallery wall for your office coffee break room or kitchen today!