Are you inspired by farmhouse DIY decor and would like to add some down-to-earth rustic wall art to your home? You are not alone as decorating your walls with free farmhouse printables trend is not going away (yet).
Why is that? Why do we see #barndominiums on Instagram with a huge following of fans, numerous blog posts dedicated to all aspects of DIY farmhouse decor, as well as a pilgrimage of faithful fans to Waco, Texas?
Consequently, thanks to the magic of Chip & Joanna Gaines of Magnolia Homes, this little town became an unofficial capital of All-Things-Farmhouse. Check it out – it is worth a day trip!
Home is the most important place on earth. It's where life happens and where your family's story is told.

~ Joanna Gaines
Why you should decorate with free farmhouse printables?
In general, there is something heartwarming and nostalgic about simple things. Country posters or farm animals printables remind us about good food grown on a local farm or in your own garden (organically, of course).
As a matter of fact, the warmth of a fireplace on a stormy day, a home filled with memories, laughter, good times, and a feeling of belonging to a tight-knit community is something we all want.
That's why farmhouse is not just a country decor style but a lifestyle that appeals to so many people. In fact, even millennials are buying farms and growing organic vegetables as well as producing artisan cheeses.
We see a comeback of a humane approach to raising chickens on pastures and collecting eggs that have all the goodness of sunshine in their yolks. Consequently, farmers' markets are slowly making their way to the suburbs.
How to add farmhouse decor to your home
And it feels great to add this warmth to your own home through farmhouse DIY decor, no matter where you live.
In that case, one of the quickest ways to add farmhouse style and flavor to any interior is to decorate with free rustic wall art printables. You can download and print them yourself or take them to a local store.
Most importantly, any frame would work: you can repurpose some of your antique finds, buy simple black frames at IKEA, or upcycle any leftover wood to make your own.
Our team browsed hundreds of free and not-so-free printables and came up with a collection of BEST FREE FARMHOUSE PRINTABLES for home decor available. We checked all the sites for the authenticity of prints they are offering, evaluated the ease and quality of downloads, and made sure that all the links are current and working.
Enjoy our Free Farmhouse Printables Round-Up and if you find any discrepancy, please feel free to let us know and we'll correct it.
6 FREE Funny Laundry Room Printables
Let's honestly face it: there is hardly any person who enjoys doing laundry. Consequently, it can become a chore that you keep avoiding for days…
What if you can make your laundry room a delightful space and add some farmhouse-style black and white funny sayings that will lift your spirits?
We have recently found a great collection of free laundry printables by The Mountain View Cottage that will greatly complement your modern farmhouse decor. Love the classic black and white theme!
They can also bring a smile to your face when you are doing that tedious labor of love for your family. Print them today and enjoy!



Source: themountainviewcottage.net
Farmhouse Printables: 21 FREE Antique Botanical Pictures
You can't go wrong with this collection of classy and elegant botanical prints! They are ready to be printed in 8″ x 10″ or 11″x 14″ formats.
These unique vintage prints will create an impressive multi-panel rustic wall art collection that is sure to warm up your home. You can use all 21 prints or create a triptych. Obviously, it is your wall and you can decide how to arrange your art.
The best part – it is FREE, thanks to SimplyMadeByRebecca! You can even use bigger frames and add some white or burlap matting if it suits better your existing rustic decor. In fact, you can experiment and be rewarded by creating your own unique look.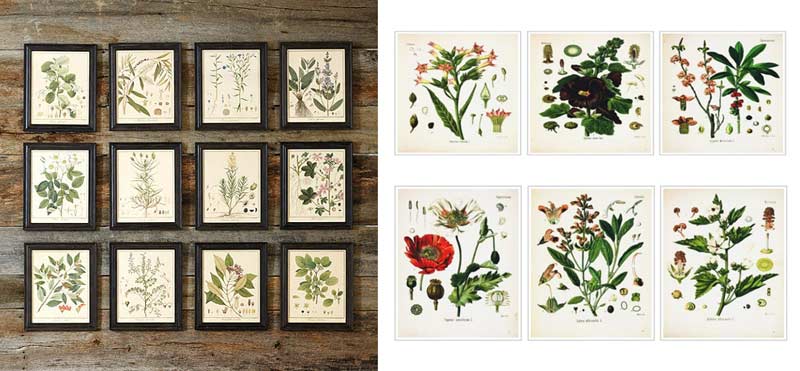 8 Free Farmhouse Printables on Distressed Wood Background
These tasteful rustic wall art prints are available from TheCottageMarket thanks to the generosity of author and creator Andrea. Each of these 2 designs is available with four different weathered wood backgrounds: white, gray, aqua, and warm-toned wood. As a result, they can go perfectly with any type of rustic farmhouse décor.
In fact, these prints are available in 2 different sizes: 5"x7" and 8"x10". With extra mating, they would create a wonderful gallery wall or a simple accent piece. Love the fonts and the beauty of a simple cotton wreath! The instructions are very clear and the download is quick and easy. Just a delight!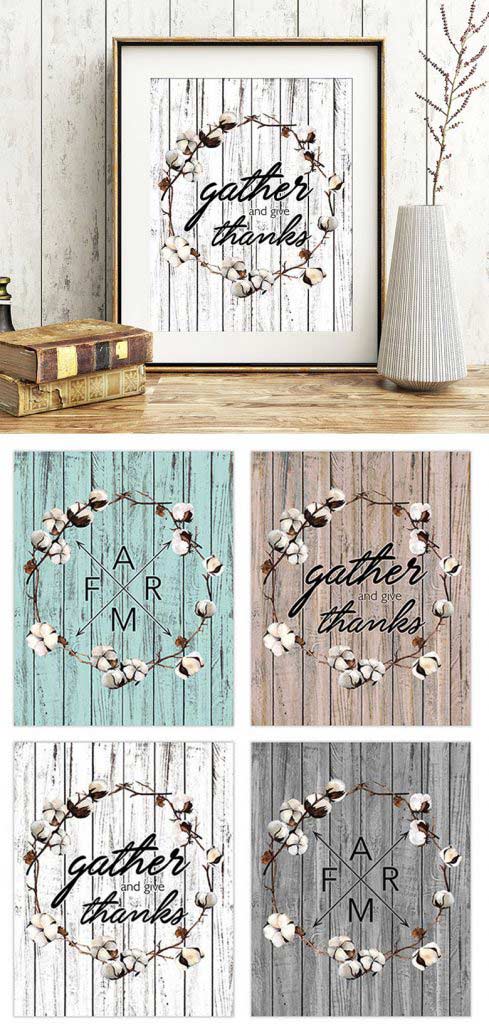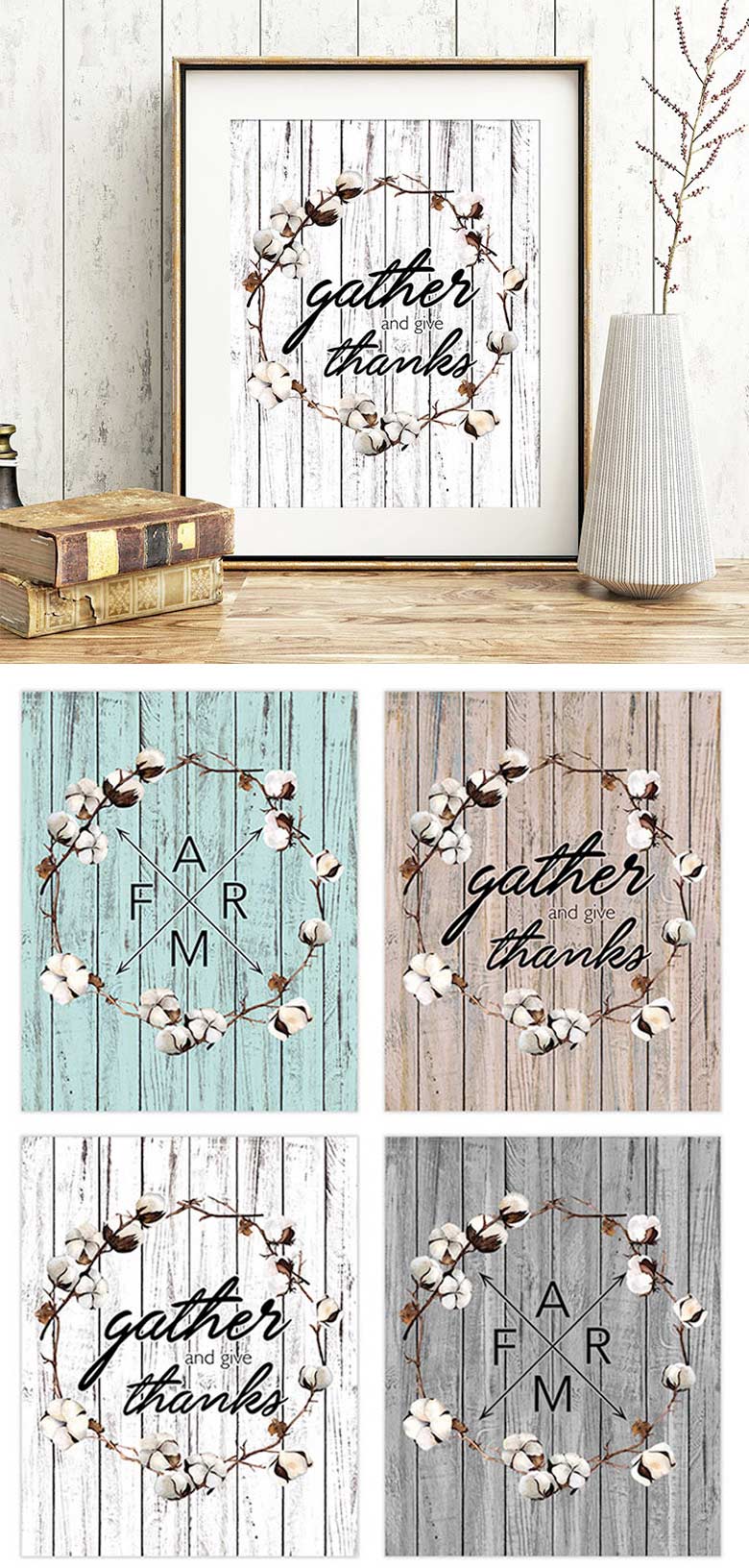 6 Patent Rustic Wall Art Pieces
Are you fond of patent art but don't know where to find an affordable print for your home decor? TheNavagePatch has a beautiful collection of high-quality patent art printables if you provide your email and sign up for the VIP newsletter.
Who doesn't want the gorgeous tractor, cow milker, silo, and other farm animals printables designed with engineering precision? They are just begging to be part of your modern farmhouse decor DIY style.
As a result, you gain instant access to 18 free downloadable farmhouse patent art prints and other bonus farmhouse printables, so in our book, it is a win-win. They look great with an off-white, cream, and black background. As a result, they will complement perfectly any farmhouse-style decor. You can just add an antique or DIY wooden frame.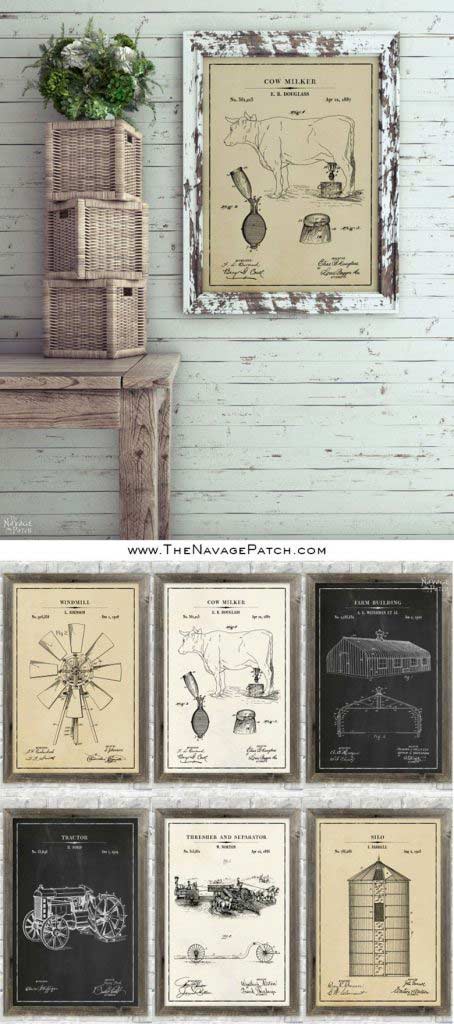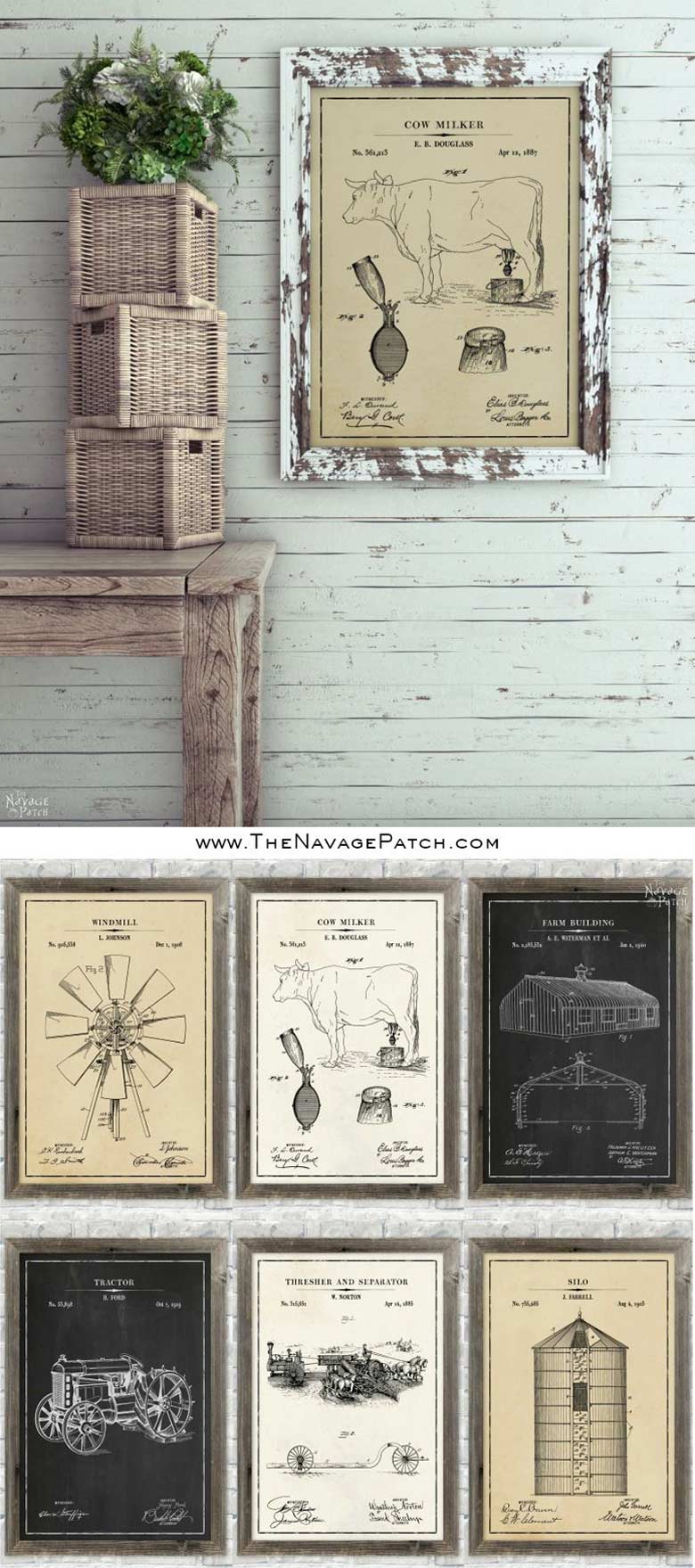 6 Herbal Decor Botanical Pictures
These alluring spring-fresh herb farmhouse printables created by CherishedBliss will brighten up your kitchen or dining room even if you don't have farmhouse decor. They are simple yet charming and are available for no-gimmicks free download as PDF files.
In fact, you can print them on regular 8.5″x 11″ paper and frame them with mating (or without) for an eye-catching gallery wall. As can be seen, Six free botanical prints include Lavender, Rosemary, Thyme, Basil, Mint, and Dill.
You can use all six of these charming herb prints or group them in 2 sets of triptychs. For this reason, it is a gorgeous addition to your DIY home decor and it is FREE!

6 Free Vintage Florals for a Modern Farmhouse
Annie Mertlich, a skillful artist, painted these original watercolors. They are available as a free download of Magnolia Journal content. Just click on the bottom link Spring Issue 2017 Download to save a zip file.
As a matter of fact, there are easy step-by-step instructions on the page on how to unzip the files and get six wonderful ready-to-print vintage florals: allium, crocus, daffodil, hyacinth, muscari, and tulip.
As an illustration, in one of our posts dedicated to three easy farmhouse decor projects, we shared a tutorial by Joanna on how to hang vintage printables.
Check it out for the best of both worlds: free farmhouse printables and a DIY project you can do in an hour to add some farmhouse decor to your home. As a matter of fact, it is a quick and easy way to make your home cozy while staying on a budget with free printables.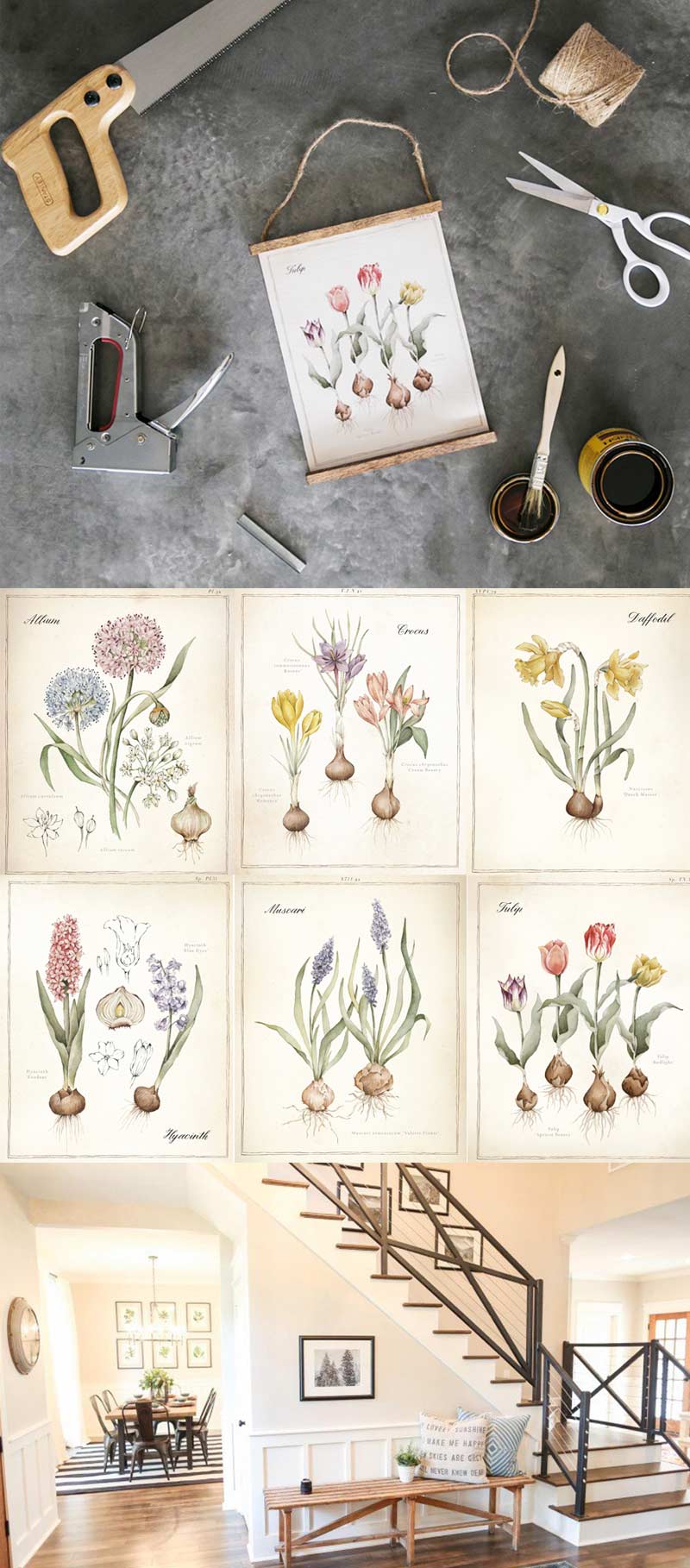 Source: Magnolia Journal Free Content
4 Olive Branches – Free Wall Art Pieces
Lauren from Gather & Flourish shared these high-quality Olive Branch botanical prints. They are an absolute delight!
They are available through the New York Public library collection of rare books. Lauren digitally cleaned these files and made them available for an instant download if you subscribe to the blog.
They come as a PDF file ready to be printed at home or any print shop. As multi-panel canvas prints, they will make a great addition to the farmhouse-style neutral decor.
You can use them in your dining room or kitchen. As a result, you'll have a timeless display of olive tree botanicals with some vintage flair. They are a great find for those looking to spruce up a home for any season with free printables.
All you have to do is find some frames that will complement modern farmhouse architecture.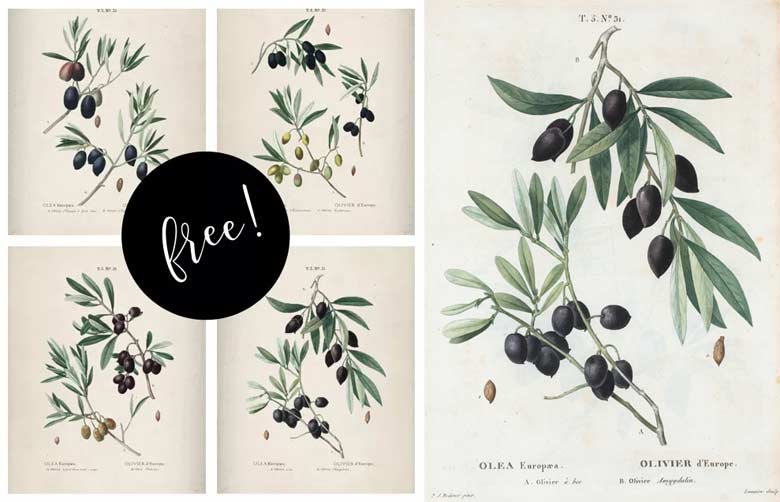 12 Bible Verse Printables + 38 Planner Farmhouse Printables
The next set is available from an inspiring blogger, talented graphic artist, and busy mom Hailey Estes. She runs The Mountain View Cottage.
If you are a farmhouse style enthusiast, you've probably come across her other work before. Check out farmhouse butcher block animals and cute kitchen printables.
The instructions for downloads are self-explanatory. Consequently, you will get 50 wonderful farmhouse printables -12 Inspiring Bible verses for every month of the year, and 38 planner pages. You can organize your whole life with these printables – from grocery lists to weekly planner.
If you are looking for free printable rustic wall art, this set is simply wonderful!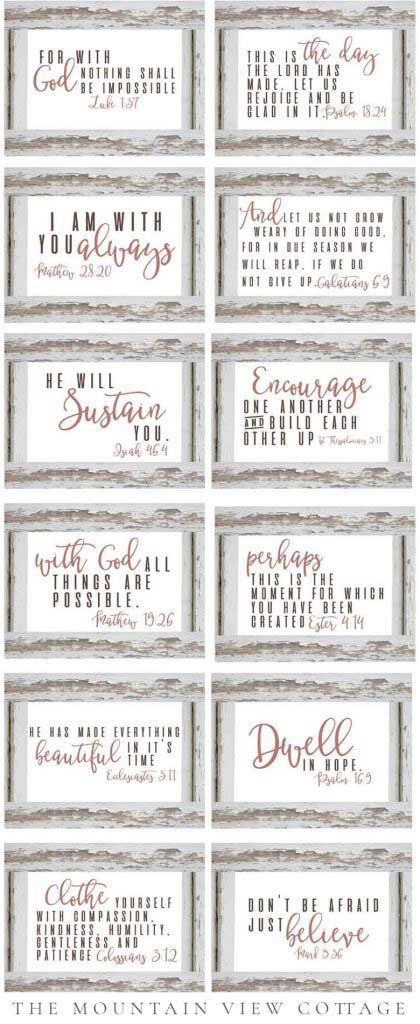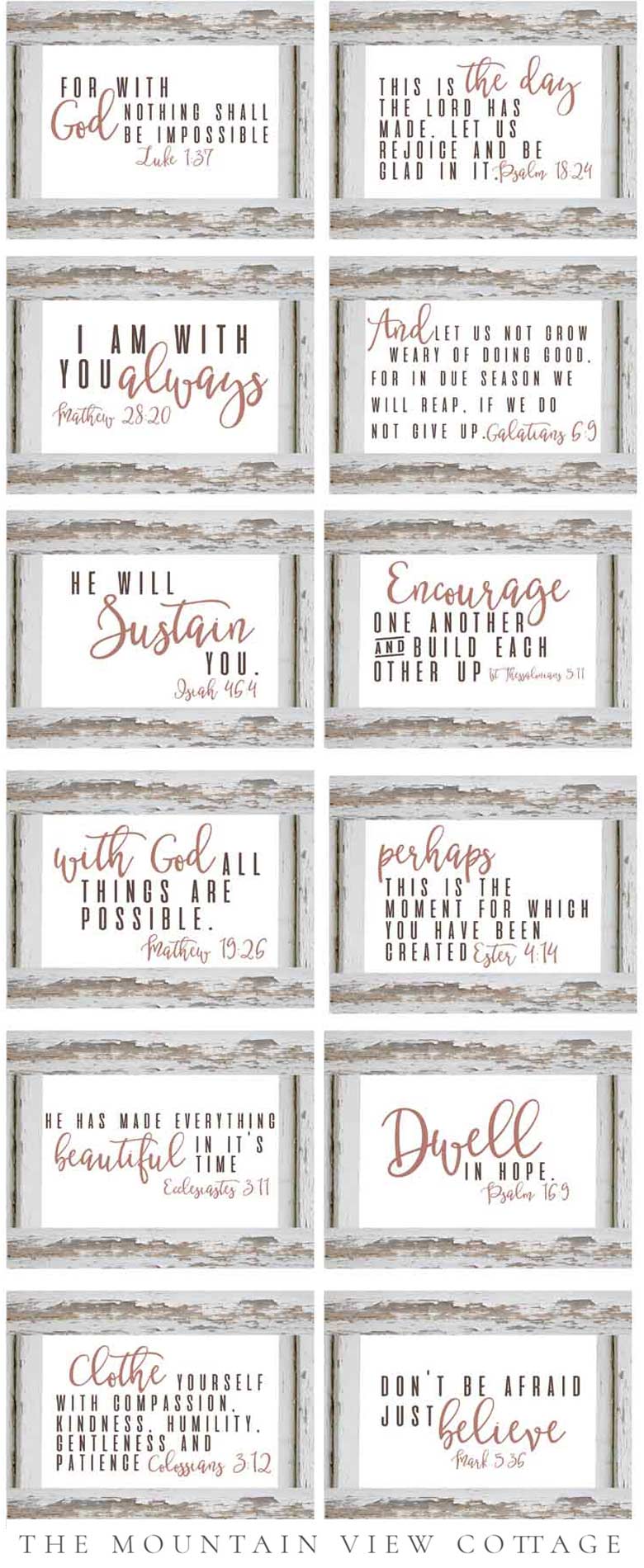 Source: themountainviewcottage.net
Cow Printables
Our readers have been asking for cow printables as a part of our round-up of free farmhouse printables. Consequently, here is a minimalistic cow printable which will be perfect for a modern farmhouse interior.
Source: Minimalistic Cow Wall Art
Looking for more modern cow wall art? As a matter of fact, we have another graphic printable that you may like. Check it out as you can use it in the kitchen or dining room of your farmhouse-inspired interior.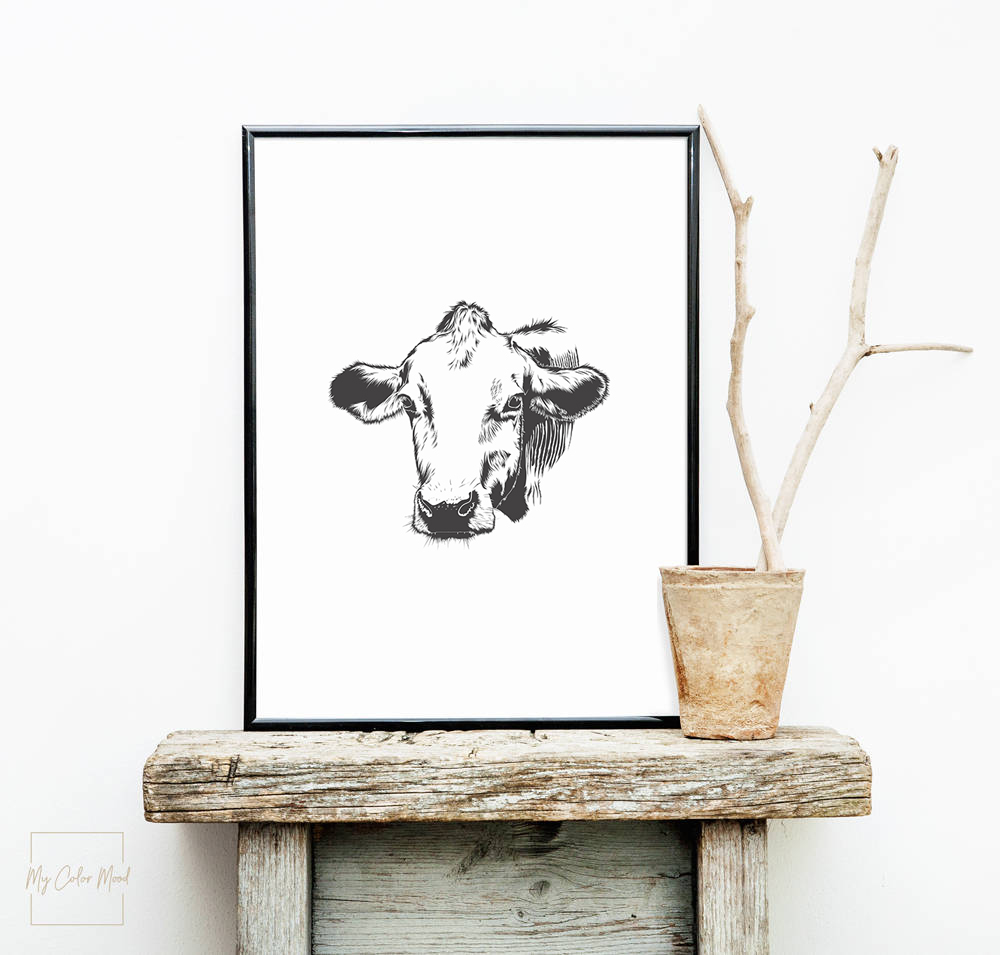 To download this free cow graphic wall art, click here.
Want to save them for later? Thank you for sharing!