Farmhouse decor has been a 'talk of the house' for a while but now it is available to everybody since Chip and Joanna Gaines have launched their wonderful Hearth and Hand collection for Target. This warm and cozy decor represents the best of the 'country without kitsch' as it evokes the nostalgia of simpler times by mixing old and new.
One of the principles of farmhouse decor is that practicality rules: no useless knick-knacks or gilded centuries-old chairs no one can use. Every piece is hand-picked for a certain task and your house becomes really yours. Rustic farmhouse decor is heart-warming and kind, as it allows kids to be kids and enjoy the creative play-setting in the living room or crafts at the dining table. It also brings outdoors in, as every farmhouse really should have a 'farm' in its heart – even if it is a small herb container garden that you've planted with the kids.
How can you add some farmhouse flair to your home without going overboard? Let's start small – with family photos. As many put extra time and effort into an annual holiday portrait, it is only natural to make a special place for these cherished memories. Instead of creating an elaborate photo wall, make a simple photo ledge. What a great idea – just add it to kids'room to organize their favorite books or in the bedroom to frame your favorite quotes or memorable snapshots of your travel adventures.
Easy DIY Photo Ledge Tutorial
Let's learn from the master – Joanna shared a great DIY photo ledge tutorial that uses only 3 pieces of wood, easy-to-find wood glue, and a small can of wood stain (you can even use leftovers to match your rustic furniture or other DIY projects in your home). She preferred pine wood for this project as it stains easily but it would be practical to use any wood pieces you want to upcycle by giving them a new life. For all easy-to-follow step-by-step instructions and a list of a few tools needed check this easy DIY tutorial.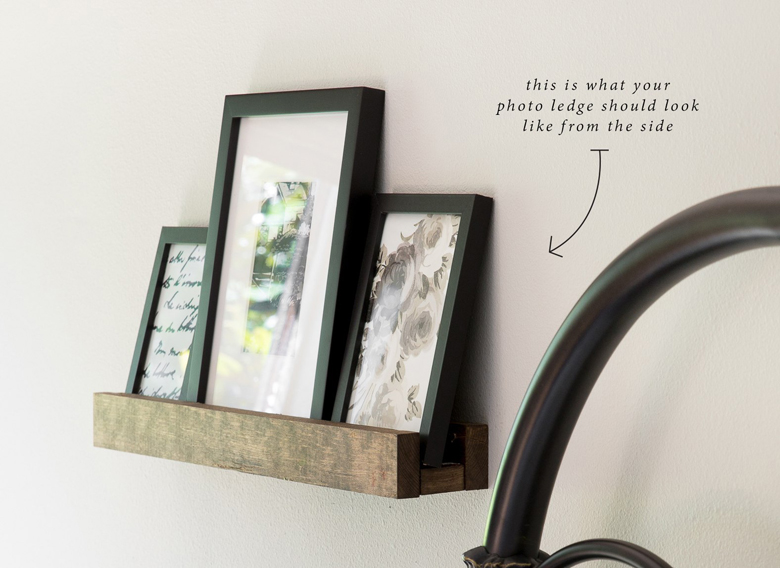 Source: AT HOME a blog by Joanna Gaines
Vintage Floral Hanging Printables – DIY Tutorial
Another wonderful way to celebrate nature and add rustic flair to your home is to implement some vintage prints into your decor. Joanna came up with a surprisingly-simple DIY project that doesn't require any prior skills. Anyone can do this easy hanging printable! The directions are very clear and detailed and the list of supplies is short. You get not only one but six (!) floral prints. Original watercolors were hand-painted by skillful artist Annie Mertlich, owner of Wildfield Paper Co. You can hang all six or choose any three for a popular three-piece wall art. As Joanna points out: "The best part about this craft is that you can do it with any print! If this one doesn't match your home, find one that does!"

Source: AT HOME a blog by Joanna Gaines

Source: AT HOME a blog by Joanna Gaines
DIY Wooden Display Ladder
If you are a fixer-up fan, you've probably seen a lot of ladders used as decor: it is practical for hanging and drying towels, displaying cool weather cozy blankets and throws, as well as adding rustic charm to your interior. This last DIY project is easy to assemble and fun to create. In spite of its simplicity, it will add a lot of character to your home, due to the warmth and imperfection of natural wood. In short, you'll need wooden planks, dowels, stain, and paddle drill bit. This ladder can be used for decoration purposes only. It looks so nice with rustic rope wall art and simple faux cotton stems placed in a vase or container of your choosing! You can buy cotton stems online at Magnolia shop.
"Note the safety warning: This ladder is not strong enough to support human weight. Do not use it to climb." Have fun creating this rustic decor piece and place it afterward in your living room or bedroom.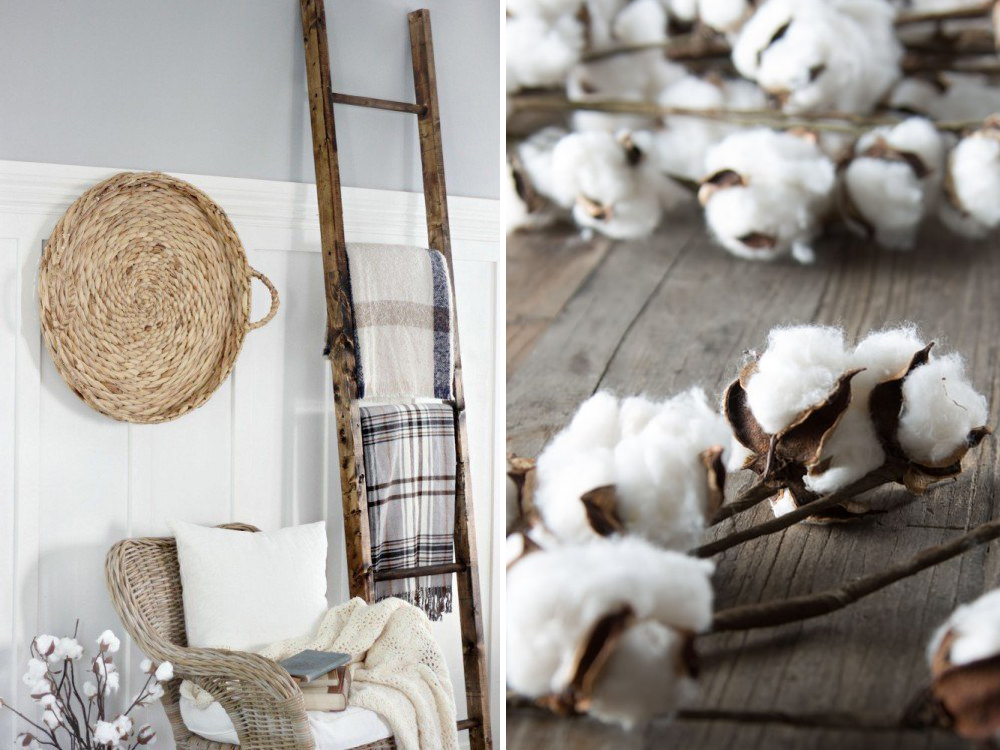 Source: AT HOME a blog by Joanna Gaines