Decorating your walls should be fun and rewarding! …But we often go with generic choices thinking that DIY art projects are only for those who were blessed with artistic talent.
Don't give up yet! Nowadays creating DIY wall art is easier than ever and it doesn't have to be an abstract art piece.
Now you really can create unique quality canvas art pieces that you'll not be ashamed of!
Here is another reason for trying one of these DIY art options. Finding a unique present for your friends or relatives is often extremely hard especially when you would like to give them something memorable and one-of-a-kind. Personalized or DIY wall art could be the best choice for a unique and thoughtful gift that will be appreciated for many years. With the help of experienced graphic artists, your canvas photo prints can be converted into pieces of art in one of many different styles of your preference.
With some of the options listed below, you even may not need to hire anyone.
We will look at some of the mobile art apps, desktop auto-painting software, and a few graphic artists-assisted solutions.
Mobile apps for DIY art
Pictures source: Prisma on Instagram
One of the newest and most "artistic" mobile apps around. The Prisma app transforms regular pictures into amazing images that attempt to replicate the human artistic touch. Most of other apps are merely work as photo filters. Prisma will allow users very quickly apply different art styles, creating truly stunning images.
Prisma's code is based on a rather sophisticated Artificial Intelligence algorithm which was developed by three scientists at Centre for Integrative Neurosci., Univ. of Tubingen, Tubingen, Germany.
A free version of the app will generate small pictures suitable for creating 6″ x 8″ wall art on canvas.
If you think that your Prisma picture deserves to become a large canvas wall art (bigger than 6″ x8″) then you have 2 choices:
wait for "coming soon" Prisma's high-resolution rendering service or
send your small Prisma-generated picture to one of the digital artists on Fiverr (cost $5) to convert it into a vector file which will allow high-resolution printing on any size of canvas or paper
This 99 cents app will help you with transforming even the most mundane photos into sophisticated wall art. Most of the filters are totally different from the previous app (Prisma). To get inspiration for your DIY artwork just look at what others have accomplished with Distressed FX.
Pictures source: artisto.my.com
Nice app if you don't mind paying $1.99 every month for removing "Artisto" watermark. Try a free version to compare it with Prisma app. Be prepared to deal with annoying ads.
This is the easiest option ever! No picture needed. All DIY steps are super simple: choose your dog's or cat's breed, select all the attributes, background, and such and then submit your order. If you don't want canvas prints it can be printed anything you want. Just look at this adorable cuteness!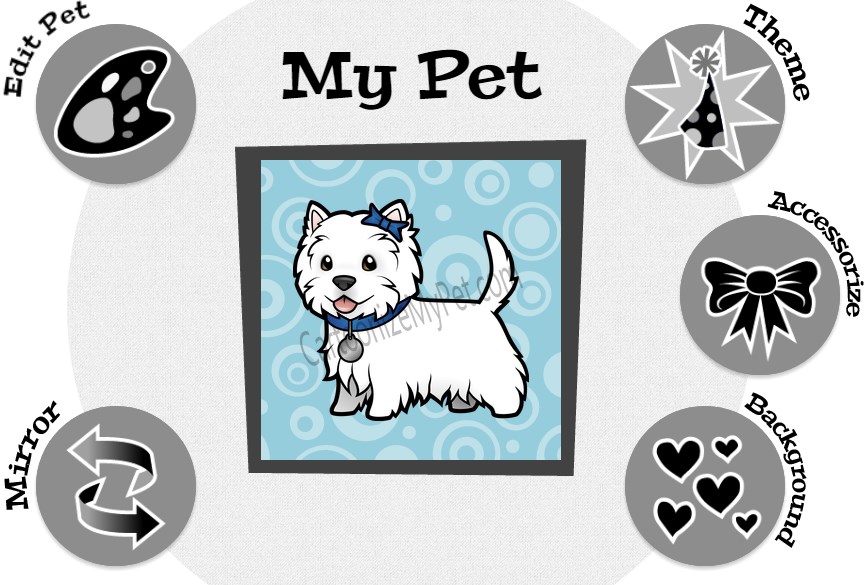 Source: cartoonizemypet.com
Desktop Painting and Auto-Painting Software: Painter Essentials

For under $50 this Auto-Painting tool magically transforms a photo into a painting. Here are your DIY art steps: choose your image, select a painting style, and then watch how SmartStroke™ brush technology starts painting your picture almost like a real artist. Before buying take advantage of 30-days free trial to see if you are happy with the results.
For under $90 this simply amazing 100% auto-painting program offers tons of styles, options, and adjustments. If you will devote enough time to playing with different settings, the results may be truly rewarding.
Painting from Photo, Vincent Van Gogh

It really can help you with creating beautiful images for printing on canvas. You can set high output resolution but be aware that it may take more additional time for finding the correct setting and rendering as well.
One way of overcoming this obstacle would be splitting your horizontal photo into 3 parts, for example. Rendering can be done faster using default settings for smaller images. As a result, you'll have a triptych – an artwork or photograph that is divided into three sections. Custom multi panel canvas prints on your walls, in general, organize wall space better than a bunch of non-related prints of different subjects and sizes.

Turn Photo to Monet Style Painting

Desktop Image Editing and Painting Software: Photoshop Essentials
More for picture editing and organizing than for auto-painting. Watch the video and see if you like watercolor or oil painting effect. Comparing with all the above software choices, this software creates less artistic looking images.
Using professional artists for your wall art projects
If you are not willing to spend time on installing any of the software or apps mentioned above then spend $5 on hiring a professional for converting your picture into art. Fiverr has an extensive selection of digital and traditional artists from all over the World. Remember to ask the designer to produce a file big enough to be printed on a canvas size that you chose.
Quality of artwork may vary on Fiverr. Choose carefully and ask the artist for additional work samples if you are not completely sure of his / her abilities. In this case, DIY means doing a thorough research.
Non-DIY wall art
Well, you still need to take or send a photo – sort of DIY, don't you agree?
AllPopArt is one of the places where you will get everything done in one place. Perfect for old-schoolers that still shoot photos on film and refuse to learn anything on computers besides checking email and posting lunch snaps on Facebook. Mail or upload a photo and soon your precious wall art on canvas will be delivered to your doorsteps.
Don't expect a classical portrait from All Pop Art artists. They do mostly what's in their business name – Pop Art.
Below are some wall art ideas from a list of the most popular prints on canvas from AllPopArt.
American Gothic

Source: AllPopArt
Warhol style 4 panels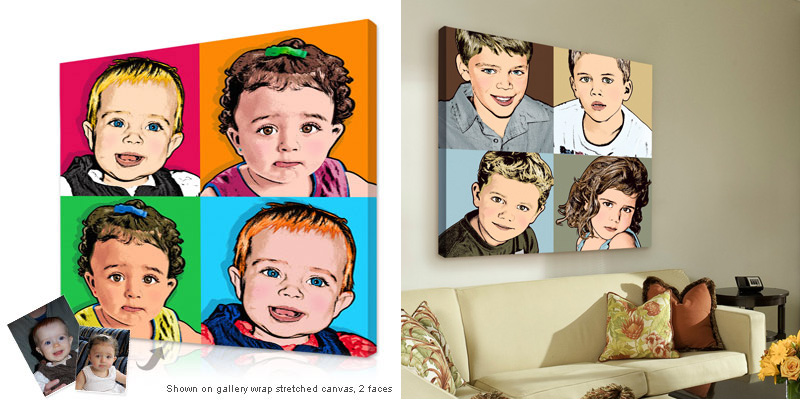 Source: AllPopArt
Warhol style personalized pop art portraits and wall art make for great, personalized gifts.
Pet portraits

UncommonGoods
Another choice of getting your personalized canvas wall art done by professional is UncommonGoods. They have a bit different art styles options, some of which are quite unique.
Personalized Dog Blueprints
After all pets getting their retro blueprints, let's take care of their owners!
Scientific "portraits" made from your unique DNA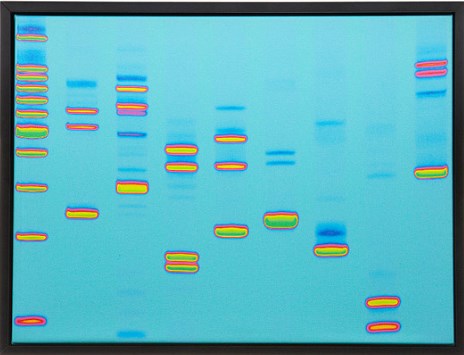 Source: UncommonGoods
Mona Jazayeri spent several years as a research scientist before leaving the lab to have 3 boys. When it was time to go back to work she searched for opportunities that would allow her to stay close to science, but in a more creative environment. After searching, she dreamed up her own workplace where science is fun, accessible and beautiful.
Over the Threshold Personalized Art

Source: UncommonGoods
Notes about creating and printing your artwork on canvas
Prints on canvas are offered now at many stores and photo studios but most of them will just produce canvas art print directly from the photos provided by customers. The simple fact of printing pictures on canvas would not convert your gift into a piece of art. Art is created with a personal touch of the artist who interprets the depiction of the subject(s) by eliminating unimportant or random details and stylistically transforming the whole image into one well balanced and harmonized composition.
Think again about taking part in creating something very personal and unique for your loved ones that is not available anywhere else… You simply cannot find a medium more perfect for expressing the degree of your care for that person. Even the fanciest and expensive gadgets may fade in comparison with personalized wall art on canvas because they are easily replaceable as everything else that is mass produced.
Don't choose mass production path in the area where you have an easy choice of creating one-of-a-kind gift!
Working on DIY wall art Christmas project may turn the notorious "Christmas gifts hassle" into fun and enjoyable experience!
From pictures of family members and pets to favorite landscapes or art masterpieces, you have a huge range of potential gifts for virtually any occasion and any type of person.
Enroll other family members and friends into your canvas print projects.
Don't be limited by just the pictures of your family members. Portraits of pets, landscapes of the favorite vacation spots or even some cartoon personages would make an excellent gift.
A good thing to keep in mind would be that not each and every snapshot from your photo collection may work well on large canvas prints due to a number of reasons. A few very common ones are the distortion due to the lens being too close to the person or subject, flattened appearance produced by the direct light from the built-in flash, low resolution, severe underexposure (grain, color distortion), soft focus etc.
In other words, in order to get satisfactory results, you should always provide to the service bureau good quality pictures that have enough resemblance and details. This is especially true when you are ordering regular enlarged prints on canvas or paper.
Many of people have completely wrong ideas about improving image quality based on a number of TV shows where experts demonstrate incredible image enhancing techniques producing sharp pictures from a very low resolution and low light security camera shots. In real life, the capabilities of image enhancing software are very limited because all the techniques and algorithms are based on interpolation or guessing values of the new pixels on the enlarged version.
Guessing may work fine for primitive shapes but for sophisticated subjects like human faces there is a limit in maximum size of enlarging low-resolution photos – beyond this limit prints on canvas or paper will look extremely blurry.