You may be wondering, why should you bother building DIY desks if so many cheap options are available? The first thought that comes to mind in case you need a desk, just stop by at IKEA or order it online and you are done.
Why should you consider building a DIY desk?
There are many reasons why a manufactured desk may not fit your needs:
there is some leftover wood (or door!) laying around and you want to use it – check out some solutions below;
all the desks that are available for sale don't fit your design needs – check out below free rustic DIY desk plans;
the budget is tight (check out the $15 dollar desk tutorial below!);
you have limited space in your home and a DIY desk is the only solution;
your family needs the desk tomorrow – check out 15 minutes DIY desk solution;
the satisfaction of a well-done DIY project is priceless.
Consequently, a DIY desk would be your only solution. Check out our collection of simple DIY desks that are easy to build and look amazing!
Are you interested in DIY woodworking projects? Check out the most popular DIY projects on our blog:
Are you looking for plans to build a DIY desk? From a simple floating desk to a DIY standing desk, you'll find an inspiring solution to your DIY desk dilemma.
1. DIY Floating Desk
Learn how to build a simple DIY DESK using readily-available materials. It will be perfect for a study, a homeschooling room, or a home office. You'll be amazed by the simplicity of this DIY project that adds functionality to a study room and an inspiring solution to your DIY desk dilemma.
Did we mention that it is extremely budget-friendly? All this beauty for under $100! For a full tutorial for this DIY project CLICK HERE.
You can build this sleek modern desk for under $40! It runs along the wall which allows the room to keep its functionality as a playroom and a study. Most importantly, it is long enough and wide enough for schoolwork or legos creations (or even crafting)!
Love the colors and modern simplicity of this project! For a step-by-step tutorial from WithintheGrove, click HERE.
3. Easy DIY Desks for a homework station
You would love these frugal creations from creative Moms & Dads! Just perfect for an organized homework station or a dedicated homeschool room.
Do you have a couple of office file cabinets and a piece of wood? You can create your own perfectly-organized home office space as well. Add a few shelves and a wall organizer for functionality and final design touches.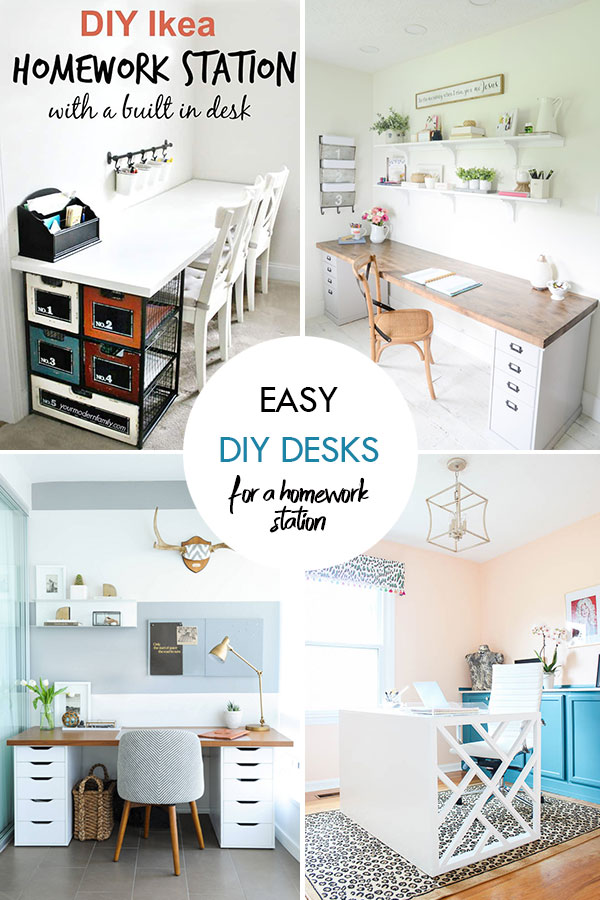 For sources and tutorials, click the links below:
Use only 4 power tools and learn to build this stylish A-frame DIY desk with drawers. A DIYer and master-woodworker Anika provides very affordable build plans and a step-by-step 3D model.
5. How to Make a DIY Desk out of a Door by renovatedfaith.com
You would love this creative IKEA hack! Learn how to make a stylish and functional DIY desk using an old door, glass top, and IKEA drawer units.
Soon you'll have the one-of-a-kind DIY homework station, office desk, or craft table that is functional and sophisticated. You can do it! DIY enthusiast and crafter Karin provides a step-by-step tutorial and a full list of supplies.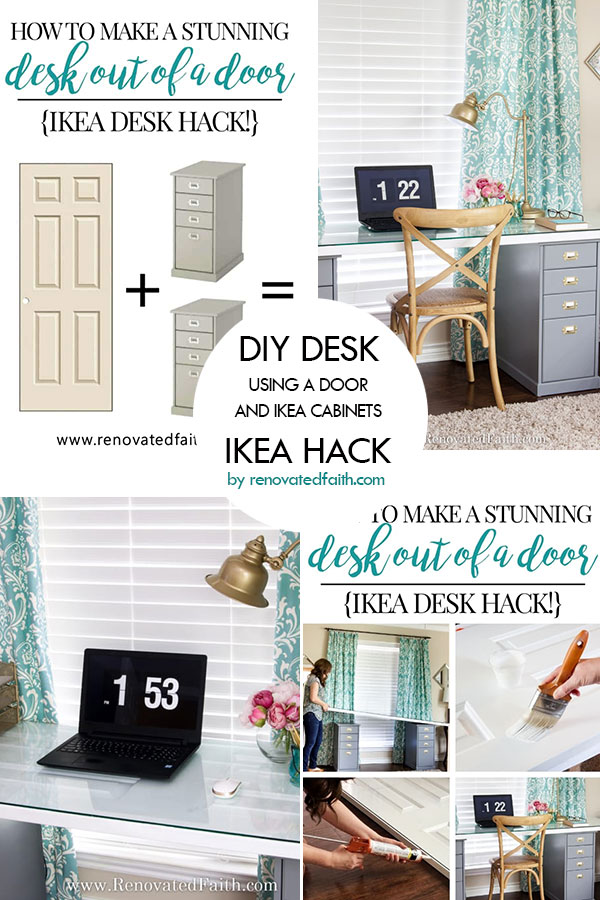 Source: IKEA desk hack by renovatedfaith.com
6. Collection of Easy DIY Desks (with plans)
If you need to build a DIY desk and would like to have plans, check out this collection of rustic, modern, and functional desks.
Caution: your friends may get envious when they see this rustic hand-made beauty in your home office. Get L-Shaped Double X Desk plans HERE!
DIY Farmhouse X-Desk comes with Free Plans! It is a gorgeous budget-friendly solution for your DIY desk dilemma.
If you like the look of a table with hairpin legs, check out the easiest DIY Dream Desk tutorial by heywandererblog.com. Modern and trendy hairpin table legs come in different heights and colors but these copper ones look gorgeous.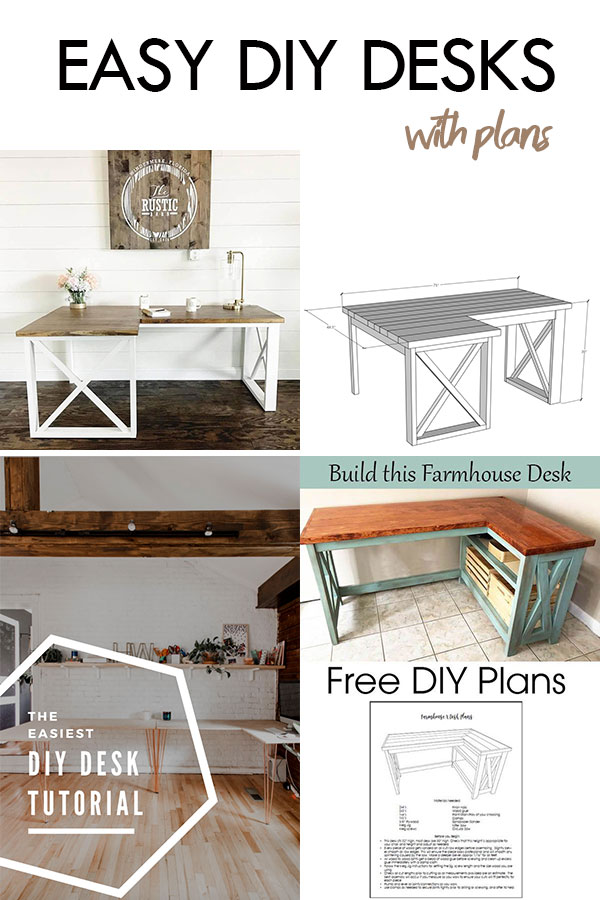 Sources and tutorials:
7. FARMHOUSE X OFFICE DESK presented by handmade-haven.com
Are you looking for a rustic farmhouse office desk to match your home decor? This step-by-step tutorial with the list of supplies is exactly what you need. For a small fee, you can purchase printable plans for this X-desk HERE.
8. Homeschool Desk by Magnolia
Do you remember Episode 10, Season 5 of HGTV's Fixer Upper? In that remodeling project, Chip & Jo were able to add a dedicated study room for the kids.
Light, bright, and airy, this stylish study room is perfect for afternoon reading, homework, and art projects. Before and after photos reveal a stunning transformation of the space.
Jo's design inspiration gives you an insight into her creative process so you can re-imagine your own study room with DIY floating desk that suits your family.
In this DIY project, you will learn how to create a modern accent wall and a DIY floating desk with a list of supplies, a step-by-step photo tutorial, and clear instructions. For a tutorial, CLICK HERE.
10. Modern Small Desk Solutions
These modern DIY Desks solutions are simple yet stylish. To keep clutter away from the work surface, add a few floating shelves above the desk.
11. Simple and Stylish Study Nooks
These simple DIY desks will be perfect for any modern interior, especially if you don't have room for a dedicated study room.
Sometimes, just a small study nook is all you need to supervise homework assignments or use your laptop to work from home.
12. Simple DIY Study Desks Collection
These modern study desks don't take too much room in your house. Whether you have a small nook in your living room, a niche in the hallway, or a small space you can separate with a barn door, these DIY desk solutions will provide a functional and stylish workspace.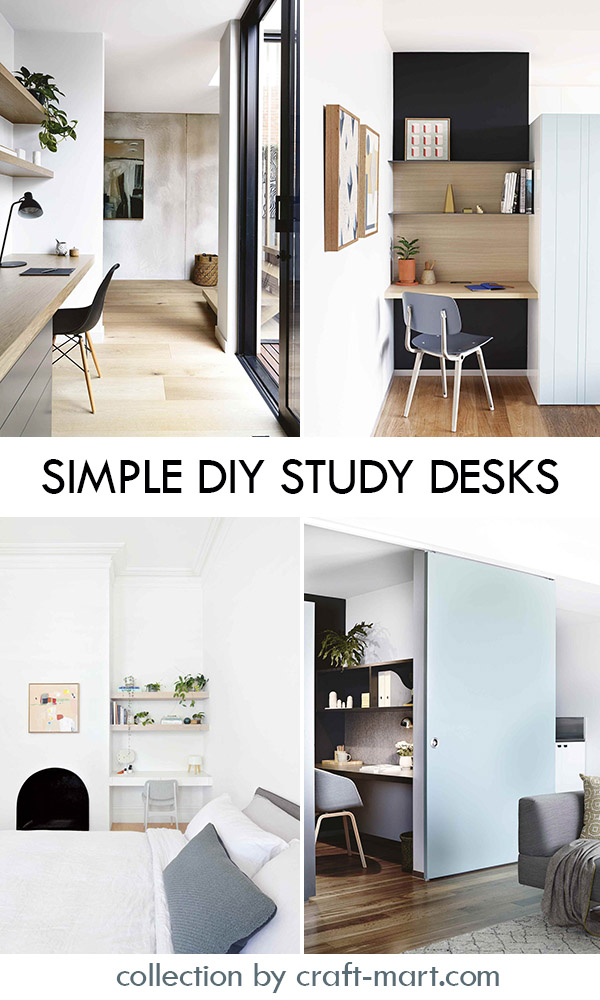 Source: Simple DIY Study Desks
13. Simple Homeschooling Desk
Even a small space in your home can become an oasis for productive studies and homework. A perfect solution for a homeschooling desk can be using your existing furniture wisely and styling it with just a few elements.
Source: 12 Study Nook Ideas for Your Home
14. Stylish Home Office Desks
With more and more people working from home, it becomes extremely important to have a functional and esthetically-pleasing home office space.
Use all that time (and money!) you are saving on the daily commute to style the space so it inspires your productivity and creativity. Check out our collection of chic home office desks that are equally perfect for students or work-at-home moms.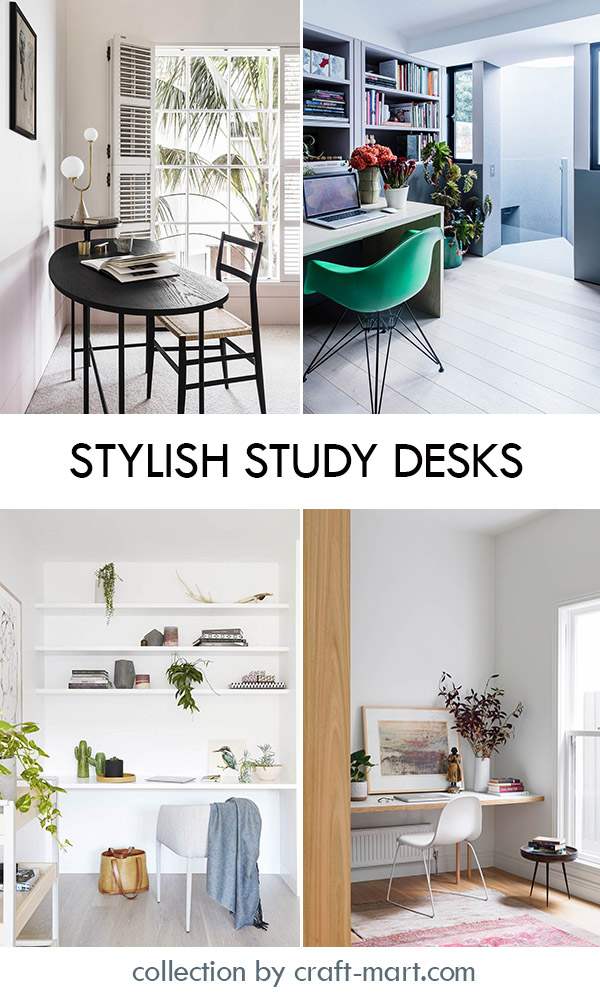 15. DIY Desk that takes only 15 min to create!
If you are in a situation that requires a quick solution to a problem, this 15-minute DIY desk project is for you. Tired of homeschooling at the kitchen table and all the clutter it creates? You are not alone.
Check out this DIY desk by Brianna from bloomintheblack.com. You'll add mid-century flair to your home with a simple project, smart shopping, and good design. For a tutorial, click HERE.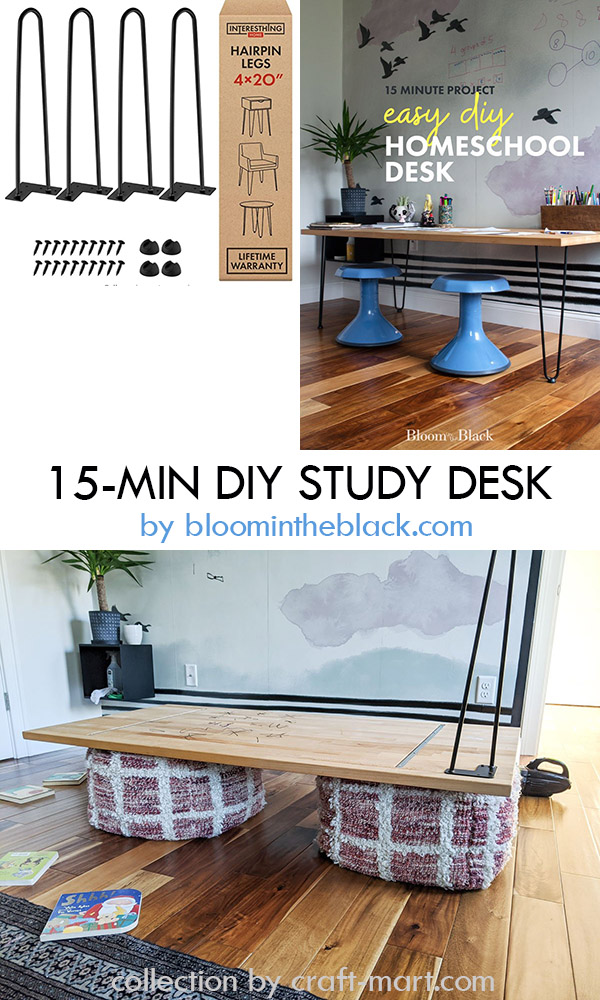 Source: 15-min DIY Desk by bloomintheblack.com
16. Building a DIY Standing Desk by abeautifulmess.com
There are lots of sitting to standing desk converters on the market, but what about building a DIY Standing Desk? Two creative sisters, Elsie and Emma from abeautifulmess.com, did just that – created a spacious wrap-around standing desk for their office.
The height is perfect for standing and working and a couple of high chairs allow you an option to sit down if you want to. Most importantly, while there is plenty of desktop space, the center of the room is free and clear. For a tutorial from abeautifulmess.com click HERE.
17. DIY Workbench Desk (with FREE PLANS)
You can use a workbench or shelving hardware kit from HomeDepot to build this sturdy workbench-inspired desk. The easy tutorial provided by jaimecostiglio.com has a link to a FREE DESK PLANS complete with step by step instructions, materials, and cut lists. Click here for a TUTORIAL from Jaime.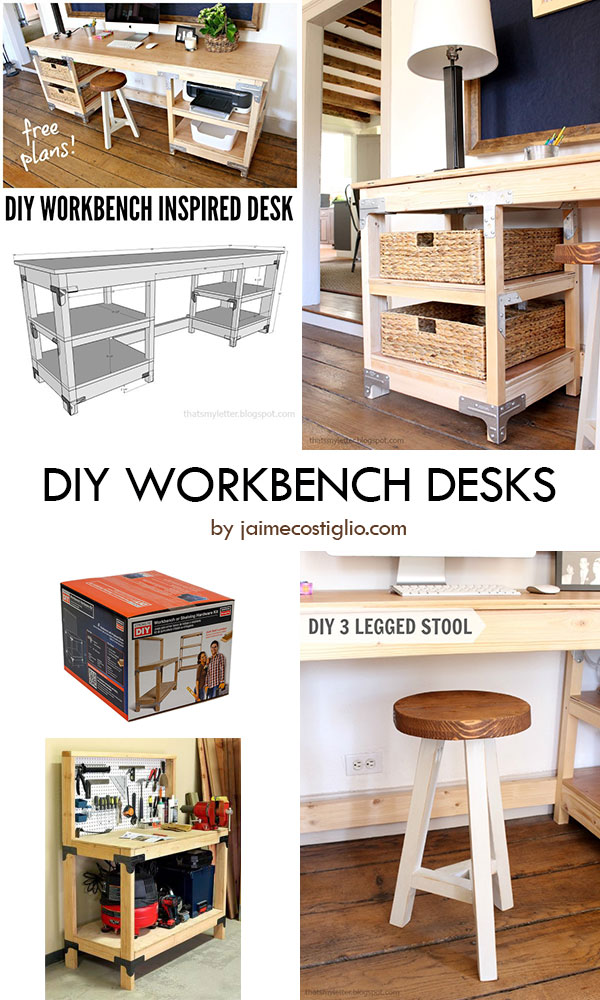 18. IKEA hack: DIY Standing Desk by papernstitchblog.com
We all agree that IKEA hacks are the best, so here is a tutorial for a DIY standing desk from papernstitchblog.com that will completely transform your workspace. Having storage is huge (especially if you are a crafter) so these nice wooden cabinets from IKEA are life-savers.
For a tutorial from papernstitchblog.com CLICK HERE.