We generally don't see round houses built by the major home construction companies. Many of us think that only ancient Mongols used to live in strange-looking circular houses called Yurts many centuries ago. Nowadays we don't even see round circus tents anymore…
It may come as a surprise but round houses are actively continued to be built around us ranging from tiny granny pods to impressive multi-million dollar villas and skyscrapers. There is only a handful of dedicated round home builders yet they are doing an increasing volume of construction year after year. Some of them manufacture small round house kits that you can even assemble yourself while others custom build 3-10 bedroom homes consisting of a few interconnected round modules.
So, why some people choose round house plans over regular ones?
Let's examine what high-level professionals like World-famous architect Eli Attia write about the cons and pros of building circular houses.
1. The Round form is the most economical in terms of exterior walls vs interior space
The exterior wall surface, in general, is the most expensive part of the building. We all know that exterior walls should protect us well from extreme temperatures and the elements. Saving money on insulation and materials will result in energy waste and high utility bills.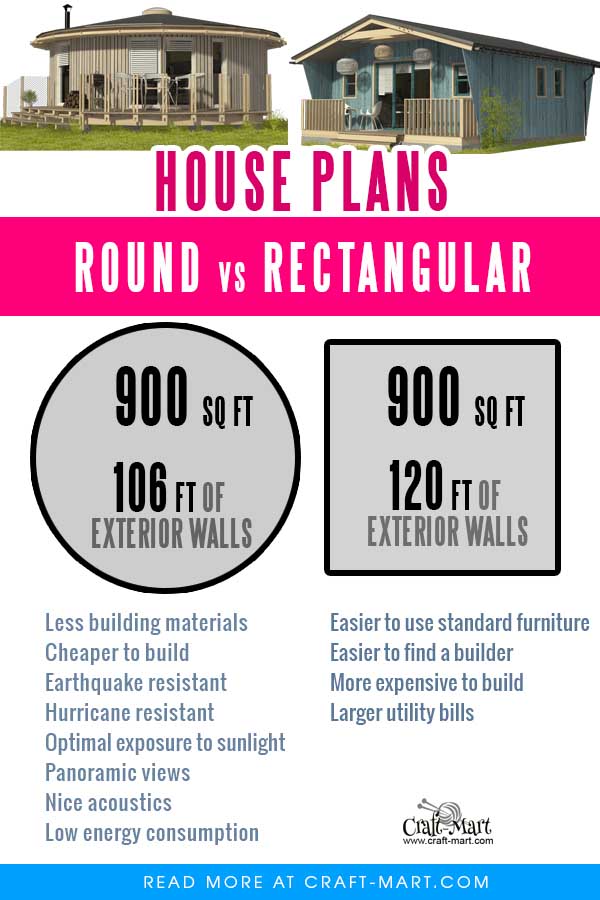 The above drawing illustrates that building a small 900 SQ FT round house will require 14 FT fewer exterior walls than a 900 SQ FT square house. Imagine the difference if the rectangular house plan would consist of several squares and rectangles as most of the modern home plans usually do…
Eli Attia states:
…a round building form is significantly more resource-efficient than any other building form, including the most environmentally sound homes built today.
2. The best hurricane proof houses are round houses
Every year hundreds, sometimes thousands of homes get destroyed by hurricanes. Round homes make much better hurricane-proof houses than traditional square ones. Here are a couple of examples showing round houses built by Deltec Homes in Florida right after hurricane Michel.
Both videos show only a loss of some roof shingles and no other damage. The answer is in streamlined shapes of circular homes – the wind goes around the curved walls without strong resistance.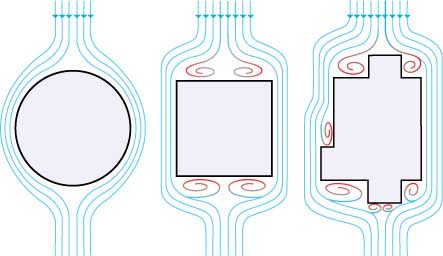 …the superior aerodynamic behavior of the Round house reduces the wind pressure load acting on the building to its minimum — less than half (!) that of a square building (center) and much less than irregular building forms (right), making the RHT's round form the most effective, least expensive to withstand high winds. – Eli Attia
3. Earthquake resistant
Small round homes that some people may also call Yurts are often assembled from individual panels that are tightened with a cable near the roof. This is done to avoid putting the post in the middle of the house that supports the roof. This cable system creates a super sturdy structure that can sustain even pretty strong earthquakes.
Larger round homes are often designed as several interconnected round modules. So, instead of one large roof, each module supports just a portion of the roof which is lighter and has fewer chances to collapse during the earthquake. Round home builders like Deltec Homes also use stronger roof ties for attaching roof trusses to walls. The whole house is usually designed to be wind, hurricane, and earthquake-resistant at the same time.
4. Energy efficient
During windy conditions, the air goes around the house penetrating much less through the spaces around windows and doors. Flat walls of regular rectangular homes often work as sails resisting the air going around and letting it in. Thus, circular houses are a lot more energy efficient during cold and hot weather.
In addition, heating or cooling the round house is also easier and faster because the air goes around the curved walls and there are fewer pocket areas where cold or hot air can be trapped.
5. The Round house gets more daylight
More daylight means not only saving on utility bills but also sustaining a healthier environment inside the house. Although we all should be careful about overexposing ourselves to excessive doses of sunlight, it is also proven that ultraviolet UVB rays coming from Sun are also very damaging to bacteria and even the most dangerous viruses (see a recent study).
Ultraviolet (UV) light destroys the molecular bonds that hold together the DNA of viruses and bacteria. UV light is a particularly good option for sanitation because it kills bacteria regardless of drug resistance and without toxic chemicals. – Katie Scarlett Brandt – insider.com

Now, after we established that round homes have many important advantages over the traditional square ones, let's look at what affordable round house options for budget-minded people do we have here in the US.
There are two US manufacturers that fall into this category: Smiling Woods Yurts and Freedom Yurt Cabins. Don't let the term "Yurts" confuse you – their products are not round tents made of deer skin. Both companies produce all-wood round cabins with tons of customization options.
For people with a bit more substantial budget in mind, there is another round house builder Deltec Homes that offers a wide range of round house plans from 300 SQ FT to 2,500+ SQ FT.
Wooden round house kits by Smiling Woods Yurts
Birch 20 – 320 SQ FT cabin
20.5′ in diameter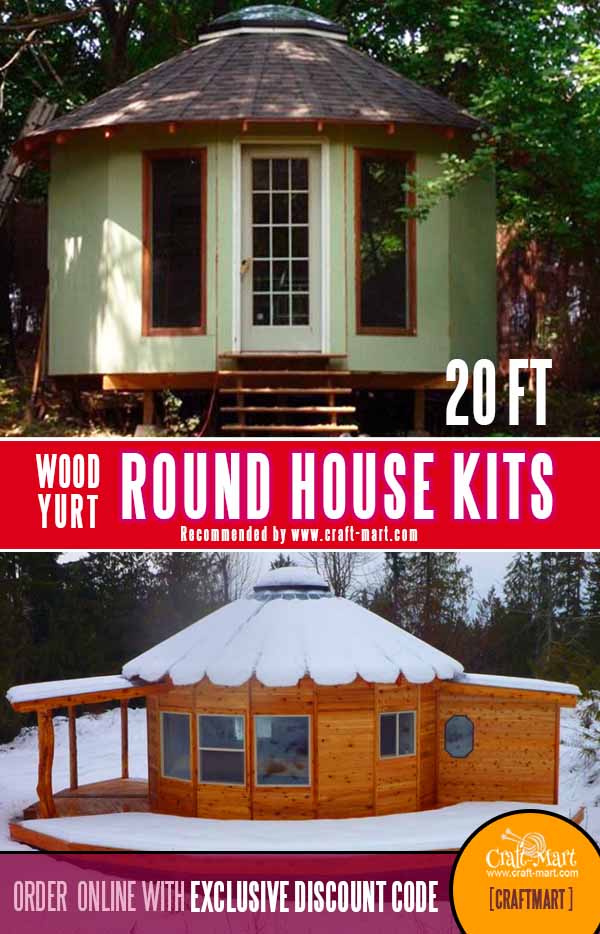 If you are a fan of tiny homes then this round cabin may work out for you. There is enough room for a kitchen and a bathroom. The kit comes with 5 windows and 1 door and consists of the outer shell and the roof.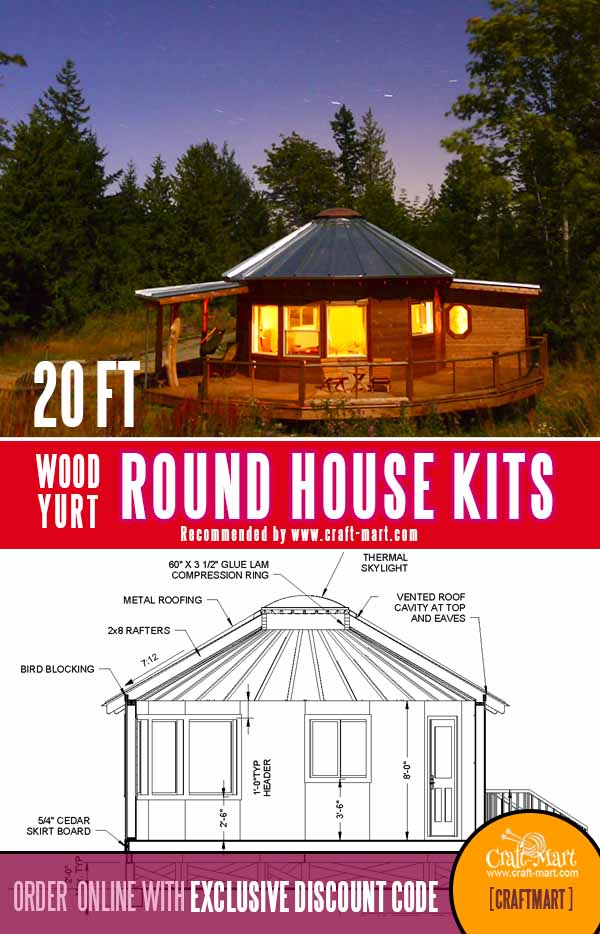 You may order kits of different wall heights ranging from 9′ to 14′. As always with these kinds of kits, the foundation and the floor must be prepared by the customer. Naturally, interior walls and appliances are not included. The wall and the roof assembly time is 3-5 days.
Maple 25 – 510 SQ FT cabin
25.5′ in diameter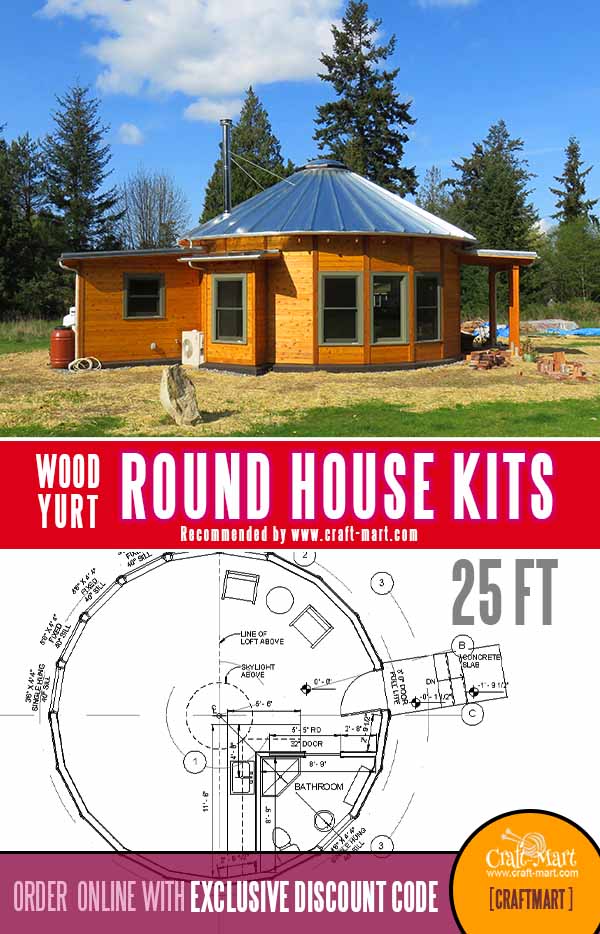 This 510 SQ FT cabin is almost two times larger than the previous one. As you can see on the suggested floor plan, there is plenty of room for a bathroom and a kitchen. Priced around $30K, this small round house kit may serve as the base for a granny pod.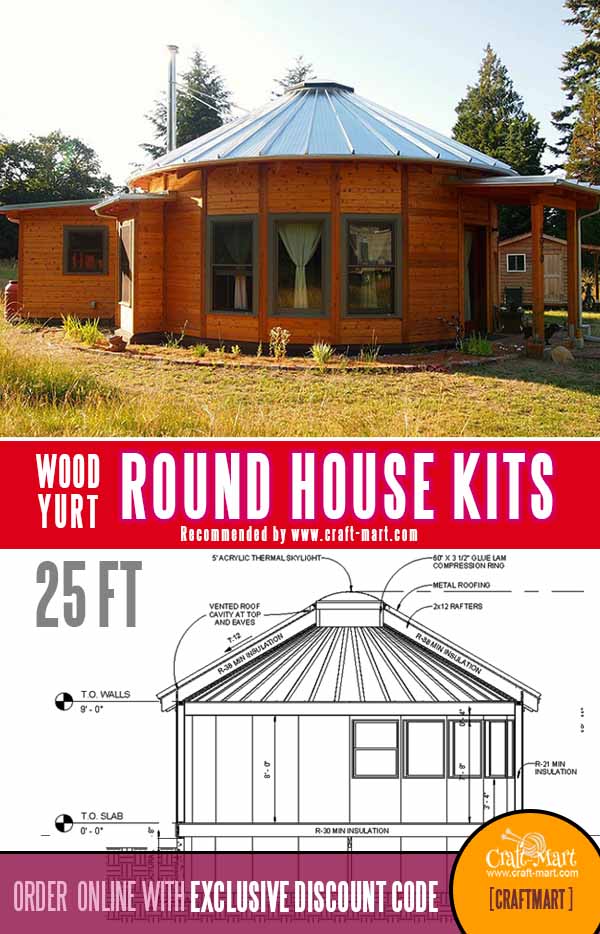 Adding a small covered porch is a good idea especially if you're building it for your elderly parent. Seven windows along with the central skylight will be bringing plenty of sunlight.
Cedar 30 – 730 SQ FT cabin
30.5′ in diameter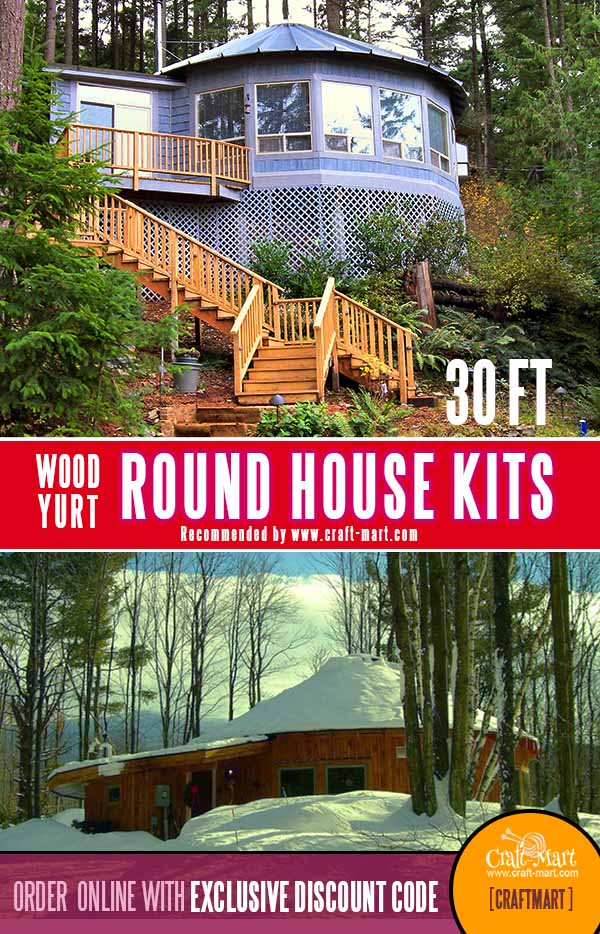 With this much square footage, we are talking about a small family home. Many people chose this model as a base adding wrap-around porches, winter gardens, lofts, etc.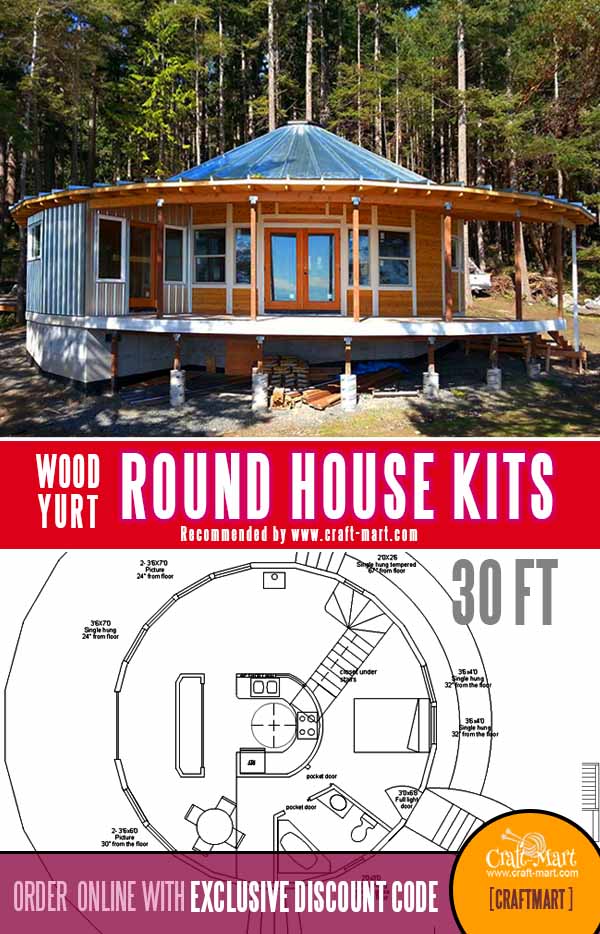 The company can provide you with many examples of what others did. Imagine sitting in a spacious living room enjoying a panoramic view (9 windows are included).
Ponderosa 35 – 930 SQ FT cabin
34.5′ in diameter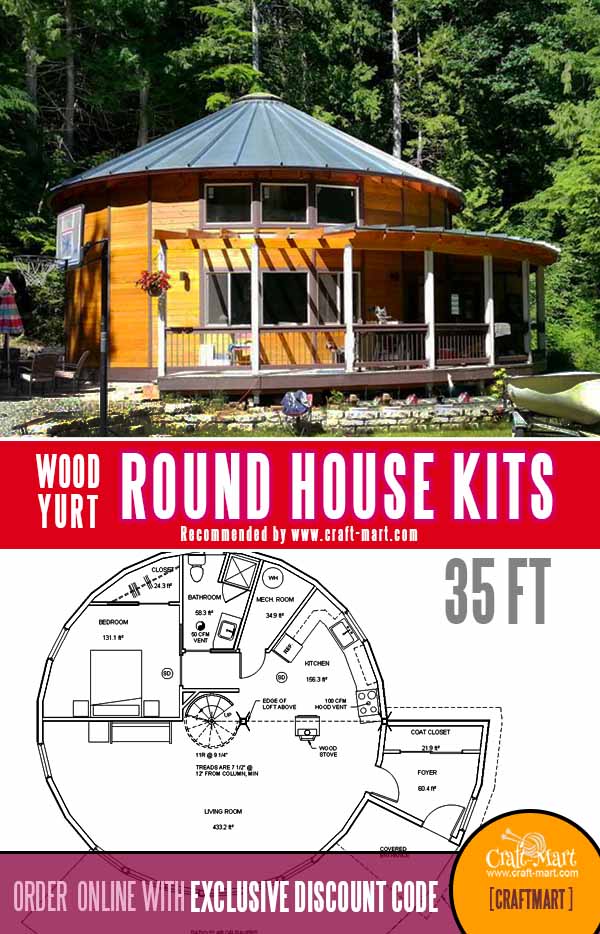 By any measure, this circular house can be a solid family home. If you'll choose 14′ walls then you can easily have a nice 2nd floor above the bedroom and the kitchen.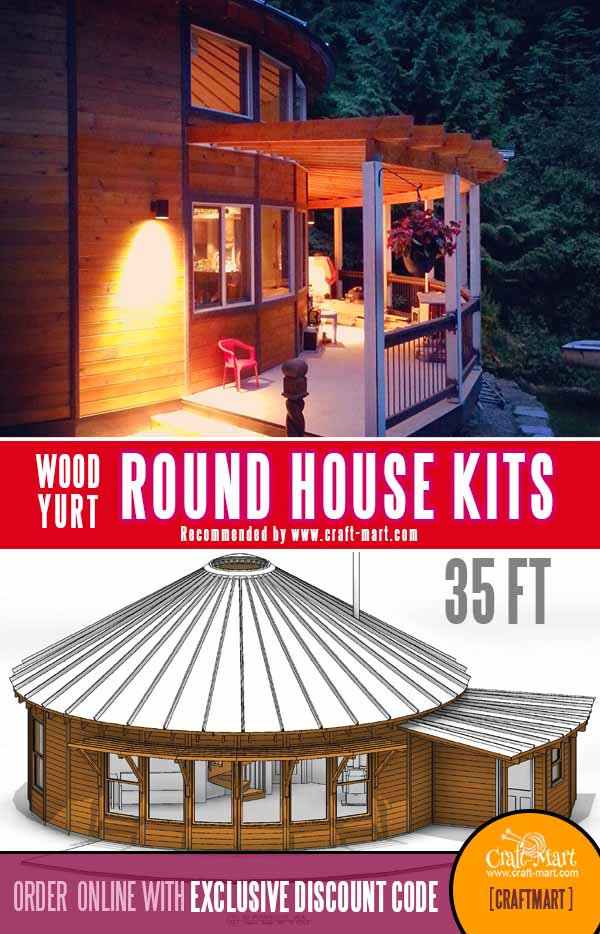 Even if you'll select 9′ walls there will be so much light providing by 11 windows and skylight.
Sequoia 41 – 1300 SQ FT cabin
41′ in diameter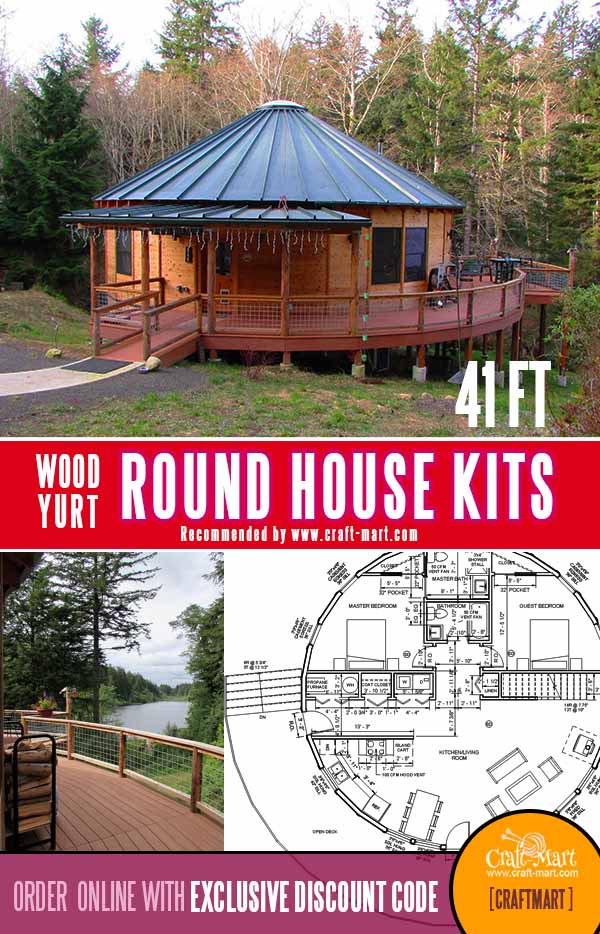 This 1,300 SQ FT model can be not only a family house but also serve as a building for small gatherings like yoga classes, small school auditorium, etc.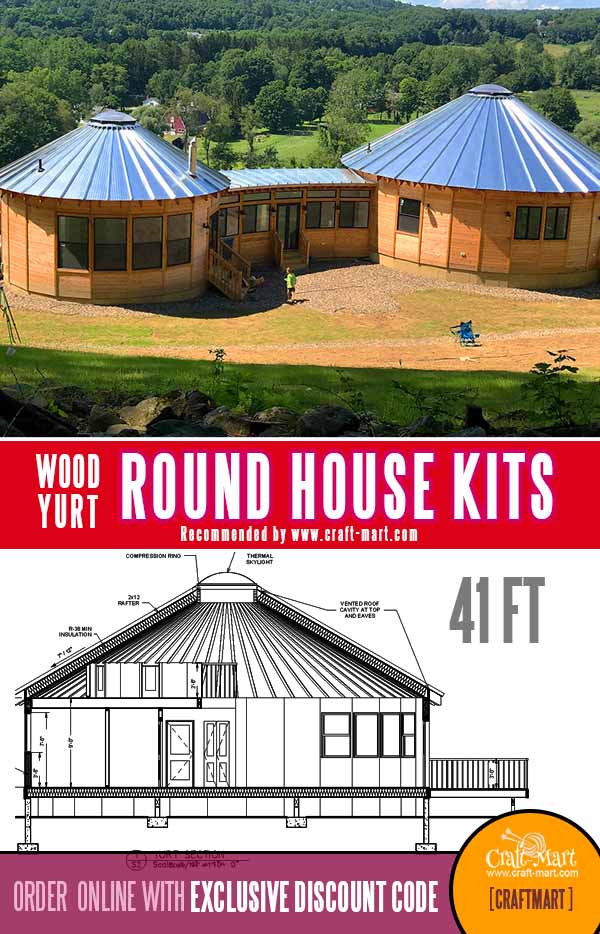 With enough imagination, you can create unique combinations of round modules that may work out much better than the traditional square designs.
Get an exclusive $250 OFF discount for any Smiling Woods Yurts round houses by submitting this form!
DIY Round House plans
These round house floor plans with cost to build come from a group of professional architects and designers "Pin-Up House" from the EU.
Take a look at these affordable floorplans of round houses that you can build yourself (with a couple of friends on some stages).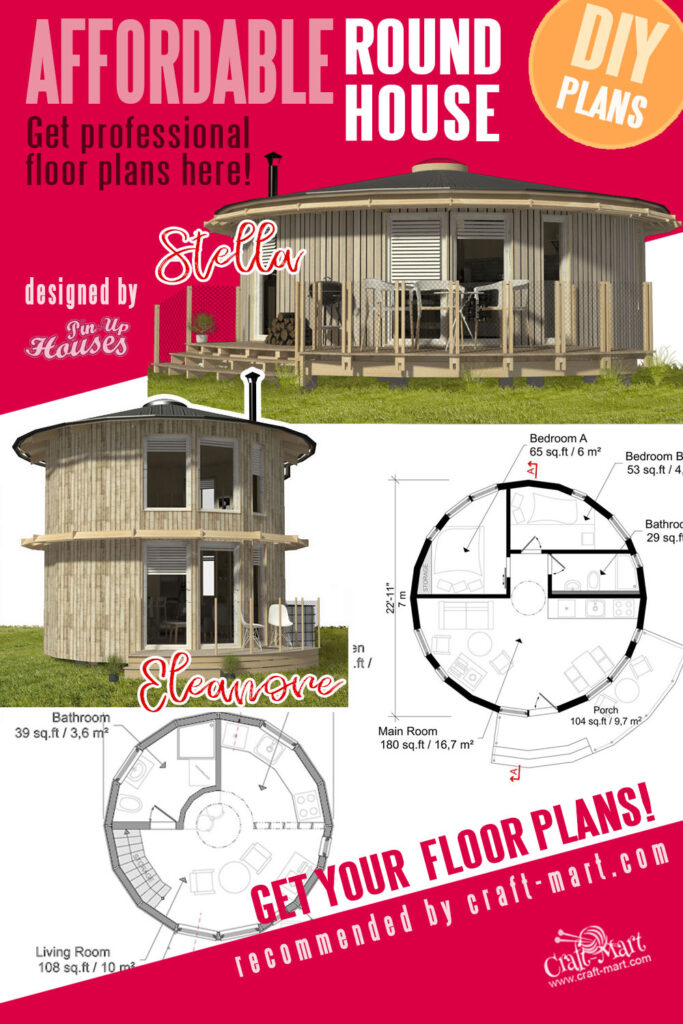 All construction estimates are based on the actual building costs. Yes, they actually build most of the models with their own hands! For people living in windy regions, these round house plans may provide a good solution.