DIY coastal home decor will help you transform your home into a relaxing beach paradise with these easy DIY decorating ideas.
Are you dreaming of sandy beaches and ocean breezes? Do you want to bring a piece of the coast into your home? Look no further than this creative collection of DIY coastal decor ideas.
Whether you live oceanside or far from the shore, these projects will give your home a touch of seaside charm. From beachy wall art to seashell crafts, this article will provide you with all the inspiration you need to create your coastal paradise.
So grab your favorite craft tools and get ready to transform your home into a beachy oasis!
Beachy Wall Art Coastal Home Decor
One of the easiest ways to add a touch of beachy charm to your home is by creating your own wall art. For this reason, use driftwood, shells, or even fishing nets to create a unique piece that will bring the coastal charm into your home.
A simple idea is to paint a canvas with ocean colors and attach seashells or sea glass in the shape of a wave. For a more rustic feel, use driftwood to create a beach sign with a favorite coastal quote or your family's name.
Furthermore, you can create a realistic beach scene using acrylic or resin pour techniques. In fact, when you see how easy it is, you'll join art enthusiasts who turned this craft into an art form.
Looking to add a touch of nautical charm to your home? Check out these easy DIY ideas for nautical accents that will give your home a seaside feel.
$22 DIY Coastal Home Decor Idea
Gone to the Beach! Coastal Home Décor is a popular choice for home decorators. What if you can add beach charm without breaking the bank? Check out this tutorial to create a $22 beach wall art.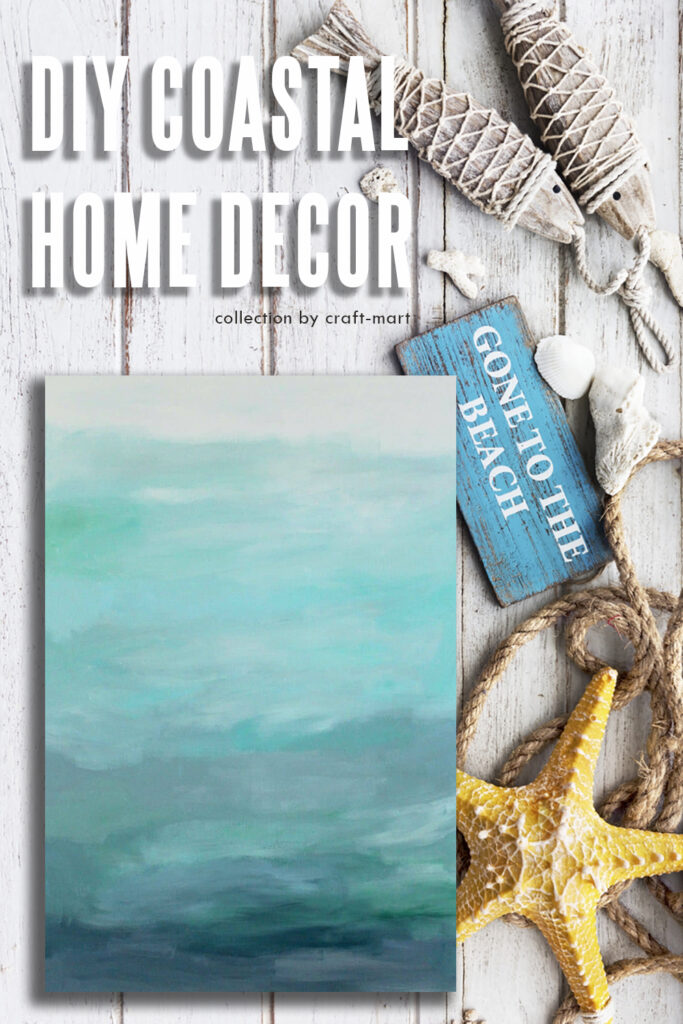 Seashells in the Sea Shore Coastal Home Decor
Obviously, the quickest and easiest way to bring beach charm to your home or cottage is to create a DIY wall art piece using sea shells. Furthermore, add a driftwood art frame for an even more rustic feel.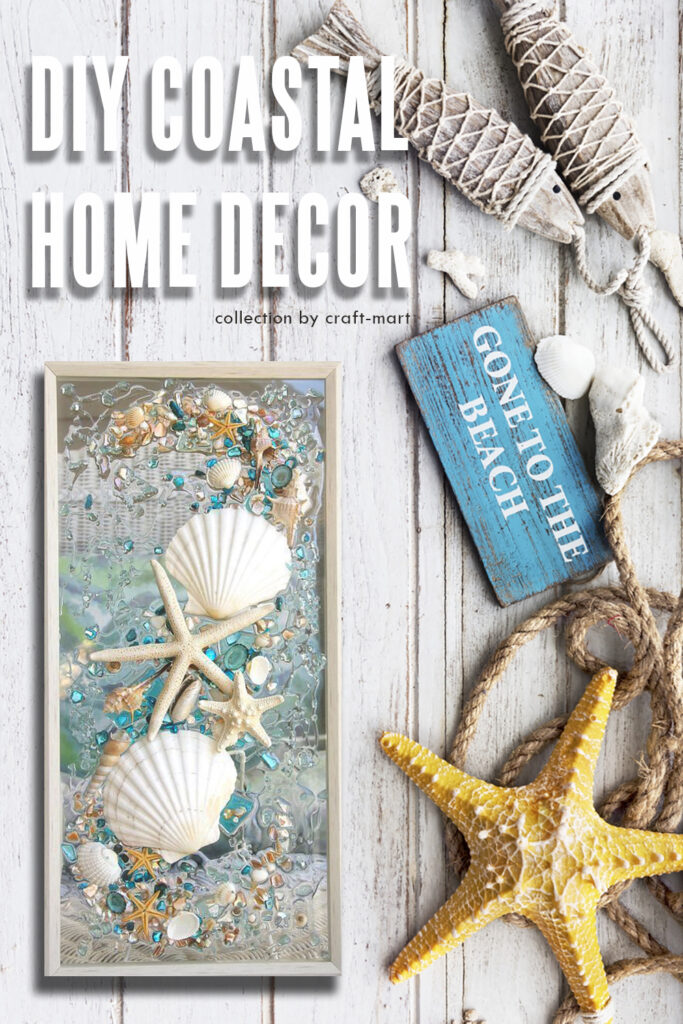 Source: Seashells on a Sea Shore
Acrylic Pouring Beachy Art
Have you seen these fun art tutorials popping up all over social media? Suddenly, you can see them on Pinterest and YouTube. Straightaway, everyone is captivated by these easy art techniques.
In fact, they are pure fun. As a result, you can create beautiful beachy art in your favorite coastal palette.
Check out this easy tutorial and start creating! DIY coastal home decor has never been easier.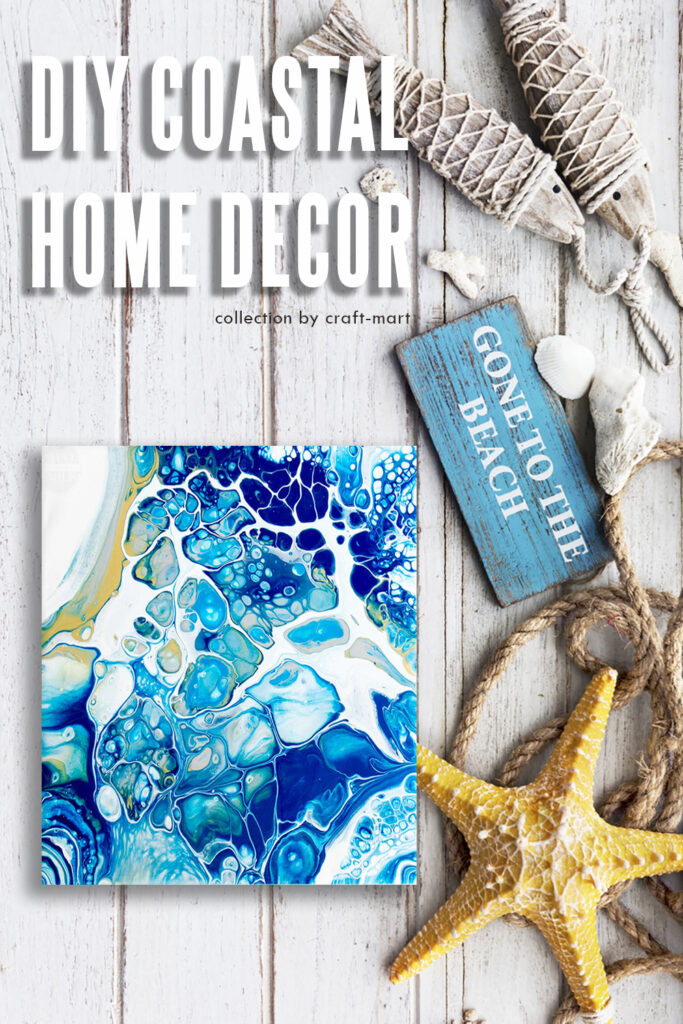 Source: Acrylic Pouring Beachy Art
Nautical Accents
Another way to bring the coast into your home is by incorporating nautical accents. These easy DIY ideas will add a touch of seaside charm to any room.
Start by creating your own anchor-themed wall art with a plain canvas and some rope. Wrap the rope around the canvas in a zig-zag pattern and glue it in place. Then, paint an anchor silhouette on top of the rope.
Another option is to make your own nautical knot coasters or placemats using rope and hot glue. Simply form the rope into a spiral and glue the layers together until you have a flat coaster shape. If you want to add some color, dip the rope in dye before forming it into a coaster.
If you have a collection of seashells, turn them into a statement piece by filling a glass vase with them. First, layer some sand or pebbles for added texture and display your vase on a shelf or table. Finally, add some nautical flair to your curtains by tying them back with a rope knot.
Ready for more coastal DIY inspiration? Check out driftwood decor.
Mason Jars DIY Coastal Home Decor
If you are in vacation mode, we have a quick dollar-store DIY coastal home decor idea. With a simple twine from a dollar store and a blue-tinted mason jar, you can easily create this nautical accent.
You can fill a fishnet-wrapped mason jar with craft sand and sea shells for a 'beach in a jar' idea. If you can't go to the beach, make the beach scene come to your home!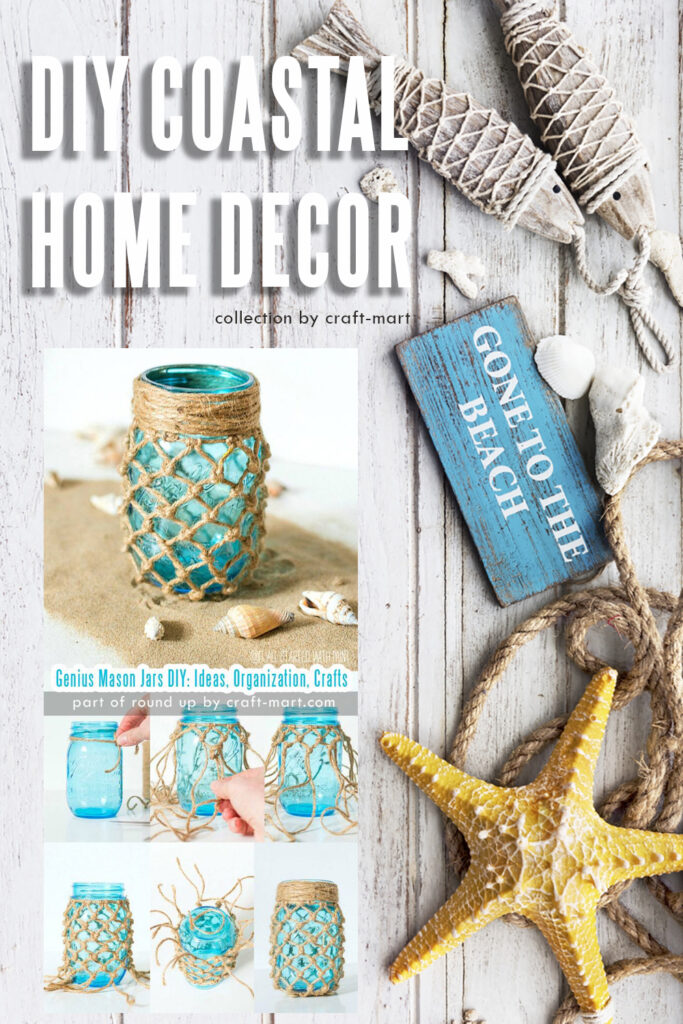 Source: Fishnet-Wrapped Mason Jars
Rope Knots Coastal Accents
To continue the theme of rope nautical accents, here is another beachy creation. In fact, it is known as a monkey knot.
Done with widely-available sisal rope, this easy DIY decor is fun to create. You can use it as a standalone item or in combination with other items to create a centerpiece or vignette.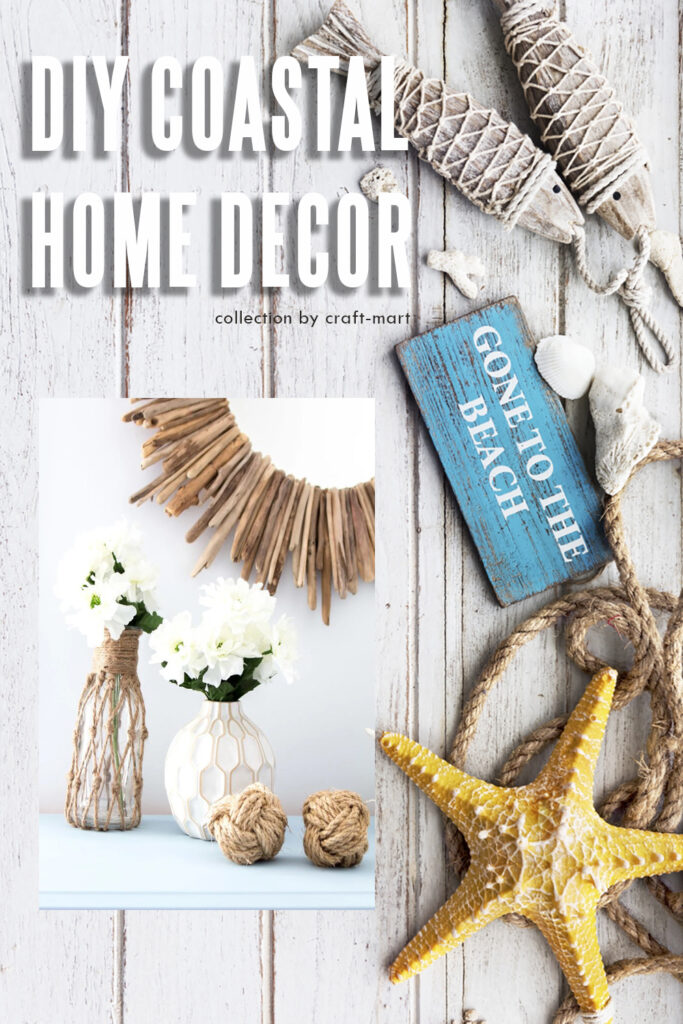 Source: Rope Knots Coastal Accents
Pottery-Barn Inspired Jute Placemats
As a matter of fact, this is one of the most popular DIY craft projects. All you need to create these coastal table accessories is 3/8″ jute and a hot glue gun.
Consequently, you can create a rustic beach cottage tablescape with these nice placemats. Furthermore, it won't cost a lot.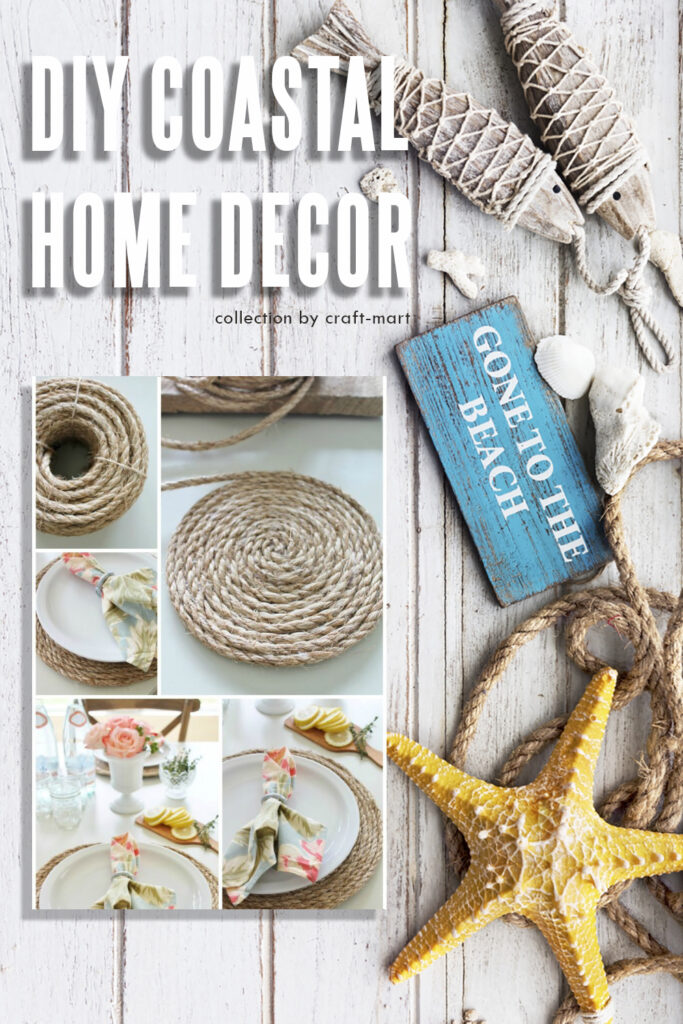 Source: Pottery Barn-Inspired Jute Placemats
Driftwood Decor
As you gather beachcombing treasures to transform your home into a coastal paradise, be on the lookout for pieces of driftwood. In fact, these unique, weathered pieces of wood can add a rustic touch to any room.
One easy way to incorporate driftwood into your decor is to create a statement wall hanging. Simply attach pieces of driftwood to a length of twine or rope and hang your finished creation on a blank wall.
Furthermore, you can also use smaller pieces of driftwood to create coasters or a centerpiece for your dining table.
Looking for more DIY ideas to give your home a coastal vibe? Check out seashell crafts that will complement your driftwood decor perfectly.
Driftwood Orb Coastal Decor
If you have been to the beach, you have seen those weathered pieces of wood. Collecting them is fun as you can really find some treasures after a storm.
Consequently, you clean up the beach! Furthermore, you can give them a second life by upcycling them to create amazing DIY coastal home decor, such as this designer accent driftwood orb by Made In A Day.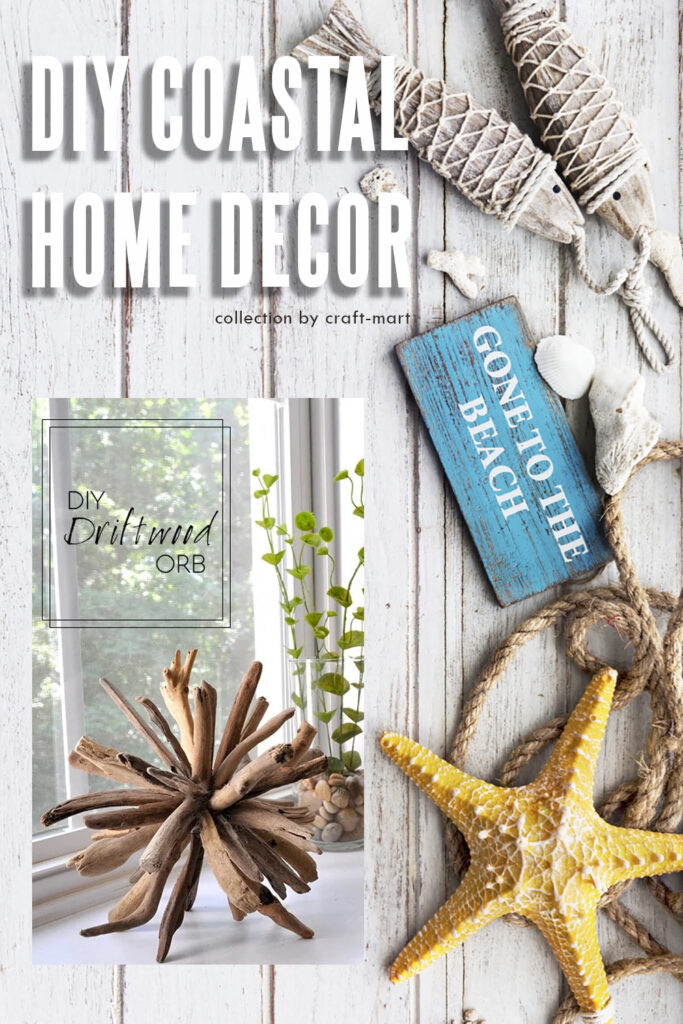 Driftwood Sculpture
If you are drawn to organic and natural art, driftwood sculpture is a fun DIY woodworking project. First, you need to find a relatively big and interesting piece of driftwood.
Second, let it dry for a week or so. Finally, you can begin creating your modern driftwood sculpture with this easy-to-follow tutorial by In My Own Style.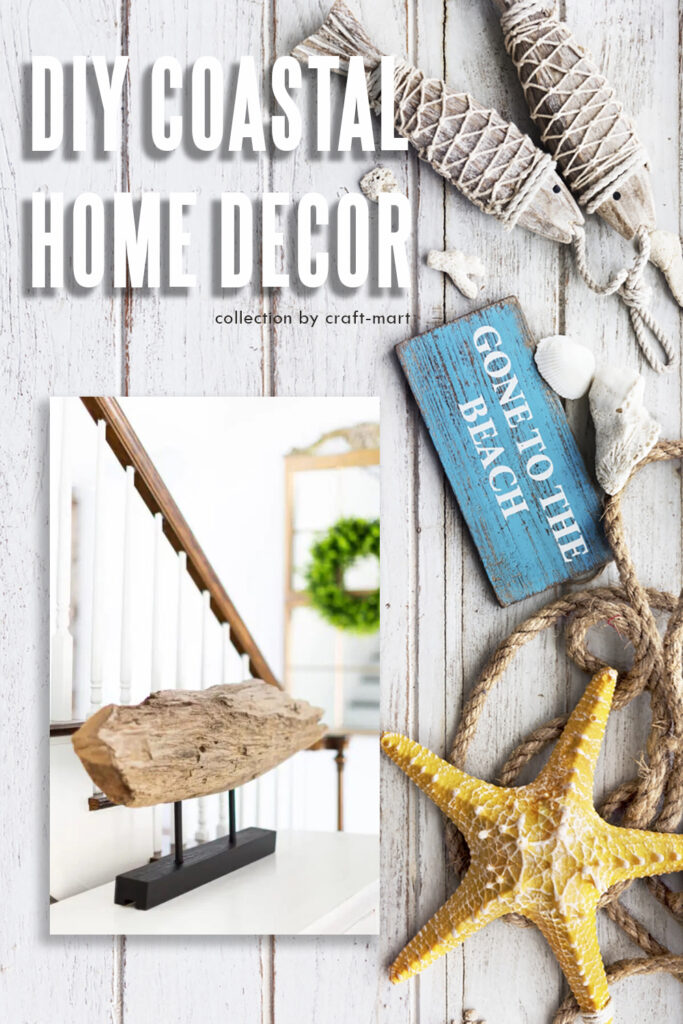 Source: Modern Driftwood Sculpture
Driftwood Wreath
Another great idea for upcycling driftwood is creating a wreath. After collecting and arranging your pieces, use a hot glue gun to hold all pieces together.
As finishing touch, add a faux air plant and a rope to hang it. You have created a perfect DIY coastal decor piece!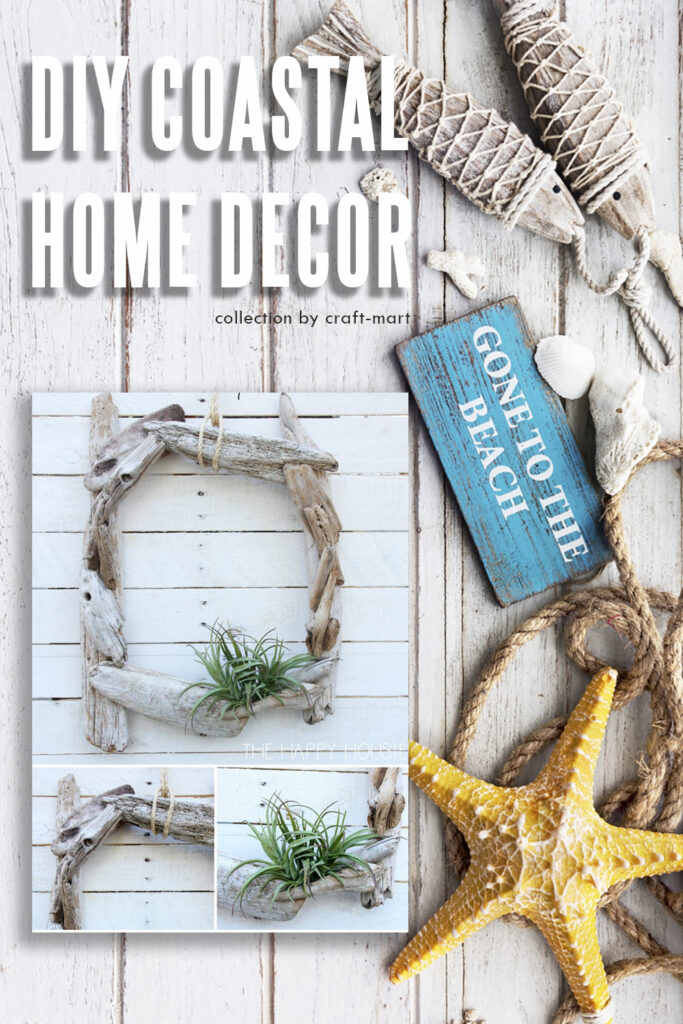 Seashell Crafts as DIY Coastal Home Decor
To continue with the beachy theme, seashell crafts are a great addition to any coastal-inspired home. Collecting seashells from the beach is a fun activity for the whole family.
As a result, using them in your decor is a creative way to add some color and texture to your space.
One easy seashell craft is to create a decorative vase or candle holder. Simply glue small seashells to a glass vase or candle holder, covering the entire surface.
Moreover, you can use shells of different shapes and sizes for a more eclectic look, or stick to a specific color scheme for a more cohesive look.
Another fun and functional seashell craft is to create a soap dish. Find a large, flat seashell and glue it to a small dish or saucer. Instantly, you will have a unique and decorative way to store your soap in the bathroom or kitchen.
If you're feeling adventurous, try making a seashell wreath for your front door. You'll need a foam wreath form, hot glue, and a variety of seashells.
First, glue the shells onto the form, mixing and matching shells of different shapes and sizes until the wreath is full and visually pleasing.
DIY Seashell Candles
Certainly, this quick and easy DIY project is a great way to use the seashells you've collected on the beach. In fact, with just a short list of craft supplies (pre-waxed wicks, glue gun, leftover candle wax) you can create these cute tealights.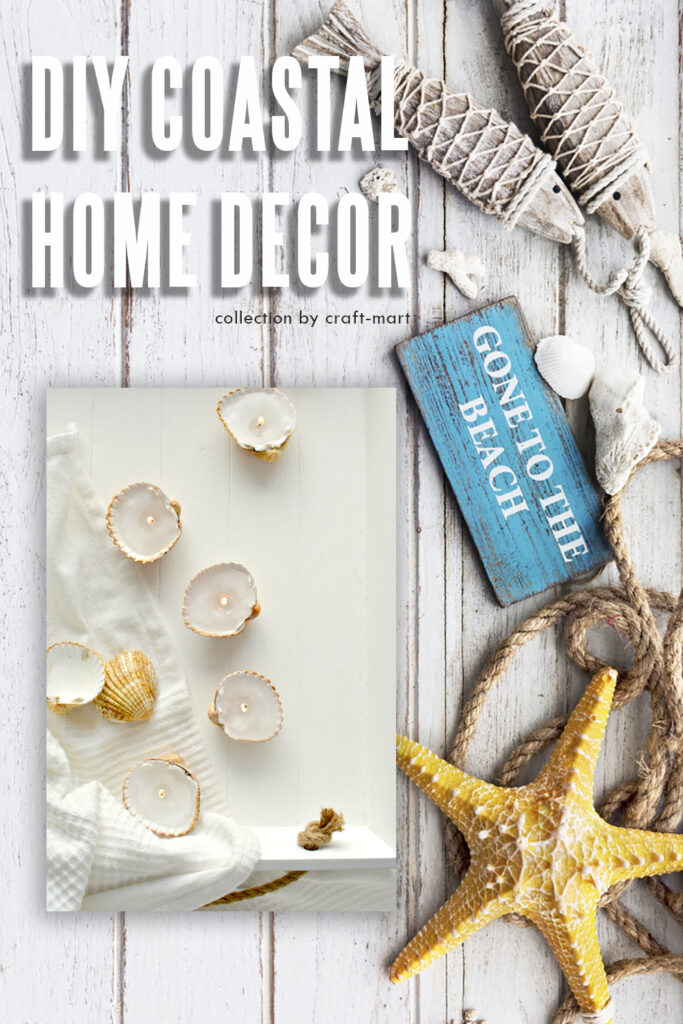 Source: DIY Seashell Tealights
DIY Seahorse Wall Art
One of the fun summer projects is a Seahorse Wall Art. All you would need is a variety of seashells, a glue gun, and a canvas.
Just arrange your seashells in a form of a seahorse and secure them with a glue gun. Adding nautical and beach elements to your home decor is a great way to embrace summer and the breeze all year long.
Source: Seahorse Seashell Wall Art
DIY Coastal Home Decor Idea: Seashell Wall Hanging
Check out another idea of using collected seashells and driftwood for your DIY coastal decor. In fact, learn how to turn your beach treasures into treasured wall art.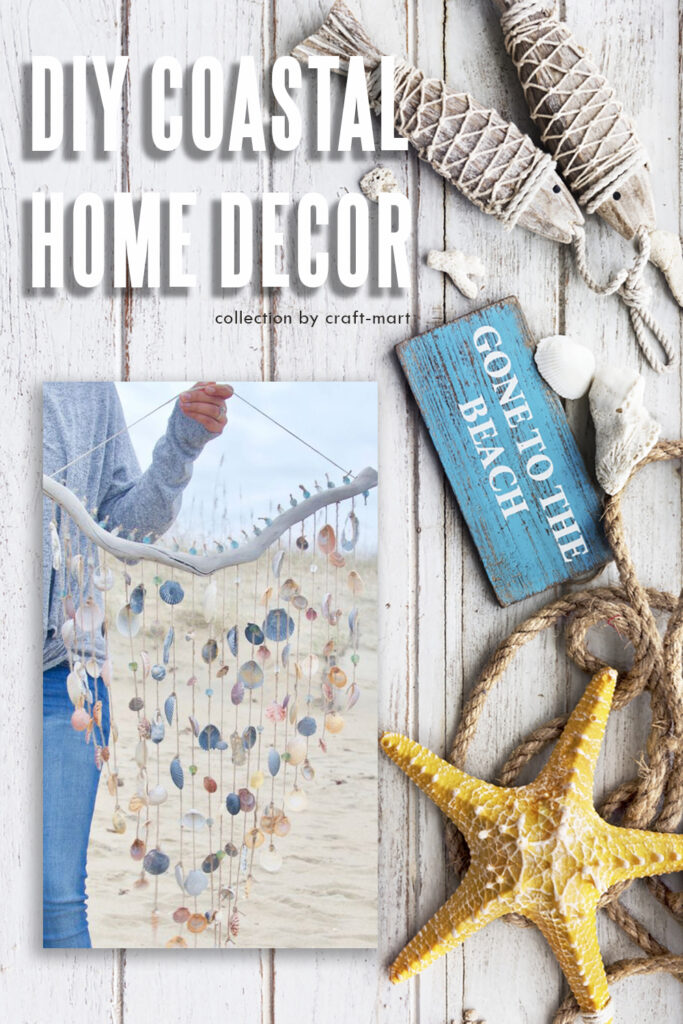 These seashell crafts are just a few ideas to get you started. With a little creativity and some beachcombing finds, you can transform your home into a coastal paradise that will make you feel like you're on vacation every day.,
As can be seen, transforming your home into a coastal paradise is a breeze with these easy DIY ideas. From beachy wall art to seashell crafts, adding a touch of the seaside to any room in your home has never been more accessible or affordable.
So why not dive in and create your own ocean oasis? As the famous quote by Robert Wyland goes, "The ocean stirs the heart, inspires the imagination, and brings eternal joy to the soul."
Let these DIY coastal home decor projects bring joy to your home and heart.