Our collection of quick and easy DIY backyard projects will help you jump-start your home improvement season. There is no better way to welcome spring and summer than to improve your backyard.
Check out these helpful blog posts to add enjoyment to your outdoor space:
As the birds start chirping, it's time to think about sprucing up your outdoor space. There are plenty of quick and easy makeovers to transform outdoors into a stunning retreat.
From adding a cozy fire pit to installing a DIY water feature, we will provide you with 10 ideas to elevate your outdoor space.
So, get ready to roll up your sleeves and create a backyard oasis that will make your neighbors envious!
1. Add a Fire Pit for Cozy Evenings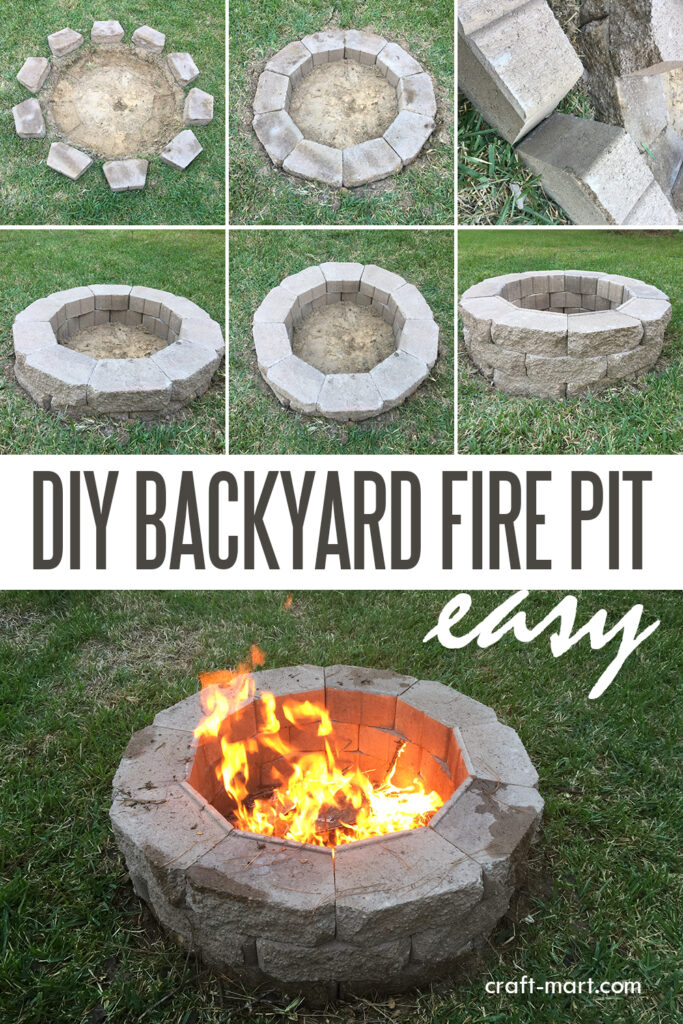 Another way to create a cozy atmosphere in your backyard is by adding a fire pit. Whether you opt for a traditional wood-burning pit or a gas-powered one, it can transform your outdoor space into a gathering spot for friends and family.
Imagine roasting marshmallows and sharing stories under the stars on a chilly spring evening… It doesn't get more idyllic than that!
If you're worried about your fire pit being a safety hazard, don't fret. There are a variety of fire pit options with safety features like covers and spark screens.
Plus, you can always place your pit on a non-flammable base like gravel or bricks to reduce the risk of accidents.
2. Install a Garden Wall for Privacy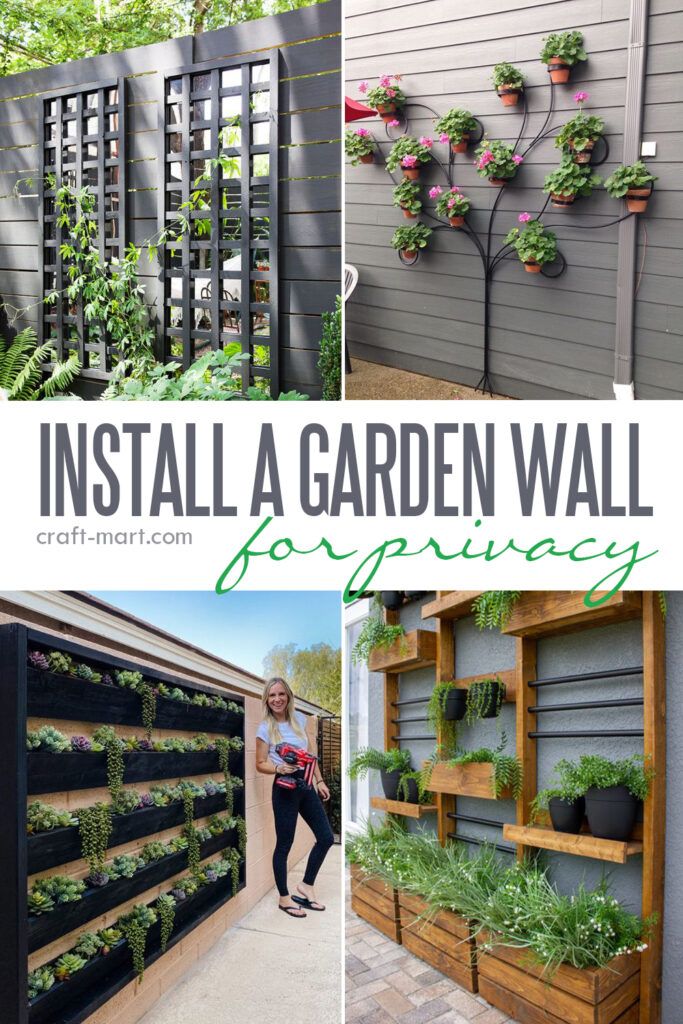 Now, let's talk about creating a private and serene oasis in your backyard. A garden wall can be an excellent addition to your outdoor space to add a touch of privacy.
It not only blocks out the prying eyes of your neighbors but also adds an element of depth to your garden. Depending on your budget, you can either go for a simple DIY design or hire a professional.
A garden wall made of stones or bricks can create a rustic and natural-looking backdrop for your plants and flowers.
A garden wall can also be a great feature to create more defined zones in your backyard. You can use it to separate your seating area from the rest of your garden.
Furthermore, create a hidden nook for your garden bench. A garden wall made of the lattice can also be used to train climbing plants. As a result, this will give your wall a lush and vibrant look.
Next up, we'll show you how to create a zen garden vibe. A simple DIY water feature is one of the quick and easy DIY backyard projects.
3. Create a DIY Water Feature for a Zen Vibe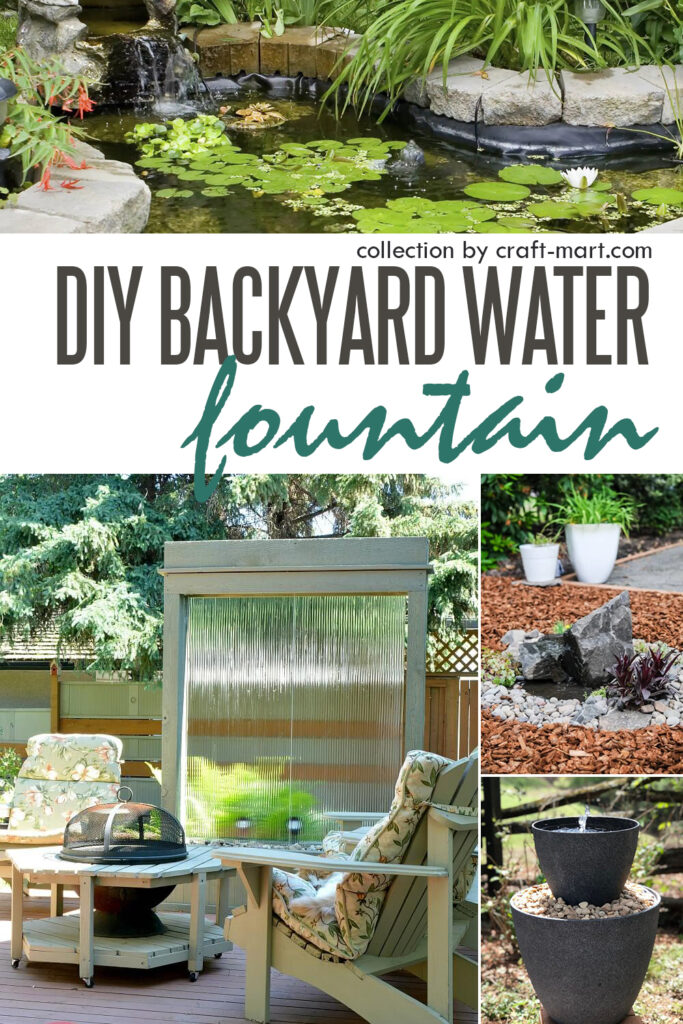 Sources: Water Wall Privacy Screen; DIY Rock Fountain; DIY Solar Fountain
Water features are high on the list of quick and easy DIY backyard projects. Moreover, it will truly elevate the peaceful ambiance of your backyard.
For this reason, consider adding a DIY water feature. Water has been known to have a calming effect on the mind. Thus, a small fountain or pond can create a tranquil atmosphere that is perfect for relaxation or meditation.
You don't need to be an expert landscaper to create a simple water feature. A small pre-formed pond can be purchased at your local home improvement store or garden center.
Consequently, a fountain pump can be added for a soothing sound effect. Alternatively, you can create a simple waterfall by stacking rocks or installing a series of pots with small spouts.
By incorporating a water feature into your backyard, you can create a soothing and serene atmosphere. Furthermore, it will make you feel like you are escaping to a spa retreat every time you step outside.
Moreover, to add even more depth and texture to your outdoor oasis, consider using potted plants.
4. Use Potted Plants to Add Color and Texture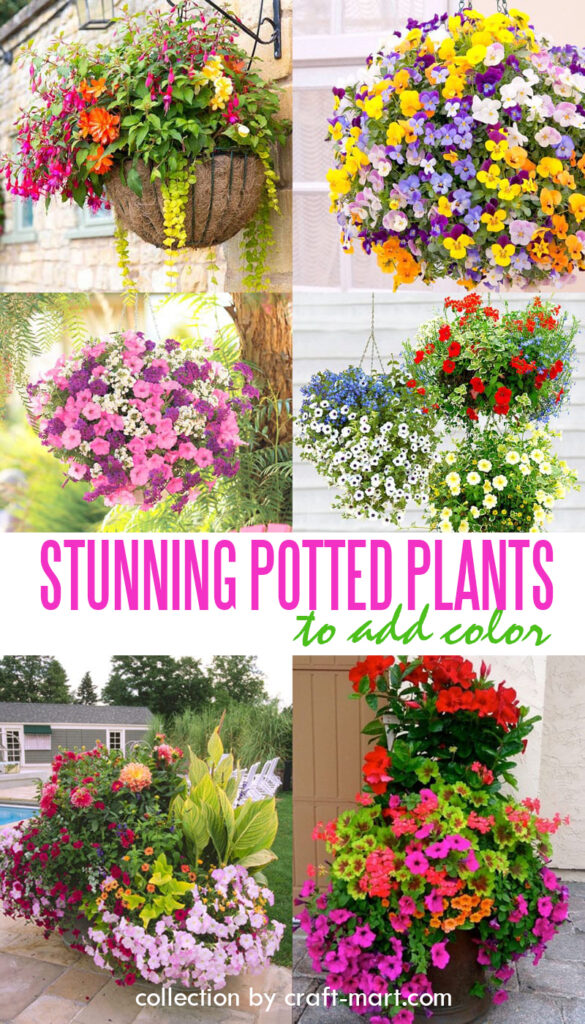 Source: Potted Plants Ideas for Your Backyard
Potted plants can be a simple yet effective way to enhance the ambiance of your backyard. By strategically placing vibrant flowers and greenery throughout your outdoor space, you can create a colorful environment that will make your backyard feel like a private oasis.
Consider mixing and matching different types of plants for a varied and interesting visual effect. For example, placing a tall, leafy plant next to a smaller, flowering plant can create a dynamic contrast.
Using potted plants also allows for flexibility in your backyard design. If you decide to switch up your outdoor decor or rearrange your furniture, you can easily move your potted plants to accommodate the changes without having to uproot and replant anything.
To further enhance the natural look of your backyard, you can combine potted plants with a rustic stone path. The contrast of natural elements like stones and plants can create a serene and calming environment that will make your outdoor space feel like a retreat.
5. Lay a Garden Path for a Rustic Look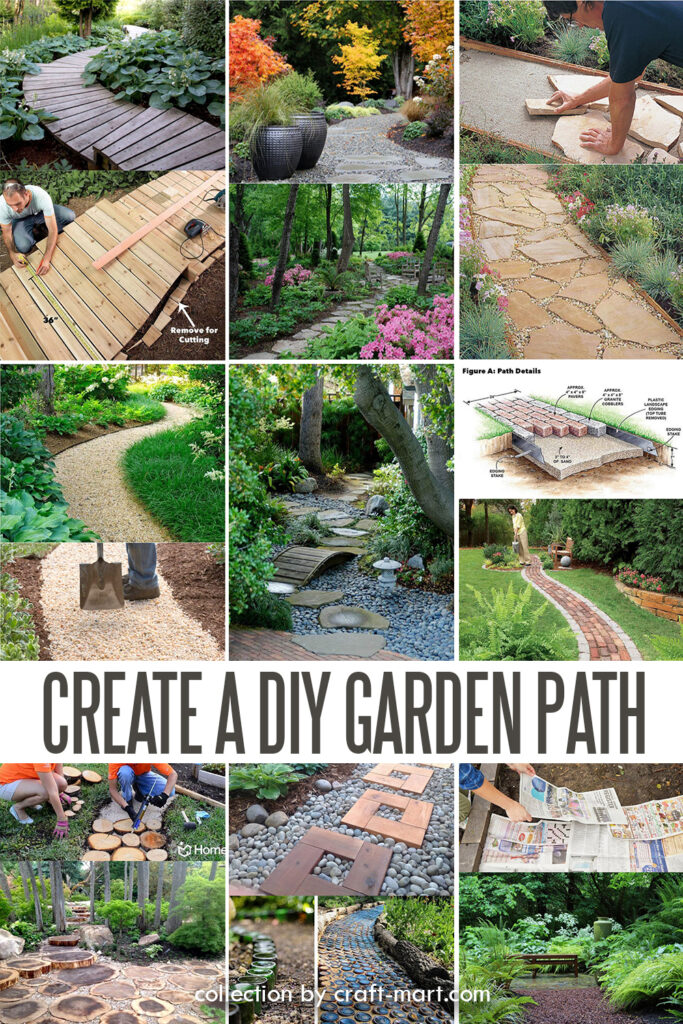 Using potted plants in your backyard landscaping provides versatility and flexibility in design, allowing you to easily maneuver furniture and decor without disturbing rooted plants. Further, embrace natural elements by complementing your potted plants with a rustic garden path.
As a result, you'll create a tranquil and calming atmosphere perfect for relaxation.
Enjoyable walks through nature have been proven to reduce stress and anxiety. Crafting the perfect pathway can open the door to a special place where the beauty of nature can be experienced.
You can use a variety of materials to create your garden path. Gravel, flagstones, and bricks are all popular materials to use for a garden path. But even recycled elements, such as bottles, can be used.
Gravel is great for a pathway that's not too intricate. Flagstones come in various shapes and sizes and offer an elegant look, while bricks can be tightly fitted together and add texture and depth to a pathway.
When selecting your material, think about the look you're going for, the difficulty of installation, and the cost. Taking the time to consider all of these factors will help you create a unique stone path for your garden.
To enhance your serene setting, add outdoor lights as one of your quick and easy DIY backyard projects.
6. Hang Outdoor Lights for Ambiance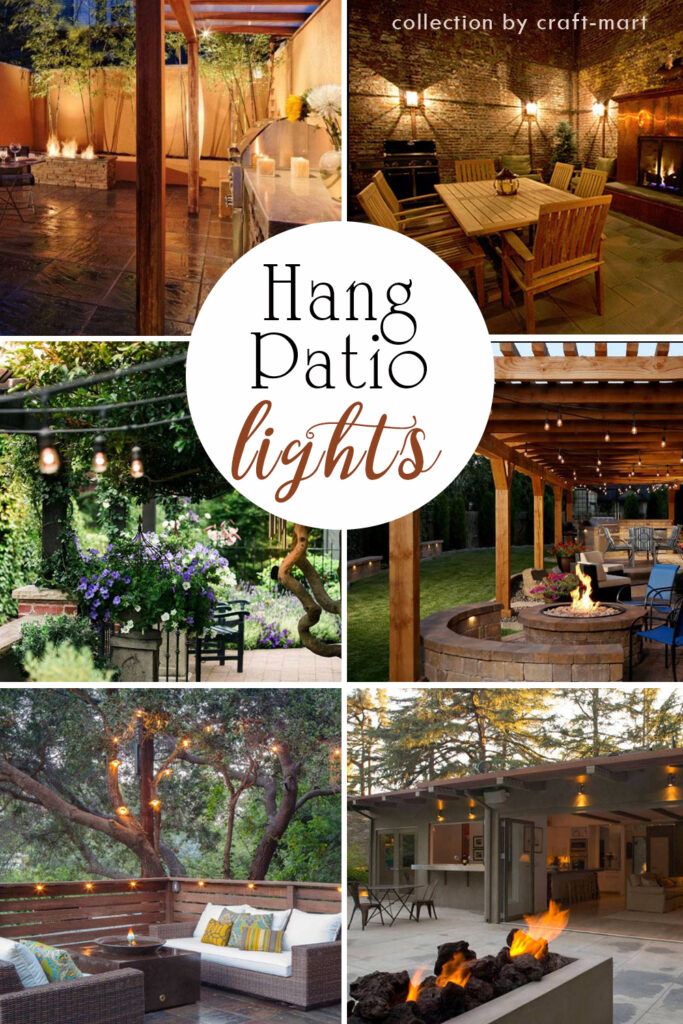 Source: Stunning Patios with Lights (DIY Patio Lighting Ideas)
To truly transform your backyard into an outdoor oasis, you must also consider safety. That's where outdoor lights come in.
Whether you choose fairy lights, lanterns, or string lights, these simple additions can instantly elevate your backyard's atmosphere and provide safety for evening use.
Hang them above your seating area or along your rustic stone path for a cozy and inviting feel.
But, if you're looking for a more permanent and substantial solution to shade and ambiance, then building a pergola might be the way to go.
7. Build a Pergola for a Shaded Retreat
If you're looking for a more permanent solution to shade your outdoor space and create a cozy atmosphere, building a pergola might be the perfect project for you. A pergola is essentially an outdoor structure consisting of a series of vertical posts or pillars that support crossbeams and an open lattice.
For this reason, the pergola gives you the option to let in as much or as little sunlight as you desire. With the right design and materials, your pergola can become a stunning focal point in your backyard.
A pergola not only provides shade but also adds a touch of elegance to any backyard. Imagine sitting under a canopy of vines and flowers, sipping a cold drink on a warm summer day.
Once you've built your pergola, you can hang outdoor lights, lanterns, or string lights to create a cozy ambiance for evenings spent outside. And if you're feeling extra creative, consider adding some climbing plants like grapes, wisteria, jasmine, or honeysuckle to create a natural roof.
A pergola can be a big undertaking, so if you're looking for one of the quick and easy backyard projects, consider installing a hammock for lazy afternoons.,
8. Build an Outdoor Bed or a Hammock for Lazy Afternoons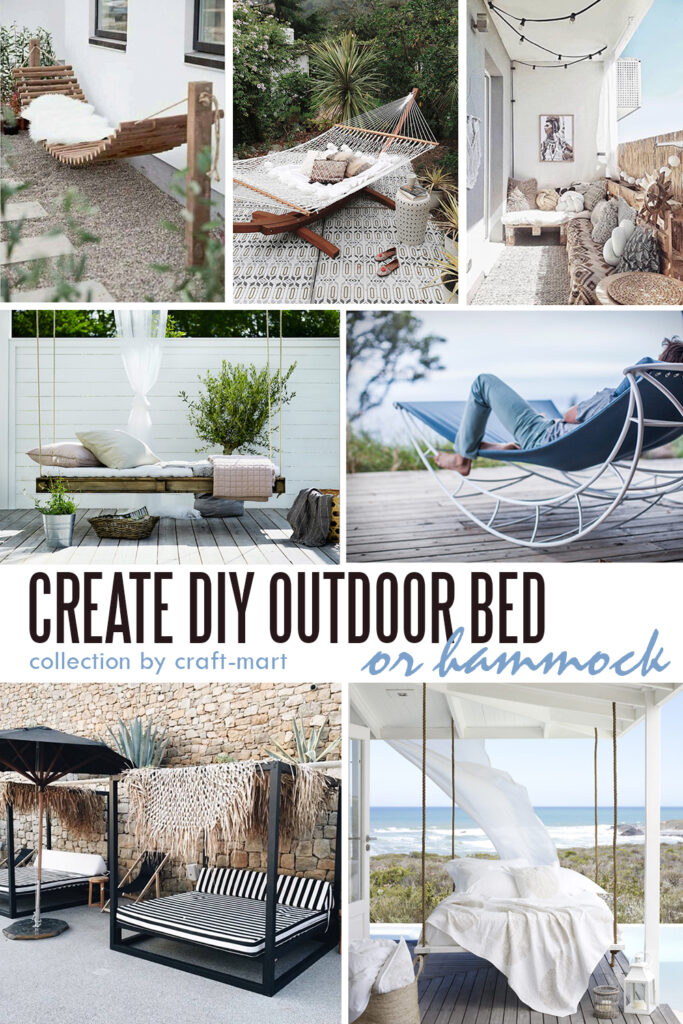 Source: 65 Outdoor Bed Ideas
For those who want a relaxing oasis without the commitment of a pergola, consider installing a hammock. Not only does it provide a space for rest and relaxation, but it also adds a touch of bohemian charm to your backyard.
The gentle swaying motion is perfect for a midday nap, reading a book, or simply enjoying the fresh air. Also, if you plan on entertaining, it provides a comfortable and unique seating option.
To install a hammock, you'll need two sturdy trees or posts to anchor it. Choose a spot with plenty of shade, and make sure the trees or posts are at least 10-12 feet apart.
Once you've found the perfect spot, simply hang the hammock between the trees or posts with sturdy ropes.
Adding a hammock to your backyard is a quick and easy way to create a relaxing atmosphere. It's perfect for those lazy afternoons when you want to escape from the hustle and bustle of daily life.
Next up, we'll show you how to add outdoor seating for entertaining in style.
9. Add Outdoor Seating for Entertaining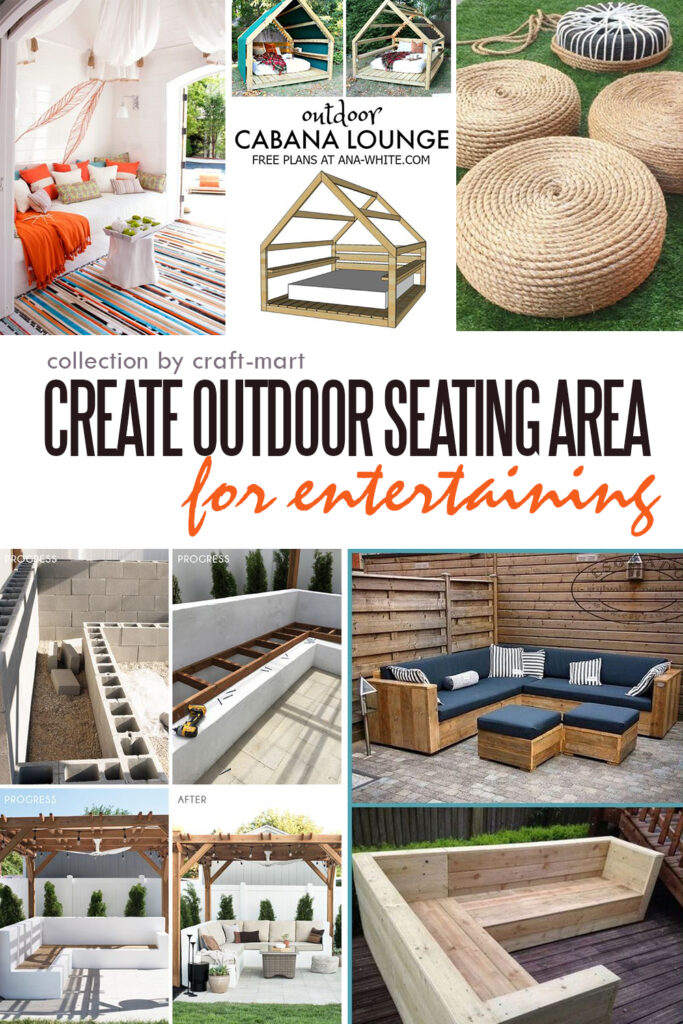 Source: Favorite Outdoor Projects (Pinterest)
If you're planning on spending time in your backyard with friends and family, having ample seating is a must. Not only does it create a comfortable atmosphere, but it also allows for more people to gather and enjoy the space.
There are many options for outdoor seating, from classic Adirondack chairs to stylish sectional sofas. Consider the size of your space and the number of guests you typically entertain to determine the best seating arrangement.
When selecting outdoor furniture, it's important to choose materials that can withstand the elements. Look for pieces made from weather-resistant materials like teak, aluminum, or resin wicker.
If you chose to add cushions, choose ones that are made from outdoor-rated fabrics that can withstand rain and sun exposure.
Adding some decorative touches to your outdoor seating area is a great way to spruce up your backyard for spring. Consider adding an outdoor-friendly rug to take your seating area to the next level.
These small details can really elevate the overall look and feel of your outdoor space.
Once you have your seating in place, you'll want to make sure your deck looks its best too. In the next section, we'll show you how to give your deck a fresh new look with paint or stain.
Build or Stain Your Deck for a Fresh Look
As the warm season approaches, it's important not to neglect the condition of your deck. After all, it serves as the foundation for your outdoor living area.
Moreover, if you don't have a deck, consider building it as it is one of the popular DIY backyard projects. A budget-friendly floating deck makes a great addition to the enjoyment of your outdoor space.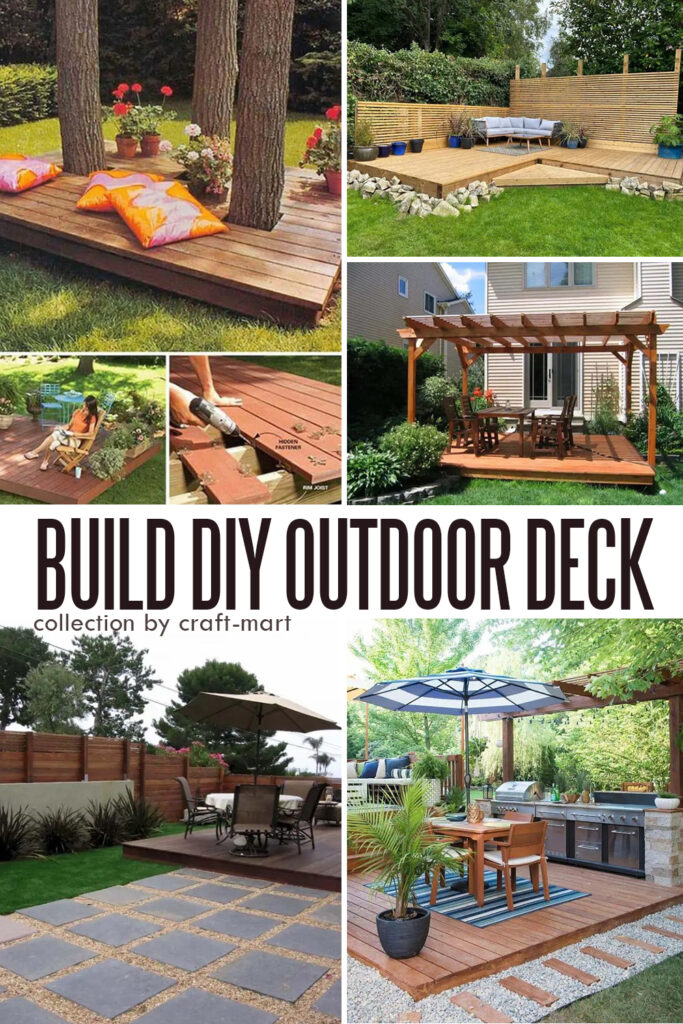 Source: 38 Low-Budget Deck Ideas
Looking for more gardening ideas? Check out these posts:
Over time, harsh weather and general wear and tear can leave your deck looking tired and worn out. Fortunately, there is an easy and cost-effective solution: paint or stain.
Painting or staining your deck can give it a fresh new look and extend its lifespan. Plus, both options offer a range of color choices, allowing you to customize the look of your deck to fit your personal style.
If you're looking to make a statement, consider a bold hue like navy blue or forest green. For a more understated look, a classic natural wood stain can do wonders.
No matter what color or finish you choose, a freshly painted or stained deck will add instant curb appeal to your home. So, before you settle into your outdoor seating area for the season, take the time to give your deck a little TLC. It will be well worth the effort in the long run.
Summary
In conclusion, whether you're a seasoned gardener or a DIY novice, these 10 quick and easy backyard projects are perfect for creating an outdoor haven that suits your personal style. From cozy fire pits to colorful potted plants and everything in between, there's something for everyone to enjoy.
So, why not take advantage of the beautiful spring weather and get started on your quick and easy DIY backyard projects today? With a little bit of creativity and a willingness to try something new, you can transform your outdoor space into a stunning retreat that you'll love for years to come.
As they say, "The best time to plant a tree was 20 years ago. The second-best time is now."