Have you tried fast and easy homemade Christmas decoration ideas?
Life gets very busy between Thanksgiving and New Year, so who has time to create elaborate wreaths, set up Victorian Christmas villages on the mantel, or tie up 50+ custom ribbon bows for a picture-perfect Christmas tree? Not us, right?
But in spite of our busy lifestyles and all the hurdles the end of the year presents, we all long for that warm, cozy place filled with the homemade cozy decor in the anticipation of a Christmas miracle…
So, let us help you transform your home into a winter wonderland – quickly, effortlessly, and on a budget with a few simple Christmas decoration ideas.
How can you decorate your home for Christmas – quickly and effortlessly?
Use decorative removable pillowcases or throw pillows to quickly add festive decor;
Decorate your mantel as a festive focal point of your house;
Add a quick DIY Holiday Jar;
Add a festive centerpiece to transform your dining room;
Use Christmas cards arriving in the mail for quick and easy festive decorations;
Keep it simple and use minimalistic approach to Christmas home decoration;
Use homemade printables and rustic decor items for Christmas decoration.
Use decorative removable pillowcases or throw pillows to quickly add festive decor to your living room.
IKEA has lots of genius ideas to help you decorate on a dime and with Nordic simplicity. If you concentrate on the space that will be used the most during Holiday Season – your living room – you'll save time and money.
You can change the color scheme of your whole space in just 5 minutes by using removable (and washable!) decorative pillowcases in your preferred colors. So that your decor can change with the seasons, decide on a couple of neutral colors (white, grey, or black) for the pillowcases that will stay and complement them with other accent colors.
For example, gold and tan pillows you can keep all year long and just change accents: red for Christmas; green for spring; red, white, and blue (or nautical theme) for summer; and earth tones for cozy fall.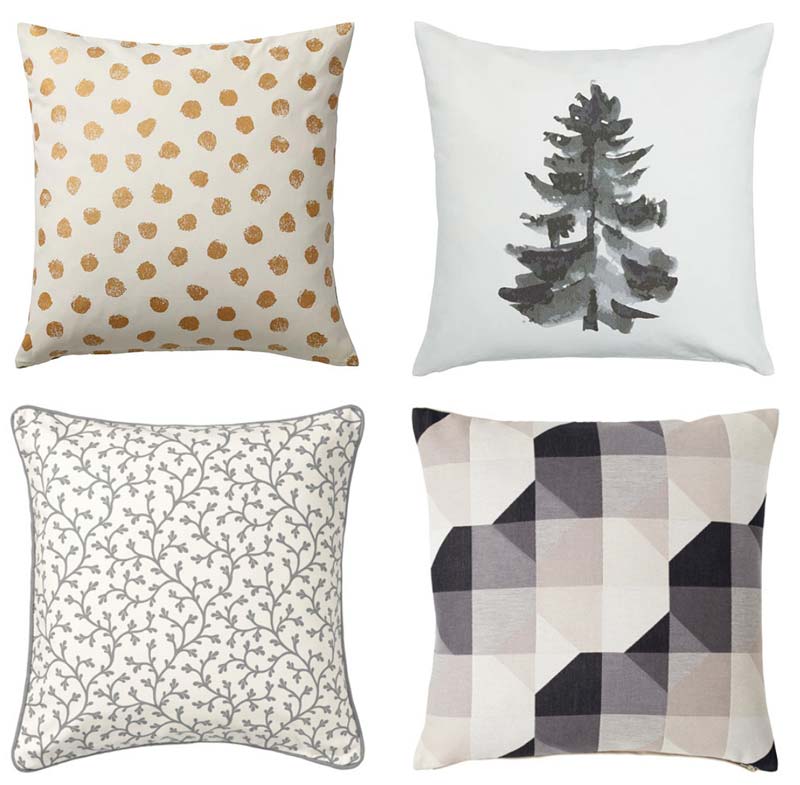 Source: IKEA
To complement the look and make it uniquely yours, invest in one exquisite pillow that you can create yourself or order on Zazzle. This will be your special item that will reflect your family history, roots, or traditions.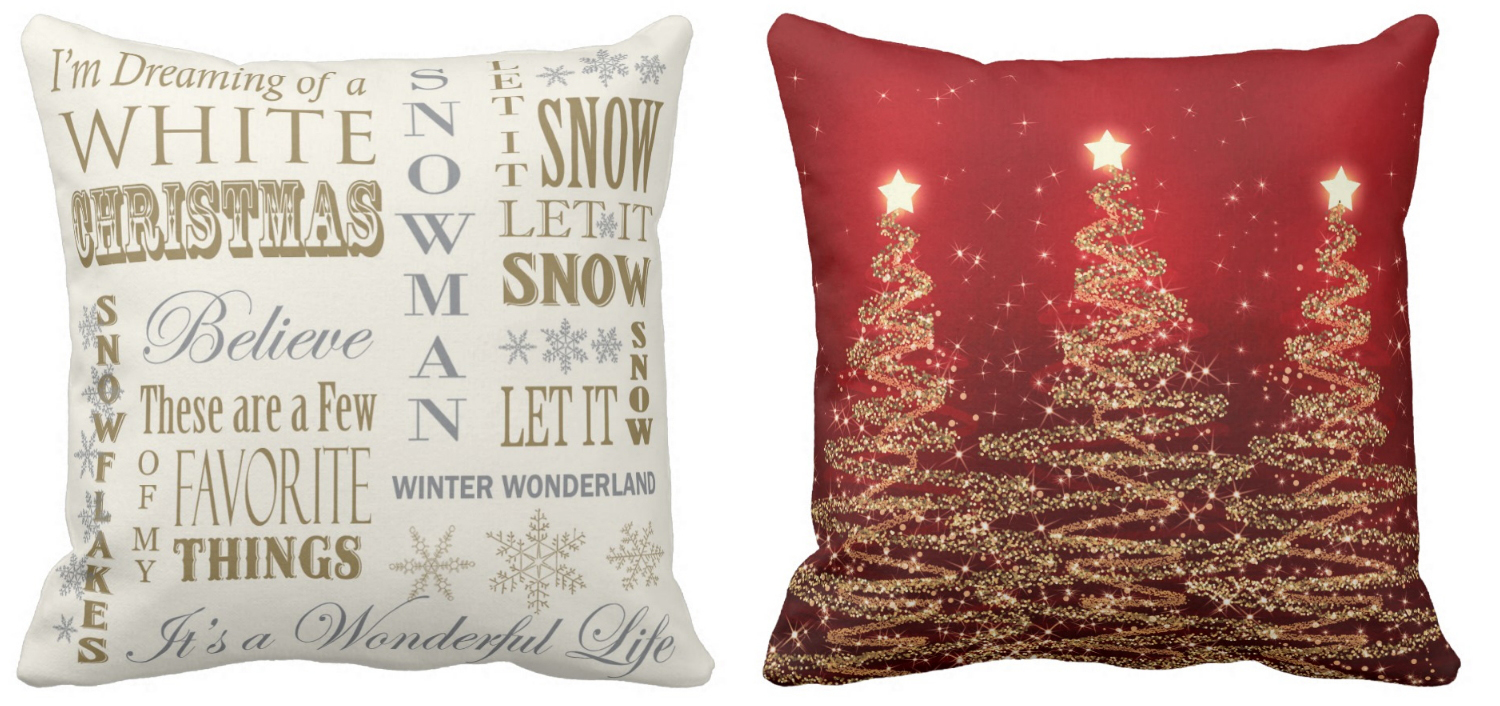 Source: modern vintage and elegant red throw pillows on Zazzle
Next step – mantel.
Decorate your mantel as a festive focal point of your house
The fireplace brings families together during the holidays and lets you create many special memories that kids will remember when they have their own munchkins! Here are a few simple homemade Christmas decoration ideas that are easy DIY projects for the whole family.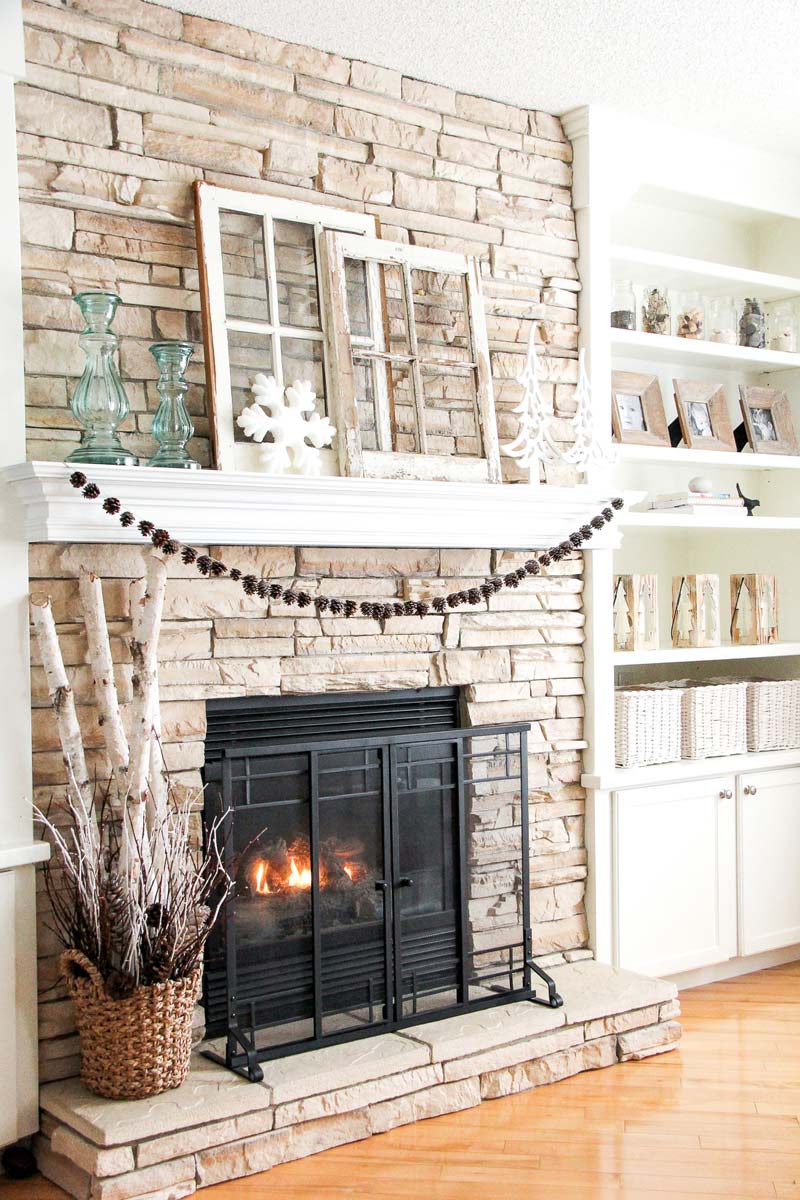 Source: Winter DIY Mantel
Too traditional, ornate, and over-the-top decorations may not be your style. Consequently, they take so much time when you obviously don't have it (and space to store!) so why not try understated Nordic-style mantel.
Just 4 letters that you can pick up at your local Michaels store (or order online) and decorate or paint yourself, one simple wreath, one candle, and a star (antique gold will look classy too) – that's all you need to create a simple but meaningful display above your fireplace. Try letters in different sizes and finishes as you can aim for an elegant or rustic look.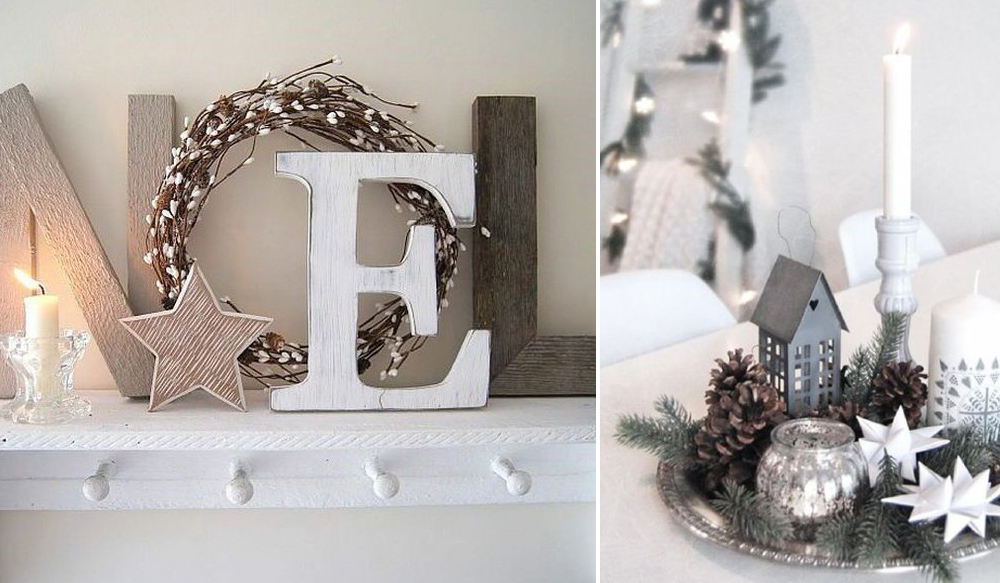 Sources: NOEL / simple Nordic decor
No fireplace? Decorate your entrance hall to welcome guests and family. Just use one of plastic battery-operated candles to make it kid-friendly and avoid accidents. You can also spell JOY, SNOW, or XMAS – let your imagination guide you. 'O' in 'SNOW' can be a small (or medium) wreath – just a hint!
Homemade Christmas Holiday Jar
Another great idea for homemade Christmas decorations is a quick holiday jar. This DIY project will take just a few minutes (great!) and you can use the items you already have at home. it is so simple yet elegant!
For this homemade Christmas decoration DIY you would need:
Apothecary jar or a clear glass vase;
One drinking glass;
Battery-operated LED micro lights;
Salt (regular table salt);
One Christmas ornament;
A couple of greenery branches from your yard;
Source: How To Make a Holiday Jar Tutorial
Creative a festive centerpiece to transform your dining room
Every festive holiday table needs a centerpiece. It doesn't have to be over-complicated, expensive, or time-consuming. You may already have all the necessary pieces. If not, just pick up three green (or red!) pears on your next trip to the market.
Bonus: use them afterward in your pear and Gorgonzola salad. Pick a simple square or rectangular plate, add a few green and silver Christmas tree ornaments, add cuttings from an evergreen tree (cypress or pine) – you are done in under 5 minutes!
Even a few clippings from a live Christmas tree would do the trick. For an after-dinner treat for your family and guests, sprinkle some foil-wrapped truffles along with the ornaments. The simplicity of this elegant centerpiece is stunning!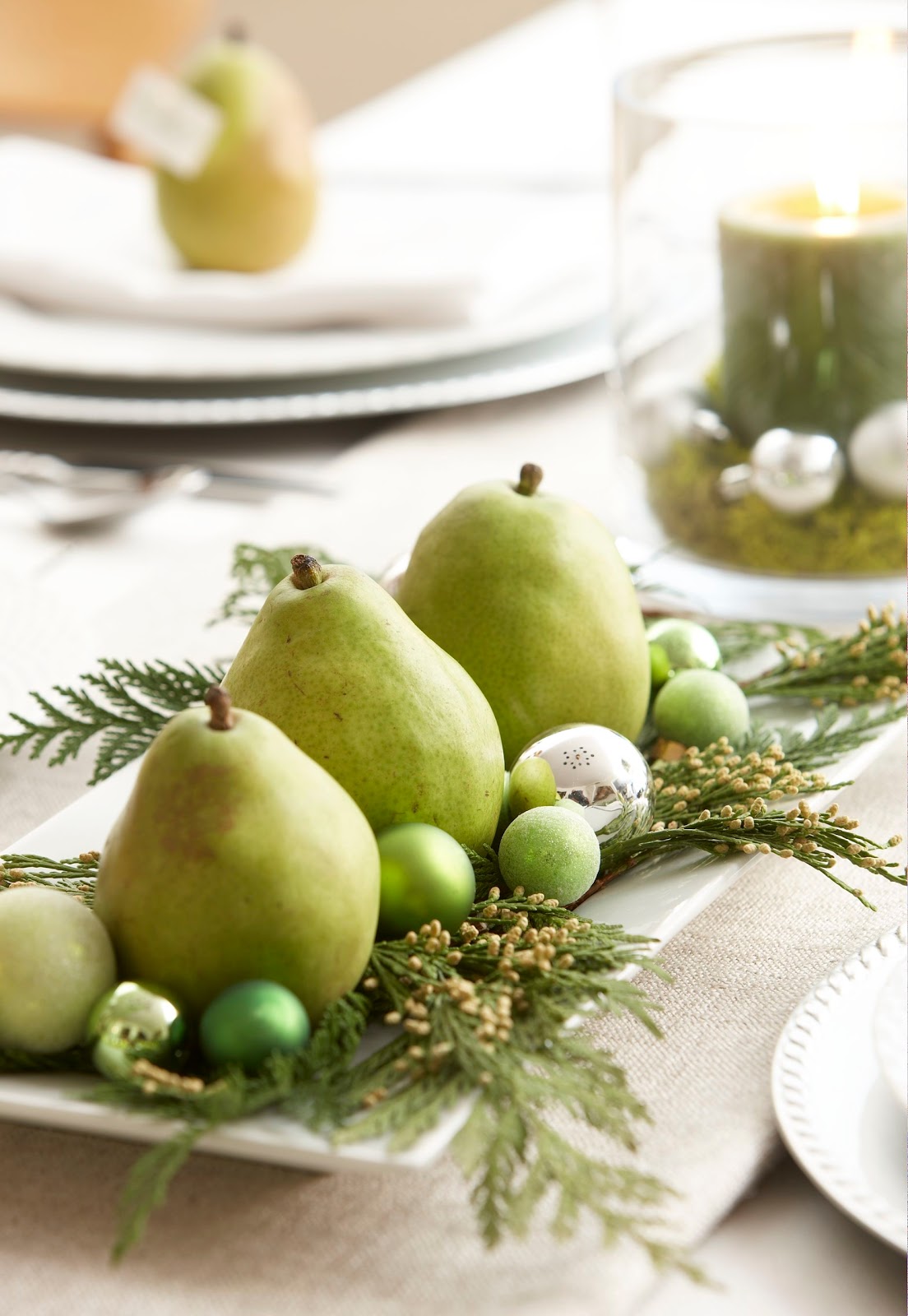 Source: yourcozyhome.blogspot.com
How to display your Christmas greeting cards in style
As the Holidays approach, you are getting more and more greeting cards and photo Christmas cards from friends and family – that's decor that will bring warmth and holiday spirit into your home. As an added time bonus, it takes almost no time to display these gorgeous cards with these two fast and easy homemade Christmas decor ideas.
Check out our blog post on the funniest and cutest Christmas Photo Cards Ideas:
If you have a blank wall and a roll of twine, you can easily make this homemade Christmas decoration to display beautiful greeting and photo cards – just add a star and a few Christmas ornaments.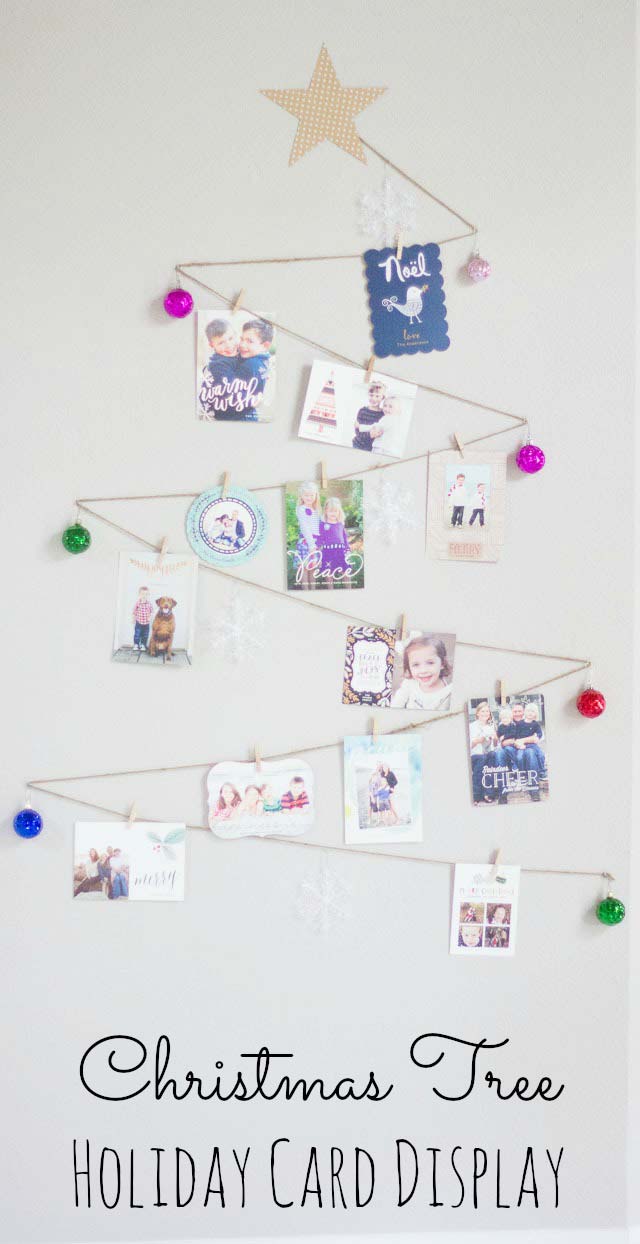 Source: Holiday Card Display Tutorial by Design Improvised
We love this simple and classy way to showcase all your Christmas cards – it will fit effortlessly with modern farmhouse style. After New Year, you can use it to display your favorite photos, kids artwork, etc.
If you don't want to spend time on mounting boards, you can use some of your existing floating shelves or arrange wire to form a Christmas tree shape on your blank wall.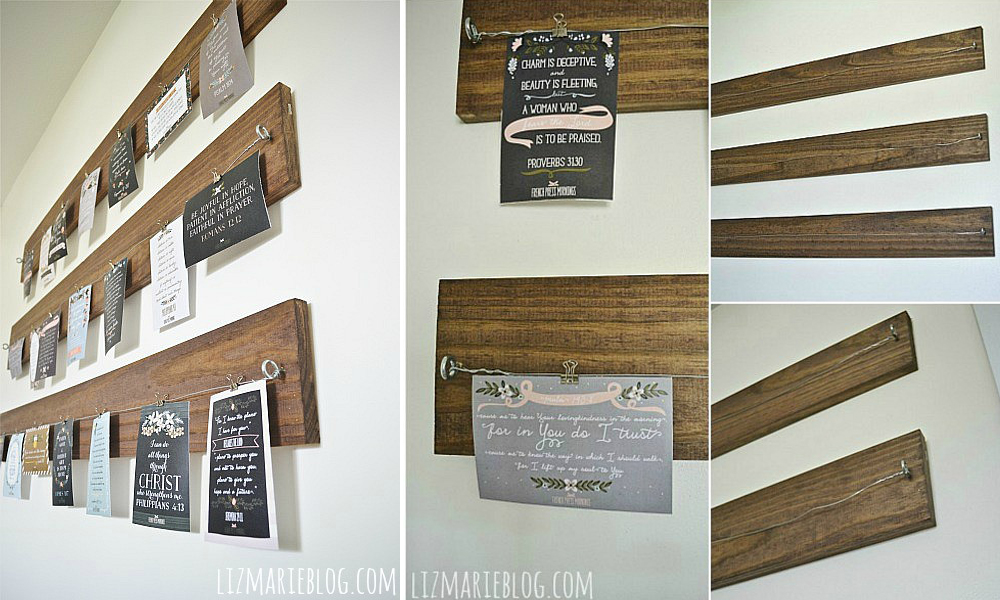 Source: lizmarieblog.com
Minimalistic Approach to Christmas Decor
When holidays are quickly approaching, it is so easy to get overwhelmed and get carried away with a myriad of plans and to-do lists. The solution? Keep it simple.
If you love neutral colors, simplicity, and clean lines, opt for a Scandinavian Chrismas decor. You don't have to rush to IKEA to buy the latest Christmas collection – just use a few things that you probably already have and add homemade Christmas decor, as this simple outdoor holiday planter. Love this minimalistic porch decor – a white lantern, simple green wreath, and a DIY doormat!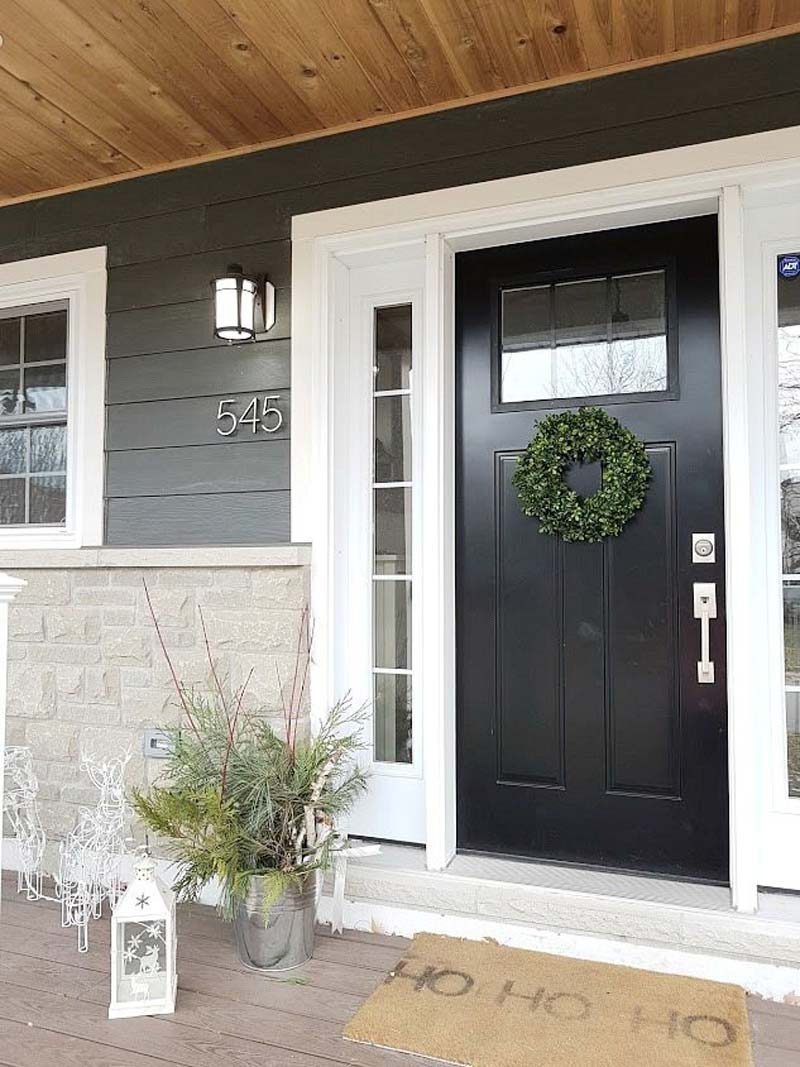 If you are keeping decor to a minimum, it is only logical to continue the trend inside. A simple handmade felt garland on pure white walls will look clean, yet festive.
You would probably recognize these simple Christmas trees from IKEA's holiday collection. If your life is busy, it only logical to combine DIY decorations with a few simple items you can pick up at the store.
And the best part: it very easy to transition minimalistic Scandinavian decor from Christmas to winter.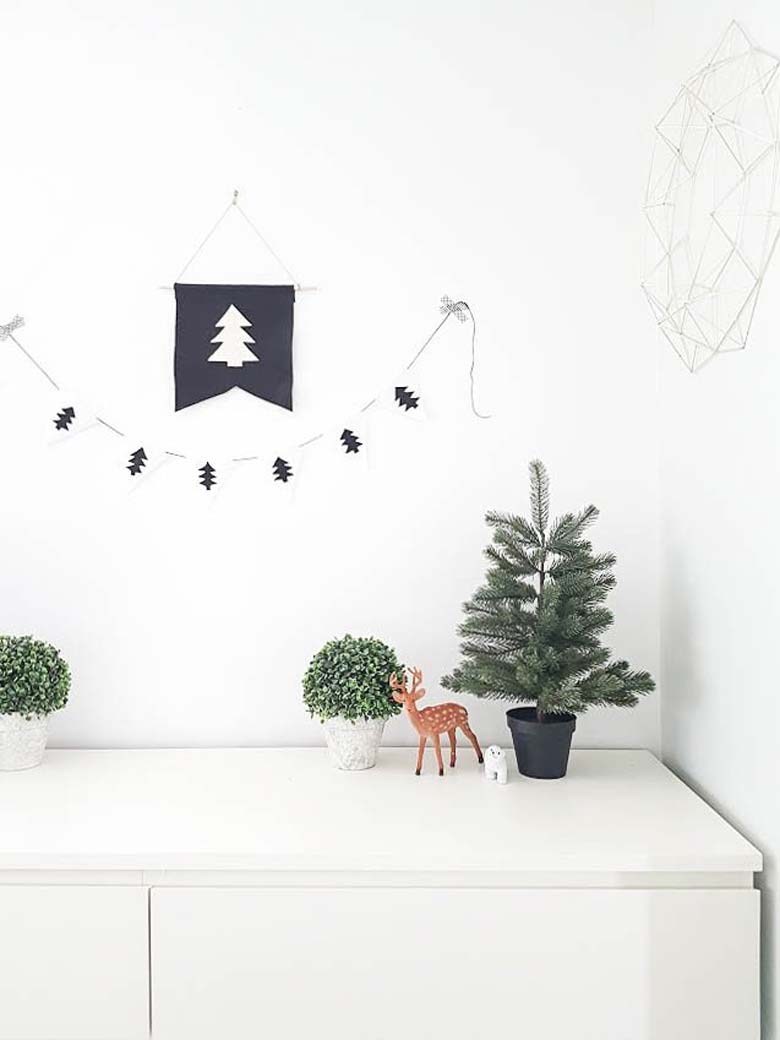 Source: The Sweetest Digs
As Gemma, a designer behind the blog The Sweetest Digs, explains:
This year was all about neutrals, simplicity and small moments. Not every corner of our house is decorated. I like clean, un-cluttered spaces and if there are too many things, I start to get anxious.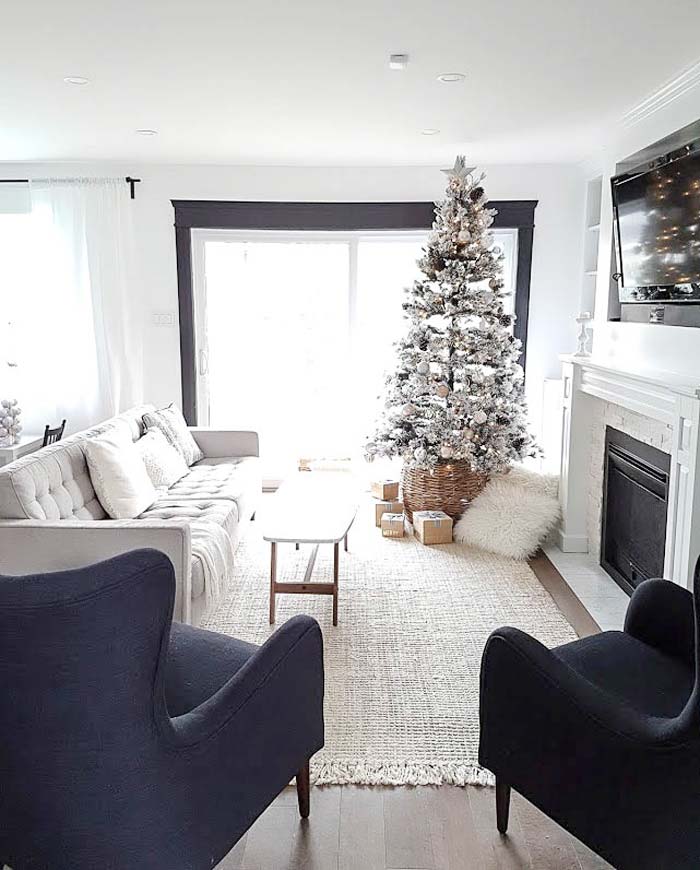 Take a look at this take on a traditional Christmas tree! Love it – it takes actually 5 minutes. Even if you don't have a perfect luscious fur tree, this simple trick will make it look modern and hip.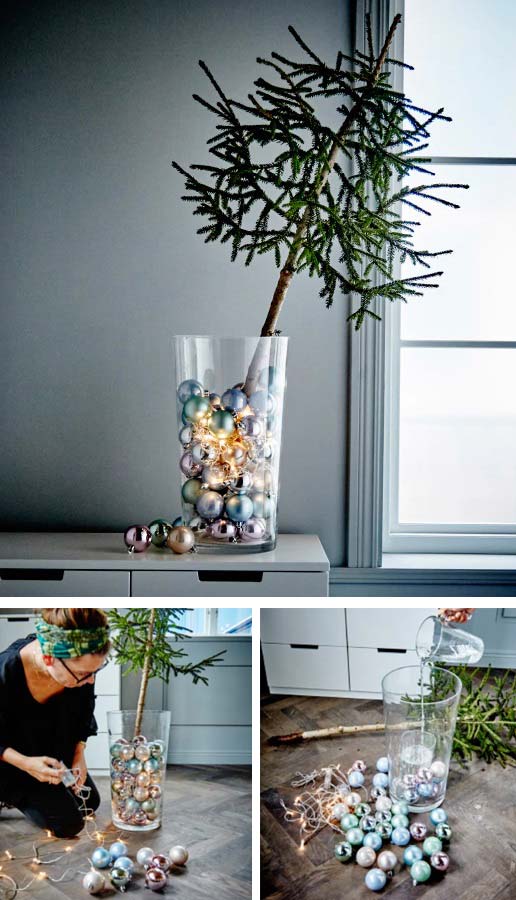 Source: 5 ways to revamp a Christmas tree
Use printables and rustic wooden elements to create a traditional Nativity mantel
This traditional DIY Silhouette Nativity is a great way to embrace Christmas traditions. Doreen, a designer behind this easy DIY, created an affordable downloadable e-book with all printables and instructions.
We hoped you like this collection of easy homemade Christmas decoration ideas and it will help you simplify your life around the Holidays.
You may also enjoy these posts related to the Holidays: