Most of the modern families nowadays switched to personalized Christmas cards. Funny Christmas photo, a short greeting with headlines of what had happened with the "Smiths" and a few dozens of friends get a bit more personal "Happy Holidays" message than a social web update or a traditional greeting card from the store.
Even some businesses go for funny Christmas photos ideas to say thanks to their customers and employees.
What are some of the latest trends that are reflected in the most popular Christmas Cards ideas?
Personalized Christmas cards can summarize the year of achievements and events, so you can share it with family, friends, and colleagues.
It makes it fun to tap into the world of current design trends as it says a lot about our generation and what sentiments are important to express via holiday greetings. Our designers checked hundreds of latest holiday card designs on Zazzle, to save you time and headache of picking the right card to send out.
"Year-In-Review" Christmas Photo Card Ideas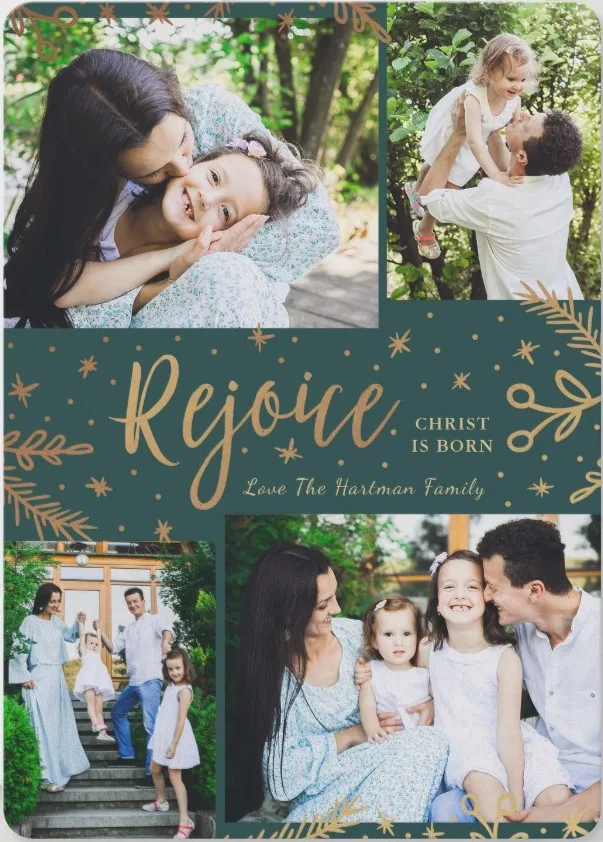 Nowadays, year-in-review comes as a photo Christmas card with images that capture our precious moments of the year: engagement, wedding, anniversary, a birth of a baby, first steps of a toddler, a family reunion, or all family members, including furry ones. It can be a rustic wooden fence background with a clothesline and five family photos hanging from it – simple and almost hand-made.
Or it can be a sweet and stylish "Peace & Love' message with a string of Christmas lights, wooden background, and black and white family photos.
But why are we still so drawn to sending a printed card in the age of smartphones, Facebook, and Snapchat? One of the graphic designers from Great Arrow Graphics summarized it perfectly:
I think it is actually lack of heat — the fact that we are a retro product rather than the hottest new thing — that keeps greeting cards hot in the smartphone age.
You can't touch the Facebook post but you can save, frame, and cherish hand-written Christmas card with your grandkids' faces. The paper makes it real and personal touches make it special, no matter what century is outside the door.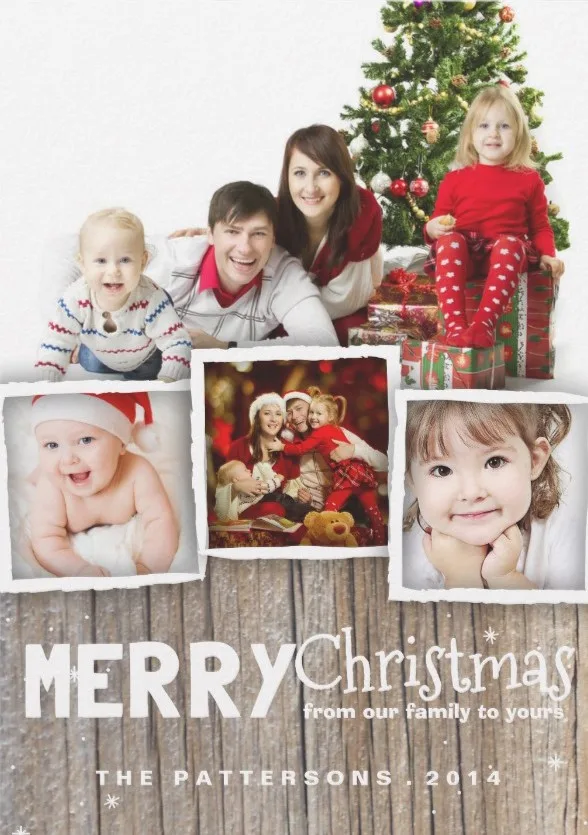 There are many layouts available online for a perfect holiday card. Keep it simple with two to five photos and easy to read, uplifting message. It can also be a photo collage that gives your card unique and modern look.
The design trends are usually more simple, so the photos will not be overpowered by too many details, fonts, and colors. Choose a color scheme and add a few variations to keep it interesting and you'll have a perfect photo Christmas card that will bring joy to relatives and friends.
---
Chalkboard Style with Cute Christmas Photos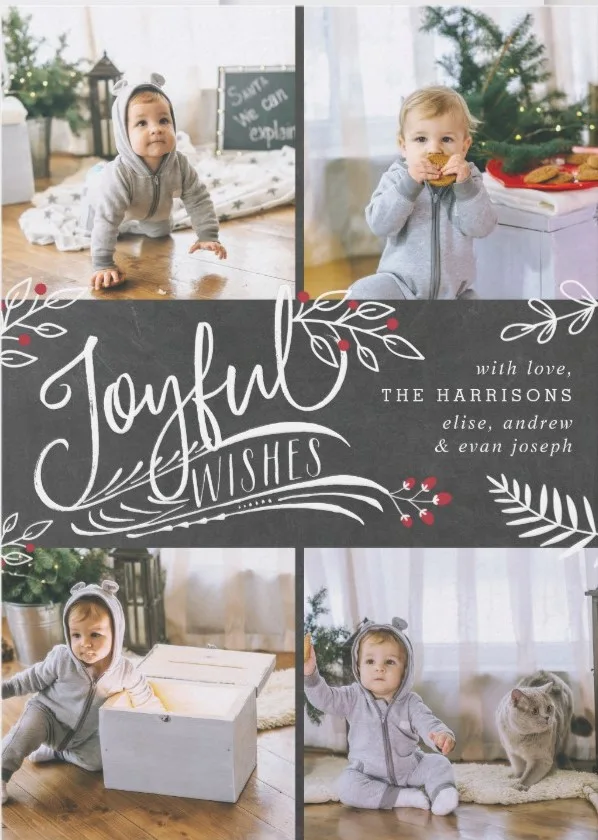 There is something magical in black and white design which keeps chalkboard photo Christmas cards ideas at the top of popularity lists. Depending on the font and layout, chalkboard design feels warm and hand-made while setting up a perfect contrast background for the colorful family photo in Christmas attire.
Year after year it doesn't go out of style for both traditional holiday greeting cards as well as modern. Many designers make the chalkboard message completely customizable so you can add warmth and personality. It is not possible with store-bought generic 'Season's Greetings' cards.
Though it is easy to get lost in a sea of options for numerous chalkboard designs, it also makes it fun and exciting to pick something unique that unmistakably compliments your style and personal message. It doesn't have to be busy-busy as the chalkboard menu of your favorite coffee shop on the corner.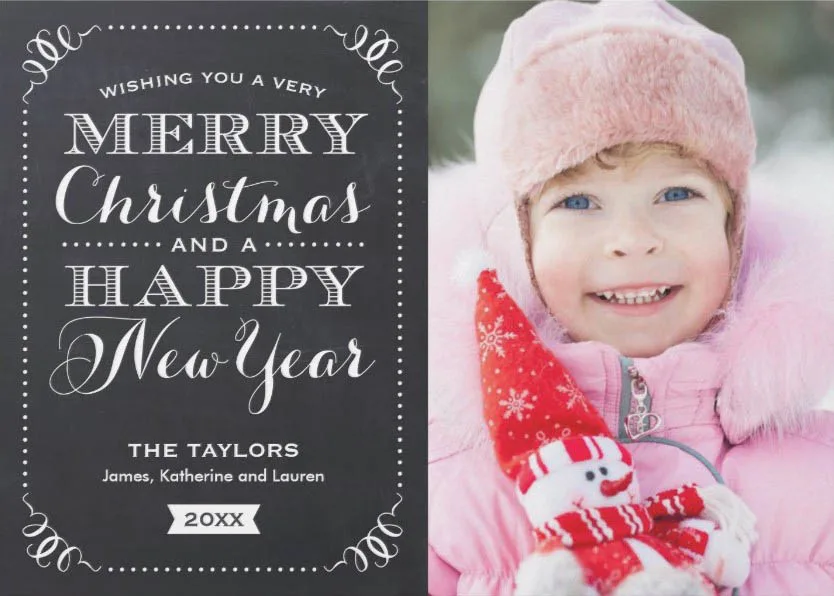 Many modern chalkboard designs have only a few words and simple fonts accentuated by holiday details such as timeless white snowflakes on a black background. Be creative and your card is sure to be a noticeable addition to the colorful mantle display above the fireplace. It will warm up the hearts of loved ones during the Holiday season and beyond.
Rustic Photo Card Templates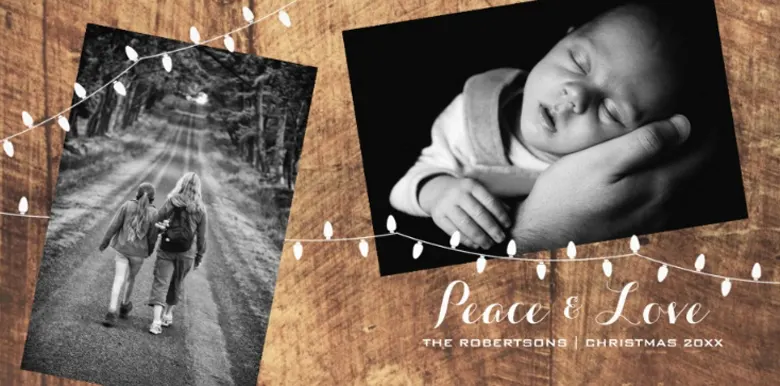 Rustic and Christmas go well together – we all are longing for that feeling of being lost in the snow at a log cabin by the fireplace surrounded by the loved ones.
Rustic photo Christmas card ideas may have wood, stone, burlap backgrounds and more whimsical fonts evoking memories of pancake breakfast after you tip-toe to open Christmas presents under the tree. Colors are more subtle, with prevailing earth tones and occasional black and gold.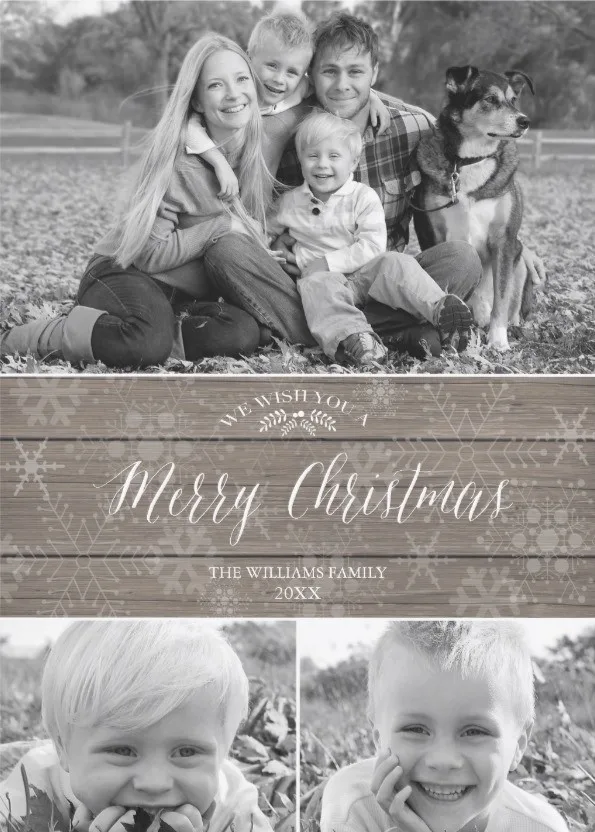 Rustic design can also feature popular chalkboard and or lace designs, mason jars with colorful lids evoking memories of home-cooking and hand-made preserves, snow, sledding, fireplaces – let your imagination decide the subject for yours.
Rustic photo Christmas card ideas can also include beloved family pets playing with children, cute barnyard animals, horses, or reindeer.
Your card will send a merry message and reflect on fun family time spent together. If you are running a country store, the rustic style would be also appropriate for your Holiday cards sent out to clients. It will help you stand out in the sea of similar-looking corporate "Season's Greetings" cards that inundate our mailboxes in December.
Family Portrait Photos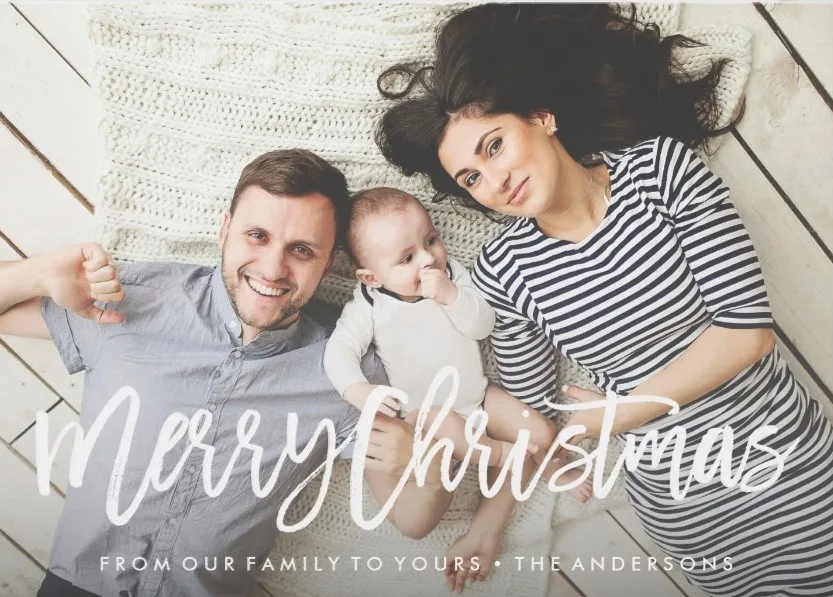 One of the most popular options among photo Christmas card ideas is a great family photo on a beautiful hand-crafted background with calligraphy lettering. Add a simple message and you are ready to go!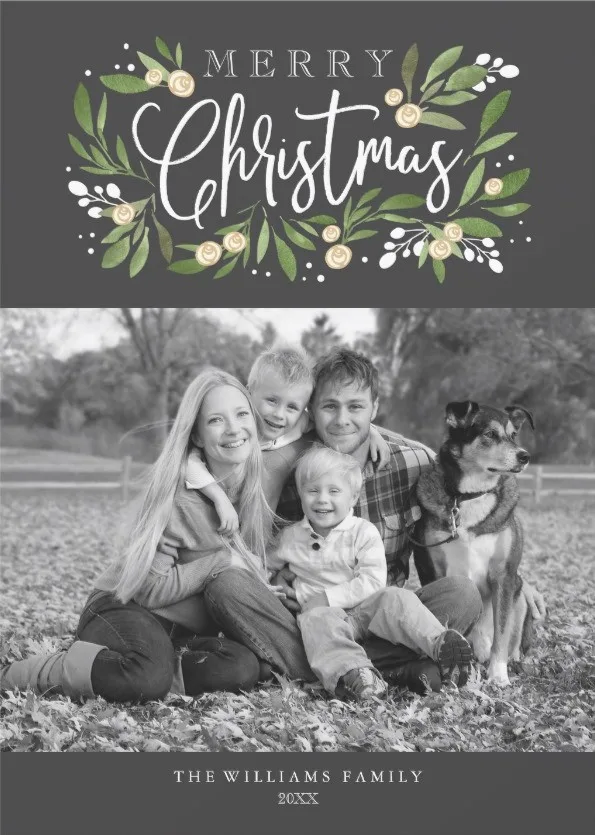 This is a great option for those of us having a busy life – you can have more time to spend with the family leaving the design of elaborate Holiday card to professionals.
There are many design options available for popular holiday photo cards featuring a variety of simple or not-so-simple borders, fonts, messages, shapes and color schemes. Make sure that your design matches your photo style and attire.
If you took a snapshot at the family cabin and everyone is dressed in denim and cowboy boots, pick a rustic style for background and font. If it is a fireplace shot with everyone wearing their best dress attire, an elegant theme would be appropriate.
Design Buff Card Templates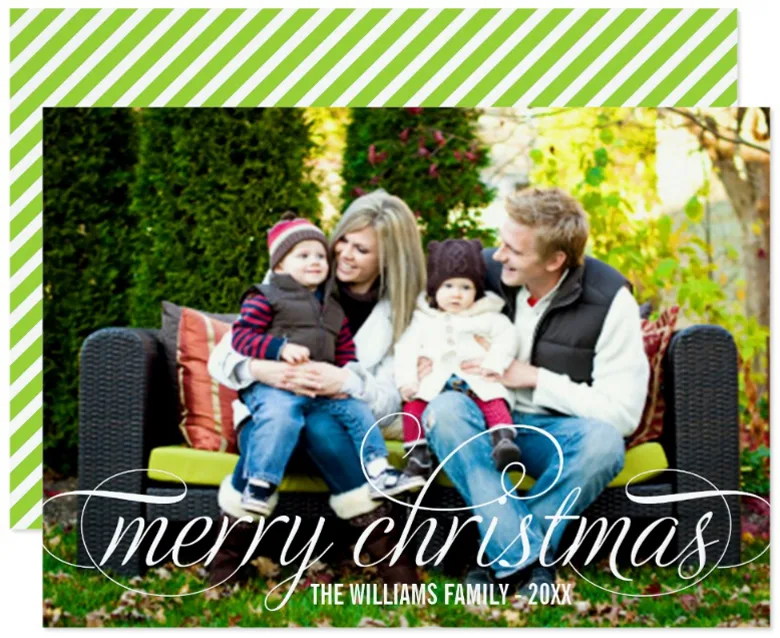 The latest trends in holiday greeting cards are stylish designs that are both sleek and modern. They make your card look more artistic rather than cute.
What is hot: a great pattern like chevron, stripes, dots, watercolor palette, or unusual colors combined with cool fonts and a great photo. It all creates a winning combination a photo card that is both memorable and unique. Note that all designs are customizable.
Tired of red polka dots and green chevron patterns? Try black & white photo with a simple grey background, blue font, and white accents. The results may amaze you. Black and white with hues of maple will create the look which is contemporary and sophisticated.
"Merry & Bright" Simple Christmas Cards
---
The whole holiday season is merry and bright so we all want to reflect that joy in the holiday greeting cards that are sent to friends and family. Traditional red and green are complimented with a variety of bright colors from pastels to neon-bright that make your photo holiday cards fun and contemporary.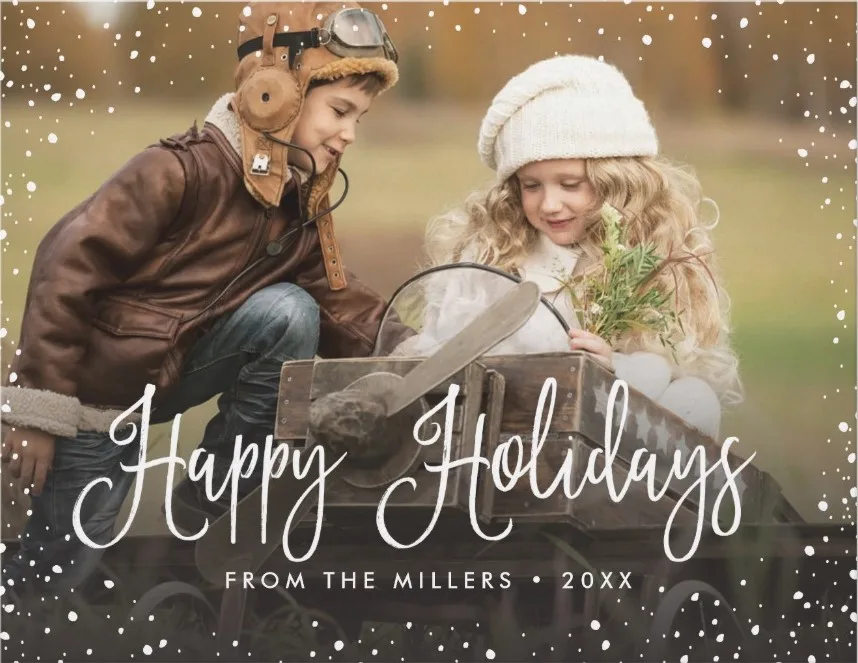 If your family photo already has some bright colors, we may suggest keeping your message simple and using complementing colors. Or just use a few bright colors in the same color scheme to accentuate the colors of the photo.
White and black backgrounds work well with this color scheme and give your photo cards a sleek modern look. Bright colors over the black & white photo create an interesting vintage look. Neon colors on a black background create a memorable holiday party invitation.
Funny Christmas Photos Card Ideas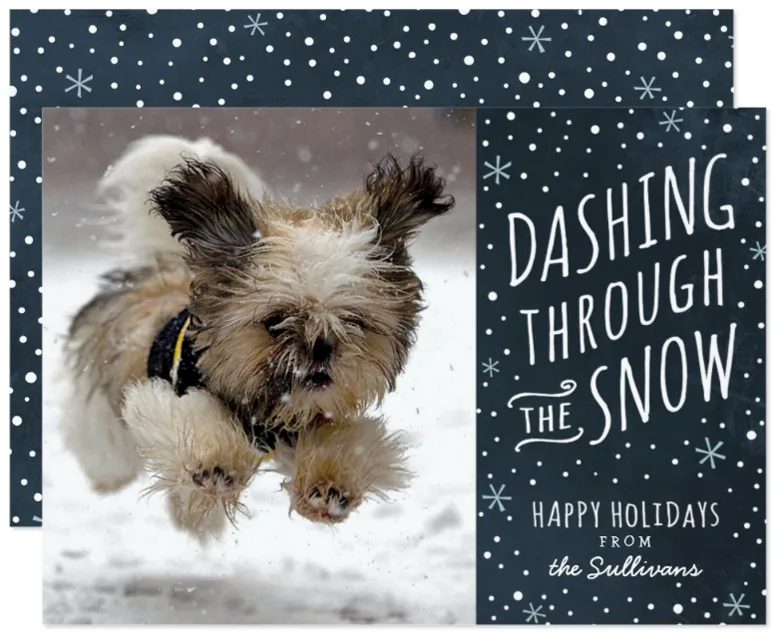 Creating a funny photo holiday greeting card can be a great way to jump-start your family fun for the season. Start with a funny family photo – pets may lend you a friendly paw that will just do the trick.
Dressed-up puppies wearing Santa hats will sure win everybody's smile. It can also be your unique humorous message that makes everyone smile. Be creative – it's the most wonderful time of the year!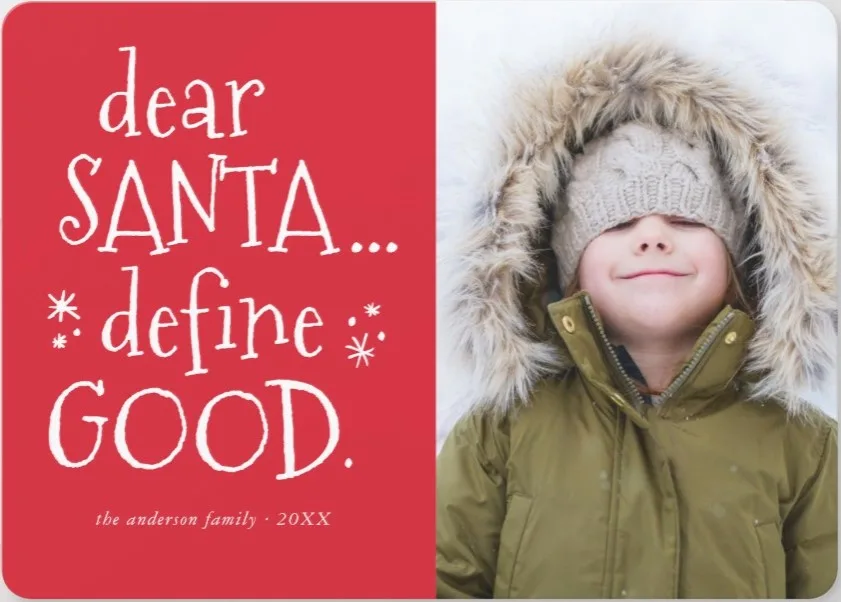 ---
* According to the U.S. Greeting Card Association (GCA), Americans purchase approximately 6.5 billion greeting cards each year where 1.6 billion Christmas cards are the boxed cards and the rest are attributed to online custom holiday greeting cards.