Easter tablescapes are an easy way to put your home decor on a new level and welcome family and friends. Check out our collection of ideas and pick your favorite style.
In fact, Easter table decor is as essential as the festive food you are going to serve. Of course, you don't have to hire a professional designer to make your Easter table look festive.
On the contrary, learn from DIYers like you how to do it in style and save time and money. With these tutorials, you'll learn all the steps and materials needed to create one of the best Easter tablescapes.
From simple and charming to modern, in this collection of Easter tablescapes, you will find a design to inspire your own creation.
How to Make Your Easter Celebration Special
Furthermore, to keep your Easter gathering special, consider these simple steps:
dress up for the holiday
play your favorite holiday music
take family photos
create a festive table
involve kids to bake, prepare food, and set the table
prepare some activities, such as kids' crafts and coloring pages
create an Easter Egg Scavenger hunt (get creative with small toys, inspiring messages, and fun coupons)
print out free bingo games and set up fun family games to play
10 Amazing Easter Tablescapes
This Easter table is so easy to recreate! A simple Easter wreath in pastel colors and spring flower bouquets you can pick up anywhere are the heart of this tablescape.
A white Easter bunny and simple grey napkins and place cards will add the finishing touches. Water hyacinth placemats make the whole table setting simple yet festive in combination with white tableware.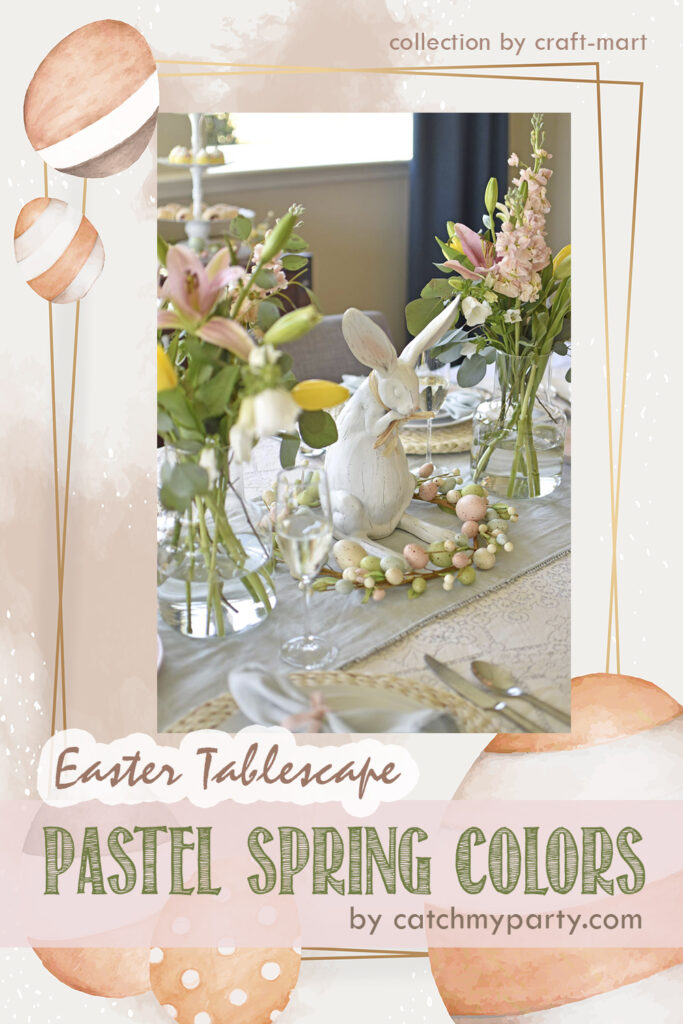 Source: Pastel Spring Colors Easter Table
Naturally, cherry blossoms or any spring blossoms make the table look festive instantly. Also, it is super-easy to create a spring centerpiece using faux pink cherry blossoms and a white planter box.
With this in mind, keep the rest of the table decor to a minimum. A simple bunny bowl filled with golden-speckled eggs is the perfect addition to this festive Easter table.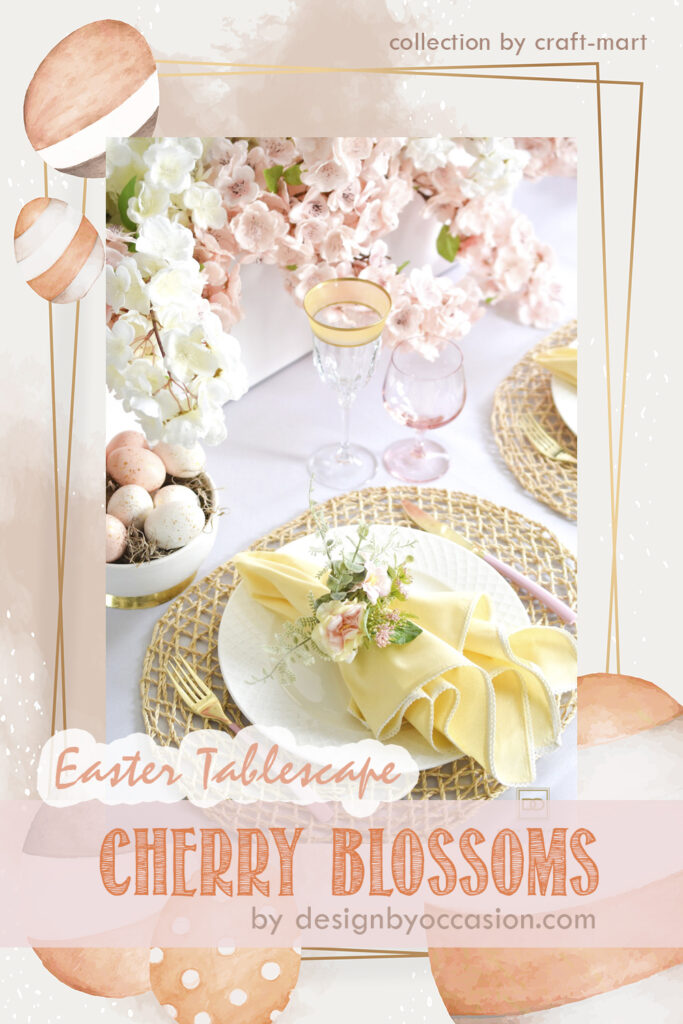 Source: Cherry Blossoms Easter Tablescape
If you love neutral colors, like beige and white, and the natural texture of linen, moss, water hyacinth, and fragrant greens, you'll find lots of inspiration in this tablescape design.
Furthermore, it comes with a tutorial for this cute bunny napkin ring. Simple white vases filled with garden herbs bring freshness to this spring table setting.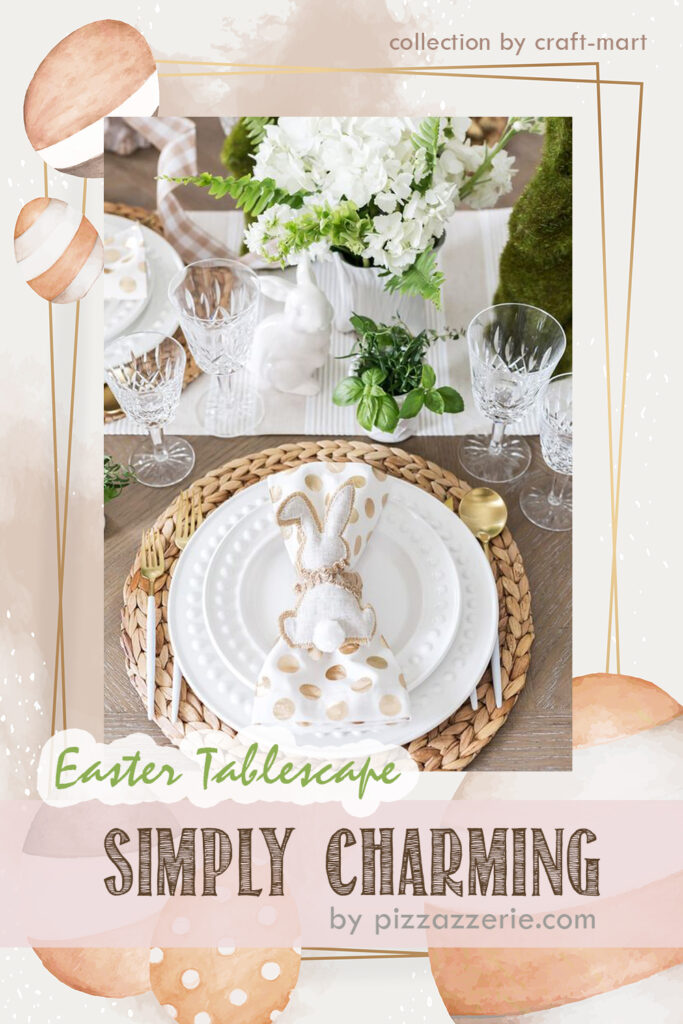 Source: A Simply Charming Easter Table
A sure exercise in simplicity, this minimalistic table is frugal and easy to recreate yet it allows you to celebrate in style. If your house is modern, you can creatively use the items you already have in your possession.
What makes this tablescape special, are just a few natural touches such as a vase filled with cut branches and a moss-filled bowl with gold-speckled eggs.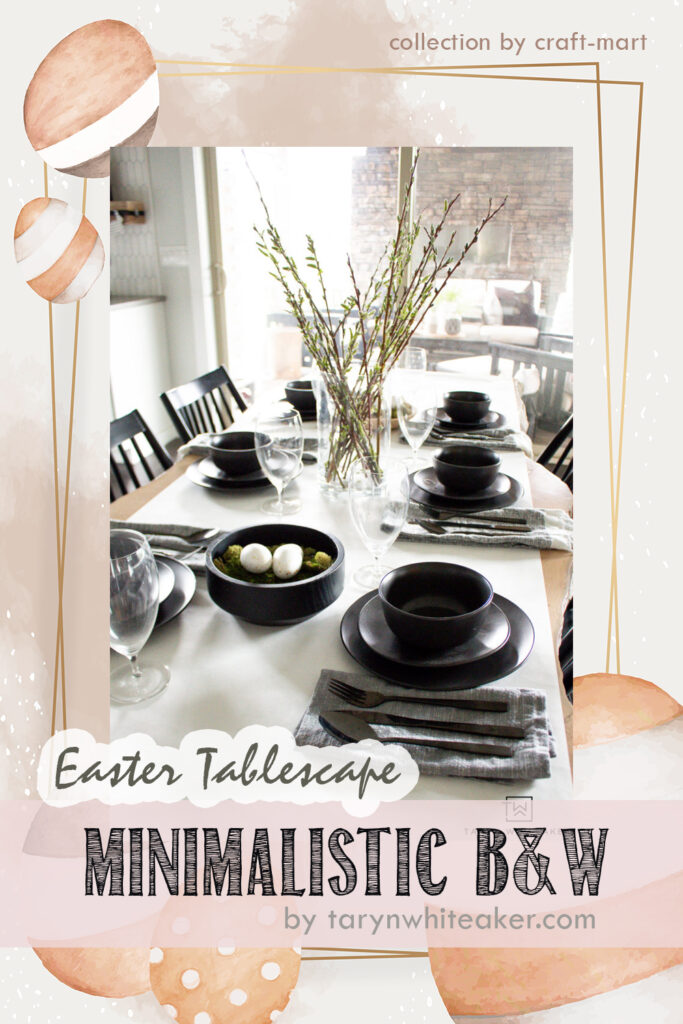 Source: A Minimalistic B&W Easter Tablescape
Subtle yet distinctive, this neutral Easter table idea by Pottery Barn is as charming as it is easy to set. In fact, you can purchase or DIY cute bunny ears napkin rings to add a touch of whimsical charm to your holiday celebration.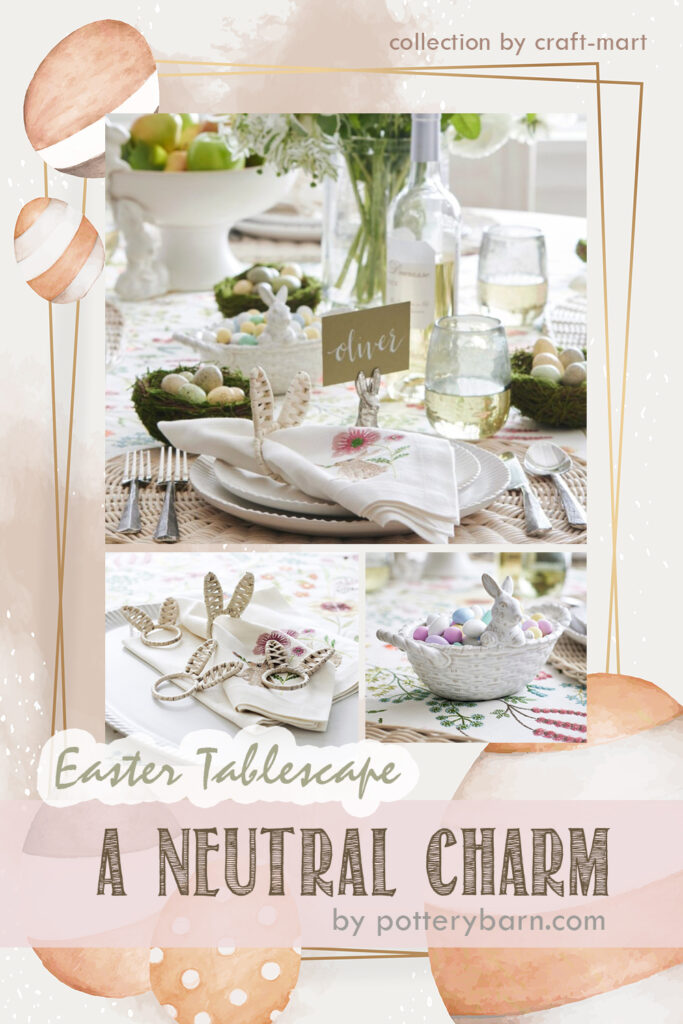 Source: A Charming Neutral Easter Table
Hop to your Easter celebration with this charming country table accented with hand-painted eggs. As long as you have your favorite Easter egg collection, display it with pride and avoid spending money on the eggs featured here.
In fact, make it more whimsical with a mix-and-match collection of bright or pastel egg designs. The art of holiday tablescapes is to use tastefully the items you already have.
With this in mind, view our collection of Easter tablescapes as an inspiration, not an instruction. Uniquely, your own collection will make your tablescape as personal and creative as you are.
Source: Egg-cellent Easter Table Idea
This simple Spring Cottage Easter Tablescape is one of the easiest among all holiday tablescapes in this collection. Together with a rustic burlap table runner and placemats, the table centerpiece is a simple mason glass jar filled with spring blossoms.
Add a rustic country bunny to put a finishing touch on this table setting. In fact, you can finish the whole table setting in less than 15 minutes. Perfect when you are in a hurry!
Source: A Spring Cottage Tablescape
A bright floral centerpiece is a focal point of this spring table. In like manner, you can use any rustic basket and a bunch of tulips to recreate this fresh look.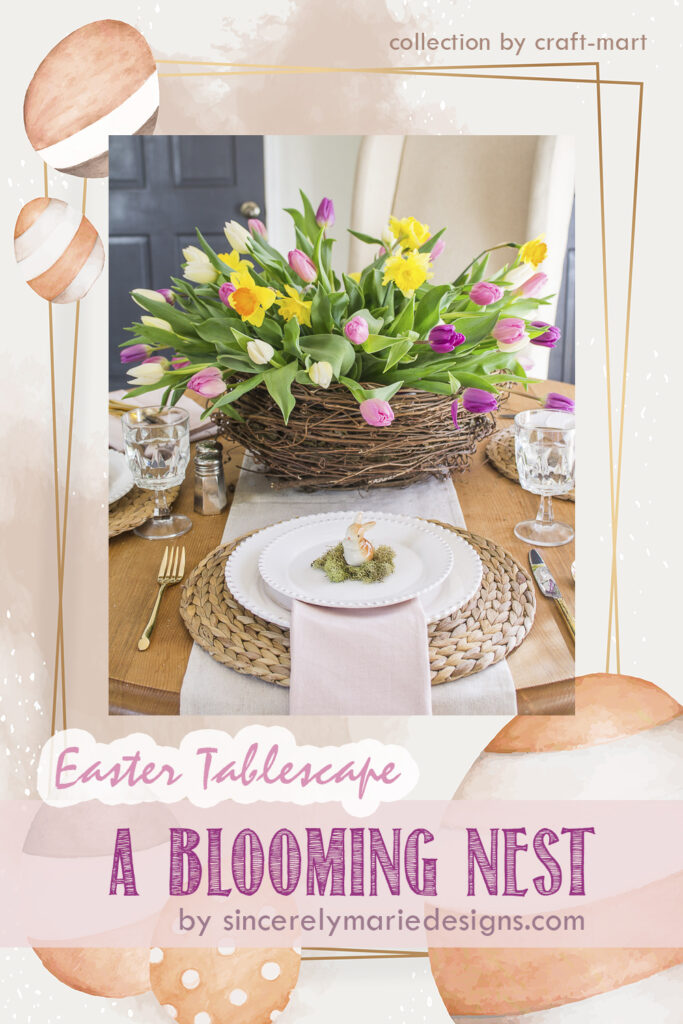 Source: A Blooming Nest Spring Table
This garden-fresh Easter table not only looks amazing but will make your house smell great as well. Arrange a variety of blooming spring bulbs using a simple white table runner to set up your holiday table.
Moreover, a few golden bunnies and eggshells filled with herbs (as a name card holder) add a few perfect finishing touches for this garden-fresh holiday tablescape.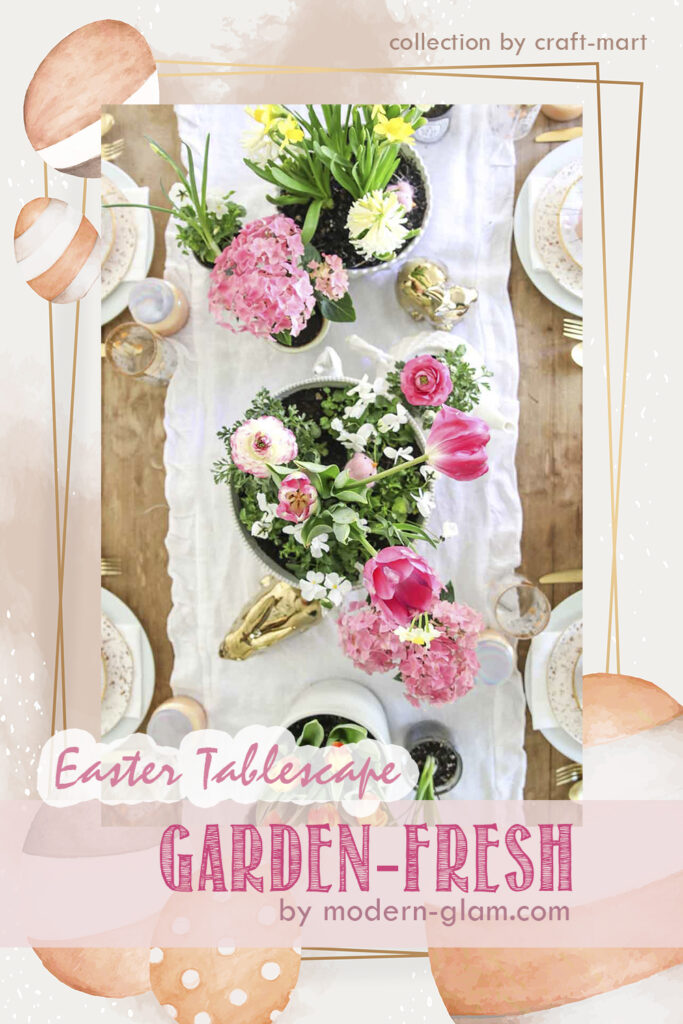 Source: A Garden-Fresh Easter Table
In case you are a fan of a farmhouse style, check out this Easter tablescape. Keep your color scheme simple with white, green, grey, and stripped blue linen.
In addition, the centerpiece can be recreated using white plates, glass cloche cover, and eggs arranged in the nests. In reality, all these items are readily available in any craft store's seasonal aisle.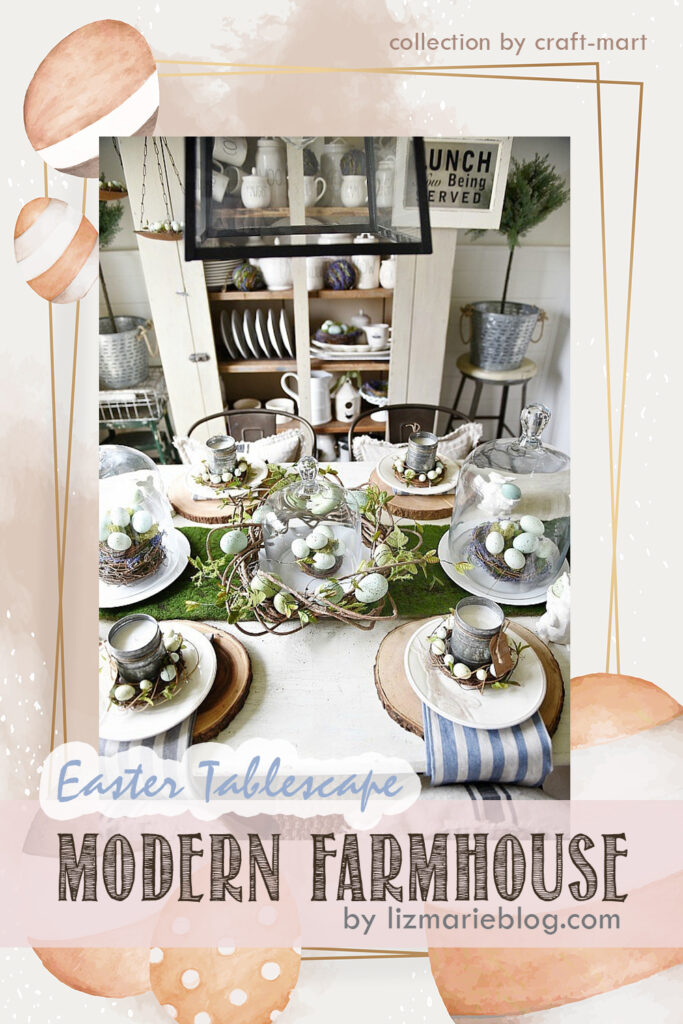 Source: A Farmhouse Easter Table by LizMarieBlog
In summary, we hope that you enjoyed the plethora of ideas for a spring celebration from our favorite designers. After all, it is a great source of inspiration to create your own beautiful tablescape.