Olive Oil Pouring Recipe: Replace Silicone in Acrylic Pour Paintings
So far we have analyzed a few pour painting tutorials promoting acrylic pouring with silicone oil. In this video Souffle Art simply shows that replacing silicone oil with any other oil will produce similar results. They write:
As an extra point of clarification, this test was performed because some viewers didn't have access to silicone or dimethicone oils where they lived, and they wanted to know if other oils would produce similar looks. Cooking oils are obviously not intended for painting or professional use. This video is simply demonstrating the performance of non-silicone oil to encourage cell formation in fluid acrylic paint.
Acrylic dirty pour with linseed art oil
Suzana Dancks really surprises some of the Youtube viewers by substituting silicone oil with linseed art oil. Strangely, for some, the idea of using the traditional art oil on an art canvas seems to be completely foreign. Good tutorial in any case even if you are a linseed art oil doubter. Rembrandt was using it, so, perhaps you should consider trying it as well?
Not without some additives to make reduce the viscosity of these oils that were specially formulated to be thick.
Fine art supplies stores sell different variations of slow and fast-drying linseed oil.
You will not find silicone oil there!
Can you substitute silicone with linseed or walnut oil?
Not without some additives to make reduce the viscosity of these oils that were specially formulated to be thick. to make reduce the viscosity of these oils that were specially formulated to be thick.
What do you need to get started with acrylic pour painting?
Get fluid acrylic paints
Get Floetrol, Thin-X, or another pouring medium, like the one below by Liquitex, and a few stretched canvases or canvas panels (for practicing). Lastly, get oil for making pour painting cells and you are ready to go!

Get the Basic Acrylic Pouring Set from Amazon
(Check out other sets and supplies here)
Alternatively, you may check out these paint-pouring kits from Arteza that include specially-formulated paints that require no additives (besides silicone oil)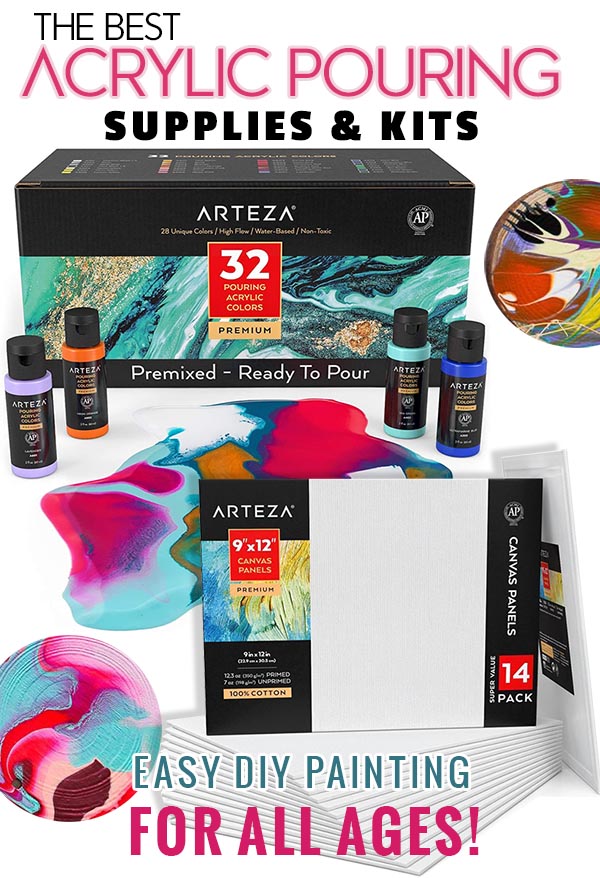 After reviewing these acrylic pouring tricks, let's quickly mention a few alternative techniques. Why mention them here at all?
A few reasons:
More and more people are getting concerned about polluting Earth with plastic and acrylic paints which are not biodegradable;
Acrylic paint pouring art requires a sizable initial purchase that is not affordable for everyone;
You want your kids to try it but you don't want to be stuck with a pile of unused expensive art materials in case they decide to quit after the first session;
Simply because they are fun too!
So, sequential pouring of undiluted fluid acrylic paints of different colors directly onto canvas or a panel creates a marbelizing glaze effect, and, most importantly, you'll have lots of fun doing it. An outcome is often unpredictable, in times full of exciting surprises and, sometimes, disappointments.
Now, this marbelizing effect can be also achieved by another quite old technique widely used for producing marble paper.
3D Objects and Paper Marbling Techniques and Recipes
All Craft stores and Martha Stewart sell paper marbling kits, like this Suminagashi set, for ~$15.
One thing that most people do not realize is that you can marbelize this way not only paper but the whole range of other things including canvas and 3D objects.
Super easy to start, especially if you already have some acrylic, oil, or even nail polish at home. Then the only 2 things you'll need are a tray or a bucket and liquid starch. Watch these videos to see what's possible.
Learn to Marble Paper

Awesome tutorial on paper marbling.
SWIRLING (Ibanez Guitar)

Swirling, as acrylic pour painting, is easy and fun to do and watch. Millions of people enjoyed this video – far more than any other acrylic pouring tutorial. Perhaps, there is something to it…
Imagine what you can achieve with more colors and different objects like gift boxes, flower pots, and, of course, canvas as well.
How to Swirl Paint Tutorial

This video is showing that swirling, as an acrylic pour painting technique, is easy and fun.
What about truly ecologically-friendly paints suitable for pouring?
Have you heard of egg tempera paints? See next page…