Is it that time of the year again? We get so busy in November and December that it is a natural desire to slow down, reflect on what is really most important in life, and show your gratitude. It is also time to turn your funny Christmas photos into annual holiday cards.
It is also the time of the year when we start getting holiday cards from family, friends, and colleagues. Some are hilarious, some are funny, and some are so creative that they deserve to be framed and adorn our homes as wall art.
Be honest, we all thrive to make our annual family portrait photo so memorable that it becomes the talk at the holiday table for years to come. Our graphic designers and creative team members looked through hundreds of unusual Christmas cards to bring you the best of the best so your next family photo shoot could be relaxing, funny, and creative.
We have also collected some of the most inspirational Christmas messages, funny Christmas card sayings, and holiday greetings messages to make the process of creating a family photo card effortless for you. Just kidding, it will never be easy – the hardest part is to get kids dressed, keep them smiling and entertained for the duration of the photo shoot!
Inspirational Christmas Messages:
Happiest Holidays!
Wishing you Love, Hope, Joy, and Peace!
Sending Holiday Cheer from our family to yours!
Peace on Earth and good will toward all.
May your holidays be merry and bright!
Peace and love to warm your heart this holiday season.
Health and happiness from our family to yours.
Laughter fill your home on this joyous holiday. Be comforted, be content, and give love.
Sharing this season together is the greatest gift of all.
Joy and love to you and yours this holiday season!
May the lights of the season fill you with warmth and joyous spirit.
May the charms of the holiday season gladden your heart and lighten your burdens.
Season's greetings and best wishes for the New Year.
Each of us is an innkeeper who decides if there is room for Jesus.
Joy to the world!
Hope, joy, love, and gladness – let all these be your guide this holiday season.
The end of the year brings no greater joy than the opportunity to express Season's Greetings and Good Wishes. From our family to yours … have a warm and memorable holiday season and a prosperous New Year!
Funny Christmas Card Sayings:
What happens under the mistletoe, stays under the mistletoe!
Keep calm and wait for Santa.
I might not believe in Santa, but I still believe in a good Christmas card!
Another Christmas already? Seriously? I'm still trying to lose weight from the last one…
Home is where the Christmas cookies and presents are!
Add a fruitcake and an ugly sweater = The best Xmas ever! You are welcome.
We wish you a Merry Christmas, we wish you a Merry Christmas, we wish you a Merry Christmas and you're welcome – that song's now stuck in your head all day.
I know, we say this every year… but let's actually go caroling… No, I mean it! Our neighbors will LOVE it…
It's your Christmas! March to the beat of your own little drummer boy.
Christmas is not about presents. It's about family… What are you bringing me this Christmas?
This holiday season let us treasure what is truly important in all our lives, the reason for the season: Cookies.
Take a look at these warm holiday cards! They are all inspired by Christmas carols that we all know and love, so turn on your favorite music, grab a cup of your favorite drink, and take a well-deserved break from all the exhausting holiday planning.
1. "It's the most wonderful time of the year…"
Winter wonderland, snow, the magic of the season – it's all captured in that beautiful and calm shot. The composition is masterfully defined and leaves room to breathe. Just a perfect wintery shot for a very special holiday card!
Source: Pinterest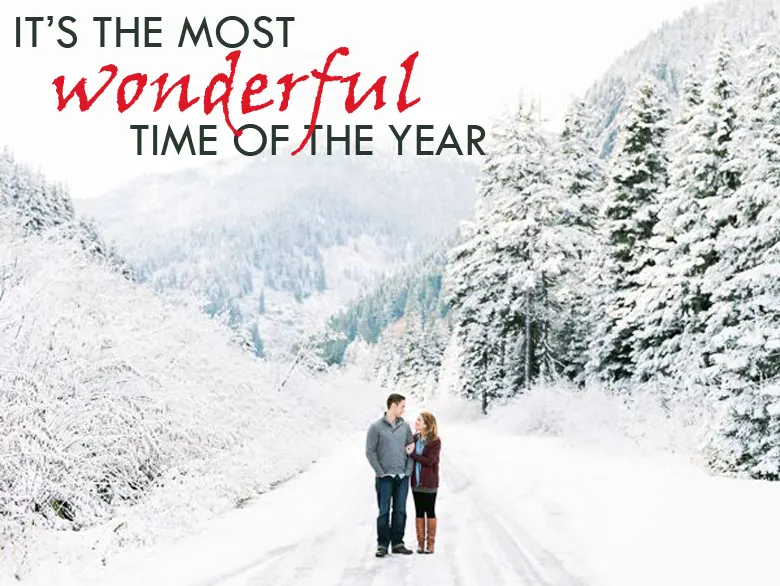 2. It's A Wonderful Life
As a reflection on how busy family life can be, this hilarious family portrait deserves a special mention. Love the fall foliage colors that compliment the scarf and the contrast of blue and gold! It evokes the feelings of joy with a touch of humor – signs of a loving family and a great idea for a funny Christmas photo card. (Just make sure no kids are harmed in the process…) Source: Pinterest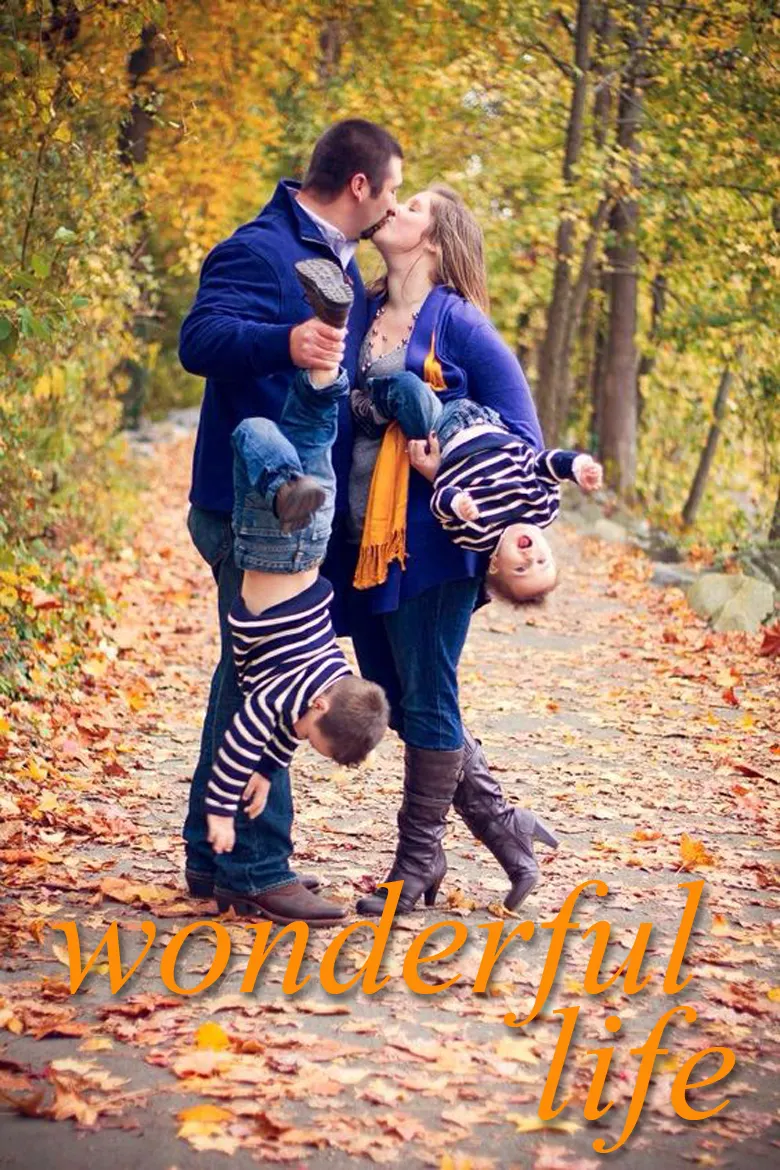 3. 'Twas the night before Christmas…
As photos of kids with Santa become a right of passage for the season, we can all recall exhausting lines at the mall. Kids get tired and cranky and instead of a cheerful little toddler on Santa's lap, we can get a crying baby. Or a sleeping baby.
This is a humorous take on a timeless classic that causes no stress for the family and will bring a smile to everyone who will get your funny holiday card. An artistic layer of brush strokes gives this photo some vintage flair. Source: Pinterest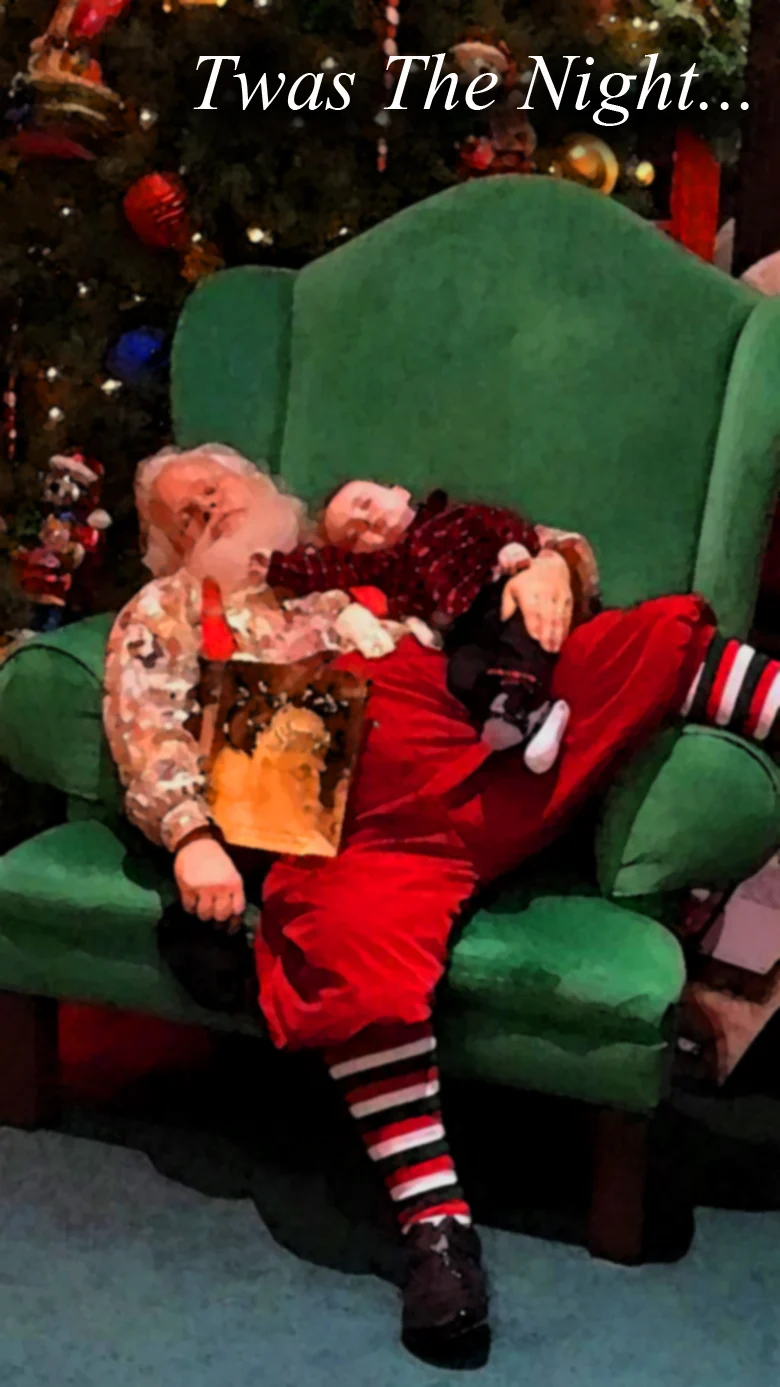 4. "O Christmas Tree…"
A family outing to a Christmas Tree farm can be your new tradition for the holidays. It gives everyone great memories of fun family times, lets us slow down to enjoy the season, and an opportunity for a warm yet candid family photo. What a great idea and a wonderful choice for a holiday backdrop! Source: natyouraveragegirl

5. FA LA LA LA LA
This joyous holiday card idea has seen many variations over the years – families jumping up in the air holding hands. What makes this outdoor Christmas picture so unique? Composition. Note: you may need a professional photographer to achieve similar results for your funny family portrait. Source: bubbaloophotography.com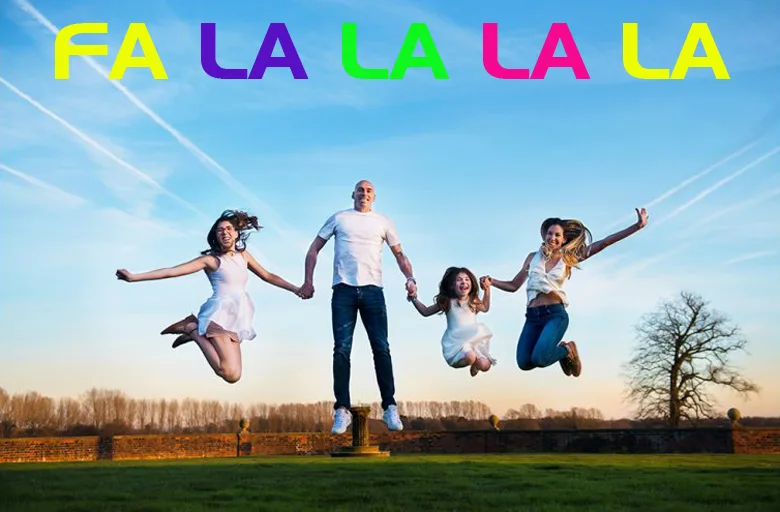 6. "Do you hear what I hear?"
This one was voted by our team as one of the favorite shots. Lighting, contrast, outer glow, and the unique idea create a memorable moment that is so worth capturing! The result will be a creative and funny holiday card that deserves to be an art canvas print on your wall. So get inspired, find your own unforgettable moment, and spread the joy. Source: Pinterest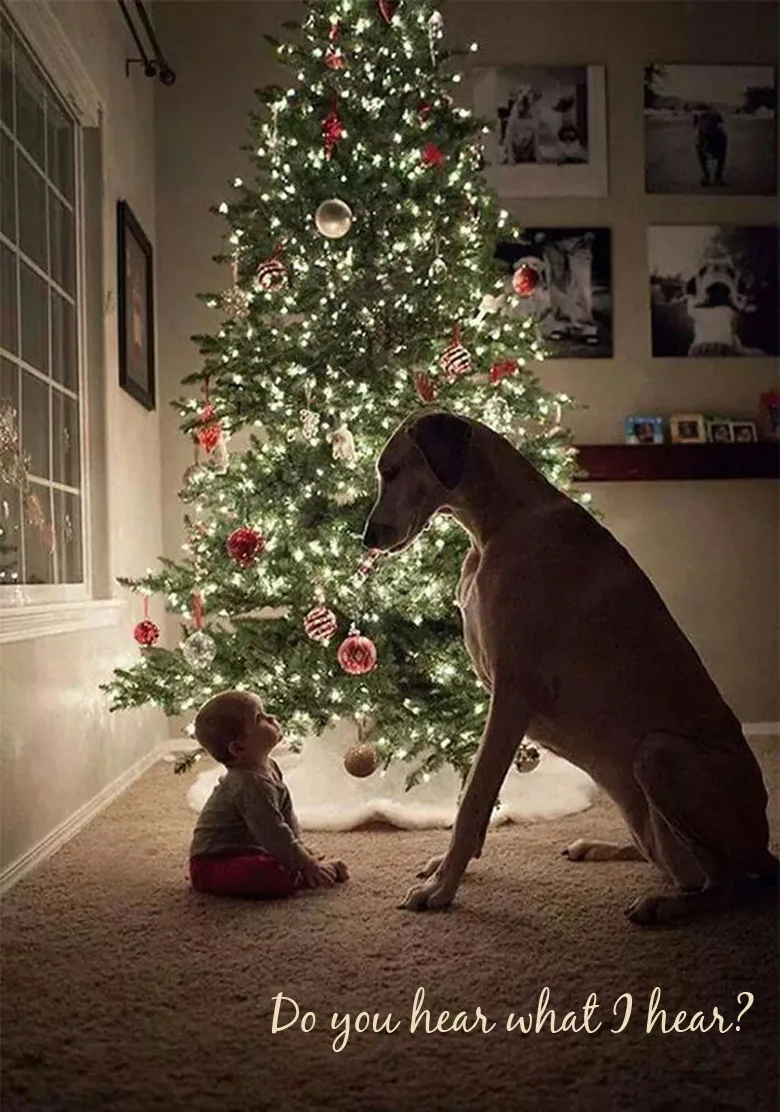 7. "Silent Night…"
Funny! This family photo will be a great personalized holiday card. Though the theme is not original anymore as it has gained some popularity thanks to social media and Pinterest. But we all want just some peace and quiet so a silent night sounds great to all exhausted adults.
Guaranteed – it will bring a smile to everyone who will get your funny Christmas card. Make sure to use common sense and practice some basic safety rules… Source: Pinterest

8. "Angels we have heard on high …"
This is a masterpiece by a professional photo studio and can be such a cute Christmas card! So, if you have a new baby and due to budget constraints want to combine sending birth announcements and holiday cards, it may be a great route to take.
A beautiful photo to cherish your newborn angel and to send holiday cheers to everyone on your list! Source: bubbaloophotography.com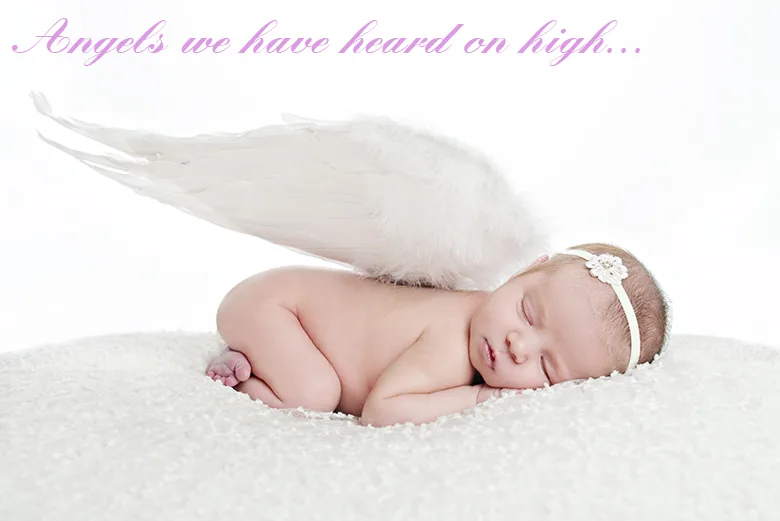 9. "He'll be comin' down the chimney…"
We love, love, love this spontaneous and candid shot! Everything is working here: theme, light colors, the warmth of a fireplace, the twinkle of miniature lights on the mantel, and just a feeling of a fun family game night in anticipation of a Christmas miracle … What a lovely idea for the best Christmas card ever! Source: shutterfly.com/ideas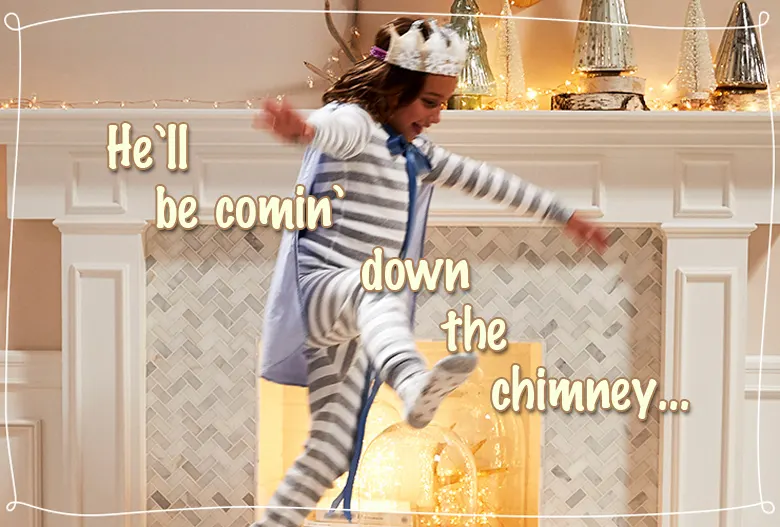 10. "Baby, It's Cold Outside…"
One of the traditional shots in festive red buffalo plaid PJs makes such a memorable family portrait and can become a very cute Christmas card. Bonus: you don't have to beg everyone to smile – kids can make faces and just be kids.
If you live in a hot climate where it never snows, consider renting a cabin in the mountains for some skiing, snowboarding, snowball fighting, and just pure family fun. Memories will last longer than gifts… and you'll have your unique outdoor Christmas picture for a funny holiday card! Source: kristendukephotography.com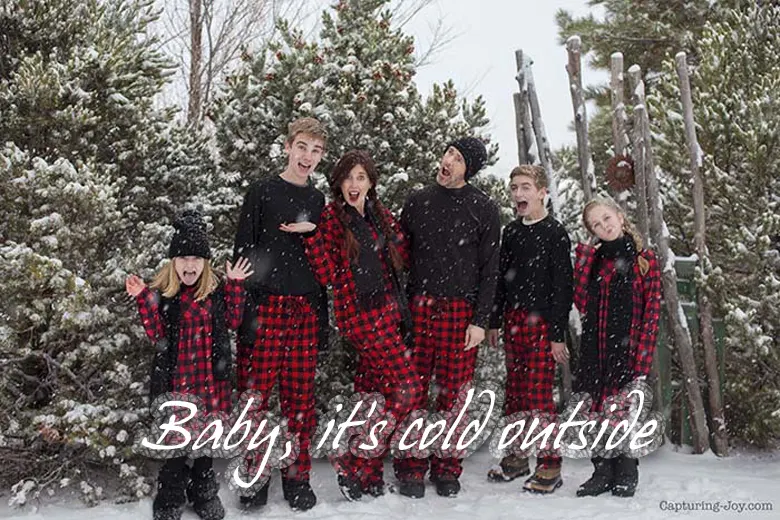 11. "You know Dasher and Dancer…"
Cuteness overload, a baby and his 'rein-dog' will warm up the hearts of everyone, not just grandparents. The link takes you to a step-by-step DIY tutorial for a baby Santa and his rein-dog costume – perfect for a budget-conscious parent. Source: DIY via tinylittlebee.com
12. "The First Noel…"
Baby's first Christmas is a very special time and a must-to-capture for family photo archives. This example is a wonderful photo portrait by Lisa Holloway, an award-winning fine art portrait photographer residing in rural Northwestern Arizona. Source: by Lisa Holloway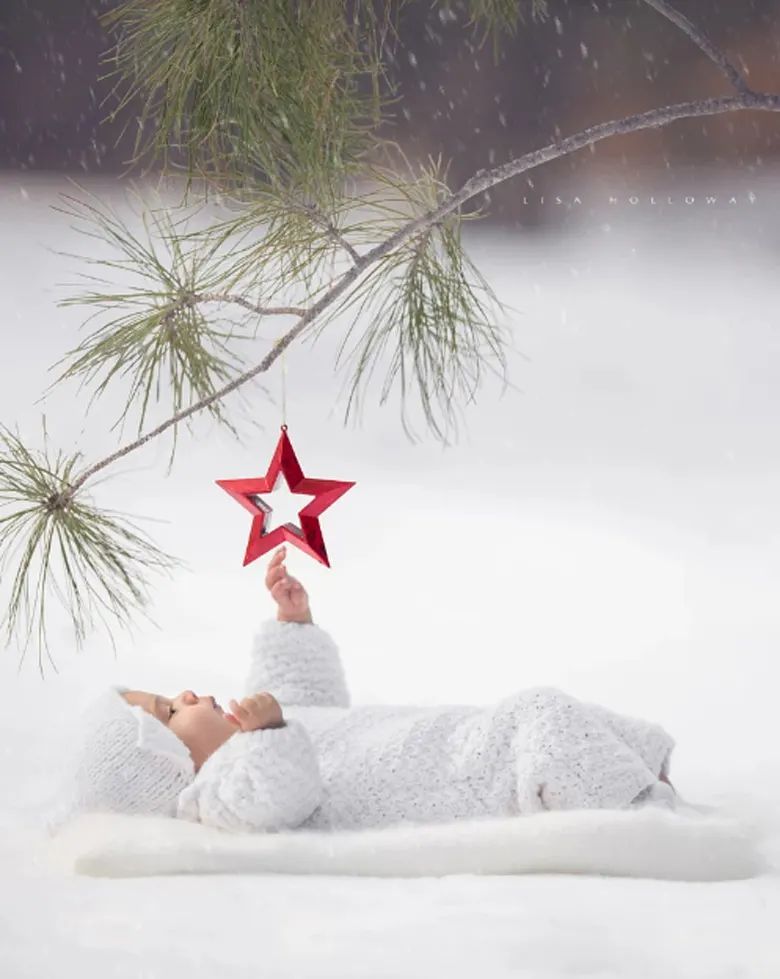 13. "Deck the Halls…"
Some people really go out for the holidays and decorate everything, including family pets. And some dogs really like to think they are Christmas trees… Can this shot be turned into a funny and creative holiday card? It is for you to decide if you can manage to keep your dogs sitting still to capture the moment.
Source: Buzzfeed

14. "Dashing Through The Snow…"
Cute, cute, cute – what a great idea for a creative card! The snow overlay adds some nostalgia to this simple family shot and kids always look great, especially in little cars with little Christmas trees. It's a winner! Source: Pinterest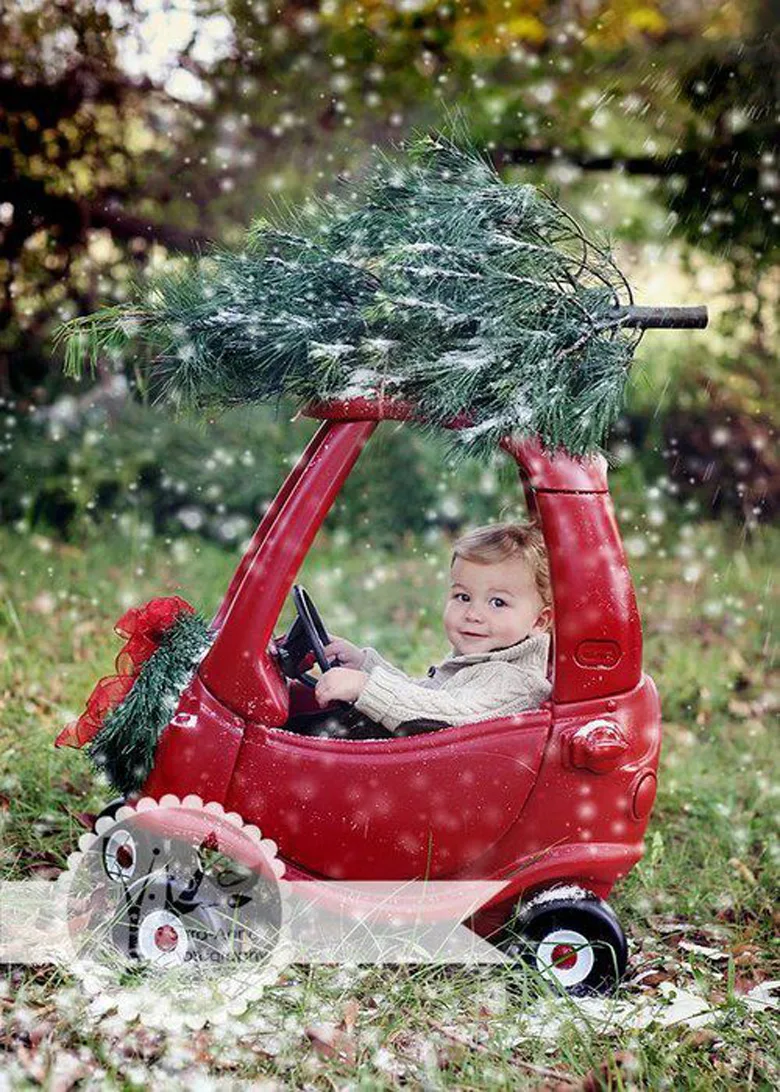 15. "Dear Santa, I can explain…"
This is a great Holiday card to send out to friends for a single dog-loving fashionista – playful and with a touch of humor. A great idea for a funny Christmas card that involves our furry family members. Source: thesweetestthingblog.com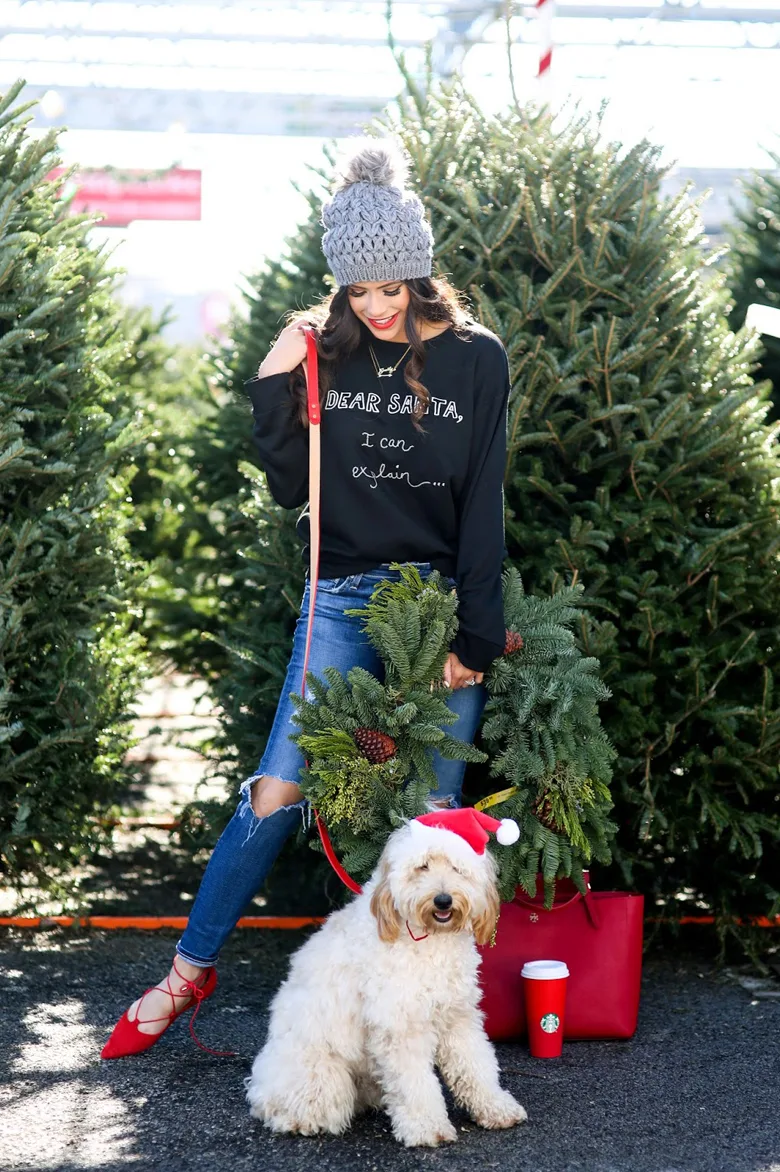 16. "Let It Snow!"
In a festive array of holiday cards, we mostly see happy smiling families – and this is great. But if you want your card to stand out and be memorable, you can try something different this season. The nostalgia of simple farmhouse-style rustic Christmas, the smell of freshly-cut Christmas tree, and hot chocolate by the fire: "Oh the weather outside is frightful, But the fire is so delightful, And since we've no place to go, Let It Snow! Let It Snow! Let It Snow!"
Source: myscandinavianhome.com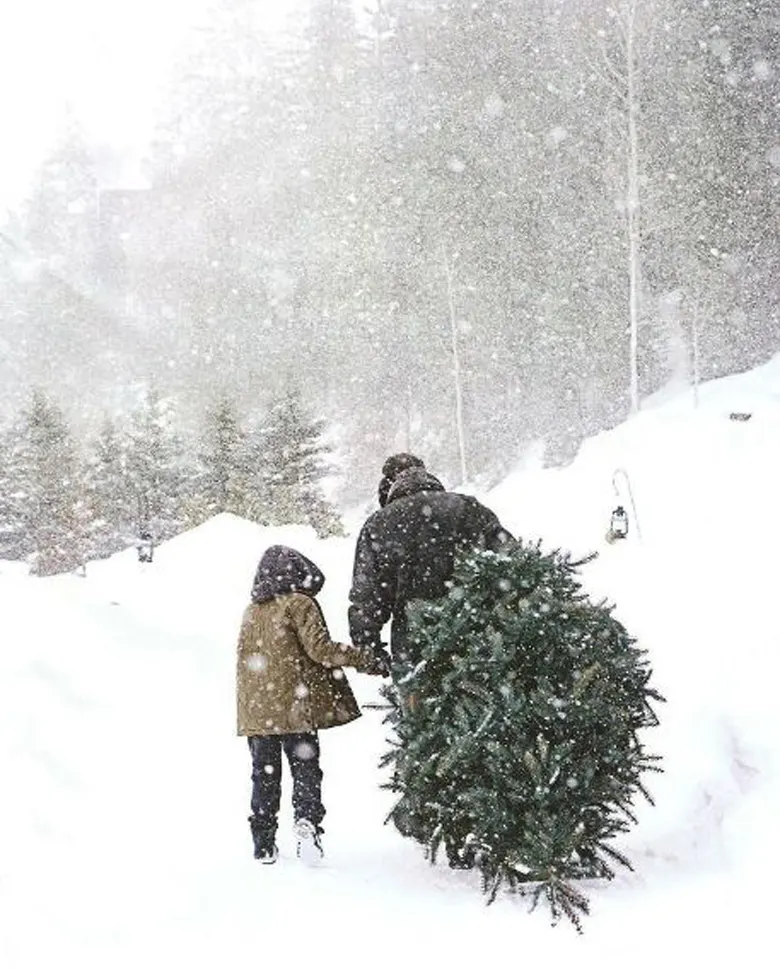 17. "Oh Holy Night…"
And we saved the best for last: magical photography by Elena Shumilova who captured some unforgettable images of her kids growing up in a simple rural setting. Her secret to catching that perfect moment? "When photographing children, the single most important thing is to photograph them often—every day." Source: elenashumilova.smugmug.com