Holiday tablescapes play a central role when families get together to celebrate the season whether it is Thanksgiving, Christmas, New Year, or Easter.
Furthermore, are you looking for home decor inspiration? For this reason, check out these posts:
What is a Holiday Tablescape?
In fact, a holiday tablescape is an arrangement of decorative elements and tableware that produces a decorative and festive effect for a certain celebration.
What do you need to create holiday tablescapes?
In general, to create a beautiful and balanced tablescape designers use a combination of vertical and horizontal items. As an illustration, it is customary to use:
table runner
floral arrangement
candles
greenery
placemats
plates
silverware
bowls
How do you create perfect holiday tablescapes?
First, decide on the style and color scheme: traditional, modern, or rustic.
Second, add a centerpiece that is made of greenery, natural items, and decorative elements.
Third, add all necessary utensils while minimizing clutter.
Lastly, light a few candles to set up a festive mood.
How long does it take to create a tablescape?
In fact, we have collected an amazing plethora of holiday tablescapes that can take as little as 5 minutes for a quick seasonal table runner to an elaborate holiday pumpkin cornucopia. Consequently, you can pick a tablescape that fits your style and your budget.
THANKSGIVING TABLESCAPES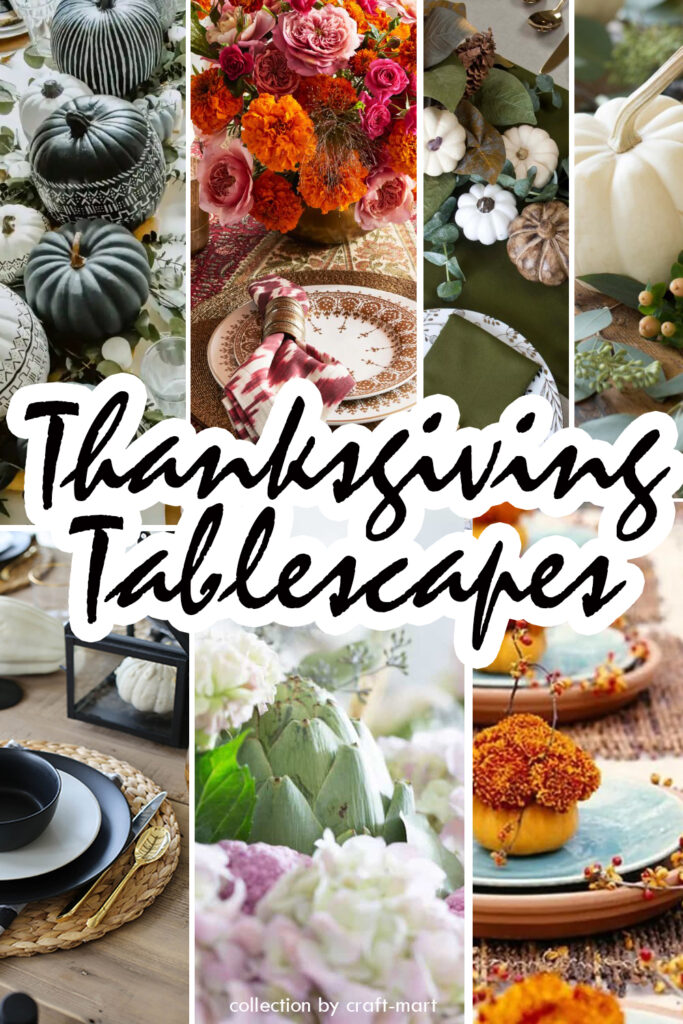 1. Modern Farmhouse Fall Thanksgiving Tablescape
This minimalistic modern tablescape is a perfect match for a rustic dining table. White pumpkins, black candle holders, and simple black-and-white plates create a modern festive vibe.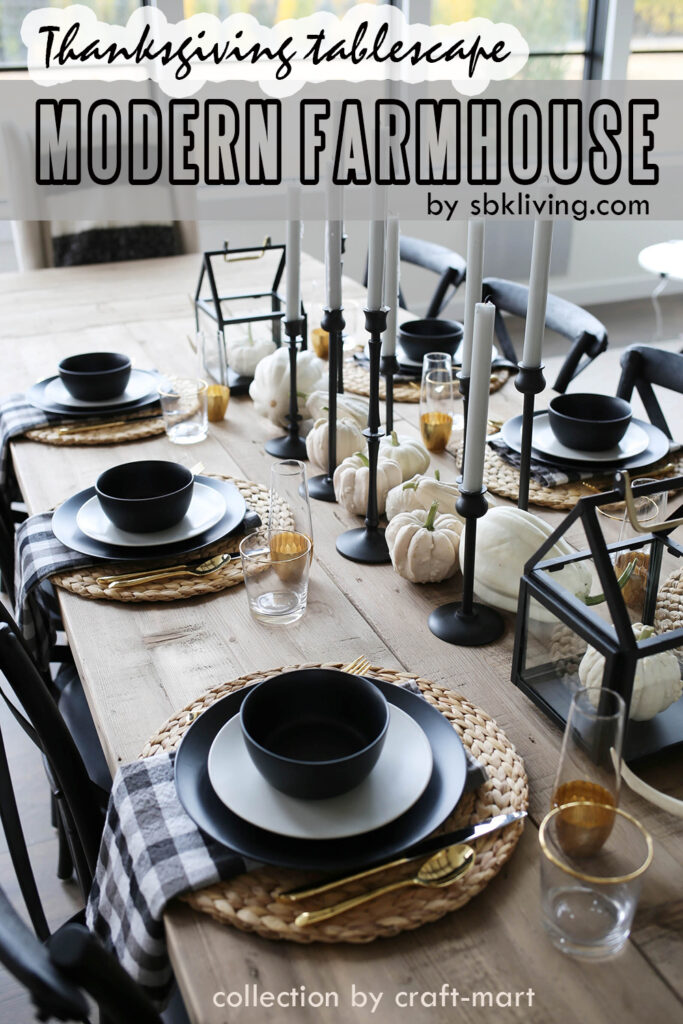 Source: Modern Farmhouse Fall Tablescape
2. Neutral Thanksgiving Tablescape
These two traditional holiday tablescapes are easy to recreate and they won't break the bank. To clarify the design process, arrange a variety of pumpkins in the middle of the table and add some vertical candles.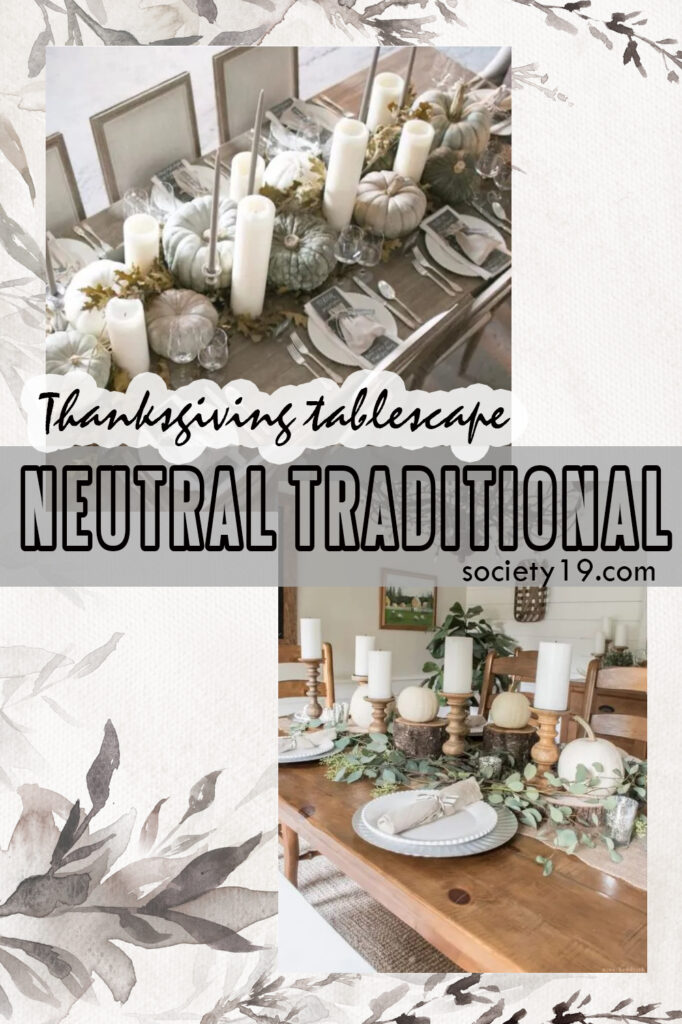 Source: Neutral Thanksgiving Tablescapes
3. 5-Minute Mini Pumpkin Table Runner
This clever and tasteful holiday tablescape is my personal favorite! As a matter of fact, the less time you spend on decorating, the more time you will have to enjoy the holidays and socialize with your guests.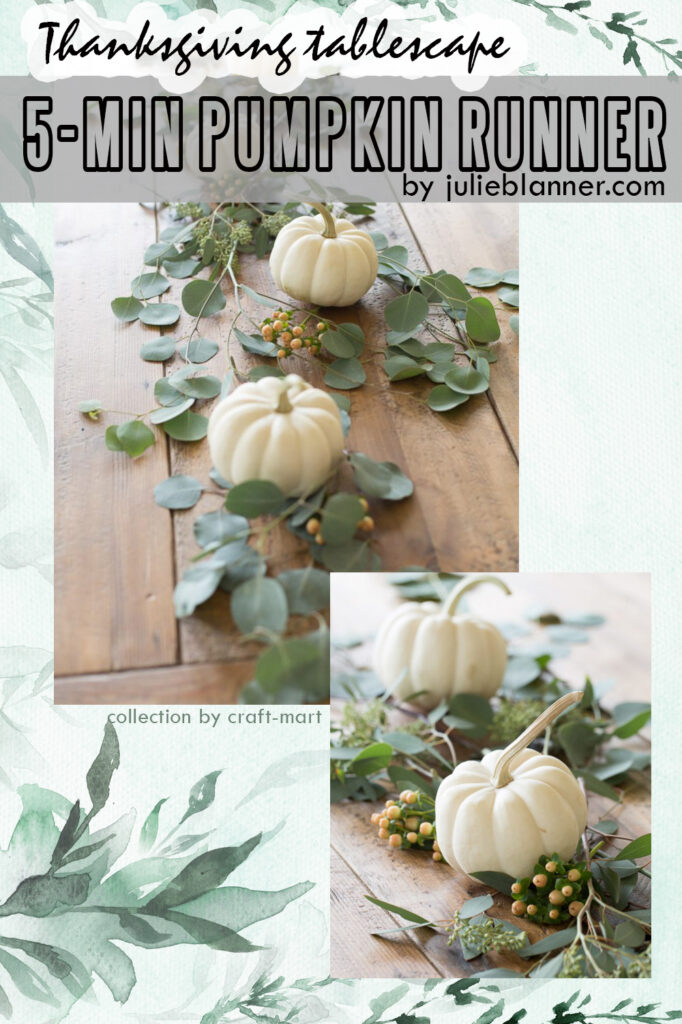 Source: 5-minute pumpkin table runner
4. Fall Holiday Tablescape with Vegetables
Not only your guests would be amazed by this unusual centerpiece, but it is also easy to make. In fact, it only takes a trip to a grocery store to gather all the necessary elements.
The juxtaposition of artichokes and colorful cauliflower florets creates visual interest in this vegetable-floral arrangement. However, if you can't find pink cauliflower, use broccoli and pink or purple fall flowers.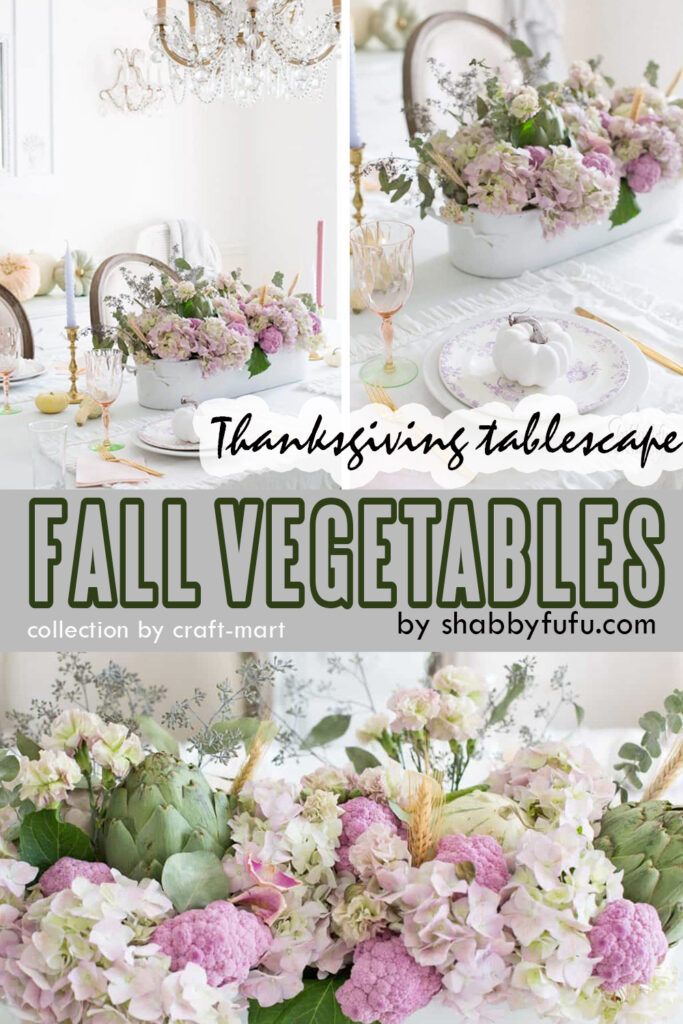 Source: Fall Centerpiece Idea With Vegetables by shabbyfufu
5. Pumpkin Cornucopia Holiday Tablescapes
As an illustration, you can use a simple-to-create pumpkin cornucopia for both round and square tables. Furthermore, use a variety of colorful pumpkins and fall gourds to achieve the desired look.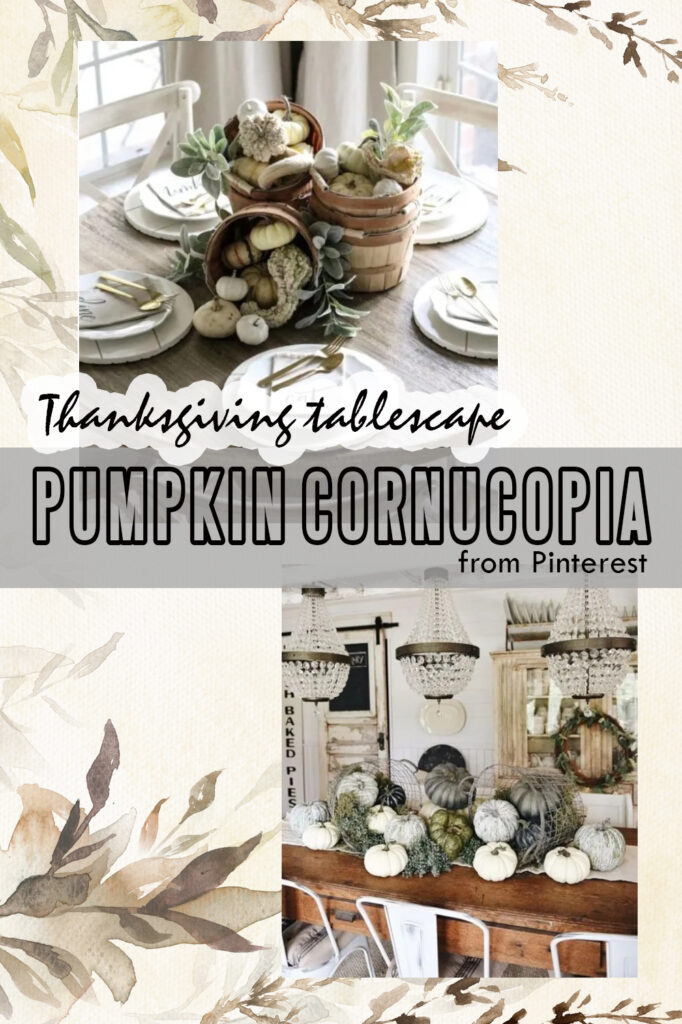 6. Rustic Plein Air Holiday Table
Warm fall weather lets you enjoy the outdoors. After all, why not use the gorgeous fall backdrop to set the stage for your festive celebration?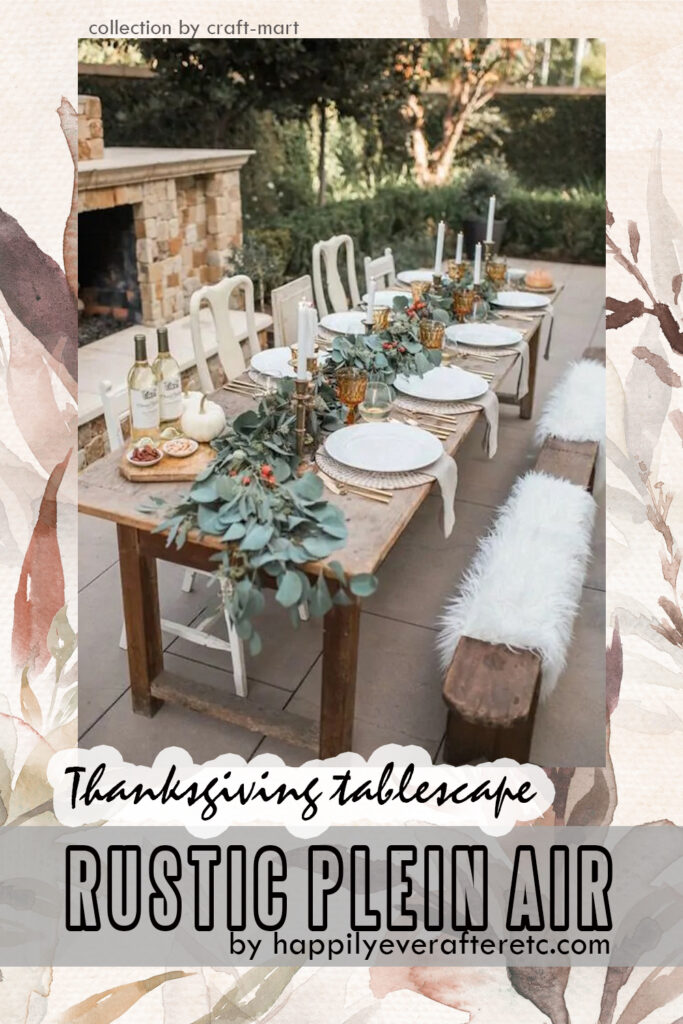 Source: Plein Air Festive Celebration
7. Splash of Color Holiday Tablescapes
Are you tired of black and white modern decor? There is nothing easier than picking up a few colorful fall branches on your next nature walk.
In reality, gorgeous fall leaves create a perfect centerpiece for the Thanksgiving table. With this in mind, add a few splashes of color to create a festive mood.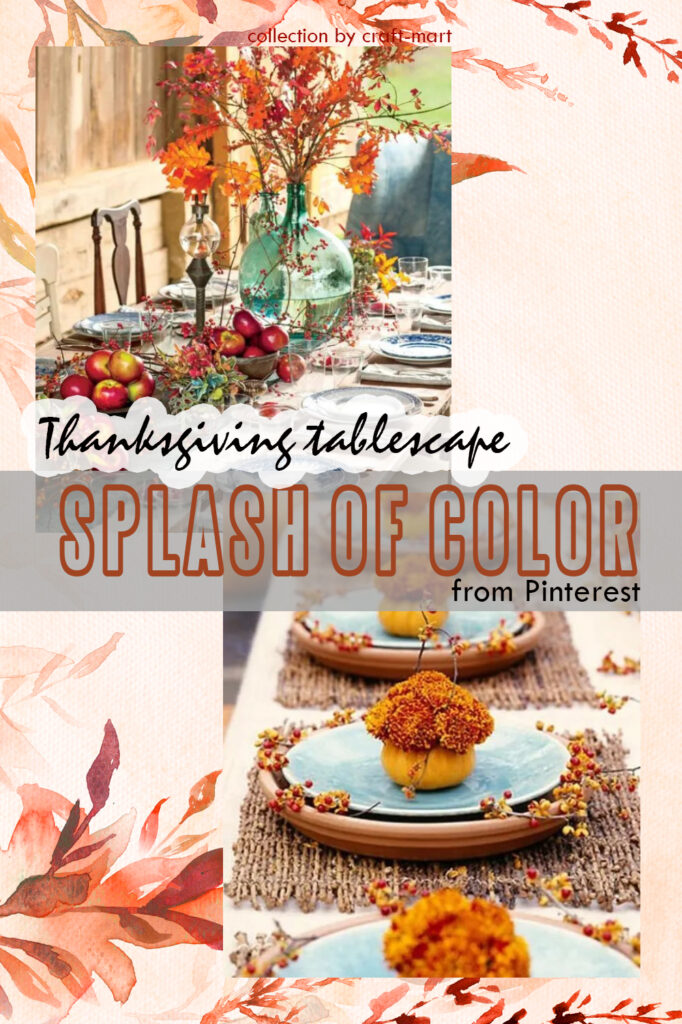 8. Olive Green and Gold Holiday Tablescape
This classic tablescape is as gorgeous as it is easy to make. First of all, you start with an original coordinated color scheme. This amazingly rich olive green goes well with golden and metallic accents.
Second, add brown earthly colors and black and white plates to enrich the color scheme of this tablescape. Lastly, white pumpkins add much-needed contrast to this colorful arrangement.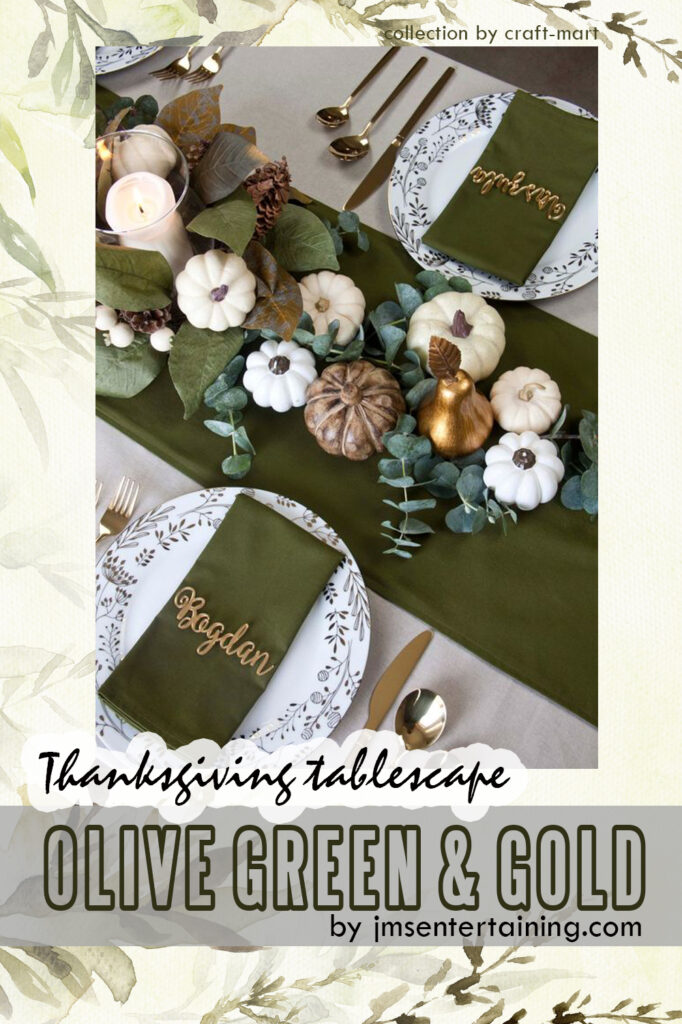 Source: Olive Green and Gold Tablescape by jmsentertaining.com
9. Plaid Farmhouse Thanksgiving Table
Does your interior scream "I'm a fan of Modern Farmhouse"? In reality, there is nothing wrong with some tasteful plaid incorporated into holiday tablescapes.
As an illustration, take a look at this minimalistic table setting that will be perfect for a family Thanksgiving gathering.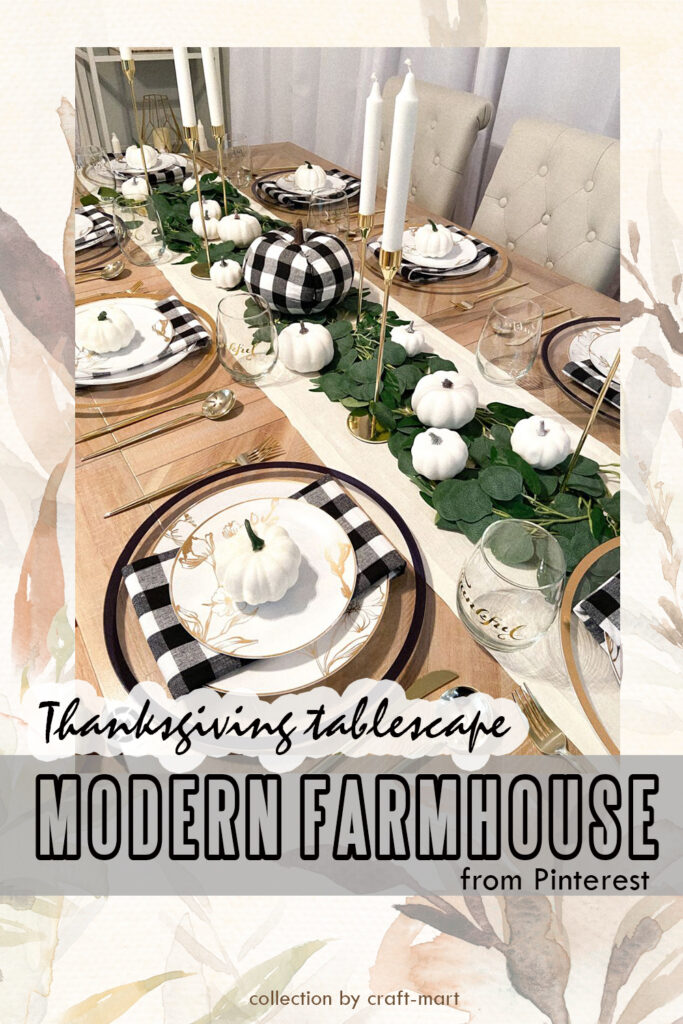 Source: Modern Farmhouse Thanksgiving Table
10. Mudcloth Pumpkins DIY
In fact, this easy DIY project is a clever twist on a holiday staple. While done with simple paint and a Sharpie, it allows you to greater gorgeous holiday tablescapes for years to come.
Most importantly, they look like they were done by professional interior designers.