Whether you have been dealing with keto diet meal prep recipes and ideas for a while or just curious what all the fuss is about, keto fat bombs are a great way to try it. They are so good that you will be always on the lookout for new and exciting recipes to try.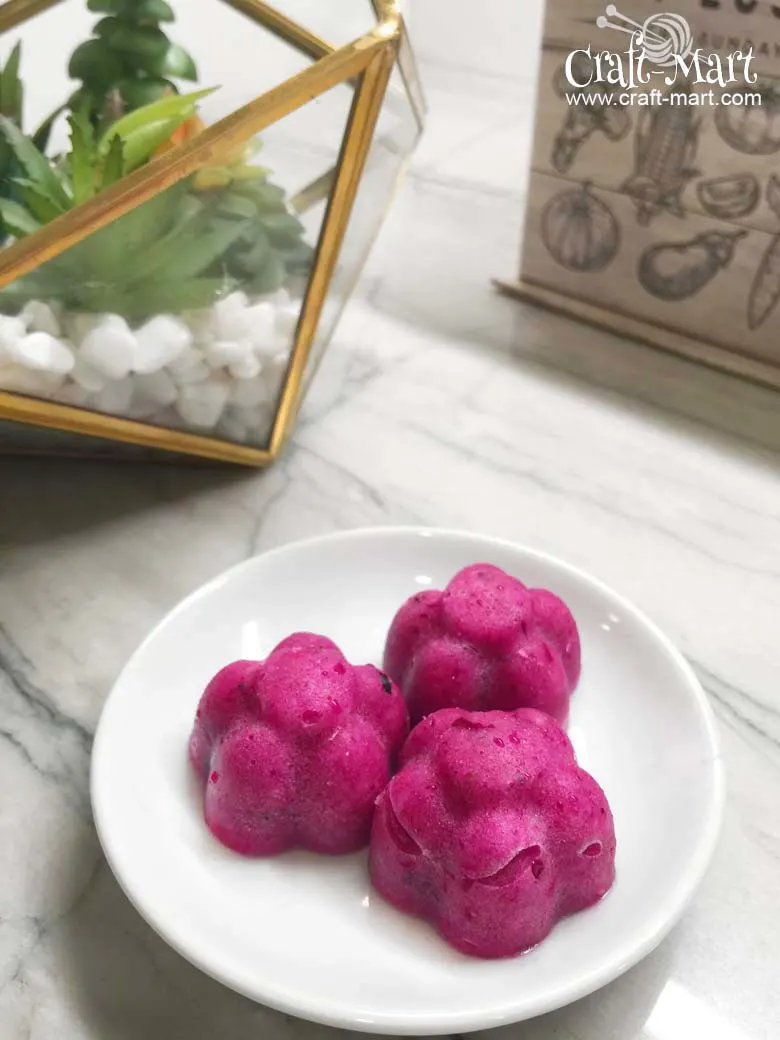 We love using the herbs and vegetables from our garden in a variety of recipes. It feels great to go outside, pick fresh produce from your backyard and create something tasty and fresh.
It this keto fat bomb recipe, all things came together at the right time. Kids were asking about 'purple candy' – while seeing their friends indulge in the brightly-colored confections the ingredient of which a healthy-minded parent would not approve.
It was time to create PURPLE and DELICIOUS candy with the right ingredients.
We want it to have simple ingredients that are readily available;
We wanted to use some fresh ingredients from our garden;
All fat bomb ingredients should be wholesome and have some health benefits;
It should be an easy recipe that you just mix and freeze;
It should be visually appealing as food esthetics are important.
Red Spinach Malabar – one of the easiest herbs to grow in your backyard.
Our garden was overflowing with a green wall of red spinach Malabar. This leafy perennial plant is just amazing!
It continues to strive in hot conditions. When everything else in the garden is done producing, it keeps going and going. And you don't have to plant it every year as it will sprout in the spring from the seeds that fell on the ground.
We gave away tons of these little sprouts from our garden to friends and family to grow and enjoy. You really just need 2-3 plants for the whole family – plenty of fresh produce for all your healthy recipes.
It is a vigorous vine that blessed us with an unlimited supply of green leaves for salads, smoothies, and stir-fries. It blooms beautifully producing tiny white flowers followed by plump purple berries that taste like spinach. The seeds are inside which you can keep for next year planting.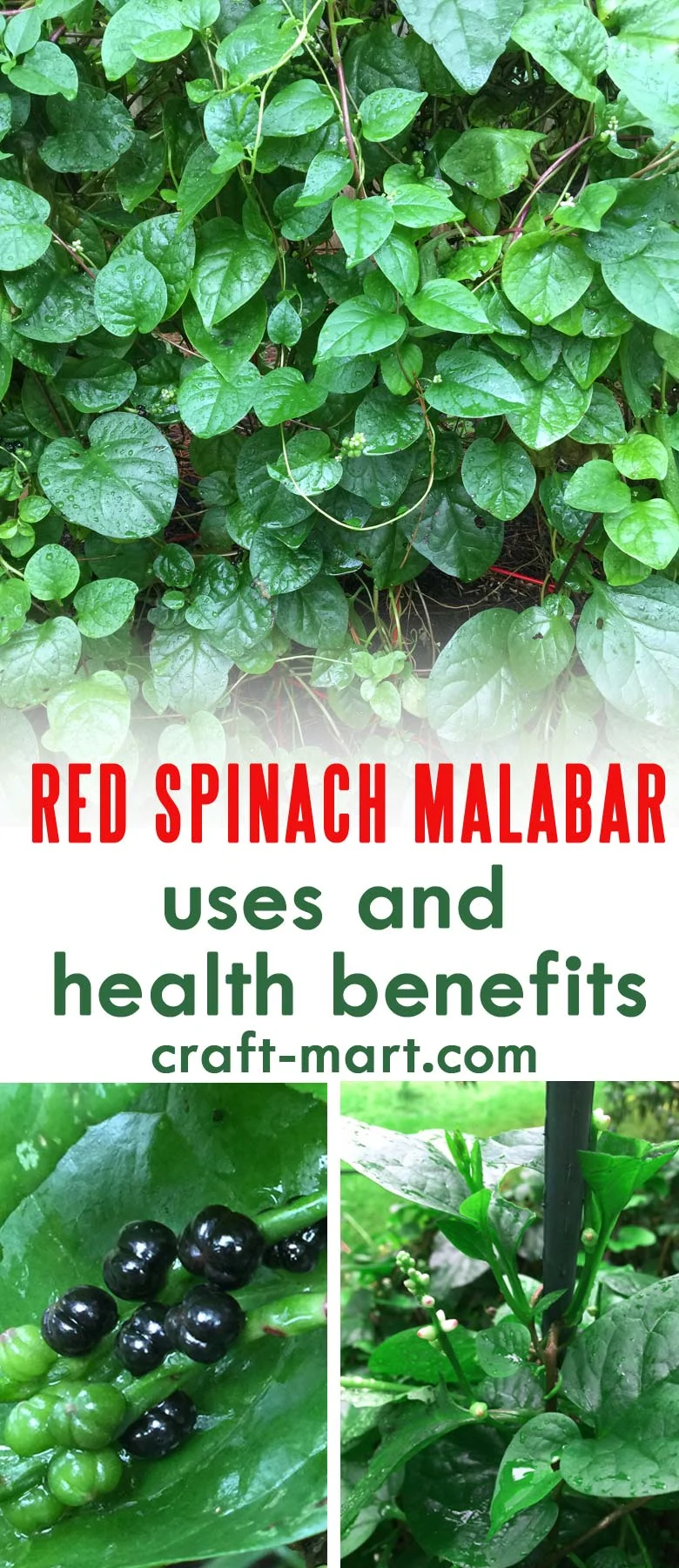 What are the health benefits of Red Spinach Malabar?
Red Spinach Malabar is high in Vitamin A, Vitamin C, iron, and calcium. It is also high in protein and is a good source of magnesium, phosphorus, and potassium.
Above all, you can use this herb in a variety of dishes: it can be eaten raw in salads, added to probiotic smoothies, mixed in omelets, steamed, added to soups, and stir-fries. It can be even frozen in ice cubes for winter consumption.
We have been experimenting with adding the juice of plump red spinach berries to morning smoothies for the rich purple color. They don't taste sweet at all – more like beets and spinach.
The best way to harvest them is just to snap the whole stem with berries with garden scissors and then strip off the berries. Nothing goes to waste in the garden!
Can you use Red Spinach Malabar for an easy keto fat bomb?
From these experiments, the idea of natural purple candy was born. The first try had just 4 ingredients: coconut oil, juice of red spinach, lemon juice, and a touch of honey. Kids loved it!
Then we came up with an easy strictly keto fat bomb recipe for people who are on a keto diet. It is a quick 'high fat low carb' snack to make and a satisfying energy booster when you need a 'lift-me-up' in the afternoon.
This easy keto fat bomb recipe uses four simple ingredients: coconut oil as good fat, lemon & spinach juices for a boost of vitamin C, blueberries as an anti-oxidant, and stevia (or any other keto-approved sweetener).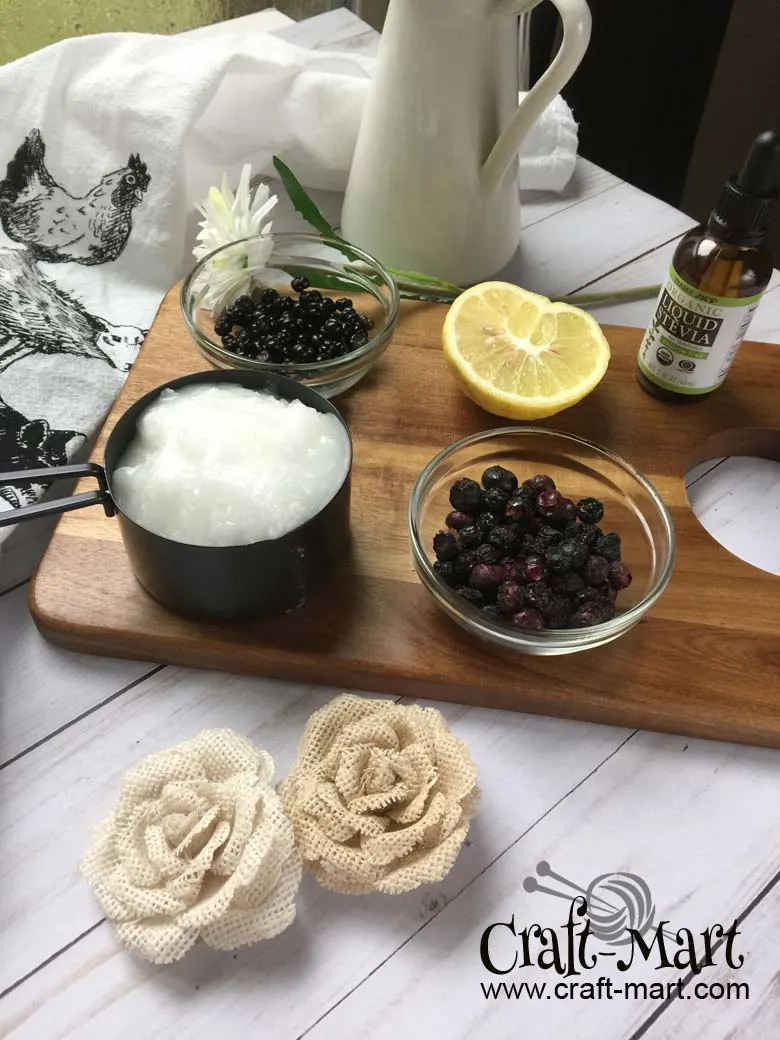 It is easy to extract juice from Red Spinach Malabar berries with a simple kitchen lemon juicer. We use the same one for lemon juice as well for these keto fat bombs.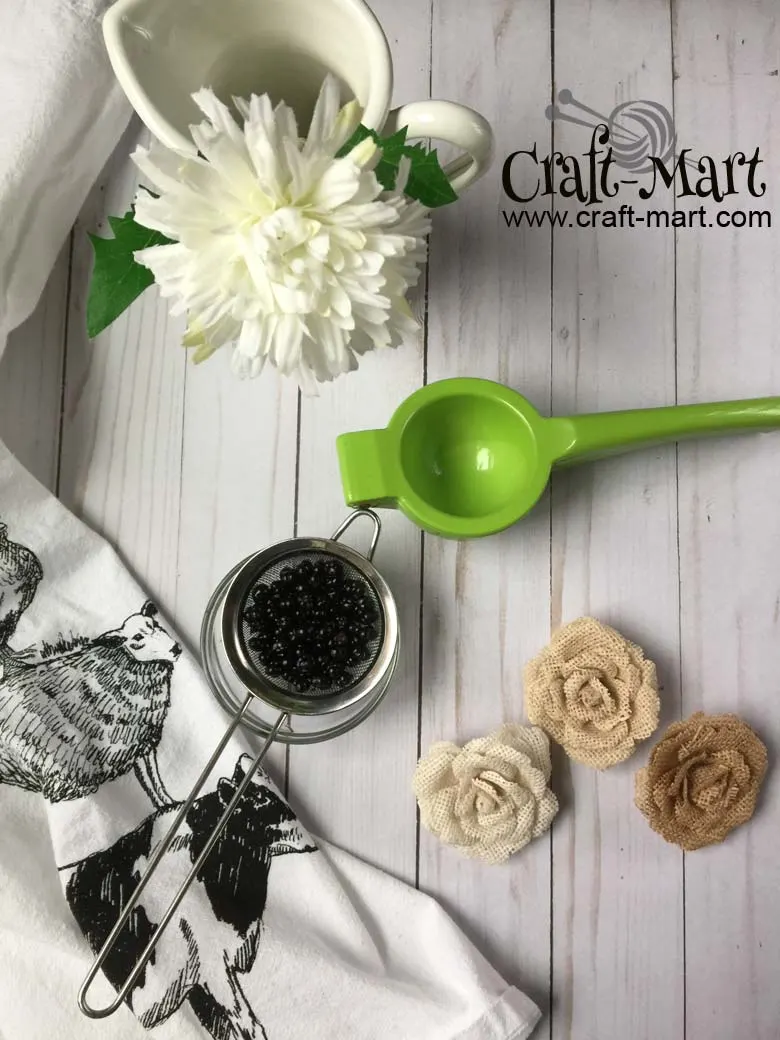 It is important to use freshly-squeezed lemon juice if you want the full benefits of flu-fighting vitamin C boost. Also, wait until melted coconut oil cools down before adding both juices to the mix, to preserve vitamin C.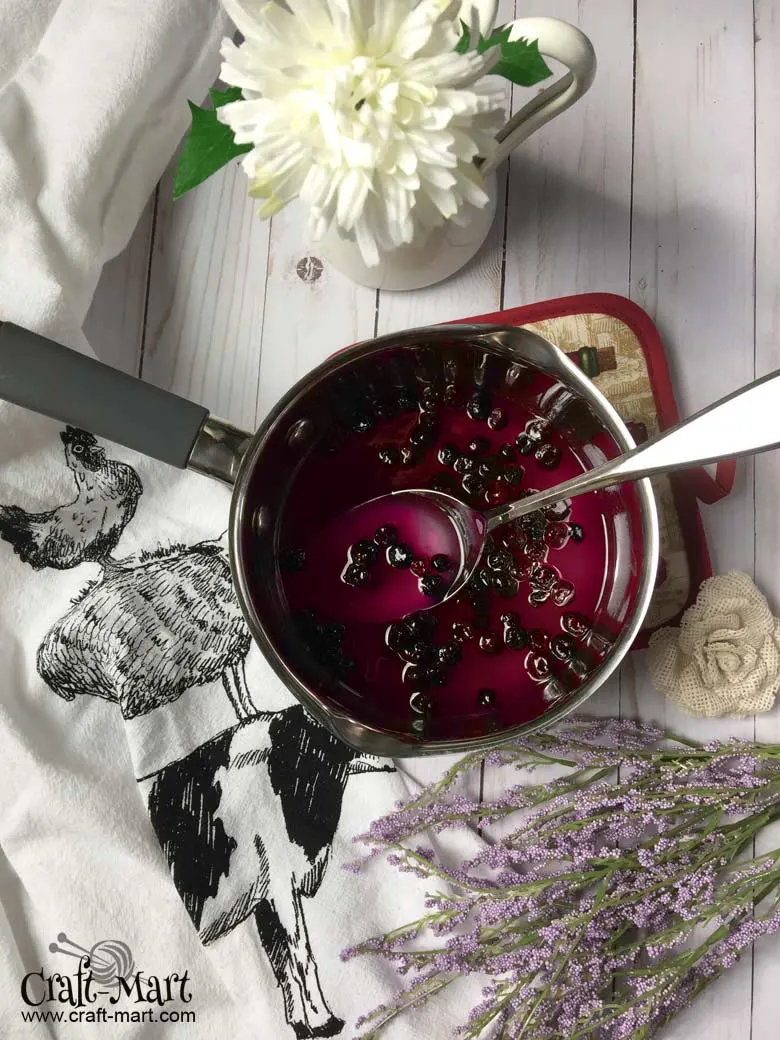 We've also noticed that freeze-dried blueberries work the best in this recipe when they are crushed. However, if you try this fat bomb recipe with frozen berries, the mixture may separate when you pour it in the molds and set in the freezer.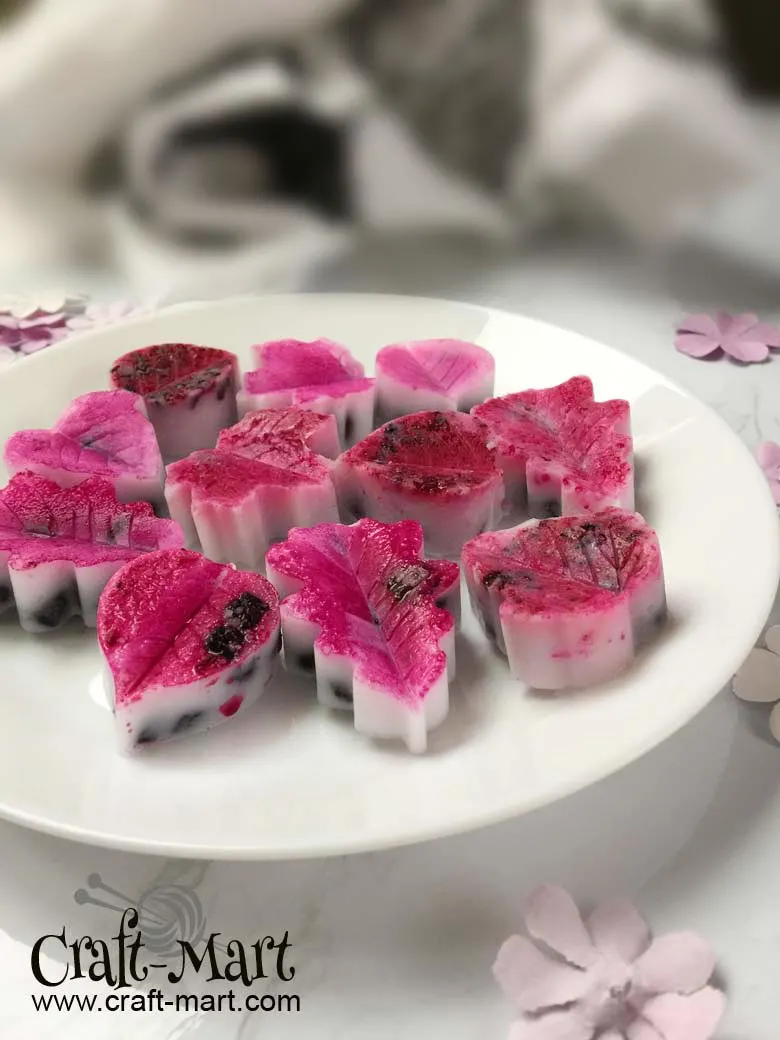 As you can see, the results are similar to an art piece – that's why we like to call it The Art of Food. It gives you immense pleasure to create something beautiful and wholesome for your family using the fresh items harvested in the garden.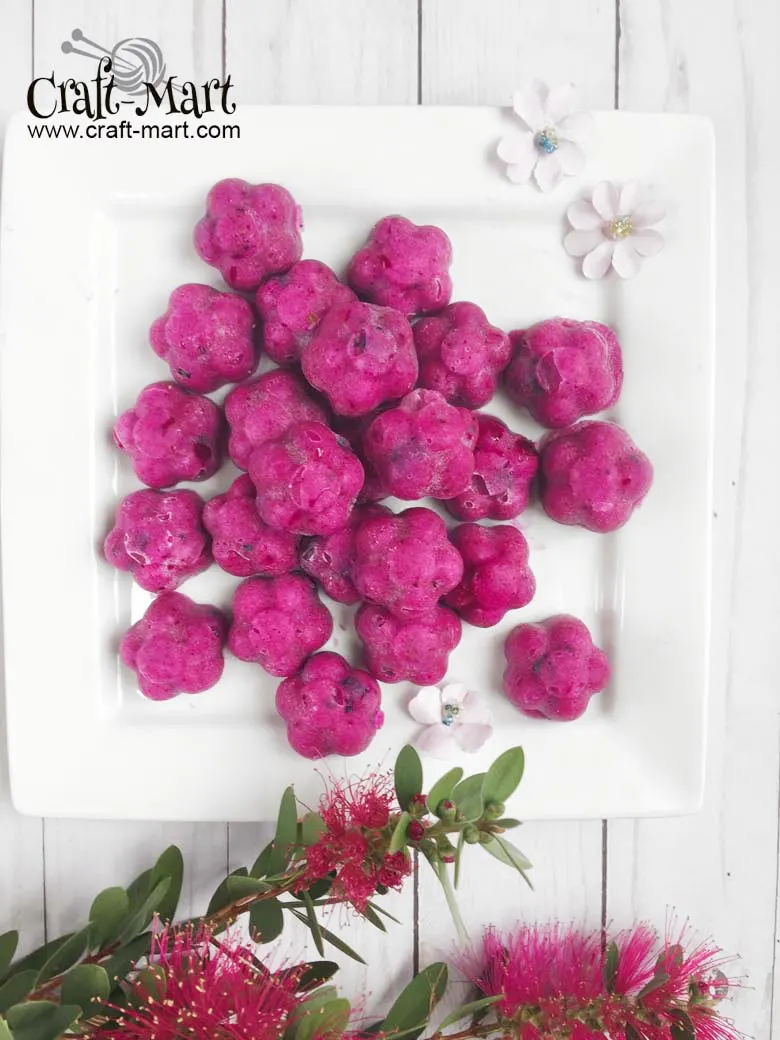 As you can see, the results also depend on the type of mold you use to freeze fat bombs (glossy or matte inside). Therefore, the color may vary if you use more or less of red spinach Malabar juice.
Most importantly, it is a great snack that the whole family will love and you can also bring a plate of these to any holiday gathering. It will become the hit of the party and you won't have to cheat on your keto diet.
Do you want to know what foods you can add to your list of Keto meal prep recipes?
Check out our Keto Diet for Beginners and a FREE PRINTABLE KETO GROCERY LIST.
Do you love keto fat bombs?
Purple & Delicious Keto Fat Bombs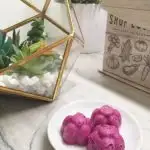 These delicious keto snacks taste as great as they look. A satisfying energy-booster for any time of the day that is fil of anti-oxidants and good fats for your brain.
1 cup coconut oil
1 tbsp lemon juice (freshly squeezed)
1 tbsp red spinach Malabar juice (freshly squeezed)
1/3 cup freeze-dried blueberries (crushed)
1 tbsp 4 drops of liquid stevia extract (or Monk Fruit Sweetener)
Melt coconut oil on the stove on low heat until completely melted and transparent (~ 1 minute).

Squeeze juice from half a lemon (~ 1 tbsp) and from the berries of red spinach Malabar (~1 tbsp).

Crush freeze-dried blueberries using mortar and pestle.

Mix all ingredients together and pour into silicone molds placed on a wooden board. Move the molds to the freezer making sure it is leveled. Allow 2 hours to set.

Remove from the molds and admire how beautiful they are! Makes about 18-20 fat bombs, depending on the size of the molds you use.

Store them in the freezer or refrigerator.
If you don't grow Red Spinach Malabar in your garden, just increase the amount of freeze-dried blueberries.