Are you looking for knit stitch patterns? You may want to learn how to knit a scarf. Make a note, this free knitting pattern is an easy way to learn how to knit an infinity ribbed scarf.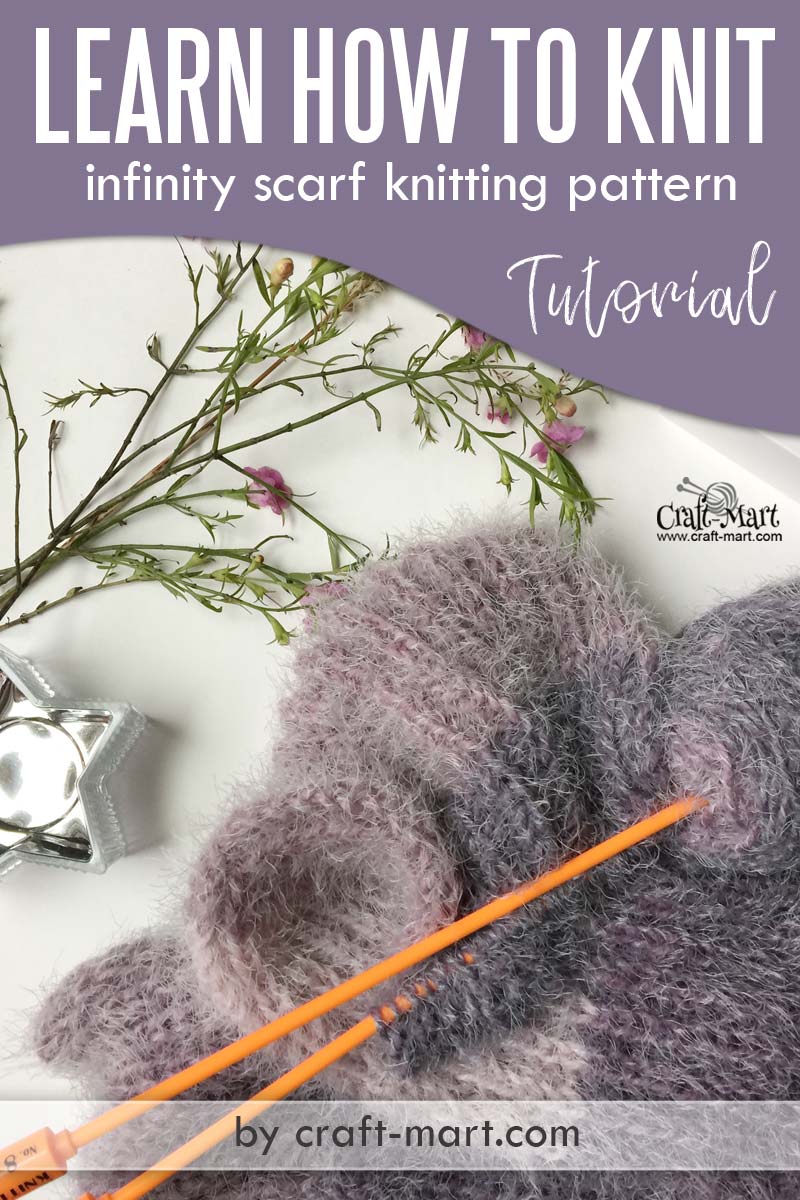 Most importantly, scarf patterns are easy projects for beginners who are eager to learn how to knit. Secondly, you can learn how to knit an infinity scarf pretty fast, especially if you are implementing a fast knitting technique of continental knitting.
Are interested in other knit stitch patterns?
Check out our easy knitting projects and knit stitch tutorials:
How to Knit a Triangle Shawl for Beginners (free pattern review)
How to make DIY chunky knit blanket (arm knit or finger knit)
Purl Stitch knitting: step-by-step tutorial
What makes this free infinity scarf knitting pattern suitable for beginners?
You'll be using simple knitting stitches throughout the whole project;
This knit scarf pattern is very easy to follow;
The yarn is bulky – it is easier to knit;
You'll be using big needles – they are easier to work with for beginners.
This infinity knit scarf is a one skein project – no need to worry about joining yarn or weaving in the end tails in the middle of your infinity scarf.
Why do we love this beginner infinity scarf knitting pattern?
Though this pattern is using simple knitting stitches, it forms a luxurious fabric that drapes beautifully. Most of all, this soft Caron Latte Cakes Yarn fits wonderfully with the bulky fisherman rib pattern creating the softest infinity scarf ever.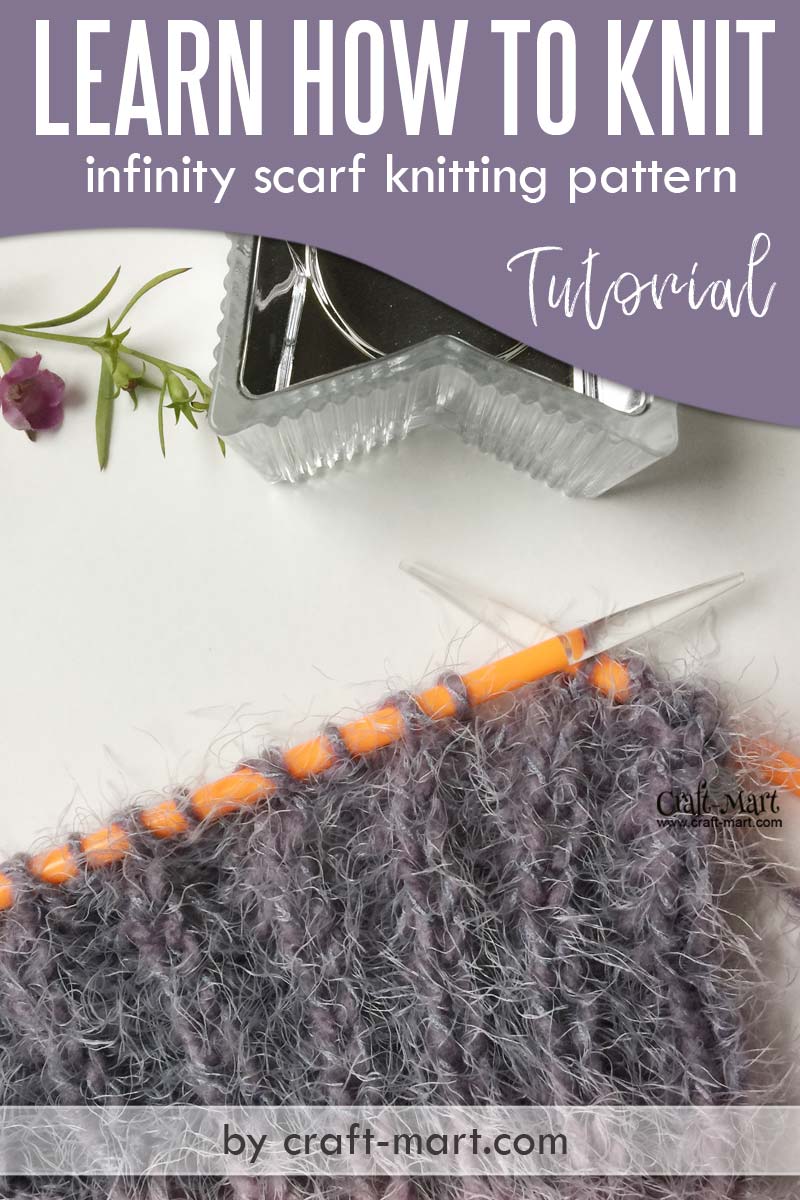 Though you can use this fabulous yarn for many crochet projects (check out our V-Stitch crochet blanket), it looks even more gorgeous in a simple knitted project. Hopefully, craft stores will bring it back as it is my favorite Caron Cake yarn.
What do I love about this yarn:
tasteful colors in this Caron Cakes collection;
soft mohair-like texture;
the way it drapes in knitted projects;
generous amount of yarn in one skein.
FREE Scarf Knitting Pattern

Materials
I skein of Caron Latte Cake Yarn (in Blackberry)
Content: 58% Acrylic, 42% Nylon
Ball Size: 250g / 8.8 oz, 485 meters / 530 yards
Care: Machine wash and dry
Gauge: #5 Bulky
Knitting Gauge: 15 sts and 20 rows with a 6.5 mm (U.S. 10) knitting needle
Crochet Gauge: 12 sc and 13 rows with a 6.5 mm (U.S. H/10) crochet hook
2 size 8 knitting needles
tapestry needle (for weaving in ends)

Instructions
First of all, before starting your scarf, knit a test swatch to get familiar with the pattern and establish your gauge. for that, cast 10 stitches and knit approximately 10 inches long swatch.
Needless to mention, the pattern is very easy so you would need a small swatch to get comfortable with the pattern. Estimate the width of the scarf and decide that it is wide enough taking your personal gauge into consideration.
When you are ready to start your infinity scarf, cast 30 stitches very loosely. I recommend using even 2 needles for casting as it will ensure that your cast-on stitches will be loose enough.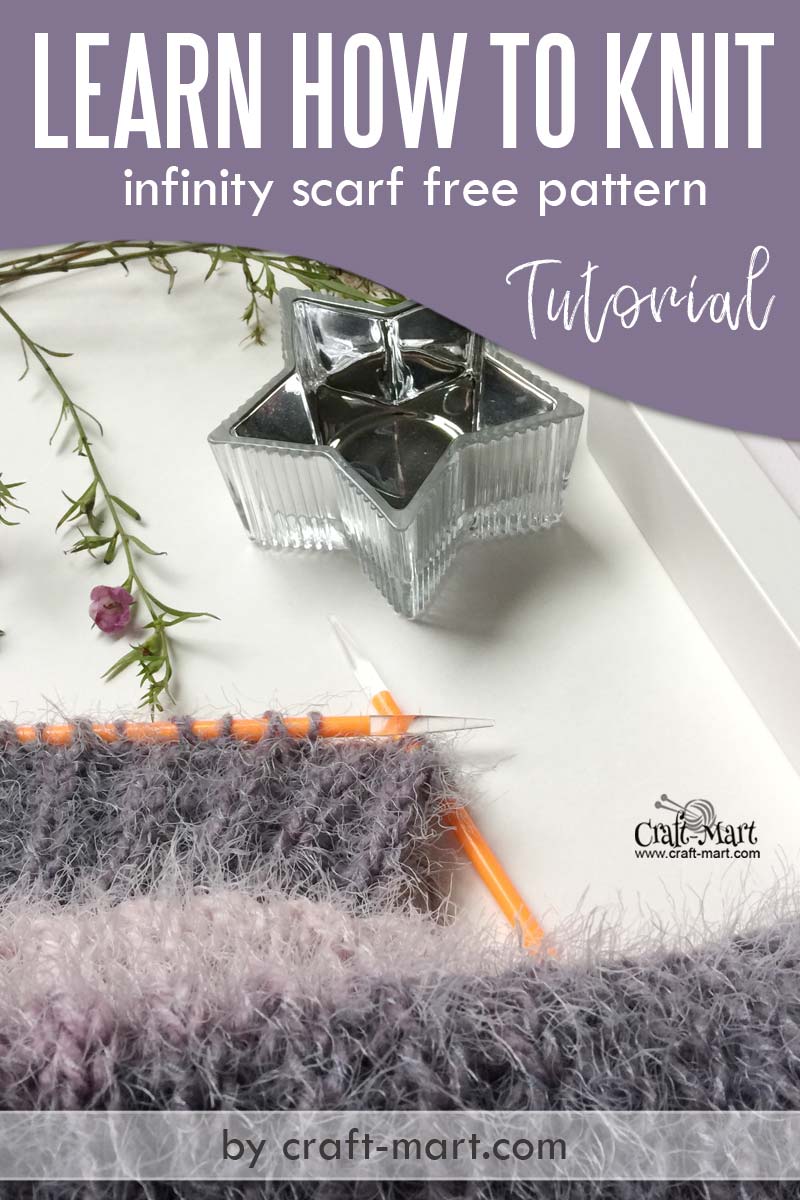 First Row (foundation row)
My secret tip for a perfect selvage for all your knitting projects is to take off (do NOT KNIT) the first stitch of every row. You are wondering, "Why is it important?" Practice on your test swatch and watch how it will make your edge (selvage) look just perfect.
Knit second stitch. No magic here – just a simple knit stitch.
For the third stitch, yarn over and transfer or move the stitch from your left needle to your right one (without knitting a stitch). It is a very simple technique but it may require some light practice if you've never tried it before.
Continue alternating knit and YO/SLIP stitches until you reach the end. Turn your work, so all the stitches are on the left needle and your working needle is empty.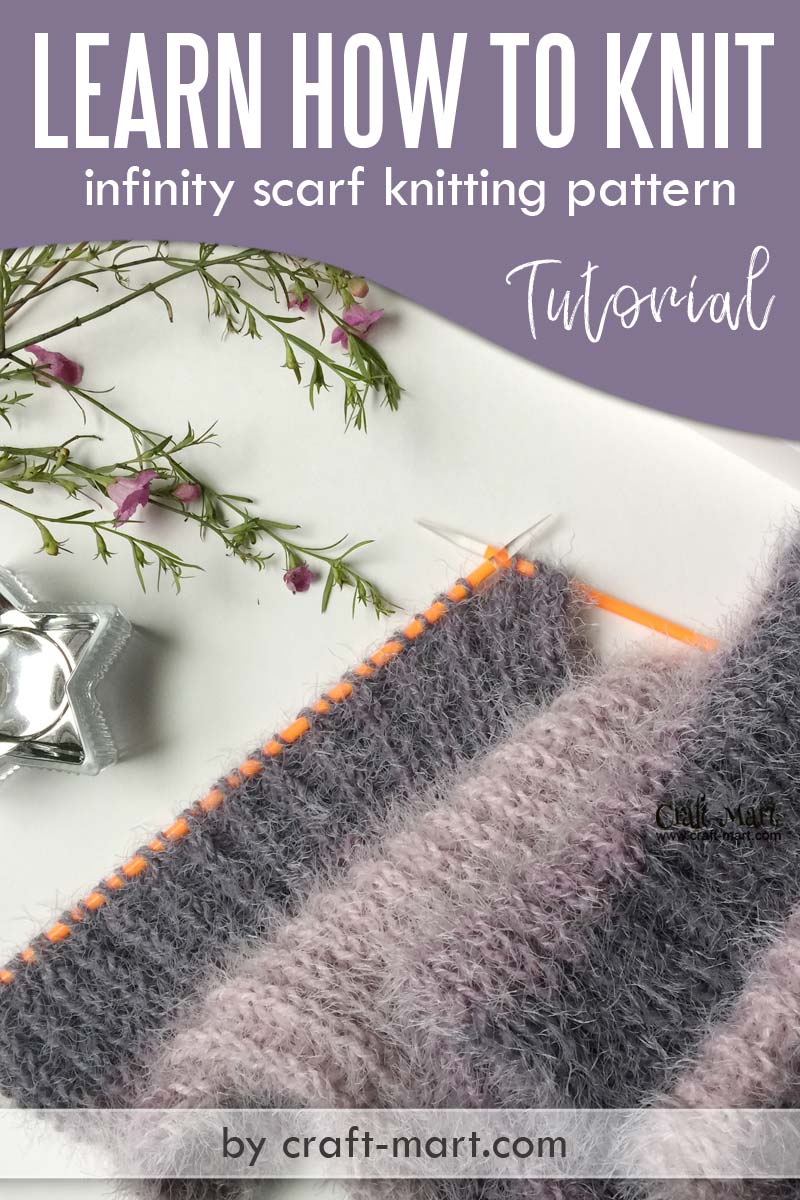 First Row (and all the rows)
Take off (do NOT KNIT) the first stitch.
Then knit all the stitches that have a yarn over together (stitch itself and yarn over). YO and transfer/move the single stitches that look like the wrong side of knitting.
Alternate these stitches to the end of the row.
Continue knitting the same row until you use up the whole skein.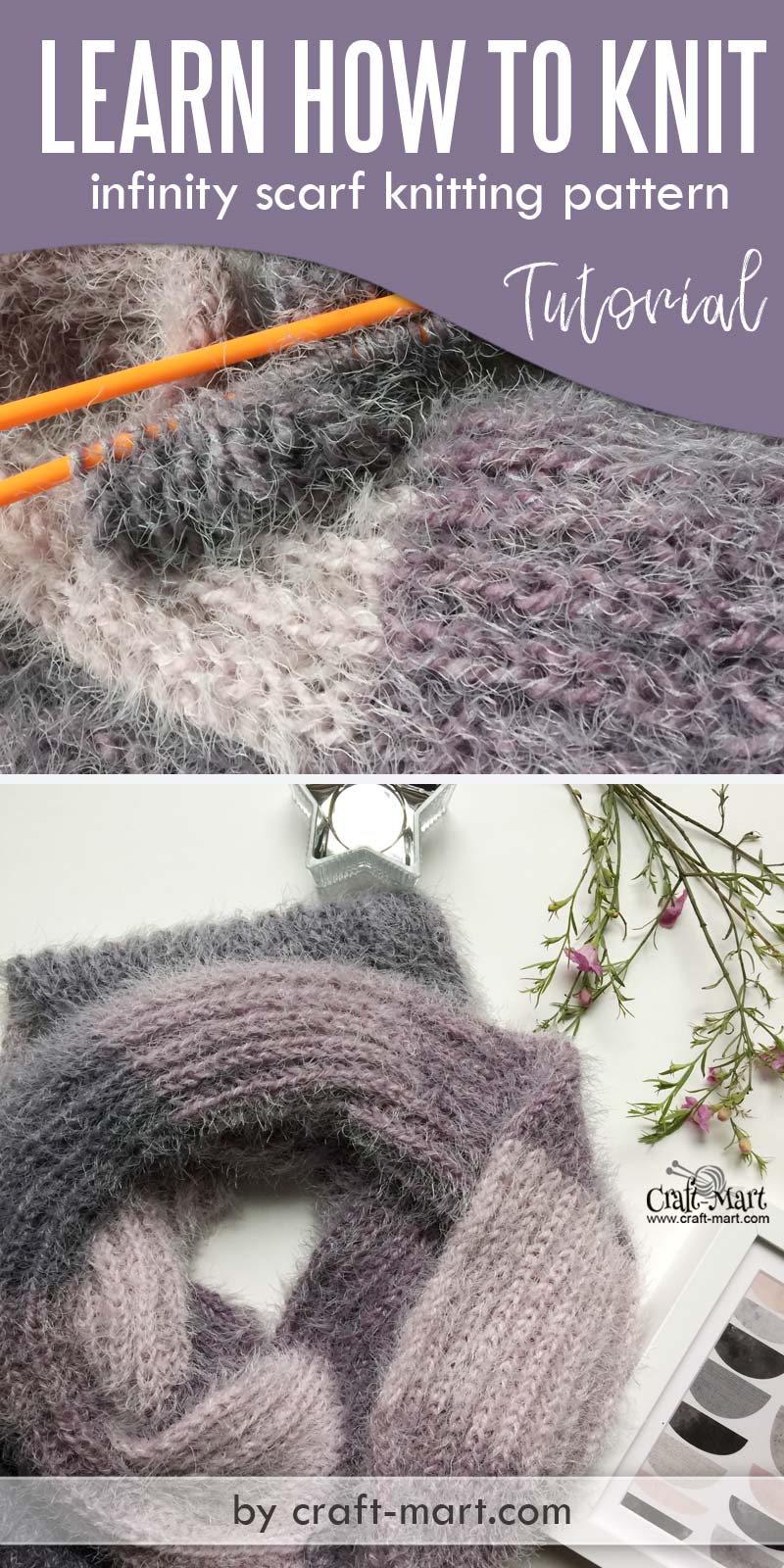 Make sure that you leave enough yarn to cast off and then connect both ends of your infinity scarf. Noteworthy, it is more prudent to leave more yarn to finish than less, as you don't want to be stranded in the middle of sewing your ends together when you ran out of yarn.
Cast off & sew both ends of the scarf together, making sure you don't twist the loop. Weave in the ends.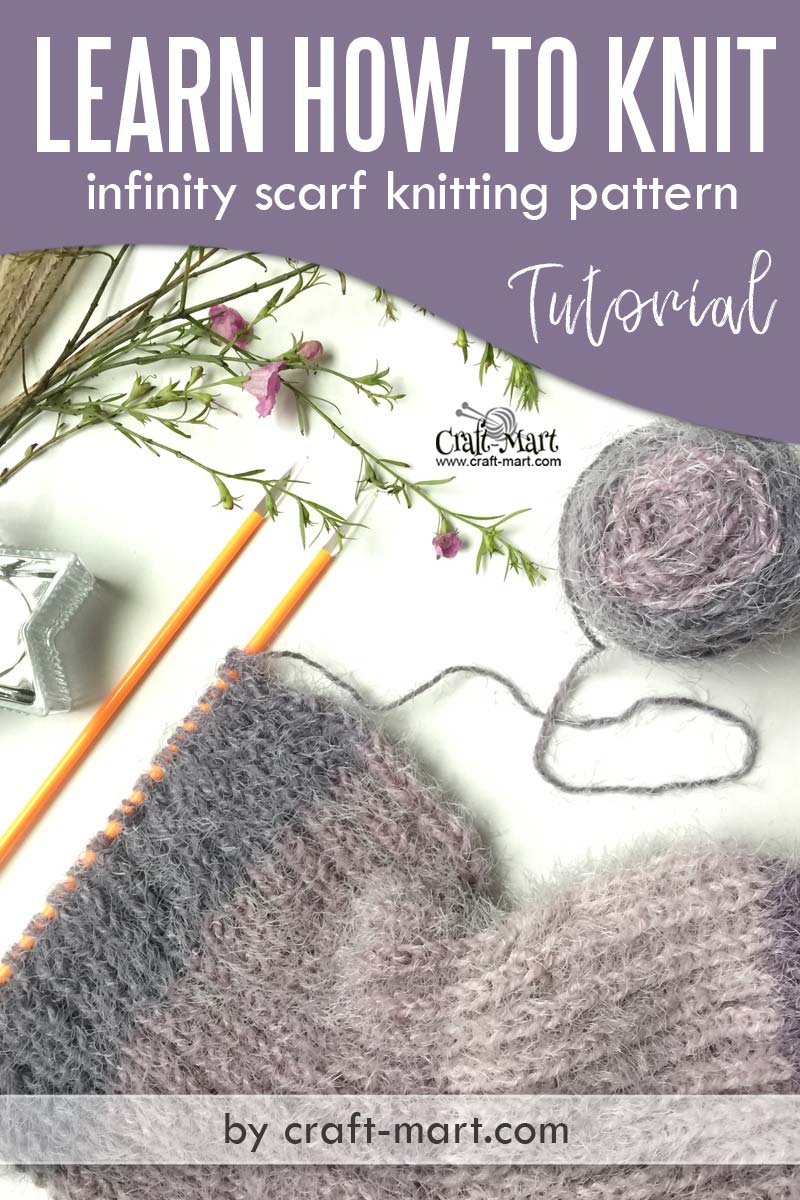 You are done! Now you know how to knit a scarf for beginners! Don't forget to pin some of these images so you can easily find this pattern for an infinity scarf.
Enjoy the softest and most luxurious scarf (or give it away as a gift!).
Are you interested in knit stitch patterns?
Check out our free knitting patterns and knit stitch tutorials:
How to Knit a Triangle Shawl for Beginners (free pattern review)
How to make DIY chunky knit blanket (arm knit or finger knit)
Purl Stitch knitting: step-by-step tutorial