Are you looking for Halloween decorations on a budget? We have a collection of 13 awesome and scary DIY Halloween decorations that will inspire your next project.
And the best thing? These Halloween decor ideas take almost no time! Equally important, you can easily create them using common household items.
Sometimes, cheap DIY Halloween decorations from a Dollar Store may not fit your interior decor style. With this in mind, learn how you can turn these cheap finds into fabulous home decor.
Check out our Fall Decor Ideas and Crafts:
1. EASY LEOPARD PAINTED PUMPKIN
These awesome Halloween decor ideas can be easily replicated at home using Dollar Store pumpkins and gold, black and green paint. Of course, you can use real pumpkins.
Most importantly, you don't have to be a master painter to recreate this look! Actually, your imperfect leopard spots will give this pumpkin a handmade charm.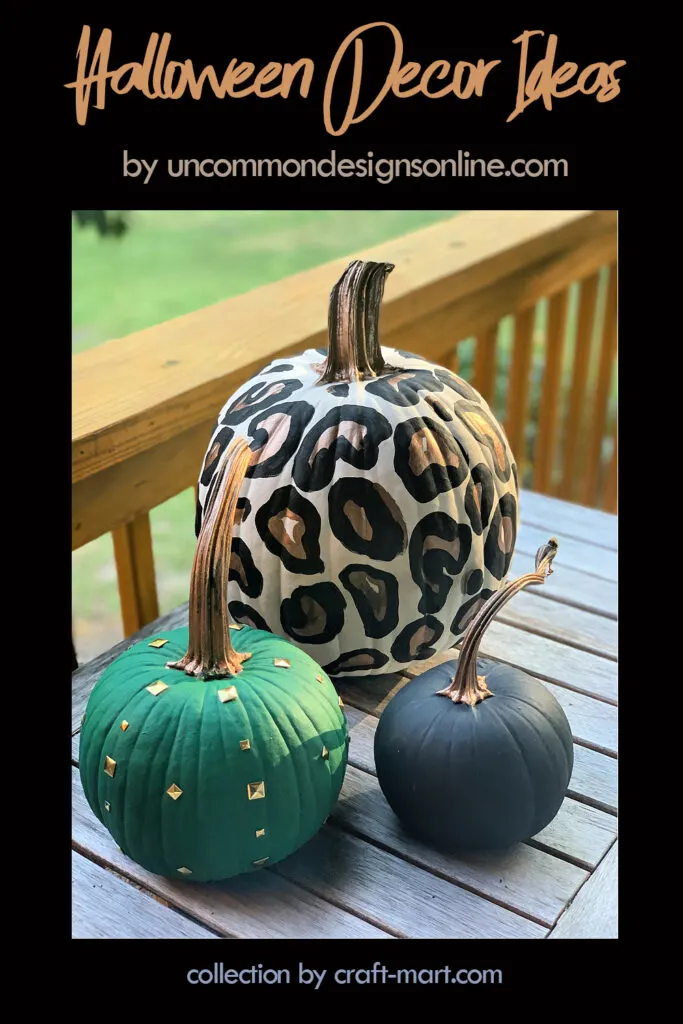 Source: EASY LEOPARD PAINTED PUMPKINS by uncommondesignsonline.com
2. HALLOWEEN DECOR ON A BUDGET: PUMPKINS IN MASKS
Are you looking for no-carve pumpkin decor? As a matter of fact, this easy project is perfect as DIY Halloween decorations that kids can make.
What can be more budget-friendly than black craft paper? Coupled with imagination and free templates, you can transform your home decor in a few minutes.
Where to find a FREE MASK TEMPLATE? As a matter of fact, we have it covered: FREE MASK TEMPLATE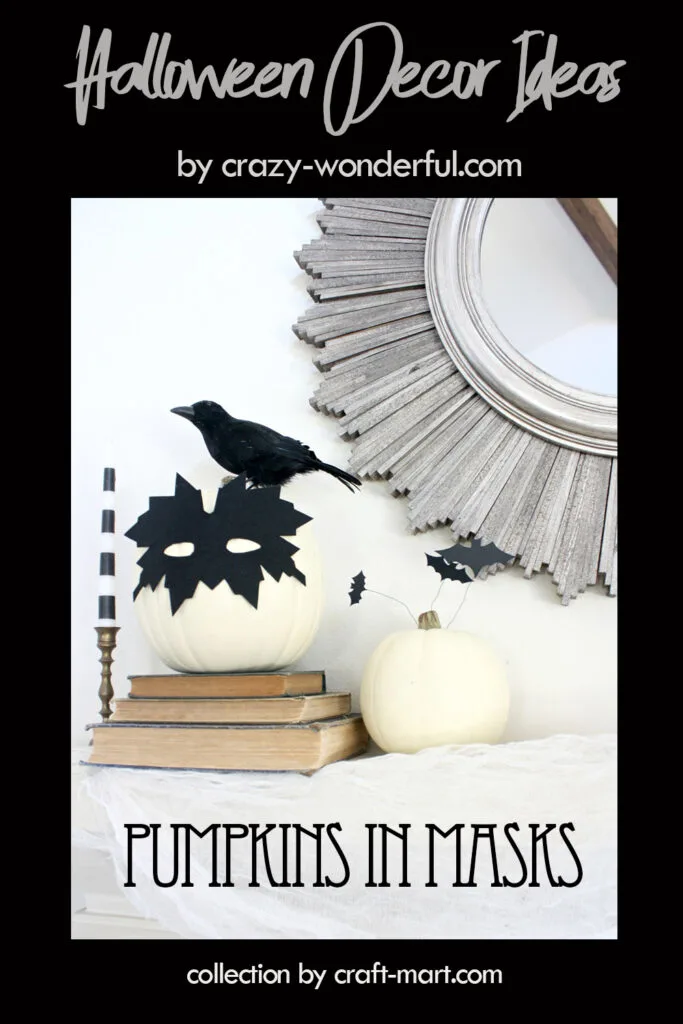 3. Easy Halloween DIY: Bats Wall Decor
This easy wall décor is so easy to make! Just fold black craft paper in half and draw a simple bat shape. Consequently, your bats will be perfect as the left and right side will be exact.
Second, use simple two-sided tape to place them on the wall. These are truly Halloween decorations on a budget, as they store flat and you can reuse them year after year.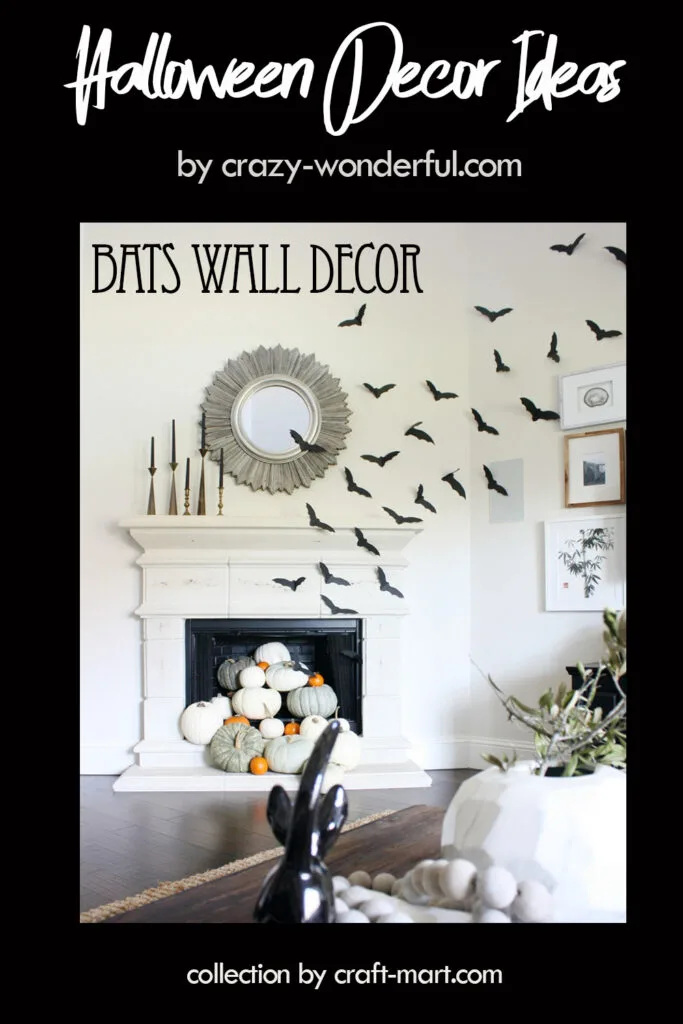 Source: Easy Halloween Wall Decor
4. Haunted Halloween Village
Do you love cheap crafts? This project definitely fits the budget.
Especially, if you have a few pages of black craft paper somewhere you can make these scary haunted houses at no time. With this in mind and a free template of haunted houses, get busy!
Most importantly, let kids create a few houses. More imperfect they are, more haunted they'll look. Adding a few battery-operated mini lights behind them will make them look so scary at night!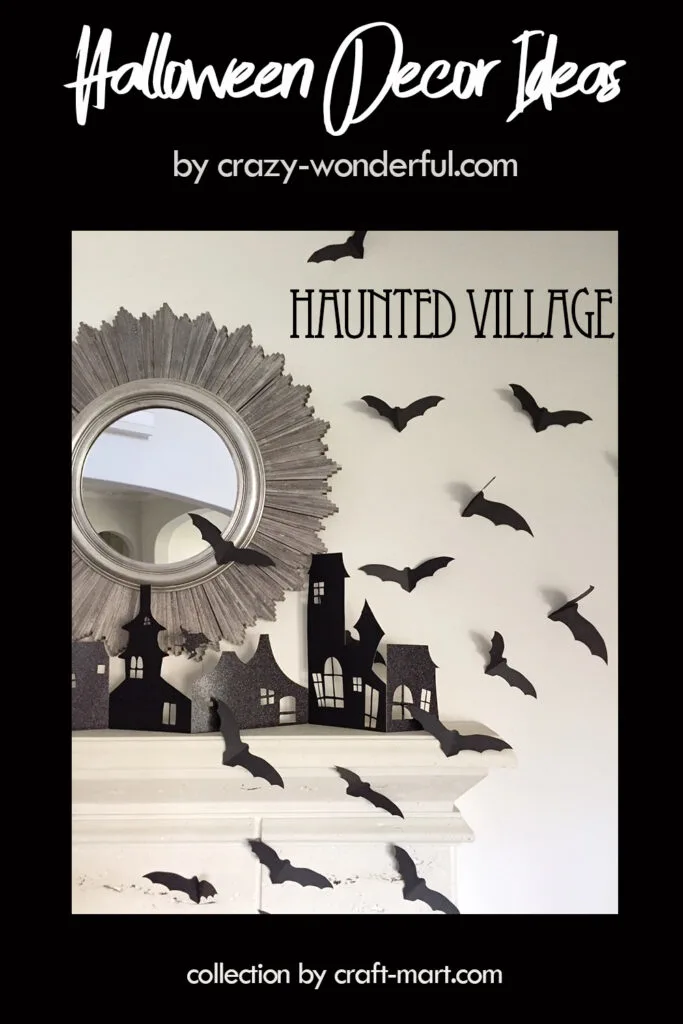 Source: Halloween Haunted Village
5. Pine Cone Mummy
This is a perfect Halloween project for kids! These adorable pine cone mummies look more cute than scary.
First, go on a nature walk and collect some pine cones of different sizes. Next, use gauze from your medicine cabinet or cheese cloth to wrap them up. These are cheap DIY Halloween decorations that anyone can make!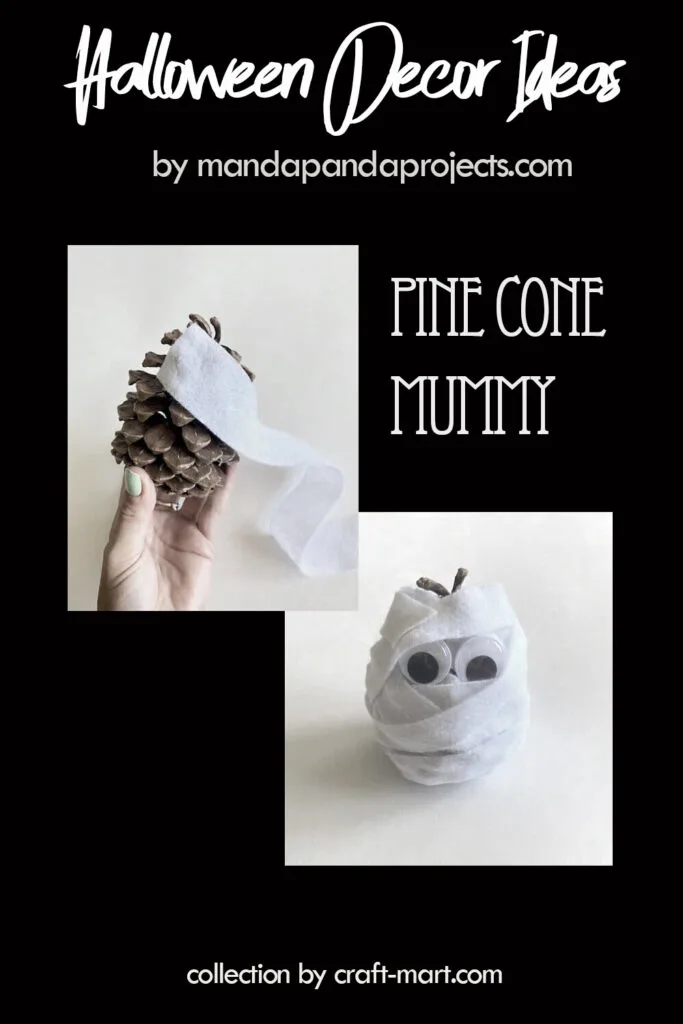 Source: DIY Halloween Pine Cone Mummy
6. A Festive DIY Halloween Wreath
This festive and spooky DIY Halloween Wreath is easy to create. Consequently, it will be a great addition to your DIY Halloween yard decorations. Transform your door right on time for the Trick-or-Treat crowd!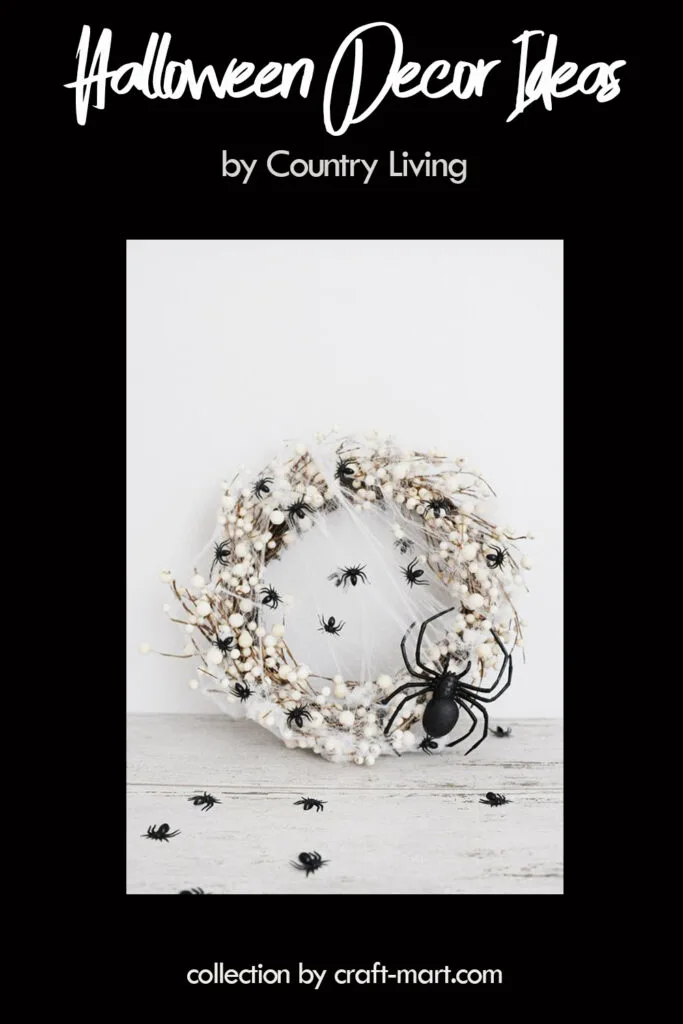 7. Enchanting Gnome House Pumpkin
Among all featured Halloween Décor ideas, this project wins our vote for creativity and originality. When you are inundated by cheap Halloween crafts and readily available craft kits, it is meaningful to create something unique.
Point often overlooked, not all Halloween yard decorations have to be scary. With this in mind, take your time and recreate this fairy tale pumpkin house using the most unusual gourds your can find!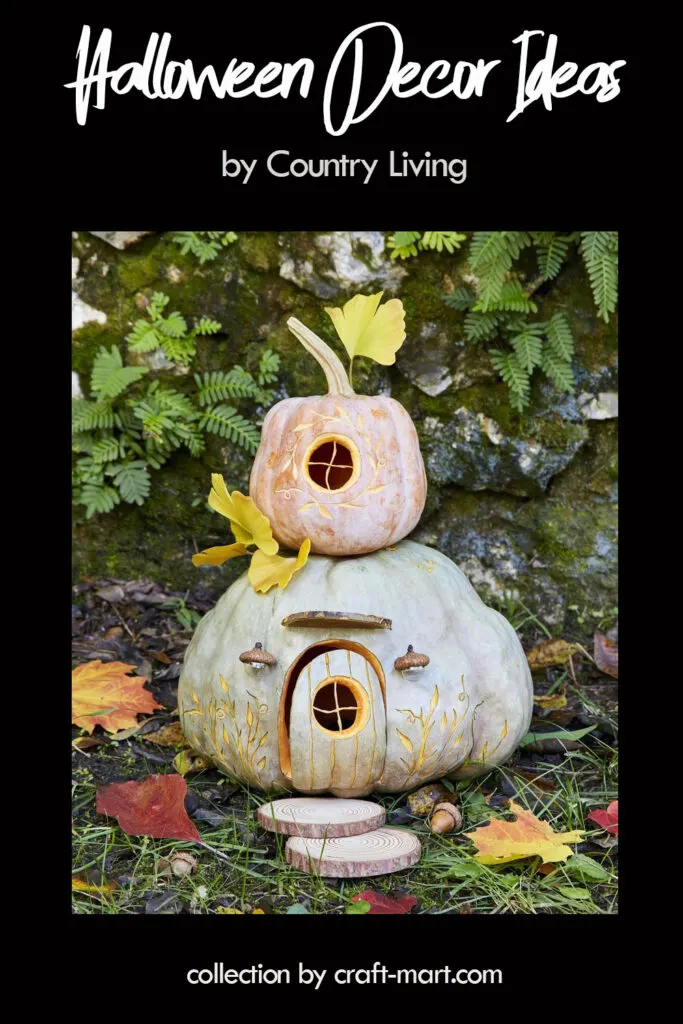 8. DIY Halloween CraftL Black Cat Cross Stitch
If you are a fan of all things stitched, you'd love creating this cute Halloween Black Cat. Most importantly, you won't even need to purchase a kit! Check out this FREE cross stitch template and TUTORIAL and start crafting!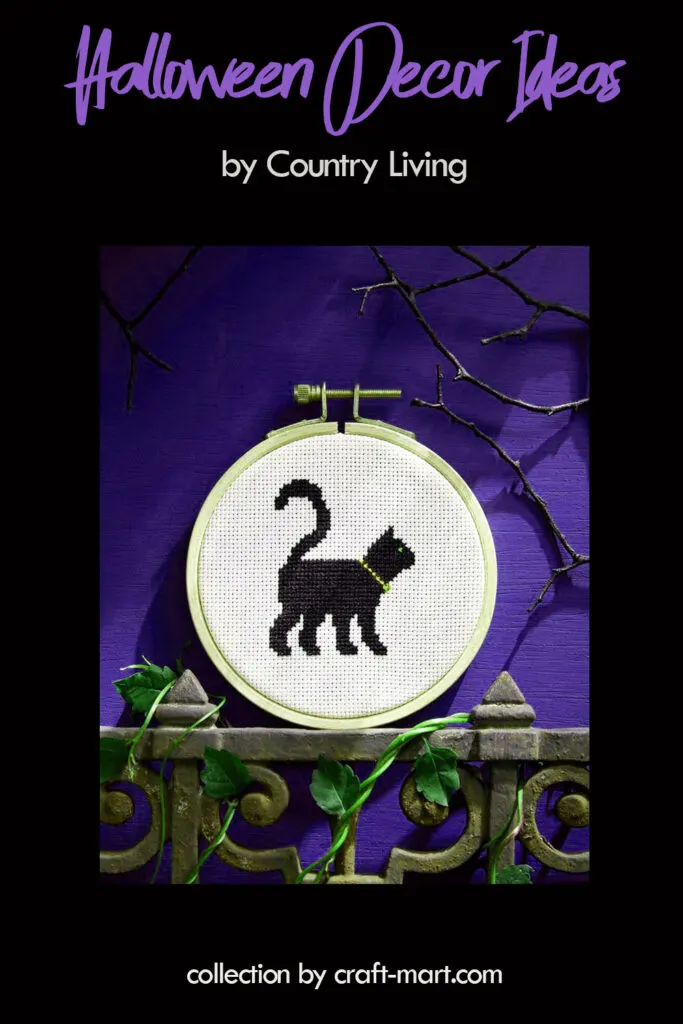 Source: Halloween Black Cat Cross Stitch DIY
9. Halloween Decorations on a Budget: Mummy Pumpkins
If you are looking for easy Halloween Decor Ideas, these cute and scary Mummy Pumpkins are for you! Most importantly, you won't have to use any sharp tools for this cute DIY decor.
On a positive side, unwrap pumpkins to easily change your decor from Halloween to Thanksgiving. Ultimately, it is Halloween DIY decor on budget.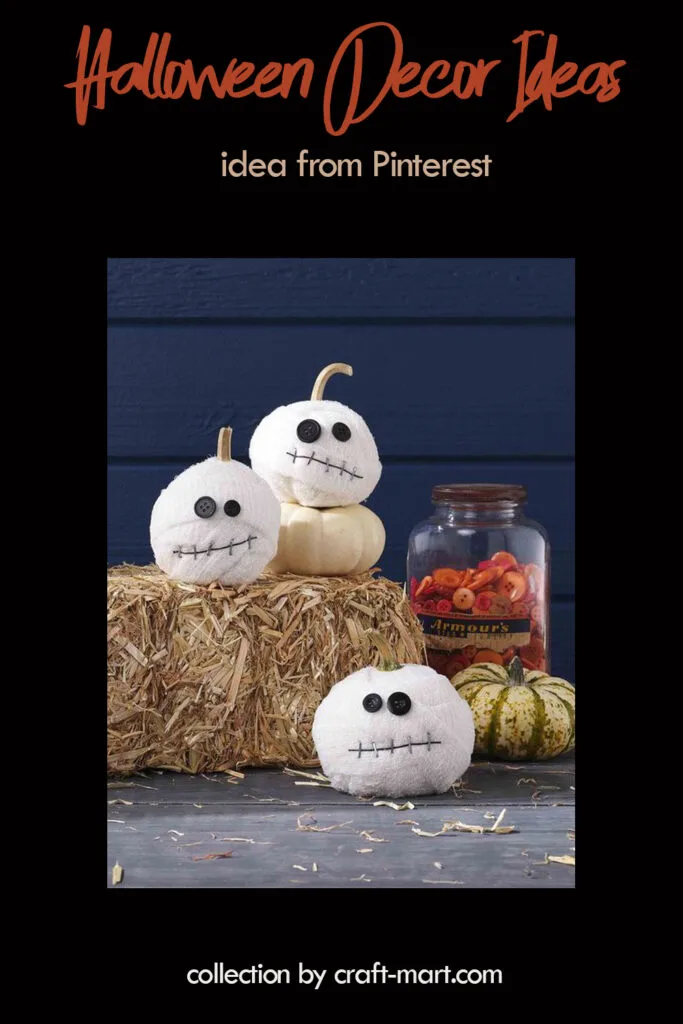 10. Halloween Black Cat Lantern
These cute cats are just begging to adorn the steps of your house for Halloween. Among all Halloween decoration on a busget, this one is not the easiest but doable. As shown, it comes with step-by-step tutorial.
Consequently, your porch steps will be well lit and save for all those who Trick-or-Treat in your neighborhood.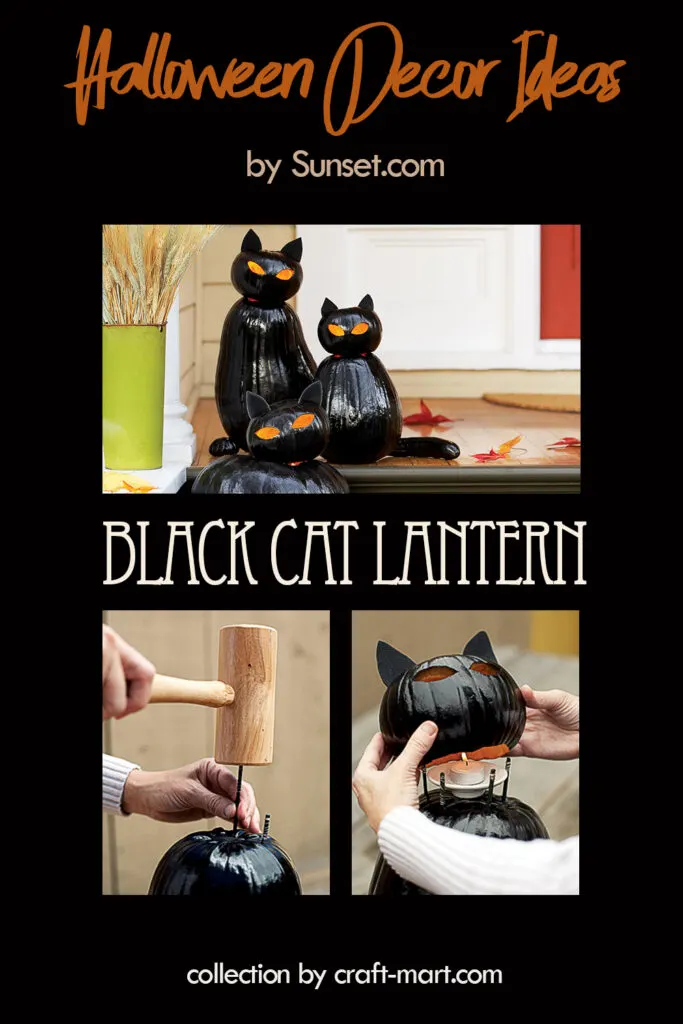 Source: Black Cat Lantern Tutorial
11. Halloween Mini Ghost Garland
How cute is this Halloween Décor Idea on budget! All you'd need are a few cheap items that you can purchase anywhere. As a result, you'll have this spooky garland to decorate your mantel in style.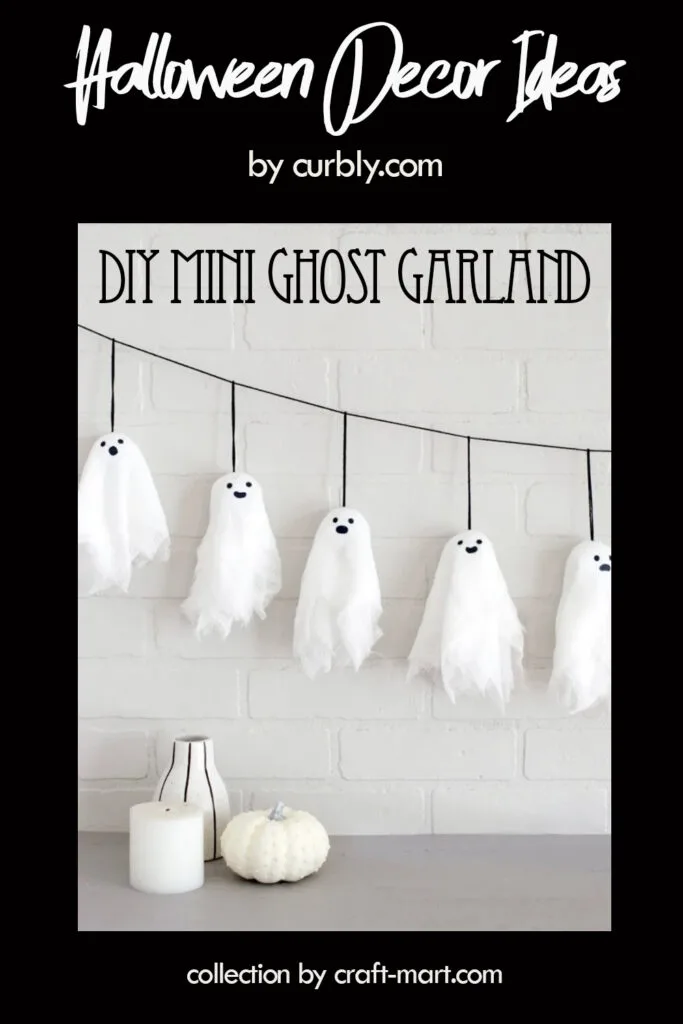 Source: GHOST GARLAND by curbly
12. Elegant Pink and Gold Pumpkins
Pink Pumpkins as Halloween décor? Sign me up! Apparently, everyone is tired of orange for Halloween.
Consequently, among Fall Porch Décor Ideas, Pink Pumpkin décor is one of the most popular trends. There is nothing wrong to so something different and become a trend-setter.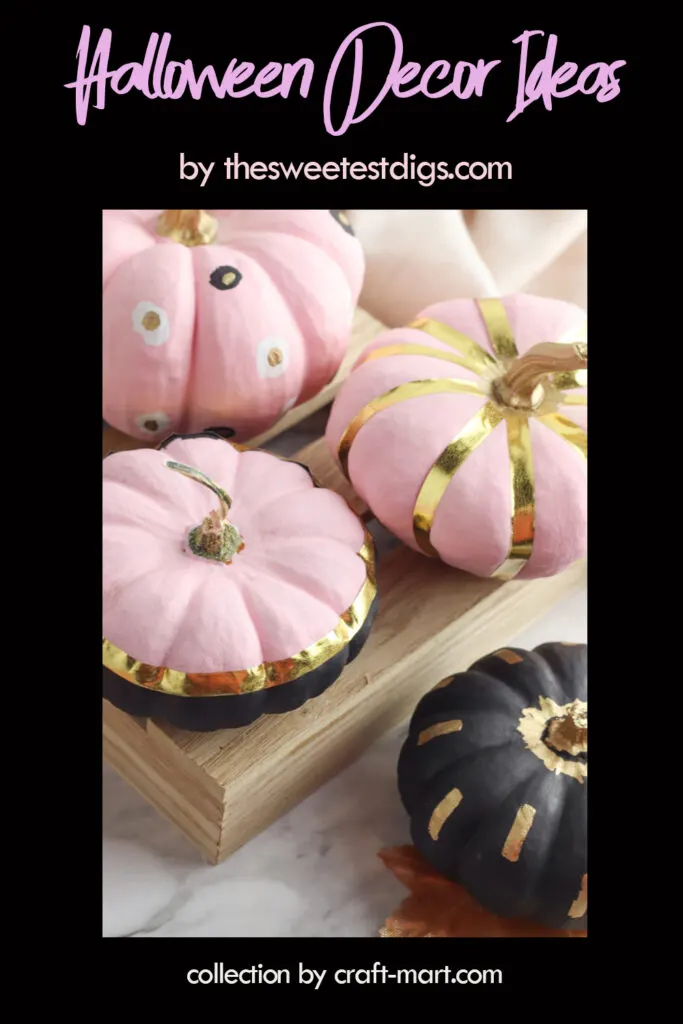 13. Elegant and Sophisticated Halloween Decor
If you are looking for elegant and sophisticated Halloween décor that is not cheese, check out this clever idea. Save a few vine bottles and paint them black.
In essence, you can pair them with plaid and gold accents to achieve similar look. Halloween elegance on budget at its best!