The wrap pattern is one of the easiest knitting patterns and you can use a basic stockinette stitch to create it. This stitch is also known as a stocking stitch. Every beginner knitter should master it first, as it is a building block for many simple knitting projects like knitted wraps.
If you are diving into a new craft, you can start by knitting a simple square or two for a charity organization that collects them to assemble blankets for people in need. It is a great cause and you can master one of the most straightforward knitting stitch patterns for beginners.
What is a stockinette stitch?
This pattern has simple knitting stitches: KNIT stitches on the right side and PURL stitches on the wrong (sometimes called left) side. Basically, you knit one row and you purl one row. You continue to alternate knit & purl rows until your garment reaches the size you want.
Check our most detailed step-by-step photo tutorial for KNIT STITCH and another detailed step-by-step photo tutorial for PURL STITCH to master both first. Please remember the little trick to create a perfect selvage (attractive edge): ALWAYS SLIP the first stitch of every row and PURL the last stitch. You also need to know how to cast on and bind off.
Stockinette Stitch Tutorial for Warp Pattern

Keep in mind that this stitch is two-sided and both sides look distinctively different. In summary, the right side is smooth and the stitches look like little Vs; the left side is bumpy due to purl stitches that form it (they look like little rows of dashes).
Of course, you can make either side of this fabric your 'right' side, depending on your creativity and design. It is amazing how many simple knitting projects incorporate stockinette stitches. Furthermore, you can alternate them to create squares, chevron patterns, or modern random rows.
What are the negative features of the stockinette stitch?
On the negative side, the stockinette stitch curls on the edges (top & bottom) towards the smooth side. Some designers use this to create rolled cuffs on sweaters or distinctive designs for the brim of hats.
If you are planning to use it for an easy baby blanket knitting pattern, make sure to incorporate a garter stitch or seed stitch on the edges of your project to make it lie flat.
Learning stockinette stitch is like learning the notes before you can play a simple music piece (and a symphony later). After mastering the easiest knitting stitches you'll be ready for beginner knitting projects.
Simple Stockinette Stitch Washcloth
Stockinette stitch is also great for creating an easy cotton dishcloth and washcloth for your kitchen and bathroom. Use neutral colors to blend with your existing decor or contrasting colors for a fun accent.
It is a quick project that can be easily completed in an hour or less, depending on your knitting speed. It is better to use cotton yarn for this project as the cotton yarn has better absorbency.
This cotton dishcloth is a quick and easy pattern created by Michelle Krause and is available as a free download on Ravelry. It is simple, and symmetrical, as the two stockinette bands at each end mimic a traditional dishcloth.
Don't forget to slip the first stitch of every row and purl the last stitch, so that the 2 side edges maintain an attractive appearance and the dishcloth lays flat and square without the need for a border.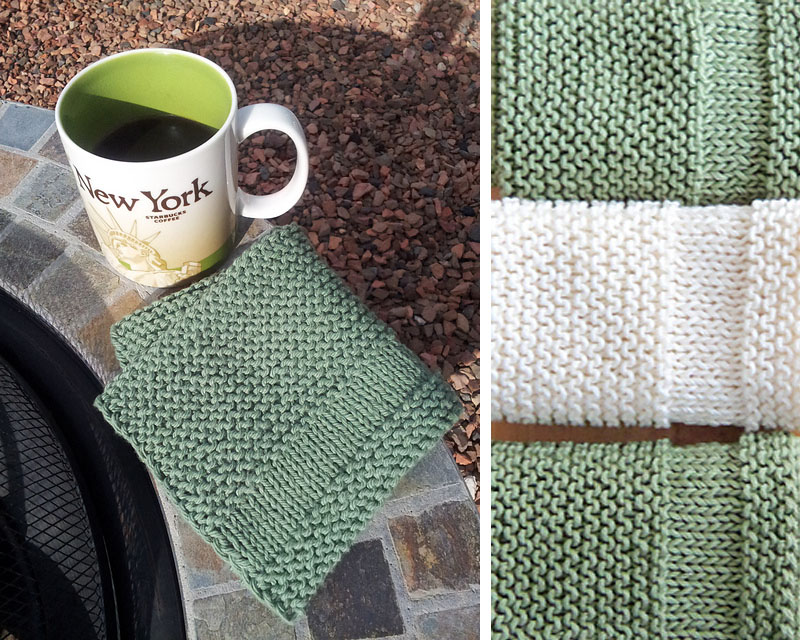 Beginner's Wrap Pattern to Master Stockinette Stitch
There is no better way to master a stitch than creating something beautiful – in that case, the world's easiest wrap designed by Purl Soho. It is perfect for the time when you just want to knit and not think about the pattern.
On the positive side, you can be talking to your friends or listening to your favorite audiobook while your hands are moving. As a result, you will be mastering this simple but timeless stockinette stitch.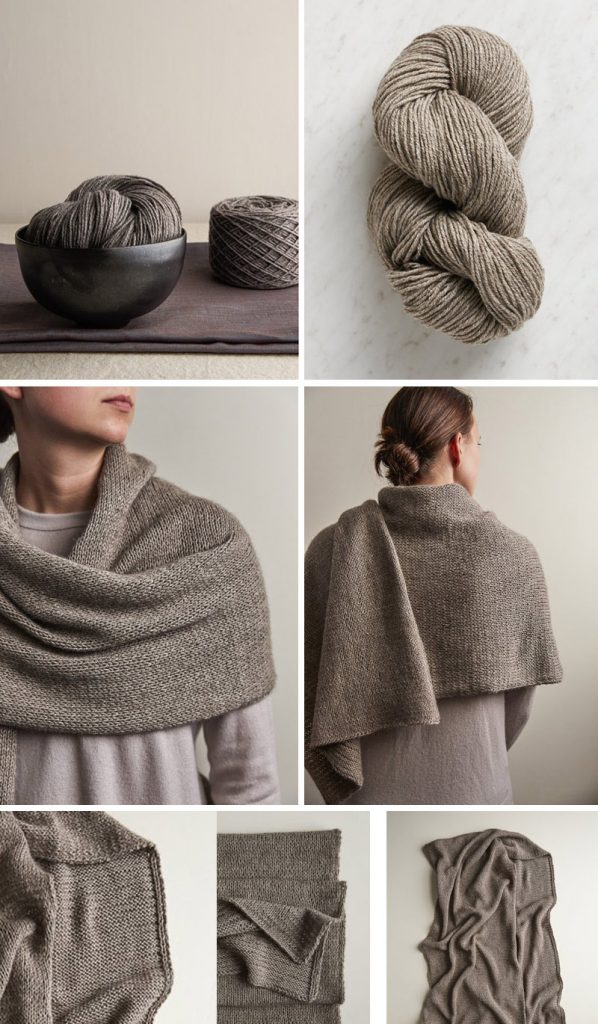 This project requires 4 skeins of Purl Soho's Understory yarn (50% baby alpaca, 25% baby yak, and 25% silk) in sophisticated Willow Bark color. It is a light worsted weight yarn that is both soft and squishy.
Of course, you can substitute this yarn with something similar or give it a try with acrylic yarn first so you can master this easy wrap pattern before you knit another wrap using more expensive wool.
MATERIALS
4 skeins of worsted weight yarn
Weight 100 grams (3.5 ounces)
Length 250 yards (228 meters)
WRAP PATTERN
Cast on 90 stitches.
Row 1 (wrong side): K1, p1, k1, purl to last three stitches, k1, p1, k1.
Row 2 (right side): K2, p1, knit to last three stitches, p1, k2.
Repeat Rows 1 and 2 until the piece measures approximately 73 inches, ending with a wrong side row.
Bind-off, Weave in the ends, and wet block flat.
As the designer of this wrap joked, there is one little detail that disqualifies it from being the world's easiest knitting project: the selvage stitches that keep this wrap from curling.
Other than that, it is a simple bliss of knit and purl stitches. Get the free wrap pattern and all the details for this wonderful wool warp here.
Are you looking for more knitting patterns? Check out these free and easy knitting projects: