Crocheting an easy modern crochet shawl with Lion Brand's yarn 'Summer Nights' is a blast. You'd fall in love with this light yarn with just the right amount of sparkle.
In fact, this easy modern crochet shawl will add an element of elegance to your summer wardrobe. Moreover, a handmade shawl is a versatile statement accessory that you can wear and cherish for years to come.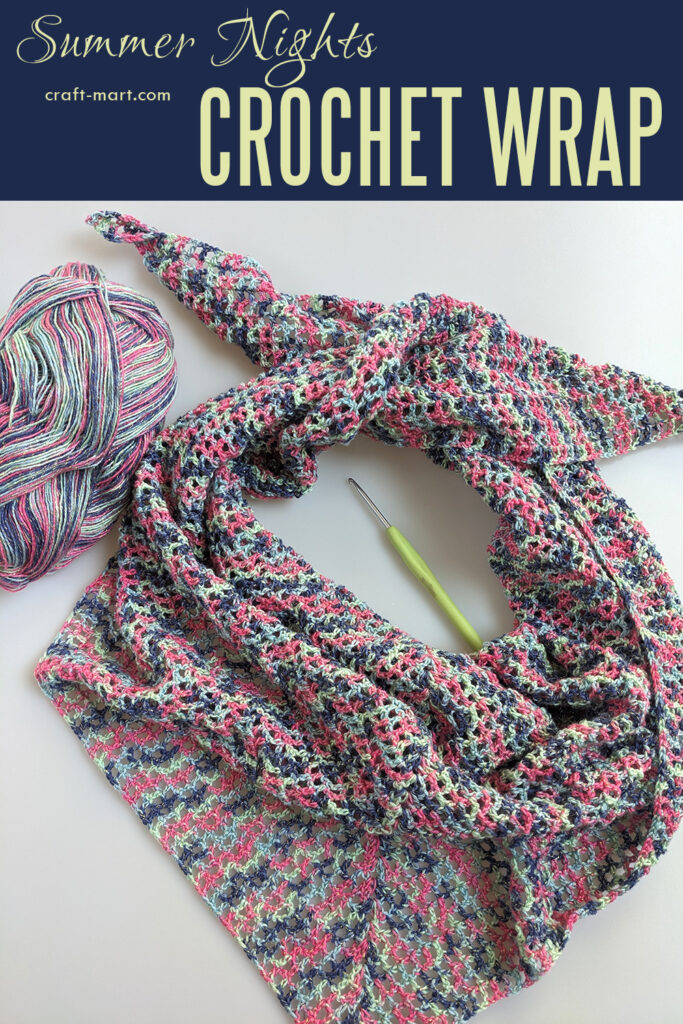 In fact, you'd want to use it for many light summer crochet projects. As an illustration, the 'Summer Nights' yarn comes in many beautiful colors.
Furthermore, are you looking for more crochet projects? Consequently, check out these posts:
Important to realize, the wrap is worked in a triangle starting in the middle of the long side. Consequently, you start building a triangle formed by a cluster stitch defining the right angle of the triangle: 2 dc + 2 ch + 2 dc.
Furthermore, the modern lacy stitch for this modern crochet shawl is very easy: dc stitches with a ch1 separating them. To clarify, you'll place each dc stitch on top of the dc stitch of the previous row.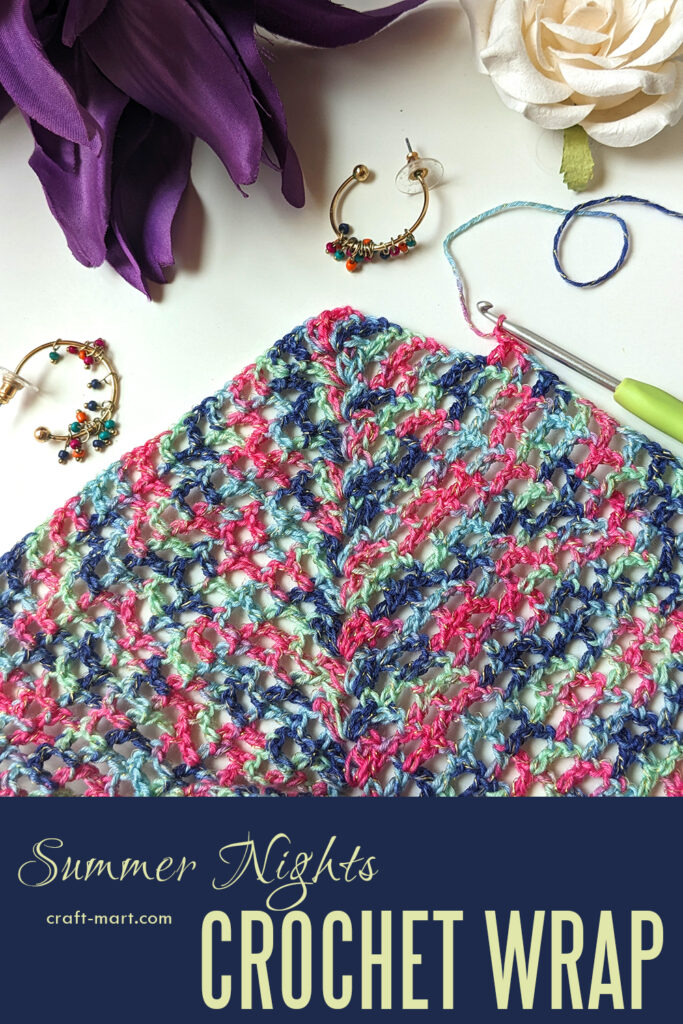 Abbreviations
ch – chain
ch sp – chain space
dc – double crochet
tr – treble crochet
hdc – half double crochet
Materials for Modern Crochet Shawl
Here is a video tutorial to help you with your journey:
Modern Crochet Shawl Pattern
Row 1
First, start with a slip knot, ch 6, dc into 6th ch from the hook (in the first ch), ch1.
2 dc into the same ch, ch2, 2 dc into the same ch, ch1, dc into the same ch.
(Note: 2 dc, ch2, 2 dc cluster marks the top of the triangle and you'll always make these stitches into ch2 space on the top).
Ch1, dc into the same stitch.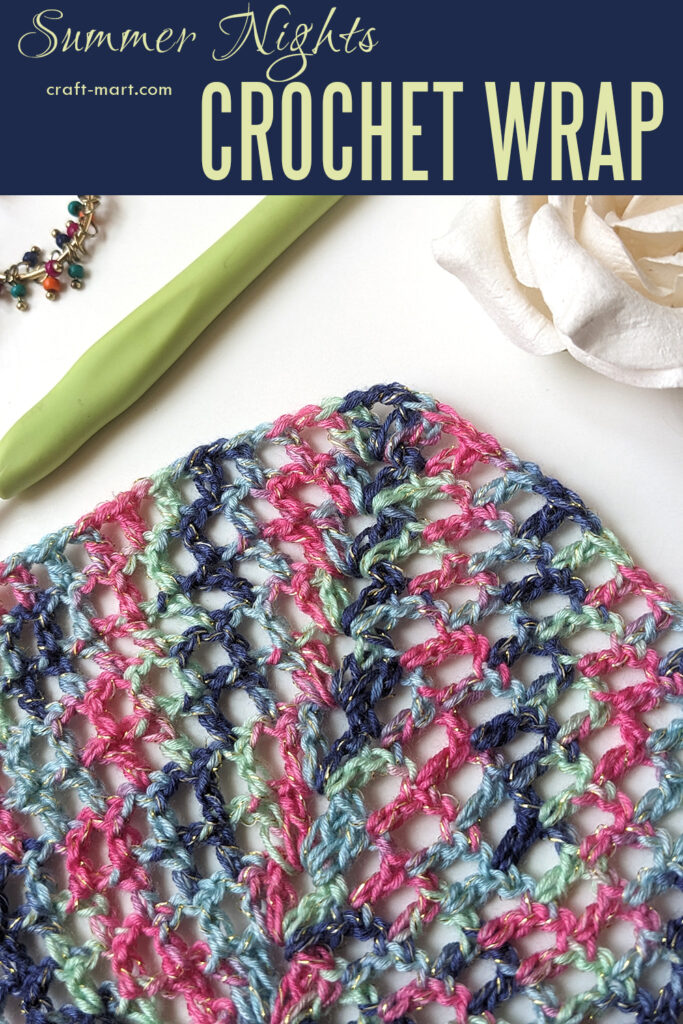 Row 2
Ch 5, dc into the last stitch of the 1st row, ch1, skip ch sp, dc into the next dc, ch1, skip ch sp, dc into the next dc, ch1, 2 dc into ch1 space (middle), ch2, 2 dc into the same ch1 space;
ch1, skip 1 dc, dc into the next dc, ch1, skip ch1 sp, dc into the next dc, ch1, skip ch1 sp, dc into ch 4 of the turning ch, ch1, last dc into the same ch 4 of the turning ch; ch5, turn.
Row 3 and all rows
Repeat row 2.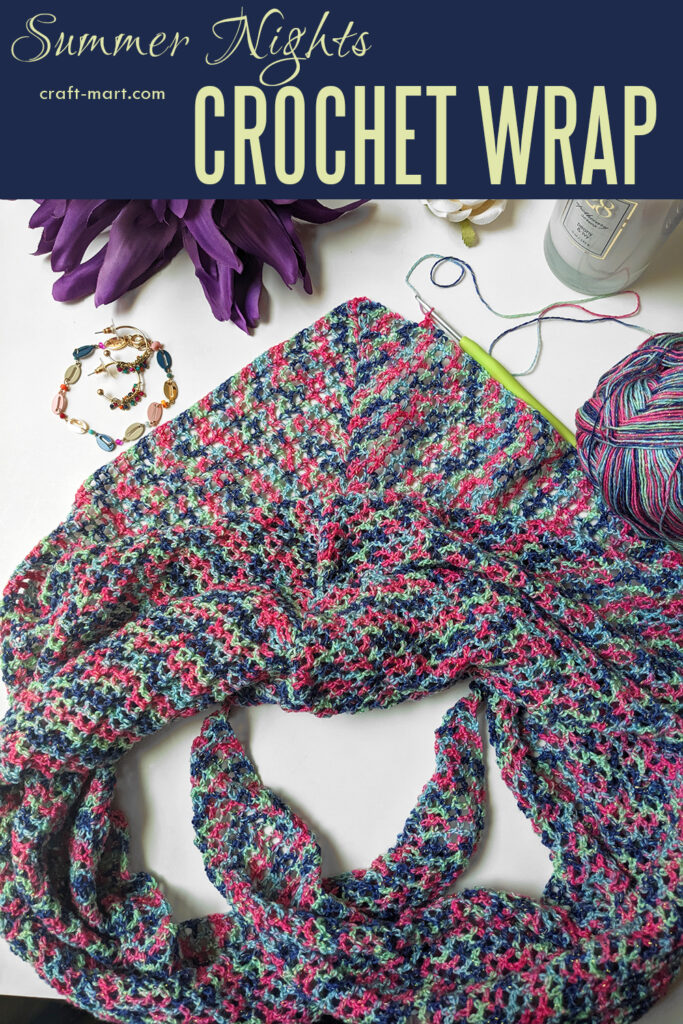 In like manner, continue until you use almost all the yarn (or your shawl reaches a desired size). Equally important, leave enough yarn for one row of half double crochet (hdc) stitches along the longest side of the triangle to keep it neat and to add tassels on the ends of your shawl.
As a result, you'll crochet a modern lacy, airy shawl perfect for warm summer nights. Furthermore, be adventurous and try other colors of Lion Brand Summer Nights yarn.
In fact, this versatile yarn adds an elegant sparkle to all your creations. Notably, its light weight is perfect for summer crochet projects.