How about an affordable and possibly biodegradable gift that will be useful, educational, cute..? Every week we fill our garbage bins with plastic recyclables. Time for a little break.

Avocado Tree Growing Kit
Start your very own garden in your kitchen! It's as easy as pouring water into the glass jar and placing avocado pit into a small floating platform. Check it out here.
Expanding Origami pot – Growth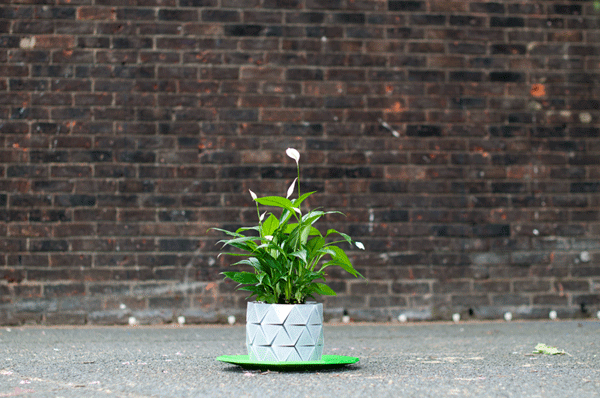 GROWTH planter, thanks to its origami-based geometry, transforms and grows with the plant. As the plant grows, it unfolds over time to accommodate the roots.
The life cycle of a plant is a transformation, from an early seed to its full grown size; the blooming of a flower, the unfolding of a leaf, the branching of the roots. This process is what GROWTH aims to capture within a plant pot. (You would have to add more soil as the plant grows.)
Mosquito-Repelling Creeping Lemon Thyme
Going to Grandma's country house but don't want to be eaten alive by mosquitoes? If so, we have a perfect gift for all possible occasions: Mosquito Repelling Creeping Lemon Thyme plant. Get it at your local nursery or here.
Leaf Canopy Dome Clear Umbrella
One of the prettiest umbrellas you've ever seen. Though it is not exactly the accessory for going to an opera, this umbrella can brighten any rainy day. This clear umbrella is a perfect symbiosis of cuteness and fashion. Iconic dome-shaped umbrella provides complete coverage of head and shoulders. Transparent high grade PVC cover allows you to see through. Really easy to use with built-in Half-automatic opening and closing feature.
'Avoquado' 4-In-1 Tool
This tool is what you need to really be equipped with the best in the 21st century (in addition to your smart phone)! Forget about your prehistoric avocado pealing & scraping technique – join the future. It does everything well: cutting, removing the pit, and scooping out. Put it into your wish list or just get it here!
Miniature watermelon cucumbers – Cucamelons
These adorable tiny Mexican cucumbers will melt any heart. You don't even need to make a salad – just put the bowl with these guys on a table and consider your dinner party to be a great success. Nice, right? Want to try them in your garden? Plant the seeds and enjoy them a couple of months later.
This beautiful exotic plant moves when touched. Besides this cool behavior and really pretty pink flowers, this plant offers many healing benefits such as Wound Healing, Anti Venom Activity, Anti Inflammatory Properties, Anti Fungal, Anti Diabetic, Liver Protecting Activity). Always consult your physician before taking any remedies.
Grows 18-24 inches tall. Get it at your local nursery or here.
Besides clever writing with laugh-out-loud double entendres, Fifty Shades of Chicken offers 50 (of course) tempting recipes, among them Crunchy Chicken Parmesan Croquettes and Cranberry Baked Chicken With Apple Cider.
Egg Perfect Egg Timer
No more guessing about whether your eggs are cooked to point that you want it. All you have to do is to place this timer into the pot with your eggs and it will tell you when your eggs are soft-boiled, medium, or hard-boiled. Clear line markers show when the eggs are ready. This smart timer has a sensor that takes into account number of eggs in the pot, the amount of water and even the altitude of your location. Get it here!
Back to the Roots Garden-in-a-Can, Grow Organic Herbs
This one is for super-lazy gardeners or city-dwellers living in a high-rise apartment. Enjoy fresh herb any time your recipe calls for it. Cans can be placed into decorative containers for easy kitchen decor. You may Get it here.
Warning! If you a the person that likes to put everything into your dishwasher this is not the product for you! It is NOT dishwasher- or microwave-safe! For crafty people that still use hands and sponges this mug will work splendidly!
Featuring a Space-Age FLUID self-stirring technology that makes it different from any other self-stirring cup. A premium quality fluid motor works promptly when you press a button. Use 2 x AAA batteries (NOT included). Get it here.
Venus Flytrap
Here we go to the grandma's house again. No more mosquitoes – Creeping Lemon Thyme did the trick but pesky flies are really getting annoying. Here is your second gift for Grandma to solve flies problem. Instead of repelling flies, it will actually trap and eat them. Kids may also enjoy this nature-at-work real life show.
Share on Pinterest