If you are trying to feed your family healthy food, you are perhaps fermenting your own vegetables, making yogurt from farm-fresh milk, culturing delicious sour cream, and serving kombucha as an afternoon probiotic drink but it is still hard to make kids eat enough probiotic foods that they will actually love and enjoy. And ask for seconds…
That's why we want to share this fast and easy recipe based on a probiotic drink you probably never heard of – ryazhenka. The recipe has no sugar but lots of good bacteria and, most of all, it tastes great, even for picky eaters. Tried and tested in our kitchen, we guarantee that it will be your family's favorite as a healthy dessert or after-school snack. It somewhat resembles probiotic yogurt drink with a hint of natural sweetness.
Souffle from Ryazhenka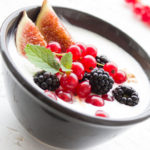 Print This
Ingredients
2 cups of ryazhenka

1 TBS of unflavored gelatin

3 1/2 TBS water

fresh berries (for topping)
Instructions
Pour water over gelatin and leave for 20 minutes. Heat mixture over low heat until gelatin dissolves, but don't boil. When it cools down, combine it with ryazhenka and whip with a blender or by hand for 3 minutes. Pour dessert into ramekins or divide between four small dessert glass bowls and place in the refrigerator overnight. Top with your favorite berries or decorate with chocolate swirls before serving.