Do you get a nostalgic feeling sometimes longing for a food from your childhood? Our happy memories are brought back by a flavor, a smell, or a photograph, reminding us of those simpler times.
Back then we didn't think that we actually were preparing homemade probiotics for breakfast or dinner. It's just was what our ancestors passed to us and it was tasting delicious. The recipe we want to share has been forgotten, as in its purest form, it involves a woodburning stove, farm-fresh ingredients, and time. These commodities are rare in our modern busy life, but we have just recreated the magic, using affordable and readily-available products.
The history of this homemade probiotic drink we want to share goes back to the times when farmers would place a ceramic pot with fresh (not skimmed) milk into a woodburning stove overnight to 'bake' it. Yes, it is based on baked milk. The prolonged exposure to heat will give it creamy color and caramel flavor. Sounds similar to dulce de leche but make a note, nothing is added to milk! After a few hours in the oven, it forms a rich crust on the top, which is then removed (and sometimes, eaten). After milk cools down but is still warm, it is ready to be fermented with creme-fresh or sour cream. The result is amazingly-flavorful, caramel-colored homemade probiotic drink with no added sugar, no artificial colors or flavors – just pure goodness. It is called ryazhenka and is a traditional fermented dairy product well-known in Ukraine, Belorussia, and Russia.
Feeling nostalgic, we tested a few bottles of ryazhenka from European specialty stores and did some research. Unfortunately, to cut corners, industrial production of this fermented drink involves adding caramel flavor (instead of actually baking milk).
To achieve the same results as our ancestors in your modern kitchen is remarkably easy. Preparation time is just a minute – or how long it takes you to pour milk into a cast iron enamel casserole dish and place it in the oven. Later add some sour cream or kefir – 15 seconds. Leave overnight to ferment. It is definitely worth the effort – the results will not disappoint you. Check out our ryazhenka souffle, a healthy no-sugar dessert based on ryazhenka.
Homemade Organic Ryazhenka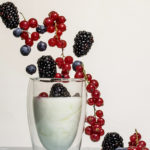 Print This
Ingredients
4 cups organic whole milk (or farm-fresh)

1 TBS of sour cream (or kefir)
Instructions
Preheat oven to 290ºF. Pour milk into a cast iron enamel casserole dish (Dutch oven) and place it on the middle rack – do not cover with lid.  Bake for 3 hours. Milk will form a golden-brown crust on the top and get a caramel color. Turn oven off, take the dish out, and let it cool down to 90ºF (warm to the touch). Remove and discard the crust (ryazhenka enthusiasts will eat it). Add 1 tablespoon of sour cream (or kefir) to warm milk and mix well with a wooden spoon (contact with metal may interfere with fermentation process).
Place casserole dish back in the unlit (warm) oven overnight (cover with lid).
In the morning you can have your delicious ryazhenka for breakfast.
Isn't that the easiest fermented dairy recipe you have ever seen?
Notes
If you don't have a cow nearby, organic whole pasteurized (not ultra-pasteurized) milk is the best for this recipe. The baking process will evaporate some milk, so the outcome is less than 4 cups. After you try it and perfect the recipe, you may want to double it.