If you are reading this post, you probably are already familiar with amazing health benefits of probiotic foods –  kefir holds a special place in that Pantheon. Kefir grains have originated in the Caucasus Mountains in Eastern Europe and their history is a fascinating mixture of mystery, industrial espionage, and love story.
Healing is a matter of time, but it is sometimes also a matter of opportunity.
History of Milk Kefir
The legend tells us that God gave kefir grains to the people of the Caucasus mountain region (similarities with manna?) and they believed that grains will lose their power if shared with others. Nomads would eagerly serve the drink to their guests but would not reveal how it was made and the grains were be passed strictly within a family, from one generation to another.
The story takes us to circa 1867 when a beautiful girl was tasked with an impossible duty to obtain a secret that has been strictly guarded for hundreds of years… A milk powerhouse, guided by the government, was determined to get the secret as at that time Russia was facing an epidemic of tuberculosis. Kefir-drinking people of Karachay-Cherkessia (where kefir grains were used for hundreds of years)  were untouched by it and were proud of their health and longevity. It was common that men and women will live to be 100 -163 years old and still working in their gardens and enjoying life. Is it mountain air, diet, physical activity, water, kefir … or all of the above?
So the girl, Irina, traveled to the region to be a guest of powerful noble Bek-Mirza, who was enchanted by her beauty. Days and weeks go by, she is entertained at extravagant dinner parties, but all her covert efforts to obtain kefir grains go in wain. Upset by her failure, she leaves the house of the prince to go home, but on her journey, she is kidnapped by masked armed horsemen and taken to the remote cave, where Bek-Mirza proposed to her.
Her employer was aware of her plans, so government soldiers rescued her and arrested the prince. In spite of his power and influence, Bek-Mirza had to stand trial for kidnapping. Skillful mediation took place and the crafty young girl decided to pardon unfortunate suitor if gave her … you guessed it, 10 pounds of kefir grains.
As the story tells us, kefir grains arrived in Moscow and initially were used only at the hospitals as medicine: kefir drink was hand-crafted and given to the sick. The doctors saw how beneficial it was for the health of their patients and soon mass-production of kefir started all over Russia.
Where to buy kefir probiotic drink and kefir grains
After that kefir grains quickly spread all over Europe and the world: you can find kefir drink in many grocery stores and health food stores. If you want to make your own kefir, you can easily order kefir grains online.
If you are lactose-intolerant, it is easy to make coconut kefir using the same grains (you would need to place them in dairy milk for a few days to recover).
You can experiment with goat milk kefir and find a lot of healthy recipes online.
Homemade Milk Kefir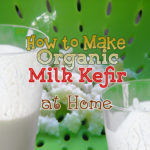 Print This
Ingredients
~ 1 TBSP of kefir grains

2 cups of organic pasteurized milk (NOT ultra-pasteurized)
Instructions
Place kefir grains in a glass jar.

Add milk.

Cover jar with a paper towel or napkin and secure it with a rubber band (so it can 'breathe').

Check in 24 hours – it is ready when it thickens (if it doesn't thicken, mix it well with wooden spoon & give it some more time).
Drain kefir mixture through plastic strainer (kefir grains will stay in the strainer – they look like cauliflower florets).
Store strained kefir in the refrigerator.
Place grains (without rinsing them) in a jar & start fermentation process again.
Notes
It is important not to use metal utensils so you don't damage the grains. If you are not planning on making kefir for a while (ex: go on vacation) just leave the jar in the fridge - it slows down the fermentation process. After 1-2 weeks you can strain your kefir grains and start over again. The culture grows overtime, so if you handle kefir grains properly, you'll be able to share them with friends and family.