Now, when you are done with mastering knit stitch, it is time to learn another basic technique: purl stitch. It is used in many easy knitting projects suitable for beginners. When you knit with purl stitches, your garment has purl stitches on the right side and knit stitches on the wrong side (opposite side, sometimes called the left side).
If you knit using only purl stitches on both sides, turning your knitting, you'll end up with garter pattern. On this sample you can see the difference between wrong side of the stockinette stitch on the top (with all purl stitches showing) and garter stitch (on the bottom). With continental style knitting, purl stitch is done very quickly and easily.
Let's get started. In continental style, the yarn is controlled by your left hand and picked up by needle in your right hand. There is no wrapping of yarn around the needle with your right hand which makes this style speedy and easy to learn. There is an added benefit for your health: it is easy on your joints.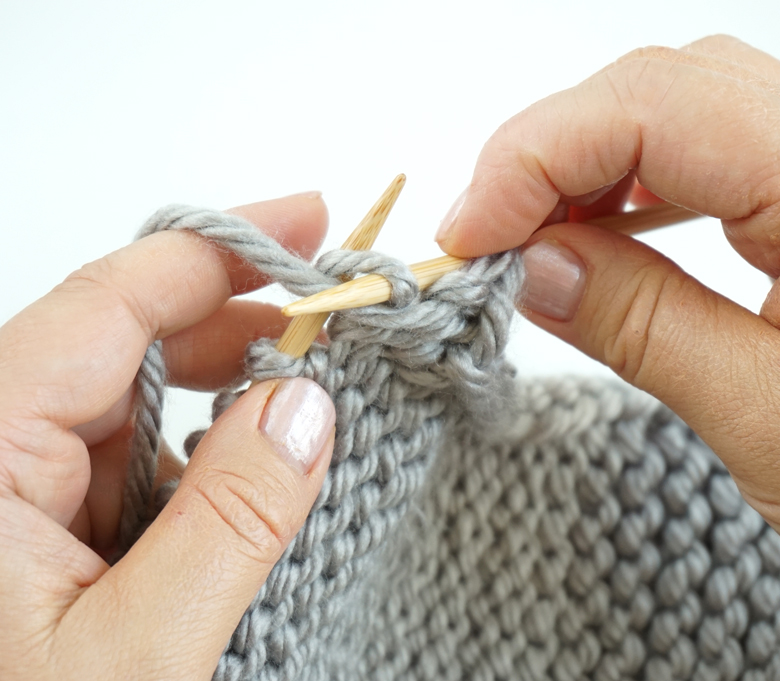 Check your work. Continue with the rest of the purl stitches until you get to the end of the row. Purl the last stitch. One of the most common mistakes beginners would make is knitting too tight (not making loops big enough), especially when practicing purl stitch. Check your knitting often to make sure that all the stitches as are the same height and can easily slide back and forth on the needle.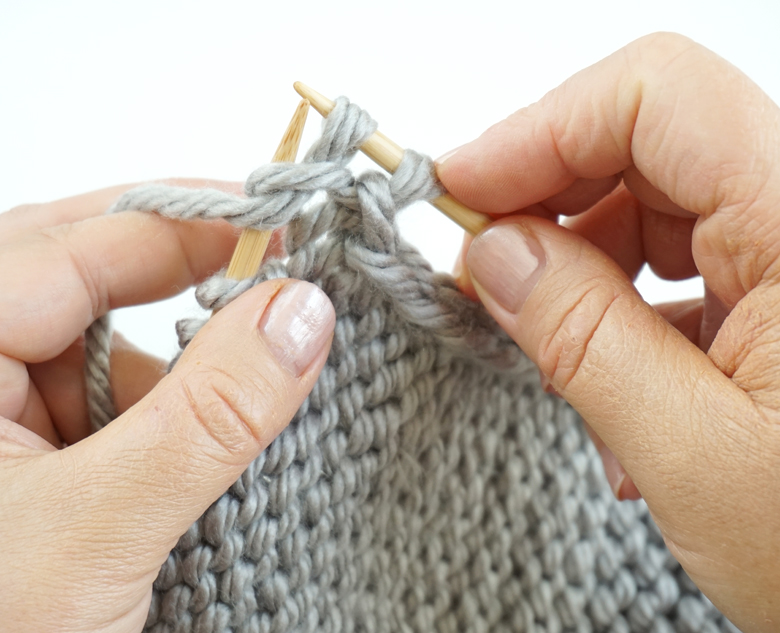 This purl stitch technique is very easy and when you master it, you can knit with your eyes closed. If you continue just with the purl stitch, you'll have garter stitch which creates a stretchy garment of alternating knit & purl rows.
Happy knitting!
Here is an added bonus:
Easy Knitted Scarf Pattern
(it is a great pattern to practice & master your purl stitches & create a unique Christmas gift for someone special)
Materials:
(4 medium) skeins of organic wool yarn: ~ 290 yards (265 m) or any yarn of your choice
Knitting needles: 5.5 mm [US 9] Yarn needle
Instructions:
Cast on 24 sts.
Row 1 (right side): Slip 1st stitch, purl 23. (sl 1, p 23)
Row 2 (wrong side) and all remaining rows: Slip 1st stitch, purl. (sl 1, p 23)
Continue in garter stitch (purl every row) until scarf measures ~ 65 inches, or desired length.
Bind off. Weave in ends.